Founded in 2004, Roblox struggled to capture the hearts and minds of gamers online during its early stages when it launched in 2006. This, however, would change in the coming years. As technology lowered barriers to entry, more gamers made their way online, and the platform took off. Today, it's a listed entity and generates hundreds of millions in revenue.
But what makes it special? A few things. It's a combination of a gaming hub with strong community and social elements. Users flock to the platform to make friends, enjoy multiplayer games, and spend money to enhance their avatars. There's a whole lot more to Roblox and this blog post offers statistics that illustrate the platform's story in numbers.
---
Amazing Roblox Usage and Growth Statistics:
---
12 Notable Roblox Statistics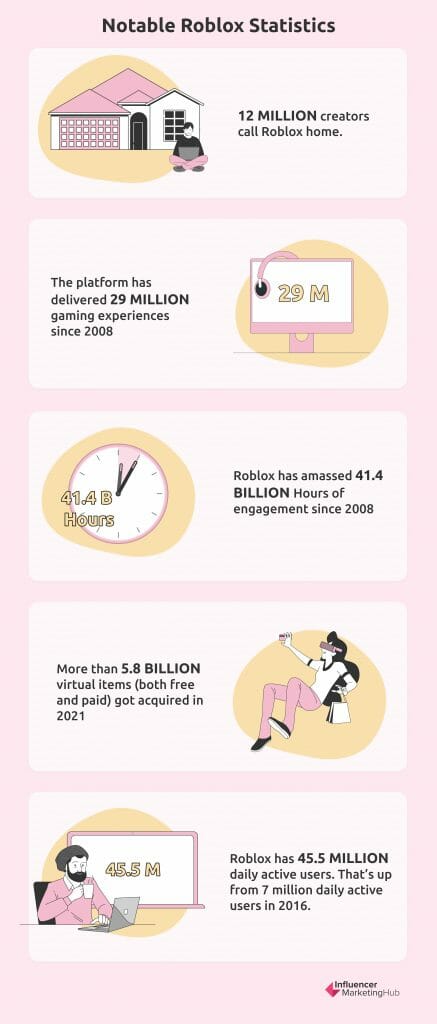 What are Roblox's most impressive statistics? In the last decade, the platform has achieved amazing feats. Beyond the growth that we've alluded to above, Roblox has created a unique space for indie game developers and indie game enthusiasts to share. Here are the most notable accomplishments it's enjoyed:
1. 12 million creators call Roblox home.
2. The platform has delivered 29 million gaming experiences since 2008
3. $538 million has been paid to its community of game developers from around the world.
4. Roblox has amassed 41.4 billion Hours of engagement since 2008
5. Roblox has 45.5 million daily active users. That's up from 7 million daily active users in 2016.
6. Roblox once clocked 5.7 million concurrent users, making that its all-time peak usage.
7. Nearly 1.7 million developers and creators earned Robux.
8. More than 5.8 billion virtual items (both free and paid) got acquired in 2021.
9. Roblox's largest age group is 9 to 12-year-olds who make up 26% of its user base.
10. Mobile devices account for 75% of the platform's user sessions, eclipsing desktop sessions by 47%.
11. 2% of the gaming platforms users access Roblox through gaming consoles.
12. 2021 saw a surge in the number of new creators, with female creators and male creators growing by 353% and 323% year-on-year, respectively.
---
Roblox Statistics Showing Usage Around the World
It's no secret that going global is a major scaling tactic. Roblox has been able to capitalize on its appeal by expanding its user base to all corners of the globe. From the US and Canada to Europe and Asia, the user-generated gaming giant has created an international community that lives and loves indie gaming. Here is a closer look at Roblox's footprint across the world.
13. Roblox is used by people from over 180 countries.
14. The largest number of active users comes from North America (US and Canada), accounting for 32% of the platform's base.
15. Together, the US and Canada flood the platform with 14.5 million daily active users.
16. Europe offers the second largest user base with 13.2 million daily active users.
17. Europe accounts for 29% of Roblox's global user base.
18. 6.8 million daily active users stream in from Asia.
Beyond North America, Europe and Asia
While North America, Europe, and Asia are the largest markets for the gaming platform, there are still many gamers in other regions that use the platforms.
19. 10.9 million daily active Roblox users are based in territories outside of Asia, Europe, and North America.
20. The rest of the world has added 3.21 times more users to Roblox in under 2 years.
---
Roblox Daily Active User Statistics
Daily active users represent all engagements that take place on the platform within a 24-hour window, and Roblox has seen staggering growth since 2018.
21. The platform experienced a growth spurt between 2018 and 2020, adding 23.3 million new users.
22. In fact, the number of Roblox daily active users in Q4 2020 increased by 170.8% compared with Q4 2018.
23. Daily active users grew by 40% from 32.6 million in 2020 to 45.5M million in 2021.
24. The June 2022 report shows that Roblox DAU has totaled 53.3 million—a 17% increase year over year.
25. In July 2022, Roblox DAU reached an all-time high of 58.5 million—a 26% increase from the same month the previous year.
26. Roblox's average daily user spends 156 minutes or 2.6 hours per day on the platform.
---
Roblox Engagement Statistics
Roblox measures the number of hours a user spends on the platform as engagement hours. These include searches for new games, visits to its avatar store, and creating games using its free gaming engine. Back in 2006, founders David Baszucki and Erik Cassel could only have imagined this level of interaction on the platform.
What's attributed to this much engagement? Well, a few key factors. Since 2006, the world has changed a whole lot. Take internet access. Where countries in North America and Europe have enjoyed reliable and fast fibre connectivity, in other parts of the world like Africa, fibre is only taking root today. Mobile phones have also evolved. Most might remember that Apple's first-generation iPhone was only released in 2007.
And when you consider that for all of its amazingly new functionality at the time, it pales in comparison to the processing power, RAM, and storage capacity of the phones we use today.
Data plans for mobile devices have also become far more affordable. You can also get larger data plans that make it possible to game on your phone for hours on end.
But that's not all that's influenced Roblox's growth spurt since 2020. In mid-March of 2020, the world began to feel the impact of the coronavirus. For the first time in a long time, being outside was something that governments urged their countries to avoid with some instituting serious measures to cut infection rates.
Anyone caught outside could be fined and faced imprisonment. These measures forced more people to turn to the web. People began using the internet for real-time updates on the world and the pandemic. They also started gaming. Like YouTube, Facebook, Instagram, and many other online platforms, Roblox became an outlet.
What do Roblox's usage statistics look like? Here are some pretty telling figures that show how much people love the platform:
27. In 2021, Roblox users worldwide clocked in a total of 41.4 billion hours of engagement, with 7 countries surpassing 1 billion hours each, placing them as the top 7 countries with the most engagement time.
United States

Brazil

United Kingdom

Philippines

Mexico

Russia

Thailand
28. Roblox user average 2.5 engagement hours per DAU each day.
29. Roblox records 3.924 billion hours engaged in June 2022 showing a slight increase from 3.571 billion hours in May.
30. The total hours engaged for the second quarter of 2022 was 11.3 billion, up by 16% year on year.
31. In July 2022, Roblox achieved an all-time high, with 4.739 billion hours of engagement by daily active hours.
---
Game Statistics on Roblox
Roblox has likely the largest collection of online games today. But what makes the platform all the most engaging is its community feel. On the platform, users can upvote, downvote, like and favorite games and more titles offer multiplayer functionality. At a glance, games may seem to offer little engagement considering the average playtime, however, with over 70% of users accessing the platform from mobile devices, these experiences could be short escapes in between other activities users are involved in.
32. In 2021, 26,953 Roblox experiences reached more than 100,000 visits.
33. As of September 2022, Roblox has been downloaded over 500 million times on Google Play and is the #1 app in the Adventure category on the Apple Playstore.
---
The Most Popular Games on Roblox
The best indicator of game popularity is the number of visits. Adopt Me! has been a favorite for a while and is currently the most popular game on Roblox. Tower of Hell, MeepCity, Brookhaven, and Piggy keep their spot at the top 5.
34. As of August 2022, the most visited experiences on Roblox comprised of a variety of themes from competitive games to social hangouts. Here are the Top 10 with their number of visits.
Adopt Me! 29.8 billion

Brookhaven 22.2 billion

Tower of Hell 19.0 billion

MeepCity 14.3 billion

Piggy 10.9 billion

Murder Mystery 2 8.7 billion

Royale High 8.0 billion

Blox Fruits 7.5 billion

Welcome to Bloxburg 6.5 billion

Jailbreak 5.9 billion
35. Created on January 18, 2014, Murder Mystery 2 is the oldest game in the August 2022 list of the Top 10 Most Visited Games.
36. While Murder Mystery 2 and Jailbreak did not make it to the top 5 most visited games, they are among the most favorite ones. The five games which are in the favorites list of most Roblox users are:
Adopt Me 24,843,561 favorites

Murder Mystery 15,194,662 favorites

Jailbreak 17,571,055 favorites

Brookhaven 14,849,363 favorites

MeepCity 14,588,167 favorites
---
Roblox User Age Statistics
Roblox is far more popular with younger users with most being over the age of 9 years. The largest demographic consists of users between the ages of 9 and 12, pointing to the growth of a younger gaming audience. This is driven by access to mobile devices, computers, and consoles.
Other factors include the growing online gaming market and the increasing attention gaming received in the last few years. While these are indie games and not part of any gaming competitions, access and multiplayer functionality offer younger gamers a way to connect with other gamers and the chance to foster a more inclusive community.
37. Here's a breakdown of Roblox's daily active user demographics by age:
38. To-date, the fastest growing demographic by age across genders is the 17-24 year-old age group.
---
Roblox Users Gender Statistics
One of the more interesting conversations about the online gaming market has to be centered around gender. In the past, female gamers seemed to be fewer in number, however, that appears to be changing. Roblox has seen an almost even pairing and growth in female user numbers since 2016.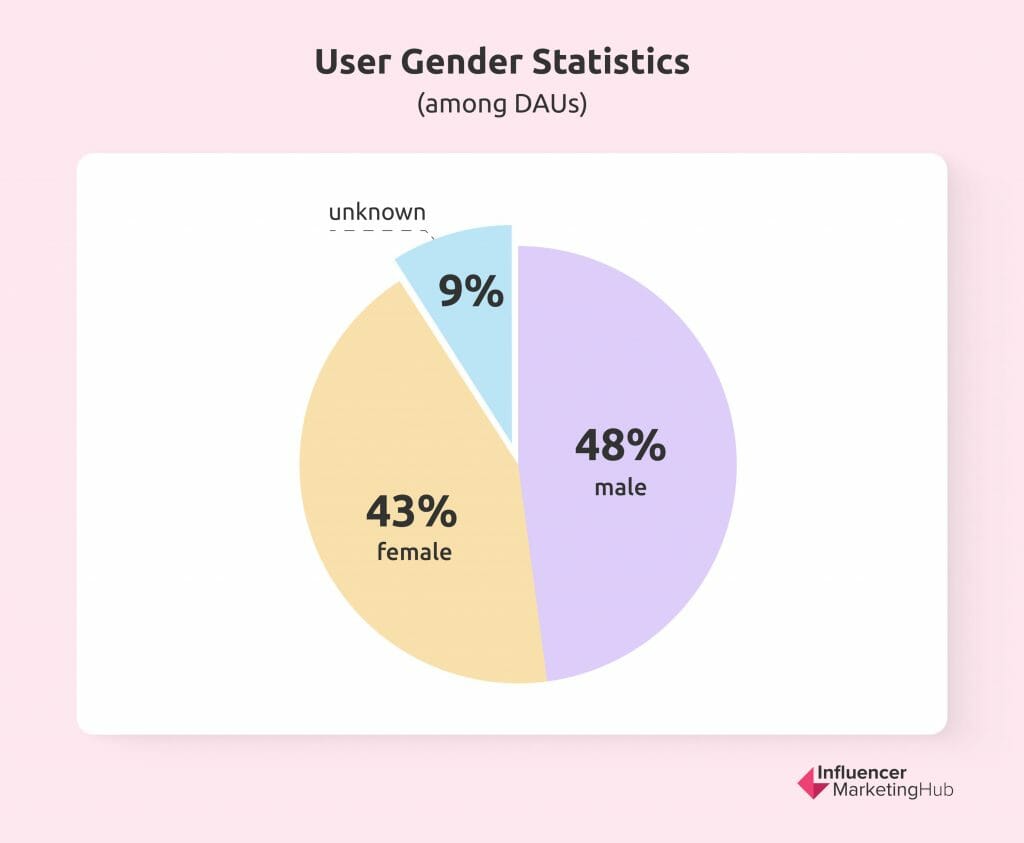 39. Roblox gender demography is leveling off with almost the same number of males and females on the platform. 43% of users on Roblox are female and 48% are male.
40. Signing up for Roblox includes selecting a gender which is an optional field. As much as 9% of users have chosen to not identify with male or female genders.
41. Since 2016, Roblox has seen more females joining the platform. Female users base figures have been steadily growing from 35% in 2016 to 48% in 2021.
---
Roblox Gaming Device Statistics
Access to Roblox is undoubtedly one of its attractions. By giving users the ability to have gaming experiences on mobile devices, desktop computers, and gaming consoles, Roblox has made it easier for a larger audience to enjoy more games.
42. 75% of Roblox user sessions take place on mobile devices.
43. Desktop gaming experiences account for 23% of Roblox's platform usage.
44. 2% of users access Roblox through gaming consoles.
---
Roblox Revenue Statistics
Initially, Roblox was a free-to-play platform and still includes many free gaming experiences. This changed in recent years with the addition of Roblox premium, and the inclusion of commissions charged to developers for successful transactions. While these revenue streams add to its bottom line, Roblox has been wildly successful selling virtual goods.
Its currency, Robux, can be earned from its website or purchase on a one-time basis or through a subscription to Roblox Premium. To have access to Robux, you must create a user account. The more exciting part is that Robux can be exchanged into US dollars, adding a considerable amount of appeal to the platform.
Developers are also able to earn Robux and have more ways to do so. These include:
Selling games access and enhancements to users

Selling content and tools to other developers

Offering engagement-based payouts

Selling items to users via Roblox's Avatar Marketplace
How Much Roblox Makes
Here's a closer look at how much revenue Roblox generates:
45. Revenue grew 82% from $508.4 million in 2019 to $923.9 million in 2020. It then grew 108% more to $1,919.2 million in 2021.
46. Registering earnings of $591.2 million in Q2 2022, Roblox revenue saw an increase of 30% from the same quarter in 2021.
47. In February 2022, the Roblox app earned $45.99M, $15.49M, and $9.14M from iPad, iPhone, and Google Play, respectively.
---
Roblox Mobile Spending Statistics
Mobile usage represents the largest form of access to Roblox, and so it's no surprise that it would be where a large chunk of the platform's revenue is generated.
48. More than 5 in 10 mobile users make in-app purchases on Roblox.
49. Approximately 52% of Roblox iOS mobile users spend between $0.99 to $9.99 on in-app purchases.
50. In Europe, Roblox saw a 29.4% increase in revenue generating approximately $264 million in player spending from Google Play and App Store combined.
---
How Much Developers and Creators Make on Roblox
In the nine months ended September 30, 2020, Roblox had nearly 7 million active developers across more than 170 countries who had either created or updated an experience on the platform. This shows that the platform offers developers a chance to create and engage with a growing audience. And the effects of this kind of community translate into monetary gain. For their efforts, developers retain 70% of every game purchased through the platform where creators pocket 30% of revenue. Here's a look at how game developers fair on Roblox:
51. A developer earns anywhere between 30% and 70% of a transaction value. The actual percentage depends on whether they are the creator, the seller, or both.
52. 99.47% of developers earn less than $1,000 per year on Roblox.
53. In 2021, Roblox paid out more than $500 million dollars to its community of developers and creators.
54. In 2021, More than 5,500 developers and creators exchanged their Robux for real-world currency through the Developer Exchange Program
55. 2.7 million developers and creators earned Robux in June 2022.
---
Wrapping Up
Roblox has proven that online gaming isn't reserved for larger, more competitive communities and competitions. Its 8 million strong community of developers, creators, and users show that it is possible to create a space where many can thrive, and still be profitable. If you're looking for an escape, be sure to check out the platform. You're bound to find a gaming experience hidden among the 20+ million that you will enjoy.