A 3D internet is coming with the metaverse, which combines our physical reality with augmented and virtual reality (AR and VR). At least that's what tech titans and engineers are attempting to create. Because of companies like Microsoft, Meta (formerly Facebook), Epic Games, and Nvidia's keen interest in the metaverse, we can expect it to grow more popular in 2023.
---
Metaverse Stats in 2023:
---
Metaverse 101
The metaverse will have social and economic systems in place, where user avatars can enjoy a wide range of immersed content. Unlike a video game, the overall experience doesn't pause or end. One of the most notable aspects of this new virtual world is its unprecedented interoperability. Imagine purchasing a Roblox skin and then using it in Fortnite or other online games effortlessly.
As Mark Zuckerberg said, metaverse could be the next best thing to teleportation.
Forbes named the metaverse one of the top ten trends everybody must be ready for in 2023. Global spending on VR/AR, the metaverse's foundation technologies, is expected to rise from $12 billion in 2020 to $72.8 billion in 2024. Because of this, leaders in industries like gaming, retail, arts, healthcare, and blockchain are determining how to position themselves as critical players in this emerging ecosystem.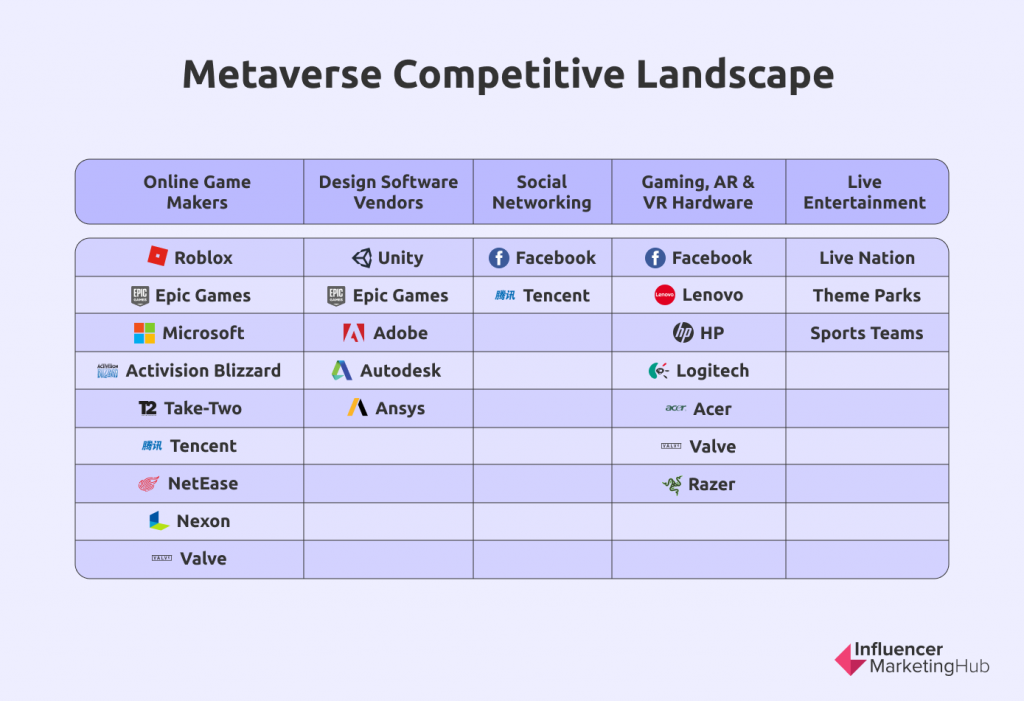 The metaverse concept is enormous. Initially, there will be a variety of metaverses, and some will focus on specific interests like gaming or sports. Meta's vision is a 3D social media channel with AI-driven messaging tailored to each user. Additionally, metaverse can also be a hub for information, entertainment, and work. It will likely evolve into the next version of the internet.
The metaverse's immersive capabilities set it apart from today's tech. Imagine virtually witnessing a historical event instead of reading about it, or watching a basketball game in 360-degree surround sound rather on a TV set. Attending a conference virtually and interacting with others as if they were with you will be possible, because your metaverse presence will augment your physical one.
---
Metaverse Buzzwords
Because the metaverse is still evolving, many people struggle to comprehend its operation. Its arrival, however, promises to facilitate new forms of human connections, work, leisure, and even travel.
Mirror-world
The metaverse offers 3D environments via headsets, glasses, and connected watches. As a result, the metaverse is both a mirror of reality and a new universe, allowing the creation of an advanced reality with innovative scenarios. Experts call this digital copy of reality the "mirror-world."
Digital twin
Digital twin refers to a virtual representation of an object or aspect of real life. In this sense, the metaverse is fascinating because you can be whoever you want. An avatar will represent you, and this online character can either mimic your physical characteristics or take on a completely different form.
Mixed realities
Mixed reality (MR) technology, which combines VR and AR, allows total immersion in the metaverse. Users can interact with virtual and physical objects, and digital items can communicate with both.
In VR, complete engagement in the digital world is possible with the use of a special pair of glasses or a helmet. A roller coaster simulation provides a similar sensation. In AR, a digital overlay projects images and graphics onto the real world. Pokémon Go is an excellent example of AR where the characters are captured in real-world settings.
Blockchain
Blockchain is a key facilitator in metaverse transactions. A blockchain is a network of computers that shares a database. It's very difficult to alter a record once it's in the chain. The network constantly verifies that all database copies are identical.
The metaverse enables users to buy, sell, or upgrade virtual assets such as homes, weapons, and skins in virtual space. According to a BBC, people and companies have already spent $2 billion on metaverse land!
Non-fungible token
In the metaverse, non-fungible tokens are a new type of virtual asset that has powered much of its growth. An NFT is an intangible, digital item. It can be an image, a video, or an in-game object. The blockchain records NFT owners. As such, they can trade the digital assets they represent. Some NFT collectors see these assets as cultural collectibles, while others see them as investments.
---
Metaverse, a Work in Progress
Many tech companies, including Microsoft, Facebook, Nvidia, and Epic Games, have sought to make the metaverse a reality since its inception. But how much have they progressed?
Gaming has some of the earliest metaverse experiences as gamers create their worlds. Because the metaverse offers a realistic virtual experience, it is a logical next step for the gaming industry. The metaverse can help increase game engagement, virality, and monetization.
Take, for example, Epic Games' Fortnite. They designed entire concerts for fans to attend where they can interact with musicians like Ariana Grande, Travis Scott, and Marshmello. These filmed and animated concerts allow fans to navigate the game area and approach the artist's avatar in these time-shifted interactive encounters. They can even purchase digital merch, just like at a live show.
Meta and Microsoft have taken an entirely different route. Meta has unveiled Horizon Workrooms, a new way for office workers to connect with VR using an Oculus headset. A VR conference can have up to 16 participants, all of whom are represented by an avatar. On the other hand, Microsoft's goal is to transform business and the workforce by creating a digital representation of the physical world in which users can interact through mixed reality.
The laws that will govern metaverse and allow it to integrate into our lives seamlessly are still in the works. For now, the metaverse, like the internet, has no single owner, operator, or inventor. It would be great if the system is going to be open source and based on community standards.
There are still a lot of uncertainties with the metaverse, but one thing is for sure: it is limitless, allowing developers to create and design entire worlds.
---
Key Metaverse Statistics
As the metaverse evolves, more virtual spaces will have more complex interactions. Let's look at some metaverse facts, figures, and stats.
Nuts and Bolts
✔️ The phrase "metaverse" derives from the prefix "meta" (beyond) and the stem "verse" (universe). The term means "beyond the universe."
✔️ The metaverse has its origins in Neal Stephenson's 1992 sci-fi novel Snow Crash. It's also in Ernest Cline's Ready Player One and William Gibson's Neuromancer.
✔️ The COVID-19 pandemic boosted consumer and business interest in the metaverse.
✔️ NFTs saw a $2.5 billion increase during the peak of the pandemic.
✔️ According to one study, most gamers and streamers aren't all that different from their real-life friends. This implies individuals prefer online friends who are like them in real life.
---
Facts and Figures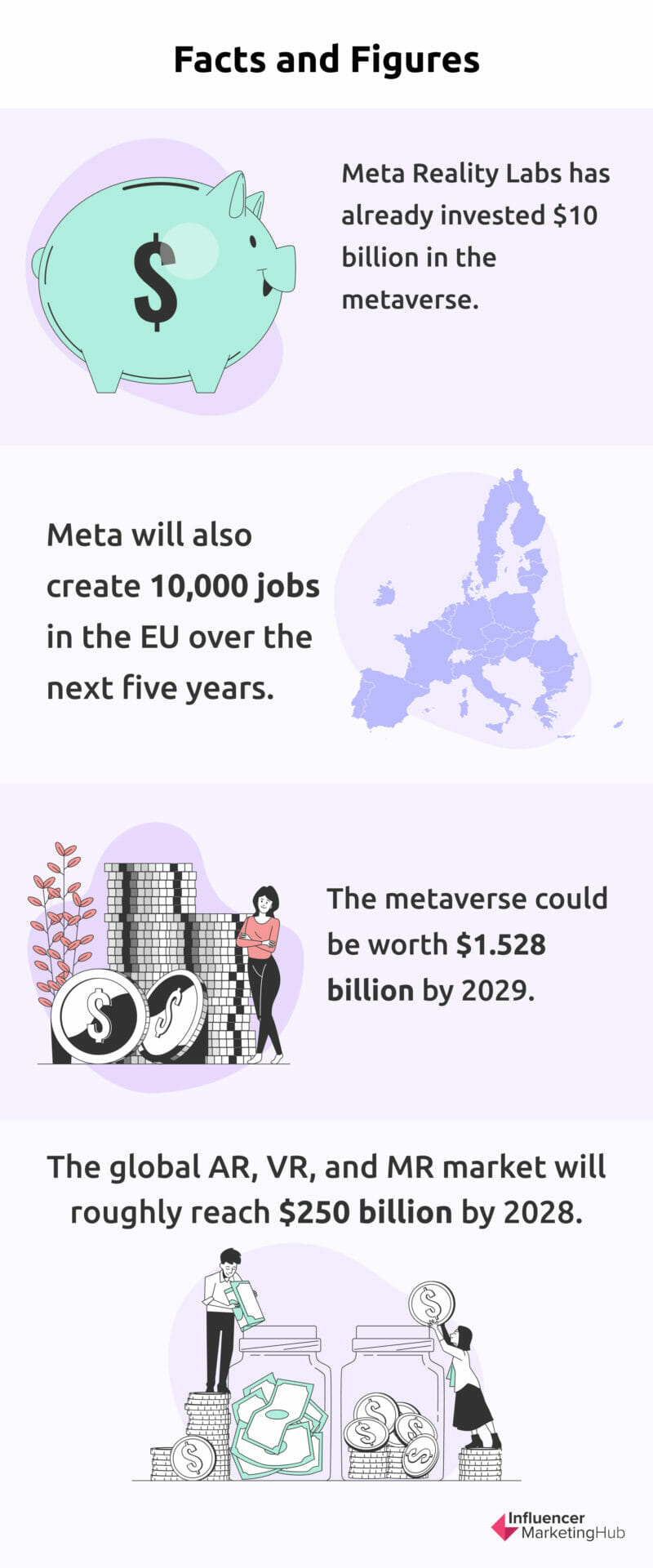 ✔️ Meta Reality Labs has already invested $10 billion in the metaverse.
✔️ Meta will also create 10,000 jobs in the EU over the next five years.
✔️ The metaverse may be worth $1.528 billion by 2029 due to a surge in interest during the pandemic. That's way up from $47 billion in 2020.
✔️ Decrentraland launched a new platform feature that allows LAND owners to become landlords by renting virtual property.
✔️The global AR, VR, and MR market will roughly reach $250 billion by 2028.
✔️ North America holds the largest share of the worldwide metaverse market in 2023.
✔️ Several prominent tech companies see the metaverse as an unprecedented opportunity to expand their reach.
---
Tech and Devices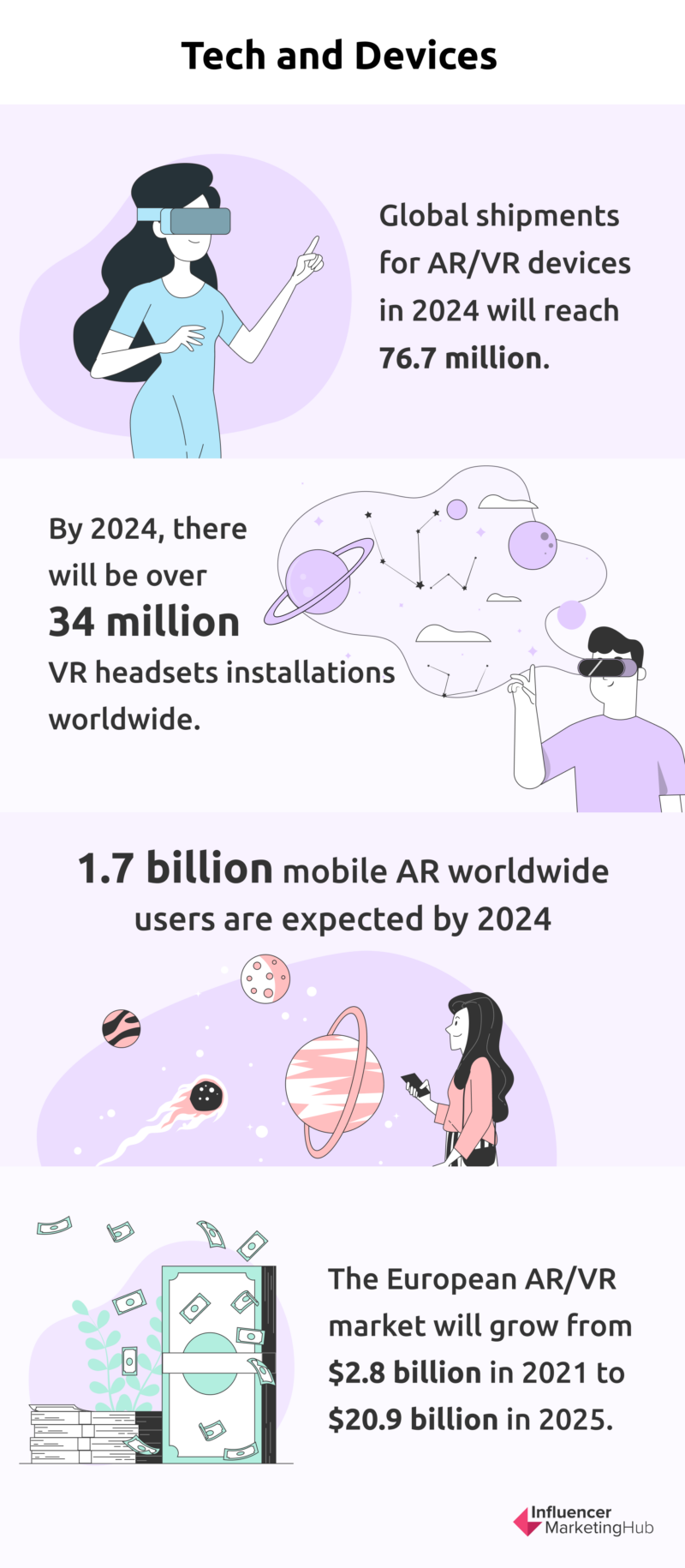 ✔️ The hardware segment dominated the metaverse market in 2021.
✔️Demand for VR gear have grown over 16 times between 2018 and 2022.
✔️Global shipments for AR/VR devices in 2024 will reach 76.7 million.
✔️ AR and VR headset sales will increase in the following years, with combined technologies selling over 26 million units annually by 2023.
✔️ By 2024, there will be over 34 million VR headsets installations worldwide.
✔️ The European AR/VR market will grow from $2.8 billion in 2021 to $20.9 billion in 2025.
✔️ By 2032, there will be 1.4 billion mobile AR users worldwide.
✔️ 1.7 billion mobile AR worldwide users are expected by 2024, up from 200 million in 2015.
✔️ Cost, accessibility, and safety are the top three factors cited by Extended Reality (XR) industry experts as driving the AR market past VR.
---
Consumer Value

✔️Metaverse's global market value is $47.48 billion in 2022, and has a robust CAGR of 39.44%. By 2030 the value is expected to reach $678.80 billion.
✔️A March 2022 survey by Statista showed that 36% of online adults expressed interest in using the Metaverse, with 12% reported as very interested.
✔️The 2022 Statista survey showed that males were more likely to show interest in joining the metaverse compared to females. Around 18% of males in the US reported being very interested in the new digital space, while only 7% of females showed interest in metaverse.
✔️Stats on Roblox usage show that over 58.8 million daily active users log in to Roblox games worldwide. This has increased from previously reported daily peak active user count of 52.2 million.
✔️ 70% of consumers between the ages of 16 and 44 are aware of AR, despite the technology only being available for a few years now. Stats show that the adoption rate is akin to that of eCommerce.
✔️ Virtual art galleries now have a market worth of $2.4 billion, and are still expected to grow in 2023. With the growing popularity of NFTs and virtual reality, it's no surprise that artists are maximizing this mode of digital art format. Art collectors can revel in a one-of-a-kind immersive art experience without ever leaving their homes. At the same time, they don't have to take care of the art's physical representation.
---
Events and Shows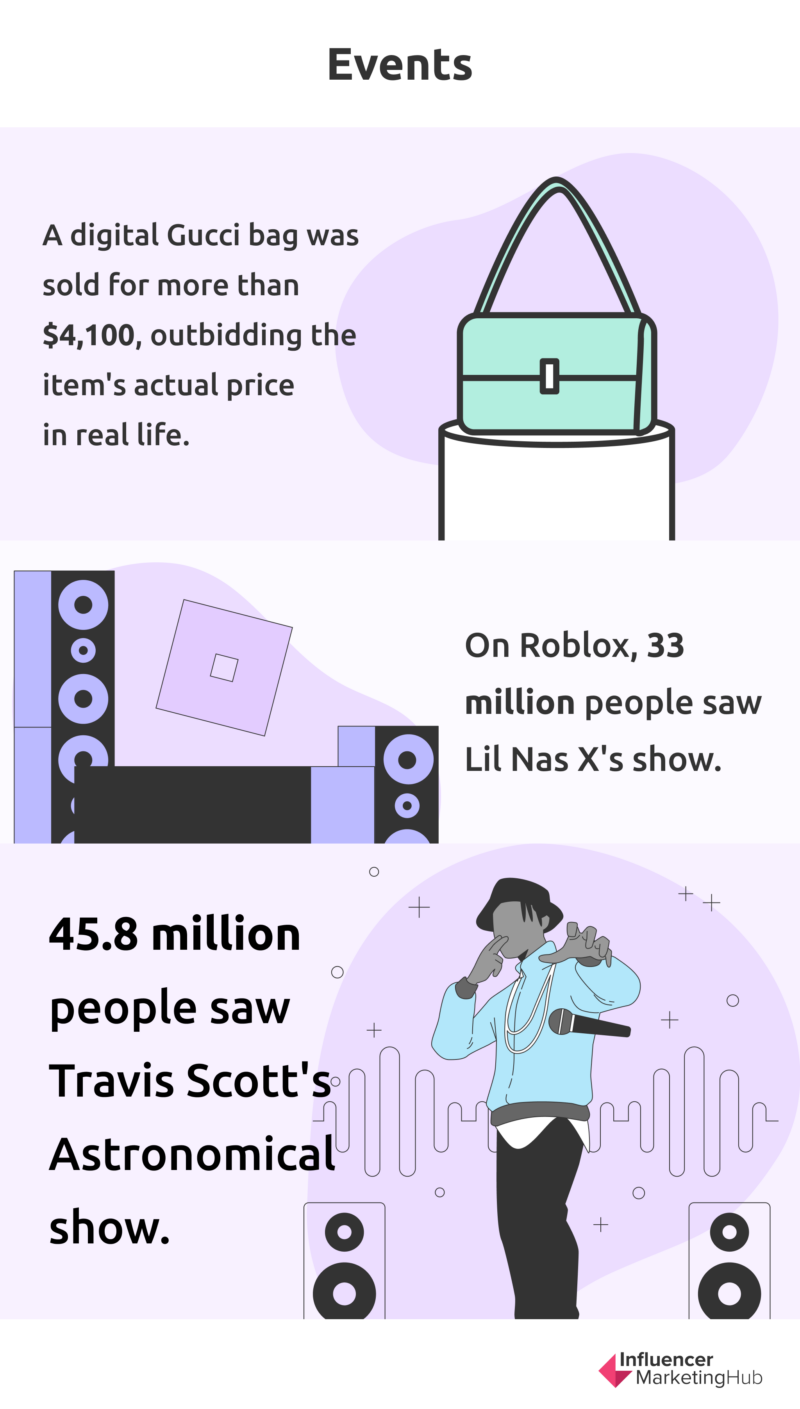 ✔️ 10.7 million people have attended Fortnite concerts.
✔️ Christie's sold "Everydays: The First 5000 Days" by artist Mike Winkelmann in 2021. This marked the first major auction house sale of a digital-only artwork.
✔️ A digital Gucci bag was sold for more than $4,100, outbidding the item's actual price in real life.
✔️ On Roblox, 33 million people saw Lil Nas X's show.
✔️ 45.8 million people saw Travis Scott's Astronomical show.
✔️ A virtual party on Roblox promoted the summer blockbuster movie "In the Heights."
✔️ Designer brands are continuing to immerse in the metaverse. Gucci held a Gucci Garden Archetypes installation for Roblox that allotted two weeks for users to buy limited edition virtual products for their characters. Prices that started at $1.5 or $5.5 grew to $4111 due to demand.
---
Brands and Beyond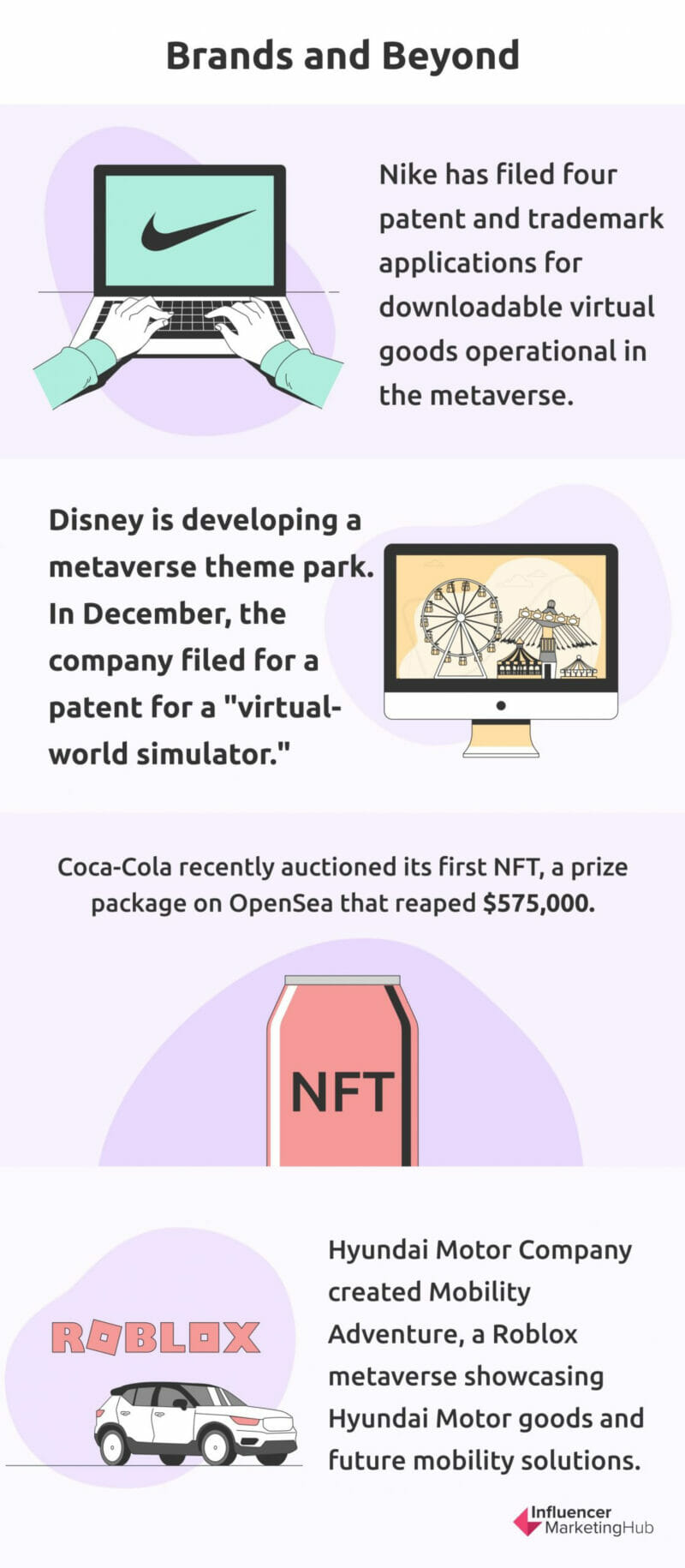 ✔️ Nike has already filed four patent and trademark applications for downloadable virtual goods operational in the metaverse.
✔️NASCAR joined forces with Subnation Media as part of its digital ecosystem expansion including metaverse.
✔️ Disney is developing a metaverse theme park. In December, the company filed for a patent for a "virtual-world simulator."
✔️Hyundai Motor Company created Mobility Adventure, a Roblox metaverse showcasing Hyundai Motor goods and future mobility solutions.
✔️Coca-Cola auctioned its first NFT, a prize package on OpenSea that reaped $575,000.
✔️To commemorate their founder's 200th birthday, Louis Vuitton created Louis: The Game. Vivienne explores the virtual world in quest of NFT candles.
✔️Gucci opened Vault, a metaverse concept store selling "Supergucci" NFTs.
✔️Designer Charli Cohen and retail house Selfridges collaborated on a collection and VR experience to commemorate Pokémon's 25th anniversary.
✔️Metaverse for marketing will continue to gain momentum. One great example is when AB InBev partnered with Zed Run to promote NFT horses, breed them, sell them, or use the unique NFTs for special events. From prices of $30, the prices now have reached $165,000.
✔️ The corporate world is maximizing metaverse accessibility. Consulting giant Accenture created a metaverse environment called The Nth Floor, which mimics real-world offices and lets staff conduct training, onboarding, and other HR-related activities within the metaverse.
---
Other Interesting Stats
✔️The metaverse may help people overcome disabilities (39%) and improve creativity and imagination (37%).
✔️In a poll of 1000 respondents, 48% said they would join the metaverse for the art and live entertainment, while 44% would participate for bitcoin and NFTs.
✔️The metaverse advocated for the total banning of suicide, animal cruelty, hate speech, and harassment. Less than half of those polled agreed that alcohol and drug-related content should be prohibited.
✔️Metaverse is slated to add $5 trillion to the global economy by 2030, given the clamor for placing marketing and events in the virtual space. eCommerce still reigns as the largest economic force ($2.6 trillion), followed by virtual learning ($270 billion), advertising ($206 billion), and gaming ($125 billion), respectively.
---
Metaverse in the Future
The future metaverse will include:
Ubiquitous networking

NFTs on the blockchain

Extended realities

Upgraded tech
Increasing NFT marketplace integration with 3D virtual worlds appears to be the next phase. NFT holders can already trade things on markets like OpenSea and BakerySwap, but there is no broad 3D platform for this. Blockchain developers may construct popular metaverse-like programs on a larger scale.
A cross-chain metaverse is also possible. The metaverse, according to Intel, will require 1,000 times more computer power than is currently available. Economy-wise, the metaverse will soon have a significant global impact. Industry 4.0 and the metaverse ecosystem are intertwined. Exciting ways to earn money in the new economy will emerge from taking over from monotonous service jobs, which offers low-wage workers more freedom.
---
Closing Thoughts
It is unknown how long a true metaverse that mirrors actual life will come into play. A unified metaverse is undoubtedly a long way off, but there are already significant advances and developments that could lead to it.
For users to fully interact in the environment, many blockchain-based metaverse systems are still working on their AR, VR, and MR integrations. Tech titans like Facebook, Microsoft, and Epic Games are investing in cloud computing and VR startups.
The metaverse conversation will gain steam in 2023. After all, businesses are continuing to embrace an inexorably digital future. And while experts say that it will take another five to ten years for people to experience a full-bodied metaverse, users can presently participate in metaverse-like projects and integrate blockchain into their daily lives.
Frequently Asked Questions
How many users are on metaverse?
There are 400 million monthly active users dwelling on the Metaverse. The largest chunk comes from Roblox (230 million), followed by Minecraft (165 million), and Fortnite (85 million).
What is the market size of the metaverse?
In 2021, the global metaverse market was estimated around $38.85 billion US dollars. In 2022, the global metaverse market is expected to rise to $47.48 billion US dollars. It will surge to $678.80 billion US dollars by 2030.
How much is the metaverse market worth?
The metaverse market size was valued at whooping $100.27 billion in 2022 and is projected to grow $1,527.55 billion by 2029.
What is a metaverse market?
The metaverse is a virtual space where an interactive, self-sufficient ecosystem of mobile networks, augmented reality, social media, gaming, virtual reality, ecommerce, cryptocurrency and work environments coexist.
What is the most popular metaverse?
These are the most popular metaverse environments for cryptocurrency:
Decentraland, the biggest metaverse cryptocurrency right now
The Sandbox
Axie Infinity