Advertising Disclosure
Advertising disclosure:
Our partners compensate us. This may influence which products or services we review (also where and how those products appear on the site), this in no way affects our recommendations or the advice we offer. Our reviews are based on years of experience and countless hours of research. Our partners cannot pay us to guarantee favorable reviews of their products or services.
Email marketing may seem a bit archaic in today's fast-paced world of Instagram influencers and social media. Still, any marketing agency will tell you that email is more than a viable way of reaching your target market.
It may not be as flashy, but it's a reliable, consistent, and (most importantly) trusted way of reaching an audience. But given the scope and goals of any business, simply mass-sending emails is no longer a viable—or even cost-effective—way of doing it. That's where email marketing systems come in.
But how can they help businesses, and what are the best business systems you can use? Here's a guide on answering all those questions and more.
---
Email Marketing Services To Help You Connect With Customers:
---
7 Email Marketing Systems And Platforms Businesses Can Consider
Email marketing services may have different features, but they're all centered around one idea: customer relationship management. To this end, it's crucial to choose a specific service that best suits your needs as a business or a provider that can help you cover the basics to get started.
Hubspot's Email Marketing service is the tool of choice for many marketers, as its simple interface and automation make sending emails simple for anyone with little to no technical training. It has a robust tracking and reporting system that allows users to monitor emails, landing pages, and forms—and is deployed in many campaign launches across various businesses.
Hubspot also contains many marketing integrations that work well with lead generation and sales management, with consistent updates that add new features for easier management. While email management is a small part of the overall tool's features, its capabilities (especially when working with other features of the Marketing Hub) make it perfect for businesses looking for help with managing emails.
---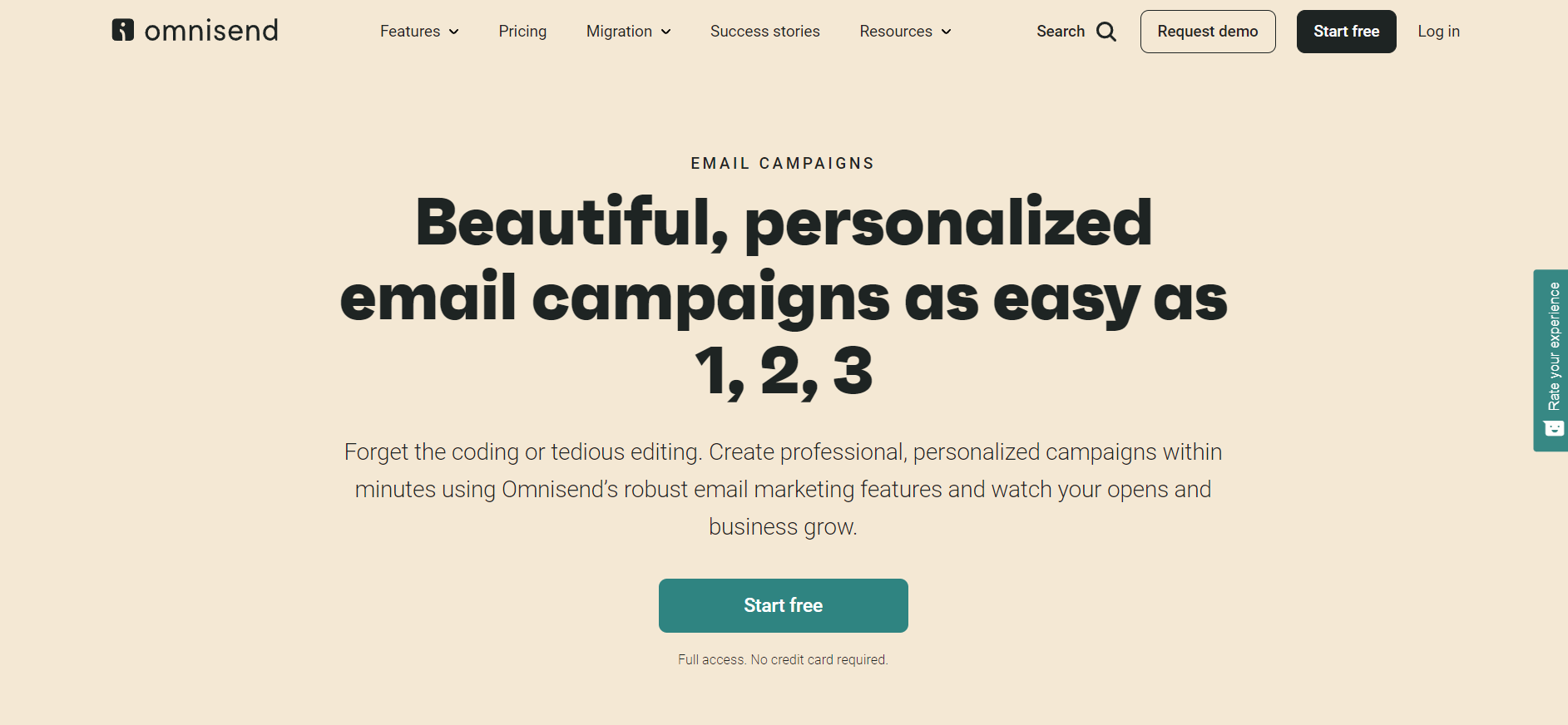 Businesses looking to leverage other channels apart from email will enjoy Omnisend's omnichannel approach to email marketing. The platform specializes in creating drag-and-drop campaigns, allowing users to create entire emails from scratch—or opt for the many templates already on the site. Campaigns are the most effective way of using Omnisend, as its audience segmentation feature is intuitive and easy to use.
Companies operating in the eCommerce space will also enjoy the platform's approach to buy-in emails, allowing them to include anything from discounts code to product recommendations in a single email. Omnisend also offers advanced reporting and tracking features, allowing users to identify campaigns' strong and weak parts with pinpoint accuracy.
---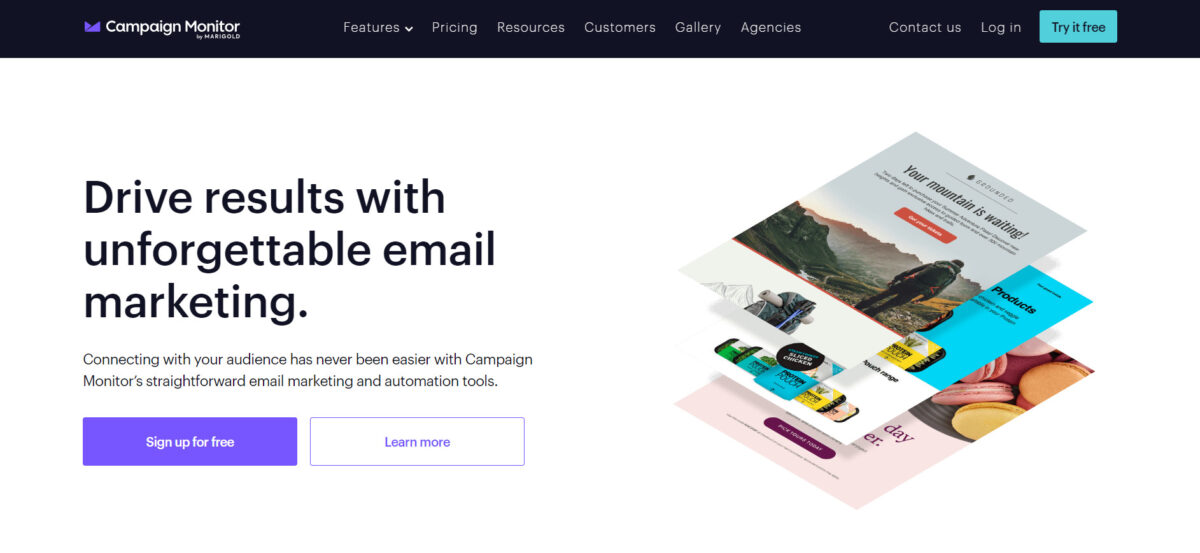 Campaign Monitor's email marketing service addresses a critical concern that many emails fail to meet: personalization. By integrating with a business's website and other platforms, Campaign Monitor can build an in-depth customer profile and provide insights to tailor the perfect email for their preferences. This allows the platform to create the most efficient email strategy regardless of the campaign. The platform's emphasis on personalization also funnels into its features, like time-zone-specific sending and dynamic content creation. With an easy-to-navigate builder, businesses can get their email campaigns up and running within minutes of signing up to use the platform—useful for any users looking for a quick launch.
---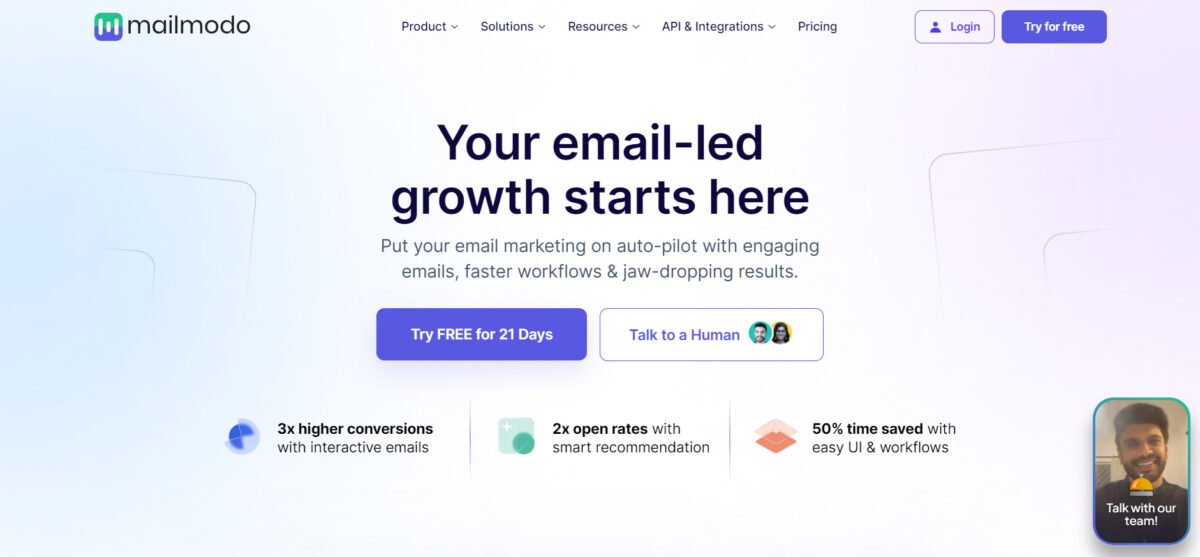 Interactive email can be a tricky area to navigate for many businesses, but having a service like Mailmodo makes it far easier. This service specializes in creating interactive experiences in emails, allowing customers more options to engage with a business, and a business more opportunities to create dynamic emails that drive results.
Mailmodo helps users create interactive content without the need for coding, avoiding a technical time sink that often stops many businesses from creating dynamic emails. With widget integration, audience segmentation, and email automation, it's become a favorite of many designers looking to move away from the "boring" open-and-click style that dominates most emails today.
---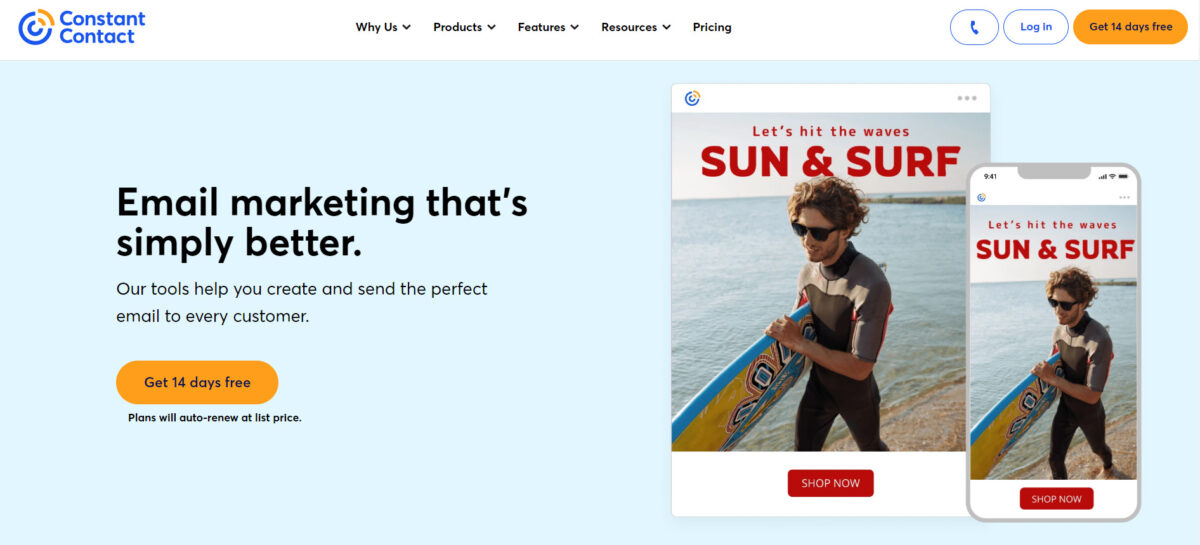 Businesses looking for a simple solution to getting started on email management can consider Constant Contact—a service that simplifies, assists, and automates everything can about the email marketing process. It's beneficial for businesses that don't have the time, resources, or knowledge required to create email campaigns, helping any user get started with their email marketing without much technical training.
Constant Contact also integrates with some of the most popular services in crafting email content, like Canva, Stripe, or Etsy. With its clear analysis and reporting tools, users can get actionable data that can drive their present and future email campaigns to success.
---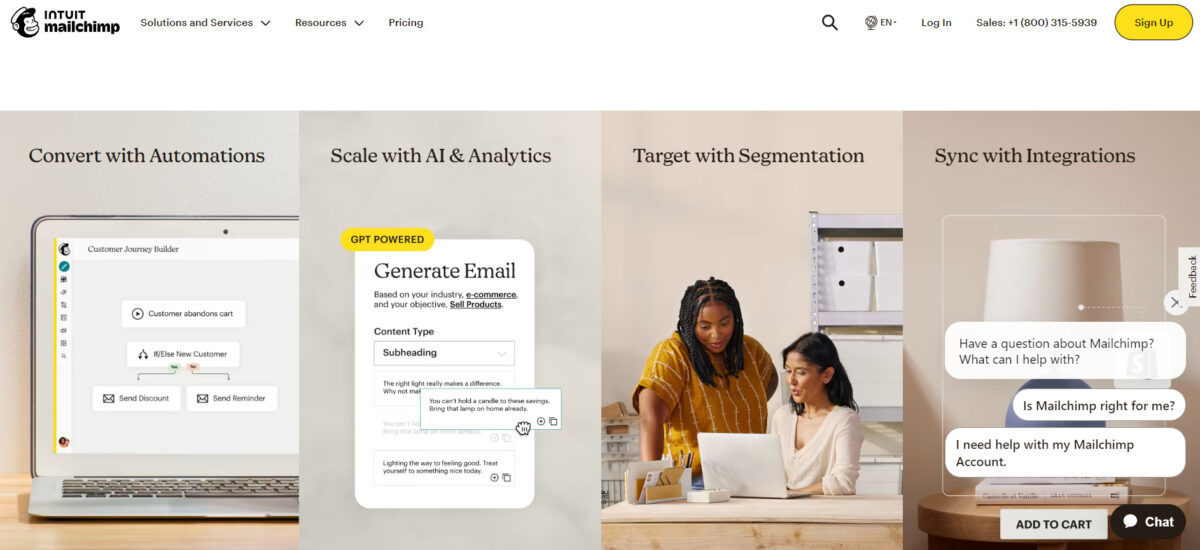 A long-trusted name in email marketing and management, MailChimp helps businesses automate audience segmentation by identifying high-value customers to target with emails. With over 300 integrations for data-driven segmentation, the platform allows users to divide and predict which audiences are the most worthwhile for them to spend their time and effort reaching.
This helps companies avoid many of the usual trial-and-error that comes with sending emails—either for a campaign or for regular engagement—while still considering audience concerns like personalization and data privacy. By identifying these critical customers through email, businesses can increase conversions and drive higher-quality traffic toward their brands.
---
Moosend helps businesses identify the best time, place, and content to send to their customers with personalized and responsive emails that look visually stunning while still being actionable for their recipients. The platform's conversion-first approach helps companies engage with their audiences with emails that consider not only their customer's information but also their behavior.
The platform also offers support for eCommerce businesses, with features like identifying cart abandonment rates and offering discount codes to customers that may still be on the fence. With an easy-to-use editor, any user can immediately connect with leads no matter their stage in the buyer's journey.
---
---
Why Does Email Still Work So Well For Marketing?
Around 4.6 billion people will still be using email in 2025. Most services, systems, sites, and platforms will usually require an email address to enter or use—which means businesses have direct contact with their customers, especially if they voluntarily choose to opt in.
But the ubiquity of email isn't the only reason why it can work so well for marketing: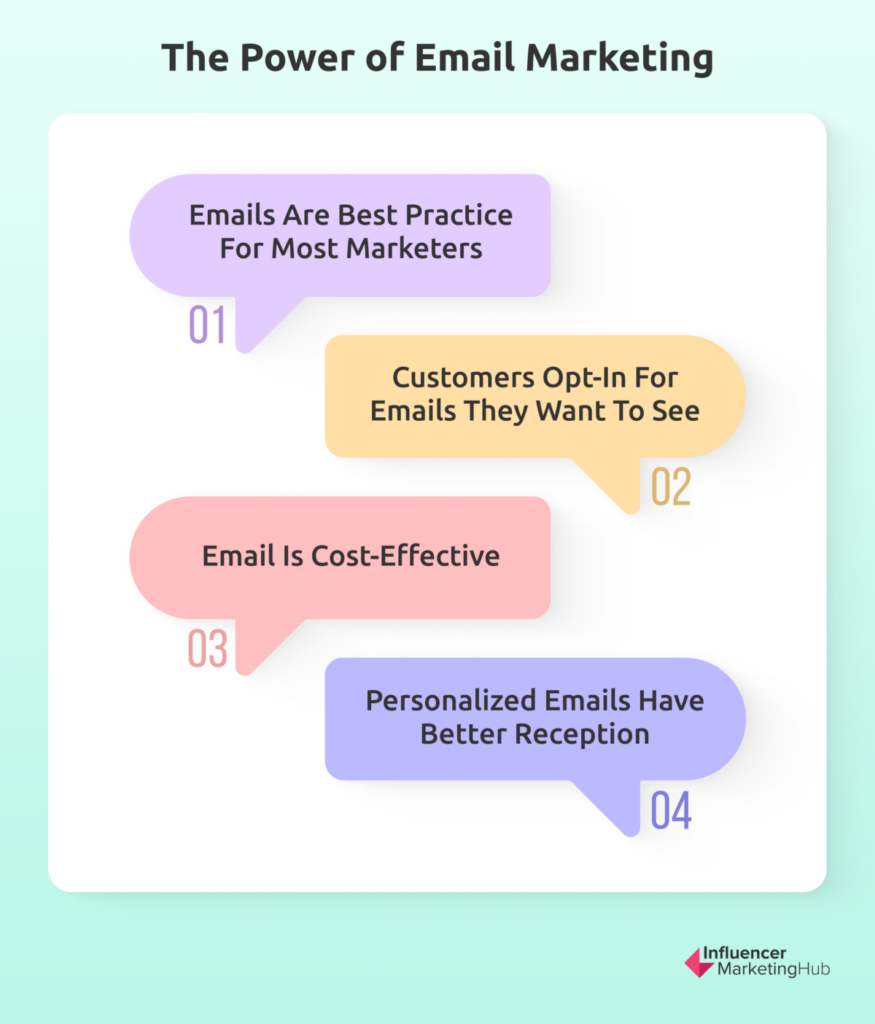 Emails Are Best Practice For Most Marketers
Around 69% of B2B marketers use email to distribute content, second only to their websites and blog posts. It's not difficult to see why: email offers a business an easy way to customize the type of content to better fit a specific customer rather than complying with the limitations of being on another platform.
This "blank space" essentially offers marketers the elbow room to make emails reflect their companies' brand, goals, and campaign targets, which can often be difficult on other marketing platforms and channels that can stifle such creativity.
Customers Opt-In For Emails They Want To See
Audiences rarely give away their email address to a service or provider that they aren't likely to engage with. Most, if not all, customers will voluntarily choose email: and only 0.1% of them will decide to unsubscribe from receiving emails altogether.
This gives companies a personal (and direct) window into their customers' lives, which increases engagement and helps keep brand awareness high. If a company is already an expected sight in a customer's inbox, they already have an effective way of talking to their audience.
Email Is Cost-Effective
Email is by far one of the most cost-effective ways to conduct a marketing campaign. While exact numbers vary, companies may be able to achieve an ROI of up to $70 per $1 spent on emails, which can add up to significant savings long-term.
Given the variety of features between different email systems and platforms, you can tailor your emails to your customers without affecting any potential profits for your bottom line. This is especially significant when considering that email marketing can drastically change depending on your campaign.
Personalized Emails Have Better Reception
Customers are 88% more likely to engage with an email if they feel it's been personalized. Because inboxes can be filled with all sorts of automated responses, confirmation emails, and other daily communications, a brand that personalizes its emails for its customers is far more likely to be received favorably by its audiences.
This is especially apparent when you consider that most, if not all, email marketing tools and services offer some degree of personalization within their features. Companies looking to get ahead of their competitors will take full advantage of this capability to personalize emails, which can help them reach better engagement rates both short and long-term.
---
How To Make Email Work For You Beyond 2023
Email marketing may be helpful for businesses today, but it will only be effective in its current state for a while. Companies will need to leverage the strengths of email marketing to make the most out of its benefits now—but also take care to future-proof its efficacy.
Here are three ways that businesses can improve their use of emails: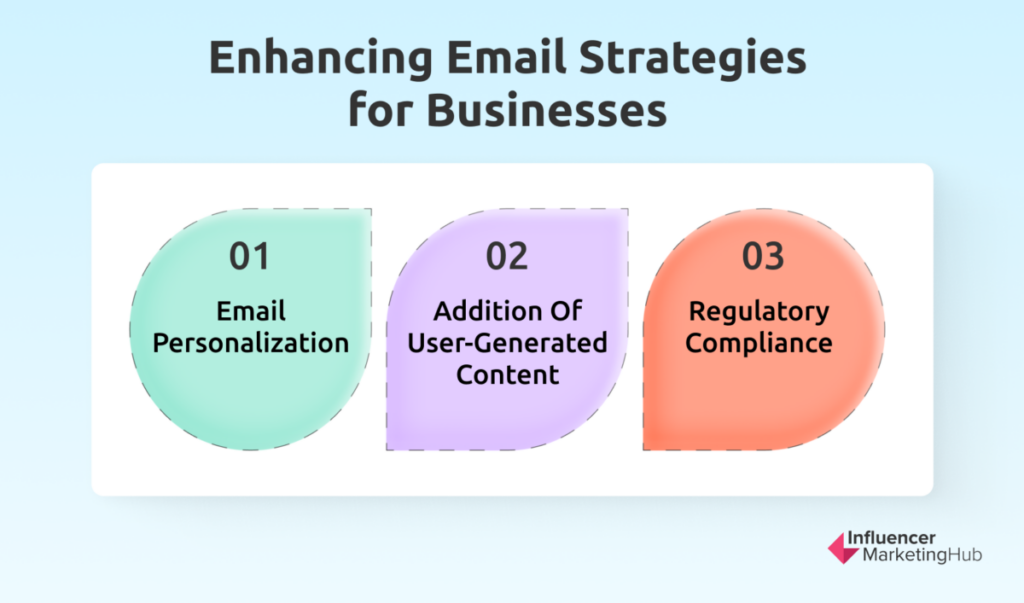 Email Personalization
Personalization, by far, will be the most essential thing that will keep email marketing relevant to customers. Given the rapid rise in marketing, advertising, and other customer outreach efforts, today's audience won't respond to the usual email blasts and cookie-cutter templates that dominated early email marketing.
By using personalization, brands will be able to:
Adjust their emails based on specific customer segments, not just for a whole

Diversify their reach to account for different demographics without alienating others

Tailoring customer experiences in each email (such as the type of content received)
This approach properly addresses audience segmentation at the cost of minimal investment and the risk of off-brand messaging. Businesses will be able to talk to different audience demographics, increasing engagement and customer loyalty.
Addition Of User-Generated Content
Companies can leverage audience interaction with their audience by including peer-to-peer recommendations in their email marketing. Customers are far more likely to buy/engage with services other customers have tried, and emails can be a great avenue to share this type of content.
User-generated content can also:
Give companies an idea of the type of content their audience wants to see based on traction

Allow for organic marketing without the need to extensively research or acquire customer feedback

Improve confidence in their brand by showing actual proof of customer engagement and enjoyment
Businesses can make small changes in their marketing funnel (such as obtaining reviews after purchase) that can easily create User-Generated content. With enough time, a company can compile an entire library's worth of success stories that they can use to showcase and empower their brand.
Regulatory Compliance
More countries worldwide have stepped up their laws about consumer privacy and customer data—and companies need to keep up to avoid penalties. While most of these efforts are targeted toward websites, eCommerce platforms, and the like, emails also fall within the scope of these regulations.
Making sure that email marketing is always compliant with data privacy can:
Assure an audience that data protection laws cover their consumer rights

Prevents companies from being penalized by law enforcement and avoids potential lawsuits

Addresses specific audience segments and their concerns about data when interacting with your brand
Businesses must keep ahead of developments in data privacy and other similar regulations to apply any changes needed to their marketing, including email. Depending on where your customer segments are located, you may have to make significant alterations to your email campaigns to comply with their local regulations.
---
Wrapping Up
Despite being one of the internet's earliest innovations, email remains a considerable—and effective—way to reach an audience. Businesses can leverage this efficiency by using email marketing services and systems to improve the email marketing process. Companies can build a solid foundation of engaged customers for long-term growth with a proper understanding of these tools and how they interact with their intended recipients.
Frequently Asked Questions
How expensive are business email marketing services?
Business email marketing systems automate much of the email marketing process for you. Buying ad space is optional if a customer is on your mailing list, which is often far more expensive than sending an email. Most tools discussed earlier have free versions, but companies looking to scale their campaigns may have to buy into the premium plans.
Can businesses opt out of using email marketing?
Email marketing is one of the many ways you can reach your audience. Depending on your target demographic, using social media may work as well or even better at driving engagement. However, most experts generally recommend adopting an omnichannel marketing strategy to get the best possible results; this will always include email.
What's the best way to grow an email list?
Incentivizing your customers is a simple and effective way to get them to opt into your email lists. Running email-only campaigns can keep your audience paying attention to your emails, which increases their engagement. It's also simple for your customers to opt in: putting CTAs on your website, social media, or other platforms can all be excellent ways to get their interest.
How can I craft better emails?
There are many best practices to consider when crafting an email, but a general guideline is to make your emails as customer-centric as possible. This means studying your specific audience segments, personalizing email content to their tastes, and measuring the success of your email campaigns with email metrics. Doing all the research you can before hitting "send" on your emails increases the likelihood of receiving them well.
Should I buy email lists?
Some companies and organizations offer a database of email addresses that you can buy to send emails to. While this may sound like a convenient way to get your emails out, there are better ideas than purchasing email lists. There's no guarantee that these lists were compiled with the users' consent—which can infringe on their privacy and potentially open your business to lawsuits.