Advertising Disclosure
Advertising disclosure:
Our partners compensate us. This may influence which products or services we review (also where and how those products appear on the site), this in no way affects our recommendations or the advice we offer. Our reviews are based on years of experience and countless hours of research. Our partners cannot pay us to guarantee favorable reviews of their products or services.
In an age where people are more likely to trust the recommendation of a YouTuber over that of a celebrity, influencer marketing is alive and kicking. However, as consumers become more starved for authenticity and credibility, they're quickly turning their attention toward nano-influencers and micro-influencers who have a more niche influence.
Not sure whether to work with a nano-influencer or a micro-influencer? This all depends on what you're planning to achieve through your campaign. Let's find out what their differences are, what benefits they offer, and which type would be better for your business.
---
Nano vs. Micro-Influencer Marketing: What's the Difference?:
---
Nano-Influencers
<10,000 followers

Typically unpolished feeds with more personal content

More personal and authentic interactions
What are Nano-Influencers?
Nano-influencers are the newest "breed" of influencers with fewer than 10,000 followers on social media. Unlike professional influencers, they typically maintain a less polished feed with meme posts and photos featuring their loved ones. In essence, they're just like your everyday social media users and are, therefore, more relatable.
Their influence is small but considered more authentic because most of their following is made up of friends, family, and acquaintances. These are people who know them personally or know them well enough to trust their opinions and recommendations. As such, a nano-influencer's influence is highly impactful due to the authentic and personal nature of their interactions.
For example, the following user has close to 2,000 followers. While her interests revolve around fitness and nutrition, her feed looks relatable and more personal, as it features content that's less polished and showcases the people in her life.
---
Benefits of Working with Nano-Influencers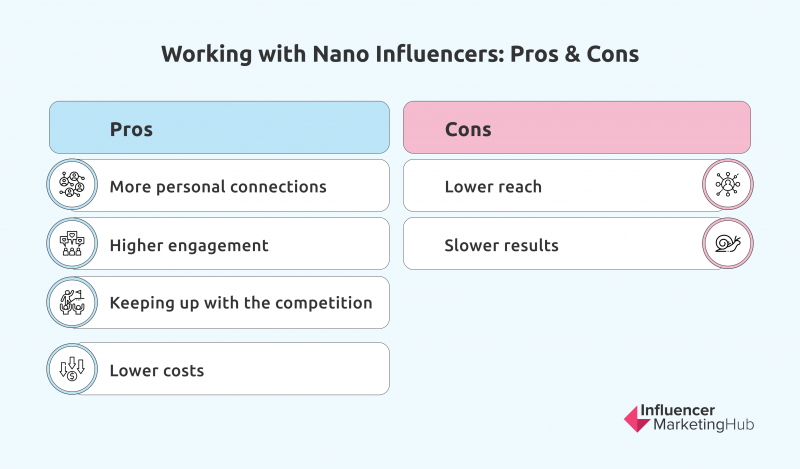 More personal connections
Nano-influencers typically have a network of close friends, family, and acquaintances. This keeps their interactions more personal, more authentic, and more impactful. As a result, brands have an excellent chance of building trust with the help of nano-influencers.
In fact, 82% of Americans make a purchase based on the recommendation of friends and family. Additionally, 67% are a little more likely to buy something after seeing it being shared by friends or family via social media or email.
Higher engagement
Nano-influencers are garnering significant engagement on social media, also likely due to the more personal connections they have with their followers. A study by Aspire.io found that nano-influencers have an average engagement rate of 3.69%–over twice the engagement that macro-influencers have.
This trend was visible even in our own Influencer Marketing Hub study. We found this particularly apparent on Instagram, where nano-influencers commanded engagement rates between 1.70% and 4.84%. Meanwhile, those with 100,000 to 1 million followers only garnered an average engagement rate of 1.06%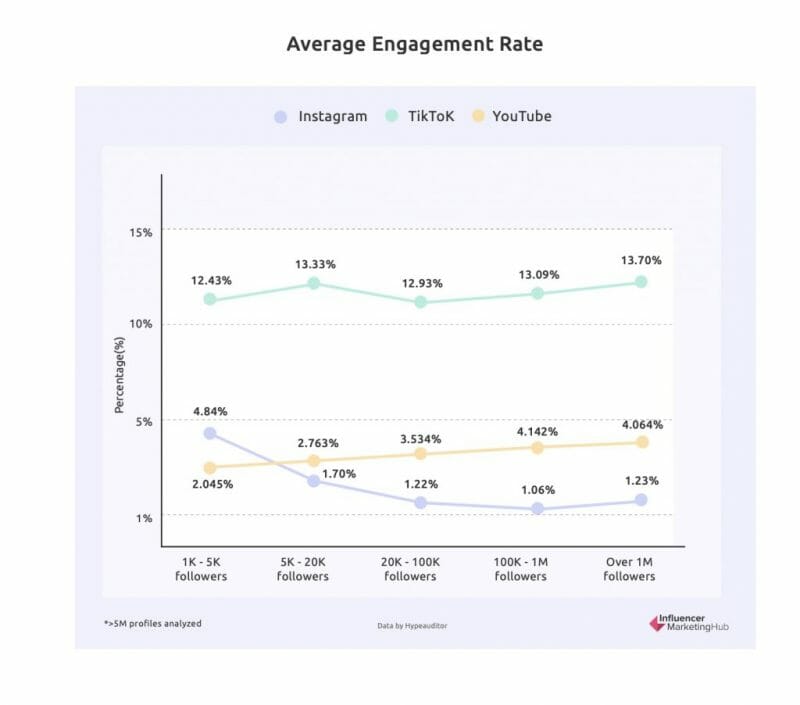 On TikTok, influencers of all sizes garnered significantly high engagement rates. There's no major difference in the engagement rates of people with smaller following and people with massive following.
Keeping up with the competition
The Aspire.io study from earlier also found that brands are shifting their focus on smaller creators as consumers begin to value authenticity more. Based on the study, 70% of brands are working with nano and micro-influencers. This means that many of your competitors are already leveraging the power of these nano-influencers. Incorporating them into your campaign is essential to catch up.
Lower costs
Another major benefit of working with nano-influencers is the ability to reduce influencer marketing costs, With the lower reach that they command, nano-influencers also charge less than their peers with a bigger following.
According to our latest influencer rates report, you'd typically only have to spend between $2 and $250 per post depending on the platform. On Instagram, you can expect to spend anywhere between $10 and $100 while Facebook costs more, with posts costing about $25 to $250 each.
Meanwhile, the lowest that mid-tier influencers charge is around $500 per post on Instagram. That means you could work with at least five nano-influencers on Instagram for the price of one mid-tier influencer. The costs can easily build up as you work with influencers who command an even bigger following. For example, you can expect to spend about $10,000 to $20,000 for a YouTube video from a macro-influencer.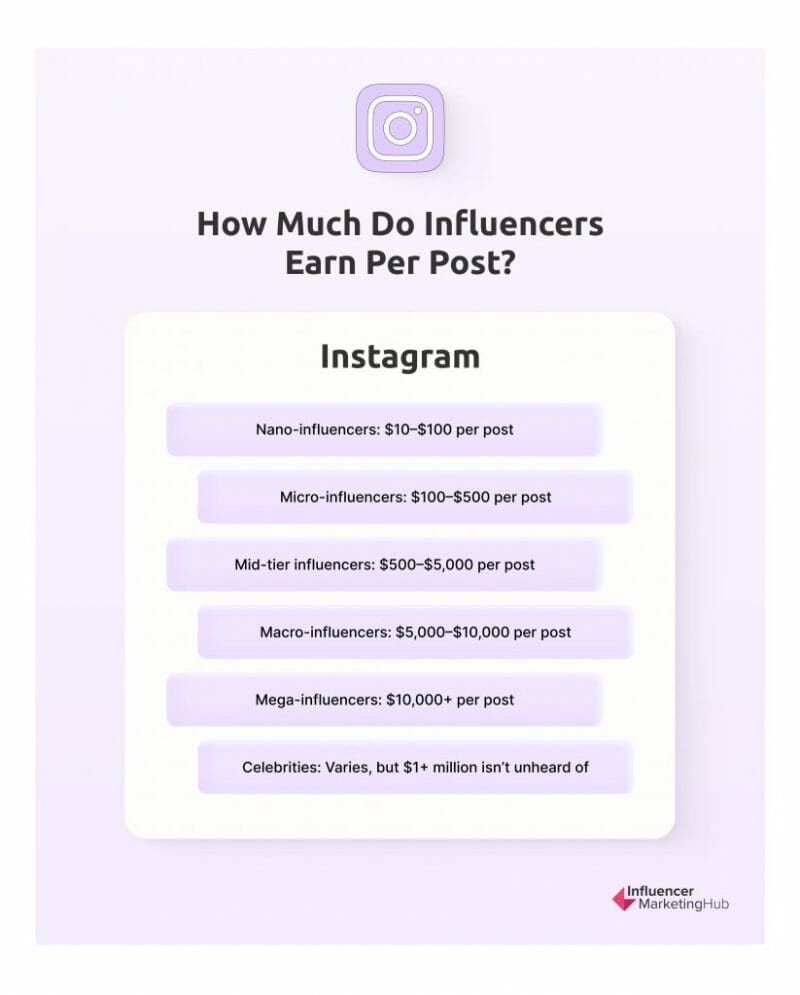 ---
Cons of Working with Nano Influencers
Lower reach
The most obvious drawback of working with nano-influencers is the limited reach. They typically have around 1,000 to 10,000 followers, so this may not be the type of reach that some brands are looking for. For example, if you want to generate mainstream buzz about an upcoming product, nano-influencers may not necessarily be the best option.
Slower results
Due to their limited reach, nano-influencers may also be slower to bring in results. Trust and authentic connections take time to build, so the results from your nano-influencer marketing campaign may also be slower to show.
---
Micro-Influencers
10,000-100,000 followers

Typically create content about specific niche interests

Command authority in their areas of interests
What are Micro-Influencers?
Micro-influencers are another type of smaller influencers having between 10,000 and 50,000 followers. Some also consider influencers with under 100,000 followers as micro-influencers. They often create content related to a specific niche interest such as food, fitness, fashion, etc. As such, their network also consists of people who share similar interests and see them as authority figures in the niche topic.
So, although their influence may not be as significant as that of a macro or mega-influencer, they're seen as a trustworthy source in their topic of interest. They have followers who want to engage with them on the topic and look to their opinions and recommendations to guide their purchase decisions.
For example, the following micro-influencer specializes in the art niche. As a visual artist and art educator, she has credibility in the field. Her talent and expertise have earned her close to 100,000 followers on Instagram.
---
Benefits of Working with Micro-Influencers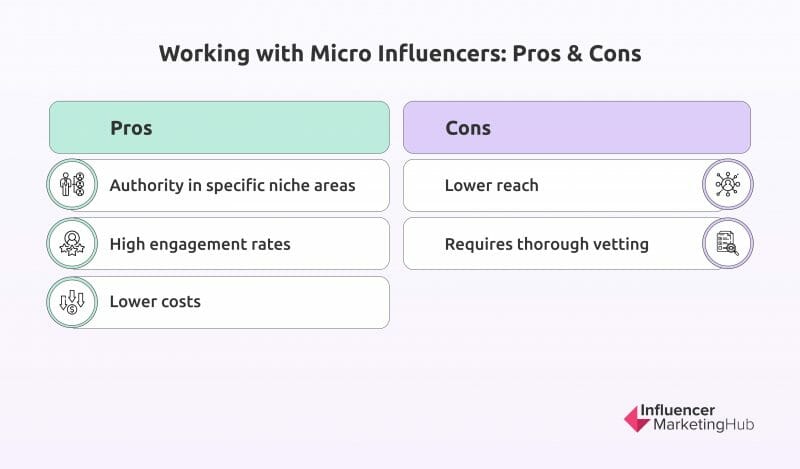 Authority in specific niche areas
Micro-influencers are highly passionate and knowledgeable about their chosen area of interest. As such, people look to them as a trusted source on the topic, looking to them for purchase recommendations and reviews.
Most of their content revolves around the topic, which means brand-sponsored content can also blend in seamlessly with the rest of their feed. It wouldn't sound unnatural or seem out of place for the influencer to talk about a specific product as long as the product is relevant to their niche.
High engagement rates
Like nano-influencers, micro-influencers also command significant engagement, especially on platforms like Instagram. While their average Instagram engagement rate is 1.22%, those with over 100,000 followers manage to get about 1.06%.
On platforms like YouTube, a larger following typically translates to higher engagement. As such, micro-influencers have an advantage over nano-influencers. While the average YouTube engagement rate of nano-influencers ranges between 2% and 2.7%, nano-influencers manage to garner engagement rates of over 3.5% on the platform.
Lower costs
Micro-influencers are also a more cost-effective solution to influencer marketing compared to their mega counterparts. Depending on which platform you're using, you can expect to spend anywhere between $20 and $1,250 per post.
On a platform like TikTok, for instance, micro-influencers would charge you $25 to $125 per video. But for more elaborate content such as YouTube videos, you'd likely have to spend about $200 to $1,000 each.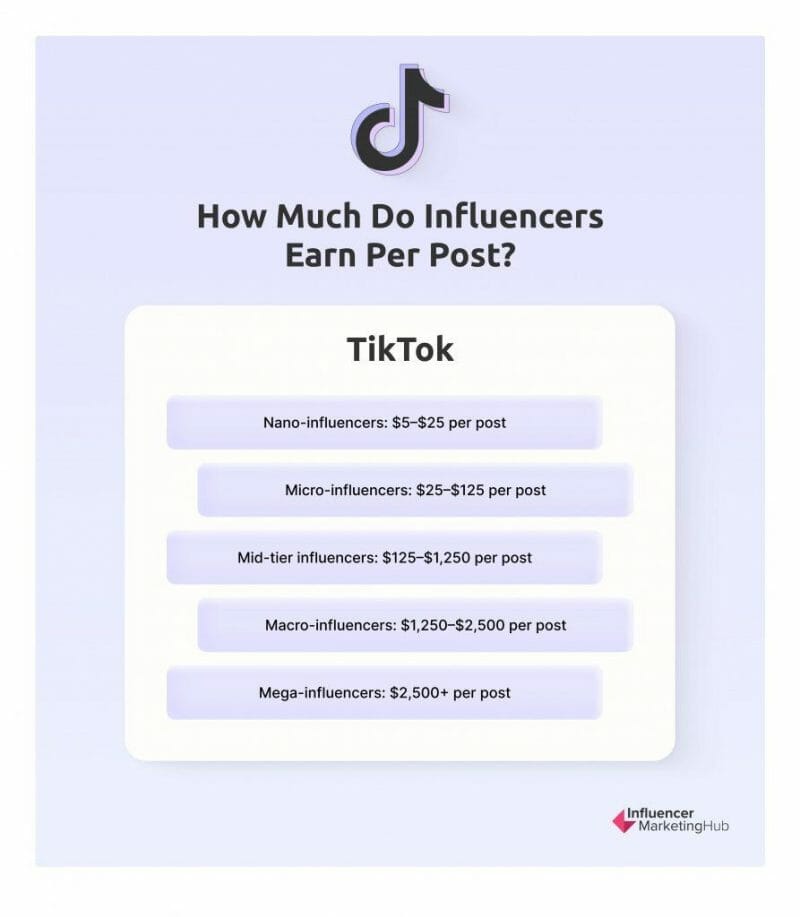 ---
Cons of Working with Micro-Influencers
Lower reach
Like with nano-influencers, the major con of working with micro-influencers is their limited reach. Since micro-influencers only have about 100,000 followers, they may not be the best option if you want to reach millions of people at once.
Requires thorough vetting
As previously discussed in our post about the pros and cons of micro-influencers, some influencers may be engaged in the shady tactic of buying followers. This means that their influence isn't really authentic. Brands have to thoroughly vet the micro-influencers they want to work with to avoid ones who have significantly lower engagement rates compared to their following size.
---
Top 3 Nano and Micro-Influencer Marketing Agencies to Work with
In spite of the multitude of benefits of working with nano and micro-influencers, the entire process of vetting and managing them can be challenging. First of all, the ability to narrow down influencers with authentic influence can prove to be a major challenge.
Moreover, due to their limited reach, you may want to employ several nano or micro-influencers for a single campaign. Managing all of them is not only time-consuming but also complicated.
That's why it helps to leave it to the experts and partner with an influencer marketing agency. With that said, here are the top three agencies to work with for your nano or micro-influencer marketing campaign.
Top
nano vs micro influencer marketing
2024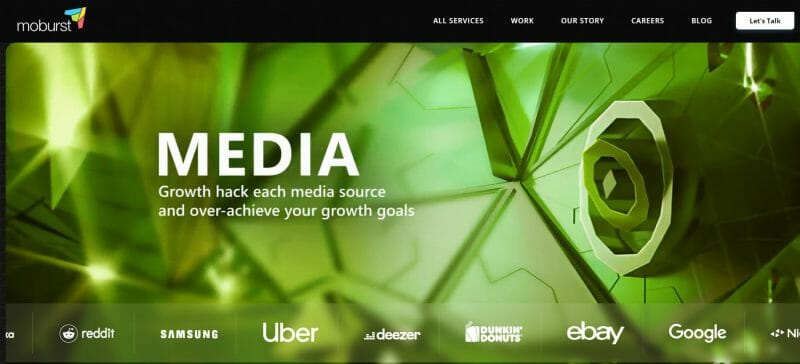 Moburst is a full-service digital marketing agency that offers a wide range of services for your marketing needs. The agency assists you throughout the entire process of your influencer marketing campaign–from in-depth planning to influencer research and recruitment to campaign tracking. As a result, you can save time and focus on other important tasks that require your involvement.
The Moburst team works closely with influencers in developing the creative strategy for your campaign. This helps to ensure authenticity across all your influencer content, helping you with the trust of your target audience. By actively helping with content management, Moburst also ensures that you're in control of your narrative while effectively achieving your campaign goal.
---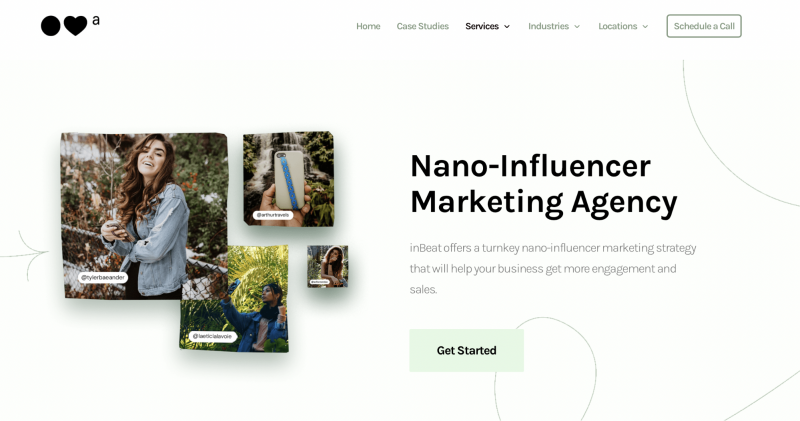 As one of the leading nano-influencer marketing agencies, inBeat offers a nano-influencer marketing strategy to help you drive engagement and sales. The agency generates a list of vetted content creators that are suitable to your brand, out of which you can then choose which influencers you want to work with.
inBeat will then oversee these nano-influencers as they create authentic content for your brand in the form of testimonials, unboxing, and lifestyle shots to share on social media. The agency also helps you to generate authentic reviews from nano-influencers on websites like Amazon, Google Shopping, and Trustpilot.
inBeat has worked with leading businesses such as Bluehouse Salmon, which was able to generate a constant stream of influencer-created content to grow their social media presence. Through 200+ unique content from nano-influencers, the brand was able to grow their social media following by 500%.
---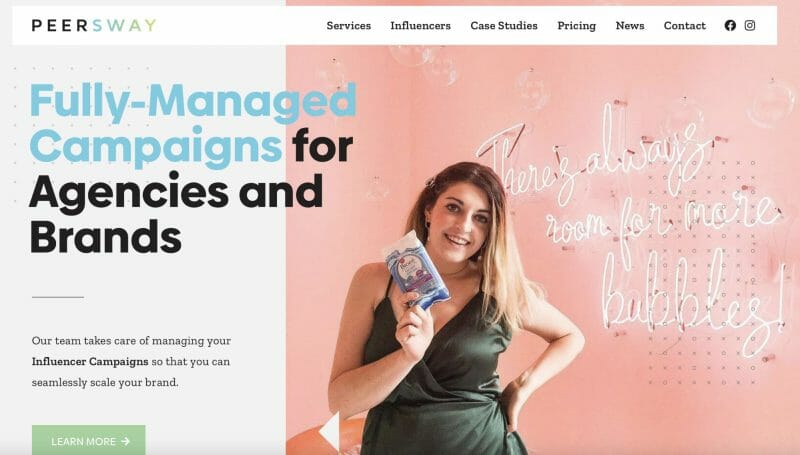 Peersway is an agency that offers fully-managed nano and influencer marketing campaigns. You're assigned a dedicated campaign manager who takes care of everything on your behalf–right from the process of identifying influencers to monitoring your campaign performance. That way, you can save time while focusing on other strategic aspects of your business. The team also vets the influencers before they're accepted onto the platform, meaning that you only work with highly credible nano and micro-influencers.
The agency guarantees a minimum number of influencers for each campaign to ensure that you can get the results you need. You can also easily scale your campaign by working with as many influencers as you want. Plus, you get to work with a fixed budget, which means you can avoid cost uncertainty and build a campaign around your budget. In fact, the cost per engagement with Peersway is typically lower than $0.50.
---
---
Nano vs. Micro-Influencer Marketing: Which is Better?
Now that we have a clear picture of who nano influencers are and how they're different from micro-influencers, it's time to figure out which option is better. This entire depends on what you want to achieve and how much you're willing to spend. Use our guide above to closely assess each option and make an informed decision.
Frequently Asked Questions
Who is a nano-influencer?
A nano-influencer is a social media user with 1,000 to 10,000 followers.
What are the different levels of influencers?
The different levels of influencers are–nano, micro, mid-tier, macro, and mega.
How many followers do you need to be a micro-influencer?
To become a micro-influencer, you need to have 10,000 to 100,000 followers.
What is the difference between macro, micro, and nano-influencers?
Macro-influencers have 500,000 to 1 million followers, while micro-influencers have 10,000 to 100,000 followers and nano-influencers have 1,000 to 10,000 followers.
How much do nano-influencers get paid?
Nano-influencers typically charge anything between $2 and $250 per post depending on the platform and following size.