When you're putting a new product out into the world, the last thing you want is for it to fall on deaf ears. Launching a product can seem like a daunting task—but with the help of social media, it's easy to reach a large audience.
However, you still need to be strategic about your launch. Put together a full product launch plan so you can improve your chances of success.
Throughout this article, we'll walk you through eight steps to ensure you create the quintessential product launch, showcasing how social media can help every step of the way.
Let's get started.
---
How to Plan a Product Launch on Social Media:
---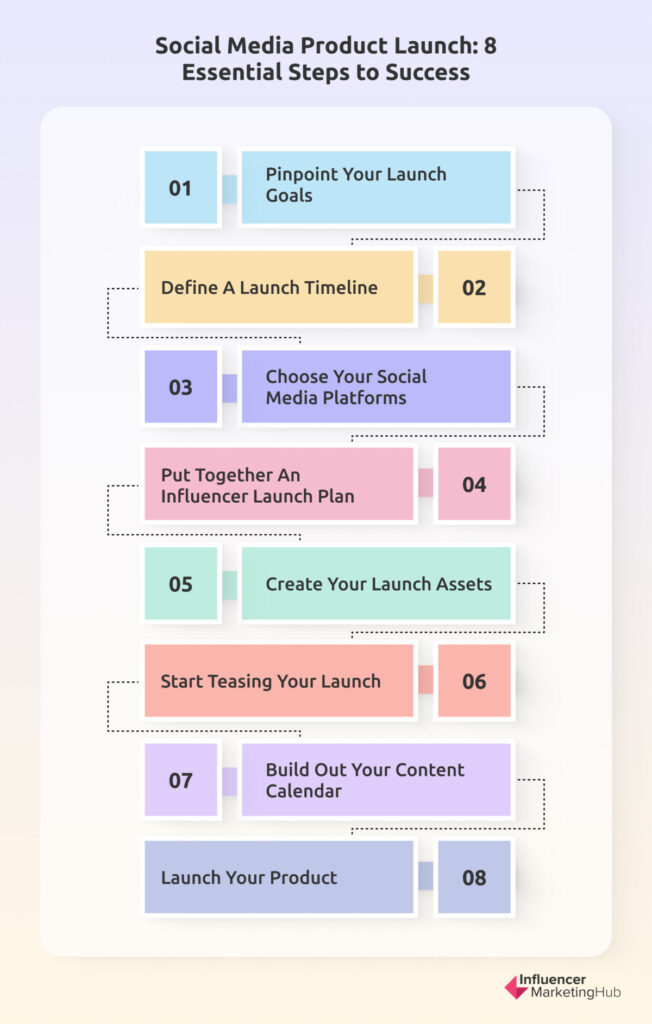 1. Pinpoint Your Launch Goals
The first thing you need to do is determine your goals. This is the first step of nearly any type of business or marketing strategy and it helps direct the rest of your launch.
Common product launch goals include:
Sell X number of products
Generate X number of leads
Increase awareness around your business and product offerings
Drive customer upgrades to access new product/feature
Discover and fix bugs in new product offering
Increase monthly revenue by $X
Improve company reputation in the industry
Generate X% of product sales via social commerce
When creating your goals, make sure to use the SMART goal framework. This means your goals need to be:
Specific: State exactly what you want to achieve, in a clear and concise manner.
Measureable: Give yourself an actual number you want to hit, like a 25% increase in sales or $25,000 more in monthly revenue.
Achievable: Reach for the stars—but realistically. If you've never gotten anywhere close to a million dollar month, don't make that your goal.
Relevant: Make sure this goal is relevant to your other business goals and makes sense for your overall big picture.
Time-bound: Give yourself a timeframe you want to hit this goal in, like the first month of the launch.
The reason that every strategy needs to start with goals is because understanding what outcome you're hoping for your launch can help you decide what types of content to create, how long to tease your launch, where to share your launch, and so much more.
---
2. Define a Launch Timeline
The next step is to determine how long you want to tease your product pre-launch as well as how long you want to promote it once it goes live. The end goal will be to seamlessly incorporate the new product posts into your regular social media scheduling strategy.
First, start with the date you want to launch your new product. How long before your product launch do you want to start teasing the launch?
You have between now and the day of your first teaser post to complete your entire launch plan and get it ready. Don't rush, though—you don't want to launch your product next week and throw together a quick launch plan in a day.
An ideal launch timeline might look something like this: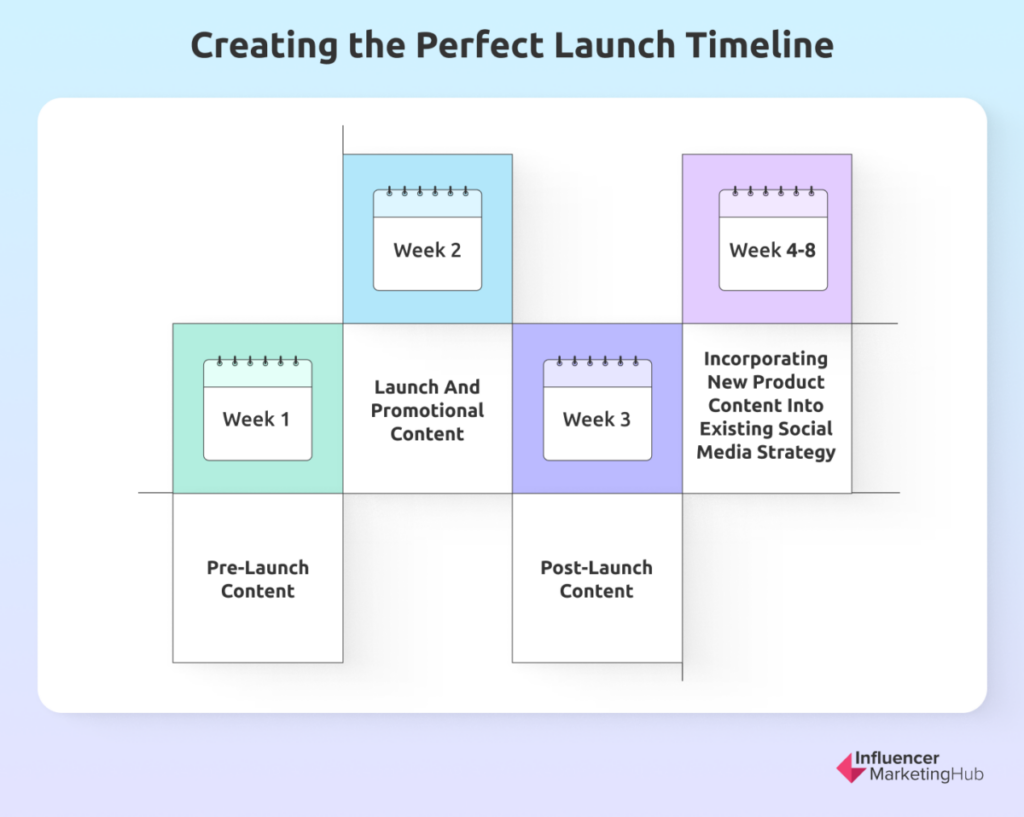 Week 1: Pre-launch content
Week 2: Launch and promotional content
Week 3: Post-launch content
Weeks 4-8: Incorporating new product content into existing social media strategy
Spend a month or so planning out all of the content you're going to share so you're ready to go once the timeline begins.
---
3. Choose Your Social Media Platforms
Which social media platforms will you tease your product launch on? To decide this, you need to keep your existing social media strategy in mind.
For example, you might have a presence on social networks like Facebook, Instagram, Twitter, Pinterest, LinkedIn, and TikTok, but your Pinterest, Twitter, and LinkedIn might not be the best places to share launch-related content (until the actual product is available).
Knowing which platforms you'll incorporate into your social media product launch plan will help make the rest of the planning process easy and help you pin down the right types of content to create.
Going off of our example above, this means you'd want to create visual content that fits your chosen platforms, like short-form videos for TikTok and sneak peek stories for Instagram.
---
4. Put Together an Influencer Launch Plan
One great way to get the word out about your product launch is through influencer marketing.
Creating an influencer launch plan can help you reach an even wider audience, helping new customers discover your product. Plus, seeing your product in action on their favorite influencers' page is a great way to generate more sales—and consumer trust.
Start off the same way you would with any influencer marketing strategy. You need to focus on finding the right influencers. The right influencers are going to help you meet your goals.
For example, nano and micro influencers can help build awareness while macro and mega influencers are better for generating sales. Keep in mind that the bigger the influencer's following, the bigger your budget needs to be.
You'll want to pinpoint influencers who:
Target a similar audience to your business/product
Can help you meet your launch goals and objectives
Create content that aligns with your company's mission
Fit within your company's budget
Offer flexible plans you can fit within your launch plan
Create a list of influencers that appear to fall within these guidelines, then start your outreach. Many influencers include contact information in their bios to make it easy for brands to contact them about a partnership.
Start reaching out well before your launch to give your team and each influencer enough time to create content they can share during your specified launch timeline.
---
5. Create Your Launch Assets
The next step is to create your launch assets. This includes taking product photos, creating graphics that tease the new product, recording video content that shares information about the product, and more.
You'll need content and assets for each stage of your launch: pre-launch, launch, and post-launch.
Pre-launch content ideas include:
Coming soon posts
Countdowns
Anticipatory hashtags
Videos highlighting the "why" behind this upcoming product
Influencer teasers
Blurred photos
Product previews
Behind-the-scenes production photos/videos
Here's an example of what a pre-launch post might look like:
Launch content ideas include:
How-to posts and tutorials
Feature highlights
Product photos
Here's an example of what a launch post might look like:
IT'S HERE!

The lip collection you've been waiting for... NEW Kind Words Matte Lipstick and Lip Liner are now available only @sephora, @space_nk, and https://t.co/unZFWiUWpl!

P.S. @selenagomez is wearing Lively, Fun, and Gifted. ❤️

Shop now with the link in bio. #usekindwords pic.twitter.com/Lc5MuiSgX5

— Rare Beauty (@rarebeauty) July 7, 2022
Post-launch content ideas include:
Influencer content
Educational videos relating to the product
Product ads
Here's an example of what a post-launch influencer post might look like:
Create photos, videos, graphics, captions, and other relevant assets that you'll need for the remainder of your social media product launch plan.
---
6. Start Teasing Your Launch
Now it's time to start teasing your product launch across all of the social media platforms that you previously picked out. Remember your launch timeline. Start teasing at the very start of your launch timeline, whether that's a month, two weeks, or just a week before the actual launch day.
Take advantage of some of the pre-launch content ideas we shared with you in the last point. For example, create a countdown to let your audience know something is coming—and better yet, when it's coming.
Or share some teaser photos that let customers see part of the product—but not all of it. This will have them guessing at what's to come.
As we Launch into the New Year we are getting close to sharing with you what we have been working on! What do you think it is? #newproduct #retrogaming #newyear #ces pic.twitter.com/CXt5DMpYN3

— MyArcade (@MyArcadeRetro) January 2, 2023
Choose how you want to start teasing your launch and share it on your chosen platforms. Then we'll move onto the next step.
---
7. Build Out Your Content Calendar
After you've shared your first post, it's time to build out that content calendar. How often will you be publishing new launch content? Will you post to each involved platform daily? Will you alternate days?
Building out the launch content calendar can help you create a well-rounded strategy that reaches your audience on each major platform at the right times.
For example, you might decide to start teasing your launch on Instagram and TikTok while later incorporating Facebook and Twitter into your strategy. Be sure to create individualized content for each platform and schedule it ahead of time.
Make sure your content calendar also matches up with your launch timeline. You don't want to post your actual launch announcement earlier than the launch is happening, ending up with frustrated customers who can't actually buy your product yet.
And vice versa, you don't want to post your launch announcement too late, missing out on key sales your social media launch plan can bring in.
Be strategic about your timeline and your content calendar, ensuring they match up and that your pre-launch content gets more and more exciting the closer it gets to launch day.
---
8. Launch Your Product
And finally, it's time to launch! Open up purchase options on your online store or launch the new feature on your website or SaaS tool. Share that social media post announcing your product is live and available for purchase or upgrade.
The most important part is to keep that momentum going. Don't share a post that your product is live and then never talk about it again.
Instead, use that first week to share a variety of content about the new product. Showcase how it was made, why your company decided to offer this product, how to use it, how it solves pain points, and so much more.
Your social media strategy during launch week should focus solely on the new product, enticing your followers to make a purchase. This is the best way to help your product make a splash and solidify its place in the market and as one of your known product offerings.
This is also where you should be monitoring your metrics, keeping an eye out to see if you've met your launch goals we set in step one.
Have you sold as many products as you'd wanted to? Did you increase your reach during your launch? Grow your followers? Increase website traffic?
If you haven't quite met your goals, you may decide to extend your launch plan, creating and sharing more content. Or you might decide to create ads on a few of your social networks earlier than you'd planned or increase your overall ad budget to reach even more people.
It's okay to keep your social media product launch fluid and flexible in order to ensure you're meeting those KPIs.
---
Create Your Own Social Media Product Launch
Planning out a major product launch can help generate more hype around your business, bringing in new sales and helping new potential customers discover you. Check out other eCommerce marketing strategies that can help drive more sales to your business.
Frequently Asked Questions
How do you announce a new product launch?
One of the best ways to announce a new product launch is to start teasing it early. Get your fans and loyal customers excited for what's to come. Provide sneak peeks, let customers know something big is coming, and eventually let them know when to set a reminder on their calendars to check back in.
How can you launch a new product on Instagram?
Take advantage of Instagram's various content types. Share content to your feed, create Instagram Reels, and post Instagram Stories as a part of your Instagram product launch.
Then, once the product has launched, make sure to add it to your Instagram shop so followers can easily make a purchase right inside the app.
What do you say in a launch post?
You want to avoid fluff in your launch post. Be clear and concise, getting your audience excited, while still clearly stating what is being launched, how customers can get it, when it will be available, and where they can buy it.
What should you post pre-launch?
Take advantage of your pre-launch timeline to generate buzz around your upcoming product. Share imagery that blocks out important product information with captions like, "Guess what we have planned?!" Be secretive and create content that gets your customer base excited about your upcoming launch.
What is an example of a social media product launch?