We recently wrote about 15 Incredible eCommerce Business Types to Get Your Head Around. People have built many successful eCommerce businesses using one or more of these models. The most common model, when measured by types of customers, is B2C – Business to Consumer. The most typical kind of eCommerce business measured by how to make money is by selling your products directly to customers (although the biggest money spinners are the online retailers of other firms' goods).
In this article, we've taken a look at 17 relatively niche eCommerce businesses that have made a ripple in their respective niches.
---
17 Successful eCommerce Businesses Thriving Towards 2022:
---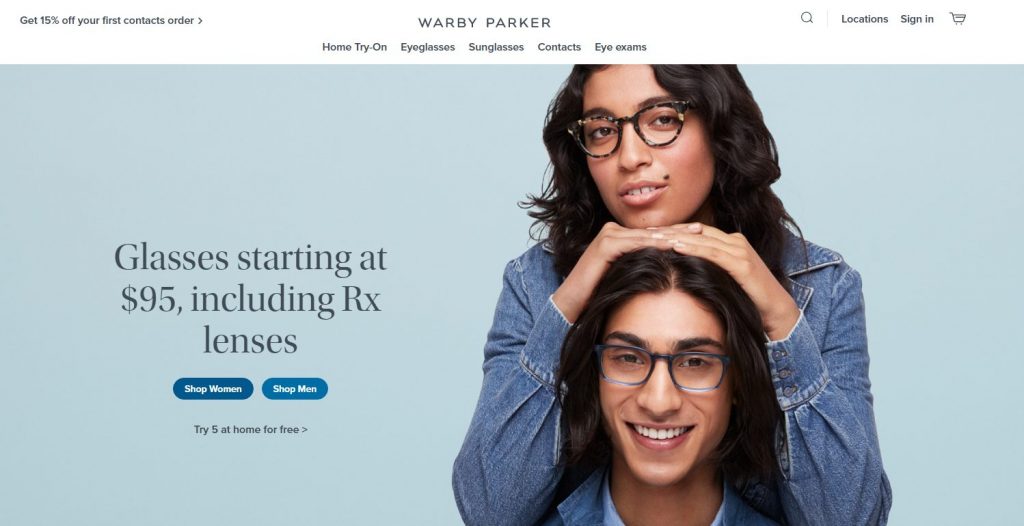 In 2008, MBA student Neil Blumenthal proposed to three friends that they should begin an online eyewear company. At the time, eyewear was expensive. Luxottica controlled a vast percentage of the marketplace – 80% of the significant eyewear brands in the world by 2014.
It took Blumenthal and his friends a few years to put their idea into practice, but they opened the Warby Parker website in 2010. Although they faced teething problems, they hit their first-year sales target in just three weeks.
Since then, the company has thrived. They design their frames, source raw materials, and work directly with manufacturers. They offer a free try-on service, free shipping, and a generous returns policy.
---

Leesa is an online mattress retailer with a mission to help people sleep better. Their first successful mattress offered "Universal Adaptive Feel" that adjusted to bodies of all shapes, sizes, and sleeping styles. They build an online store so potential customers could avoid the hassle of traditional mattress showrooms. They offered a 100-night free trial for their mattresses.
They have learned the importance of identifying where customers are in the buying cycle for a bed, as people only buy a new mattress once every 5 to 10 years. This means people tend to research more for mattresses than they do for most other products they buy online.
---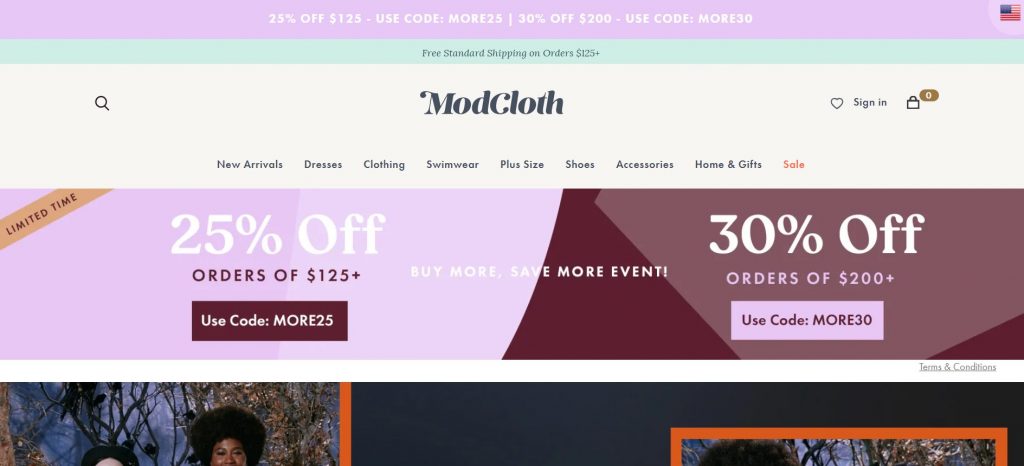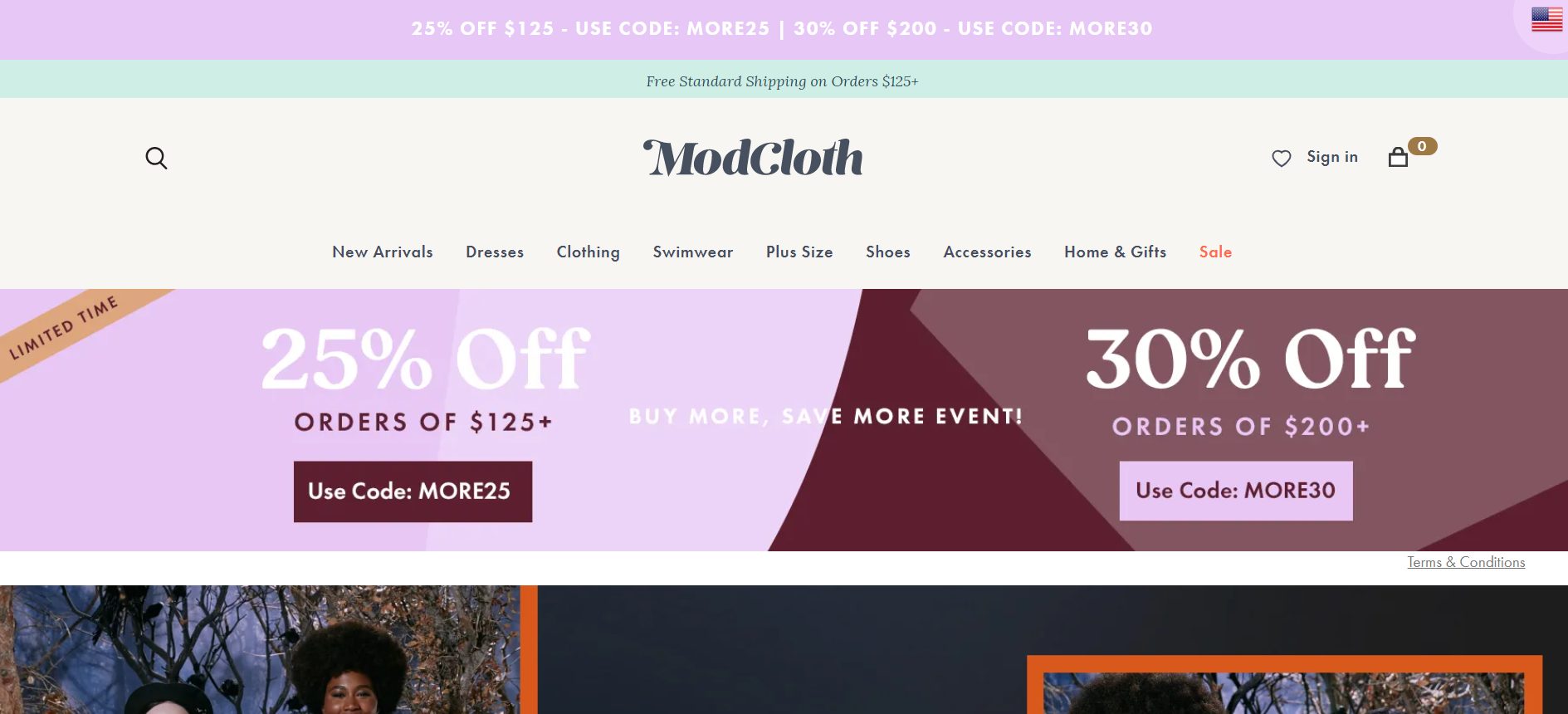 Modcloth began life in 2002 in Susan Gregg Koger's dorm room. This made it an early entrant to the world of eCommerce. A key reason for Mod cloth's success is that they know their target market exceptionally well. This has helped them make a fun and engaging shopping experience for their customers.
Modcloth sells women's clothing, but not the mass items you see at hundreds of other stores and eCommerce sites, nor the expensive one-off garments that you find at exclusive boutiques. Modcloth clothes are fun and quirky. Their online catalog shows cheerful models wearing colorful dresses in bright patterns.
It considers its clothing to be "content," not just merchandise waiting to be sold. Every product has a specific name and story. The copy describing the clothes stands out as interesting, almost entertaining. The models it features on the site are ordinary people of varying body shapes and sizes.
---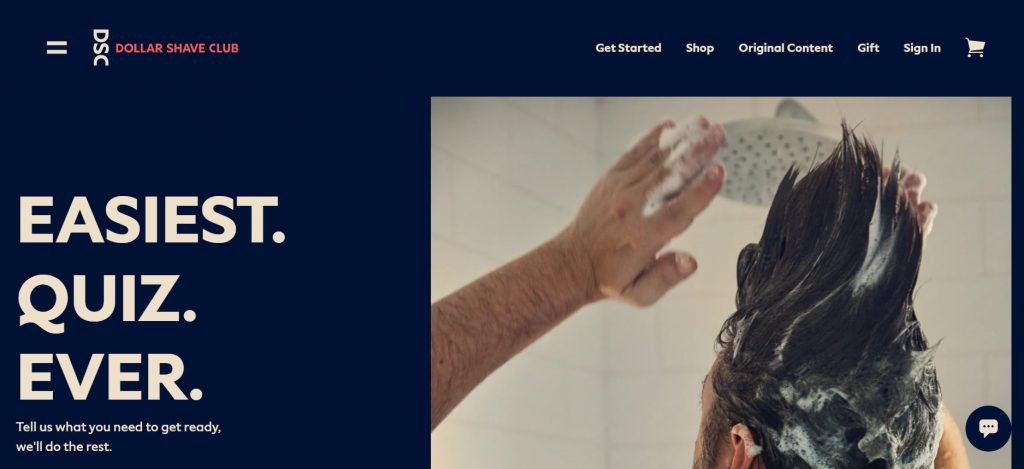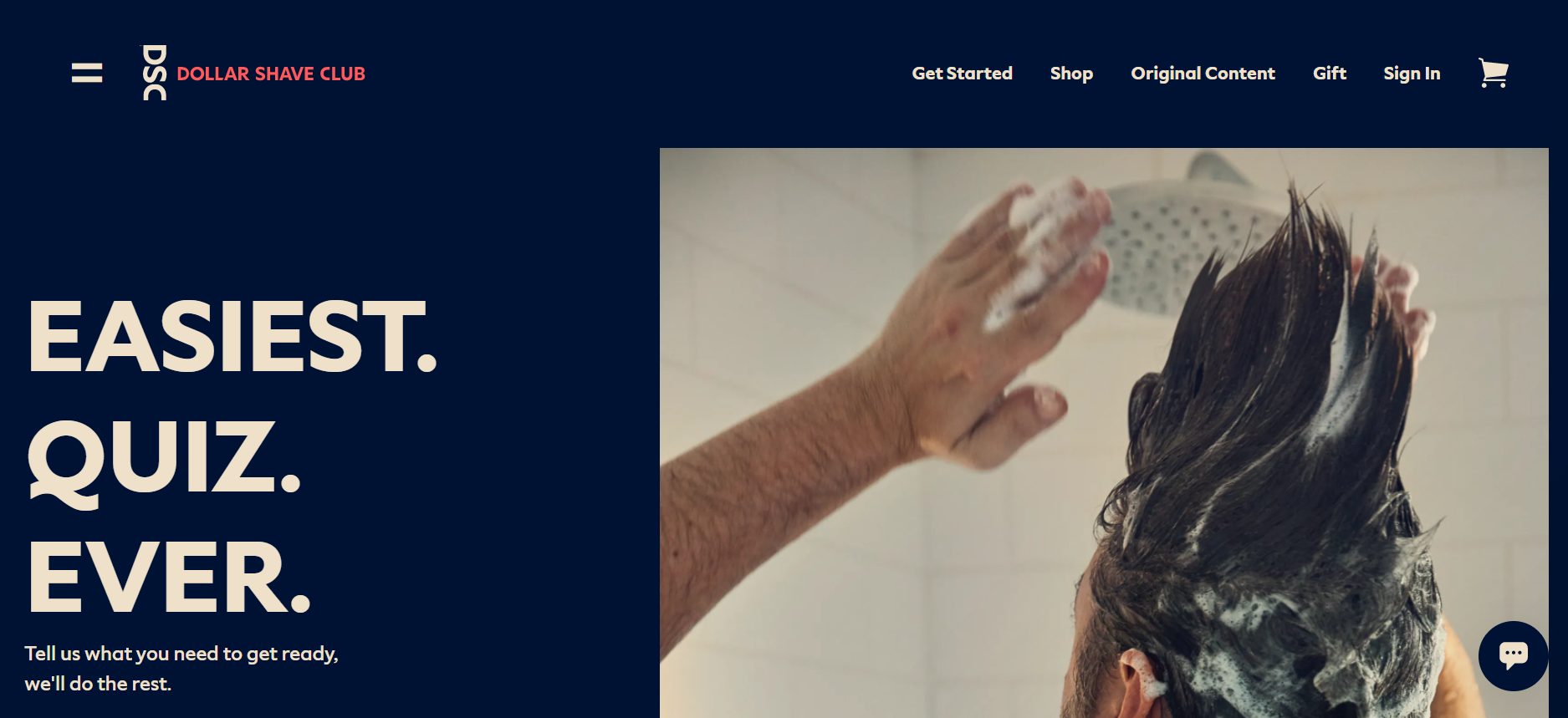 Dollar Shave Club is an excellent example of the subscription model flourishing online. Its members subscribe to a box every two months, containing all their shaving and grooming essentials. You begin by buying a reasonably priced handle for a razor, and then add packets of blades to your regular box. Nowadays, you can also choose from a selection of toiletries, shaving accessories, hair products, colognes, and even toothpaste to your bi-monthly box.
Dollar Shave Club doesn't make its products. Instead, it procures "white Label" products from other companies and sells them as its own.
The company carries out much of its marketing with a mix of content and social media marketing. It stresses the "club" part of its name – you are buying razor blades and other male grooming products from your club, rather than from a shop.
---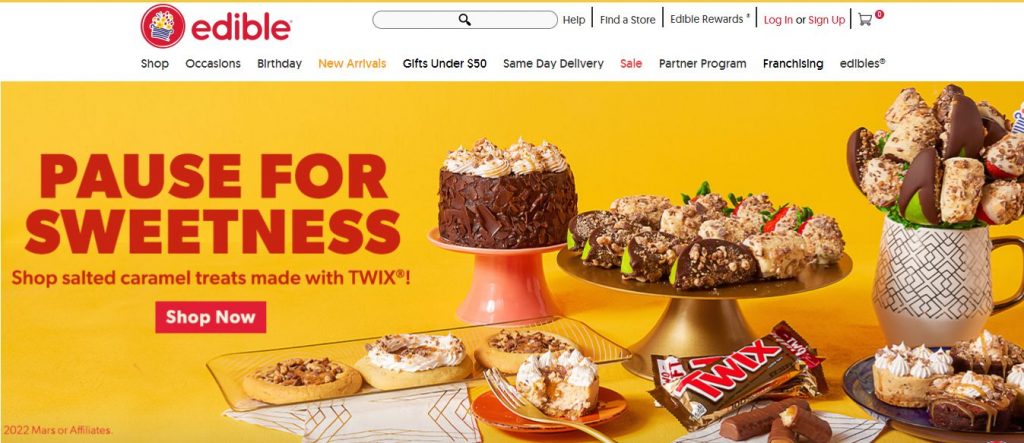 Edible Arrangements sells fresh fruit arrangements. Although they have 1,200 stores in 11 markets, the majority of their orders come through their website.
The main driver for repeat business is email marketing. They use emails to drive customer engagement, loyalty, and revenue.
They also understand the importance of an attractive, high-quality website to attract customers. Enticing photography catches the casual visitor's eye. They also emphasize their same day service. If you make your purchase before a particular time, they will deliver your edible arrangement that day; as they say, "Same-day delivery. No rush fees. Ever."
---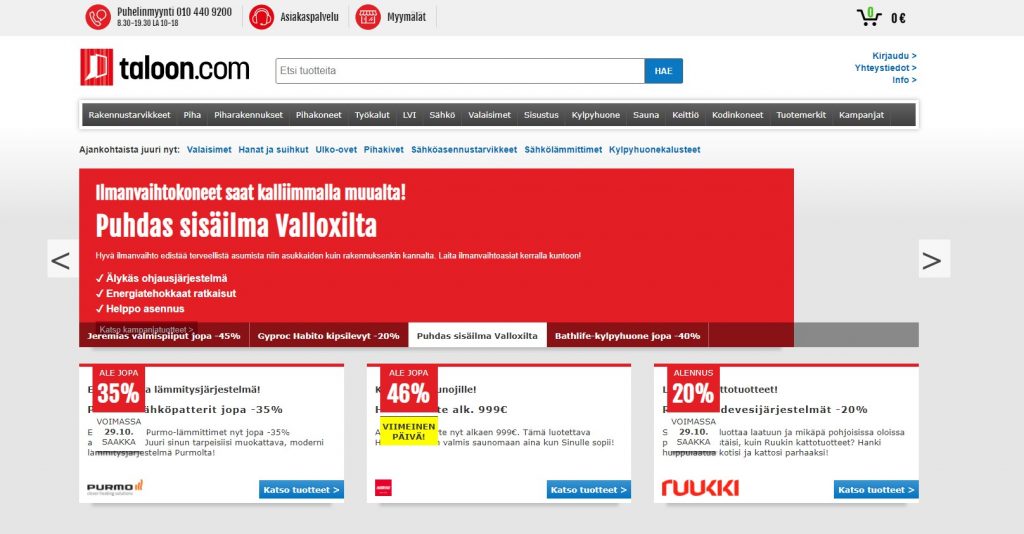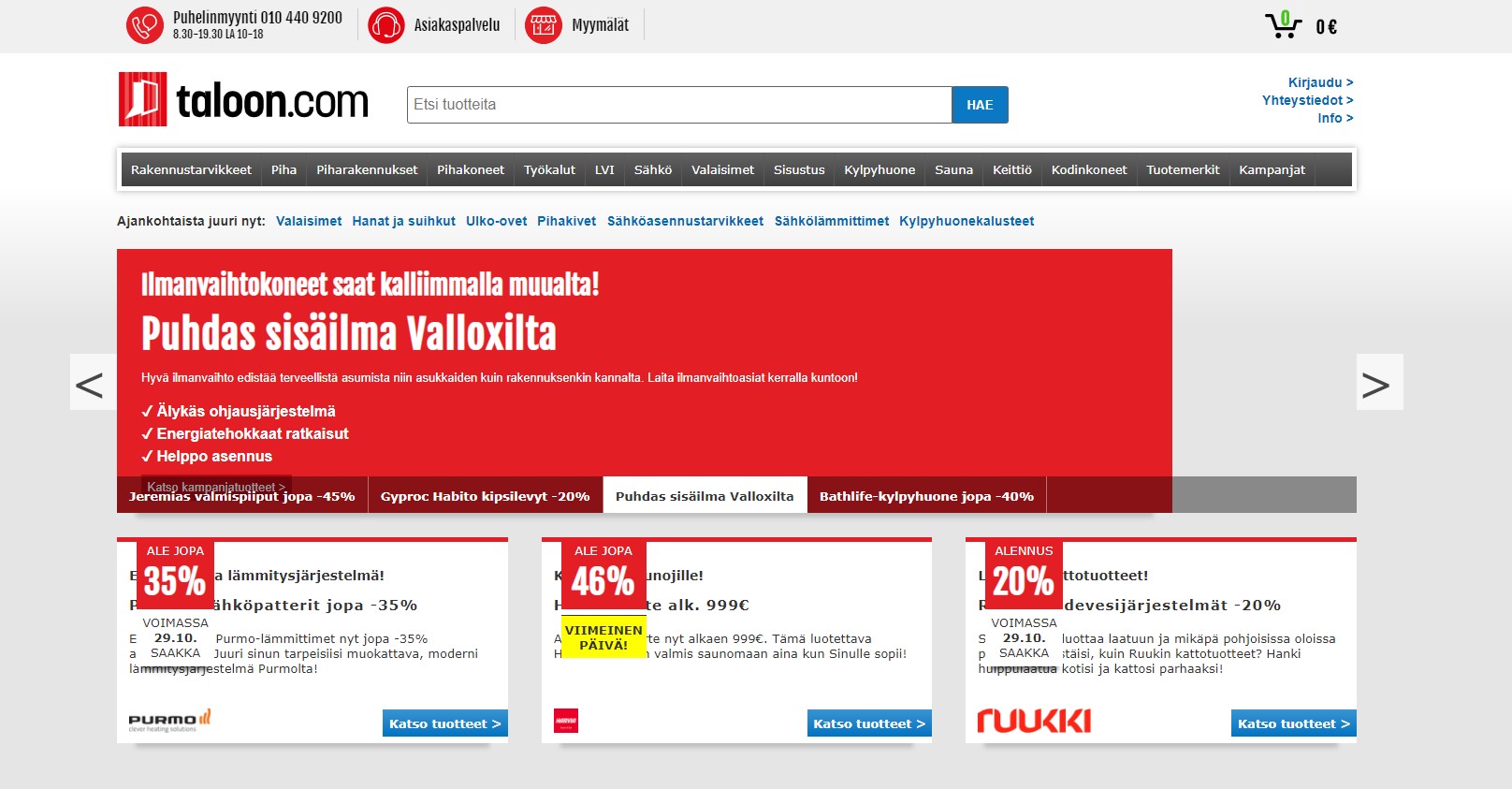 Taloon.com is a Finnish eCommerce site selling hardware, building supplies, and domestic appliances. They openly state that they want to create Finland's most liked hardware store service on their front page. "It is important to us that we always serve our customers smoothly when they want to make purchases." They also state, "whenever Finnish builder, renovator, or interior designer benefits, we have succeeded in our work!" They make a point of only selling well-known and respected brands.
Taloon.com understands the importance of A/B testing to improve their conversions. They recently noticed that they had low conversions on pages with social share buttons. They tested two versions, one with the buttons, one without. Ultimately, the version without the social share buttons improved the "add to cart" click-thru rate by 12%.
---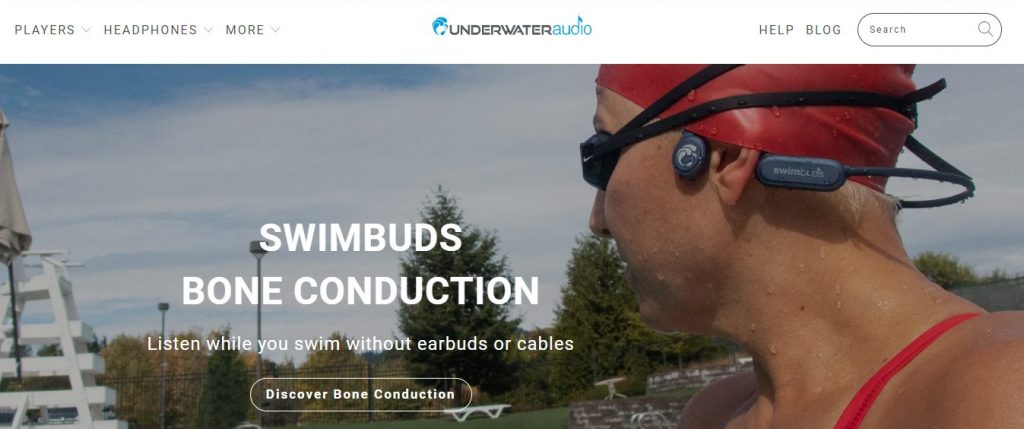 Underwater Audio supplies a range of waterproof technology and other products to people wanting to enjoy their time in or on the water. Typical products are waterproof music players and waterproof headphones. They began as a direct response to a lack of available technology, which left swimmers decades behind other athletes. In 2011, founder Todd Walker developed a new proprietary technique for converting the iPod Shuffle® into a 100% waterproof swimming companion. Todd quickly recruited his son, Scott, and within a few months, Underwater Audio was born.
The company has upgraded its products to match changes in audio technology over nearly a decade now. You can now buy waterproof tablets, MP3 players, and iPod Shuffles, as well as a whole range of waterproof headphones (the Swimbuds range).
---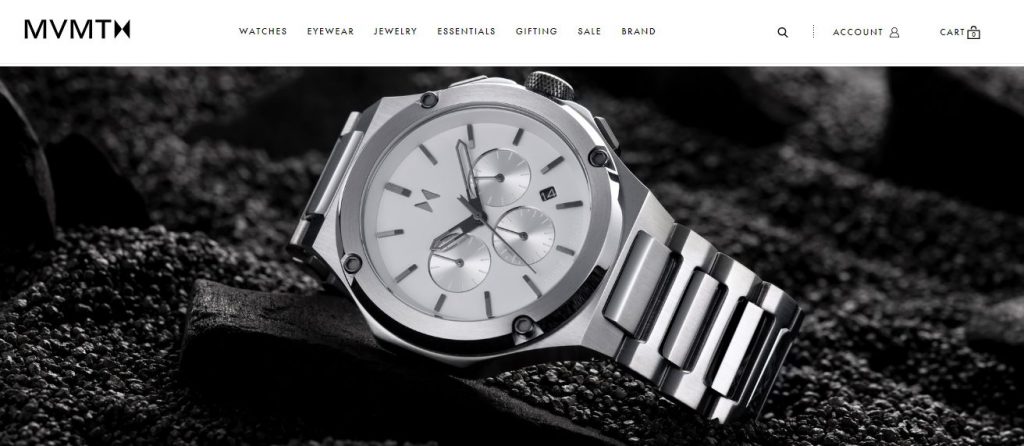 Co-founders Jake Kassan and Kramer LaPlante started MVMT to "disrupt the overpriced and outdated models of the fashion industry." Thanks to a successful crowdfunding program, they set up as an eCommerce business selling stylish, yet affordable, watches. Their original watch line set them apart by bringing quality, minimalist designs at fair prices.
They use social media extensively to grow to a community of 1.5 million MVMT owners. They have an active social community of more than 5 million followers.
MVMT delivers premium on-trend watches and accessories, designed in their headquarters in Los Angeles. They offer a two-year guarantee on everything they make.
---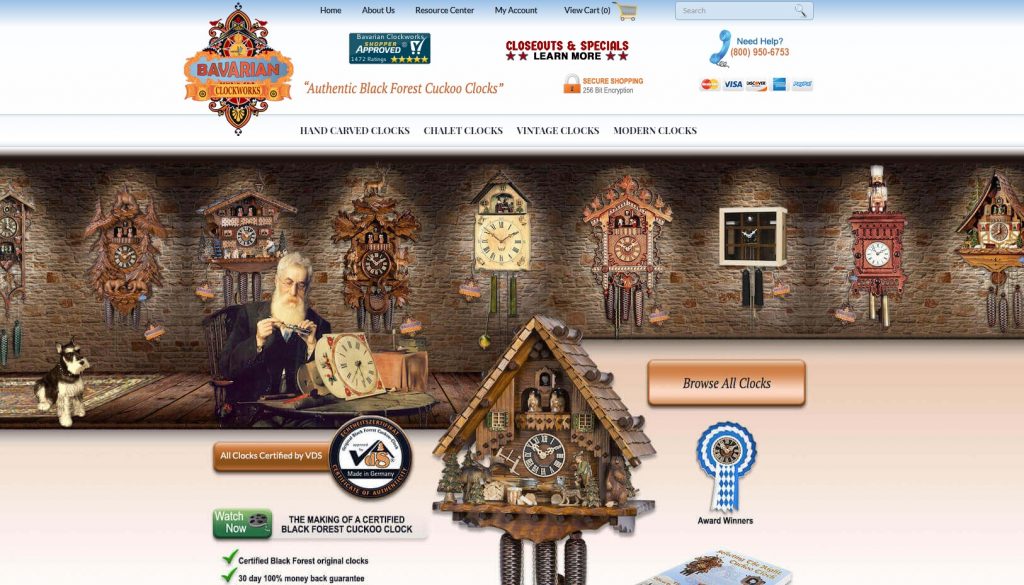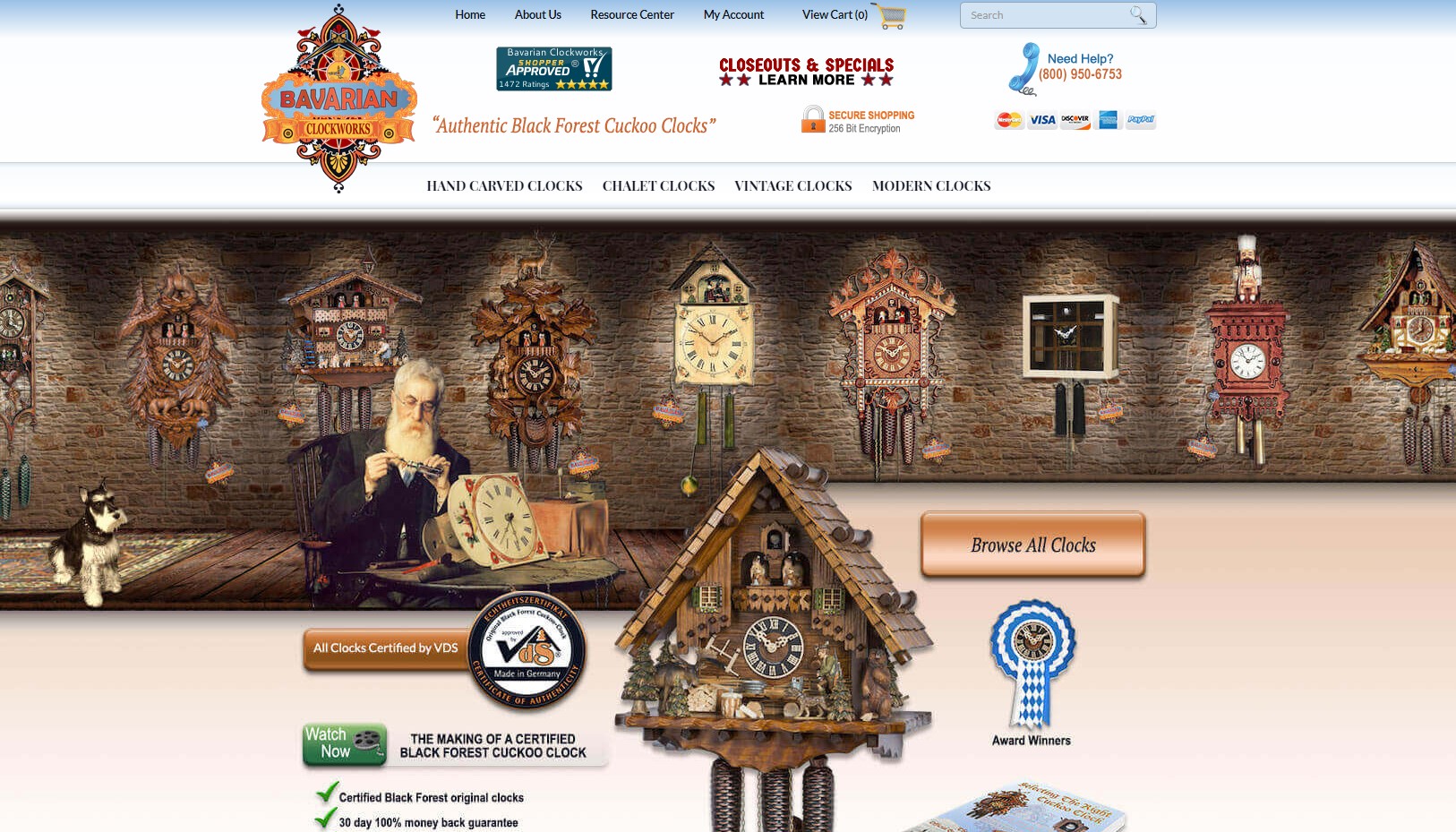 Bavarian Clockworks uses the BigCommerce platform for its eCommerce site. This is an extremely niche, yet attractive, site that follows nearly all the rules for eCommerce success – from stunning images, clear menus, obvious payment methods, certificates of authenticity and security, to testimonials from satisfied customers and a sign-up form for the company newsletter.
Most people are not in the market for a hand-carved clock, so founder Robert Ellis and his management team at Bavarian Clockworks have targeted their marketing and imagery clearly at the niche group who will have the most interest in their products. They have around 350 products listed on the site, with about 2,000 photos. Robert took the time to incorporate each image with the site graphics to ensure that everything looked just right.
---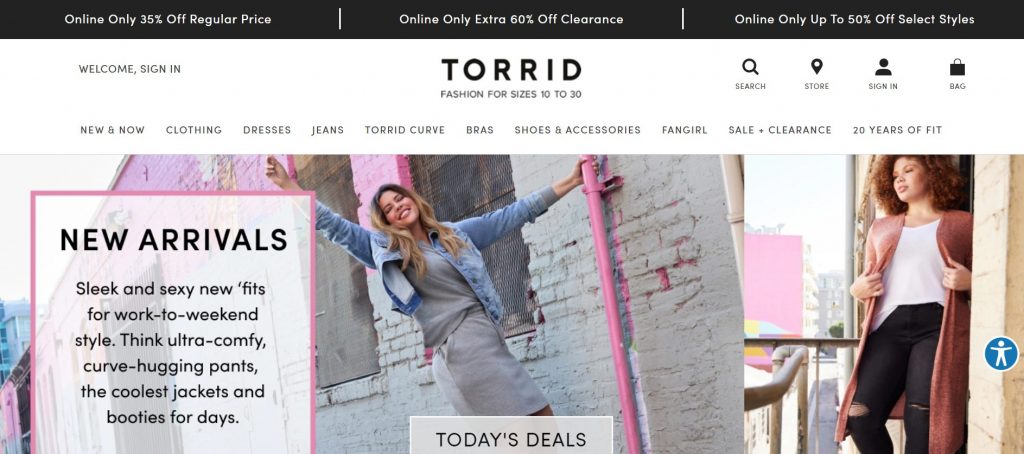 Torrid offers women's fashion for sizes 10 to 30. As they say on their site: "At Torrid, fit matters." They eschew fashionable cuts, instead opting for clothes that fit. They have changed clothes to fit curvy bodies, rather than expecting their customers to change their bodies to match their clothes.
Although Torrid started as a bricks-and-mortar traditional women's fashion store in Brea, California in 2001, and has over 600 stores, it has also built a successful eCommerce store. Torrid sells accessories, shoes, jewelry, novelty tee shirts, fashion tops, pants, Capri pants, shorts, skirts, dresses, outerwear, intimate apparel, hosiery, gifts, and beauty products.
Torrid aims to win over loyal customers with a first-rate online experience. They have developed a search engine, making it easy for customers to find the garments they want to meet their needs. They took time to research the types of statements that customers entered into the search bar, and they adjusted the search results to reflect customer behavior.
---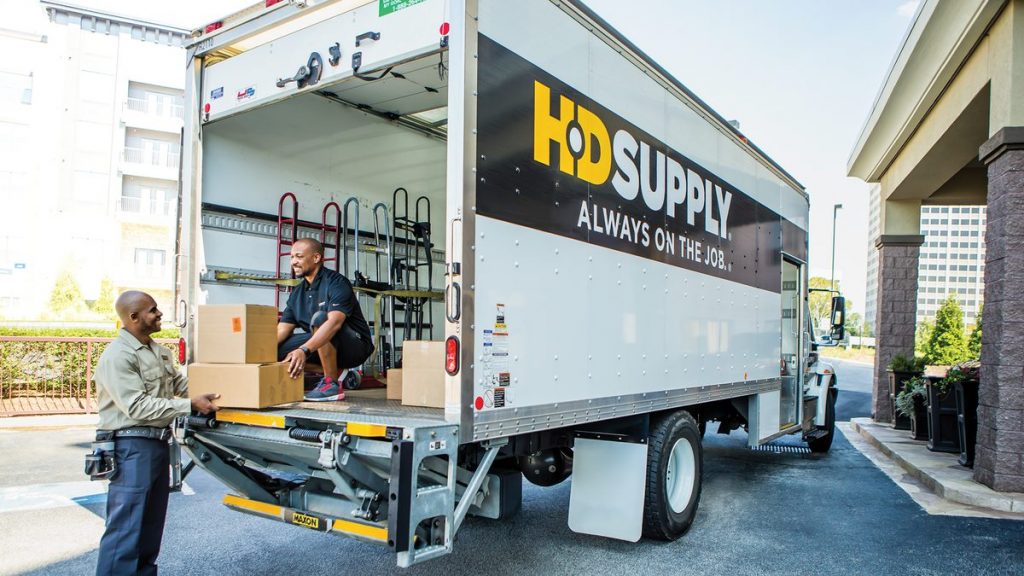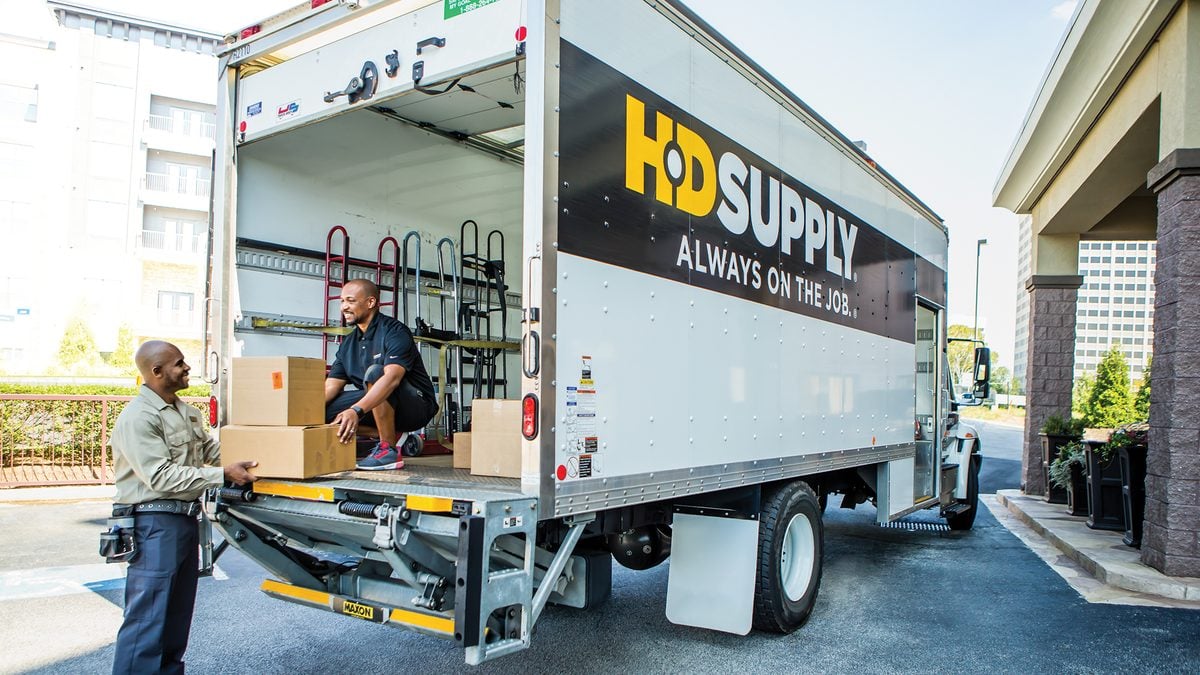 HD Supply is one of the largest industrial distributors in North America. Although they are predominately a traditional B2B supplier, with 275 branches and 44 distribution centers across the US and Canada, they have expanded their eCommerce offerings for those preferring to make orders online.
They recently had a significant rethink of their digital strategy. They saw that businesses wanted to streamline their online purchasing. They wanted a smooth buying experience. HD Supply recognized problems with their existing search engine and completely revamped their search, making it much more user friendly. They made various other changes to the site to improve user experience, resulting in a 16% increase in revenue from search. Their Add to Cart rate from list and product detail pages also increased by 4%.
Modern business customers are just as fussy about a good user experience as consumers are. Therefore B2B firms need to ensure their eCommerce sites meet customer expectations.
---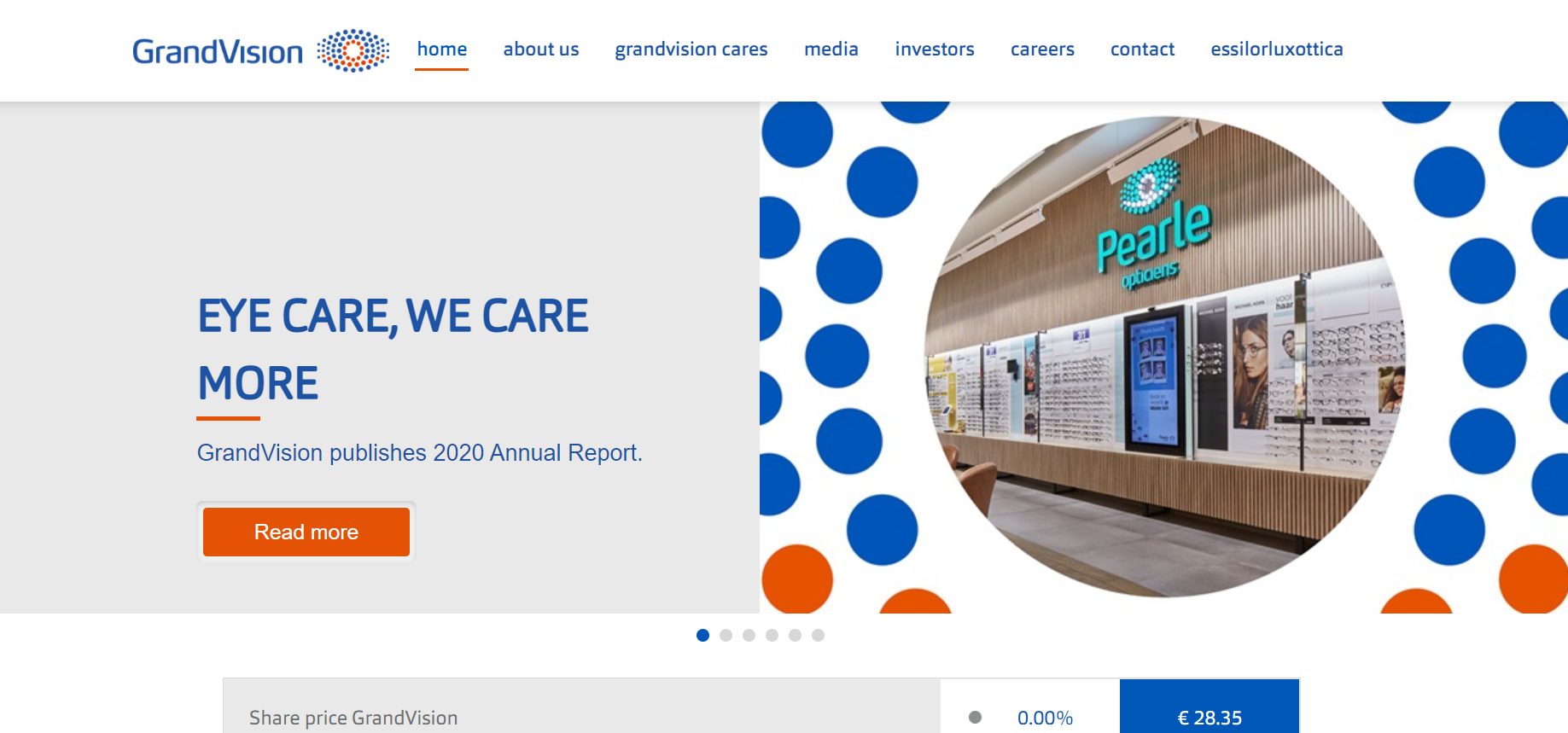 GrandVision is another eyewear company that has discovered the benefits of online retailing. They sell established brands such as Vision Express, Pearle, Eye Wish, Apollo-OpWhen you join FlyLady, you will receive daily FLYmail. Your FLYing Lessons will guide you through baby steps to help you set up routines, get rid of your clutter, and put your home and life in order. tik, Synoptik, and GrandOptical, and help millions of customers see more clearly every day.
Like several of the other sites listed here, GrandVision is possibly best known for its bricks and mortar stores – they have more than 7,000. However, they recognized the benefits of also offering a digital experience. They have also noticed that people use their online store to check out potential glasses before installing an eye test and then to make a physical purchase.
Recently, Grand Vision used a combination of Bloomreach's Digital Experience Platform, Bloomreach Experience (brX), and the Commercetools "headless commerce" platform to improve their site and give their 30+ brands across 44+ countries the freedom to create their own identity.
---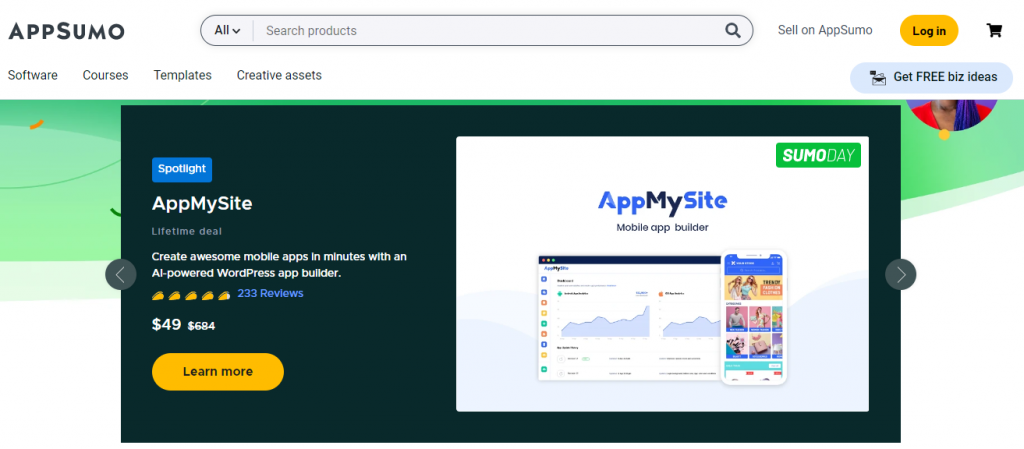 AppSumo finds and partners with technology companies like Evernote, MailChimp, Depositphotos, and many more. They negotiate a deal with the software company and then give their customers access to excellent deals on their products. They sell the software, for a limited time, at a heavy discount.
Serial online entrepreneur Noah Kagan started AppSumo. The company works each day to ensure that our customers and partners save and make money in their businesses.
---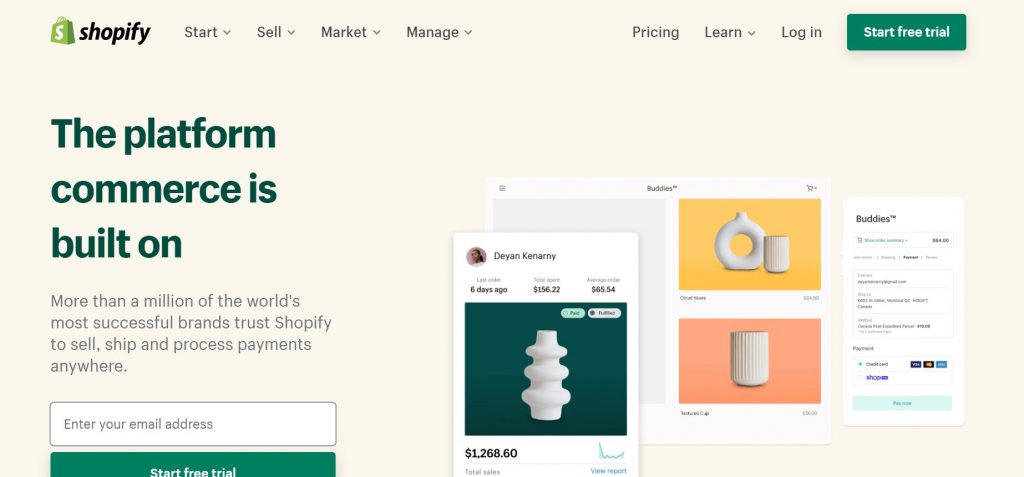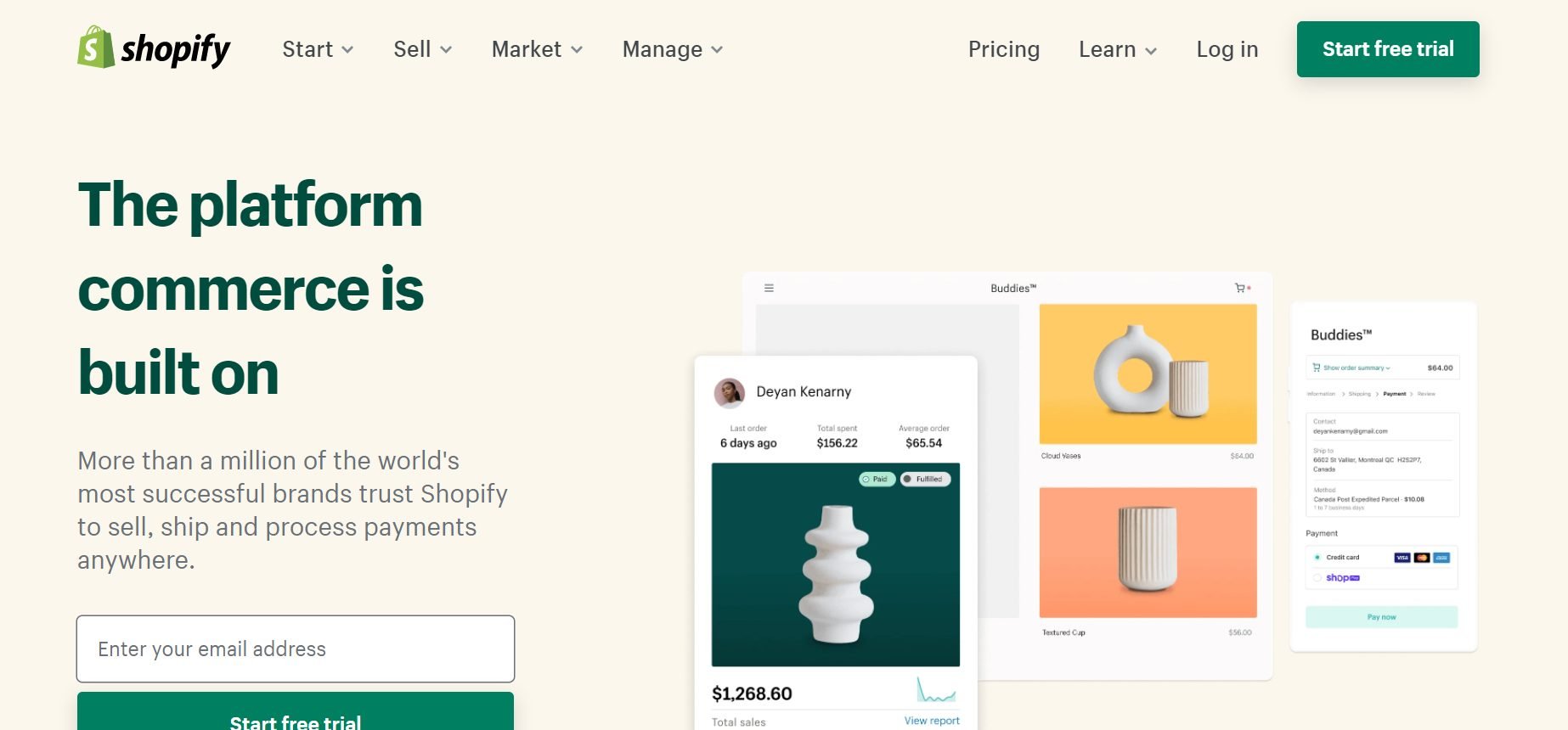 While we usually talk about Shopify as having the tools to help you build your own eCommerce company, we shouldn't forget that Shopify is, in fact, an eCommerce behemoth itself. They are the third most visited website in the world in the "Business Services" category. In 2018, Shopify had 377,500 paying customers, up 55% from the previous year. 100.5 million people bought from stores powered by Shopify that sold $15.4 billion of products through Shopify's platform. They now claim to power 1,000,000 businesses worldwide.
Ironically, the first Shopify store was their own. They started a store to sell snowboards online. However, because none of the eCommerce solutions gave us the control they needed to be successful, they decided to build their own.
---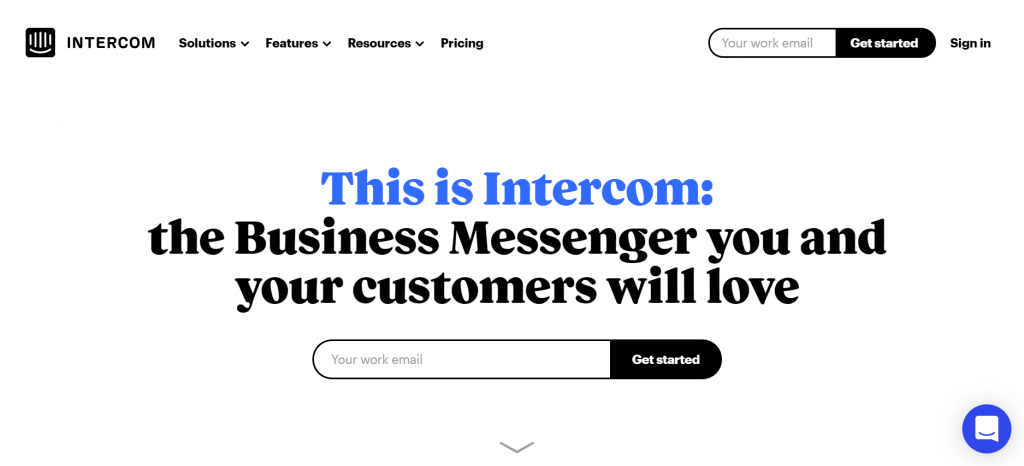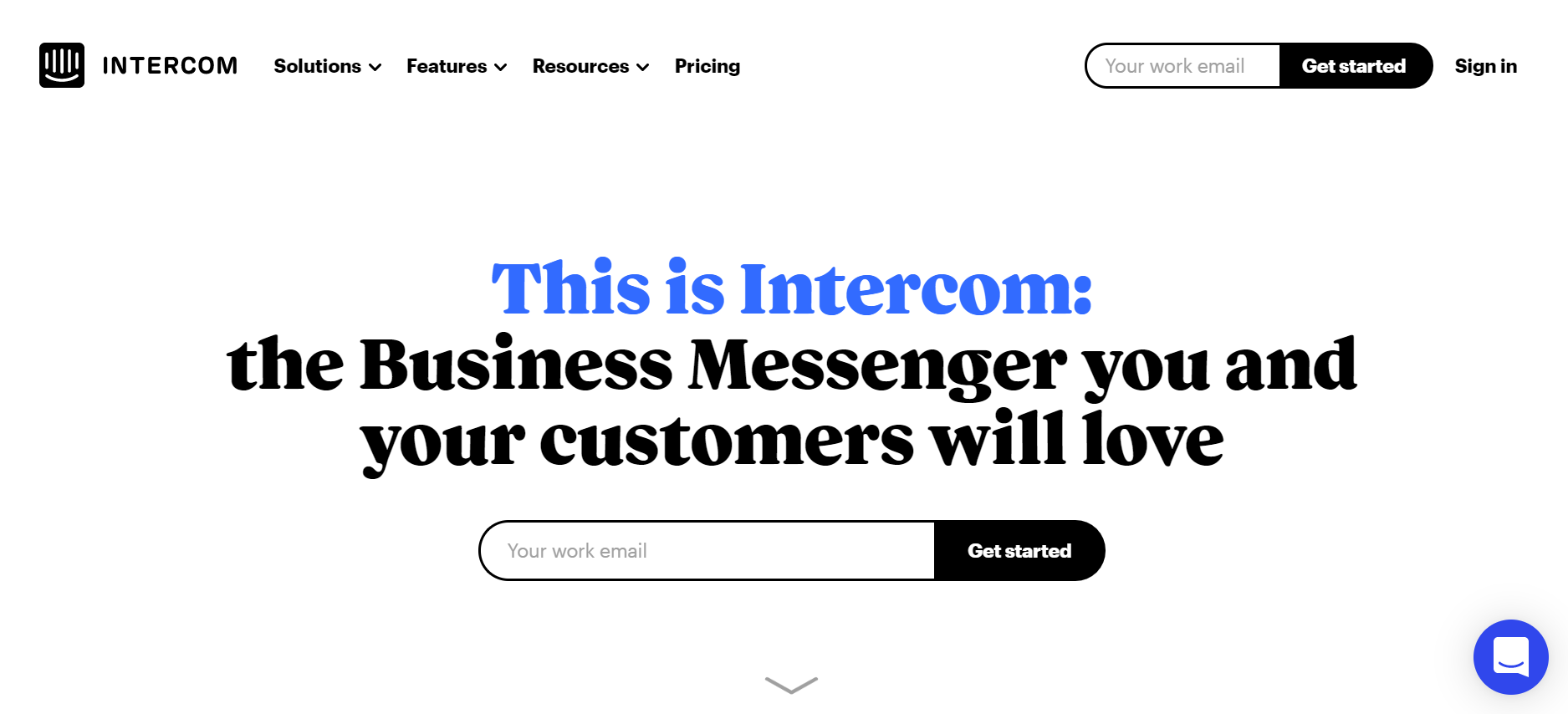 Intercom is a US software company that helps you build customer relationships through conversational, messenger-based experiences across the customer journey. They built a conversational relationship platform. They believe they have everything you need to scale conversational experiences to every customer — without overwhelming your team.
They offer a simple tool that lets customers sell to and support users through every step of the funnel.
It must have merit. Both Mark Zuckerberg (CEO of Facebook) and Jack Dorsey (CEO of Twitter) are investors in Intercom.
---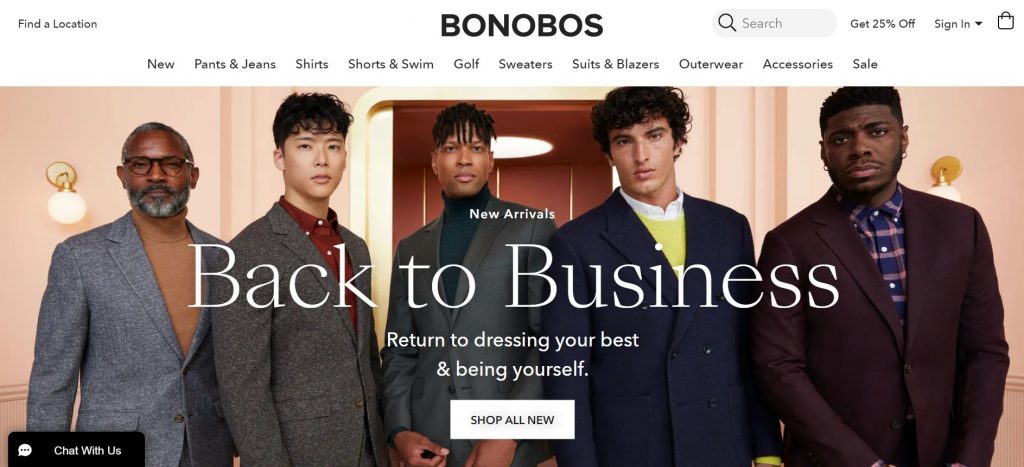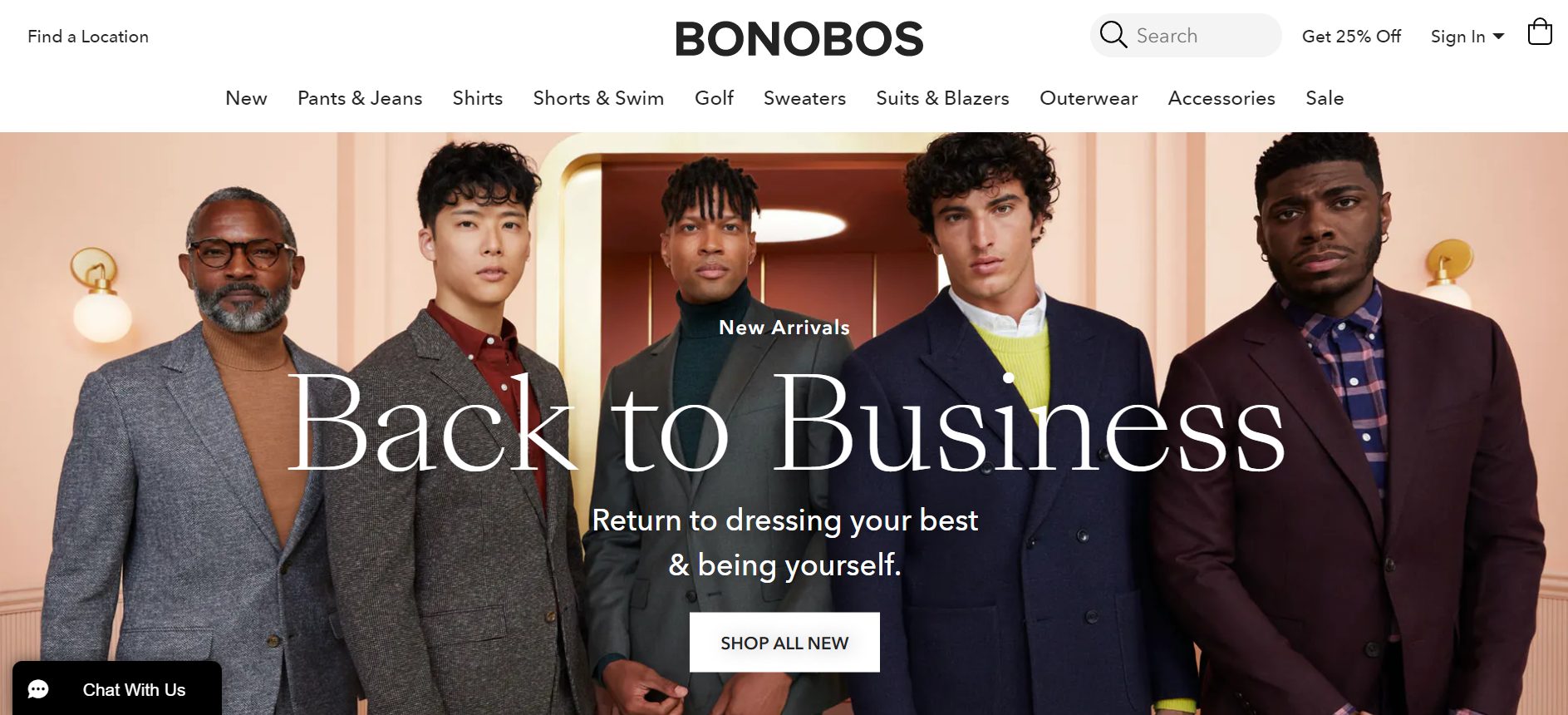 Bonobos is a New York City-based apparel success story that aims to provide better-fitting men's clothing with exceptional customer service. An essential part of the way Bonobos operates is to emphasize personalization.
Brian Spaly and Andy Dunn launched Bonobos in 2007, primarily to sell pants flattering to men's figures. Bonobos' trousers gained a cult following. The key to their success was a curved waistband. This made the pants more anatomically correct.
Bonobos was solely an online enterprise for its first four years of business. This didn't worry the target customer – men who traditionally don't like visiting traditional mall stores.
To ensure that customers are happy, Bonobos' sales team – sales ninjas – recognize the need for excellent customer service. You can contact them via email, phone, or video chat. They have the freedom to improvise customer solutions and resolve issues; however, they feel appropriate.
---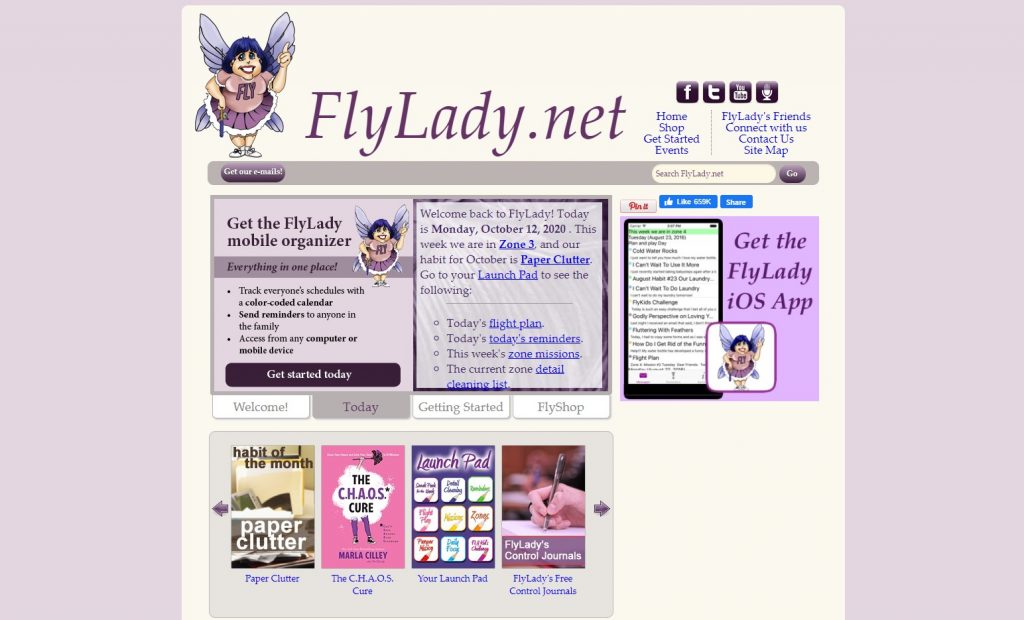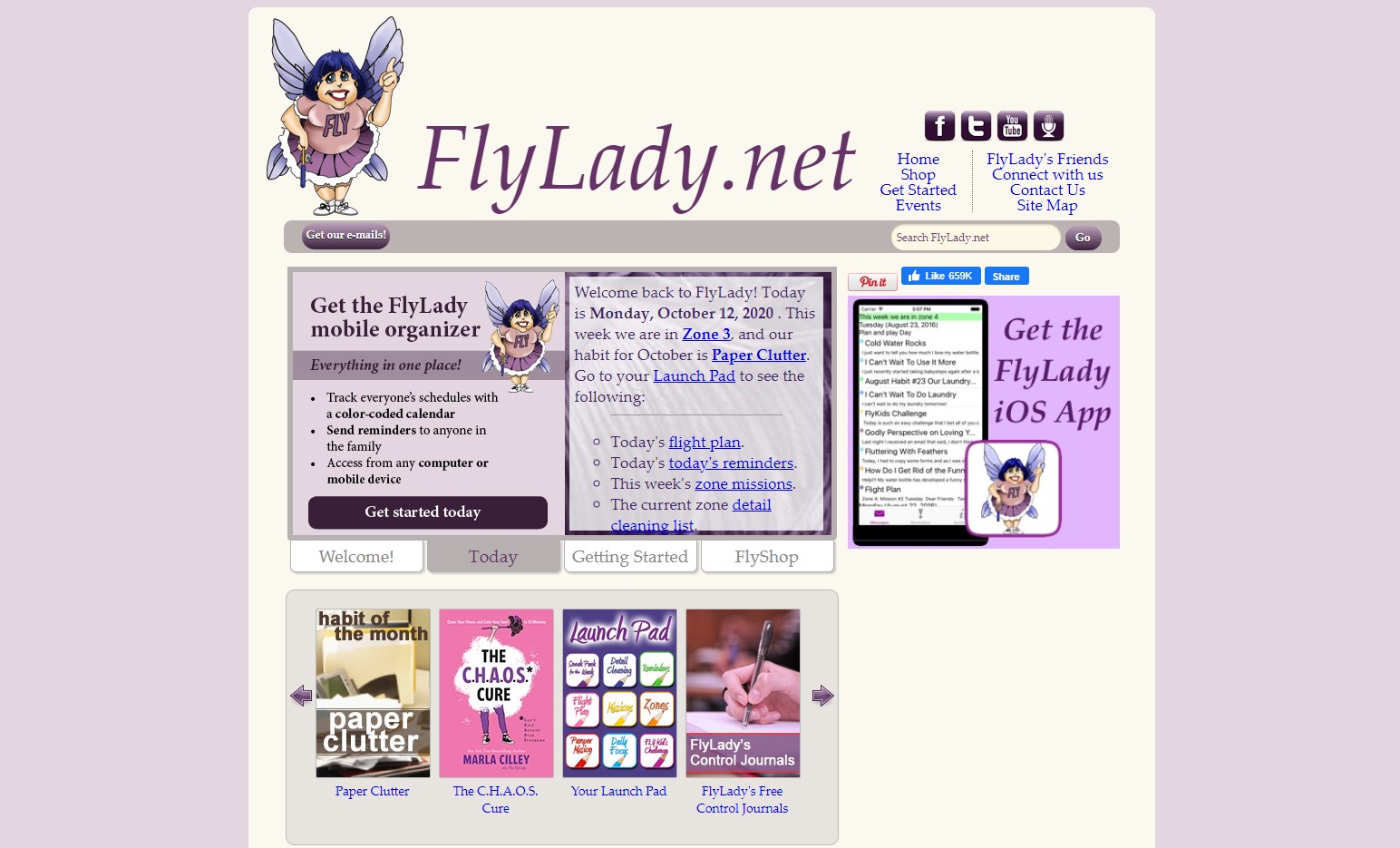 Are you worried about having a messy house? Do you feel overwhelmed by clutter, with no idea where to begin to reclaim a tidy home? Then, FlyLady could be just the thing to solve your problems. And you don't even have to be a "lady" to be a member. Although the bulk of FlyLady's members are undoubtedly female, many desperate males are looking for a solution to their cluttered lifestyle.
Marla Cilley is The FlyLady. Marla is a SHE (Sidetracked Home Executive – again emphasizing the strong female clientele). FlyLady offers house cleaning and organizing tips with homespun humor, daily musings about life, and love.
When you join FlyLady, you will receive daily FLYmail. Your FLYing Lessons guide you through baby steps to help you set up routines, get rid of your clutter and put your home and life in order.
You might wonder how FlyLady operates as an eCommerce store. Well, an essential part of the site is the FlyShop. Here you can buy all the tools necessary to help you fly around our house, including a $130 ultimate cleaning pack. FlyLady is particularly renowned for her purple microfiber cleaning cloths, continuing a color scheme that follows throughout the site.
Frequently Asked Questions
What are the 4 types of ecommerce businesses?
The most common types of ecommerce business models include:
B2C (Business-to-consumer).

B2B (Business-to-business).

B2B2C (Business-to-business-to-consumer).

B2G (Business-to-government).

C2B (Consumer-to-business).

D2C (Direct-to-consumer).

C2C (Consumer-to-consumer).
What are the most successful ecommerce businesses?
The most successful ecommerce businesses in 2022 include:
Warby Parker

Leesa

Modcloth

Dollar Shave Club

Edible Arrangements

Underwater Audio

MVMT

Amazon
What type of business is an ecommerce business?
Ecommerce businesses are organizations that transmit goods, services and funds over the internet. The size and scope will vary, but examples include businesses like Amazon or Etsy. Online shopping is just one type of ecommerce businesses that have seen big growth over the past few years.
What are the types of ecommerce with examples?
Types of ecommerce businesses:
Business-to-Business (B2B)

Business-to-Consumer (B2C)

Consumer-to-Consumer (C2C)

Consumer-to-Business (C2B)

Business-to-Administration (B2A)

Consumer-to-Administration (C2A)