Choosing the right eCommerce platform to help take your business online is no easy task. Sure, you can always switch to another eCommerce platform later on, but you'll only end up wasting valuable time. So, it's best to get it right from the start.
If you're in the market for a platform and BigCommerce has made your shortlist, you've come to the right place. In this article, we'll take a look at how 18 eCommerce businesses have used BigCommerce.
Build a list of eCommerce & D2C companies based on attributes made possible for the first time with Commercepedia
---
Top 18 eCommerce Websites Using BigCommerce:
---
What You Need to Know About BigCommerce
BigCommerce has an interesting history, but we're not going to bore you with those details. What you do need to know is that it's one of the most popular eCommerce platforms. According to BuiltWith, nearly 150,000 websites are BigCommerce customers at the time of writing this article. Of these websites, 26 websites fall in the top 10,000 with regards to traffic, while 225 websites fall in the top 100,000.
While it's relatively small compared to a platform like Shopify that's used by millions of websites, it offers similar value. Though, one drawback is the way they've structured their pricing plans. For their Standard, Plus, and Pro plans, they offer flat rate pricing that's linked to a certain revenue threshold. If you exceed the revenue threshold, you'll be forced to upgrade to a more expensive plan.
Pricing aside, it offers hundreds of apps in its app store which allows you to add extra capabilities to your store (a feature that a brand such as Rock Bottom Golf has highlighted as one of the major perks). Another big appeal is its analytics. As it's used by a number of big brands, reporting is essential and they don't disappoint in this department (as attested to by Bulk Apothecary). While it might not be as easy to understand and use as a platform like Shopify, you'll see that many of the brands mentioned in this article had no real difficulty finding their way around the platform.
---
18 eCommerce Brands' Success Stories With BigCommerce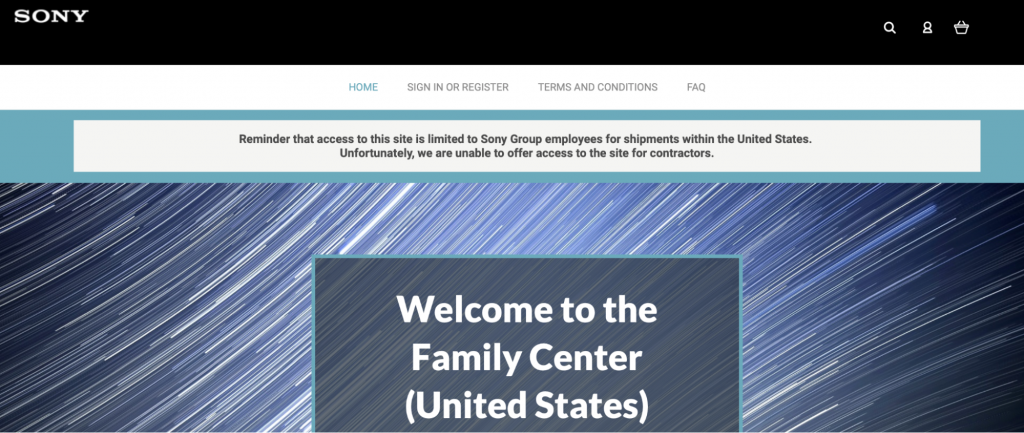 Sony is one of the big brands that use BigCommerce in their tech stack. One of the ways that they've used it is to offer its employees first access to company deals and discounts off merch. Via this B2E site (carefully branded as the Family Center), employees can also buy things like uniforms that are required by the company.
If you're thinking about starting a type of employee activation program, you need to create a work environment that's constructive. One of the best ways to start building a positive work culture is to give your employees access to special pricing as Sony has done with its Family Center. So, it's a great example of how you can also tailor your website design towards your own employees.
---
According to their website, Razer is the leading lifestyle brand for gamers in the world and their logo is one of the most recognized ones in the eSports and gaming communities. Via their website, fans can find hardware, software, and services.
According to PipeCandy, their website attracts more than 2.4 million unique visitors per month. So, clearly they did a lot right when they designed their website. What's more, PipeCandy has given their website a proprietary competitiveness score of 92/100 for website personalization. One way that they've implemented personalization is with its Razer Customs online service. In short, when gamers visit their website, they'll be able to create their very own customized phone case, mouse, or mouse pad.
---
Ubisoft is one of the large brands that use BigCommerce Enterprise. Most recently, they've partnered with Zakeke to create customer merch that customers can buy via the Ubisoft Store. This new offering is largely thanks to Ubisoft's partnership with BigCommerce.
Other merchandise that customers can buy via the Ubisoft Store are clothing, accessories, wall art, and collectibles. Their design team has paid a lot of attention to layout. The use of ample white space means that product descriptions don't get lost. Also, they've included reviews on individual product pages. So, if the description doesn't convince you, perhaps the extra social proof will.
---
For something a bit different, be sure to check out Almanac. Instead of selling a product or service per se, they share a new edition of The Old Farmer's Almanac (the oldest almanac in the United States) every year. In fact, it's the best-selling annual periodical in North America.
They've also expanded their offering to include gardening magazines, cookbooks, and a digital monthly magazine. While their website design might come across as more cluttered than others on our list, they've ensured that it's easy to search their website. The first thing that you see is it's big search bar. Their product descriptions are also detailed and they've ensured to include reviews for social proof.
---
Black Diamond focuses on skiing and climbing and aims to manufacture the best gear for these activities. Before turning to BigCommerce for a headless strategy, they struggled to display their content. One of the main objectives of moving to BigCommerce was to allow their marketing team to manage their site and rich content freely. This way, they could offer a more dynamic creative experience that represented their outdoor brand better.
The headless strategy that BigCommerce offered included the integration of several third-party service apps and a feature-rich CMS. The result was a design and CMS that enabled them to immerse their audience in the experiences that they're synonymous with.
Another objective was to tailor their messaging for different markets. As an international company with offices on three continents, they needed to include European languages and program their website so that they could share their different merch to different audiences and offer a better user experience to all.
---
UPLIFT Desk is one of the biggest retailers and manufacturers of ergonomic chairs, standing desks, and other accessories for the office. Their goal is to help everything work better and ultimately empower their target audience to live healthier.
With the help of BigCommerce, they've also ensured that their own business stays healthy. As they're all about carefully designed solutions, they needed to offer the same customization in their shopping experience. One way that they've achieved that is by including their Desk Builder feature. This way, customers can basically watch how their desk gets assembled virtually. From style to size to color, customers get to choose from a number of options.
According to UPLIFT Desk, they've seen a significant increase in orders since they've launched this feature. Not only did their number of new customers increase by 12% year-on-year, but they also enjoyed a 24% increase in conversion rate year-on-year.
Another feature that's proven very valuable is the Abandoned Cart Saver. This feature lets them easily automate emails to customers who've added a product to their cart but haven't completed the purchase. According to Angela Arnold, the brand's content director, they've received hundreds of orders each month because of their abandoned cart strategy. This translated to a 733% increase in sales from abandoned cart emails year-on-year.
All in all, not only do we love their products, but also the website that they've managed to create. They've really ensured that they provide their audience with as much info as possible, yet the website never feels cluttered. The splash of pastel mint green is refreshing and just makes the whole website come alive.
---
Casio USA attracts an estimated web sales of between $100 million to $250 million, according to PipeCandy. The chances are good that you've had a Casio product (or used one) at some stage in your life. Probably a calculator, if you're old enough to remember that there was a time when you couldn't ask a voice assistant to work out mathematical calculations.
Considering that Casio creates calculators among others, here's more about Casio in numbers (and no we didn't have to use a calculator to work out these figures, we simply turned to online sources like Crunchbase and PipeCandy):
They use 30+ tech products and services and are actively using nearly 130 technologies for their website.

Their website attracts more than 3.5 million monthly visits.

About a third of its monthly visits come from the USA.

They have more than 10,000 employees.
---

In short, Airtasker is a reputable community platform that connects people who need to outsource work or find a local service to people searching for work. The tasks that Airtasker can help with range from straightforward jobs like admin work to more intricate tasks such as website design and development. According to their website, they've created more than $380 million worth of jobs to date and more than 2 million people rely on Airtasker.
Their relationship with BigCommerce stretches further than simply using it for its tools. Shortly after they launched, they appointed the co-founder of BigCommerce, Mitchell Harper, as an advisor tasked with the responsibility to help with their growth plans.
A quick look at their plans show that they're serious about growing the brand. Not only has Airtasker joined the Australian Stock Exchange, but they also have plans to expand into the United States and the United Kingdom.
If you're searching for ways to monetize a side hustle, be sure to check out their website. For example, one couple managed to make $25,000 simply by completing about 60 everyday tasks, like assembling IKEA furniture, via Airtasker.
---
Bulk Apothecary started out small as a brick-and-mortar specialty store in Ohio. Today, they're one of the biggest online suppliers of essential oils and natural ingredients in the United States. Initially they only focused on supplies needed for soap and candle-making but have since expanded their product range to many other specialty ingredients and supplements.
Gary Pellegrino, the president of Bulk Apothecary, decided to switch to BigCommerce during one of their slower seasons to reduce the effect it would have on their revenue. While he anticipated that their revenue would probably decrease slightly, they instead enjoyed an increase of 15-20% after they switched their online sales to BigCommerce.
Not only did they increase their online sales, but conversion also increased by 10% and they managed to increase their income after tax by saving over $50,000 in hosting and licensing fees.
Though, it's not all about quantitative results. BigCommerce has also equipped them to operate the business more effectively and thanks to the insights shared by BigCommerce Analytics platform, they were able to implement improvements right away.
---
According to their website, they're the fastest-growing appliance manufacturing company in the United States and half of all US homes have one of the appliances that they've built. While their website is slightly slow to load, their workforce of 13,000+ who work tirelessly behind the screen isn't. They build more than 2,300 units per hour, deliver an appliance every 45 seconds, and ship more than 28 million parts and accessories.
They only recently started using BigCommerce and by a quick look at their website, you can tell that they've put in a lot of effort. Their individual product pages are extremely detailed. Here you'll find reviews, similar items to consider, and all the specs on the same page. They've also included the ability to check availability online at certain stores and if you can't decide between two models, you can compare them side by side. The last feature is especially useful and functionality we wish more eCommerce websites would include.
---

If you're a regular reader of Influencer Marketing Hub, you would probably be familiar with the name Solo Stove and their work already. They put a lot of thought into their different critical elements of their website design.
Founded in 2010, Solo Stove initially launched as an outdoor cooking stove. From the start, they were interested in eCommerce and started with one-page websites. Though, the huge interest in their product meant that they needed a stronger platform and they turned to BigCommerce after considering a number of eCommerce platforms.
According to John Merris, the CEO of Solo Stove, the biggest impact that BigCommerce has had on the success of the company was how easy it has made it to make changes. Even with little web design knowledge, he has found it easy to create product pages for new products.
What's more, BigCommerce has also helped them to integrate with the right partners. Solo Stove has more or less 30 add-ons through the BigCommerce marketplace that are live on their site. For example, for international selling they rely on Zonos. This way they can convert currencies in real time using the IP address of their visitors.
They've been with BigCommerce for more than 10 years. During this time, their traffic has increased by a whopping 60%.
---
Modular design forms the foundation of Burrow's furniture. According to their website, their pieces don't follow the flat-pack model that most consumers are familiar with. Instead, they want to make their furniture even easier to assemble. Plus, if your needs change, their products make it easy to add other products to your current setup.
Highly customizable and flexible products like that need an eCommerce platform that can offer the same features. That's exactly why Burrow turned to BigCommerce in 2019 when their previous eCommerce platform couldn't scale with them. For example, Burrow needed more powerful marketing capabilities and flexibility so that they could apply cart discounts and create tiers or bundles. Another reason why they switched to BigCommerce was because they needed their new platform to support various fulfillments and shipments.
While the functionality was important, Burrow couldn't necessarily afford bigger tools. According to Kabeer Chopra, the co-founder and CPO of the brand, BigCommerce's pricing was a deciding factor. In just six weeks they managed to go live and the final result was a website that's as sleek as their furniture range.
---
Based in Texas, Game Nerdz has been one of the go-to online stores for gamers for nearly two decades. Their product range includes a variety of toys and game-related products that include board games, card games, action figures, and books. According to PipeCandy, their estimated web sales for the last 12 months add up to between $50 million and $100 million.
While their products are more exciting than their website design, the navigation is pretty intuitive. Each category has a drop-down menu, while they've also dedicated a page to only deals.
Apart from BigCommerce, other well-known solutions in their tech stack are Affiliatly, Google Analytics, and Klaviyo for marketing automation.
---

Adore Beauty is another Australian-based online store that made our list of eCommerce sites using BigCommerce. According to their website, they're Australia's leading pure play online beauty retailer. Via their website, they offer more than 260 top beauty brands (11,000 products in total) to over 770,000 active customers.
A big product range like that needs a robust eCommerce platform like BigCommerce. To ensure that customers find it easy to find a specific product, they allow their audience to search by category, brand, or by budget.
They've also included a web page dedicated to promotions. This way, visitors don't have to scroll through search results to find attractive deals. In addition to this Promotions page, they also ensure that they mention special offers numerous times on other pages as well to help nudge their potential customers down the funnel.
All in all, it's clear that they've prioritized user experience when they designed their website. Thanks to impressive filtering features and intuitive navigation, visitors are able to find the products that they need easily.
---
Headquartered in the United States, Bloomscape is a home and garden retailer that sells a wide range of products online. Launched only a couple of years ago in 2018, they're already generating significant revenue. According to PipeCandy, their estimated web sales for the last 12 months add up to between $100 million and $250 million. What's more, more recently they've also managed to raise over $20 million in a Series B financing.
Not only have they captured the attention of investors but also names like Forbes. In 2021, Forbes voted them as the best overall retailer to buy plants online. Some of the highlights of their website include powerful filtering capabilities, convenient gift options, and a Last Chance Sale section dedicated to special offers.
---
FSA Store is one of the brands that form part of Health-E Commerce, a consumer health and wellness online retailer. For just over a decade, they've launched D2C online brands with the goal of simplifying the US tax-free healthcare market.
With regards to the FSA Store specifically, it offers over 6,000 FSA-eligible products. According to Ujjwal Dhoot, their Chief Marketing Officer, they strive to be as nimble as possible, while scaling as fast as possible. One of the challenges that they faced when designing their website was to find a way to make their products easy to find. They actually ended up removing subcategories from their category pages. The cleaner navigation helped to increase revenue per visitor by as much as 53%. This just once again proves that at the end less is more, especially when it comes to eCommerce website design.
---

Dremel is an industrial retailer that sells warehouse equipment and other industrial-related products. To help potential customers buy a new tool or accessory, they share the location of the closest retailer but also link them directly to select retail outlets if they prefer to buy online instead. For improved browsing, they also include how-to videos, product safety instructions, and manuals.
---
As you would expect, an interesting name like Rock Bottom Golf has an interesting backstory. In the case of this brand, it's quite literal, but fortunately the founder and CEO never had to hit rock bottom in the figurative sense of the word. Instead, he only had to dive for golf balls at local golf courses in order to make some spare money during high school. This side hustle was so successful that he managed to pay his way through college.
Today, he runs a fully fledged online store that sells a lot more than just golf balls. From new clubs to carts to shirts to socks, Rock Bottom Golf offers a wide range of golf-related products.
Before they turned to BigCommerce in 2015, they sold on eBay, a website launched on Yahoo Stores, and Amazon. While Yahoo worked for some time, it couldn't grow with them. So, when they needed more capabilities and features, they switched to BigCommerce. According to Brian Schwank, Rock Bottom Golf's Director of Marketing, they also considered Magento and Shopify. However, they found Magento too difficult and Shopify's integrations were lacking.
All in all, BigCommerce offered them a simpler way to manage the catalog. They're also using the open API a lot to improve their product offering. For example, customers can now also personalize their golf balls. The hard work has paid off and they've managed to increase their new users by almost a third.