Advertising Disclosure
Advertising disclosure:
Our partners compensate us. This may influence which products or services we review (also where and how those products appear on the site), this in no way affects our recommendations or the advice we offer. Our reviews are based on years of experience and countless hours of research. Our partners cannot pay us to guarantee favorable reviews of their products or services.
In a world where search engines dictate online success and organic search results get 70% of the clicks, a strategic BigCommerce SEO partner is your key to standing out. Leveraging the latest algorithms and deep analytics, such a partner not only enhances your store's visibility but also ensures that your content resonates with your target audience. They provide a crucial edge in a competitive eCommerce landscape, helping you to climb the SERPs and secure a coveted spot at the forefront of potential customers' searches.
We've rigorously assessed the top 10 BigCommerce agencies for their innovative strategies and proven results to guide you to the pinnacle of search engine rankings. Embark on a journey to skyrocket your store's visibility and sales.
---
Top Agencies for BigCommerce SEO Services
Top
bigcommerce seo services
2024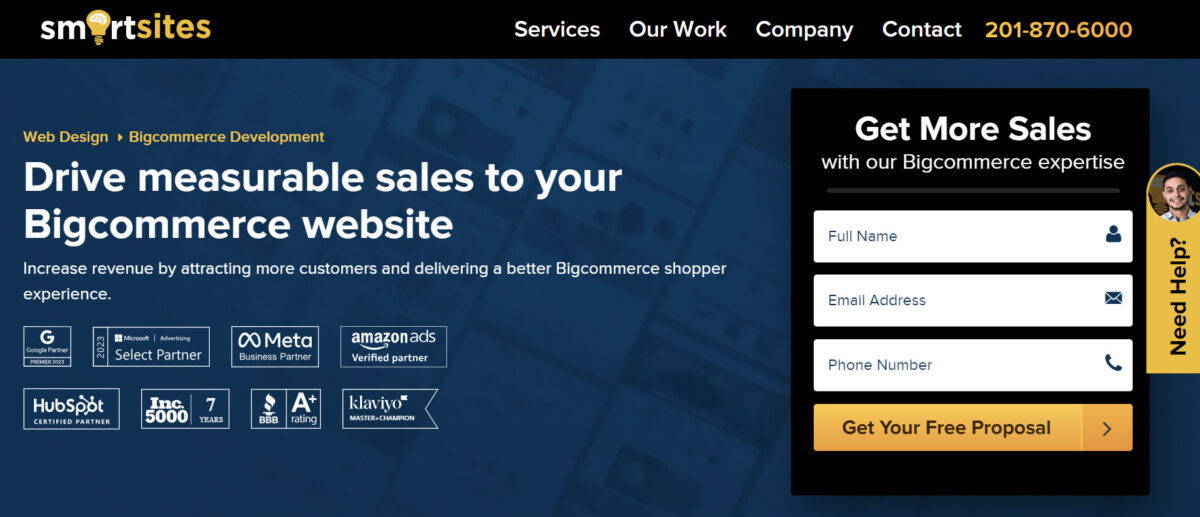 Location: Paramus, New Jersey
Pricing Info: Minimum Project Size is $1,000 | Average Hourly Rate is $100 – $149
Best For: Small businesses and medium-sized agencies
SmartSites Digital Marketing Agency stands out in the crowded digital marketing space, marked by its comprehensive approach to BigCommerce SEO. Recognized as a Google Premier Partner specializing in enhancing BigCommerce websites, SmartSites combines an in-depth technical SEO audit with strategic site enhancements. Certified experts meticulously analyze each site, crafting a tailored plan to exceed competitive benchmarks.
SmartSites takes pride in its dual focus on driving measurable sales and ensuring an optimized shopper experience. The agency's approach is rooted in data, with a keen eye on their alarming statistic that 96% of visitors exit a website before making a purchase. SmartSites' eCommerce developers are dedicated to mitigating this challenge so BigCommerce websites are aesthetically pleasing, functional, and optimized for conversions across all devices. Their strategic approach is underscored by a proven track record, with clients reporting up to 42% increase in revenue upon implementing the agency's innovative designs.
Why Choose SmartSites?
Client satisfaction is at the core of SmartSites' operational ethos, substantiated by a plethora of positive testimonials. Their client-centric approach, technical expertise, and results-driven strategies have earned them a Top 3 Advertising Agency rating by UpCity and the title of the #1 Digital Marketing Agency by BestCompany. Offering services that extend beyond BigCommerce SEO, including migrations to platforms like Magento, Shopify, and WooCommerce, SmartSites caters to diverse eCommerce needs. Each project is executed with precision, ensuring every client attains not just a compelling online presence but tangible business growth.
---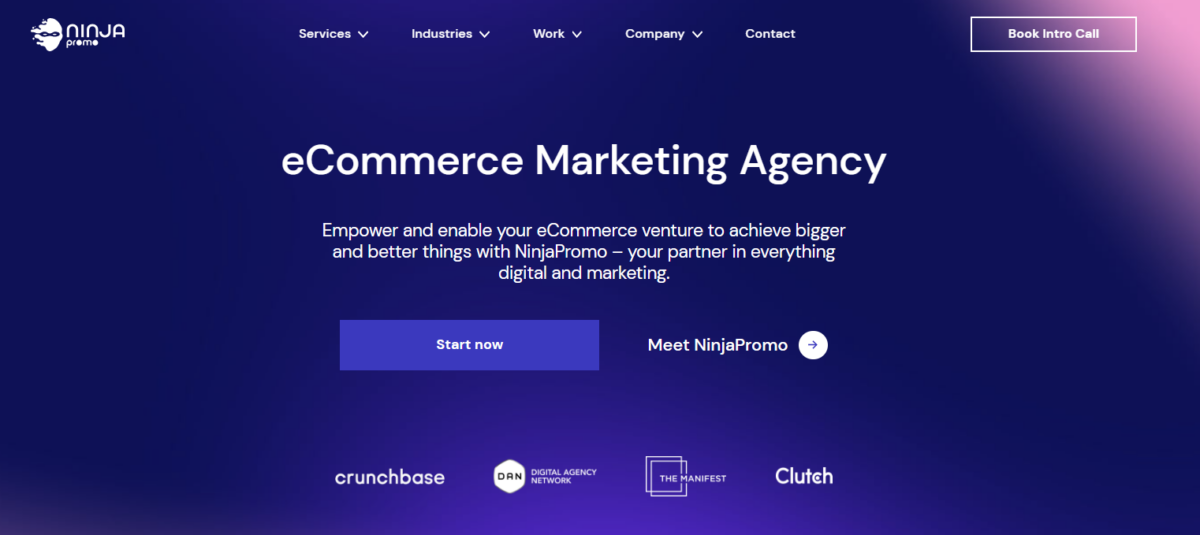 Location: London, United Kingdom
Pricing Info: Minimum Project Size is $5,000 | Average Hourly Rate is $50 -$99
Best For: Small to medium-sized agencies and businesses
NinjaPromo distinguishes itself with a holistic approach to BigCommerce SEO, meticulously blending analytical prowess with creative strategies. The agency transcends traditional Search Engine Optimization practices, positioning itself as SEO hackers — a team relentlessly innovating to elevate clients' online visibility. NinjaPromo delves deep into understanding each business, ensuring custom-tailored strategies resonate with the unique goals, challenges, and target audience of every eCommerce client. Focusing on the human element behind each click and search, the agency designs plans to appeal directly to the potential customers most responsive to the business offerings.
Boasting a suite of comprehensive services, NinjaPromo emphasizes adaptability and precision. Their eCommerce SEO services span in-depth analytics, critical keyword research, high-quality link building, and ongoing monitoring to ensure sustainable success. The agency also specializes in local SEO, amplifying clients' visibility in geographically relevant searches to bolster local presence. Data and analytics underscore every strategy so actions are informed and results measurable. Industry-specific services, especially for eCommerce crypto and fintech niches, highlight the agency's ability to navigate and master the intricacies of varied sectors.
Why Choose NinjaPromo?
In a domain marked by constant evolution, NinjaPromo prides itself on agility and adaptability. The team's commitment to staying abreast of the over 500 annual changes in Google's algorithm ensures clients' BigCommerce SEO strategies are always ahead of the curve, leveraging contemporary best practices for optimal results. This long-term approach signifies a journey of continuous improvement, where strategies are regularly refined to adapt to emerging trends, keeping clients' online presence not just relevant but dominant.
---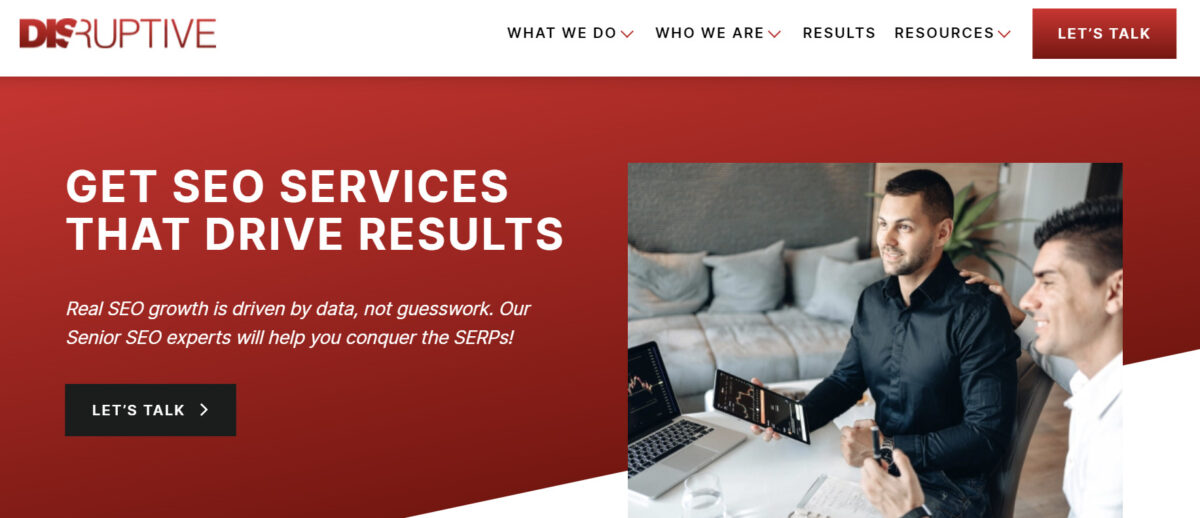 Location: Pleasant Grove, Utah
Pricing Info: Minimum Project Size is $5,000 | Average Hourly Rate is $100 – $149
Best For: Medium-sized companies and enterprises
Disruptive makes a compelling entry into the realm of BigCommerce SEO agencies, not just for its expertise but for its data-driven methodologies that deliver tangible results. The agency is geared towards ensuring businesses rank prominently on SERPs and are strategically positioned to be the first choice for potential customers. The agency is built on the premise that real SEO growth is propelled by data, eliminating guesswork, so every eCommerce SEO effort is a strategic step towards measurable growth.
Disruptive offers a comprehensive package, with every service tailored to harness the full potential of organic search, evidenced by 94% of clicks going to organic results. The agency is particularly keen on total sales and profitability, ensuring BigCommerce SEO transcends beyond traffic to contribute to the bottom line. The blend of on-page, off-page, and technical SEO is customized for every client, veering away from the one-size-fits-all approach. Furthermore, their SEO services are about visibility and conversion. With 75% of searchers not going beyond the first page of search results, Disruptive's strategies are honed to make business compelling enough to engage and convert.
Why Choose Disruptive?
Customer testimonials underline Disruptive's capacity to deliver remarkable BigCommerce ROI, attributed to a deep understanding of each client's unique business goals and challenges. This client-centric approach, combined with proven search engine expertise, is a formula that has consistently delivered impressive results. With the agency's proven track record in sectors ranging from healthcare to B2C businesses and dental professionals, every strategy is a fusion of industry-specific insights. Furthermore, the agency's adaptability, showcased by its ability to weather Google algorithm updates, reaffirms that with Disruptive, businesses are not just enlisting a bIgCommerce SEO agency but a partner committed to sustainable, long-term growth.
---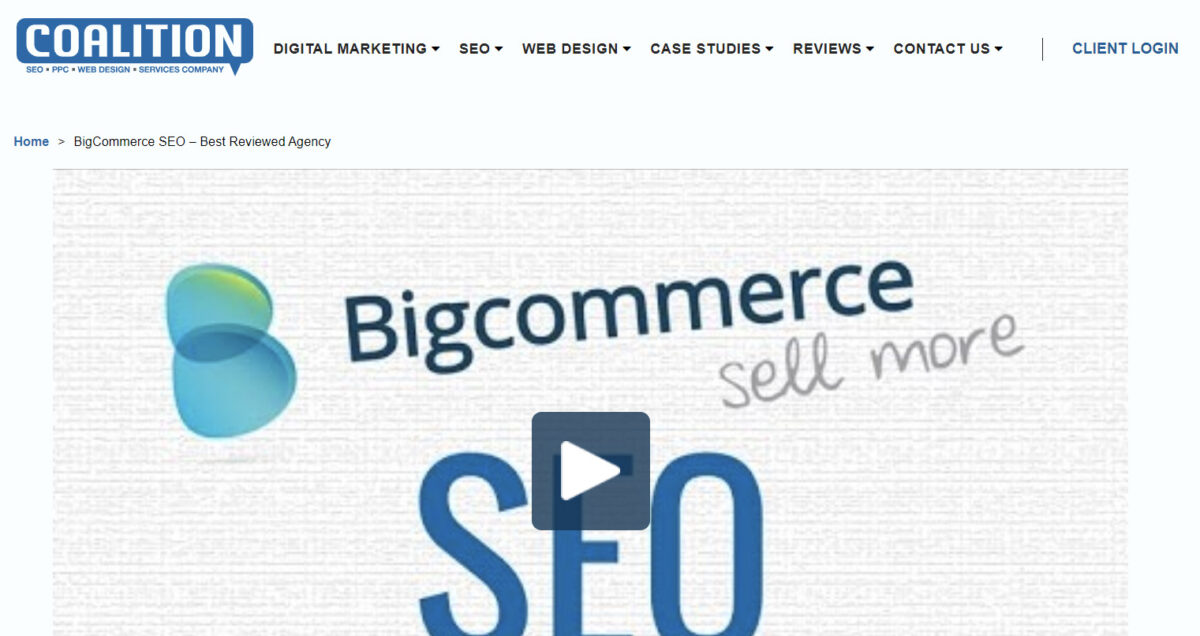 Location: Culver City, California
Pricing Info: Minimum Project Size is $1,000 | Average Hourly Rate is $50 – $99
Best For: Small to medium-sized businesses
Coalition Technologies, a noteworthy BigCommerce SEO agency, boasts a track record of excellence and innovation. As one of the select few BigCommerce certified marketing partners, Coalition Technologies has mastered the art and science of tailoring SEO strategies to align with the unique architecture and functionalities of the BigCommerce platform. The agency prides itself on a bespoke approach, ensuring client benefits from this approach and gain enhanced visibility, revenue growth, and conversions. The intersection of technical acumen and strategic innovation underscores the agency's approach to delivering unmatched SEO results.
Coalition Technologies transcends the conventional boundaries of SEO, offering a holistic service that encompasses on-site and off-site optimization. The agency's proficiency in working with the BigCommerce platform is amplified by their adeptness at customizing campaigns to harmonize with search engine algorithms effectively. Their approach is grounded in data and analytics, ensuring every SEO initiative is measurable, scalable, and adaptable to the dynamic digital landscape. The agency has impressive portfolio attests to its capability to turn traffic into results, underscoring its commitment to attracting visitors and engaging and converting them, fostering revenue generation around the clock.
Why Choose Coalition Technologies?
The dynamic and ever-evolving nature of BigCommerce SEO is a terrain that Coalition Technologies navigates with adeptness and agility. Their team of experts is renowned for staying ahead of the curve, continuously researching and adapting to the latest Google algorithm changes. The agency's commitment to excellence is manifested in its ability to deliver real, tangible results consistently, anchored on innovation, research, and adaptability. Clients seeking a partner that amalgamates technical expertise and adaptability will find Coalition Technologies to be an invaluable ally in navigating the complex and competitive digital landscape, turning SEO from a mere digital marketing tool to a pivotal driver of business growth and success.
---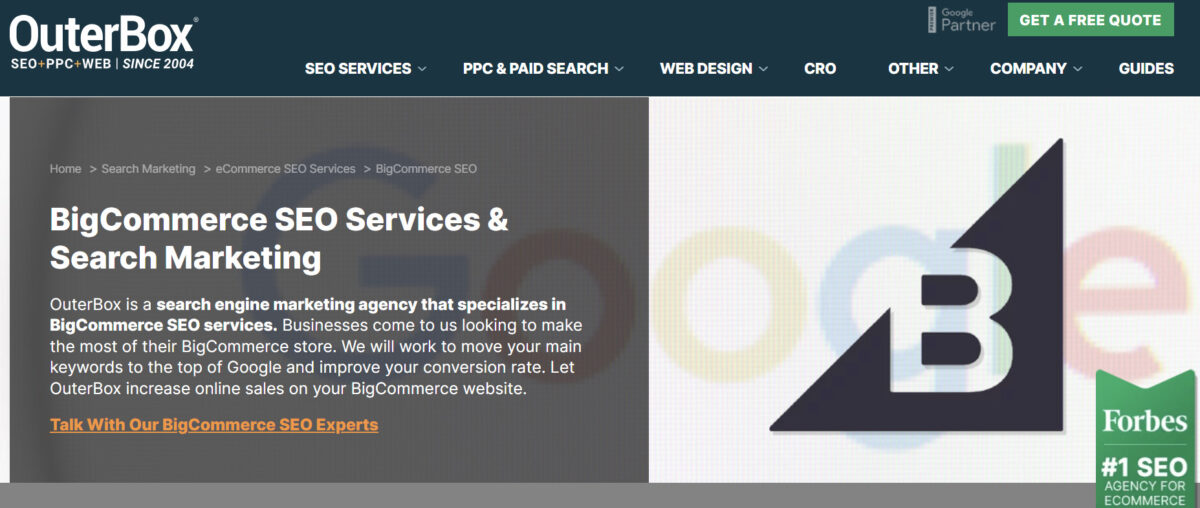 Location: Copley, Ohio
Pricing Info: Minimum Project Size is $1,000 | Average Hourly Rate is $150 – $199
Best For: Businesses of all sizes
OuterBox Design has carved a niche for itself as the quintessential BigCommerce SEO agency, earning the acclaim of being the #1 eCommerce SEO Agency of 2023 by Forbes Advisor. With over 20 years of specialized focus on SEO, the agency possesses an enriched experience and a suite of tailored solutions specifically designed for optimizing BigCommerce stores. The blend of 400+ successful client relationships and the delivery of over 2 million Page #1 Google rankings illustrate a narrative of proficiency, efficiency, and results.
The core of OuterBox's BigCommerce SEO service is anchored in a holistic approach that meticulously addresses every facet of search engine optimization. The agency's offerings extend beyond the generic, featuring specialized services like keyword research, on-page optimization, backlink building, and content creation, all tailored to resonate with the unique architecture of BigCommerce platforms. Each campaign is engineered with precision to elevate the website's visibility, drive organic traffic, and optimize the conversion rate, turning visitors into customers and clicks into sales.
Why Choose OuterBox Design?
What sets OuterBox apart is not just their technical expertise but also the transparency and client-centric approach that underpins their services. Every client is walked through a detailed process, outlining the strategies, costs, and competitive advantages, ensuring clarity and confidence in the journey ahead. Furthermore, their esteemed recognition, including awards and endorsements, attests to their credibility and excellence in the field.
---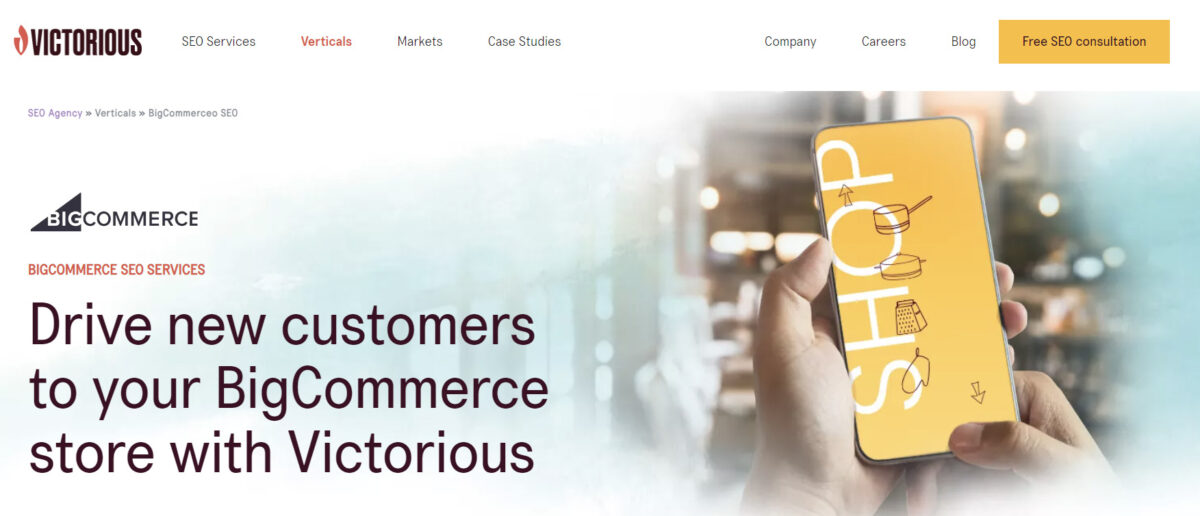 Location: San Francisco, California
Pricing Info: Minimum Project Size is $1,000 | Average Hourly Rate is $100 – $199
Best For: Businesses of all sizes
Victorious SEO, renowned for its comprehensive and strategic approach to driving organic traffic and increasing online visibility, is a remarkable SEO agency specializing in BigCommerce. With a well-earned reputation backed by accolades such as the Global SEO Agency of the Year by Search Engine Land®, Victorious SEO has demonstrated its proficiency in executing result-oriented campaigns. Specializing in on-page optimization, the agency goes beyond standard practices by maximizing signals and addressing over 200 ranking factors to outperform competitors.
For BigCommerce store owners, Victorious SEO offers an intricately designed suite of services that includes commercially viable keyword selection, optimization of product pages, and laser-focused link-building strategies. Their experts are adept at harnessing the built-in features of BigCommerce, enhancing metadata, and uploading SEO-friendly content that significantly boosts website traffic. They are not just confined to overcoming the limitations of the platform but are dedicated to elevating the store's SEO campaign, ensuring it adapts and thrives amidst the ever-evolving trends of search engine optimization.
Why Choose Victorious SEO?
Transparency and empowerment are at the core of Victorious SEO's client engagement model. The agency utilizes VictoriousAnalytics®, a real-time reporting platform, allowing clients to monitor keyword rankings, organic traffic growth, and ROI at their convenience. Their commitment to ROI is ALSO unwavering; every strategy is engineered with a focus on generating revenue and providing measurable results. Additionally, the agency's educational approach ensures clients are well informed and confident in the SEO journey, showcasing a clear roadmap of strategies and expected outcomes, solidifying Victorious SEO as a trusted partner in the competitive realm of BigCommerce SEO services.
---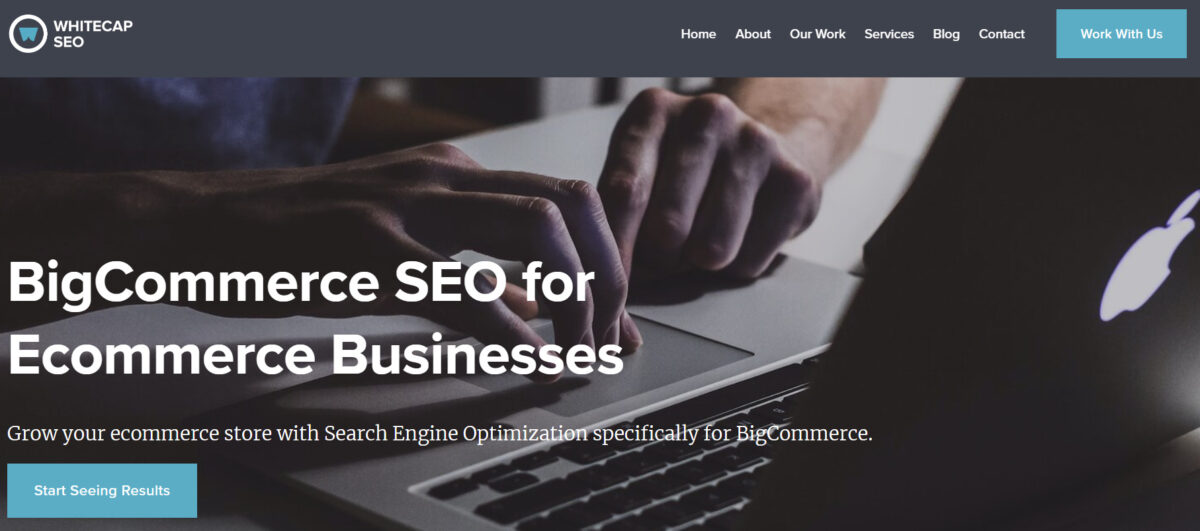 Location: Asbury Park, New Jersey
Pricing Info: Undisclosed
Best For: Small to medium-sized businesses and agencies
White Cap SEO has positioned itself as a pivotal player in the BigCommerce SEO space, specializing in boosting online sales for eCommerce stores. Their proficiency is underscored by a targeted approach to SEO that is both comprehensive and bespoke, ensuring clients' unique needs and objectives are meticulously addressed. White Cap SEO's mastery in eCommerce SEO is demonstrated by their adeptness in harnessing BigCommerce's intricate framework and features to enhance organic traffic so businesses are not just visible but dominant in the competitive digital marketplace.
The agency's commitment to offering customized SEO strategies is one of its standout qualities. Recognizing that no two eCommerce businesses are identical, White Cap SEO develops tailored strategies to enhance search engine rankings, traffic, and online store sales. Their hands-on approach, combining optimized keyword research and on-page strategies, ensures clients are not just participants but competitors vying for the top spot in search engine rankings. With proven results, including notable increases in organic website hits and revenue, White Cap SEO's campaigns are both measurable and impactful.
Why Choose White Cap SEO?
White Cap SEO is highly regarded for its client-centric approach, reflected in the glowing testimonials from satisfied clients. The agency prides itself on creating SEO strategies that transcend vanity metrics, focusing instead on turning websites into robust sales-generating platforms. Their comprehensive service includes leveraging the BigCommerce CMS platform's features and devising an SEO plan that attracts the target audience and sustains traffic for revenue growth.
---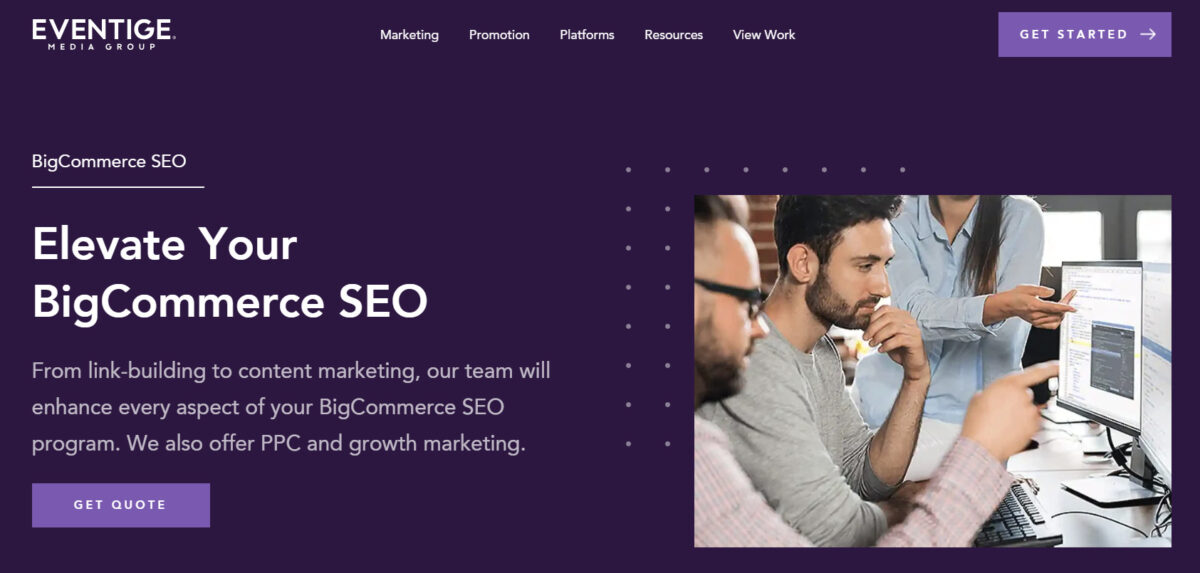 Location: New York, New York
Pricing Info: Minimum Project Size is $10,000 | Average Hourly Rate is $150 – $199
Best For: Medium-sized companies and enterprises
Eventige is distinguished as a leading BigCommerce SEO optimization agency through a myriad of specialized services that cater precisely to the intricate needs of eCommerce businesses. Their comprehensive approach covers every aspect of SEO, ensuring a well-rounded and effective strategy. From on-page elements, including content and structural optimization, to off-page elements that incorporate a robust link-building strategy, Eventige works meticulously to enhance both the visibility and performance of BigCommerce stores. The agency is not just about driving traffic but ensuring that it translates into tangible sales, setting them apart in the competitive landscape of BigCommerce SEO service providers.
One of the key differentiators of Eventige is the customization embedded in their service delivery. Recognizing the uniqueness of each business, their SEO services are bespoke and tailored to align with the specific needs and goals of each BigCommerce client. Structural changes to code, content optimization, and keyword enrichment are crafted to resonate with the brand's identity and market niche. The agency's off-page SEO services amplify online presence through content marketing and placements on high-authority domains, a strategy rooted in precision and innovation.
Why Choose Eventige?
Eventige is grounded in a results-oriented ethos, prioritizing actionable insights and measurable outcomes. In-depth audits and analyses underscore their approach to BigCommerce SEO, ensuring strategies are implemented and effective and yield desired outcomes. The combination of on-page and off-page SEO is not generic but highly structured, so every implementation is backed by data. Clients are not just recipients of services but are partners in a journey of growth, scale, and increased revenue.
---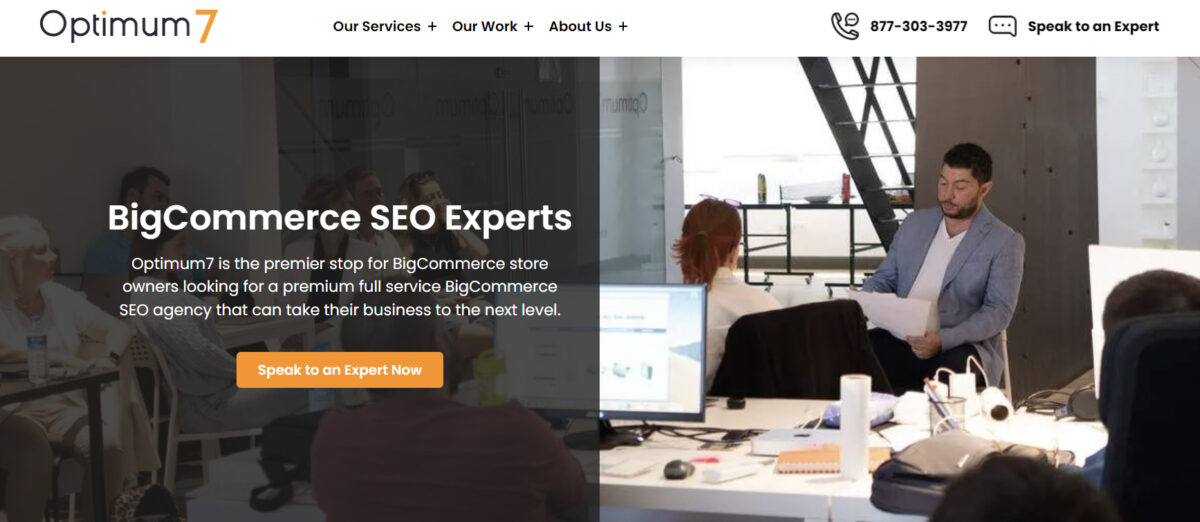 Location: Coral Gables, Florida
Pricing Info: Minimum Project Size is $1,000 | Average Hourly Rate is $100 – $149
Best For: Small businesses and midmarket agencies
Optimum7 emerges as a renowned agency in the landscape of BigCommerce SEO, marked by a legacy of over 15 years in enhancing the online presence of eCommerce businesses. Renowned for a holistic approach, the agency specializes in optimizing both on-page and off-page SEO elements, ensuring BigCommerce stores both gain visibility and translate traffic into increased sales. With a team of SEO specialists and world-class developers, Optimum7 has garnered a reputation for offering tailored solutions that align with the intricate needs of individual eCommerce businesses, making it a reliable partner in the journey of online growth.
The agency's approach to BigCommerce SEO is comprehensive and meticulous, beginning with an extensive audit to identify both immediate and long-term optimization opportunities. Keyword research is integral, with the team utilizing advanced SEO tools to ensure each store is precisely aligned with relevant keywords.
Why Choose Optimum7?
In addition to its in-depth SEO services, Optimum7's distinction lies in its capability to offer additional BigCommerce platform improvements and its unwavering commitment to client success. The agency is adept at enhancing site speed, developing aggressive remarketing campaigns, and ensuring each element of the online store is optimized to achieve the highest conversion rate possible.
---

Location: Shibzada Ajit Nagar, India
Pricing Info: Minimum Project Size is $1,000 | Average Hourly Rate is $25 – $49
Best For: Small businesses
Think Shaw is a BigCommerce SEO agency renowned for its tailored strategies catering to small and enterprise-level businesses. The agency's prowess in enhancing online visibility is underscored by its methodical approach, ensuring every BigCommerce store ascends in search engine rankings and experiences a substantial uptick in conversion rates. Think Shaw's team of experts is adept in contemporary eCommerce trends and technologies, leveraging their expertise to build brand recognition and optimize online stores for maximal performance and visibility.
A hallmark of Think Shaw is its multifaceted BigCommerce SEO services, characterized by an amalgamation of creative theme creation, website structure optimization, responsive design, and content optimization, among others. The agency's technical acumen is evident in its capacity to enhance loading speeds, integrate social media, and optimize BigCommerce app configurations.
Why Choose Think Shaw?
Think Shaw's reputation is further bolstered by positive client testimonials, attesting to the agency's commitment to transparency, efficiency, and results. The SEO experts at Think Shaw are not just service providers but partners in the clients' journey to online prominence, offering ongoing support and innovative solutions. Their ability to navigate the complexities of search engine algorithms and customize the BigCommerce platform underscores a level of expertise that is both rare and invaluable.
---
Statistical Evidence of SEO Success
In the dynamic digital landscape, numbers and data often speak louder than words. A survey conducted by SEO.AI revealed a staggering 75% of online shoppers don't venture past the first page of search results. This statistic underscores the critical necessity for eCommerce stores, especially those built on platforms like BigCommerce, to optimize their SEO strategies.
Another compelling statistic from BrightEdge indicates that organic search accounts for 53.3% of all website traffic. For BigCommerce store owners, this data highlights an invaluable opportunity. By leveraging SEO services tailored for this specific platform, businesses can tap into a vast pool of potential customers actively searching for their products or services.
A case study from Moz further cements the importance of SEO. One eCommerce store saw a 78% increase in organic traffic within six months after implementing a comprehensive BigCommerce SEO strategy. The ripple effect of this surge in traffic was a significant uptick in sales, affirming that SEO isn't just about visibility but also about profitability.
These statistical revelations accentuate the indispensable role of SEO for BigCommerce stores. To remain competitive and capture a sizeable market share, investing in professional BigCommerce SEO services isn't an option—it's a necessity.
---
Conclusion
The selected BigCommerce SEO services stand out for their meticulous approach to enhancing online visibility and sales. Each agency is tailored in its strategies, rooted in a comprehensive understanding of SEO dynamics, and committed to delivering results that are both measurable and sustainable.
The fusion of technical expertise, strategic innovation, and client-centric service delivery is a constant theme that runs through these agencies, underscoring their capacity to turn traffic into conversions, clicks into sales, and online presence into brand dominance.
Frequently Asked Questions
How does mobile optimization affect my BigCommerce store's SEO performance?
Mobile optimization is pivotal in enhancing the SEO performance of any e-commerce store. Given that over 50% of global web traffic originates from mobile devices, Google and other search engines prioritize mobile-friendly websites in their rankings. For BigCommerce store owners, ensuring that your website is responsive, offers a seamless mobile user experience, and loads quickly on mobile devices can significantly improve your SEO rankings, drive more traffic, and boost conversions.
What role do social signals play in BigCommerce SEO?
Social signals refer to the likes, shares, and interactions your content receives on social media platforms. Although not a direct ranking factor, social signals can indirectly influence your BigCommerce store's SEO. When your products or content are widely shared and liked on social media, it increases visibility, drives traffic to your site, and can lead to increased backlinks from reputable sources. All of these factors positively contribute to your site's authority and SEO performance.
How often should I update the content on my BigCommerce store for optimal SEO?
Regularly updating the content on your BigCommerce store is essential for maintaining and improving your SEO rankings. Search engines, especially Google, favor fresh, updated, and relevant content. It's advisable to conduct periodic reviews of your website content, including product descriptions, blog posts, and images, to ensure they are current, accurate, and optimized for SEO. Implementing a consistent content update schedule can lead to improved rankings, increased traffic, and higher conversion rates.