Local search has a powerful impact on businesses, especially small ones. To compete and seize local opportunities, it's essential to improve your Google search ranking. When searching for a bakery, for instance, countless results appear, with big chain stores often dominating the top positions. To stand out and attract local customers, you need to appear on the first page of search results through local SEO.
SEO can be categorized into national and local. National SEO aims for high rankings with broader keywords, while local SEO focuses on specific keywords tied to a particular location. For instance, if your bakery is located in Lambertville, New Jersey, you need to optimize your website for keywords such as "Lambertville bakery" or "bake shops near me" to boost your online presence and attract local customers who are actively looking for baked goods in the area.
By ensuring your business appears in local search results, prospective clients can easily find you when searching for relevant keywords. Increasing your visibility expands your consumer base, particularly in the surrounding area, leading to more sales and revenue. Embrace local SEO to surpass your competitors and unlock the potential of your local market.
---
Maximizing Local Visibility: An Expert Guide to Local SEO in 2023:
---
Uncovering the Power of Local SEO
Local SEO is crucial for businesses targeting specific geographic regions and physical locations. It has become an integral part of marketing strategies aimed at the local community. By utilizing local SEO, you can position your products and services in front of potential customers.
Search engines like Google prioritize user experience and consider factors like local content, social profiles, and citations to provide relevant results for local searches. Mobile and voice search have further emphasized the importance of local SEO as consumers expect immediate and accurate information when searching for local businesses via smartphones or voice assistants.
To optimize your business for local SEO, follow these effective strategies. They will help you capture the attention of potential customers and improve your chances of being discovered by your target audience.
---
Boost Your Presence on Google Business Profile (aka Google My Business)
Google Business Profile, formerly known as Google My Business (GMB), is an essential tool for local search. It meets all of Google's requirements and provides crucial information for informed consumer decisions. With GMB, you can effectively manage your online presence, appear in organic search results, and be featured on Google Maps. Maintaining consistent and reputable GMB listings earns greater trust from local customers.
Claiming your GMB listing is simple. Visit the Google Business Profile website, follow the instructions to validate your business information, and ensure your listing is complete and accurate. Provide your business name, address, phone number (NAP), website, operating hours, and customer reviews.
To maximize your GMB profile:
Review and update your profile regularly.

Provide all necessary details.

Utilize Google Posts.

Select the appropriate business categories.

Include high-quality images.

Encourage customers to share their experiences.

Respond genuinely to reviews and mention your business's specific location.
---
Ensure Your NAP Details are Accurate and Consistent
Start by including your business's NAP on key pages of your website, like the homepage, and in a crawlable HTML text format. Consider placing your NAP in the header or footer for consistency across all pages. Create a dedicated Contact Us page prominently displaying your NAP.
Ensure your NAP information on your GMB profile matches your website. NAP consistency is important for building trust and credibility in search engines and with potential customers. Inaccurate or conflicting NAP details can confuse search engines and harm your local SEO.
---
Submit Your Website to Reputable Local Directories and Citations
Submitting your site to high-quality directories boosts your visibility in search results and can help it earn valuable backlinks. Google indexes directory entries and may feature them prominently.
However, choose directories carefully to avoid negative impacts on your rankings. Trusted map data aggregators like Express Update, Foursquare, and Factual provide data to major platforms. Address discrepancies, like misspellings or missing information, and remove duplicate listings as inconsistencies can confuse search engines.
Also, consider becoming a member of your local chamber of commerce. Chambers of commerce are often trusted organizations with strong online presence that can provide valuable backlinks to your business website.
---
Use the Right Local Keywords Relevant to Your Business
To reach your local audience effectively, use keywords that align with their search queries. SEO tools, particularly keyword research tools, help you identify popular search phrases used by local businesses and gauge their ranking difficulty. For example, you may discover that "New Jersey Bakery" has more local searches than "Bakery New Jersey" but ranking for the former is more challenging. These tools can guide you in selecting the optimal keywords that accurately represent your services and have a good chance of performing well in search results. Once you identify the keywords, optimize your website's content, and develop a local SEO strategy around it.
---
Build Your Local Citations
Local citations can boost your business's legitimacy and relevance to local searches. Follow these tips to build your local citations: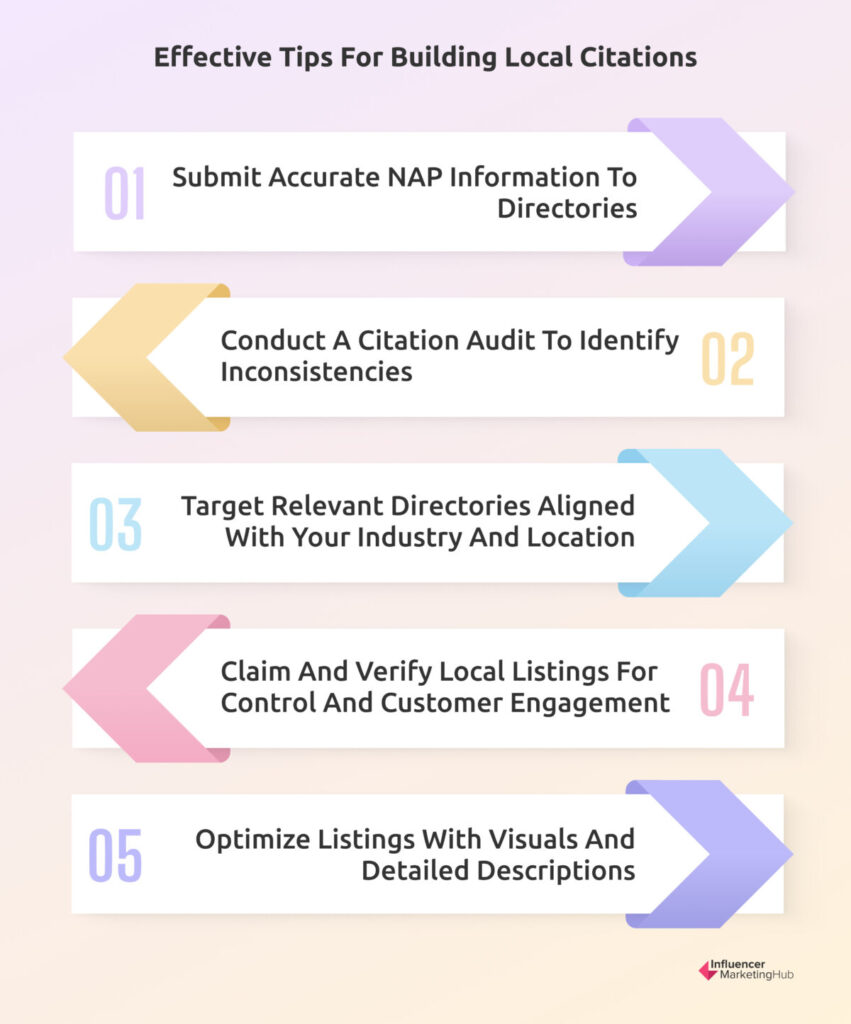 Proactively submit your accurate NAP information to the identified directories.

Conduct a citation audit to identify inconsistencies or inaccuracies in your business's NAP information across online listings.

Create a list of relevant directories and websites aligned with your industry, location, and target audience.

Claim and verify your local listings on these directories and websites to control your business's information and engage with customer reviews.

Optimize your business listings with engaging visuals, detailed descriptions, and other relevant details.
---
Conduct a Local SEO Audit
An audit is crucial for evaluating the effectiveness of your local search strategy and identifying opportunities for improvement. A comprehensive audit helps identify issues, optimize performance, and improve local search visibility. You can determine if your website has incurred Google penalties, optimize your Google Business Profile, discover relevant local keywords, ensure on-page elements are optimized, monitor rankings, assess backlinks and website authority, verify citation consistency, leverage brand mentions, analyze organic traffic, manage reviews and ratings, remove redundant pages, and align social media with local SEO goals.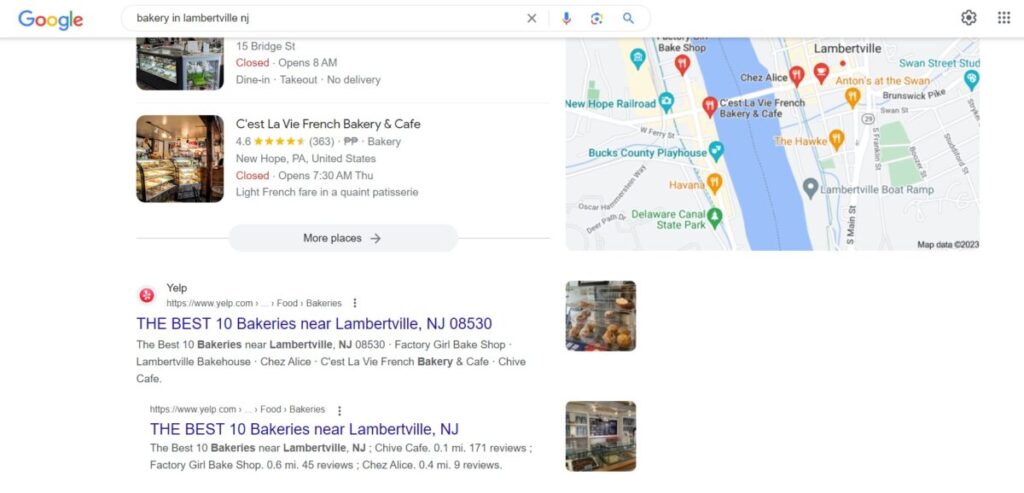 ---
Improve Your Internal and External Linking Structure
Internal links help Google navigate and understand your site, while external links serve as votes of confidence for the linked webpage. Google utilizes a bot called Googlebot to crawl websites, following both internal and external links. By following these links, Google establishes relationships between pages and determines their subject matter. External links are particularly valuable as they indicate credibility and usefulness to search engines.
Backlinks play a significant role in local SEO. Encouraging others to include the location of your business in their backlinks can boost your performance in local search results. For example, instead of just "bake shop," aim for links with anchor text like "bake shop in Lambertville."
However, it's important to avoid excessive use of location keywords in your linking strategy, as it can appear spammy and trigger search engine penalties.
---
Optimize Local SEO Elements
Improve your website's local SEO by optimizing various elements such as URLs, title tags, headers, meta descriptions, and content. When creating content, each new blog post presents an opportunity to target specific geographic search phrases and increase visibility in SERPs.
To optimize your content for search engines, make sure to incorporate high-volume keywords in the URL, title, header, meta description, and body. If you're struggling to come up with location-specific content, consider featuring customer success stories and case studies.
A helpful tip is to add specific details to these elements, especially for each location of your business. This enables you to optimize for local searches that include phrases like "near me."
---
Reference Your Location in Key Sections of Your Site
Include your location in the title tag, headings, body copy, and meta description. Create dedicated location pages for multi-location businesses, including essential details and avoiding content duplication. For single-location businesses, an informative About Us page can serve a similar purpose. Embed a Google Map on your location pages. Incorporate the relevant location in the URL for enhanced local relevance. Consider the scope of your business when referencing your location, using a hyper-local approach for specific areas and broader references for wider-reaching businesses.
---
Create Compelling Local Content
Websites with informative and engaging articles rank well in search results due to keyword-rich content and backlinks. Local SEO follows similar principles. Write high-quality blog posts related to your business and the local area. Focus on creating valuable and location-specific content by sharing educational information and insights on local events and news. For a bake shop, write about pairing pastries with local coffee to gain local search traction. This helps potential customers discover your business and showcases your high-quality food.
---
Make Sure Your Website is Mobile-Friendly
Over 55% of all website traffic originates from mobile devices. People frequently visit websites on mobile devices to read reviews, find directions, and access contact information. Ensure that your site automatically adjusts its display on mobile devices and prioritize mobile device launching speeds. You can use Google's mobile-friendly testing tool to evaluate the look and feel of your website on mobile devices.
---
Get Local Coverage
Gain local exposure and digital PR by actively participating in your community. Collaborate with non-profit organizations on campaigns, sponsor local events or position yourself as an industry expert in the local media. These initiatives can generate press coverage, increase brand visibility, and earn your website valuable inbound links.
Reach out to local news websites and request coverage for your business or content. Many of these platforms are open to providing backlinks, which can significantly boost your search result rankings by harnessing the link authority of these reputable news sites. Google's algorithms also consider the context of these links, particularly when they appear on local websites related to your area, strengthening the association between your site and the local community.
---
Apply Schema's Local Markup
Provide search engines with information about your company's location, contact information, and business hours by implementing local schema markup. Apart from boosting your visibility in local search results, adding schema code to your content enables search engines to display more data, such as star ratings, pricing details, pros and cons, and reviewer information.
To avoid engaging in false advertising, familiarize yourself with Google's guidelines on the proper use of schema encoding.
---
Harness the Power of Social Media
While social media performance may not directly impact your search engine rankings, maintaining an active social media presence can still benefit your website's visibility and credibility. Start by claiming your social media profiles and optimizing them for local search. Establish profiles on major platforms and regularly post updates to engage your audience. Share local content and encourage your followers to share it with their networks to expand your reach.
Social media platforms can also serve as a valuable tool for promoting your GMB listing. Encourage customers to leave reviews and ratings to enhance your local online reputation. Consider using a social media management software to further optimize your local social media listings. Additionally, don't forget to actively interact with your followers. Respond promptly to their questions or concerns, demonstrating your commitment to customer satisfaction.
---
Seek Online Reviews
Positive and high-quality reviews from satisfied customers can significantly enhance your local SEO efforts and increase the likelihood of people choosing your business. To encourage customers to leave reviews, make it a point to ask those who are happy with your products or services to share their experiences.
You can utilize Google Place IDs to provide them with a direct link where they can easily leave a review. Google offers helpful guidance on how to generate these links on their Google Business Help site. Not only do these reviews provide a positive ranking signal, but the presence of star ratings next to your business name can also make your listing stand out on Google Maps, attracting more attention and potential clickthroughs.
---
The Future of Local SEO
Various new trends and modifications in consumer behavior have an impact on the future of local SEO. Here are some factors that will shape its future: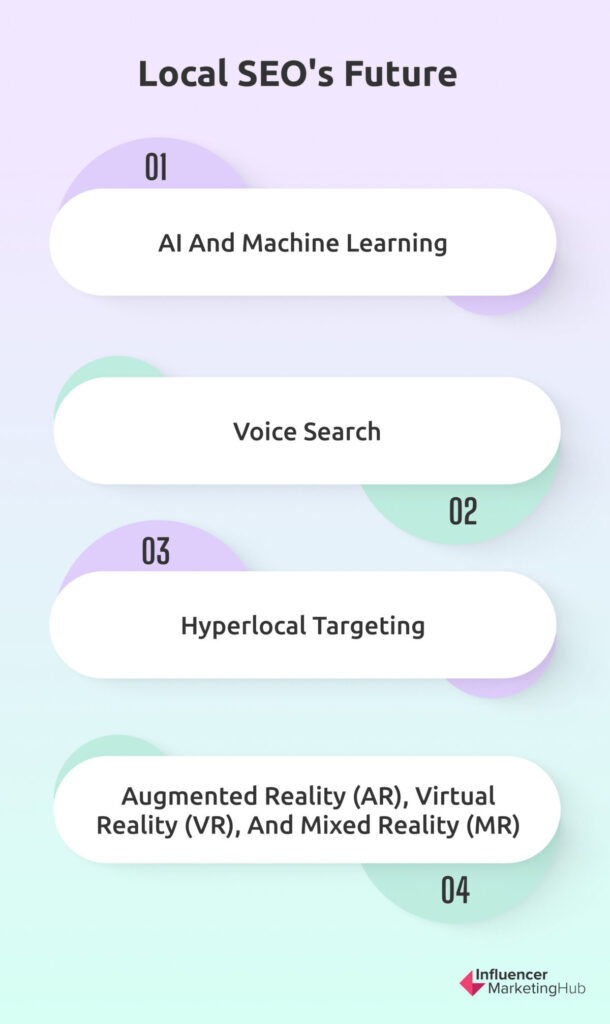 AI and machine learning
AI SEO tools will refine local search algorithms, ensuring more accurate and relevant local search results.
Voice search
Businesses need to optimize their websites for voice search queries by incorporating natural language and long-tail keywords.
Hyperlocal targeting
Location-based technologies allow businesses to deliver personalized content and offers based on the user's precise location, creating highly relevant experiences.
Augmented Reality (AR), Virtual Reality (VR), and Mixed Reality (MR)
These technologies enable businesses to provide virtual adventures, interactive experiences, and augmented product demonstrations for more immersive customer experiences.
---
Final Thoughts
Local SEO is essential for businesses that have a physical location or service area, regardless of their size. Optimizing your website and online presence for local search can significantly improve your chances of being discovered by your target audience, increasing visibility for your business within your local area and helping with brand recognition and industry authority.
Keep in mind that local SEO requires continuous effort and maintenance because search engine algorithms, consumer behavior, and local search trends change. To remain competitive, you must constantly monitor and adjust your local SEO strategies. It's crucial to stay updated with industry standards and remain well-informed about the latest advances to deliver the best possible user experience and provide your audience with relevant and accurate information.
Frequently Asked Questions
What is local SEO?
Local SEO is the optimization of a website for local search queries. This includes tailoring the site for specific keywords and phrases that potential customers in the area may use to find the business.
Who needs to use local SEO?
Local SEO is essential for businesses that primarily cater to their local community. If your target audience is local rather than national or international, local SEO is a must-have strategy to ensure you connect with the right customers and maximize your business's potential within your community.
What are the benefits of using local SEO?
The key benefits of local SEO are greater visibility for your business within your local area and increased traffic to your website. This can result in increased sales and business growth.