Best for:
Businesses of all sizes
First things first: SEMrush is not actually a social media marketing tool. Not specifically, anyway. It's billed as an "All-in-One" Digital Marketing tool, and a quick glance at the list of features bears this out. That said, social media marketing is a big part of what SEMrush does—and also a decent part of what we do here on this website. And so here we all are, talking about SEMrush and its social media marketing capabilities.
When the company was founded in 2008, its founders described it as "an online visibility management content marketing platform"—15 years later, it still is. But as digital marketing has evolved over the years, SEMrush has kept apace. Where "online visibility" used to exclusively refer to SEO and search engine rankings, it now encompasses a whole array of initiatives carried out in the social media landscape. Cultivating a brand "personality,", developing influencer partnerships, and sourcing user generated content are just a few ways that companies can play in the social space—and SEMrush aims to hit all these points in addition to its established offerings.
The wide array of tools available on the platform means that brands get a chance to manage and grow their online presences across multiple channels.The big question then becomes whether or not all of these tools are the best ones available. Dabbling in all these different corners of the internet marketing world has the potential to dilute each offering. If it were an all-at-once proposition, this could easily have been the case. SEMrush has instead embarked on a slow creep toward becoming a full suite of tools, adding features and capabilities incrementally, The latest addition is what's covered here: their social media marketing toolkit. Read on to see how it stacks up against the competition.
---
Pricing
With more than 40 different tools to manage your brand's online presence, it would be a big waste of space to copy them all here and specify which level of service gets you the features that you want. Your best bet to getting a full understanding of what each plan entails is to have a look at the SEMrush's plan comparison page.For a quick understanding of the software is priced, though,it will help to see each plan at a high level.
Pro, $119.95/mo —

The smallest of plans is geared towards solo to small operations. Think freelancers, startups, and anyone else operating on a razor thin budget. At this level you get access to every tool included with their SEO, PPC, and Social Media toolkits. The only limits being on things like how many results you can include in a report, the number of users, or how many reports you get to run. It includes one user, and you can add on more for

$45/mo

.



Guru, $229.95/mo —

Guru includes all the Pro features, with larger allowances of each per month, along with: their Content Marketing toolkit, branded reports, and historical data. This plan is geared toward the SMB market. Guru includes one user, and you can add up to two more for

$80/mo each.

Business, $449.95/mo —

For the bigger brands out there, the Business plan contains all of the above, plus fully customisable and branded reports, API access for in-house integrations, and Google Data Studio Integration. Oddly, this plan—designed for larger teams—also only includes access for one user, which is—to put it mildly—questionable. If you want, you can add up to another nine users for

$100/mo per user.

For any of these plans, an annual prepayment gets you a 17% discount. 
Semrush .Trends - a competitive intelligence solution that grants access to Traffic Analytics and Market Explorer tools that will help you unveil your competitors' marketing strategies and tactics. +$200/mo per user
Agency Growth Kit - an add-on that will automate the most important agency workflows and will boost revenue growth. +$150/mo
ImpactHero - an AI tool that breaks down your content by buyer journey stages, detects the most impactful copy, and gives tips on reinforcing your efforts. +$200/mo
---
Ease of Use
The good news about SEMrush and its all-in-one approach is that users will not be left wanting for features (mostly, but more on that later). The bad news is that upon first logging in, you've got a dizzying array of choices of where to start—and almost no guidance on where or how to proceed. If you scroll down on the Dashboard page, you can find—in small grey letters on a lighter grey background—a link to book an online demo. If you don't want to contact the company and subject yourself to the inevitable torrent of sales emails after, there is also a 12-minute Overview video which you're shown after you've confirmed your email address during the signup process.The overall point here being: getting started with SEMrush feels a little overwhelming and the guidance needs to be more, well, guided.
Because this review focuses mostly on the social media marketing aspect of the platform, it wasn't terribly difficult to get grounded with those features. Also, nested within the SM toolkit is a notable link to an online course on how to use it, so the more exploratory among you will be rewarded with access to some training. As it's still a relatively new offering from SEMrush, there isn't a lot there to get lost in, an observation that's not meant as a knock against the platform. It's better to offer a few well-made tools than a whole mess of useless ones—and that's just what they've done. Everything is very well designed. Most sophisticated users who already know what they want out of the platform will have little trouble in figuring out what they need to do.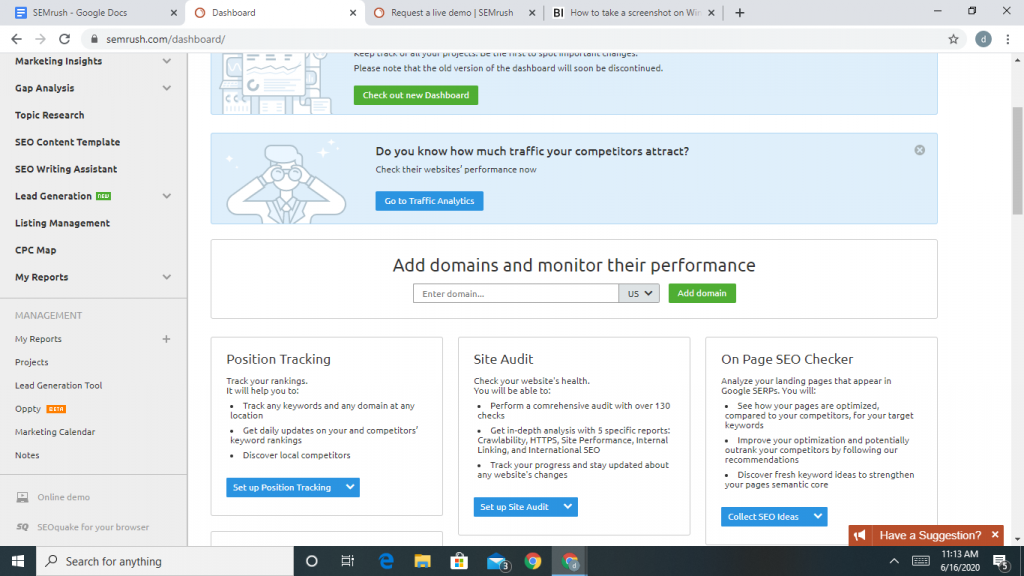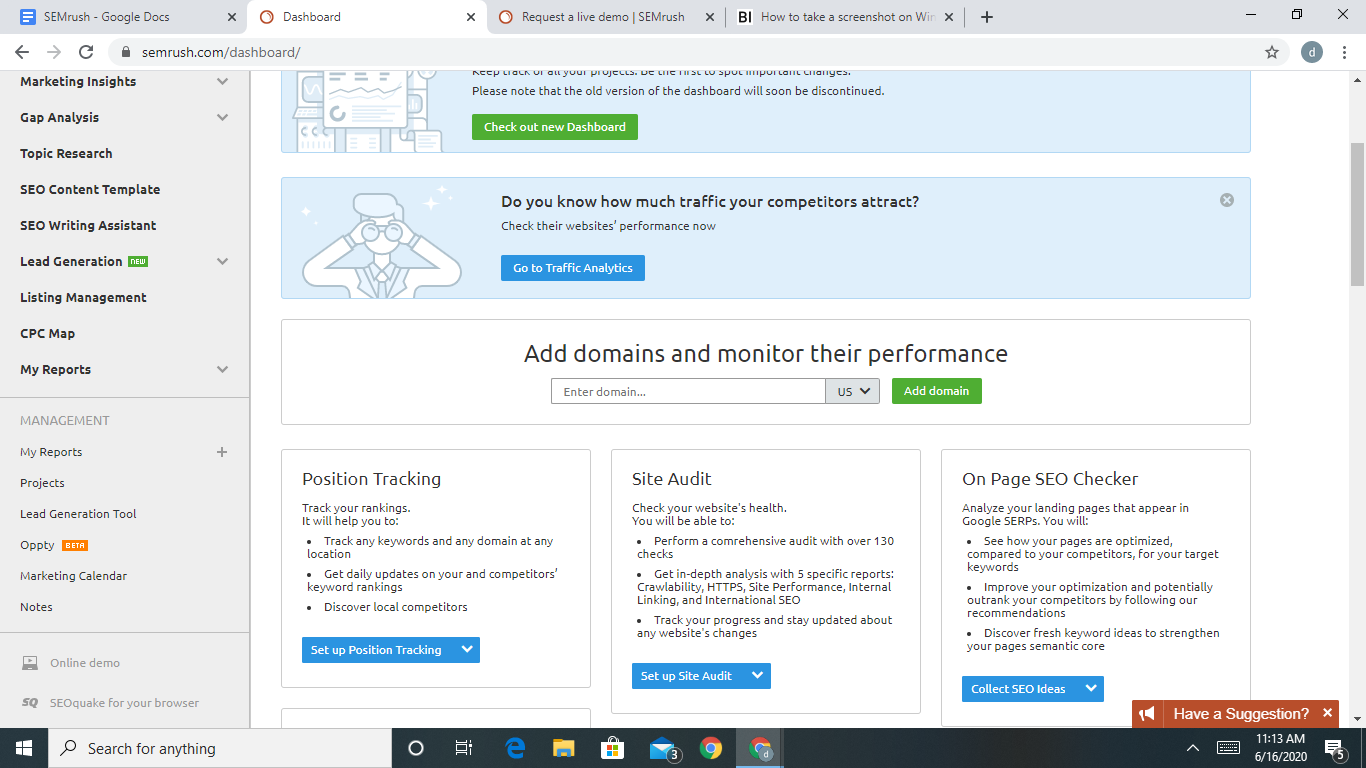 ---
The Features
The primary and most important  tool is the Social Media Poster, which offers much more functionality than its name implies. There are the tools you'd expect, like a calendar to post on specific days and times, and a queue which automatically posts on your behalf during the times of day you specify. When you create posts, you also have the ability to shorten any links via bit.ly as well as add custom UTMs for link tracking. There are also some unexpected features, like the ability to edit photographs directly within the post creation tool. And even within this surprise feature, there are more surprises: beyond basic editing tasks like cropping and adjusting contrast/brightness/etc, SEMrush also includes 60 predefined filters and 20 overlays for lighting effects. They're taking this all-in-one stuff pretty seriously.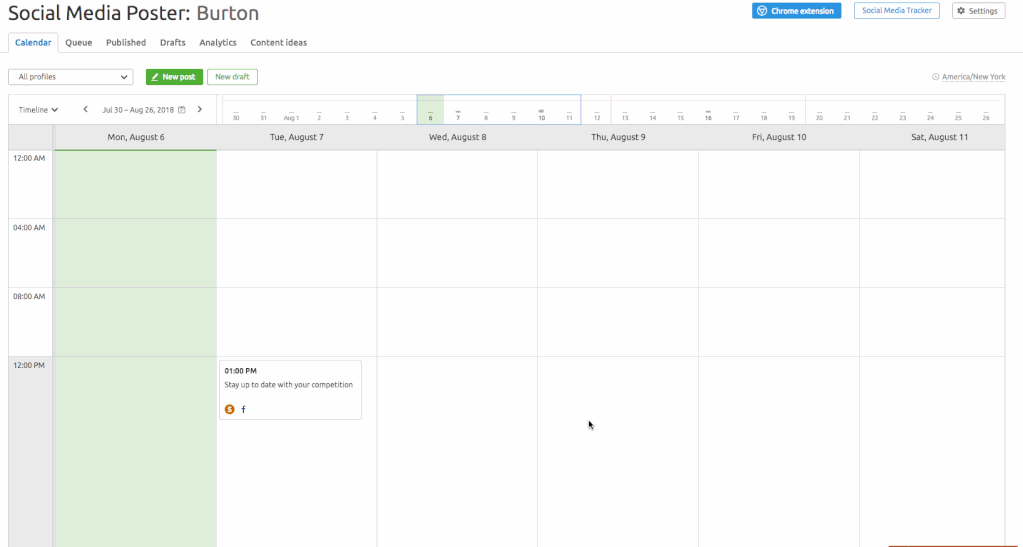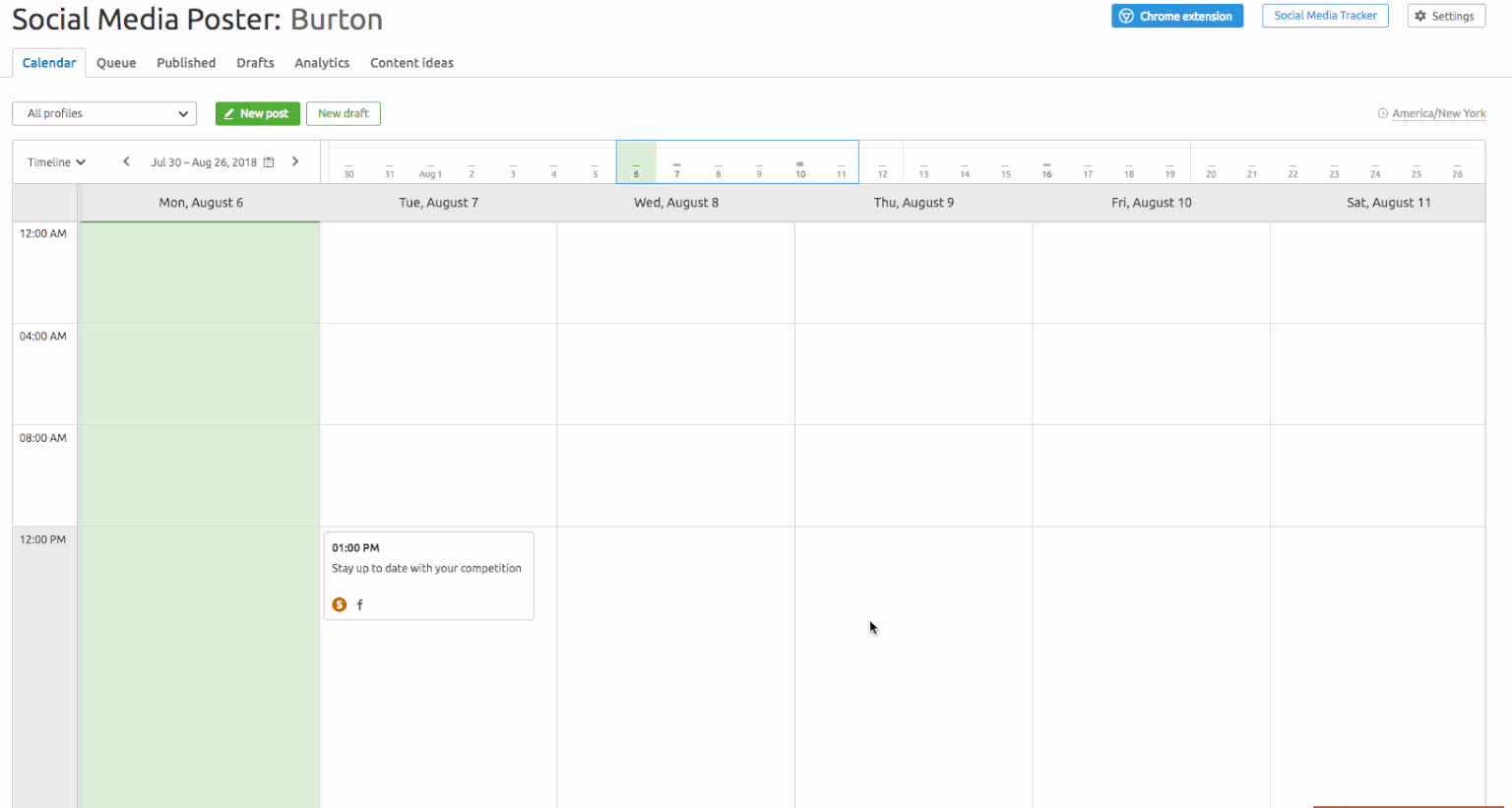 The analytics tool included with SEMrush is incredibly impressive; there's so much more than just the basic Reach/Likes/Comments/Shares metrics that other platforms regard as the only important things to track. And, rather than just provide a blanket array of data across all channels, the information you get changes depending on the platform and the kind of data each will provide.For example, your Instagram analytics can show you how your audience interacted with each post, from an obvious action like responding to a CTA to the less obvious trackable data point showing how many people viewed your profile after seeing a post.LinkedIn analytics give you background on your audience's professional demographics, like the size of the companies they work for and what their job function is.
After a post is made, it leaves your calendar and queue but  it's not as if it disappears from SEMrush. Your accounts stay in sync with each profile, and you can manage each post from there, seeing how each post performed and—if they did well—boosting them into a paid campaign. Which brings us to the next feature SEMrush offers: Social Media Ads. Many platforms offering a way to boost content this way tend to allow you to push the post over to Facebook's Ad Manager, where you can then select your target audience and monitor performance. This is not the case with SEMrush: you can do all this from within the platform and get analytics that stretch beyond simple performance reporting. SEMrush goes a step further and analyses why poorly performing campaign might have tanked, and then gives recommended actions to improve. Because it's all within the same platform, it's no big leap to re-deploy ads following the suggestions you've been provided.
Finally, SEMrush also provides a tracking tool to monitor your competitors' social media activity. Note that this is different from the optional which provides a more holistic look at your competitors. This is focused on social media only, but is still a valuable tool. Setting this up is easy enough: you specify your competitors social channels, a date range to report on (up to 60 days back), then sit back and check out the reports you get. You'll see a breakdown of their top posts, changes in follower counts and engagement, and will even graph out how you stack up against them. 
With the level of thought and depth that each of these tools offers, it brings up the topic of SEMrush's one deficiency: the lack of a unified messaging system for social accounts. This is one of the most valuable features a social media management tool can have, providing a centralised way to view and respond to any comments and DMs your accounts receive. It's fair to point out that this is a management feature, and SEMrush only makes a claim to assist in marketing. But then it would be fair for me to point out that engaging with fans is a key part of marketing (these are not your friends, they're current or potential customers) and, besides, SEMrush didn't need to reinvent the wheel with this feature. They've already got the API access into these different social channels.
---
Integrations
For its social media toolkit, SEMrush integrates remarkably seamlessly with the channels it supports (which is, to be clear, all of them). The Facebook Ads Manager integration goes above and beyond, while the bit.ly integration is a basic feature you'd expect from any platform. Beyond that the Social Toolkit doesn't offer many integrations, but there's a reason for that: most of the tools you'd want to integrate with already exist within SEMrush's extensive list of features.
The pricing section above lists out most of the other features included with the platform, and within that there are a ton of integrations. Given that SEO and online visibility are the bread and butter here, it should come as no surprise that the bulk of the integrations are with Google products. In no particular order, these are:
Google Analytics

Google Ads

Google Search Console

Good My Business

Google Disavow Tool (which we want no part of)

Gmail

Google Docs

Google Sheets

Google Search (which you may have heard of)

Google Calendar

Looker Studio
Google Tag Manager
Additionally, SEMrush integrates with these other, non-Google tools:
WordPress, which shows you how good or bad your SEO is for a given page

Trello, so you can send tasks on the platform to a Trello board for better task management

Majestic, to add more backlinks to a SEMrush backlink audit

Zapier
Monday
---
Conclusion
With its long history and deep toolset for managing your brand's online presence, it's not a huge surprise that SEMrush dove into the world of social media marketing. And while there is one standard but very important SMM feature they chose not to include—a centralised inbox for comments and messages—the platform's developers more than made up for this omission with the tools they did include. The features that are here are expertly thought out and implemented, easy to use, and supremely useful. In some cases, as recounted above, they've gone deeper than their competitors—competitors who've been at the forefront of social media marketing.
Given SEMrush's track record of adding and refining their features, it's not a long shot to predict that the inbox feature will be available in the future (take that as a challenge, SEMrush!). Then factor in all the other tools that you get with the social media toolkit, and the decision to at least try this platform out becomes a pretty easy one to make.
Frequently Asked Questions
Is SEMrush easy to use?
While it is safe to say that SEMrush will offer users all the features they will need, its interface is not very user-friendly. When you log in, it is difficult to figure out where to begin. It also does not really offer much guidance on where and how to continue. Though, if you use SEMrush for social media specifically, there is a link in the SM toolkit to an online course on how to use it. In short, it can feel overwhelming when you start.
How much does SEMrush cost?
SEMrush offers three pricing plans. These are: Pro ($99.95 per month), Guru ($199.95 per month), and Business ($399.95 per month). You also have the option to add the Competitive Intelligence Add-on to any of these plans for $200 per month per user. By opting for an annual prepayment, you can get a 16% discount. For a better understanding of which features you get with which plan, it is best to refer to their plan comparison page as there are many different tools.
Is SEMrush good for analytics?
SEMrush offers an excellent analytics tool. It offers much more than simply the basic Reach, Likes, Comments and Shares metrics. The information that you get also changes depending on the platform and the type of data that each platform will provide. It also offers you a tracking tool to keep track of the social media activity of your competitors which can come in handy.
Does SEMrush have any cons?
SEMrush has one major con and that is that it does not offer a unified messaging system for social accounts. Offering a centralized way to view and respond to comments and direct messages is one of the most important features of a social media management tool. So, it is quite sad that it does not offer this standard feature. It can also feel overwhelming when you use SEMrush for the first time.
Can you use SEMrush for social media marketing?
SEMrush is not actually a social media marketing tool. Though, social media marketing is a big part of what this tool does. It was initially designed as an "online visibility management content marketing platform". As online visibility no longer just refers to SEO, SEMrush also includes tools to help you cultivate a brand personality, develop influencer partnerships and source UGC. Some of its features in its social media marketing toolkit include: Social Media Poster, ability to edit photos, analytics, and integrations (mostly with Google products).
SEMrush
Features

Ease of Use

Support

Best for:
Businesses of all sizes