Search engine optimization (SEO) has been a catchword for years now. Although, many still don't completely understand what exactly it entails (not that you can really blame them, as it is not as straightforward as many would like you to believe).
Luckily, there are numerous eCommerce agencies that specialize in SEO. So, to make sure that SEO works for your eCommerce business, here are 25 of the top eCommerce agencies that can help you to boost your organic traffic and online visibility.
---
Top 26 eCommerce SEO Agencies:
---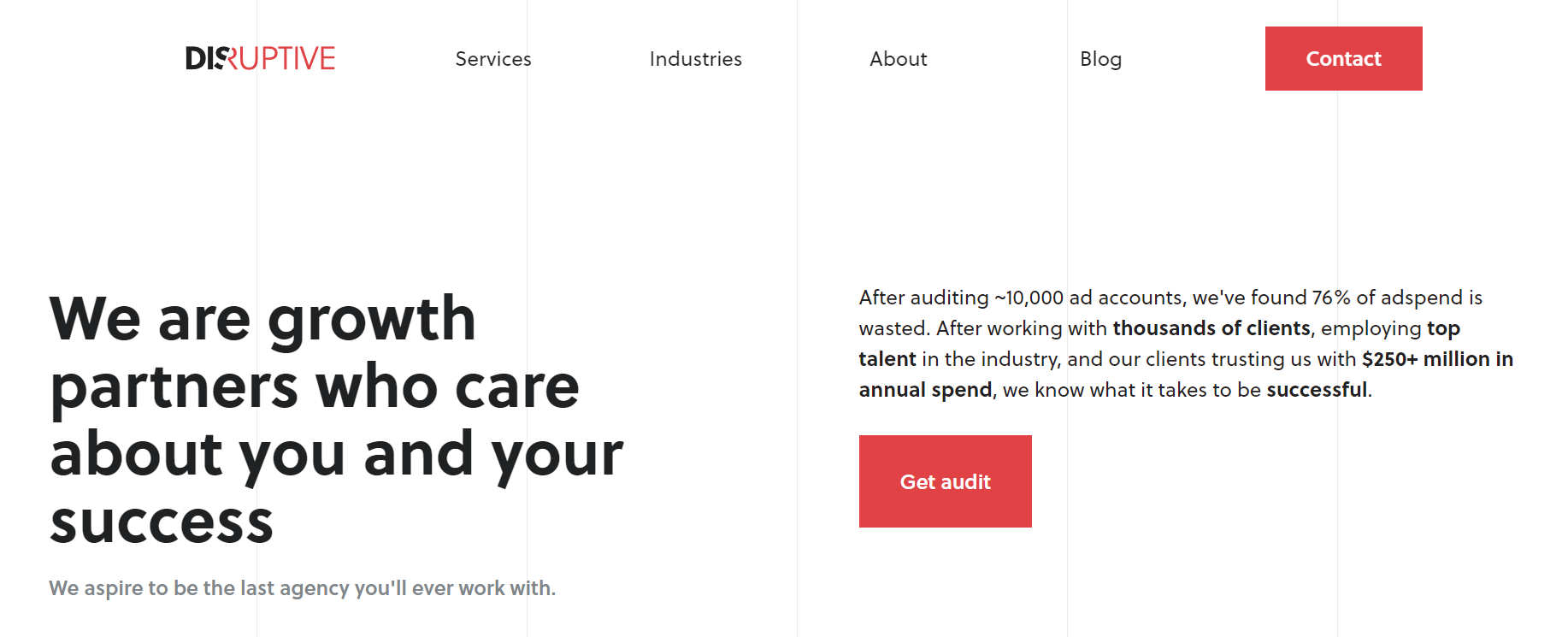 Disruptive Advertising is proud of all the positive reviews people have left across many review platforms, such as Google, Facebook, G2, and Upcity. They claim to be the #1 most reviewed marketing agency across these review platforms.
They split their services into paid advertising, lead nurture and email marketing, creative services, and website optimization. SEO impacts a number of these areas – it is, of course, pivotal to website optimization and affects paid advertising and creative services, such as landing page design.
One important area that Disruptive Advertising focuses on is conversion rate optimization (CRO) for eCommerce businesses. It means you can make more money on the same amount of traffic. They declutter your website and fix your leaky funnel to increase your total revenue and conversion rates.
The agency tailors its CRO options to the amount of traffic your site receives and what you want to accomplish. Their smaller solutions focus on single steps of your funnel, one at a time. Their bigger solutions focus on multiple funnel steps simultaneously.
---
Thrive is a full-service digital marketing agency. They have been providing a wide range of services to clients of all industries since 2005. Their digital marketing services include consulting and management options for a variety of online marketing tactics, including search engine optimization (SEO), pay-per-click (PPC) ads, Amazon store optimization, copywriting, conversion rate optimization (CRO), and more. They also offer expert web design and development services for both eCommerce and B2B companies.
They offer SEO solutions for businesses wanting to expand their online presence, increase leads and grow their revenue. Their SEO services include:
Keyword research and strategy

Link building

Technical SEO

Local SEO

On-page SEO

Off-page SEO

Franchise SEO

Shopify SEO

Amazon SEO

eCommerce SEO

Content writing

Conversion rate optimization (CRO)
---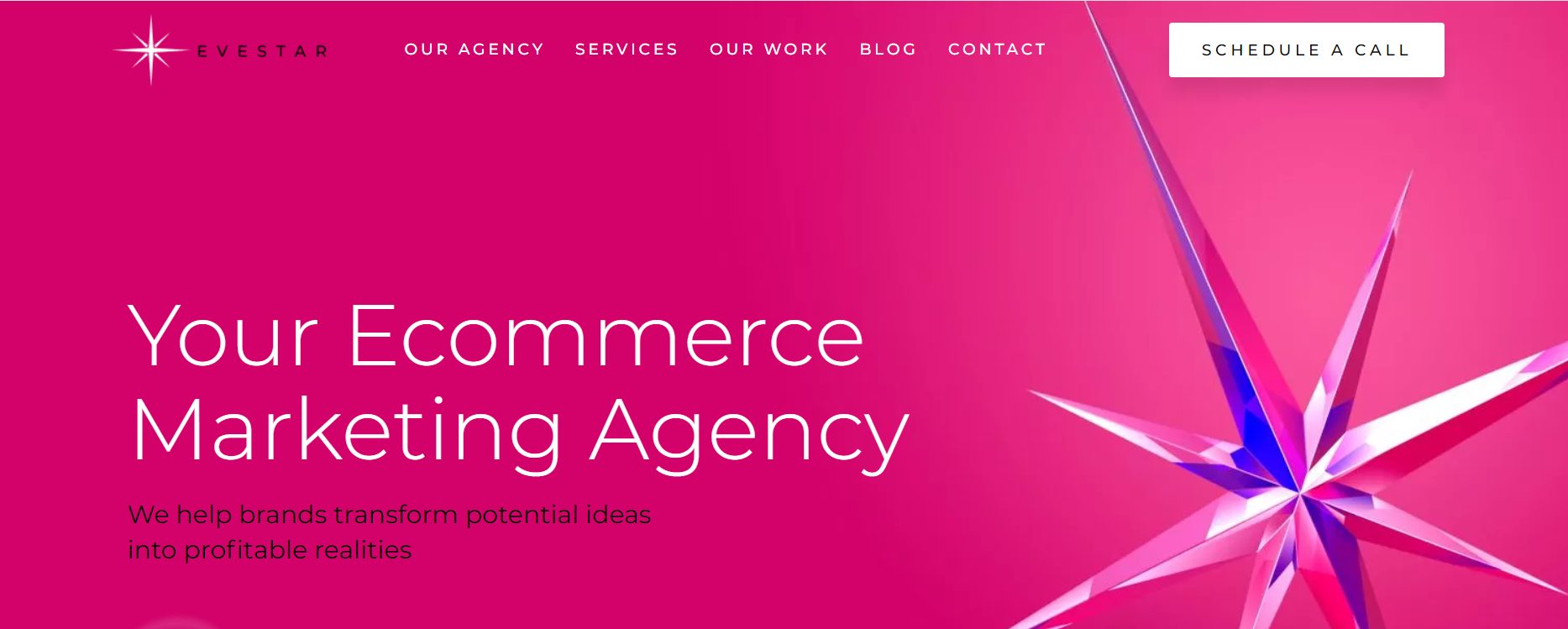 Evestar is a Florida-based eCommerce marketing agency. They help brands transform potential ideas into profitable realities. Before working with any eCommerce brand, they look at the foundation to determine whether the business is ready for immediate scale. Unlike many traditional marketing agencies, they first focus on the fundamental metrics of your eCommerce store. They then deploy holistic marketing strategies focused on Facebook, Instagram, Google Shopping, YouTube, Pinterest, email marketing, and viral influencer marketing campaigns.
They split their services into ad creative, Facebook ad buying, Google ad buying, YouTube ad buying, Pinterest ad buying, and email & SMS marketing. Evestar wants its content and ads to stand out on all the platforms it operates, so it consistently applies good SEO practices.
As a creative advertising agency specializing in eCommerce, they are committed to helping your brand unlock its ultimate potential. Evestar offers everything from ad campaigns to landing pages, email marketing, and more, giving you access to both a creative and digital team who understand how to create and distribute your brand's story effectively and profitably.
---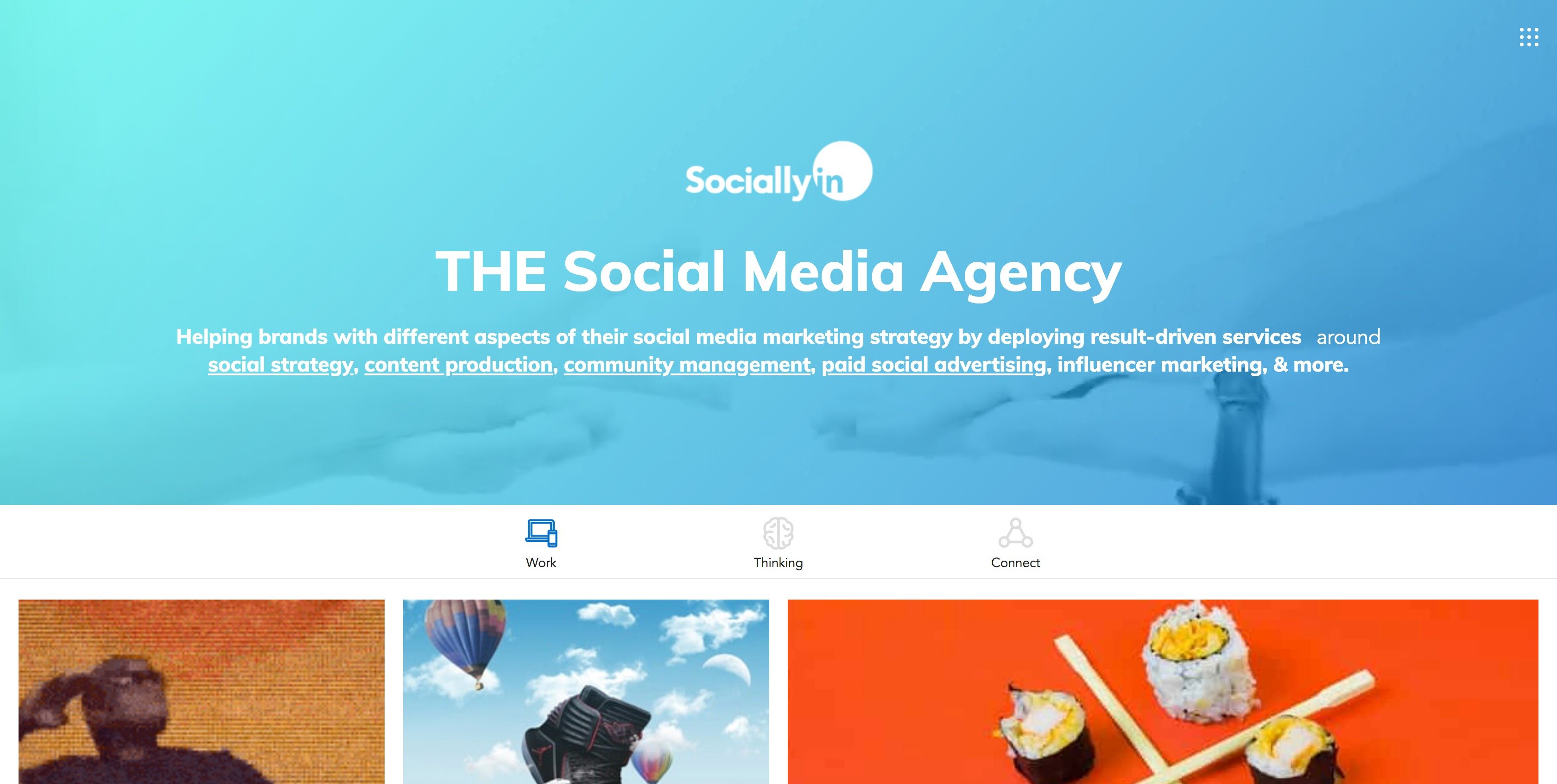 Sociallyin is primarily a social media agency, although it does help deploy result-driven services around social strategy, content production, community management, paid social advertising, influencer marketing, and more.
They create a variety of social media content in-house for all types of clients, including eCommerce businesses.
The agency describes itself as having "need for speed" social media content production. Their team of creatives has mastered the art of ideation and has set an efficient pace for production.
Sociallyin begins each campaign with a client meeting to examine the demographics of the audience they are trying to reach. Once their team understands the business and branding, they move into a discussion around the brief. Here they ask necessary questions. After the brief, they move into a brainstorming session. This helps them come up with unique ideas for the various social platforms.
Eventually, they implement their strategies, making sure they meet client objectives. Any content is, of course, designed to maximize SEO and ensure outstanding organic exposure. Sociallyin analyzes the results and tweaks campaigns if necessary.
---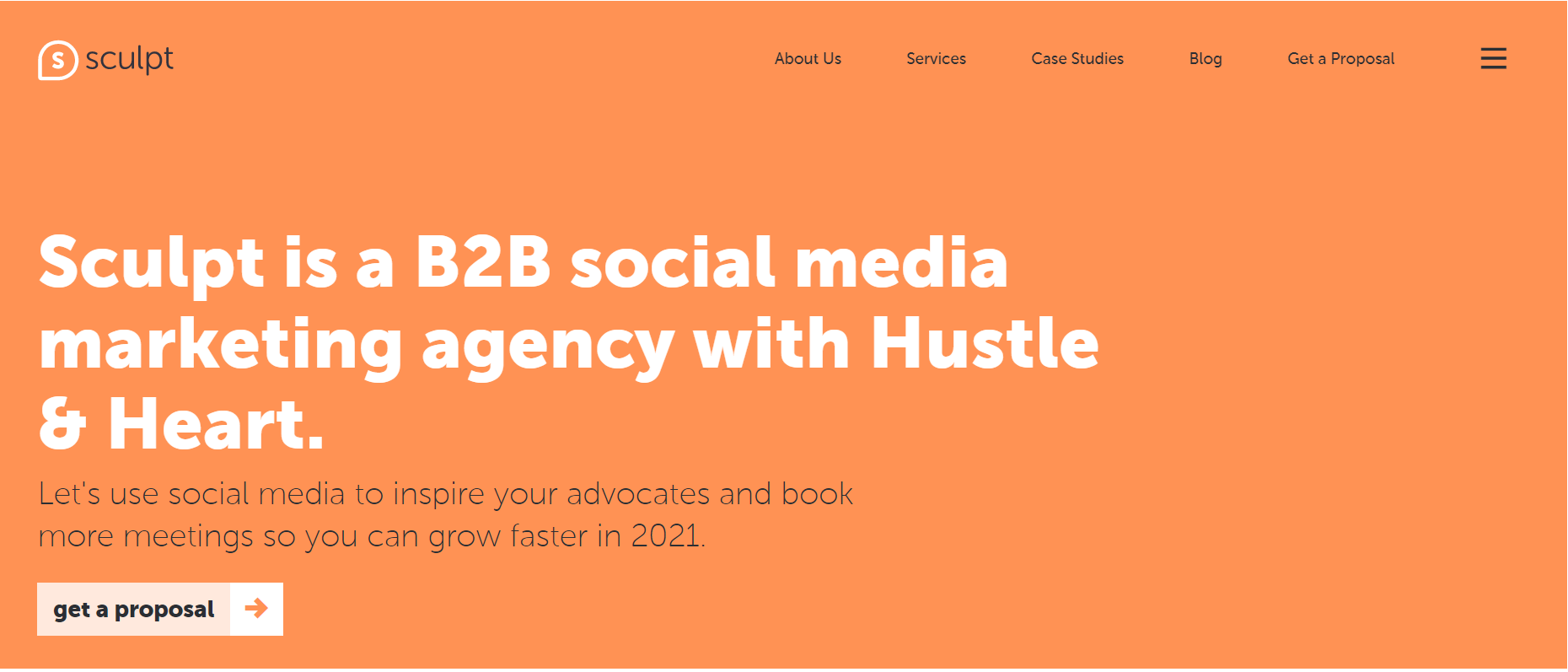 Sculpt is a B2B social media marketing agency. They help B2B marketing and business leaders acquire and delight customers with proven social media marketing programs. B2B companies often have big goals and small teams, so Sculpt builds social media-driven customer acquisition strategies that help you grow faster.
Sculpt recognizes that 75% of B2B buyers use social media to make purchasing decisions. Hence, they understand that you're building deeper relationships with customers and prospects every day on social media channels like LinkedIn and Facebook.
Their services include:
B2B social media content creation

B2B community management services

B2B influencer marketing services

B2B social media management services

Paid social media services

Social media analytics and reporting

Social media training and consulting

Social media channel strategy
---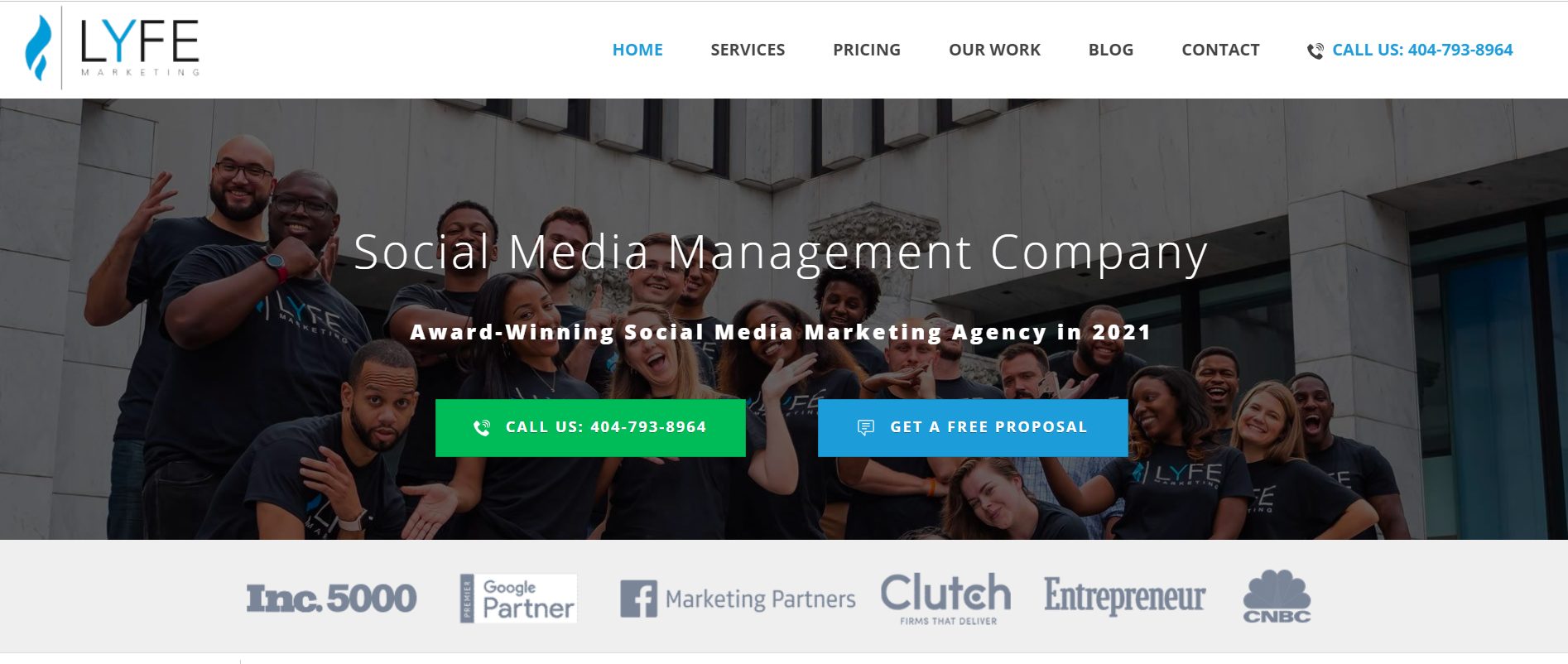 Lyfe is an award-winning social media marketing agency. They offer various services, including social media marketing, social media advertising, SEO, PPC management, email marketing, and video animation.
They proudly promote that they have managed over 200 client SEO campaigns, generating over $108 million in client revenue. They offer three one-time payment plans based on the number of high-volume keywords to focus on (three, five, or eight), as well as a custom plan for those brands wanting to target more keywords. They offer a website audit, copy touch-up, tag revisions, a site map submission, and analytics set up in all these plans.
They believe their SEO services can help your business grow by focusing on three key areas:
Higher search engine rankings

Quality website traffic

Measurable results
---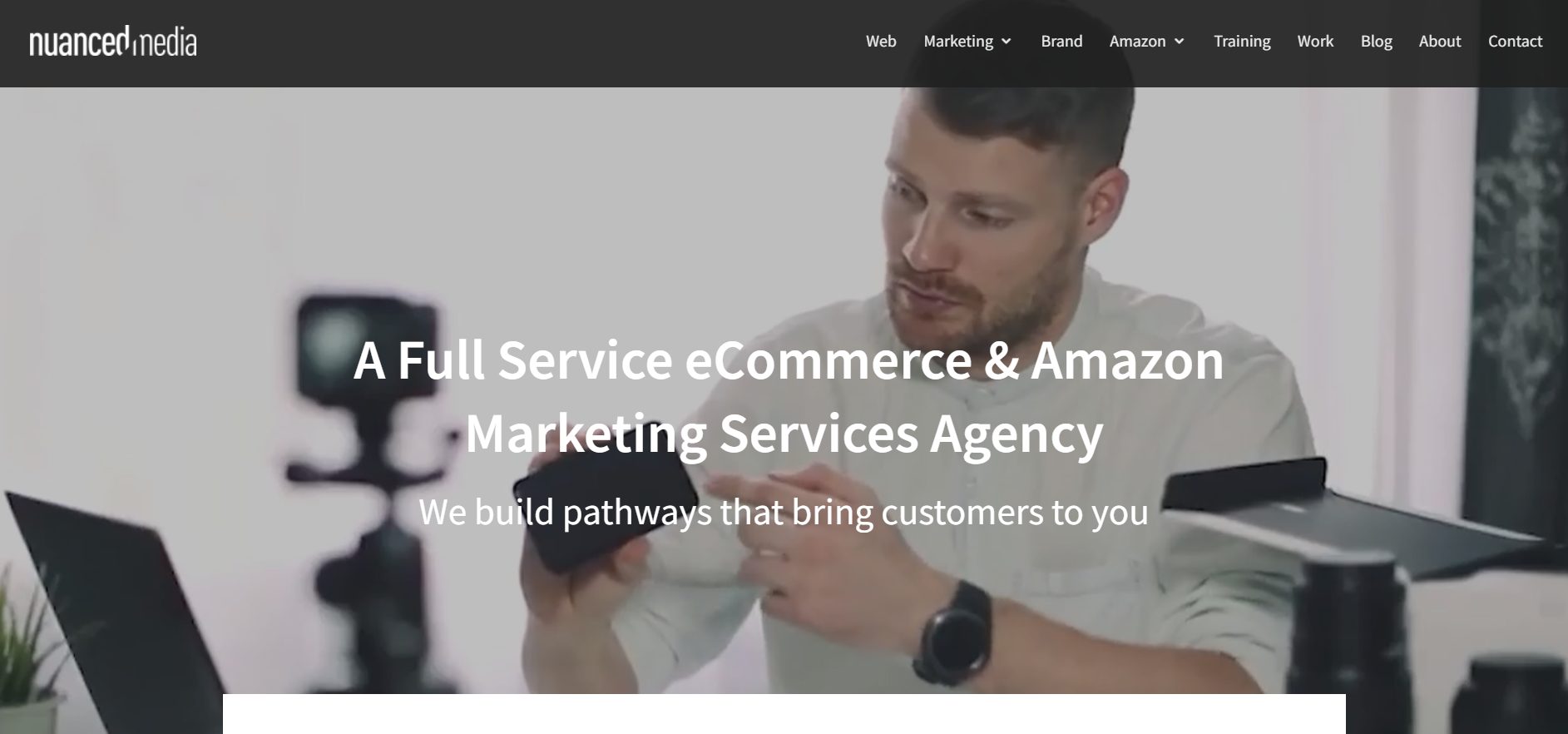 Nuanced Media is an eCommerce Marketing agency that provides multichannel digital strategies to promote and boost a company's Return of Investment or ROI. The company prides itself on creating and implementing holistic marketing plans that involve multiple digital channels and diverse tactics to match various marketplaces. This custom-fit approach to marketing ensures that all bases are covered while helping clients achieve their business goals.
The agency offers SEO basics such as keyword research, listing optimization, and product reviews promotion. These are used in conjunction with strategic product positioning and value proposition. It also constantly monitors marketing campaigns, analyzes their performance, and adjusts or refines plans accordingly to ensure success.
Overall, Nuanced Media focuses on discovering a client's greatest opportunity, which enables businesses to obtain significant ROI in the shortest time possible.
One of the top eCommerce marketing agencies and Amazon marketing specialists around, Nuanced Media is made up of marketing experts with over 30 years combined experience. It boasts over 100 million in online sales driven for clients.
---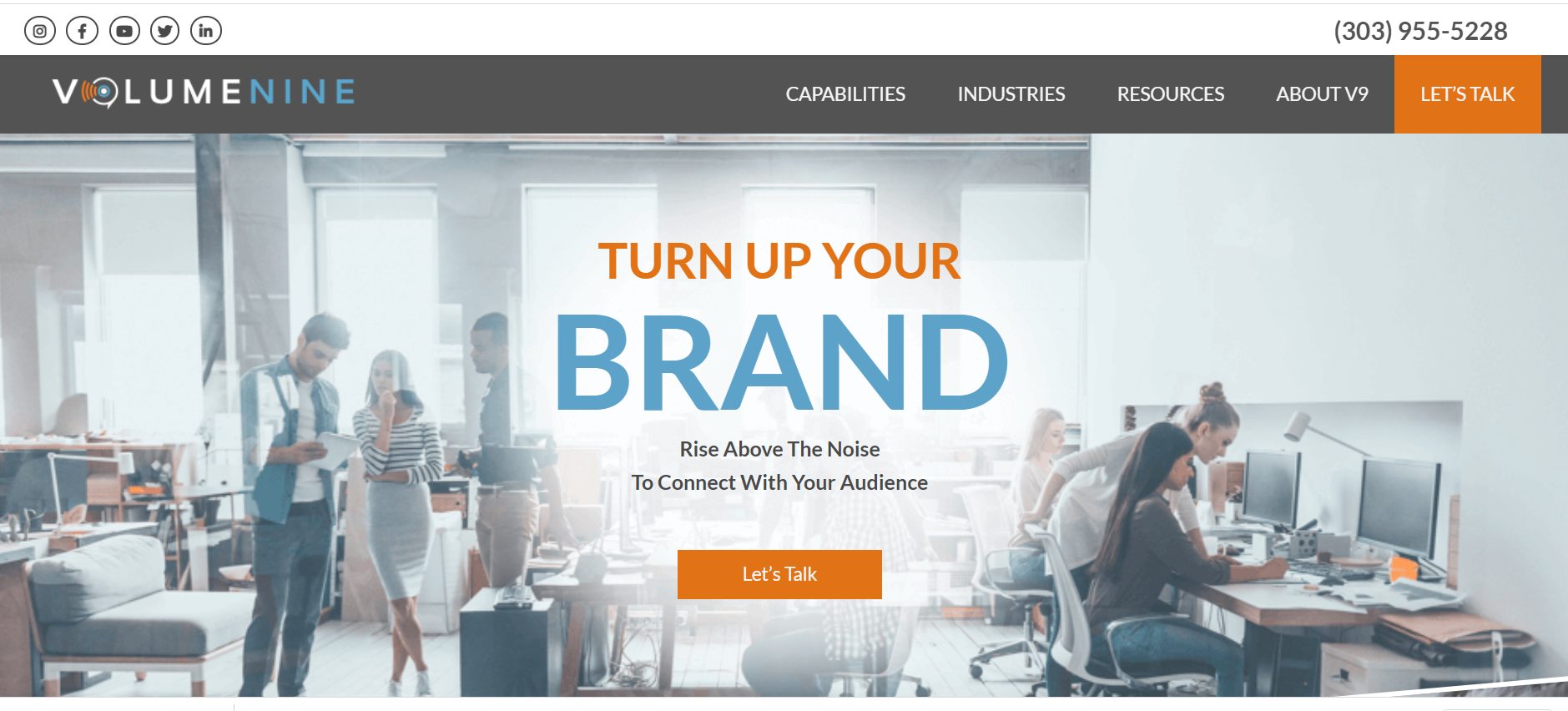 With over a decade of digital marketing agency experience, Volume Nine (V9) believes success is measured in long-term relationships and ongoing results. So, they partner with your company to collectively work hard, build a distinctive brand, drive more traffic, and exponentially grow your sales. They list their capabilities as social media, content, SEO, paid search, and analytics.
Volume Nine considers SEO marketing vital for digital success. They specialize in ensuring potential customers see your brand first in the search results. They put their extensive SEO knowledge and experience to work for you to create a custom, actionable SEO strategy. It's more than being everywhere all the time; it's knowing how to be seen in the top results at precisely the right time when customers need you.
SEO specialties include:
SEO Audit – diving deep into how search engines and site visitors interact with your business's site

Technical SEO – evaluating SEO elements across five major areas: site crawling, site indexing, site structure, site speed, and site management

SEO Launch Support – evaluating a website relaunch to ensure you're adhering to SEO best practices for optimal results down the road

Content Optimization – focusing on how both users and search engines interact with content

Local SEO (GMB) – Google My Business optimization and management
---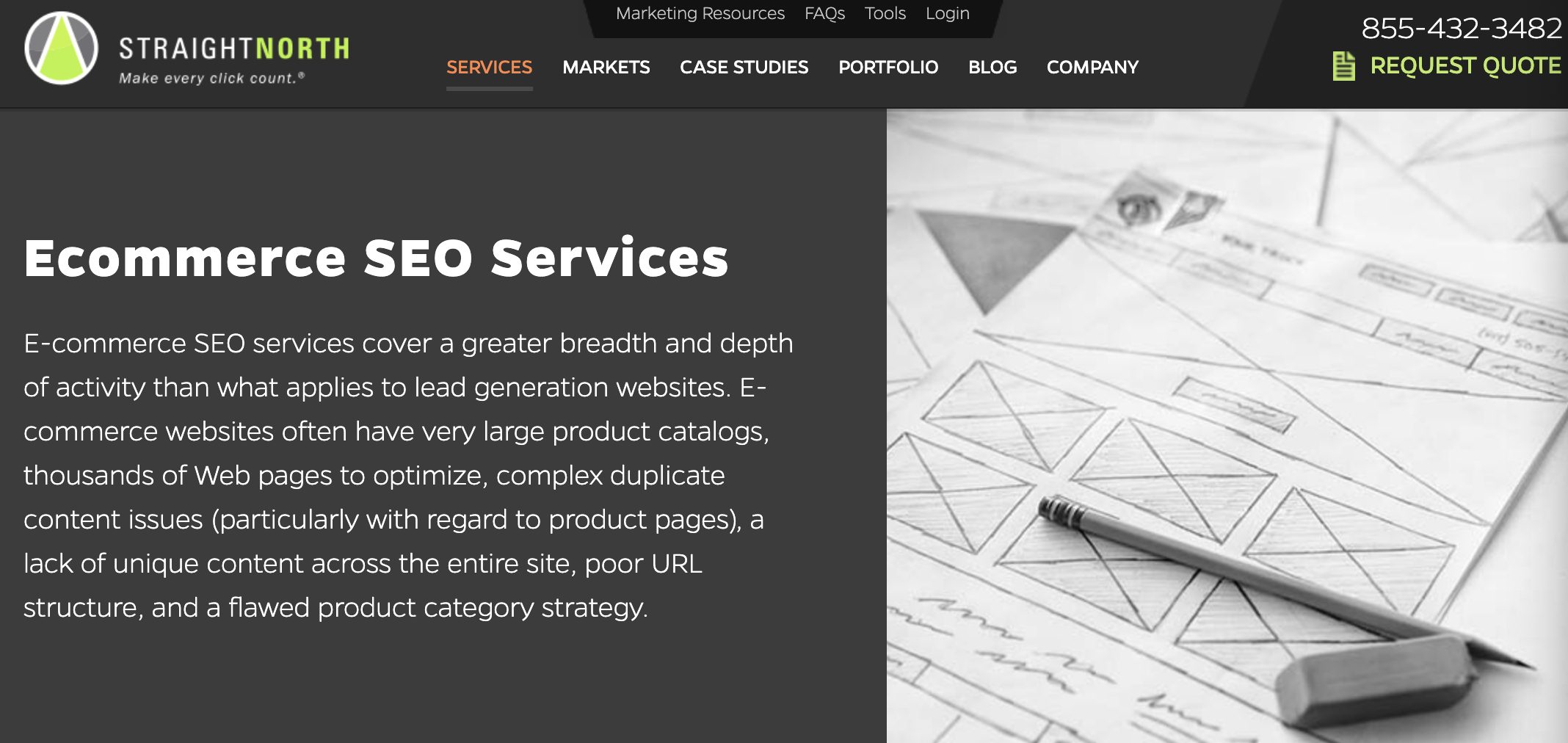 Straight North has offices across the US and boasts more than 20 years of experience. In addition to SEO, they also specialize in website design and development, email marketing, PPC and graphic design. Whether you need help with product categorization, keyword research or on-site content production, the in-house team of 100+ employees of this award-winning full-service internet marketing company can help small businesses, medium businesses and enterprise businesses.
As part of their recent SEO campaign work, they have worked with clients like Go Fan Yourself, Diamond Solutions, Inc., FireKing, Glue Machinery Corporation, RedRidge, BluePay and PVC Fittings Online. For example, for PVC Fittings Online, they adopted a phased approach to boost rankings and traffic. They started by optimizing the existing product page before they shifted their attention to making extensive on-site improvements.
---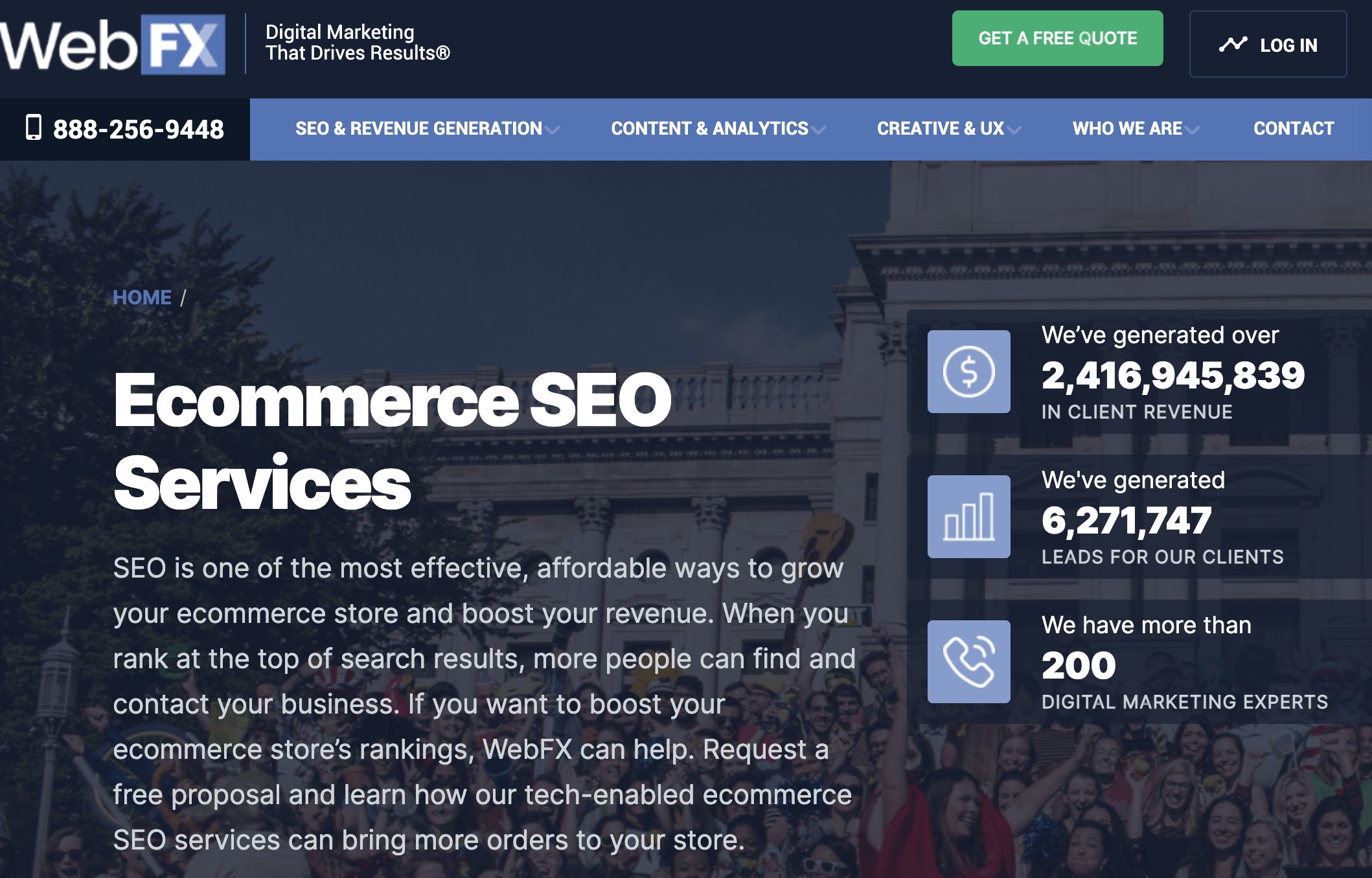 Founded in 2009 and boasting locations in 13 cities across North America, WebFX is a full-service digital marketing agency that creates custom strategies based on the unique requirements and goals of their clients. Their team of 200+ award-winning digital marketing experts offers innovative solutions to mid and large companies. Their eCommerce SEO services include:
Custom eCommerce SEO strategy

Online project management schedule

Keyword research and optimization

Product markup

Product image optimization

Product SEO copywriting

Professional blog or article copywriting

Content promotion

Google Analytics setup

Google Search Console setup

Monthly keyword, traffic, and transaction reporting
They offer three SEO service plans: Bronze, Silver Plus and Gold. Their Bronze plan starts at $1,575 per month and requires a one-year commitment and an initial campaign investment of $6,800. While their services are quite expensive, they are data-focused and their results speak for itself. They have generated more than $2,416,945,839 in client revenue and over 6.2 million leads!
---

In 2020, SocialSEO was ranked as the top digital marketing firm in America by UpCity. They are headquartered in Colorado Springs and have achieved more than 1000% growth in the past five years by concentrating on customer and employee retention.
Their online eCommerce SEO strategies include: competitor research, on-page optimization, conversion rate optimization, and site speed optimization. In addition to eCommerce SEO, they also offer a wide range of other services that include local SEO, national SEO, enterprise SEO, PPC and Amazon digital marketing.
---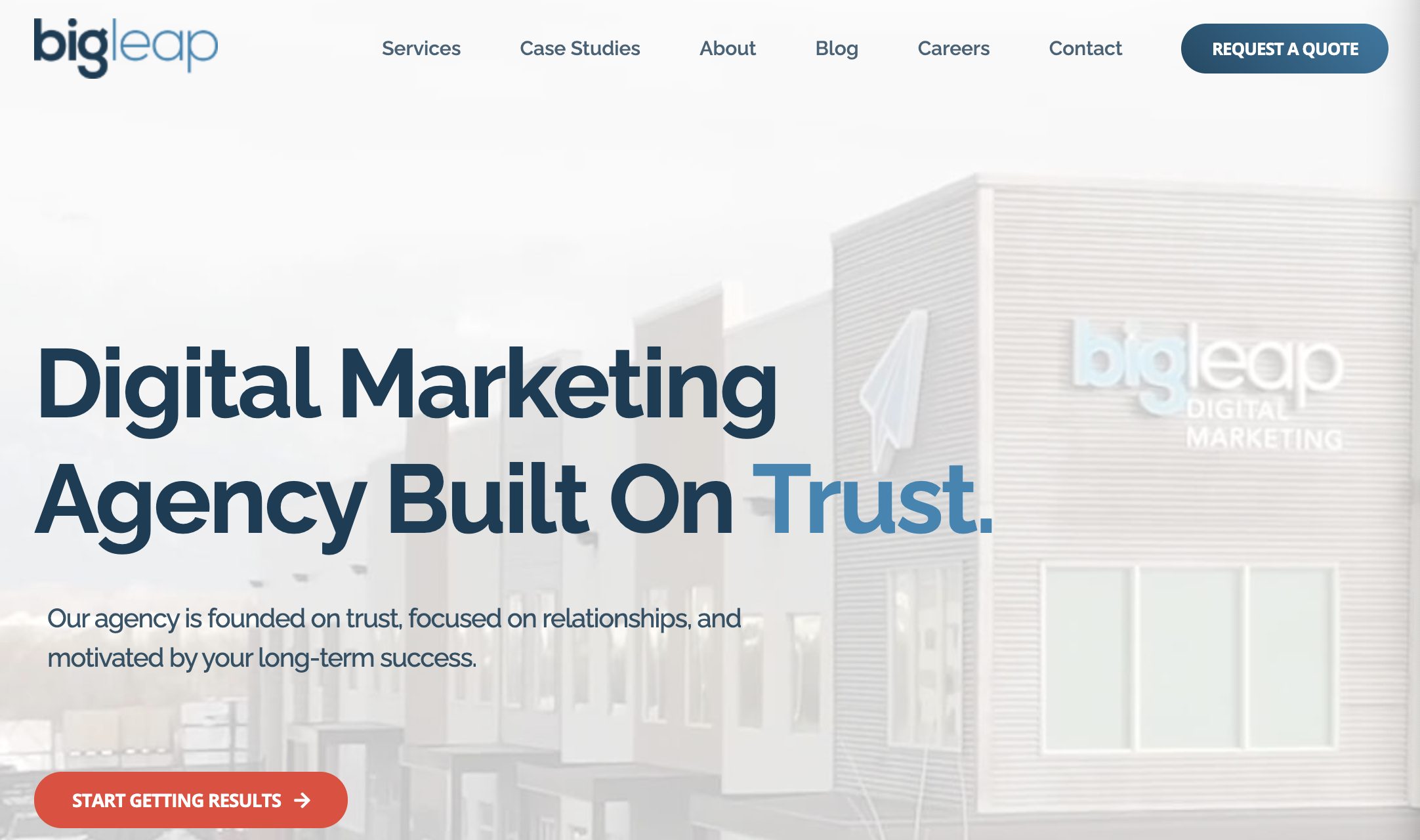 Founded in 2008, Big Leap offers a wide range of award-winning digital marketing services. They can help your business to improve engagement, boost web traffic and, ultimately, attract more customers and have helped brands like Avis, Nomatic, Workfront, Pluralsight and Spoonful of Comfort achieve just that. For example, they helped Avis to generate more than 100,000 new leads.
Their SEO services include keyword research and strategy, a 180-point site audit, a mobile audit, and competitive gap analysis. If they find that your site needs improvement, they also offer technical SEO that includes a site clean-up, technical site fixes, site speed and metadata health.
---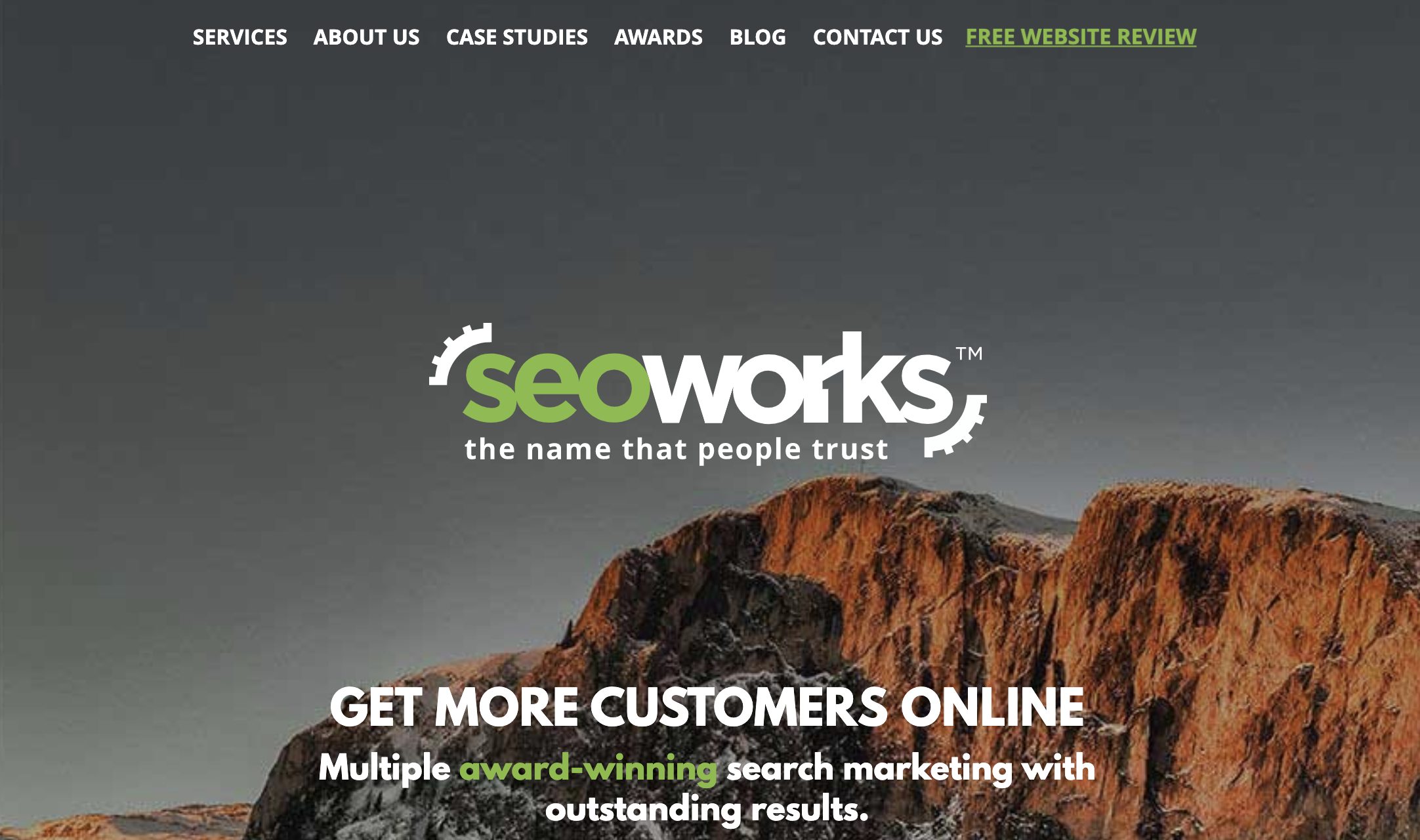 The SEO Works is an award-winning marketing and UK SEO company based in London and Leeds. Their services include bespoke eCommerce SEO and PPC services that will help your website appear higher than your competitors. With the help of an eCommerce website design and digital strategy review, they can help you to increase your visibility and gain market share on your competitors. They have worked with well-known brands like Zippo, SureSafe, Dainese, and Legend LED Lighting.
For example, they helped Dainese, a large motorcycle clothing eCommerce site to improve their traffic and sales by conducting extensive keyword research, and ethical link building. The results were five times more organic visits and a massive jump of 7,986 positions in ranking.
---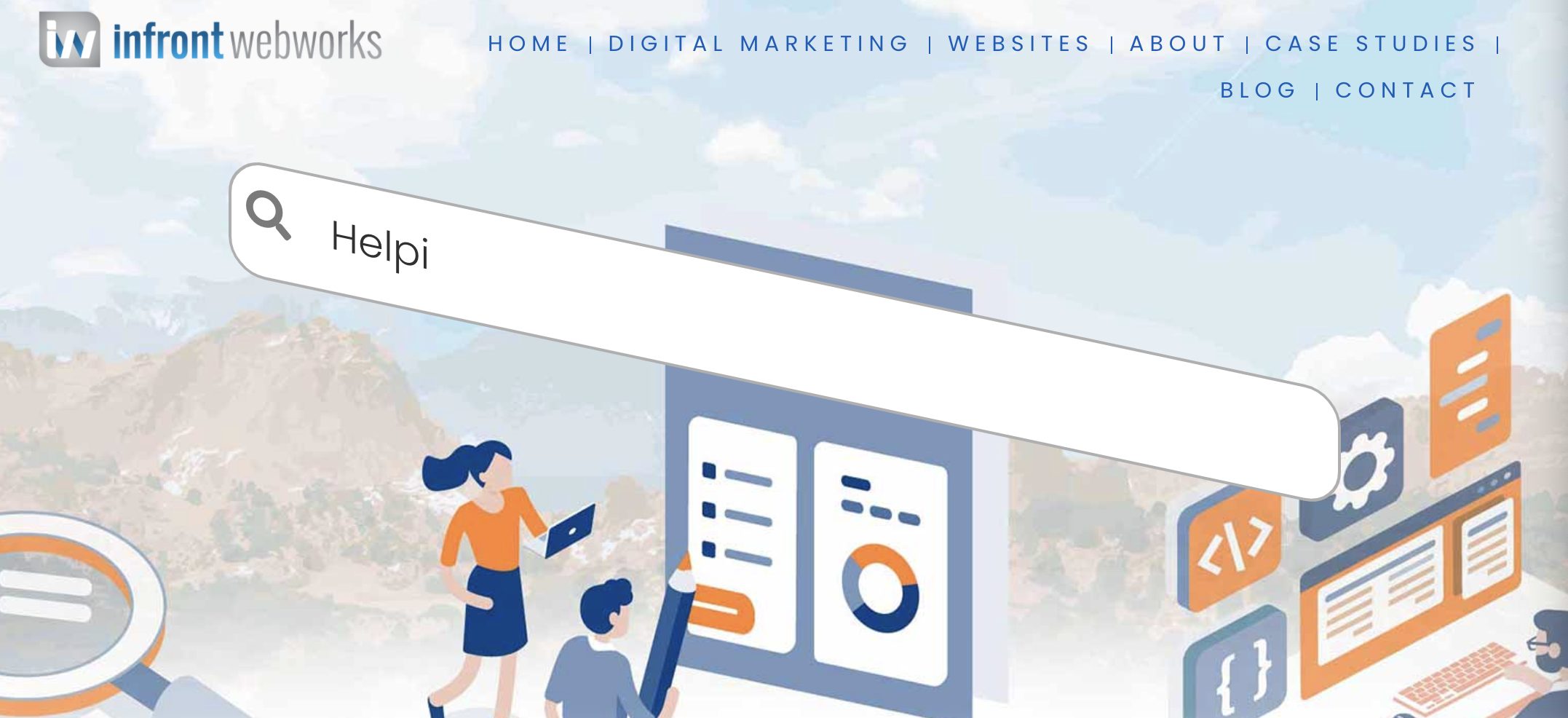 Boasting more than 20 years of experience, Infront Webworks is a full-service agency and trusted Google partner. In 2020, their hard work paid off and they walked away as the winner of Global Marketing Awards' SEO Global Travel Campaign Award.
As an award-winning SEO company, they have helped countless businesses to increase their web traffic. Their SEO services include:
SEO audits

SEO consulting

SEO programs

SEO tools

SEO training

SEO workshops

White label SEO
---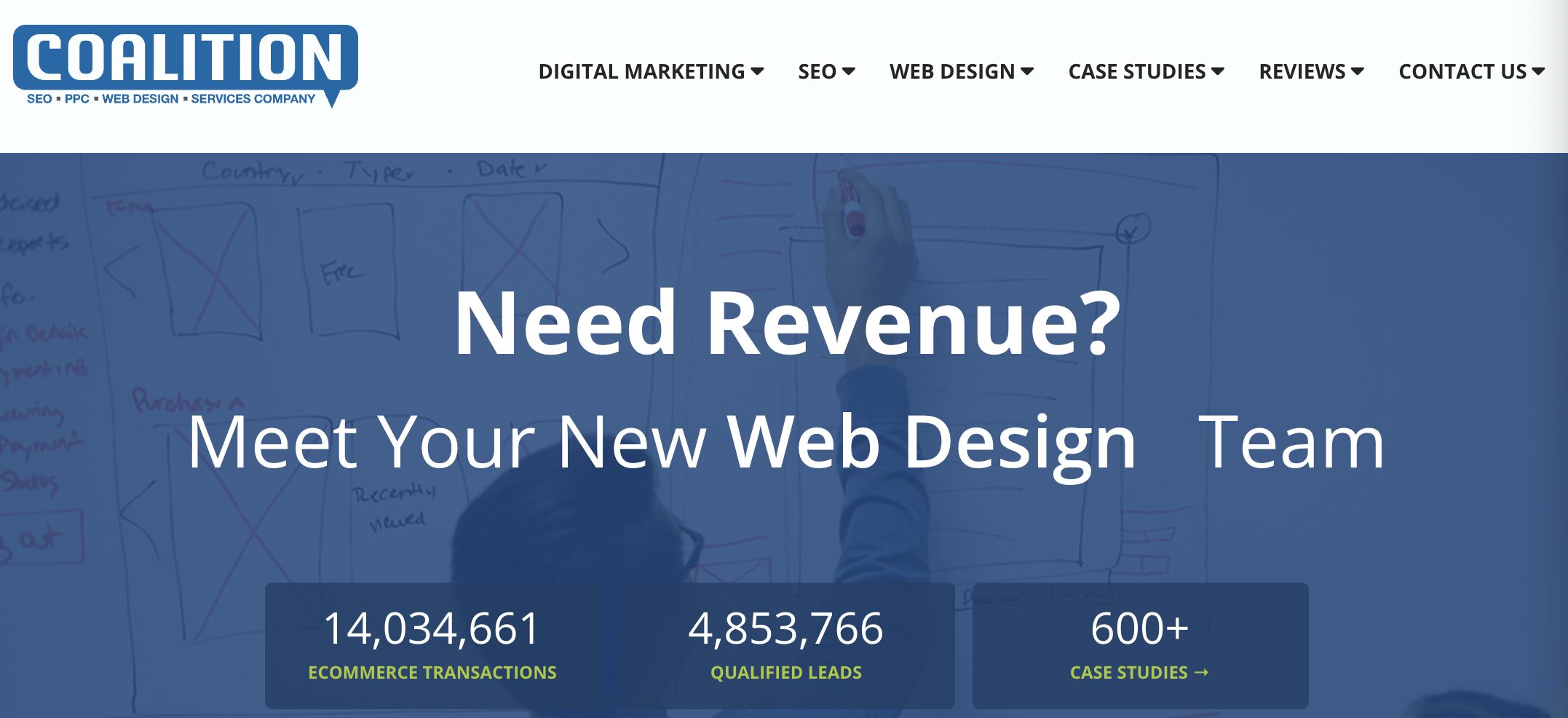 Based in Los Angeles, Coalition Technologies is one of the leading web design and SEO agencies in the United States. Their team of creatives, marketers, developers and digital strategists have helped businesses of various sizes from many industries enjoy higher page rankings, improved traffic and, ultimately, increased return on investment.
Their eCommerce SEO services include: targeted keyword research, blog content, website structure, PR outreach, identifying problems and repeat keyword research. Unlike many other SEO agencies, they offer monthly SEO packages as well.
---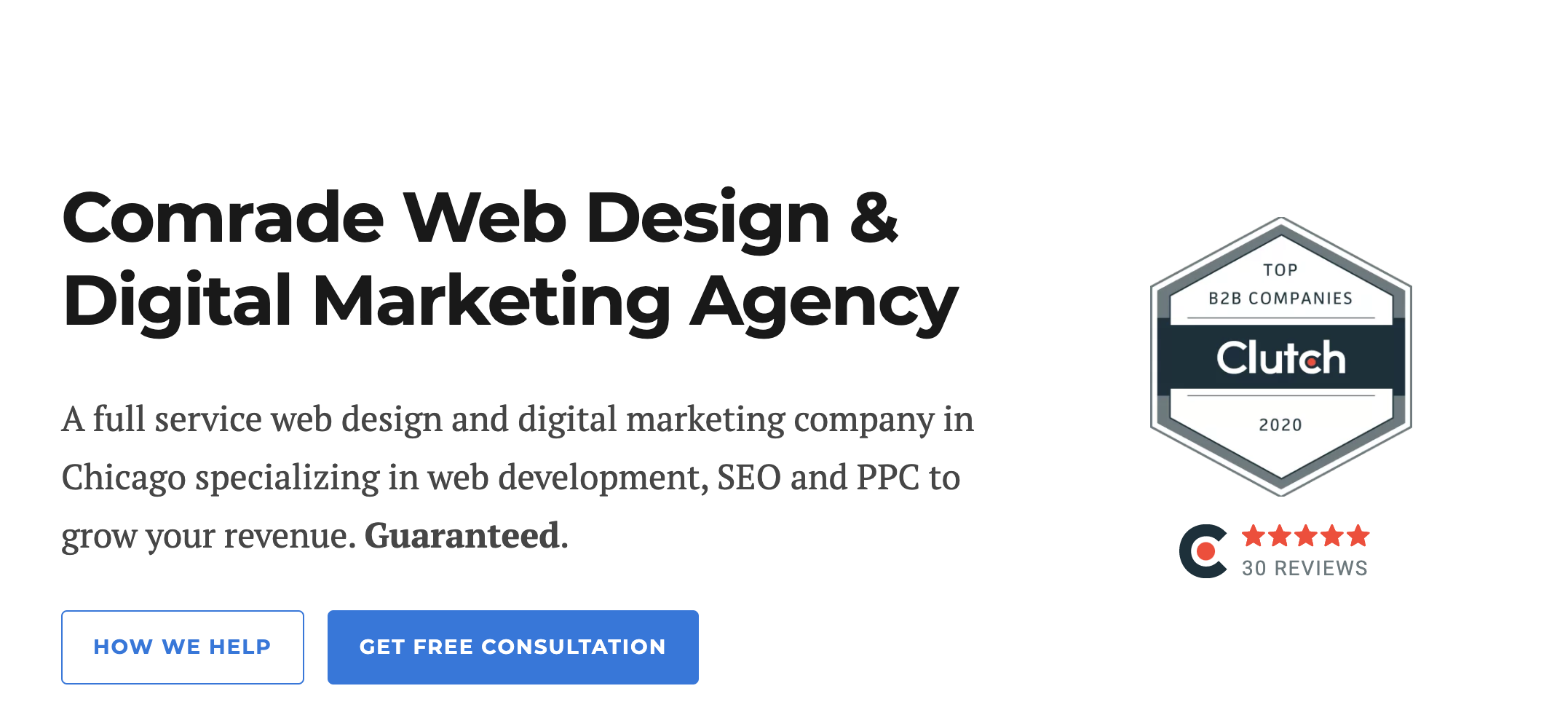 Comrade Web Agency is a full-service web design and digital marketing company. In addition to SEO, they also specialize in web development, PPC, content marketing and social media marketing to help eCommerce businesses grow their revenue.
Based in Chicago, they have helped their clients increase their ROI by about 40% after one year of SEO. For example, for Savory Spice, an eCommerce business, their comprehensive SEO strategy helped them to increase their organic SEO traffic by 55% and an increase of 40% in transactions.
---

SmartSites was founded by two brothers who share a passion for the digital world. Since their inception in 2011, they have received more than 100 five-star reviews and, in 2020, Agency Vista has voted them the Best #1 SEO Firm.
While their headquarters are in Paramus, New Jersey, they help countless clients across the globe to drive more organic traffic to their websites. For example, for AGA Truck Parts, a global supplier of heavy equipment and trucking parts, they translated the site into four languages to target mostly international clients and implemented an intricate link-building strategy to rank for specific part numbers.
They offer comprehensive SEO services that include:
SEO analysis

Technical SEO audit

SEO consulting

Blogging

Digital PR

SEO copywriting

Link building

Mobile SEO

Website migration
---

If you specifically want to reach more millennials, Kobe Digital is one of the best agencies for the job. They are dedicated to staying up to speed with the latest trends so that their clients can ensure that they will keep millennials engaged. Based in Los Angeles, they are a young, up-and-coming agency that offers a wide range of digital marketing services that include SEO, social media marketing, custom campaigns, and pay-per-click advertising.
With regards to search engine optimization specifically, they have helped clients from a wide range of industries to modify their websites and search content to improve the results they get from organic searches. They will begin by auditing your site before they share recommendations for how you can boost your social presence.
---

Delante follows a four-step process. They begin by completing traffic analysis to create a strategy and select the best keywords. After keywords selection, they shift their attention to technical optimization before they start with quality backlink building. Lastly, they measure the impact of the SEO activities that they have implemented and summarize the activities.
While they have only been working in the market for five years, their team of 46 professionals has helped clients from more than 20 countries. From online stores to IT companies, they have worked with diverse industries. For example, for FarettiShoes.co.uk, they fixed their product names, measurement units, meta descriptions and category names.
---

Digital Silk is one of the top eCommerce agencies and offers a wide range services that include brand strategies, custom websites, and SEO. From startups to Fortune 500 companies, they work with businesses of all sizes. With regards to SEO, they deliver technical, off-page and on-page SEO to help clients maintain their position at the top of the search engine results pages. They have offices in Miami, New York, Chicago and Milano and follow a results-driven proactive approach.
---

Savage Global Marketing is a data-driven marketing agency that offers a wide range of services that includes SEO, social media marketing, content marketing, brand development and link building. In 2018, they were identified by Clutch as one of the top SEO companies in Miami. Their strategy also focuses on insight and exploration. They ensure that they stay on top of the latest search trends so that their clients can stay ahead of their competitors. Some of the clients that they have worked with include Autoboutique Collision and Bella Dahl.
---

Taktical Digital is currently one of the top Amazon marketing agencies. Founded in 2010, this award-winning performance-driven digital agency has been recognized internationally for helping brands optimize their marketing. With offices in Manhattan and New York, they are viewed as one of the best SEO agencies in NYC.
Their firm works closely with their clients to identify the best plan to help them achieve higher page rankings and boost their online visibility. Some of the clients that they have helped with SEO include Artsy, Tagpop.com, Matador and HomePolish.
---

If you are not sure if you even need to enlist the services of an SEO agency, PBJ Marketing might just be the right agency for you. Unlike many of the other agencies, they actually offer a free SEO analysis. They have developed an SEO Assessment Tool that will analyze your site in minutes and then send you a comprehensive report.
If the report shows that you need to improve the SEO quality score of your website, they can help you with on-site as well as off-site SEO. Their services include: SEO keyword research, technical SEO audit, SEO strategy development, inbound link building and content marketing services.
---

On their home page, Pearl Lemon claims that in only 90 days they can double your organic traffic. Whether you have a standalone eCommerce website or sell on Etsy or Amazon, their team of eCommerce SEO specialists can improve your organic sales traffic while also reducing your ad spend.
Similarly to Delante, they also follow a four-step process. The four different stages of their process are discovery, goal setting, strategizing and implementation. Though, unlike many of the other SEO agencies mentioned in our list, they are a globally remote team that is connected via cloud technology and, of course, their passion for SEO. Among their team of 21, they boast more than 20 years of SEO experience. In fact, in 2020, they were voted by SME News as the Best SEO Agency.
---

Titan Growth's team boasts extensive experience in technical SEO. With their data-driven strategy, their team can help you to create customizations that will improve your results. They are one of the few agencies that are a Google All-Star, LinkedIn partner, Elite Bing Partner, and Facebook/Instagram partner.
What sets them apart from many of the other agencies mentioned is that they use their proprietary patented TitanBot technology to gather invaluable insights about your website. This technology will show you real data on your competition's performance, where the opportunities that will help you to boost your revenue are and crawl your website for any coding problems.
---

Based in the United Kingdom, Genie Crawl offers a complete range of SEO marketing solutions to help businesses improve their visibility, reach a bigger audience and achieve their online goals. Just like PBJ Marketing, they also offer free site analysis. Their SEO services include:
Google SEO solutions

Google Maps services

Local SEO

Link building

Mobile app store optimization

Content marketing
One of the benefits of working with them is that they provide a rolling monthly engagement. So, if you do not see the results that you want, you are free to end your contract (but considering that they boast a satisfaction rate of 96% that is unlikely to happen). Some of the brands that they have worked with include Subway, Adventure Safari and Papa Johns.
---
Frequently Asked Questions
What does SEO for ecommerce mean?
eCommerce Search engine optimization (SEO) refers specifically to the use of SEO for ecommerce websites. Unlike traditional SEO, SEO for ecommerce will use different techniques and strategies best suited for businesses to ensure your business is easy to find online. SEO ecommerce will improve your site's rankings in Google search results and other search engines.
What does an ecommerce SEO agency do?
There are numerous eCommerce agencies that specialize in SEO. An ecommerce SEO service will work with your business to provide professional and highly specialized ecommerce SEO services for your website. Unlike other services, an ecommerce SEO agency will help your business focus on specific techniques, like product mark-up, to improve your business' visibility online. SEO ecommerce will improve your site's rankings in Google search results and other search engines.
How much might an ecommerce SEO agency cost?
The prices for SEO ecommerce agencies will vary depending on the agency, their service plans, and the scope of the work that needs to be done. WebFX, for example, will charge anywhere from $1,500 for a month, in addition to an initial investment, and up. Many agencies will start by speaking with your business and determining the amount of work and determine a custom price.
What stores can use ecommerce SEO agencies?
Any online store can use an ecommerce SEO agency to grow their visibility online. There are numerous eCommerce agencies that specialize in SEO. An ecommerce SEO service will work with your business to provide professional and highly specialized ecommerce SEO services for your website. Prices can range, depending on the amount of work you need done; expect to spend at least $1,000 per month of work. Unlike other services, an ecommerce SEO agency will help your business focus on specific techniques, like product mark-up, to improve your business' visibility online.