Advertising Disclosure
Advertising disclosure:
Our partners compensate us. This may influence which products or services we review (also where and how those products appear on the site), this in no way affects our recommendations or the advice we offer. Our reviews are based on years of experience and countless hours of research. Our partners cannot pay us to guarantee favorable reviews of their products or services.
Achieving your desired search rank involves more than simply stuffing your content with popular keywords. Search engine optimization (SEO) is a complex digital marketing strategy that requires staying up to date with rapidly changing trends. Google regularly updates its algorithm to ensure that only high-quality pages receive top rankings.
That's why partnering with an SEO agency is crucial for your digital marketing strategy. The right agency will not only enhance your organic search rank but also help you establish a long-term online presence and stay informed about SEO trends.
If you're ready to boost your search rank, consider these agencies with top-tier SEO services.
---
Top SEO Service Agencies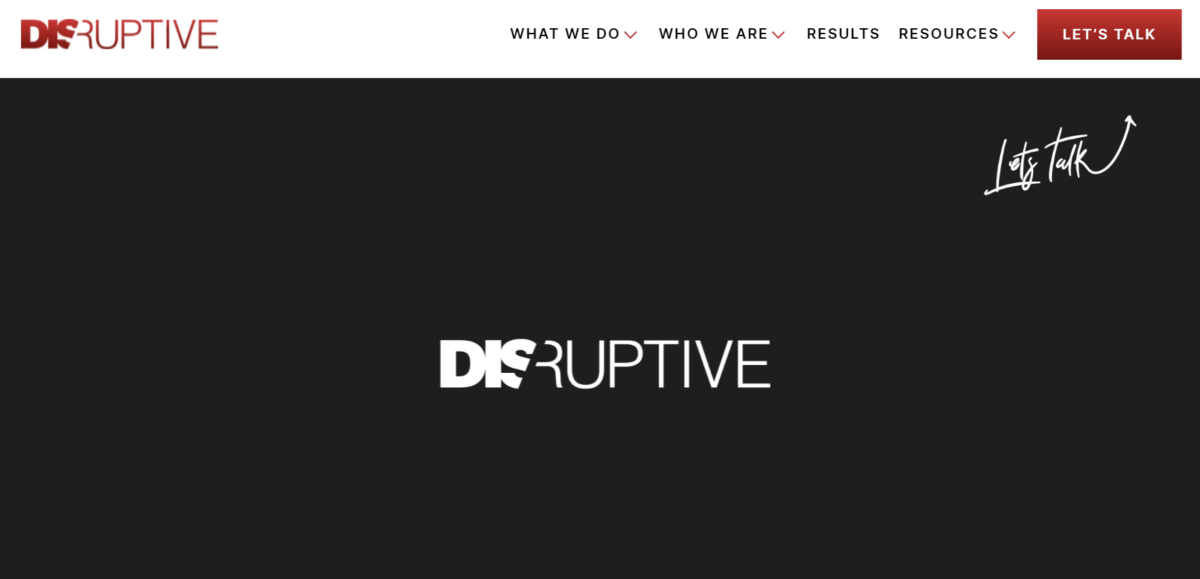 Location: Pleasant Grove, Utah
Best for: eCommerce and businesses of all sizes seeking data-driven SEO growth
Disruptive Advertising is a digital marketing agency specializing in lead generation, eCommerce, Amazon, creatives, lifecycle marketing, paid search, paid social, and SEO. 
The agency's SEO experts pride themselves on increasing your business' sales and profitability. They create optimizations based on cross-channel insights, delivering measurable SEO and conversion rate optimization (CRO) results. Their "disruptive" approach to SEO thoroughly examines every aspect of your optimization campaign, considering each asset that can enhance your search engine results page (SERP) rankings. Their SEO experts will enhance the positioning of all the assets that you have invested the most effort into, including your website and videos. They will optimize your site by focusing on the three key pillars of SEO: on-page optimization, off-page optimization, and technical optimization. 
Disruptive Advertising stands out because they don't implement templated or cookie-cutter strategies for their clients. Their SEO packages are carefully customized to your brand's needs. Each client is treated as a unique case, so you can rest assured that the solutions you'll get aren't recycled or reused.
To get the most out of Disruptive Advertising's services, the agency recommends a full-funnel approach, which includes paid search, email marketing, and paid social services.
Pricing
Contact the agency to receive a custom proposal.
---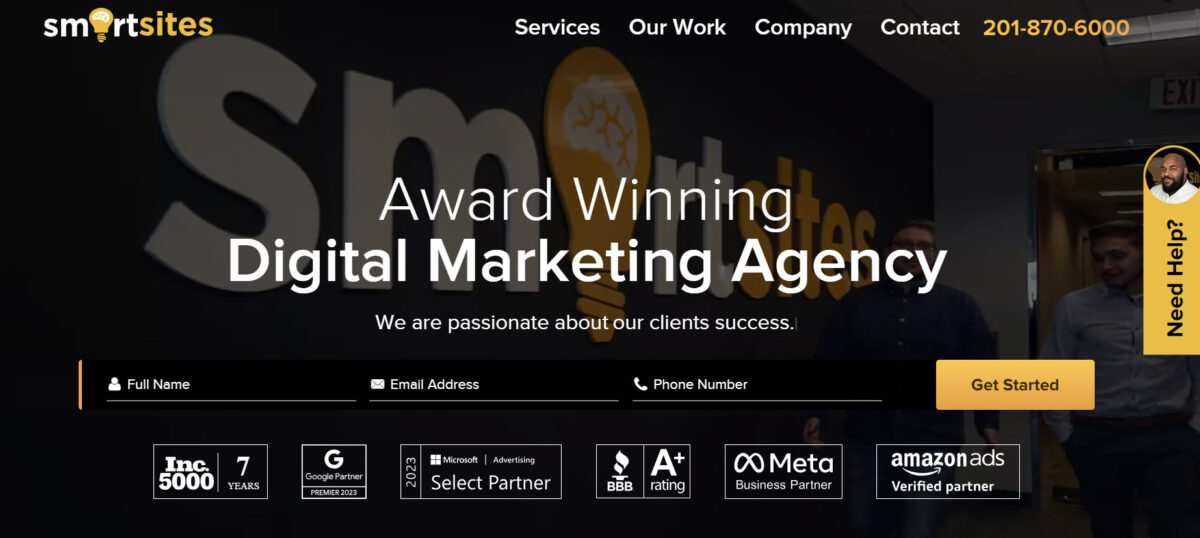 Location: Paramus, New Jersey
Best for: Businesses of all sizes looking to build domain authority (DA) and boost overall SEO
SmartSites is a Google Premier Partner that has bagged several awards in the digital marketing realm. Their comprehensive SEO services help drive organic traffic to your site by enhancing all the variables impacting your SERP ranking. 
Their technical SEO services optimize your site's code and structure, allowing search engines to crawl and index its content. They also optimize web pages and title tags to improve your content's ranking for target keywords. You can also boost your DA (Domain Authority) by getting backlinks from high-traffic websites like Forbes, Fox, and other sites relevant to your industry; Smartsites can help with this.
These excellent services make them an ideal partner for a wide variety of businesses, from small enterprises to Fortune 500 companies. In addition to SEO, they offer personalized digital marketing solutions, content management, and web design and development. 
Pricing
Contact the agency to get a free proposal.
---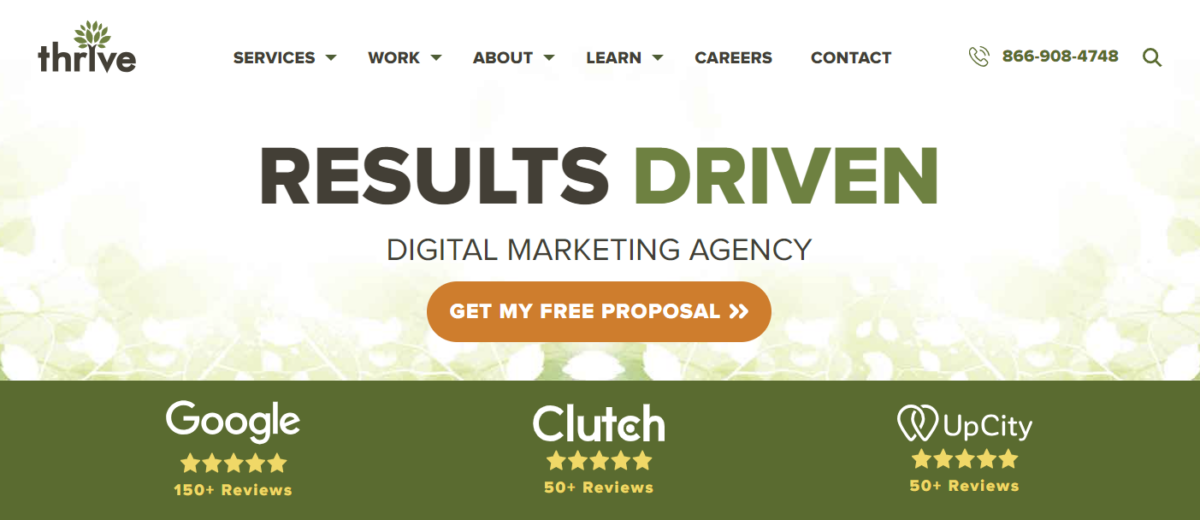 Best for: eCommerce and other types of businesses looking to enhance all aspects of their SEO strategy
Location: Arlington, Texas (headquarters) and 24 more locations around the US
As a results-driven agency, Thrive Internet Marketing Agency provides tried-and-tested SEO solutions that have empowered businesses across various industries, including construction, eCommerce, and heating, ventilation, and air conditioning (HVAC) companies. Thrive increases your search rankings and online discoverability through a series of techniques encompassing all aspects of a successful digital marketing campaign. They begin with keyword research and strategy to evaluate the keywords your website is currently ranking for and create a new keyword list that aligns with your website's goals. Thrive also performs link-building by establishing connections with reputable and relevant websites to enhance your site's authority. Additionally, technical SEO is implemented to address any errors promptly and optimize your website's backend. 
Thrive can also enhance your local SEO via Google Business Profile or Google My Business so you can dominate the search results for businesses within your area. They can also help you optimize your franchise business, Shopify, or Amazon store. Their franchise SEO services involve publishing area-targeted content, advertising on Nextdoor, and creating custom web designs. They also provide optimization for Shopify-powered sites, which includes thorough auditing, web design, paid ads, and publishing review responses. These services aim to enhance the visibility and user experience of your store. Their Amazon SEO services go hand-in-hand with the agency's Amazon marketing services to optimize listings and maximize ad placements. As a result, your products can reach millions of customers with high purchase intents.
But that's not all—Thrive enhances eCommerce SEO through targeted email campaigns. They also offer Walmart Marketplace integrations to help drive sales. Furthermore, Thrive can provide a team of writers to create SEO-friendly and share-worthy content for your website. The agency can also integrate PPC ads with their SEO services to maximize your conversion opportunities.
Pricing
Contact the agency to get a free proposal.
---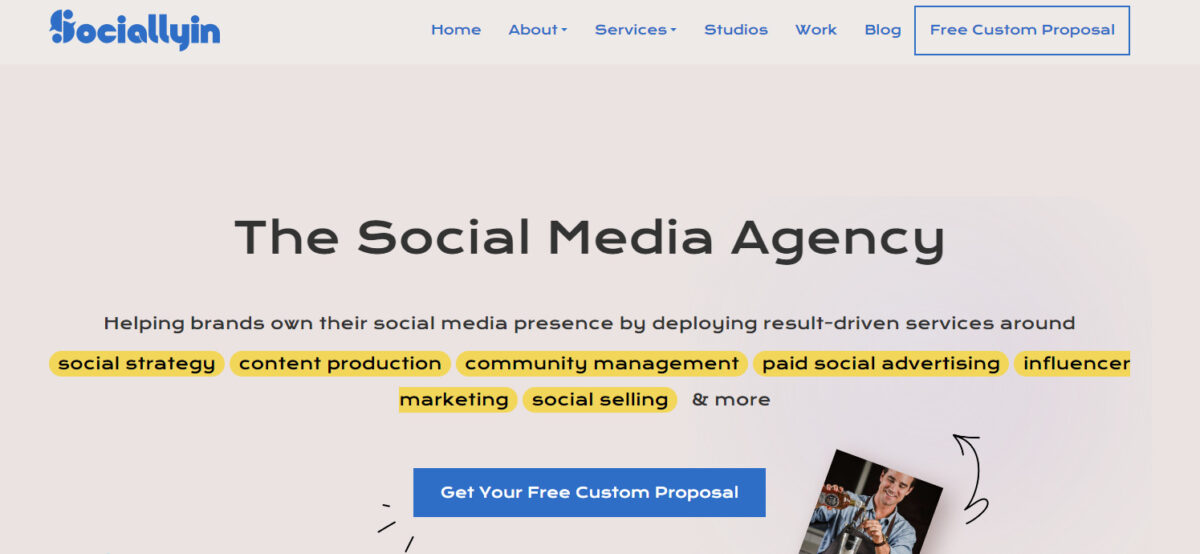 Location: Georgia (headquarters), Alabama, Texas, California
Best for: Businesses of all sizes who want to boost their SEO through social media content
Even though Sociallyin focuses on social media marketing, they can be essential for your SEO campaign since a robust social media presence helps drive traffic to your site. Sociallyin offers many social media marketing solutions, including strategy, content production, paid social advertising, influencer marketing, and more.
With Sociallyin's help, your business can consistently post engaging media that your followers will share, increasing your reach and leading new audiences to your site. Sociallyin kicks off its strategy by learning about the goals that drive your business. They ask questions like "What are your key buyer personas?" to establish benchmarks for your success and set realistic goals.
Sociallyin conducts a thorough examination of your social media presence to identify the appropriate channel and unique opportunities for enhancing your social success. They will develop your strategy and present an execution plan, allowing you to visualize the scope of your content and benefit from their expertise in growing your brand. 
With over a decade of experience in creating social media content, Sociallyin can produce a wide range of content, including photography, videos, and more. They have an in-house production studio and a team of talented creatives to bring your content ideas to life and improve the factors that influence your search ranking.
Besides social media solutions, Sociallyin offers social augmented reality (AR) services, data analysis and return on investment (ROI) modeling, social selling, and social media consulting. 
Pricing
Connect with the agency to get a free custom proposal.
---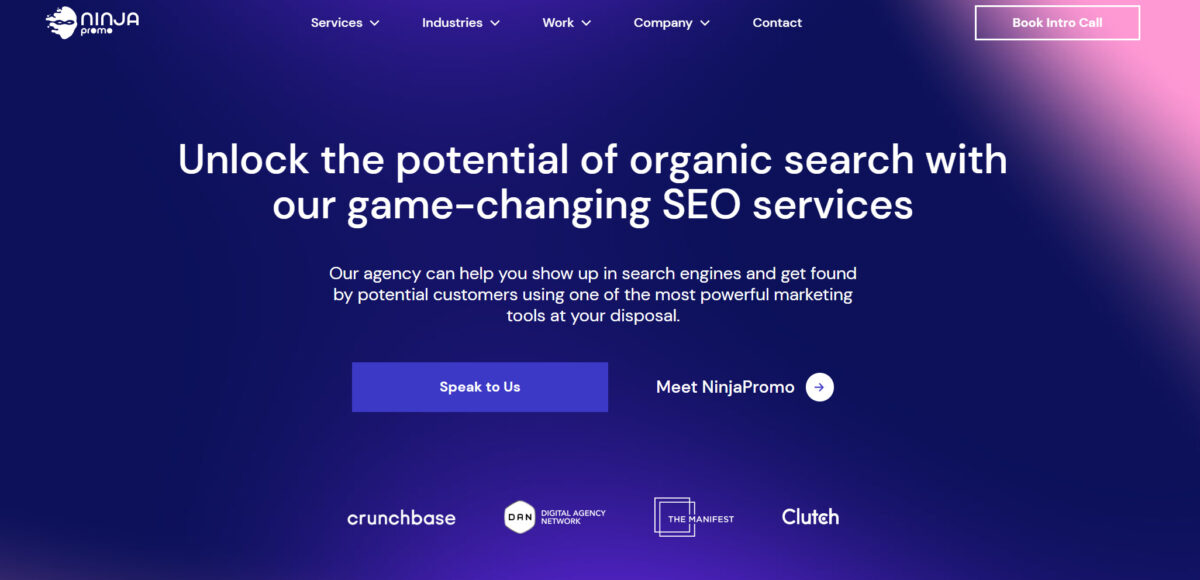 Location: London (headquarters), New York, Dubai, Singapore, Hong Kong, Vilnius
Best for: Startups, software, FinTech, crypto, NFT, and B2B companies that want to scale up through comprehensive digital marketing solutions
NinjaPromo is a leading digital marketing agency that uses multichannel marketing solutions, branding, and creative design to elevate brands. As SEO hackers, NinjaPromo constantly looks for new and innovative ways to make their clients' content reach their target audience. They aim for the stars and are quick to do the hard work it takes to get results.
They start by performing an in-depth analysis of your business's current SEO standing. Then, they conduct intensive keyword research to identify the terms your potential audiences are using. NinjaPromo will also help you develop a link-building strategy to enhance your position across Google and Bing. 
Once these three steps are completed, NinjaPromo will monitor your SEO progress and make adjustments to maintain your success. They will also establish your local online presence to enhance your visibility in relevant searches within your area. Furthermore, NinjaPromo will perform a technical audit to spot potential web design issues that could impact your search ranking. Lastly, the agency will provide SEO services specifically tailored to your industry. 
NinjaPromo offers SEO audit, technical, local, and organic SEO, as well as customized SEO services for crypto, fintech, enterprise/B2B, startup, and eCommerce clients. They also work with companies specializing in software, software-as-a-service (SaaS), eSports, gaming, and mobile apps. 
Pricing
You can schedule a call with the agency to get a quote.
---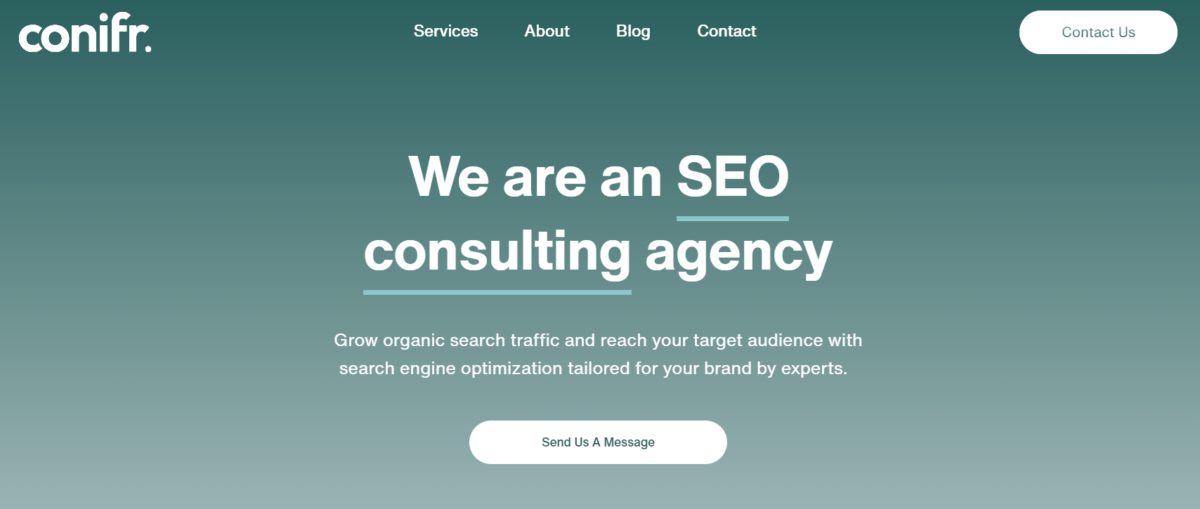 Location: Bend, Oregon
Best for: Businesses focused on improving their organic search ranking
Conifr stands out from other digital marketing agencies by specializing in holistic SEO services. They prioritize organic search and take a comprehensive approach to building your technical, content, local, and international SEO. Conifr's SEO tactics are rooted in evergreen practices and implemented through creative solutions, ensuring a clear and effective message for your business. 
You can count on Conifr to develop a solid SEO content strategy, which covers keyword ranking analysis, keyword research and mapping, content optimization, editorial planning and ideation, competitive analysis, content gap analysis, auditing and pruning, scalable content development, copywriting, and editing. If you need to focus on technical SEO, Conifr can help you with site auditing, data analysis, speed analysis, crawl assessments, internal link-building, and other technical SEO services.
They also offer SEO growth strategies, including, but not limited to, page type expansion and identification, redesign and domain migration support, and link acquisition. Your marketing team can even receive SEO training on top of customized reports and SEO monitoring tools.
Conifr is definitely a worthy choice if you want to establish an organic online presence. Their SEO services include both project-based tasks and continuous monthly retainers supporting content development and technical SEO. Conifr can provide valuable support whether you're building a new SEO program or bolstering your existing SEO team.
Pricing
Contact the agency to receive a quotation.
---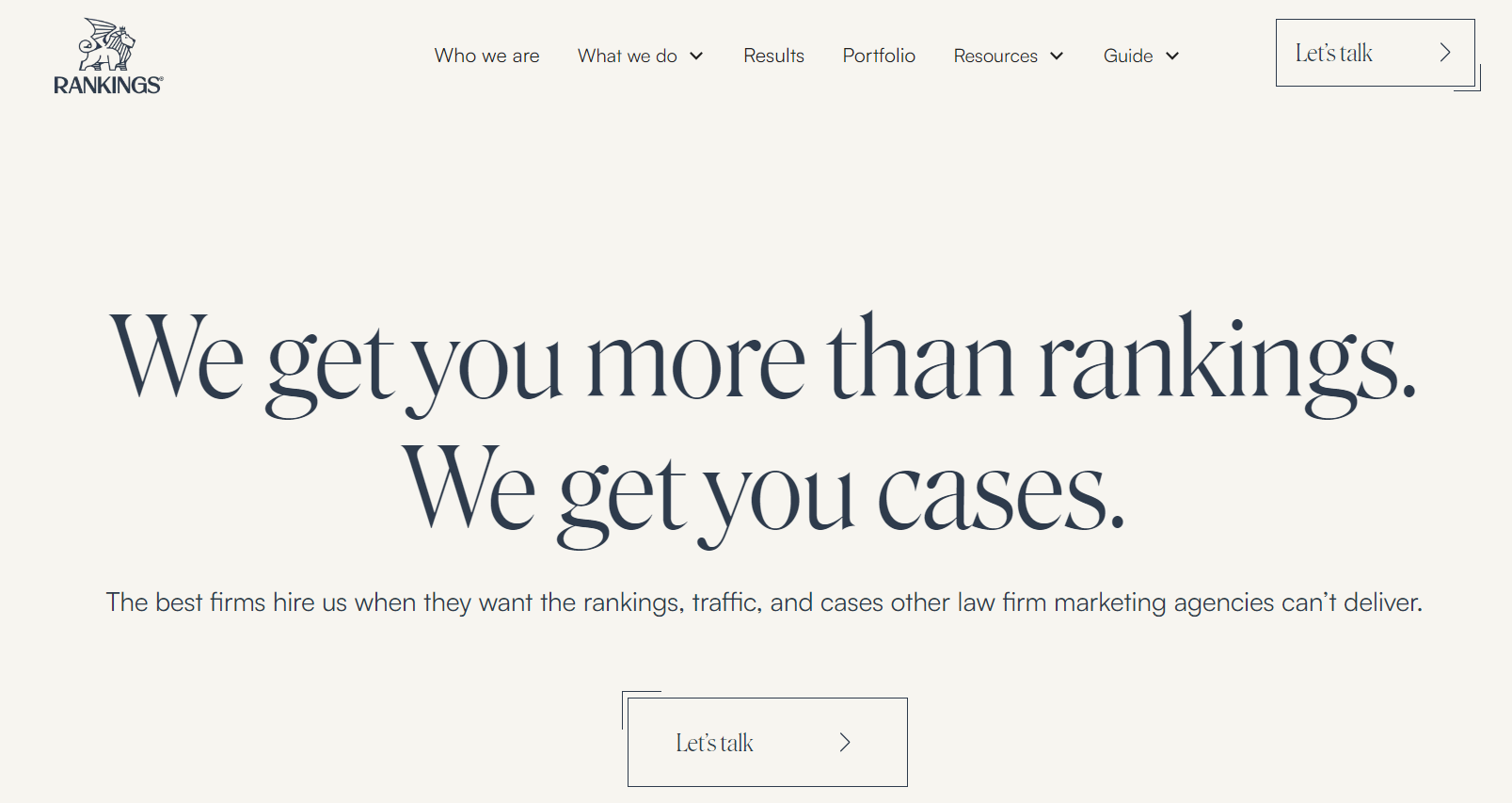 Location: Marion, Illinois
Best for: Elite law firms needing an SEO boost through content, site optimization, and local listings
If you own an elite law firm, you should consider partnering with a digital marketing agency that specializes in providing SEO services tailored to your industry such as Rankings.io.  They can assist you in improving your rankings for commonly searched legal services keywords and securing coverage, traffic, and links from reputable platforms like Lifehack, Vanguard, Vice, Reuters, Reader's Digest, and USA Today.
Rankings.io implements an "Attorney Ranking System," an all-inclusive SEO approach for lawyers in highly competitive locales. You no longer have to brainstorm and create content by yourself since Rankings.io can provide a ready-made editorial calendar covering hundreds of popular and relevant legal topics. They can also draft the content, ensuring top SERP rankings with new and improved posts, pages, and assets that convert.
You can boost your site's authority by using Ranking.io's link-building services. They have established relationships with thousands of reliable publishers. With their services, you can expect full transparency, as they provide visibility into where your backlinks are posted and how they conduct outreach. 
If your site needs a speed boost, Rankings.io also conducts minor speed tweaks or major architectural rebuilds within 90 days. Lastly, your site can increase its searchability in your service areas as Rankings.io optimizes your local listings and builds consistent citations for your practice on all relevant sites.
Pricing
Contact the agency to receive a proposal.
---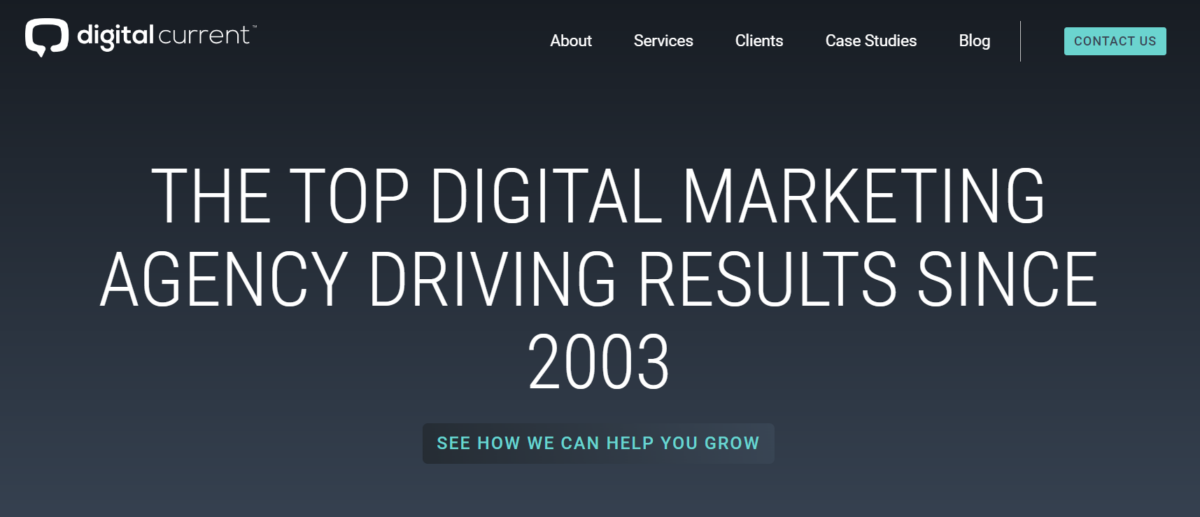 Location: Phoenix, Arizona
Best for: Fun-loving businesses who are ready to embrace change and treat agencies as partners
Digital Current is a digital marketing agency committed to growing your revenue, building lasting relationships, and developing data-driven processes. Its SEO services cover on-page and technical optimization as well as auditing, consulting, and keyword research. 
Their technical audits and analysis can identify over 180 issues on your site's backend and address them through recommendations tailored to your content management system (CMS). To achieve peak performance for your site, Digital Current conducts site and content optimization, refining areas such as internal links, site architecture, and web development. If you need to redesign your site, their site migration and rebrand support facilitate the process, ensuring that you maintain your hard-earned domain authority, keyword rankings, and built traffic. Digital Current also performs advanced keyword and market research to help align your content with your buyer's journey. You can also acquire quality backlinks from authoritative sites and prevent penalties by weeding out spammy links.
Pricing
Contact the agency to get a proposal.
---
SEO Services That Can Make Your Business Dominate Search Engines
Now that we're down to the last three months, you should focus on SEO services that leave an impact on your business and persist until 2024.
Talk to your chosen agency about these services to ensure your future success.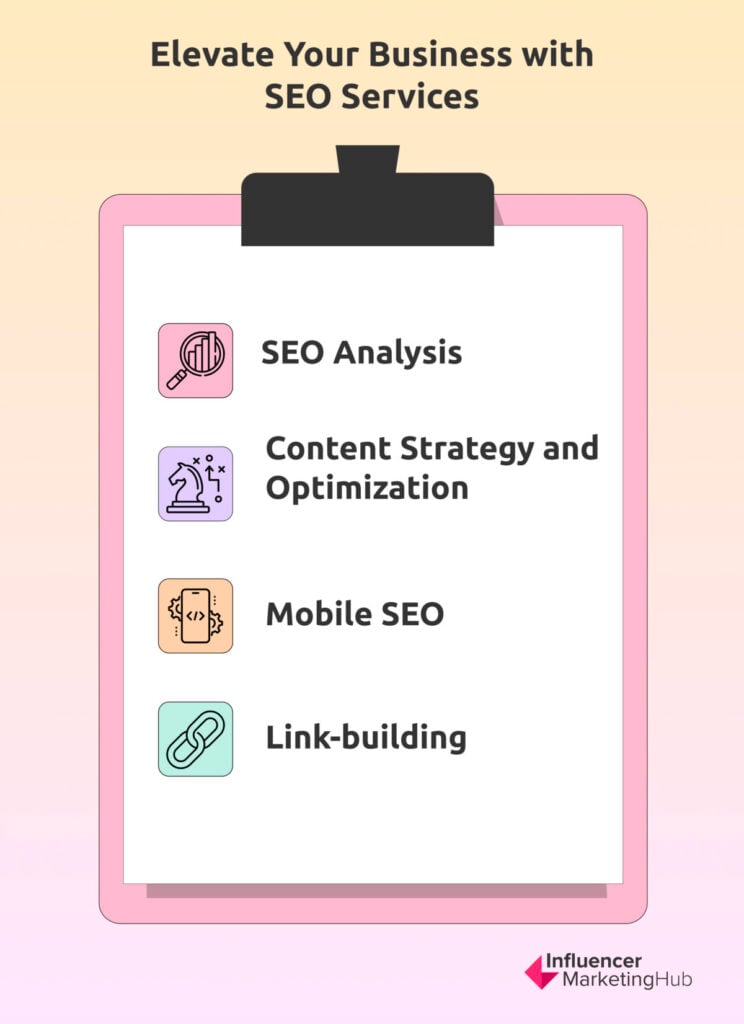 SEO Analysis
Your agency should thoroughly understand your current SEO standing before proposing or implementing any new strategy. This will allow them to build on its success or identify potential problems that bring your rankings down. This process shouldn't be complicated or overly technical. Your agency can simply access your Google Analytics report to gain insight into your rankings and other performance metrics.
Content Strategy and Optimization
It may be a good time to check out SEO services with AI content writing. While AI-generated content is still controversial, it can be relevant and helpful when heavily edited and fact-checked. Besides, Google has clarified that publishing AI-generated content won't impact your ranking. However, producing AI-generated content to manipulate your rankings violates Google's spam policies. 
Mobile SEO
The mobile data traffic in North America is expected to grow steadily until 2028, so it's best to invest in mobile SEO services to capture that traffic. Focus on agencies that can make your website mobile-friendly, maintaining a top-notch user experience.
Link-building
Getting links from trustworthy sites is as good as referrals from a top influencer or any esteemed public figure. Most SEO agencies offer link-building, so you should be able to get quality backlinks easily. However, ensure that your agency also disavows problematic links to avoid penalties and lower your SERP ranking.
---
How To Choose the Best SEO Service Provider?
The first step on this journey is often optimizing your website to be more search engine friendly – a realm known as Search Engine Optimization (SEO). For Small and Medium Enterprises (SMEs), this can be an enigmatic terrain to navigate. Hence, partnering with a proficient SEO service provider is a prudent decision.
This is the methodology we use and recommend in identifying an adept SEO partner.
Vetted Experience and Success Stories
Seek an SEO agency with a proven track record in your industry or related fields. Their past campaigns should resonate with success and positive client testimonials. Request case studies that demonstrate their strategy and the resultant impact on search rankings, traffic, and conversions. This tangible evidence is a testament to their expertise and results-oriented approach.
Look for an agency that's transparent about their methods and is willing to share insights and analytics. Transparency is a harbinger of credibility and trust.
Peruse online reviews and ratings on platforms like Google My Business, Yelp, or industry-specific directories. Authentic feedback from other business owners is invaluable.
Customized Strategy Development
An adept SEO agency will fathom your unique business objectives, target audience, and industry dynamics before blueprinting a strategy. Avoid cookie-cutter approaches; they seldom yield optimum results.
Ensure that the proposed strategy encompasses a holistic approach, integrating on-page, off-page, and technical SEO facets.
A continuous feedback loop is vital. Your SEO partner should be amenable to tweaking the strategy based on analytics data and your feedback.
Look for providers who offer a clear roadmap with measurable milestones, making it easier to track the ROI of SEO efforts.
Comprehensive Service Offerings
SEO is not an island, but a part of an archipelago of digital marketing tactics. Opt for agencies that offer a suite of services including PPC, content marketing, social media management alongside SEO.
Ensure the agency is au courant with the latest SEO trends, algorithm updates, and possesses the acumen to adapt strategies accordingly.
A multifaceted agency will facilitate seamless integration of SEO with other digital marketing efforts, ensuring a cohesive online strategy.
Assess the agency's technical prowess in areas like mobile optimization, local SEO, and schema markup, which are pivotal in contemporary SEO.
Transparent Communication and Reporting
Open, clear communication is the cornerstone of a successful partnership. Ensure your SEO agency values transparency and maintains a clear channel of communication.
Regular reporting on key metrics, rankings, and traffic data is imperative to understand the progress and impact of SEO efforts.
Customized reports that align with your business goals provide a clear picture of the ROI and help in informed decision-making.
A provider who is receptive to your queries, provides clear explanations, and is willing to adjust strategies based on feedback embodies a conducive partnership ethos.
Competitive Pricing and Contract Flexibility
While cost shouldn't be the sole deciding factor, it's prudent to compare pricing structures of different agencies to ascertain value for money.
Understand the deliverables attached to the pricing, ensuring there are no hidden costs or vague terms. Contract flexibility allows for adaptation as your business needs evolve. Opt for providers who offer scalable services and contract terms that accommodate growth.
A candid discussion about pricing, deliverables, and contract terms will foster a clear understanding and a long-term fruitful partnership.
By meticulously vetting potential SEO service providers through the lens of experience, strategy customization, service breadth, communication transparency, and pricing rationality, SMEs can forge a partnership that not only propels their online visibility but also fosters sustainable business growth. This expedition in the digital realm is a strategic investment; choosing the right SEO companion is pivotal to ensure that every digital footstep is a stride towards monumental success.
---
How Much do SEO Services Typically Cost?
The cost of SEO services in 2024 varies broadly based on several factors including the complexity of your project, the competitiveness of your industry, the experience and expertise of the SEO service provider, and your specific business goals. Here's a synthesis of the pricing information for professional SEO services.
Monthly Retainer Costs
The average monthly cost from a freelancer or marketing agency is around $497​.
Most businesses tend to pay between $500 to $1,500 per month if they're on a monthly retainer model​.
A broader range, stating that monthly costs could range from $250 to $10,000, or even $2,500 to $7,500.
Hourly Rates
The most popular hourly rates range between $75 to $100, though some providers may charge between $100 and $300 per hour​.
Project-Based Costs
Project-based costs can significantly vary, with ranges from $5,000 to $30,000, or $1,000 to $5,000 per project​.
Factors Influencing Cost
The cost can be greatly influenced by the competitiveness of your industry, your target audience, the agency you choose, and how aggressive you want to be with your SEO campaign.
It's pivotal to have a lucid understanding of what the quoted prices include and ensure that the SEO service provider can cater to your specific needs, whether that's local SEO, e-commerce SEO, or a more comprehensive digital marketing strategy. It's also advisable to discuss the deliverables, metrics for success, and reporting frequency to ensure a transparent and productive working relationship.
---
14 Questions to Ask an SEO Service Provider
Asking the right questions can unveil a clear picture of an SEO agency's capability, alignment with your business goals, and the potential value they could bring.
Here are 14 pivotal questions you might consider posing to a prospective SEO service agency.
Can you share some success stories or case studies from past campaigns, especially those relevant to our industry? Understanding their track record in your specific industry can provide insight into their expertise and capability.
How do you stay updated with the latest SEO trends and Google algorithm updates? SEO is a dynamic field; it's crucial that your SEO agency is abreast of the latest changes and trends.
What is your approach to developing a customized SEO strategy for our business? Every business is unique; a tailored strategy is imperative for SEO success.
How do you handle on-page, off-page, and technical SEO? A comprehensive approach encompassing all aspects of SEO is essential for effective optimization.
What key metrics do you focus on to measure the success of an SEO campaign? Understanding the metrics they prioritize can align expectations and define success.
How often will you report on progress, and what will the reports include? Regular reporting and clear communication are crucial for a transparent working relationship.
Can you provide references or testimonials from past or current clients? Real-world feedback can provide invaluable insight into their professionalism and results.
How do you handle penalties and how would you work to recover from any potential Google penalties? Being prepared for adversities like penalties is a sign of a forward-thinking SEO agency.
What is your approach to local SEO, and how will you improve our visibility in local search results? For many SMEs, local search is a crucial avenue for attracting business.
What is your pricing structure, and what does it cover? Understanding the cost and the value provided is essential for budgeting and ROI analysis.
How do you approach link-building, and what types of links will you focus on acquiring? Ethical or white-hat link-building is a significant part of off-page SEO and should align with best practices.
What is your process for keyword research and how will you target keywords for our business? Keyword targeting is the cornerstone of SEO, and a sound methodology is essential.
How will you ensure that our website remains optimized as search engine algorithms evolve? Long-term success in SEO requires an adaptive strategy.
How do you plan to collaborate with our in-house team or other vendors we work with? Seamless collaboration between your SEO agency and other stakeholders is essential for a cohesive digital marketing strategy.
These questions are geared towards unearthing the SEO agency's expertise, approach, transparency, and alignment with your business objectives, laying the foundation for a potentially fruitful partnership.
---
SEO Services Comparison
In the following table, I'm comparing the best SEO services in terms of budgeting and techniques provided.
| | Min. Campaign Budget | On-page SEO | Off-page SEO | Technical SEO | Local SEO | SEO Content services |
| --- | --- | --- | --- | --- | --- | --- |
| Disruptive Advertising | $5,000+ | Yes | Yes | Yes | Yes | Yes |
| SmartSites | $1,000+ | Yes | Yes | Yes | Yes | Yes |
| Thrive | $1,000+ | Yes | Yes | Yes | Yes | Yes |
| Sociallyin | $5,000+ | Yes | Yes | No | No | Yes |
| NinjaPromo | $5,000+ | Yes | Yes | Yes | Yes | Yes |
| Conifr | $1,000+ | Yes | No | Yes | Yes | Yes |
| Rankings.io | $5,000+ | Yes | Yes | Yes | Yes | Yes |
| Digital Current | $5,000+ | Yes | Yes | Yes | No | No |
---
SEO Service Trends and Insights
Observing the evolving landscape, a notable trend is the shift towards a more holistic and user-centric approach. The traditional tactics of keyword stuffing and link farming have given way to creating high-quality, relevant content that resonates with the target audience. This transformation underscores the importance of understanding user intent and delivering value, rather than merely chasing algorithmic loopholes.
Embracing a mobile-first approach is no longer optional, especially with the proliferation of smartphones and Google's mobile-first indexing. This compels businesses to optimize their websites for mobile to ensure a seamless user experience, which in turn, significantly impacts search rankings.
Another focal point is the burgeoning role of artificial intelligence (AI) and machine learning in SEO. Algorithms have become more sophisticated, capable of understanding content contextually rather than just syntactically. This advancement makes it imperative to create content that's not only keyword-optimized but also contextually relevant and valuable to the audience.
Moreover, Core Web Vitals have emerged as a critical metric for evaluating user experience on websites. Google's emphasis on Core Web Vitals underscores the significance of page load speed, interactivity, and visual stability, making them key factors to consider in SEO strategies.
The importance of local SEO continues to amplify, especially for SMEs looking to establish a strong local presence. It's crucial to optimize for local search by ensuring accurate and consistent NAP (Name, Address, Phone number) information across online platforms, along with garnering positive reviews to build trust and credibility.
On the technical frontier, the adoption of structured data and schema markup is gaining traction. These elements aid search engines in better understanding the content on websites, which can result in rich snippet features on SERPs, thereby enhancing visibility and click-through rates.
I discern a trend towards more collaborative efforts between SEO and other digital marketing disciplines. Integrated strategies that encompass SEO, Paid Search, Social Media, and Content Marketing are becoming indispensable for creating a cohesive and effective online presence.
Lastly, with the growing emphasis on data privacy and ethical online practices, adhering to privacy regulations and ensuring transparency in data handling practices is not only about compliance but building trust with the audience, which is fundamental for long-term success in the digital realm.
In light of these trends, it's prudent for businesses to adopt a more holistic, user-centric, and ethically grounded approach to SEO, while staying abreast of technical advancements and regulatory landscapes.
---
Conclusion
SEO is an ongoing and ever-evolving digital marketing strategy. Keeping track of its trends and Google's new policies can be challenging, which is why SEO agencies are there to help you. Partner with an agency that understands your business and resonates with your audience. That way, you can dominate search engines in 2024 and beyond.
Frequently Asked Questions
Which agencies offer the best SEO services in 2024?
Many digital marketing agencies offer robust SEO services. These include NinjaPromo, Sociallyin, SmartSites, Disruptive Advertising, Thrive, Conifr, Rankings.io, and Digital Current.
Which SEO service should I invest the most resources in?
You can build lasting success by investing in SEO analysis, content strategy and optimization, mobile SEO, and link-building.
Is AI-generated content bad for SEO?
Google has clarified that while AI-generated content won't impact your rankings, producing such content for the sole purpose of manipulating rankings violates their spam policies.
Can I do SEO on my own?
Absolutely, you can undertake SEO on your own with a willingness to learn and invest time. Initially, you'll need to educate yourself on SEO fundamentals such as keyword research, on-page optimization, and link building. However, keep in mind that SEO is a long-term effort, and while self-management can be cost-effective, professional SEO services often bring expertise and resources that can expedite your website's performance improvement on search engine results pages.