Advertising Disclosure
Advertising disclosure:
Our partners compensate us. This may influence which products or services we review (also where and how those products appear on the site), this in no way affects our recommendations or the advice we offer. Our reviews are based on years of experience and countless hours of research. Our partners cannot pay us to guarantee favorable reviews of their products or services.
Link building remains a crucial component for improving website visibility and boosting organic traffic. Besides keywords, backlinks improve your site's search engine results page (SERP) ranking. Quality backlinks indicate that your content is relevant and valuable for your target audience.
However, link building isn't a numbers game. You don't need 100,000 backlinks to beat a site with only 1,000. Quantity used to be a crucial factor back when Google treated every backlink as a vote of confidence to a site, but today, Google has become more particular about quality when assessing backlinks.
A backlink from a spammy or irrelevant site will now hurt your SEO, while those from trusted, authoritative sites are as good as referrals from a top influencer or any esteemed public figure. Google will recognize the quality of these links and grant you more SERP visibility because of them.
In this article, we have meticulously evaluated and ranked the top 10 link building services, laying out the pros and cons of each to help you make an informed decision. Read on to explore these platforms and uncover which one aligns perfectly with your SEO needs and objectives.
---
Top Agencies Offering Next-Level Link Building Services in 2024
Top
link building services
2024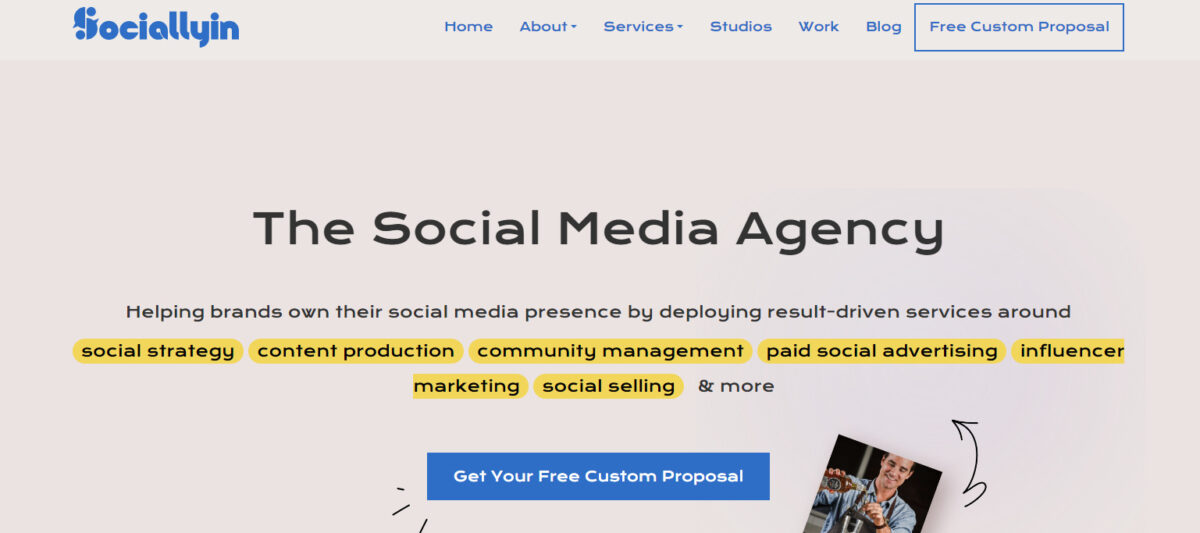 Sociallyin is distinguished in the SEO landscape for its unwavering commitment to specialized Search Engine Optimization services. Under the adept leadership of Blake Akers, a seasoned industry professional, the agency has spearheaded successful SEO campaigns, including linkbuilding, across diverse niches. Sociallyin's services are underscored by a custom-tailored approach, ensuring each campaign is aligned with the unique needs and objectives of the client. Armed with evidence-based strategies, informed by years of rigorous testing and link optimizations, the agency has consistently delivered on its promise of elevating brands' online presence and organic traffic through meticulously forged links.
Why Does this Agency Stand Out?
Technical, content, and on-page optimizations are integral components of Sociallyin's comprehensive SEO offerings. Initiating the journey with an in-depth audit, the agency crafts strategies aimed at enhancing reader engagement rate and boosting organic traffic. However, the agency's link-building campaigns are geared toward improving brand domain authority and propelling brands to outshine their competitors. Moreover, The agency's adherence to transparency is exemplified through custom analytics and weekly reporting, ensuring clients are apprised of their campaign's performance metrics and KPIs.
---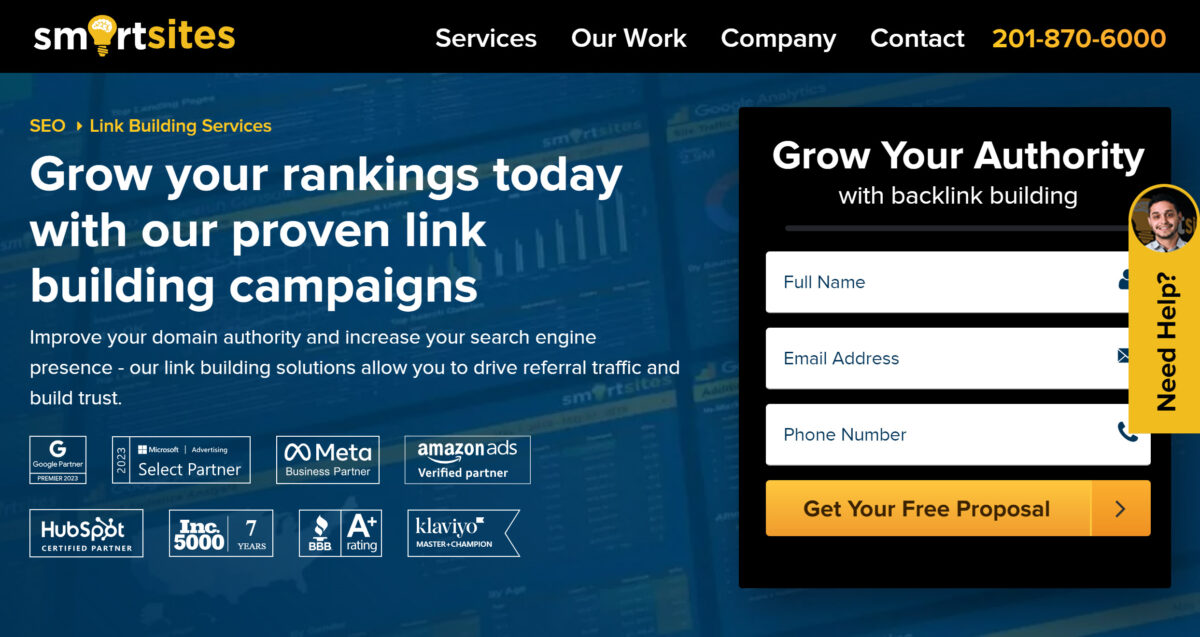 SmartSites has carved a niche in the digital marketing landscape, underscoring its prowess with an array of accolades and client testimonials. The agency's customized link-building campaigns are at the forefront of this esteem, tailored to enhance domain authority and search engine presence, bespoke to the distinct needs of each client. As a Google Premier Partner and ranked the #1 Marketing Strategy Agency by G2, SmartSites combines innovation and expertise to deliver results that transcend typical SEO benchmarks.
Why Does this Agency Stand Out?
The agency's services are anchored in strategic, multifaceted approaches. Each campaign is meticulously crafted to drive referral traffic and bolster online visibility on esteemed platforms ranging from CNN to Forbes. With over 100,000 backlinks acquired for clients, SmartSites has showcased its ability to blend quality and quantity effectively. The agency's transparent, results-driven approach amplifies its distinction in the competitive link-building landscape. SmartSites stands as a testament to excellence, where each service is a synthesis of innovation, expertise, and unwavering commitment to client success.
---

Thrive Internet Marketing Agency's approach to link building is meticulously tailored, offering a blend of strategy and execution that seeks to elevate businesses' online presence. The agency underscores the criticality of white hat link-building solutions, grounding its services on ethical, effective, and sustainable practices that align with web standards and search engine guidelines. The comprehensive suite of services includes keyword analysis, competitor analysis, backlink audits, and outreach services. Each is crafted with precision to bolster search rankings, ensuring businesses not only attain visibility but do so with integrity.
Why Does this Agency Stand Out?
A distinctive feature of Thrive's offering is their adaptability and focus on custom solutions. They appreciate the nuances of different industries, offering bespoke strategies that are as varied as the businesses they serve. With an emphasis on domain authority, the agency navigates the complexities of SEO, ensuring links are not just abundant but are derived from high-authority referring domains. Their services extend beyond the conventional, with offerings like niche edits and brand mentions designed to optimize every facet of a business's online footprint. Thrive's commitment to ethical practices and customized solutions positions it as a formidable ally in the dynamic landscape of digital marketing.
---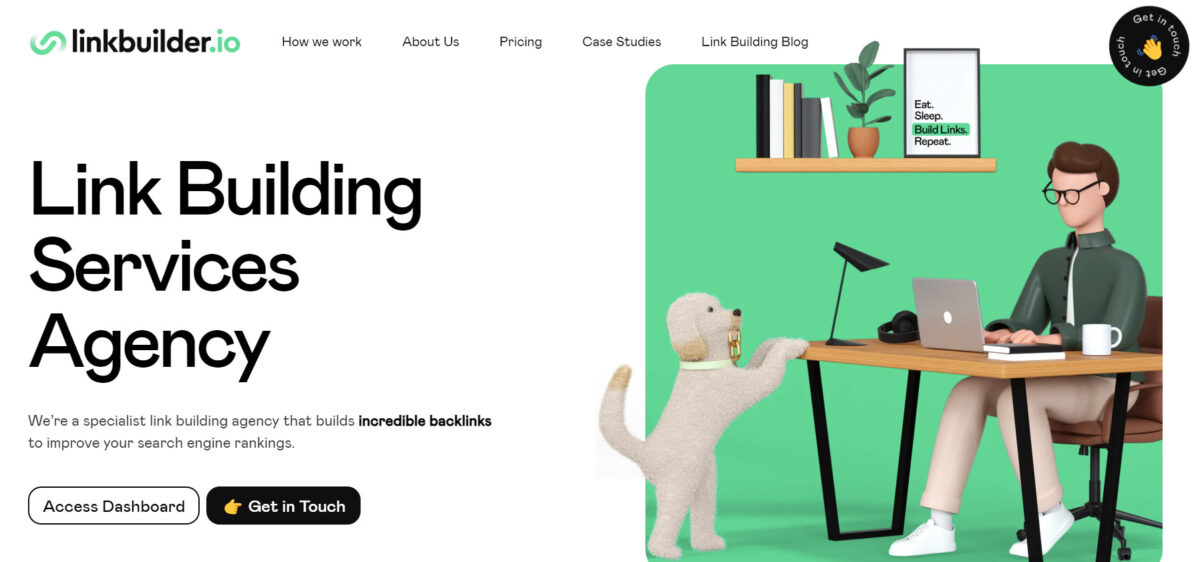 LinkBuilder.io stands as a distinguished link-building agency characterized by its meticulously crafted strategies and a robust suite of bespoke services. With a focus on delivering exceptional quality, the agency employs a process-driven approach integrated with cutting-edge strategies. The incorporation of over 20 distinct tactics tailored to the client's unique industry and needs sets the agency apart. A comprehensive analysis of competitor data is pivotal in crafting these strategies, ensuring optimal opportunities that significantly bolster search engine rankings and SEO performance.
Why Does this Agency Stand Out?
The agency's outreach endeavors are remarkable, characterized by targeted campaigns focusing on highly relevant, high-domain authority websites. The dynamic approach, constantly refined to enhance response rates, has positioned LinkBuilder.io as a trusted partner in acquiring powerful backlinks. Their adeptness in securing high authority links is complemented by a varied range of methodologies, ensuring a natural anchor text profile and robust backlink profile. The emphasis on relationship-based link building, broken link building, guest post link building, and content marketing underscores the agency's commitment to white-hat, ethical practices. Each service is rendered with an acute focus on enhancing the client's SEO rankings, tailored to align seamlessly with broader business objectives and SEO strategies.
---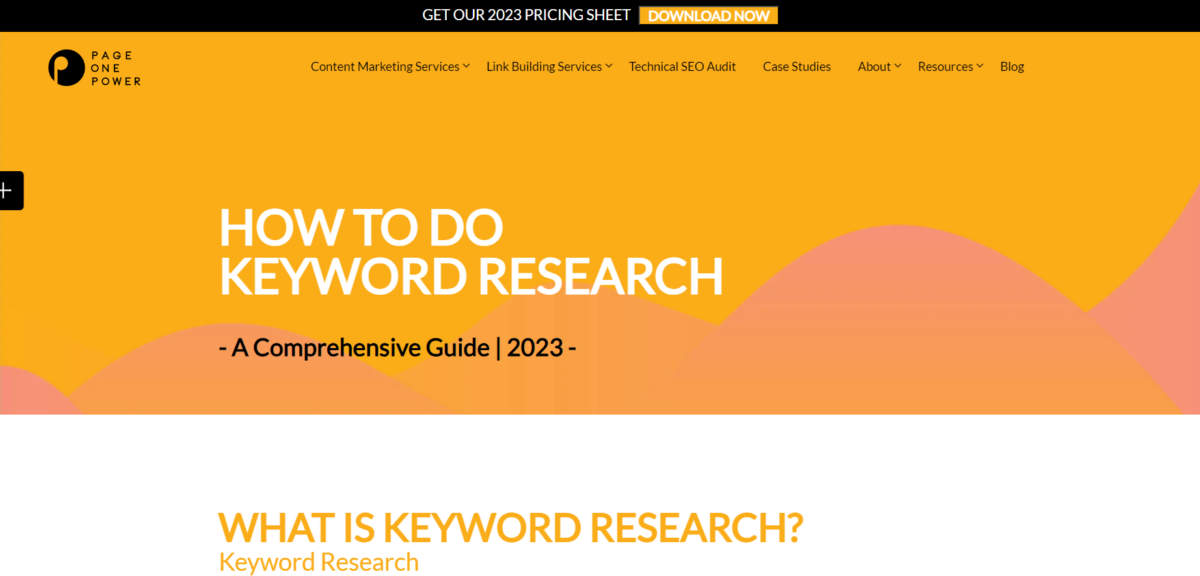 Page One Power distinguishes itself in the saturated market of link building by emphasizing quality, scale, and sustainability. Established in 2010 and headquartered in Boise, Idaho, the agency is built on over a decade of experience and has honed its expertise in securing white hat links that guarantee enduring business results. Catering to a diverse clientele, from small enterprises to Fortune 500 companies, Page One Power has earned its reputation by focusing on manual techniques that are not only compliant with Google's stringent guidelines but are also tailored to meet the specific needs of each client.
Why Does this Agency Stand Out?
The agency's offerings are comprehensive and bespoke, designed to address distinct business and SEO needs. One of their standout services is Custom Link Building, an amalgamation of strategies crafted to enhance the client's digital presence and search rankings. Their Guest Posting service is also notable, characterized by a manual, content-centric approach that involves securing high-quality backlinks through well-researched and expertly written content. With a commitment to transparency, Page One Power ensures clients are always in the loop with regular, insightful reporting and performance analysis, underscoring their position as trusted partners in the journey to SEO supremacy.
---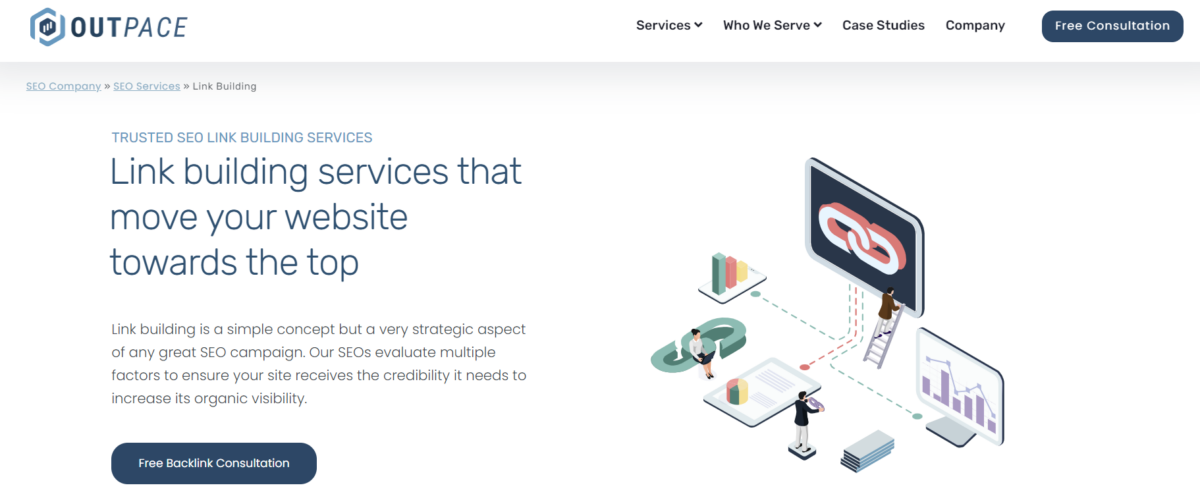 Outpace SEO has carved a niche in the competitive realm of link building by prioritizing a balanced approach to the quality and quantity of links. With a strategic focus, Outpace SEO employs sophisticated strategies to enhance organic visibility for businesses of various scales and industries. The agency's credibility is fortified by a decade of generating impactful results across the United States, including high-profile endorsements from entities listed on Forbes and Entrepreneur. The diversity in their clientele, ranging from startups to Fortune 500 companies, underscores their adaptability and proficiency in customized SEO solutions.
Why Does this Agency Stand Out?
Outpace SEO stands out with its multifaceted offerings tailored to meet distinct SEO and business objectives. The agency's white hat link-building services are grounded in enhancing the authenticity and relevance of content, in line with Google's algorithmic benchmarks. Their SEO experts navigate the intricate pathways of securing quality, industry-specific backlinks, ensuring clients transcend the superficial metrics and attain substantial organic rankings. With offerings extending to on-page SEO, technical SEO, content writing, and analytics, Outpace SEO exemplifies a holistic approach that amplifies organic leads and fortifies the long-term digital footprint of businesses.
---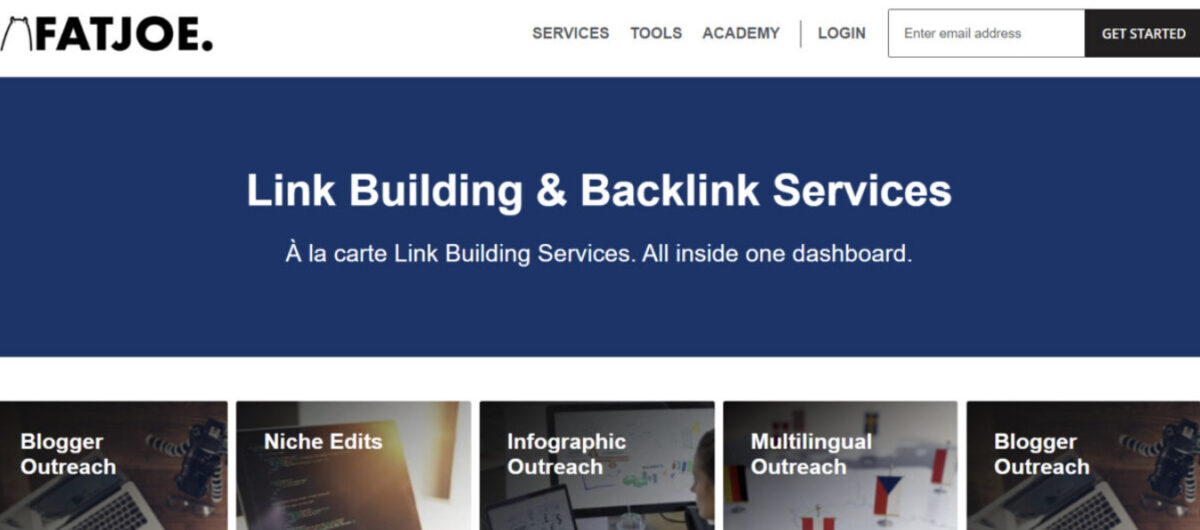 FATJOE stands as a distinguished figure in the intricate world of backlink services, characterized by its comprehensive offerings and an intuitive, all-encompassing dashboard for seamless order management and tracking. The agency's commitment to genuine outreach is manifested in securing placements exclusively on sites substantiated through rigorous processes. With a white-label service model, FATJOE affirms its discrete operational ethos, ensuring the confidentiality of its client-agency interactions and deliverables.
Why Does this Agency Stand Out?
The agency's suite of services, including Blogger Outreach, Niche Edits, Infographic, and Multilingual Outreach, is meticulously crafted to cater to a diverse and global clientele. Each service is underscored by FATJOE's adherence to domain authority benchmarks and a no-duplication policy, enhancing the uniqueness and value of every backlink secured. The tailored approach and the agency's adaptability to fluctuate link-building efforts to mirror natural, white hat velocities sets FATJOE apart. Outsourcing these tasks to FATJOE offers agencies a strategic advantage characterized by cost efficiency, scalability, and access to tested methods and innovative processes without the encumbrances of increasing operational overheads.
---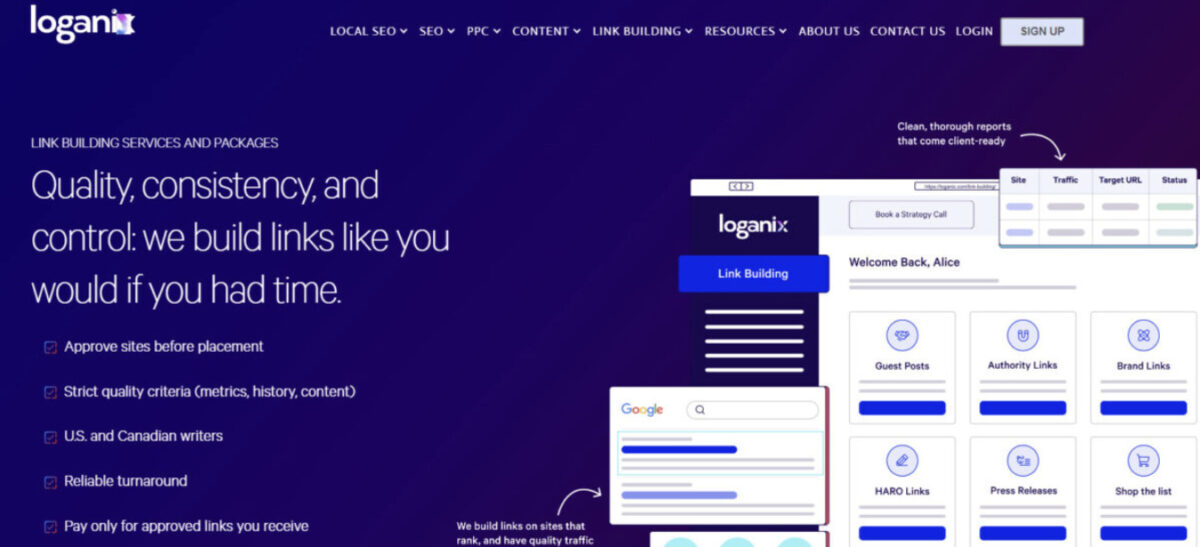 Loganix emerges as a stalwart in the domain of link building, anchoring its expertise on the bedrock of quality, consistency, and control. With a commitment to offering only the best, Loganix assures clients of links as they would envision if time were on their side. A testament to their dedication lies in their meticulously curated services, including the sought-after Authority Link Building Service, which focuses on procuring niche-specific backlinks from sites boasting strong organic traffic. Clients benefit from the agency's transparent approach, wherein they can pre-approve sites before placement, ensuring a perfect alignment with their brand ethos.
Why Does this Agency Stand Out?
Diving deeper into their offerings, Loganix showcases a diverse portfolio ranging from Guest Blogging Services, which offers contextually relevant placements on growing, multi-topic sites, to exclusive Brand Link Building Services, delivering those premium, envy-inducing links from DR70+ domains. Their HARO Building Services further enable clients to land potent media placements on renowned platforms, harnessing the power of natural, unpaid links. This dedication to quality is punctuated by their promise of transparent, client-ready reporting and their provision to replace any undeliverable link with an equal or better opportunity. In the vast sea of building agencies, Loganix's reputation, validated by industry leaders, undeniably sets it apart.
---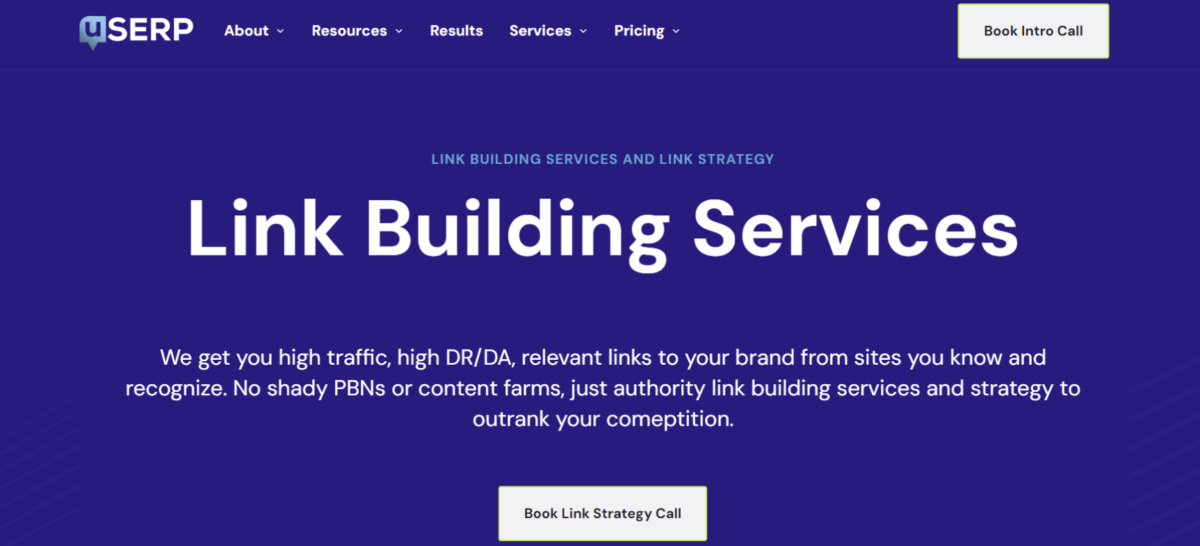 uSERP differentiates itself in the competitive sphere of link building by placing an unequivocal emphasis on acquiring high-quality, high DR/DA, and relevant links. The company pivots away from the conventional, avoiding the ambiguities of PBNs and content farms. The strategies employed by uSERP are rooted in white-hat outreach and content-driven approaches, boasting achievements of securing placements on prestigious platforms like HubSpot and Forbes. This ensures that clients not only receive backlinks but are also endowed with augmented site authority and increased traffic.
Why Does this Agency Stand Out?
Services rendered by uSERP are delineated by a combination of efficacy and transparency. The Competitor Link Gap Analysis underscores the agency's commitment to quality. Each client is armed with a custom dashboard, offering transparent insights into the ongoing backlink process. The implementation of Target URL Analysis ensures a bespoke approach to each client's needs. uSERP's unique offerings of Niche Edits & Resource Additions and Unclaimed Brand Mentions stand as testaments to their innovative and comprehensive strategies. With a performance-driven ethos, clients are charged only for live links, ensuring that the value delivered is tangible and measurable. The agency's proficiency is encapsulated in their holistic SEO services, offering a symbiosis of technical audits, on-page optimization, and internal linking strategies, manifesting a comprehensive SEO solution.
---

RankoMedia presents itself as a paragon in the world of link-building, adhering staunchly to white-hat methodologies and dismissing any affiliation with PBNs or deceptive practices. The agency's commitment to integrity is exemplified through their strategy of securing backlinks through cold email outreach software. The comprehensive process is initiated by meticulously analyzing the client's website to align the campaign's objectives with the client's business goals, ensuring a tailored approach to maximizing ROI. They focus on utilizing PR and blogger outreach to acquire high-quality, inbound links that enhance domain authority and search engine rankings.
Why Does this Agency Stand Out?
The operational ethos of RankoMedia is characterized by transparency and accountability. Clients are endowed with an intricate yet user-friendly Google Data Studio dashboard that facilitates real-time tracking of the campaign's progression and impact. The agency champions the acquisition of links from authentic, content-rich, and relevant websites, ensuring a profile that resonates with Google's qualitative metrics. Their packages are comprehensive, offering a blend of outreach, content creation, and strategic planning. The agency's endorsement by seasoned professionals underscores its efficacy, painting a picture of an entity that marries integrity, expertise, and result-oriented strategies to deliver tangible SEO enhancements to its clientele.
---
---
Key Statistics on the Impact of Quality Link building
Links are essential for SEO and for the growth of websites, as without them, acquiring the desired domain authority would be impossible. However, the emphasis must be placed on quality links. To further illustrate the impact of quality links in the SEO journey to success, consider the following statistics:
A study by

Ahrefs

reveals that 90.63% of web pages get no organic traffic from Google, primarily due to the lack of quality backlinks. In contrast, pages with a diverse and robust profile of backlinks not only rank higher but also enjoy enhanced credibility and visibility.

According to

Moz

, 99.2% of the top search results on Google have external backlinks with keyword-rich anchor text. This statistic underscores the undeniable synergy between optimized anchor texts and quality link building in propelling web pages to the coveted first page of search results.

A

HubSpot report

affirms that companies with blogs amass 97% more inbound links and 55% more traffic. This data underscores the role of quality content in attracting valuable backlinks, driving organic traffic, and fostering engagement. In essence, the intersection between compelling content and strategic link building becomes a hotbed for SEO success.
The numbers paint a compelling narrative. Quality link building is not an auxiliary aspect of SEO but a cornerstone, pivotal in enhancing online visibility, driving organic traffic, and bolstering brand credibility.
---
Which Link Building Service Should You Focus on?
Link building services cover various strategies, but some may only focus on a few. Below is an explanation of eight link building strategies and the link building agencies specializing in them.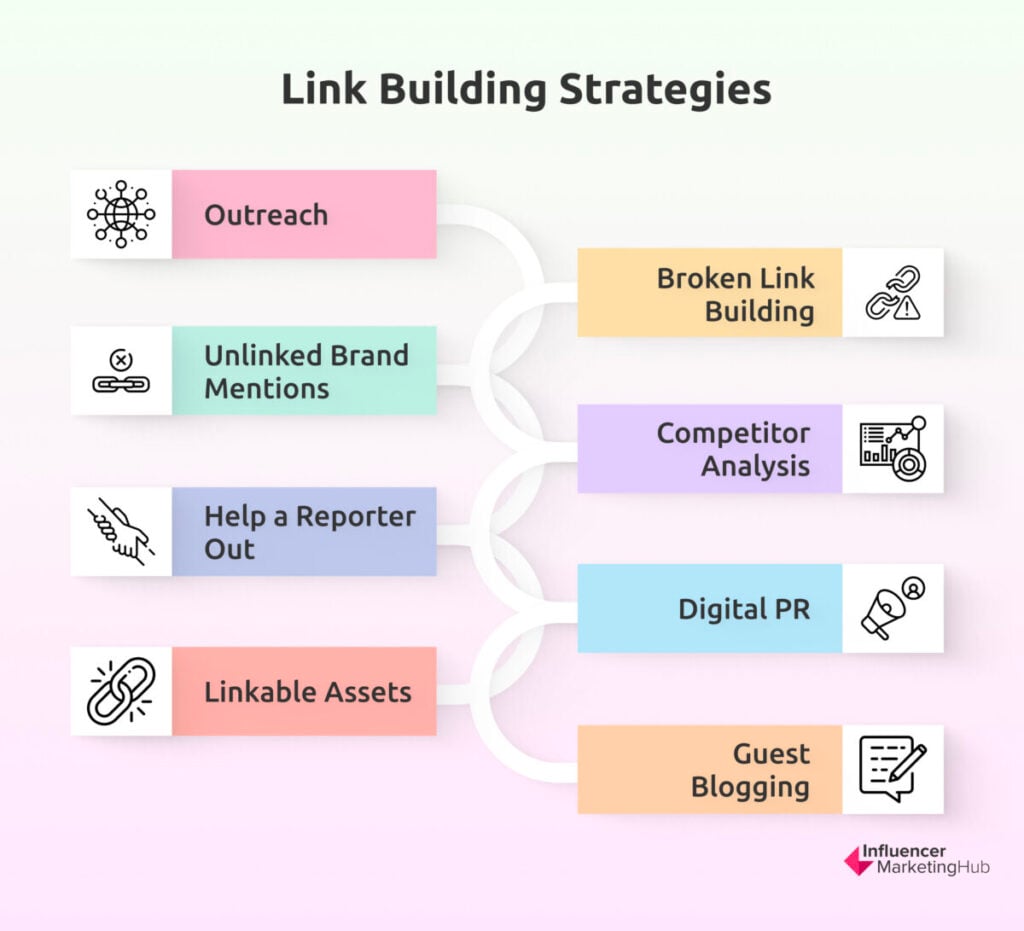 Outreach
Outreach refers to when link building agencies pitch your content to relevant websites, providing a strong reason for its publishers to link to that content. The agencies highlight what makes your content unique to convince publishers and help your campaigns succeed.
All six link building services in this article offer robust outreach strategies.
---
Broken Link Building
Identifying broken backlinks is integral as dead links result in a poor user experience. Link building agencies offer alternative links for broken backlinks, ensuring that any site that posts your backlinks leads users to a functioning webpage.
Thrive Internet Marketing Agency and Screaming Frog specialize in finding and fixing broken links.
---
Unlinked Brand Mentions
Some sites mention your brand without linking to your website, causing you to miss an opportunity to drive traffic. Link building agencies scour the web for any unlinked brand mentions to ask the publishers to link to your site.
If the people running these sites are famous bloggers, influencers, journalists, or industry experts, then they have a significant influence over their audience, increasing the chances of your links getting clicked.
If you suspect that many sites mention your brand without linking to your site, you can tap Thrive Internet Marketing Agency for help.
---
Competitor Analysis
Link building agencies typically perform a competitor analysis to determine which content types attract the most backlinks in your industry or niche. For example, if the agency discovers that your competitors' listicles earn the most backlinks, they can also help you develop your own listicles to drive traffic to your site. 
If you want to build links that beat your competitors, Thrive Internet Marketing Agency and Digital Current offer competitor analysis in their services.
---
Help a Reporter Out (HARO)
When link building agencies reach out to reputable reporters, journalists, and industry experts, they're engaging in the HARO link building strategy. It's when they try to build links to your site on authoritative media outlets like The New York Times, The Wall Street Journal, TIME, and such.
The HARO strategy lets you establish your brand image because the opinions of a trusted reporter, journalist, or industry expert hold significant weight. They can effectively persuade their audience to check out your brand.
If you want to acquire links using this strategy, you may consider Thrive Internet Marketing Agency, Siege Media, or Screaming Frog.
---
Digital PR
Digital PR builds backlinks by sharing press releases about your brand, connecting with bloggers or journalists, or engaging in influencer marketing. This link building strategy is helpful when something newsworthy just happened to your brand, such as a new product getting launched. A link building agency can submit a press release to relevant media articles, ask bloggers in your niche to link to your site, or look for influencers who can link to your site on their platforms.
You can build links through digital PR by partnering with Siege Media or Screaming Frog.
---
Linkable Assets
Linkable assets are visuals or other content types that attract backlinks naturally. Examples include infographics, guides and tutorials, free tools, calculators, and original research data. These interactive assets are easily shared on social media, allowing you to drive organic traffic.
If linkable assets are your preferred link building strategy, Screaming Frog or Digital Current could be the right agency for you.
---
Guest Blogging
Lastly, guest blogging is when you write blogs or articles for another website, resulting in a backlink to your site. Link building agencies with a team of writers can provide guest blogs about your brand on high-authority websites relevant to your industry, allowing the audiences of those websites to see your link and potentially click it.
Many link building services include guest blogging, most notably those by Thrive Internet Marketing Agency, Screaming Frog, and The HOTH.
---
Level Up Your SEO Game with Quality Links
Link building opens up your brand to various platforms and other online spaces, letting you tap an even wider audience. Choose a link building service that aligns with your brand's values to get backlinks that will effectively drive traffic and growth to your business. Most link building agencies offer customizable and scalable pricing, allowing you to get quality backlinks within your budget.
Remember that link building is an ongoing SEO strategy. Invest in a link building agency that best suits your business's needs to form a lasting relationship and develop long-term ideas.
Frequently Asked Questions
How Do Linkbuilding Services Identify Quality Backlink Opportunities?
Linkbuilding services utilize a combination of advanced SEO tools, competitor analysis, and industry trends to identify quality backlink opportunities. The process often involves analyzing the backlink profiles of top-ranking competitors to uncover potential linking domains, assessing the authority and relevance of these domains, and crafting personalized outreach strategies to secure valuable backlinks. These services focus on obtaining links from reputable, high-authority websites to ensure maximum SEO benefit.
What Is the Difference Between White Hat, Black Hat, and Grey Hat Linkbuilding?
White hat linkbuilding involves ethical and sustainable practices that adhere to search engine guidelines, focusing on creating value for users and earning backlinks naturally. Black hat linkbuilding, on the other hand, employs manipulative tactics that violate these guidelines, often resulting in short-term gains but potential long-term penalties. Grey hat linkbuilding falls in the middle, incorporating both ethical and risky strategies. It's essential to choose a service that primarily employs white hat techniques to ensure long-lasting, positive SEO results.
How Do Linkbuilding Services Measure Campaign Success?
The success of a linkbuilding campaign is typically measured through various key performance indicators (KPIs), including improvements in search engine rankings, increases in organic traffic, and enhancements in domain authority. Linkbuilding services also monitor the quality and quantity of earned backlinks, referring domains' authority, and the overall visibility of the linked content. Comprehensive reporting and analytics are provided to clients to showcase the tangible results and ROI of the linkbuilding efforts, ensuring transparency and accountability.