Achieving a high rank on search engine results pages (SERPs) is one of the ultimate goals of any website. To reach the top, one must understand and monitor key SEO metrics using the right SEO tools. And when it comes to tracking website ranking, Domain Authority (DA) is a game-changer.
Domain Authority is a metric or search engine ranking score created by Moz. It predicts how a website will rank on SERPs on a scale of 1 to 100. The higher the score, the better the website's ranking on SERPs.
Since it was created by Moz, the factors affecting a website's domain authority are primarily found in the Moz algorithm. However, other digital marketing tools have also evolved to accurately calculate domain authority and provide detailed site analysis. Discover some of the most powerful domain authority checkers below.
---
Increase Your Site's Chances of Ranking High on SERPs with These 6 Domain Authority Checkers:
---
6 Domain Authority Checkers to Consider Using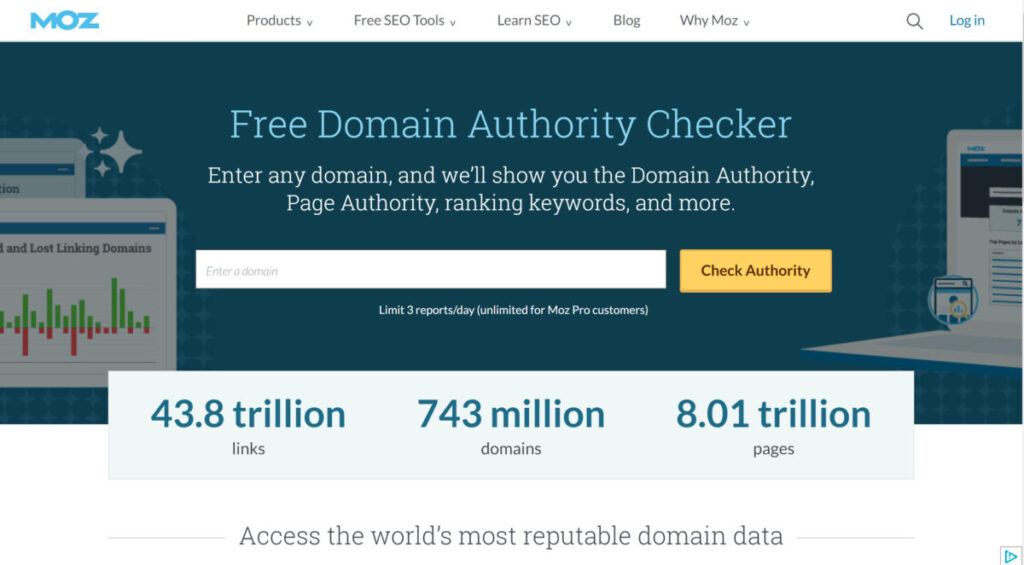 Founded in 2004, Moz offers an advanced all-in-one SEO tool to help websites improve their search engine ranks. As the creator of the DA score, they offer the ideal domain authority checker.
The Moz Domain Authority Checker calculates a website's DA score and provides other key SEO metrics such as Page Authority Score, Spam Score, and new and lost links, to help you optimize your website. For a more comprehensive domain analysis, you can purchase a Moz Pro account which can analyze thousands of websites and pages and compare the link profiles of up to five websites.
You can integrate Moz Pro with Chrome by activating MozBar, a browser extension that displays metrics directly from the SERP. These metrics include Domain Authority, Page Authority, backlinks, and other relevant page elements. You can install this extension for free even if you don't have a Moz account. But with Moz Pro, users can enjoy premium features such as difficulty and optimization suggestions for any keywords you enter on Google.
---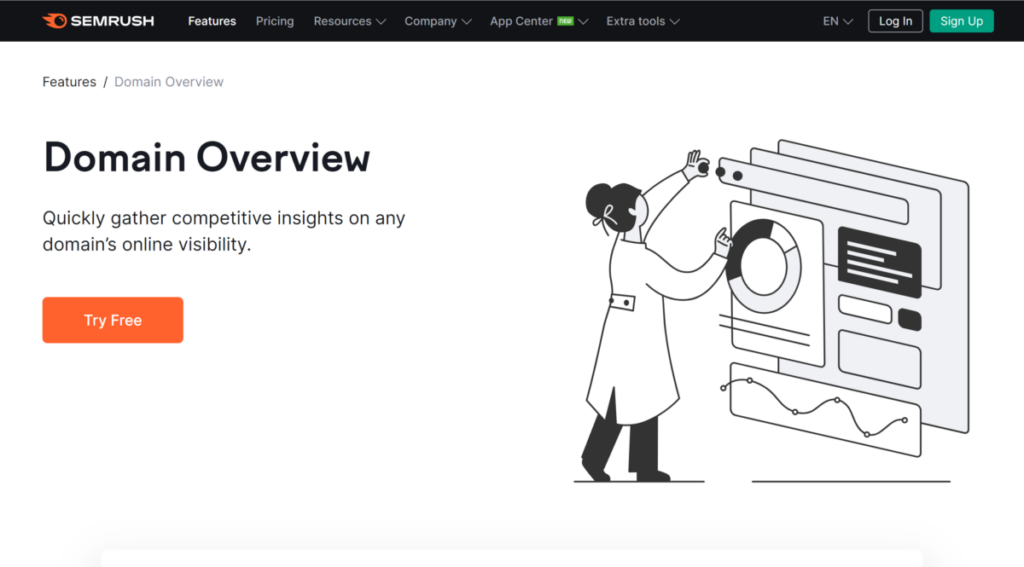 SEMrush offers a wide range of tools for optimizing a website, content, ads, and social media as well as for fueling agency growth. Their domain authority checker is called Domain Overview, a platform that calculates a site's Authority Score, which is the equivalent of Moz's DA score. It also generates reports that feature a brief overview of any domain's visibility on mobile and desktop devices.
They offer several critical domain reports such as Main Organic Competitor, Competitive Positioning Map, Branded Traffic Trend, and Branded vs. Non-Branded Traffic. These reports allow you to assess any domain's visibility, identify its strengths and weaknesses, and set up a competitive advantage.
SEMrush also creates reports on organic search results that analyze data on a domain's targeted keywords and ranking distribution as well as which other websites drive traffic from the same keywords. Additionally, SEMrush analyzes a domain's paid traffic so that you can estimate its cost and discover the keywords the domain advertises with Google Ads.
---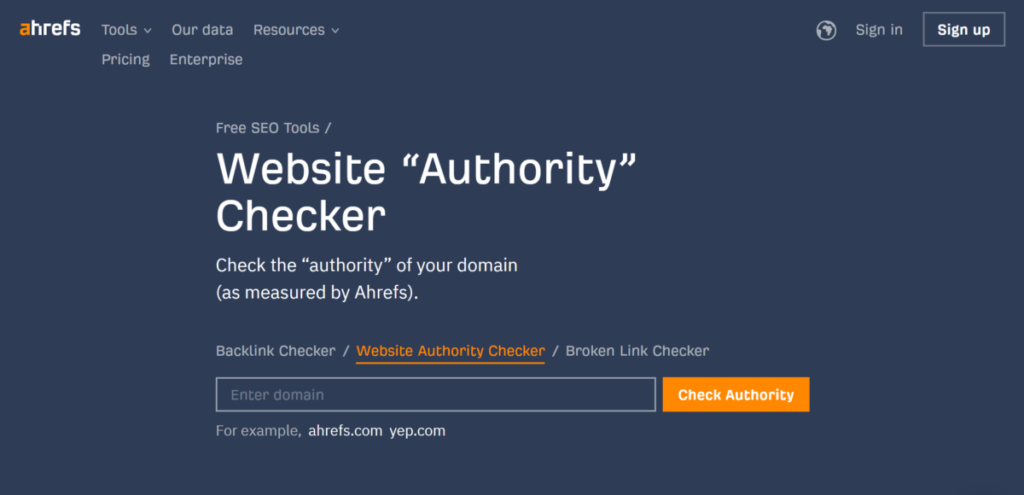 Like Moz's domain authority checker, Ahrefs' domain authority tool is called Website "Authority" Checker. However, Ahrefs clarifies that the term "website authority" is synonymous with "domain authority" as an SEO concept, instead of Moz's own metric. Ahrefs developed its own metric called Domain Rating (DR), which runs on a scale of 0 to 100. The higher the score, the stronger and more authoritative a website is.
Ahrefs thoroughly assesses the quality and quantity of external backlinks to determine the domain authority. It identifies how many unique domains link to a target site, measures the authority of those domains, considers the number of unique domains each site links to, and calculates "raw" DR scores through mathematics and coding. The final score is then identified on a 100-point scale. However, the DR score doesn't factor in link spam, traffic, domain age, and other backlink variables.
---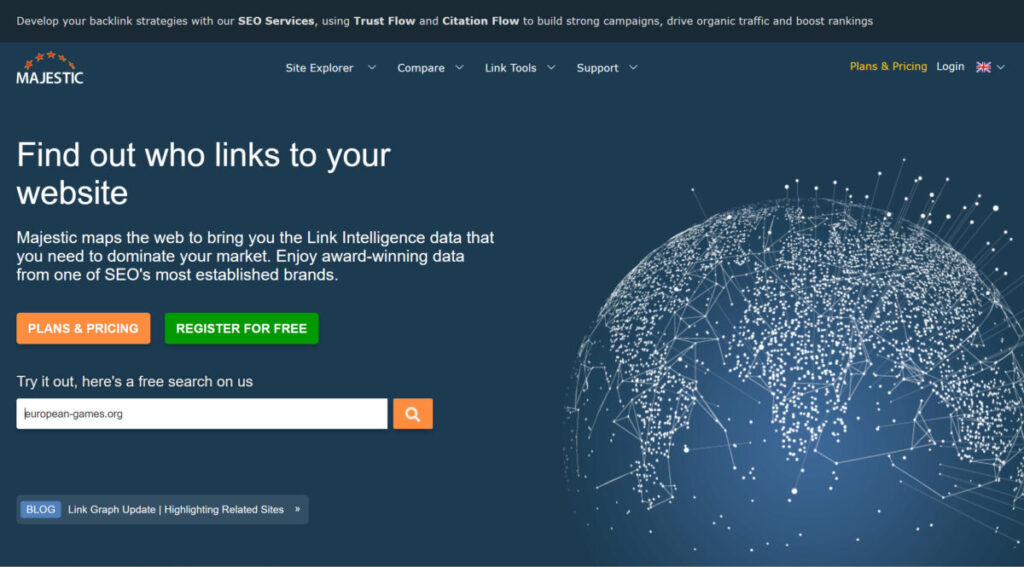 Majestic measures domain authority through metrics called Trust Flow and Citation Flow. The former measures the quality of a backlink, while the latter identifies the number of backlinks. Similar to Moz and Ahrefs, these metrics also run on a scale of 0 to 100, meticulously assessing referring domains and web pages.
Trust Flow compares domains and web pages to determine their trustworthiness or authority level. If the quality of a domain or web page is close to that of trusted sites, the more authoritative it is. Citation Flow quantifies inbound links to a target site and analyzes if they boost or harm SEO. It's important to have a lower Citation Flow score than a Trust Flow score because a high citation could indicate suspicious or spammy link-building tactics. When it comes to building domain authority, quality is more important than quantity, so having a high volume of backlinks doesn't necessarily improve the level of trustworthiness and SEO.
---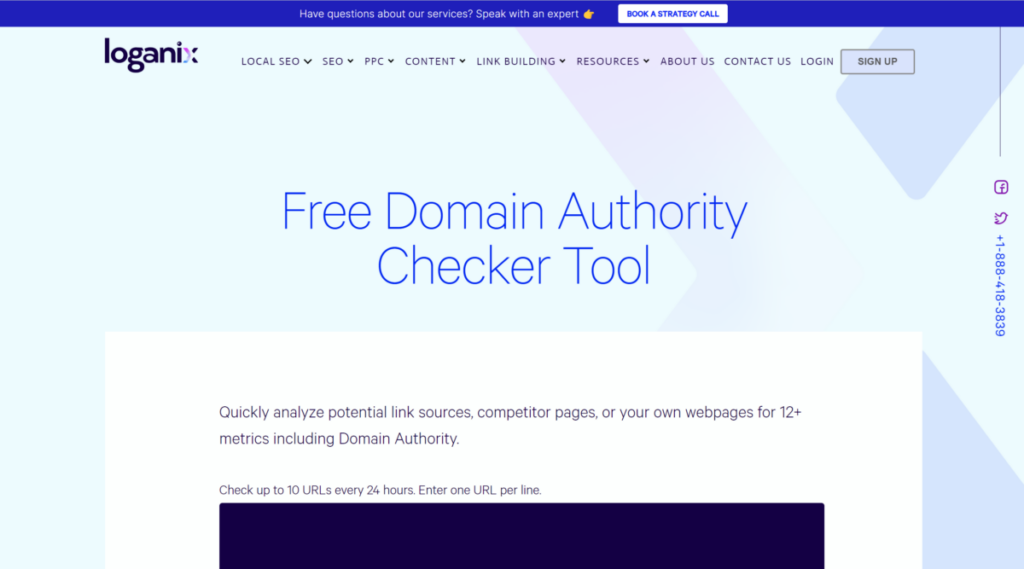 Loganix is a free domain authority checker that generates metrics from four top sources: Moz, Majestic, Google, and Ahrefs. Unlike other platforms, it doesn't have a unique DA scoring system. Instead, it shows a domain or web page's authority by gathering data from the four sources, allowing you to discover your website's score based on the standards and calculations of trusted SEO platforms.
Although a free tool, Loganix provides high-level services, including link audit, link building, and content writing. So besides determining domain authority, you can also evaluate and monitor your backlinks with Loganix's help.
---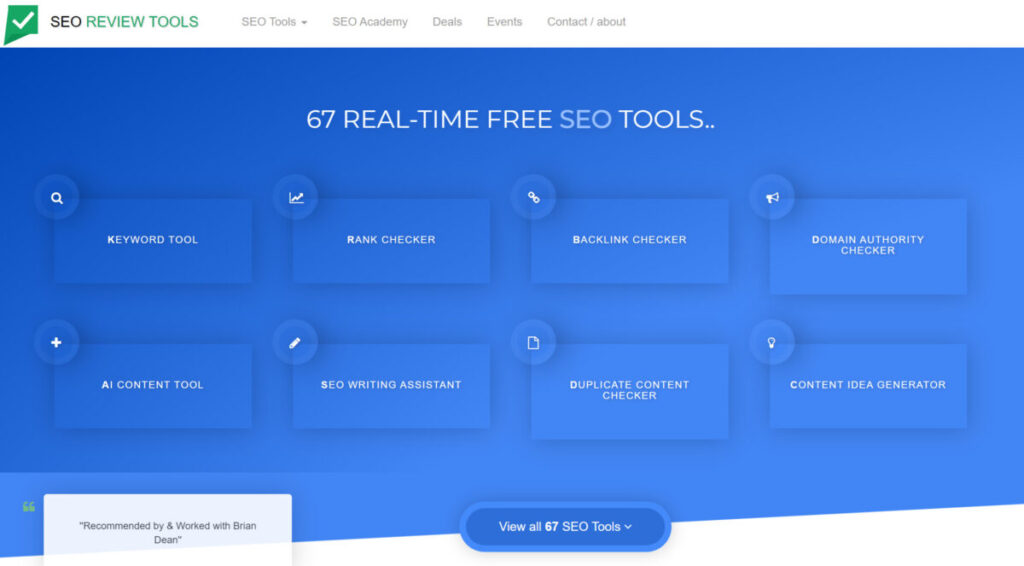 SEO Review Tools' Domain Authority Checker is a free and user-friendly tool that helps you determine your Domain Authority and Page Authority scores. To use it, simply enter a URL on the designated field, and the tool will quickly run a check. It also rates and quantifies three other metrics: estimated website and URL age, social media score, and backlinks.
This free tool comes in handy when you need a brief overview of your website's SEO strength, want to determine the value of links redirecting to your site or pages, or are looking for new link-building opportunities. While it may not be the most comprehensive tool available, SEO Review Tools can be a reliable source for those new to SEO and may feel overwhelmed with more advanced metrics and reports.
---
Why is Domain Authority Important?
A good domain authority indicates that a website has a better chance of ranking high on SERPs. According to Backlinko, only the top three Google Search results get the highest Click-Through Rates (CTRs).
However, it's important to note that Google doesn't directly consider domain authority as a factor when ranking websites. Having a high domain authority won't guarantee your site a top spot in SERPs but it does indicate your site's overall SEO strength compared to its competitors.
Despite this, it's important to maintain good domain authority. Understanding your site's potential to rank high in SERPs can help you enhance your SEO strategies and identify issues that might harm your site's ranking, such as backlinks from suspicious domains and unreputable sites.
---
What's a Good Domain Authority Score?
Different SEO tools have different definitions of a good DA score. But before getting into the numbers, you should understand that domain authority should be treated as a comparative metric rather than an absolute one. This means that your site's DA score will vary based on the domain you compare it with. For example, a small business site with a DA score of 20 will not have the same link profile as a well-established site like YouTube, which could have a score of 80 or more. Therefore, it is more realistic to aim for a score increase from 20 to 30 instead of aiming for 70 to 80 right away. Even if your site's DA score is only 20, it is still more likely to rank high on SERPs if it has a higher score than your direct competitor.
One of the reasons websites gain a high DA score is because of the large volume of high-quality external links. Thus, a site with fewer inbound links will accumulate a lower DA score. So newly created websites always start with a DA score of 0 and this will increase over time as it earns authoritative backlinks.
Moving on to the numbers, Moz considers 40-50 an average DA score, 50-60 good, and anything above 60 excellent. For Ahrefs, a DR of over 30 is considered good, while anything over 60 is also excellent. For Majestic, a good domain authority depends on a site's Trust Flow and Citation Flow. The Trust Flow should exceed the Citation Flow to indicate that a site has high domain authority and quality backlinks.
---
How to Increase Domain Authority
Building your site's domain authority starts with a solid link-building strategy. This can be risky because you don't always have control over the websites that post your backlinks. But you can take measures to protect your site's authority and ranking.
Here are some easy ways to increase your site's domain authority:
Post Quality Content
Informative pieces like articles, how-to guides, infographics, and educational videos can encourage other authoritative sites to link to your pages, helping boost your domain authority. If you can, consider conducting your own study or research to make your content difficult to duplicate. This can further entice other sites to link to your pages or cite you as a credible source.
Become a Contributing Writer
Many authoritative websites allow freelance writers to contribute content. If you run your own blog, contributing your work to other sites within your field can help your site earn more backlinks, elevating your DA score.
Get Listed on Search Engine Directories
If you have a small business, get your site listed on search engine directories to boost its legitimacy and help users locate your business. This tactic will drive more traffic to your site, enhance your local SEO strategy, and encourage other websites—especially those that operate within your area—to link to your business site and increase its DA score.
Use Backlink Checkers
Monitor all links to your website by using trusted backlink checker tools. These tools perform a detailed analysis of your site's link profile, showing metrics that include domain authority, backlink volume, and more. It also analyzes your competitors' link profiles so you can spot their weaknesses and outrank them in SERPs.
Get Expert Help
While domain authority checkers and other SEO tools are user-friendly enough for beginners, it may still take an expert to fully understand the metrics. If budget permits, don't hesitate to hire experts for your SEO strategies. They'll identify the details you might overlook and apply technical SEO practices to drive traffic to your site and help your DA score go up.
Stay Updated on Google's Guidelines
Google frequently updates its guidelines and algorithms to ensure that users get quality content from trustworthy websites. Not following their guidelines could result in penalties and a downgraded SERP ranking, which could affect your DA score as it gauges the overall SEO strength of your site. Check out our latest tips on how to rank higher on Google to avoid hurting your SEO.
---
Wrapping Up
SEO can feel overwhelming when you think about every factor that influences a site's ranking. But boosting your site's ranking isn't rocket science. By understanding key metrics and using powerful tools, you can make sense of your site's profile and take appropriate actions to improve its ranking.
Increasing your domain authority score is largely a matter of getting more authoritative sites to link to your pages. As long as you're getting more high-quality links than low-quality ones, you're on the right track.
So don't let the complexity of SEO discourage you. With a little bit of effort and the right tools, you can improve your site's ranking and achieve the visibility you need to succeed online.
Frequently Asked Questions
What is Domain Authority?
Domain Authority is a metric created by Moz that predicts how a site will rank on SERPs and measures a website's overall SEO strength.
How can I check my website's domain authority?
You can use free or paid tools to check your site's domain authority. Most tools will allow you to type in a URL and it will immediately run a comprehensive analysis.
Why is having a high domain authority important?
Although Google doesn't consider domain authority as a factor in ranking sites, a good DA score is still important because it shows how well your site performs compared to its competitors. In addition, the DA score lets you know your site's ranking potential, helping you boost your SEO strategies and eliminate those that may hurt your ranking.
How can I increase my domain authority?
There are various ways to increase your site's domain authority. These include posting quality content and getting listed on search engine directories. These techniques can encourage other authoritative sites to link to your pages, thereby increasing your DA. You can also contribute guest posts to other trusted sites or hire SEO experts for help. Most importantly, stay updated on Google's latest guidelines to ensure that your strategies align with their policies.