Advertising Disclosure
Advertising disclosure:
Our partners compensate us. This may influence which products or services we review (also where and how those products appear on the site), this in no way affects our recommendations or the advice we offer. Our reviews are based on years of experience and countless hours of research. Our partners cannot pay us to guarantee favorable reviews of their products or services.
SEO is a critical strategy for businesses to enhance their online visibility. Using the best SEO practices will drive traffic to a company's website and help increase conversion rates and revenue. The simplest way to implement SEO in your digital marketing strategy is by leveraging relevant keywords, which help a site rank high on search engine results pages (SERPs). However, there are numerous other SEO techniques that do more than just keyword planning. One such technique is effective in boosting a site's authority, which can lead to even greater online visibility and credibility.
This technique is called backlinks. Backlinks refer to any incoming or inbound links to your website that come from another website. Search engines treat backlinks like votes. The more backlinks your website has, the more likely a search engine will give it a great SERP ranking.
However, not all backlinks are created equal. Some backlinks can actually do more harm than good, so businesses must constantly monitor which websites post their backlinks.
In this article, we feature the best backlink checker tools that can help you get quality backlinks from trustworthy sites.
---

SEMrush is a comprehensive digital marketing tool focused on SEO, content marketing, advertising, social media, and agency growth. Their backlink checkers include Backlink Analytics, Backlink Audit Tool, and Backlink Gap.
Backlink Analytics streamlines your backlink analysis by gathering key backlink information and checking all inbound links, domains, and their categories. With SEMrush, you can easily identify the types of websites that have any inbound links to your website, such as news sites. It can also specify the exact type of news site, whether it's local, broadcast or network news, or online newspapers.
The Backlink Analytics tool also shows the authority score of domains to help you evaluate how their backlinks will impact your SEO or your competitors'. You can see how many backlinks come from a single IP address and various countries. This feature helps determine your competitors' geo strategies and eliminate domains that may harm your backlink profile.
To safeguard the health of your backlink profile, SEMrush's Backlink Audit tool will investigate your backlinks with over 50 parameters, displaying metrics, like toxicity score, and other personalized insights. You can also connect the Backlink Audit Tool to Google Analytics and find pages that attract the most backlinks. This provides insights into which of your backlinks are most successful and which ones aren't.
Lastly, the Backlink Gap helps you find backlink opportunities by comparing up to five domains. You can filter the results by metrics such as authority score, traffic, and category.
SEMrush also allows you to analyze backlinks in bulk with their Bulk Analysis Tool. It can analyze up to 200 URLs or websites, helping you gain a clear picture of the market and understand your competitors' backlink profiles.
---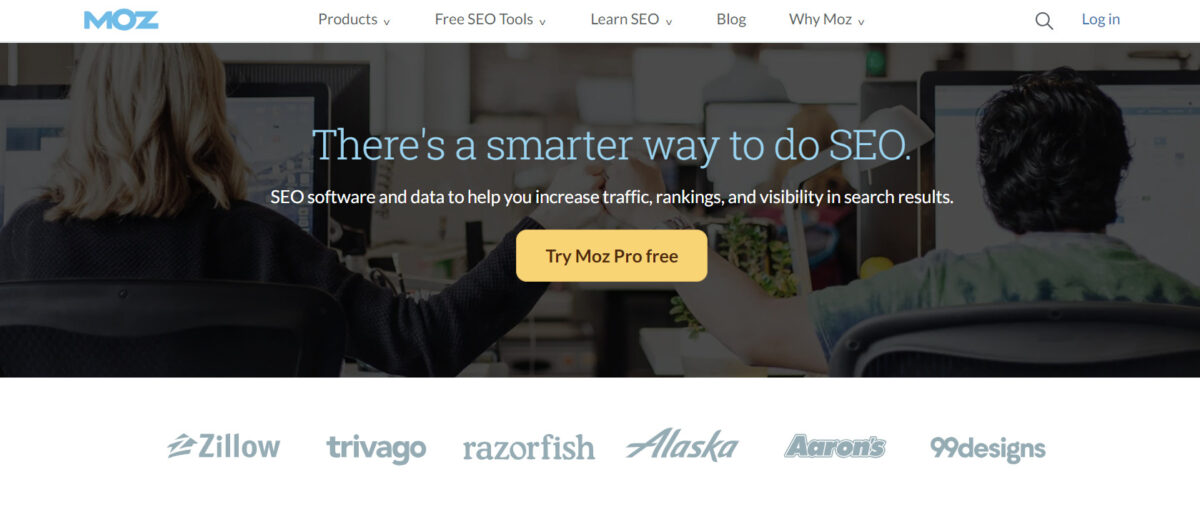 Moz is an all-in-one SEO toolset with solutions such as site audits, rank tracking, keyword research, and backlink analysis. Their backlink analysis tool, called Link Explorer, can generate a comprehensive report on your backlinks. It shows metrics like domain authority, page authority, linking domains, inbound links, and even competitive link metrics that allow you to check up to four of your competitors' backlink profiles.
Link Explorer can perform a detailed analysis of your website's link profile, including its authority and SERP rankings. It also enables you to track your link-building efforts by creating multiple lists of the URLs you wish to build links to. This feature helps you find quality link prospects and learn how and when they link to your target URLs.
---

Ahrefs is an advanced SEO tool that offers one of the most powerful backlink checkers. They update their backlink index with new data every 15 minutes. You can also use the Backlink Checker and two other tools, Website Authority Checker and Broken Link Checker, for free on their website.
The Website Authority Checker measures the authority of your domain. Although it's important to note that "website authority" doesn't refer to the same thing as Moz's "domain authority". Ahrefs has its own website authority metric called domain rating (DR). It looks at the quantity and quality of the external links to your website, giving it a score of zero to one hundred. The higher your DR is, the stronger and more authoritative your website is.
In addition, the Broken Link Checker allows you to quickly find any broken outbound links on your site. It can also identify links that redirect to broken pages on your site and reinstate or redirect them to alternative pages. In addition, you can use it to remove dead internal links and schedule tests that check for broken links on your website at your preferred time.
The Broken Link Checker also helps you discover link-building opportunities by allowing you to view the most linked broken pages of your competitors. You can then create a page similar to your competitors' dead pages and ask the sites that originally linked them to link to your page instead.
---

Another all-in-one SEO tool is Serpstat, which helps businesses track a high volume of keywords and analyze their rankings and ads. Their backlink checker thoroughly examines your backlink profile and removes low-quality backlinks. It also analyzes your competitors' backlink profiles and finds common and unique backlink donors.
Serpstat's backlink analysis is described as a "one-stop" solution for checking website backlinks and domain authority, strategizing your link-building campaign, and analyzing every page with inbound links to your pages through detailed reports. Serpstat also inspects all anchor texts and identifies areas for improvement.
Their backlink checker can generate up to 18 SEO metrics, including domain rank, backlink volume, referring domains and IPs, organic traffic, keyword volume, keyword difficulty, visibility, and more.
---

Screaming Frog is a web crawler, AKA spider, which is a program that searches and automatically indexes web content and other information over the internet. It's commonly used to create entries for search engine indexes.
Screaming Frog's link-building service audits your existing link profile, content marketing efforts, public relations, and other SEO strategies related to content. It can help you discover "manipulative" and "unnatural" links, that could cause problems in your current or future ranking. They also provide a team of talented writers, designers, and developers for leading brands, helping them boost their SEO strategies such as link-building.
Moreover, Screaming Frog has an outreach team that works alongside their creative and PR teams to help brands get inbound links from trusted journalists and bloggers.
---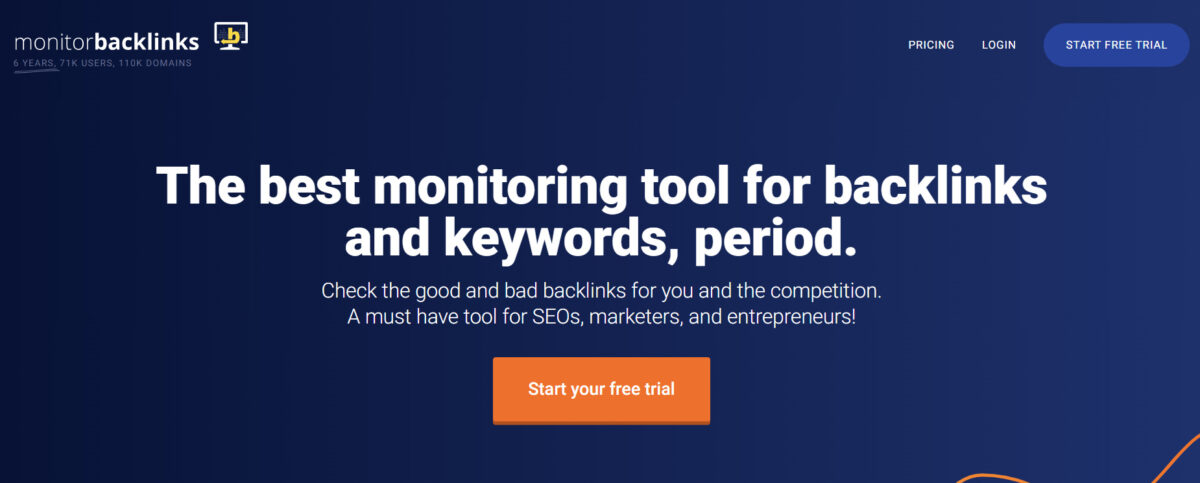 Monitor Backlinks is a comprehensive backlink checker that consolidates data on a website's traffic, backlink changes, and keyword rankings into one place. It's also a reliable keyword research tool, presenting a dashboard that displays the progress of a website's average keyword position along with new backlinks and organic traffic from search engines.
Monitor Backlinks gets keyword and backlink metrics from trusted sources such as Moz and Majestic. The metrics include the domains where backlinks have been found, landing pages, status, trust flow, citation flow, spam, domain authority, page authority, and more. You can manage your backlink reports with the dashboard's useful tags and filters, plus add notes or import and export data.
The reports also identify good and bad backlink patterns so you can disavow negative links and submit a report to Google. Furthermore, the comprehensive filters allow you to analyze different subsets of your backlinks. You can view reports on top-level domain (TLD) distribution, IP location distribution, top anchor text, and do-follow vs. not-follow.
---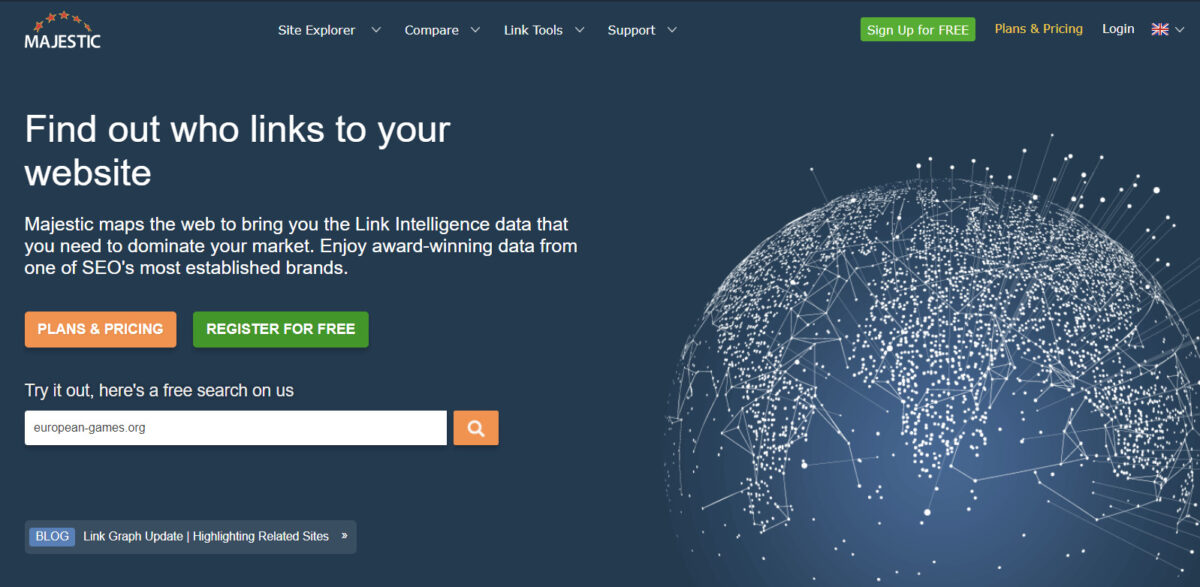 Majestic provides businesses with link intelligence data to help them dominate their market. Through Link Context, Majestic's exclusive backlink checker tool, you can browse, filter, and search a link to determine whether it's an editorial link or part of a directory. You can also check whether the content includes texts, images, and other links, as well as the estimated page position and the other sites that have links to your pages.
Majestic also comes with Fresh Index, which displays URL data from 120 days or four months past, including deleted and lost links. It also offers a Historic Index which is a massive database showing records dating back to 2006.
These features allow you to measure the quality and quantity of your backlinks as well as identify their sources, such as authoritative domains or influencers over time. They also analyze your competitors' backlink profiles to help you find more link-building opportunities.
---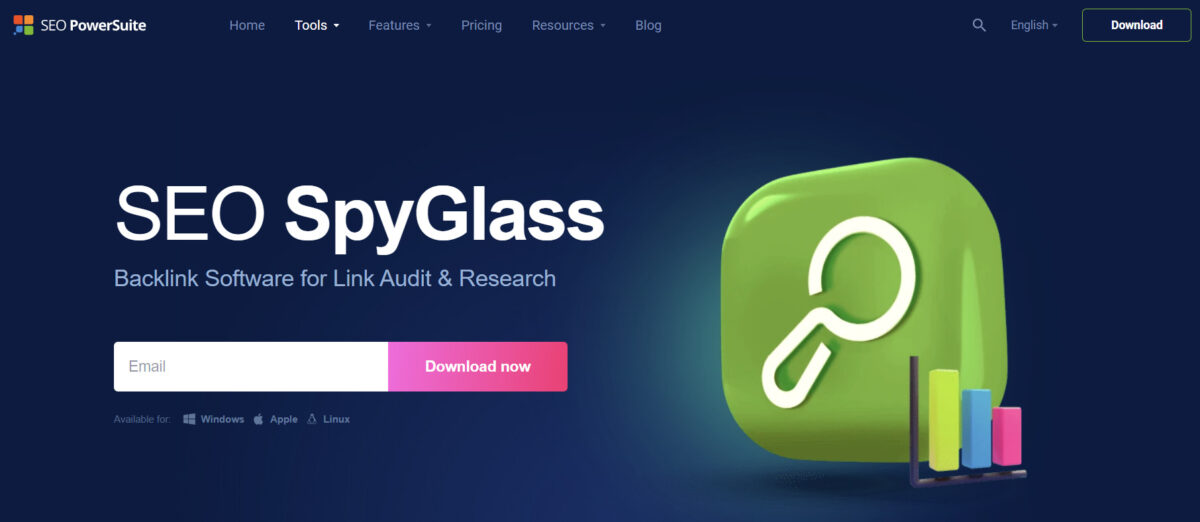 SEO SpyGlass offers a vast backlink database so you can find all your backlinks and their referring domains. Crawling 1.7 billion webpages daily, SEO SpyGlass is described as a tool that "finds backlinks faster than any other backlink checker."
Its backlink analyzer generates an overview of your website's entire link profile in a single dashboard. It shows metrics such as your site's linking history, the quality of referring domains, backlink quality, top linking countries, TLD distribution, IP and C-block analysis, linked pages summary, and anchor texts. It runs a more granular backlink analysis by pulling up reports on InLink Rank, HTTP status codes, text links, image links, links from the homepage, anchor texts, first-found and last-found date, and penalty risk.
Furthermore, SEO SpyGlass enables you to organize your backlinks to determine which pages drive the most backlinks. You can also connect your Google Account to SEO SpyGlass's backlink software to quickly identify the backlinks that drive the most referral traffic.
They've also integrated the Disavow File Generator tool with the free and paid versions of the backlink checker, allowing you to easily spot spammy links and identify the backlinks with high penalty risks.
---

SE Ranking is another comprehensive SEO toolkit for businesses, agencies, and freelancers. Their Backlink Tracking Tool generates reports on backlink quantity, backlink target ratio, new and lost backlinks, do-follow and no-follow links, and more. You can input backlinks manually into the tool or import them from Google Search Console or SE Ranking's own Backlink Checker.
The Backlink Checker works as a web crawler, running parameter checks regularly and sending email notifications regarding any changes in your backlinks. It also detects backlinks that haven't been indexed, which means that a page with inbound links to your site has been removed from Google's index.
Moreover, SE Ranking's Backlink Checker tracks all key metrics including anchor text, text and image, target URLs, user-generated content, and sponsored content. You can also see if your backlinks come from authoritative domains through scores and metrics such as domain trust, Alexa rank, and referring IP addresses. In addition, SE Ranking not only shows your own backlink profile but also that of the linking pages, allowing you to determine their authority. Like many other backlink checkers, you can also disavow bad links using SE Ranking.
---
How to Get Quality Backlinks
There are agencies that can help you get backlinks for a fee. However, having too many paid backlinks may put your website at risk of getting penalized by Google's algorithm so it's best to prioritize quality over quantity when getting backlinks.
You can acquire quality backlinks for free in different ways. Posting informative content on your website is one because this can encourage other websites to link to your pages. Guides, infographics, and videos tend to attract link-building prospects. Leverage your team's SEO copywriting skills to create content, like how-to videos and product guides, that can lead readers to your site and increase traffic.
Collaborating with influencers or any public figure in the same field as your business can also strengthen your link-building strategy. You can interview them, publish the details on your website, then send them a link. There's a good chance that they'll share the link with their followers, driving more traffic to your site.
If you're a writer, you can write guest blogs for trusted websites that allow you to link back to your own pages. Choose websites with high search rankings and page authority and ensure that your guest blogs are well-researched and polished so they can add value to the site as well.
Lastly, look into your competitors' backlink strategies. The tools we've listed above allow you to compare your competitors' backlink profiles with your own. This can provide opportunities to spot weaknesses and fill gaps.
---
Boost Your SERP Ranking with Quality Backlinks
Investing in a powerful backlink checker can benefit your business because you don't always have control over the websites that post links to yours. You can use some backlink checkers for free, so protecting your site's reputation and ranking doesn't always have to be a financial commitment.
Whatever backlink checker you choose, make sure it suits your business best. Remember, a strong backlink profile can be a game-changer for your online presence, so invest wisely and stay ahead of the competition.
Frequently Asked Questions
What is a backlink?
A backlink is any incoming or inbound link to your website that comes from another website.
What is a backlink checker?
A backlink checker is an SEO tool used to analyze a website's backlink profile and calculate key metrics that determine the quality of the backlinks.
How can I get quality backlinks?
You can invest in paid services to get backlinks but do it sparingly. It's often wiser to focus on publishing well-researched and engaging content, collaborate with credible influencers or public figures, and study your competitors' strategies to get quality backlinks organically.
How do backlinks affect my website's SERP ranking?
When a do-follow backlink comes from a reputable site, search engines follow it. This can boost your ranking. On the other hand, if a backlink comes from a suspicious or malicious site, search engines may lower your ranking.