Advertising Disclosure
Advertising disclosure:
Our partners compensate us. This may influence which products or services we review (also where and how those products appear on the site), this in no way affects our recommendations or the advice we offer. Our reviews are based on years of experience and countless hours of research. Our partners cannot pay us to guarantee favorable reviews of their products or services.
Among the multifarious tools at a marketer's disposal, rank tracker tools have ascended to an irreplaceable position, offering an indispensable pathway to understand, analyze, and improve a website's standing in search engine rankings. 
With a host of rank tracker tools available today, it's essential to pick the right one for your unique needs. We've put together a comprehensive list of the top rank tracker tools, each offering a blend of accuracy, ease of use, and actionable data. These tools are designed to help you understand your website's position in the digital landscape better, empowering you to make data-driven decisions and finetune your SEO strategy. Let's explore the top rank tracker tools that are shaping the SEO industry today. 
---
Top Rank Tracker Tools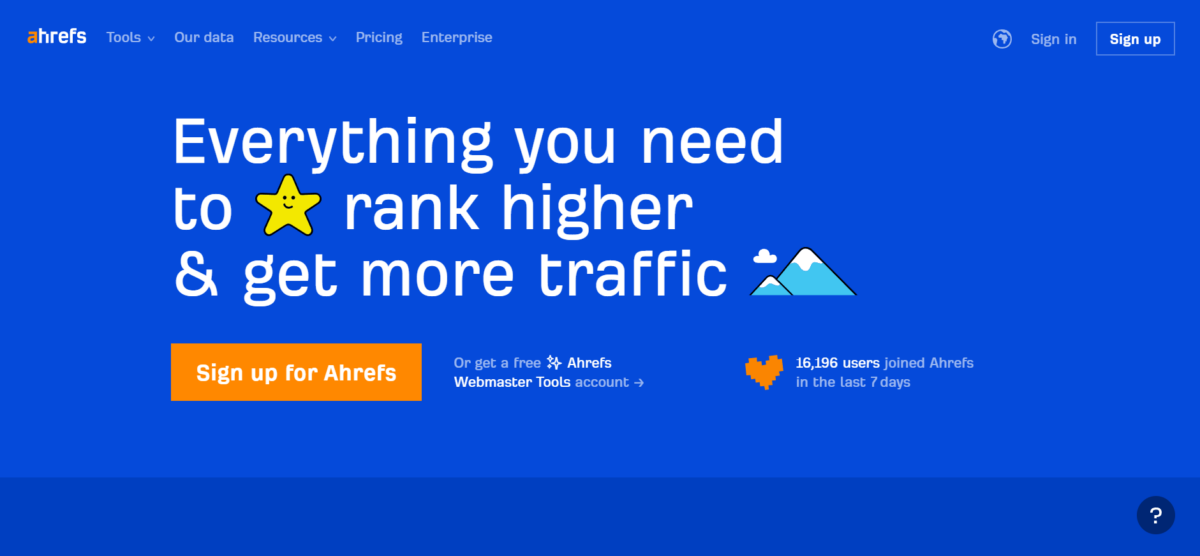 Ahrefs, a leading name in the digital marketing toolset, delivers its Rank Tracker that offers a comprehensive suite of features to optimize your SEO efforts. Ahrefs Rank Tracker is designed to monitor your website's ranking over time, and juxtapose its performance against your competitors' – an invaluable asset for marketers who need an in-depth understanding of their digital landscape. 
The tool allows you to track your Google rankings on both desktop and mobile, across 170 countries, thus ensuring a global perspective on your site's performance. The setup is straightforward, just input or import your list of keywords, select the relevant countries, and specify your competitors' URLs – Ahrefs will take care of the rest. 
A distinctive feature of Ahrefs is its robust data visualization capabilities. With interactive graphs depicting Visibility, Average Position, Traffic, and Positions Distribution, you can readily assess the trajectory of your SEO progress. Furthermore, Ahrefs helps you identify if your website ranks in 13 specific SERP features such as Featured snippet, Sitelinks, Image pack, and People also ask among others, enabling you to tailor your strategy for enhanced SERP visibility. 
In addition, Ahrefs allows for segmenting your data using multiple filters and tags, helping you organize your keyword list according to your needs. A competitive edge is the inclusion of the "share of voice" functionality that determines which websites and pages are vying for search traffic for your tracked keywords. 
The tool also provides comprehensive key metrics for each tracked keyword such as ranking progress, CPC, estimated search volume, and clicks, among others. Lastly, with scheduled email reports, Ahrefs ensures you stay up-to-date with all your ranking changes right in your inbox. 
Pricing: 
Lite: $99/month.

 

Standard: $199/month.

 

Advanced: $399/month.

 

Enterprise: $999/month.

 
---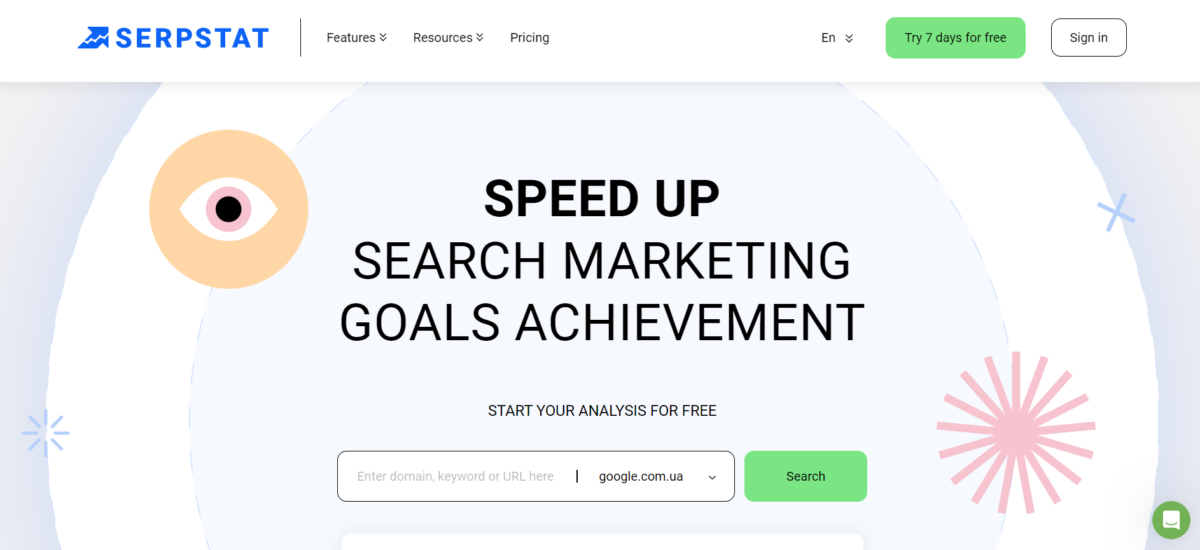 Serpstat's Keyword Rank Checker Tool sets itself apart by offering a robust, reliable, and intuitive platform to track your site's positions in mobile and desktop search results. This tool is crafted for those who seek a detailed, daily update on their website's positioning, helping agencies and enterprises boost their visibility and traffic. 
Serpstat allows you to target and track individual pages or categories of your site, enabling you to dissect your site's performance to the minutest detail. The tool also provides an evaluation of your market share and identifies which SERP features drive traffic to your site. 
One of the standout features of Serpstat is its ability to deliver insights into your competitors. By tracking your site's positions, as well as all the top 100 search results for a given keyword, Serpstat enables you to analyze dynamic changes in your site and competitors' positions. This feature is instrumental in making data-driven decisions to increase visibility. 
Further, Serpstat extends its functionality to the realm of paid ads, allowing you to track positions of your website in contextual advertising. Moreover, the platform boasts over 50 other marketing tools that range from Keyword Research and AI Content Tools to Local SEO and White Label services. 
Pricing: 
Lite: $69/month

 

Standard: $149/month

 

Advanced: $299/month

 

Enterprise: $499/month

 

Custom Plan: Contact

 
---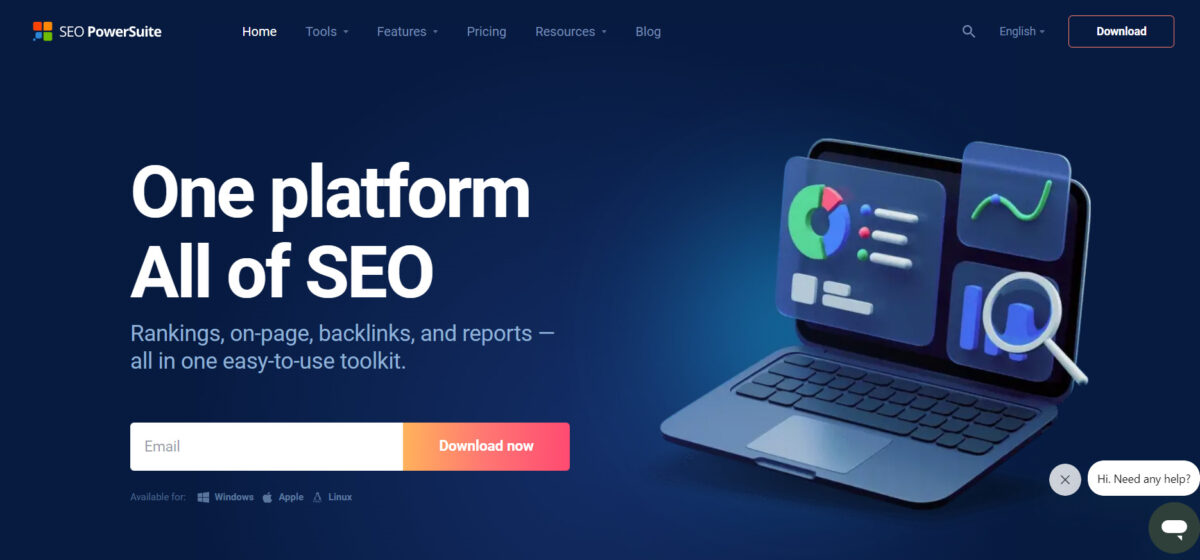 SEO PowerSuite has positioned itself as an all-encompassing SEO solution, with its Rank Tracker standing out as a key feature. Designed for unlimited keyword position tracking, this robust tool is utilized by approximately 20,000 monthly users. Catering to a diverse array of professional SEO tasks, Rank Tracker provides unmatched flexibility with its customizable dashboards and detailed SEO reports. 
The true appeal of Rank Tracker lies in its advanced keyword position tracking features. Whether you're scanning the top 10 or 1000 search results, or interested in global or local keyword rankings, Rank Tracker caters to your needs. Moreover, the tool provides features such as tracking keyword performance on desktop or mobile devices, checking positions in Google SERPs or alternative search engines, and even monitoring keyword positions in Google Maps listings. 
Its impressive tracking abilities extend to tracking desktop vs mobile SERP changes and rank tracking in other search engines like Bing, Yahoo, Naver, Baidoo, Yandex, and even YouTube. The tool also offers unique functionality for local SEO rank tracking, allowing you to accurately check positions for the exact location of your choice. 
In terms of keyword research and analysis, Rank Tracker combines various popular keyword finder tools into one comprehensive platform. It automatically groups your keyword ideas by topic, allowing you to target entire keyword groups. The tool also allows you to plug into Google keyword tools like Google Analytics and Search Console, giving you a clear overview of your current keyword trends. 
Pricing: 
Free for unlimited evaluation

 

Professional for in-house use: $299/year (Discounted from $596/year)

 

Enterprise for client work: $499/year (Discounted from $1,396/year)

 
---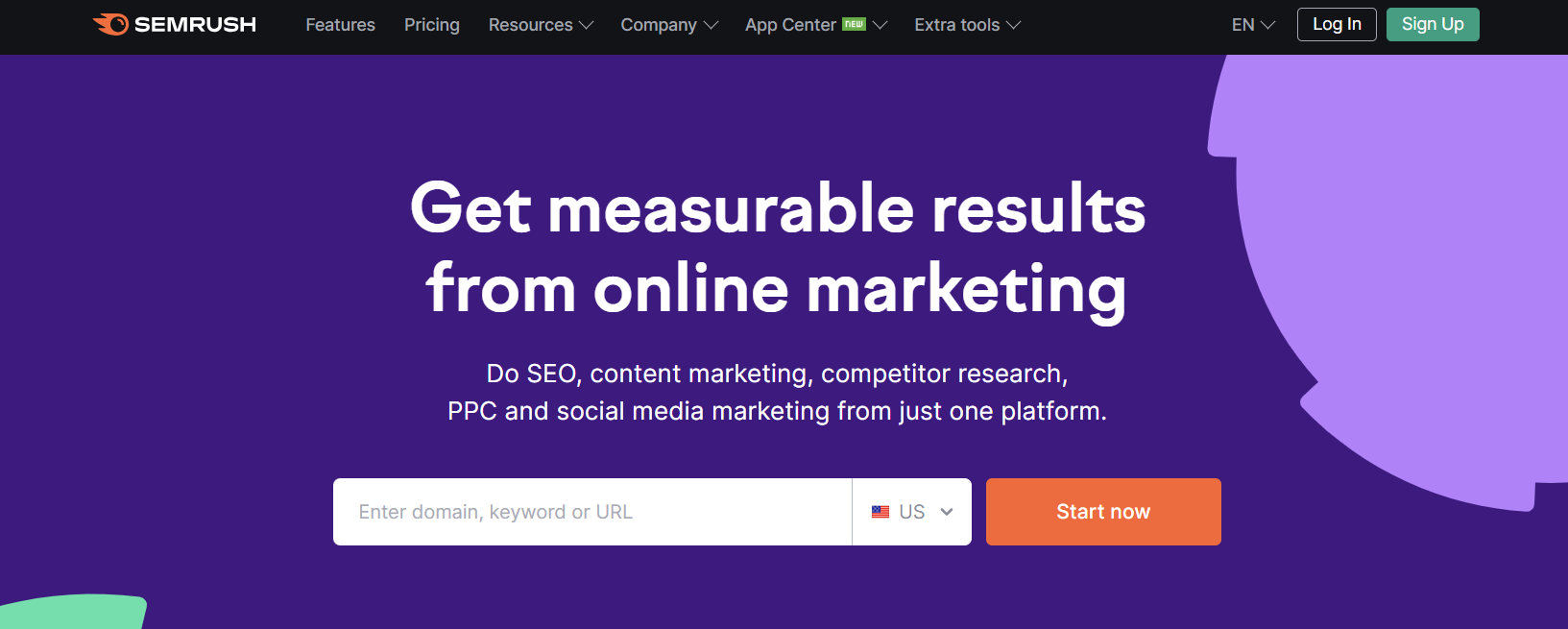 Semrush's Position Tracking tool is designed to help you monitor the rankings of your site and your competitors on a daily basis, for any location or device type. This robust tool provides insights into competitors targeting and ranking for the same keywords as you, even for each location you track. 
One of the distinguishing features of Semrush's Position Tracking tool is the ability to set up custom notifications to alert you in case of critical position changes. The tool also enables you to automate your reporting about progress, creating detailed reports using the built-in PDF editor or integrating your project into a Google Data Studio dashboard. 
The Position Tracking tool also features integrations with Google Analytics and Google Data Studio, allowing you to gather data on every single keyword your site is ranking for on Google and pull organic and paid data from an existing Position Tracking campaign. 
With the Guru or Business account, you can configure multiple targets in the same campaign, allowing you to focus on up to 10 locations or devices per project with Guru and up to 5,000 with Business. 
Pricing: 
Pro: $119.95 monthly

 

Guru: $229.95 monthly

 

Business: $449.95 monthly

 
---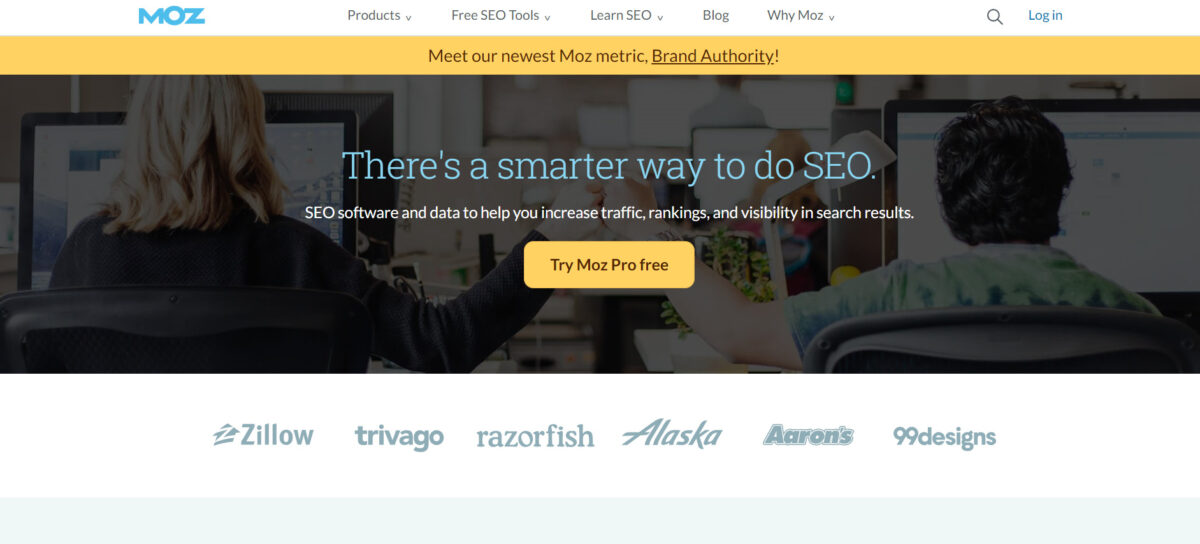 With an unerring focus on the importance of keywords in the world of SEO, Moz's Rank Checker is a speed-optimized tool that is both easy-to-use and impressively efficient. By simply entering a keyword, URL, search engine, and country into Rank Checker, users gain access to a wealth of data including comprehensive rank checks and detailed keyword metrics. 
One of the outstanding features of this tool is its ability to perform competitive research, allowing you to keep an eye on your rivals' ranking for your target keywords. Furthermore, it gives you the opportunity to spot-check potential keywords before deciding to track them, and lets you choose from among the major search engines such as Google, Bing, and Yahoo for the most relevant ranking data. 
The tool also leverages predictive keyword metrics such as Keyword Difficulty and Search Volume to assist in your SEO strategy. It lets you forecast with over 95% accuracy the search volume a keyword might receive and assess how easy or challenging it would be to rank on each Search Engine Results Page (SERP) using Moz's proprietary Keyword Difficulty score. Your progress can be easily tracked and visualized in a Ranking History graph, ensuring you are aware of your SEO performance over time. 
Moz's Rank Checker is not an isolated tool but is a part of the broader Moz Pro suite, an esteemed SEO analytics platform that provides competitive intelligence, ROI-improving insights, and an all-encompassing view of your search performance. 
Pricing:
Standard: $99 per month ($79 per month if billed annually)

 

Medium: $179 per month ($143 per month if billed annually)

 

Large: $299 per month ($239 per month if billed annually)

 

Premium: $599 per month ($479 per month if billed annually)

 
---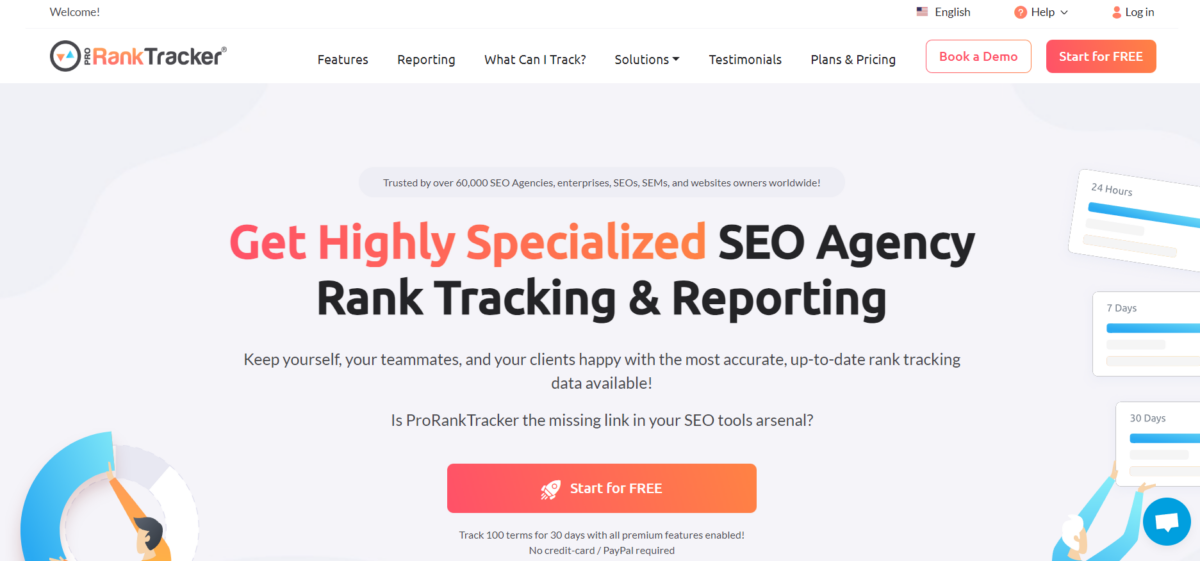 ProRankTracker is an SEO rank tracking and reporting tool that specializes in delivering highly accurate, up-to-date data. Aimed at keeping SEO professionals, teammates, and clients well-informed, ProRankTracker stands out for its commitment to 100% accurate SERP rank tracking, accessible from any device. 
Notable for its extensive data visualization capabilities, ProRankTracker allows users to assess their SEO progress through online views, charts, and customizable reports. One of its distinctive features is the ability to generate and automatically send customized, white-label reports, providing you with an invaluable resource for demonstrating value to clients or within your organization. 
Designed for a wide audience, including SEO agencies, in-house SEO departments, and website owners, the tool provides unlimited saved historical ranking data, an unbeatable pricing scheme for large-tracked terms quotas, and the ability to generate unlimited branded reports, significantly enhancing trust and client retention. ProRankTracker also takes customer support seriously, offering dedicated support from customer success managers. 
The software is committed to adjusting to search engine changes promptly and guarantees 100% accuracy, making it an essential tool for SEO agencies and professionals, offering more customizable views than any other rank tracking tool. 
Pricing:  
Free: Try out ProRankTracker for free.

 

Starter: Starting at $13.5 per month, perfect for those just starting or needing lower tracked terms quotas for personal use.

 

Pro: Starting at $89 per month, suitable for SEO professionals requiring more terms quotas and features for their clients.

 

Agency: Starting at $180 per month, offering large-tracked terms quotas, agency-grade features, and extra support from the team.

 
---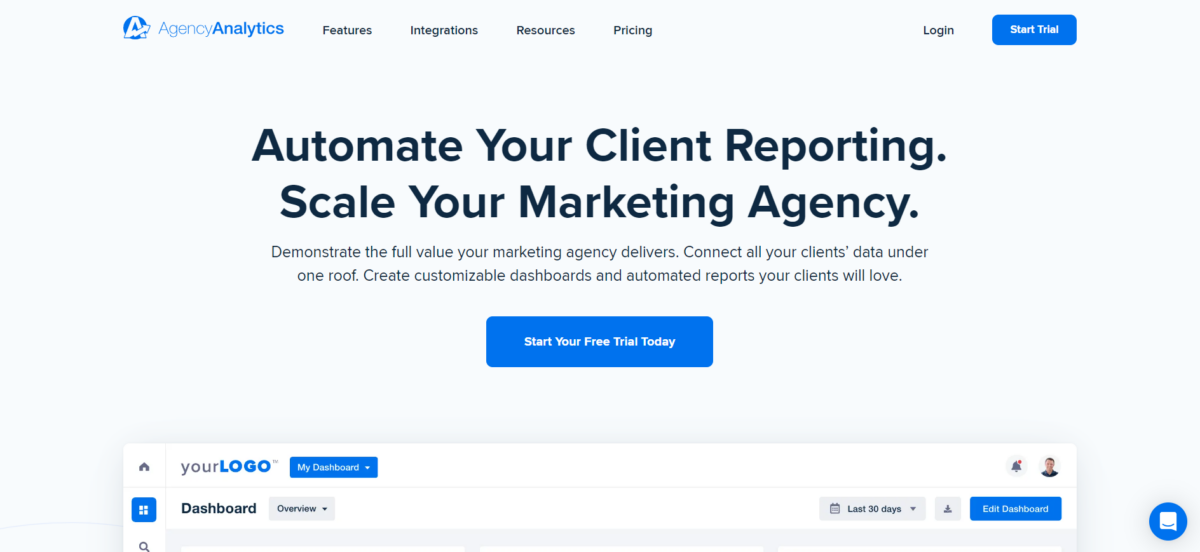 AgencyAnalytics has meticulously designed its SEO Rank Tracker for advanced keyword rank tracking and insightful reporting. The platform enables you to track keyword rankings across multiple search engines including Google, Bing, Google Mobile, and Google Local, offering daily updates to ensure clients have the most current data. Their keyword rank tracking software does not merely deliver ranks but offers powerful insights, enabling you to examine keywords by page and tag, and filter by location, language, and more. 
The advanced features do not stop there. AgencyAnalytics offers automated reports, eliminating the time-consuming task of manually generating reports and ensuring accuracy. You have full control over staff and client account creation with customized access permissions. It is also designed for deliverables, offering the option to build fully customized keyword ranking reports that present your clients' keyword rankings alongside any other SEO data in a truly holistic reporting manner. 
Their commitment to a branded agency experience shines through their fully white-labeled SEO reporting, letting you add your agency's logo, choose your color scheme, and create a custom URL for clients and staff. For businesses with global, national, or local SEO campaigns, AgencyAnalytics has you covered with their ability to run search engine ranking reports by location and language. 
Pricing: 
Freelancer: $12 USD per month per client campaign with a minimum purchase of 5 client campaigns

 

Agency: $18 USD per month per client campaign with a minimum purchase of 10 client campaigns

 

Enterprise: Custom pricing for a minimum purchase of 50+ client campaigns.

 
---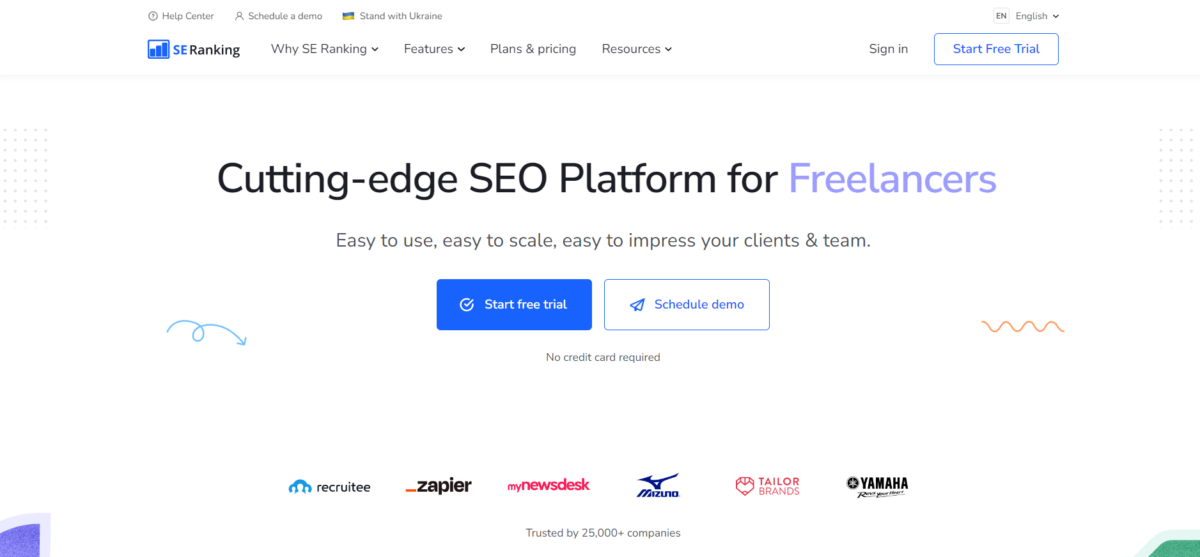 SE Ranking delivers extensive data on your and your clients' keyword positions across all major search engines with pinpoint accuracy. This keyword rank tracker lets you track clients and competitors, identify top-performing keywords, proactively spot ranking drops, and finetune SEO strategies. It offers data analysis across Google, Bing, Yahoo, and even YouTube, providing you with the opportunity to compare your competitors' keyword positions alongside your own. 
One of the significant features of SE Ranking is its 100% accurate data, providing you with cached SERP copy and on-demand rechecking of positions at any given time. It gives you the ability to fine-tune the website rank checker to your needs by choosing scanning frequency and depth, and you can even customize the interface to your preferences. This tool aids in preventing keyword cannibalization issues and provides insight into how search engine updates impact your website's ranking. 
SE Ranking also offers the option to connect your Search Console, Analytics, and Business profile, providing you with additional, data-rich reports. They cater to businesses of all sizes with their collaborative use feature, allowing you to create sub-accounts with different levels of access to keyword rank data and projects. 
Pricing: 
Essential: From $39.00/month with up to 10 projects and 250 keywords

 

Pro (Most popular): From $89.00/month with all Essential features with extended limits and user seats

 

Business: From $189.00/month with all Pro features with extended limits and API access.

 
---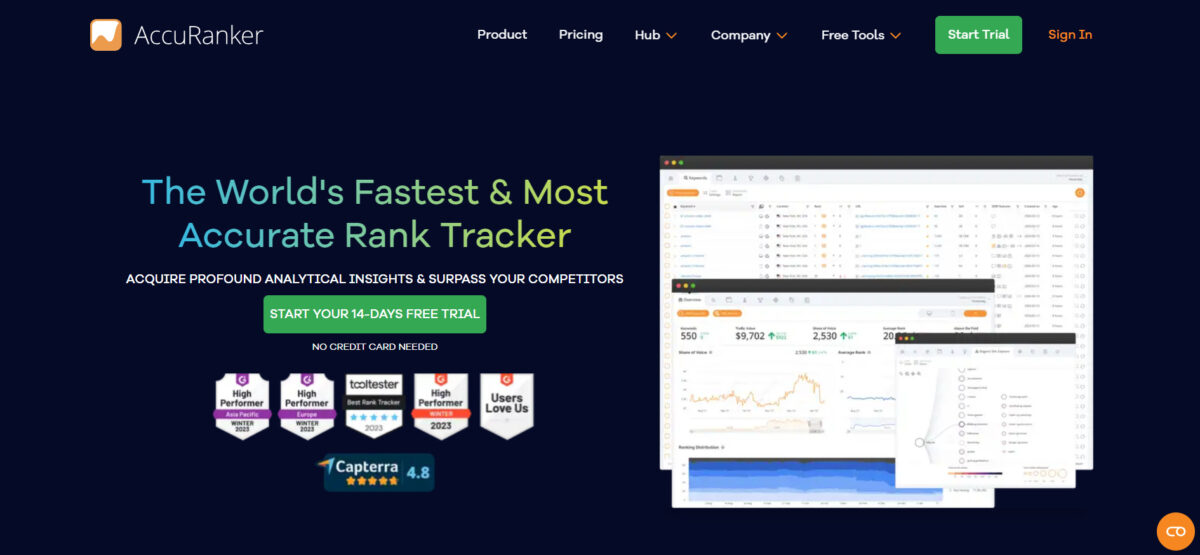 AccuRanker is the ultimate rank tracking and analytics platform that enables SEO professionals to gain profound analytical insights and outperform competitors. It is known for its exceptional speed and usability, essential for Enterprises and SEO Agencies seeking fast SERP checking and tracking. It's one of the fastest SERP trackers on the market with an intuitive interface that makes it easy to navigate, even for beginners. 
One of its core features is the easy accessibility of data. AccuRanker provides all data and calculated metrics through their REST API without limitations, facilitating custom application development and reporting. This feature is highly valued by those with technical skills and developers in SEO Agencies and Enterprises. 
AccuRanker also excels in data segmentation and cubing. Using AccuRanker's proprietary technology, you can easily filter and segment your data, and save these filters as segments for later use. This significantly simplifies the handling of large datasets. 
Their dynamic tagging feature allows advanced filters for tagging your keyword data dynamically. This helps in creating multiple filter inputs to single out the targeted keywords, which simplifies an otherwise tedious task for SEO specialists. 
AccuRanker's advanced rank tracking is facilitated by the 'Organic Site Explorer' which gives a visual overview of how your site and subpages are indexed across keywords. It also provides an insight into what you and your competitors are indexed for at every page or category level. 
Their 'Share of Voice' feature provides an indication of how your most important keywords are performing, helping you see if high traffic keywords are losing or gaining ranks. Plus, the tool also offers pixel tracking, giving you ranks and all X and Y coordinates for each element found on the SERP. 
Pricing: 
Pay only for the number of keywords you'd like to track. For instance, the tracking of 1,500 keywords costs $186 per month. They also offer a 10% discount for annual payments and allow changing your plan anytime without any additional costs. 
---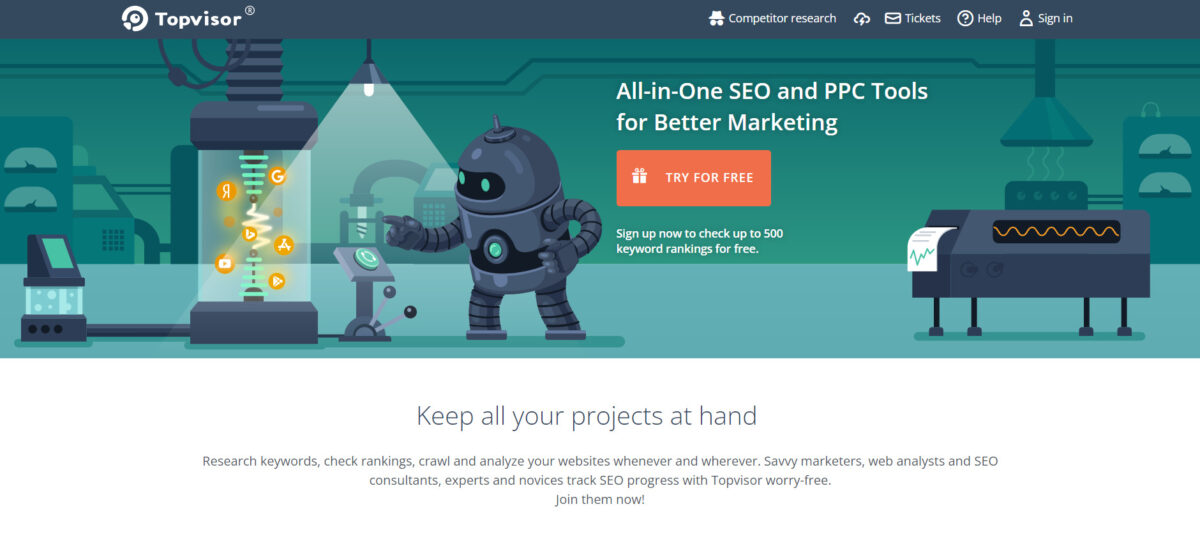 Topvisor is a 2-in-1 SEO tool providing robust rank tracking and rank checking of domains, subdomains, internal website pages, social media profiles, communities, and mobile apps. Its range of coverage spans multiple search engines including Google, Yandex, Bing, Yahoo, Seznam, as well as YouTube, App Store, and Google Play. 
Topvisor stands out for its multi-device rank tracking. It can track keyword rankings for desktops, tablets, or mobile phones across different search engines and locations, allowing you to view, compare, and improve website performance in both desktop and mobile search. 
The tool also offers geo-specific ranking for any location, enabling you to view how keywords rank in different languages and providing instant and scheduled updates about global and local keyword movements. 
Topvisor allows you to check and track the rankings of any page on your website. Furthermore, it lets you monitor and compare the performance of your site with up to 250 competitor websites. 
Its 'Flexible Schedule' feature allows for the scheduling of automated ranking reports to get updates about all changes. The tool also provides integration with popular tools like Google Analytics, Google Search Console, Yandex Metrika, and Yandex Webmaster. 
Pricing: 
S plan: $29/month

 

M plan: $89/month

 

L plan: $299

 

XL plan: $599/month

 
---
---
Conclusion
The importance of a rank tracker tool transcends beyond the immediate benefits of tracking keyword performance. It forms the bedrock for effective SEO planning, aids in identifying trending keywords, and helps discern the impact of algorithm changes on your website's rankings. Moreover, it plays a pivotal role in local SEO campaigns by enabling marketers to track keyword rankings specific to certain geographic locations. A well-chosen Rank Tracker tool facilitates timely pivoting, enabling you to harness your strengths and address your weaknesses, directly impacting your visibility, traffic, and ultimately conversions. We hope our research above was helpful and will equip you with the information needed to pick the best solution for your needs. 
Frequently Asked Questions
Are free rank tracker tools as effective as paid ones? 
While free rank tracker tools can provide basic information about your keyword rankings, paid tools often offer more advanced features and more accurate data. The choice between free and paid tools ultimately depends on your budget, your needs, and the complexity of your SEO strategies.
Can a rank tracker tool track rankings on different search engines? 
Yes, many rank tracker tools can track rankings across multiple search engines, including Google, Bing, and Yahoo. It's important to choose a tool that aligns with your target market's preferred search engine. 
Is it possible for my rankings to fluctuate? 
Absolutely, it's normal for keyword rankings to fluctuate. Search engine algorithms are continuously updated, and factors like new content, competitor activities, and changes in user behavior can all affect rankings. 
Will a rank tracker tool help me identify the right keywords to target? 
While a rank tracker tool's primary function is to monitor your existing keyword rankings, some tools offer additional features like keyword research and suggestions. These features can help you identify new potential keywords to target.