Advertising Disclosure
Advertising disclosure:
Our partners compensate us. This may influence which products or services we review (also where and how those products appear on the site), this in no way affects our recommendations or the advice we offer. Our reviews are based on years of experience and countless hours of research. Our partners cannot pay us to guarantee favorable reviews of their products or services.
Customer journey analytics (CJA) unites different touchpoints and lets you leverage data to create different scenarios, which, in turn, gives you a more holistic understanding of your customers.
It's a concept that's quickly gaining popularity so much so that it's projected to become a $25.1-billion market by 2026. Factors contributing to its growth include the growing need to provide consumers with seamless customer experiences, the increasing need to access real-time customer journey analytics to drive data-backed insights, more focus on being able to build better customer engagement strategies, and the need to leverage customer data to increase engagement and reduce churn rate.
---
6 Best Customer Journey Analytics Software to Deliver Better Customer Experiences:
---
What Is Customer Journey Analytics (CJA)?
Customer journey analytics helps you make actionable insights by using customer data, such as behavioral analytics, to paint a clearer, more dynamic understanding of your customers' purchasing habits, individual customer journeys, and interests. CJA looks at multiple customer touchpoints and channels to determine how customer behavior can potentially impact your business.
Using data, CJA can help you answer critical questions such as when and why your customers churn, when customer engagement or sales are at their highest, and which efforts drive the most conversions.
It bolsters your customer journey mapping efforts by letting you use data to have a deeper understanding of your customers, including their wants and pain points, so you can orchestrate and optimize their experiences. You can also check out platforms and agencies.
---
The Importance of Customer Journey Analytics
Customer journey analytics equips businesses with the data and insights they need to build unparalleled customer experiences.
With customer journey analytics, you'll have a unified view of customer experiences across multiple channels and touchpoints, including acquisition, activation, and adoption touchpoints. A good customer journey analytics tool also gives you real-time access to data, allowing you to take informed actions quickly and more effectively.
For instance, you can use customer journey analytics tools to align your marketing and sales teams. In addition to that benefit, you can use such tools to eliminate data silos, promote transparency, and more effectively segment audiences, identify best-performing channels, and discover which marketing campaigns are giving you the results you want.
And it's not just your marketing and sales teams who can benefit from CJA. Your customer service teams can use CJA to uncover the root causes of your customers' pain points and be better equipped to address them.
Another benefit of CJA is that it allows you to gauge the impact of your customer experience initiatives. For example, if you've introduced an improvement to your customer experience (CX) initiative, a CJA tool can help you determine if it's working or not. You can also use CJA to uncover valuable insights that will help you design triggers or actions that will help keep your customers satisfied.
Because CJA tools are designed to break down silos, they can help facilitate collaboration among different teams or departments.
---
Customer Journey Analytics vs. Customer Journey Mapping
Customer journey mapping refers to the process of crafting a visual representation of your buyers' journey. But how does it differ from customer journey analytics?
Mapping your customers' journey gives you a better understanding of your customers and how they interact with your brand at different touchpoints, thus allowing you to offer better user experiences.
While a customer journey map helps you utilize your strategies more effectively, given that it lets you visualize how each funnel stage influences your end goals, it does have some drawbacks. For instance, traditional customer journey maps often present an idealized version of the customer journey, which may cause you to miss out on opportunities to implement change. Additionally, these maps don't necessarily cover the differences between one customer journey from another, giving you a very general overview of each customer journey.
You can use customer experience platforms like Brandwatch Consumer Intelligence and SurveySparrow to map customer journeys, find suitable touchpoints that let you leverage your strategy, and access mapping data. To make your data work harder for you, using customer journey analytics lets you augment the capabilities and scope of customer journey mapping. That's because it lets you collect and analyze a diverse set of data, thus helping you leverage real-time data from different sources, complete with variations to give you a more detailed picture of your customers' experience.
---
Common Challenges in Customer Journey Analytics
Data is always good, but having too much data can be overwhelming. Despite using data to unlock opportunities and identify trends, having too many points to analyze can make you miss other important insights, thus keeping you from making data-backed decisions.
Other common challenges in customer journey analytics include:
The existence of data silos, which prevent you from fully utilizing your available data and optimizing the customer journey
Using data to create overly complex customer journeys
How to quantify the returns of your customer experience efforts
Reports that are difficult to understand and utilize
Keeping up with evolving customer journeys
---
6 Best Customer Journey Analytics Tools to Deliver Better Customer Experiences in 2024
Top
customer journey analytics software
2024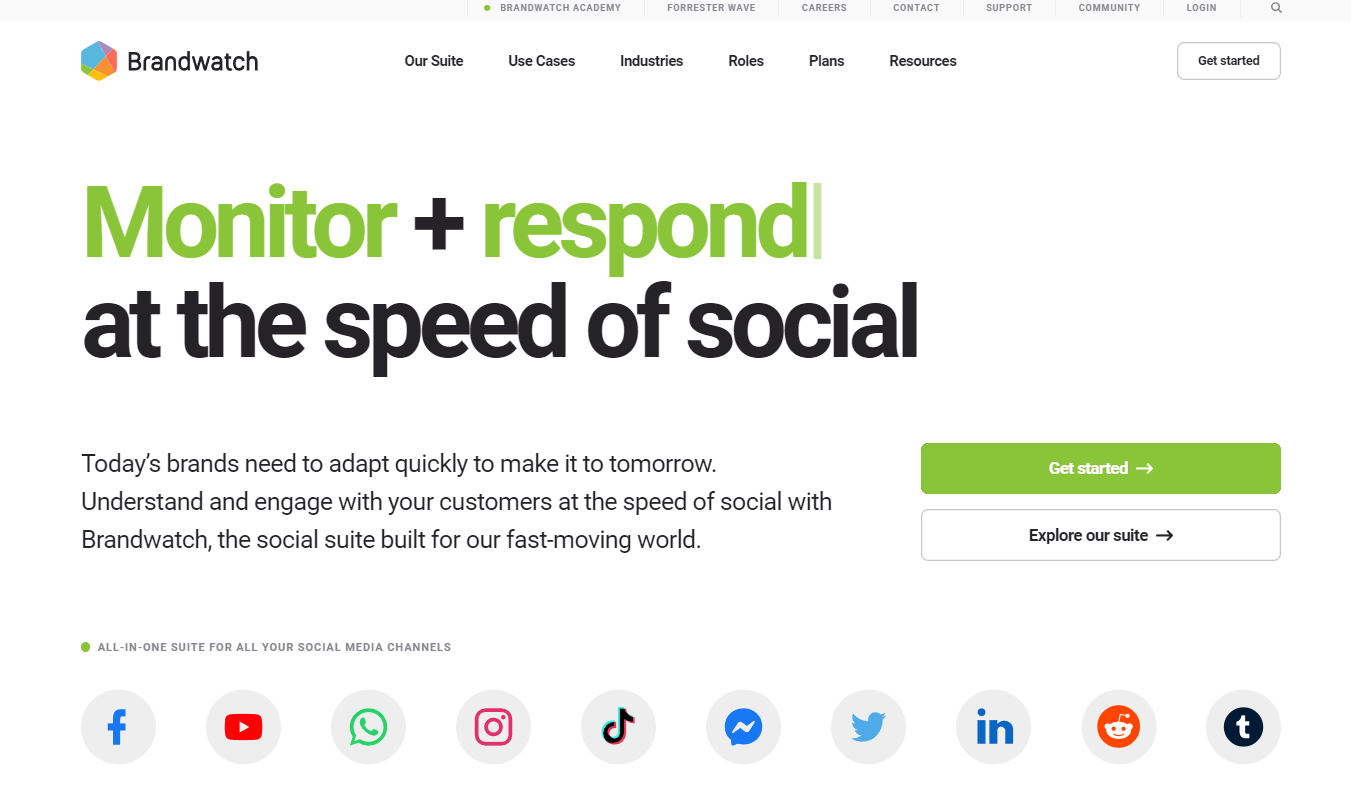 Best for: Tapping into consumer intelligence using AI
Brandwatch offers a suite of best-in-class tools designed to help you conduct deep research, monitor your brand, craft better content, and deliver enhanced customer experiences.
Brandwatch lets you access a comprehensive archive of consumer opinion, as well as leverage AI to uncover emerging trends and be better able to anticipate consumer demand. It also allows you to monitor your brand by tracking consumer opinion. Aside from these features, Brandwatch helps you protect your brand against potential threats by giving you smart, real-time alerts, so you can respond to issues quickly, thus preventing them from escalating. It offers three solutions:
Consumer Intelligence – Lets you leverage consumer intelligence to gain actionable insights. Brandwatch Consumer Intelligence allows you to search and collect millions of posts and conversations that are relevant to your brand. From there, it lets you segment conversations based on specific categories, use AI to analyze data and gain valuable insights, and share these insights to your team.
Social Media Management – Lets you bolster your social media efforts by helping you attract and engage your target audience across various social media platforms and locations.
Influencer Marketing – Makes influencer discovery and management more seamless and gives you access to campaign management and reporting software to help you measure your campaigns' performance.
---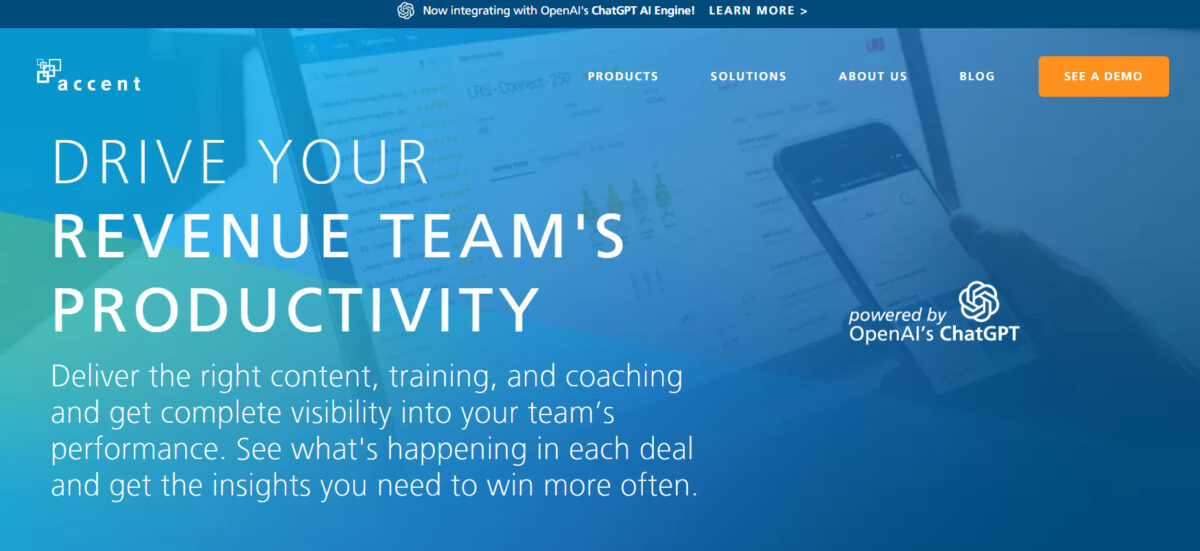 Best for: AI-driven content management and sales and revenue enablement
Accent Technologies offers a suite of tools for sales enablement. This includes customer journey analytics features that enable brands to optimize how they build better customer experiences. Using historical customer journey data, sales teams are equipped to make real-time decisions. Its CRM Supercharger platform gives sellers prescriptive next steps based on historical customer journey metrics for further engaging prospects.
Its AI-driven sales enablement lets you use automation to speed up set up, quickly get business value, and get an overview of how your sales reps engage your customers. Accent Technologies' Revenue Enablement feature also uses AI to give you access to better data, including a complete set of buyer engagement data that you can use to make informed decisions. Its AI-driven Marketing Insight feature allows you to have a more granular view of your content and how it influences customer experiences. This allows you to determine which pieces of content work best to help customer journeys progress and which ones need to be improved.
---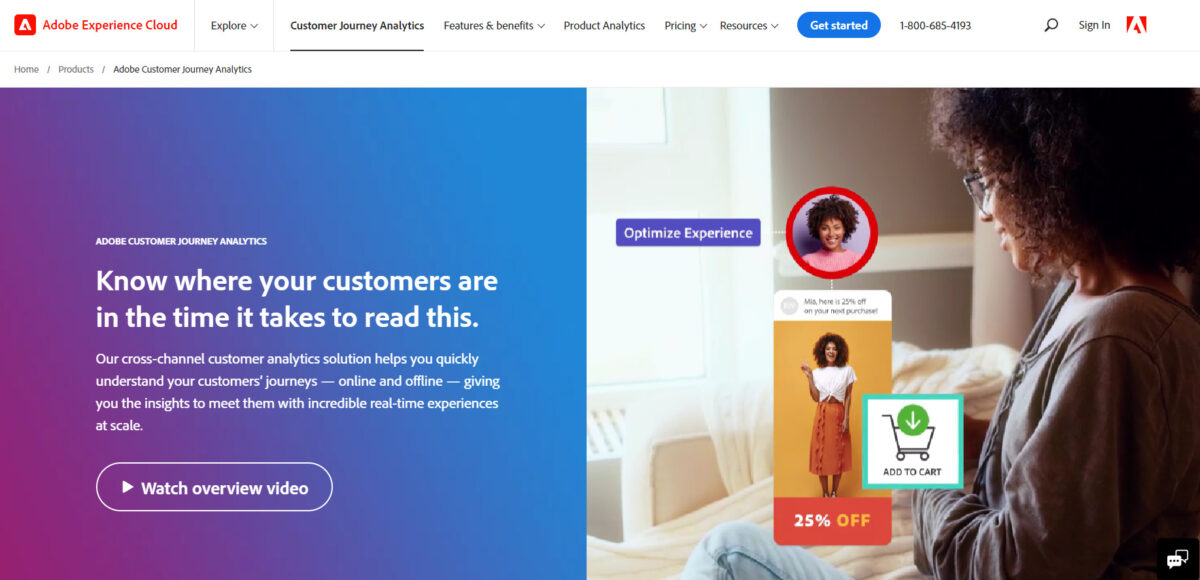 Best for: Collecting and analyzing omnichannel connected data
Adobe's powerful customer journey analytics tool lets you collect data from all of your engagement channels, whether it's online or offline. The platform uses Adobe Sensei GenAI to give users a more streamlined way to analyze customer journeys. Through this generative AI technology, users can access intelligent captions to generate natural language insights, allowing them to quickly and effectively uncover trends. The technology also allows users to tap into text-based insights.
Other notable features of this customer journey analytics platform include:
Creating unified customer profiles from IDs collected from multiple channels
End-to-end visualization of the customer journey with a drag-and-drop intuitive interface, flow and fall-out analysis, rule-based modeling, algorithmic attribution, and cohort analysis
Embedded AI services and anomaly detection to uncover irregularities affecting your business
Access to real-time cross-channel data
Real-time insights for product teams
First-party data collection capabilities
---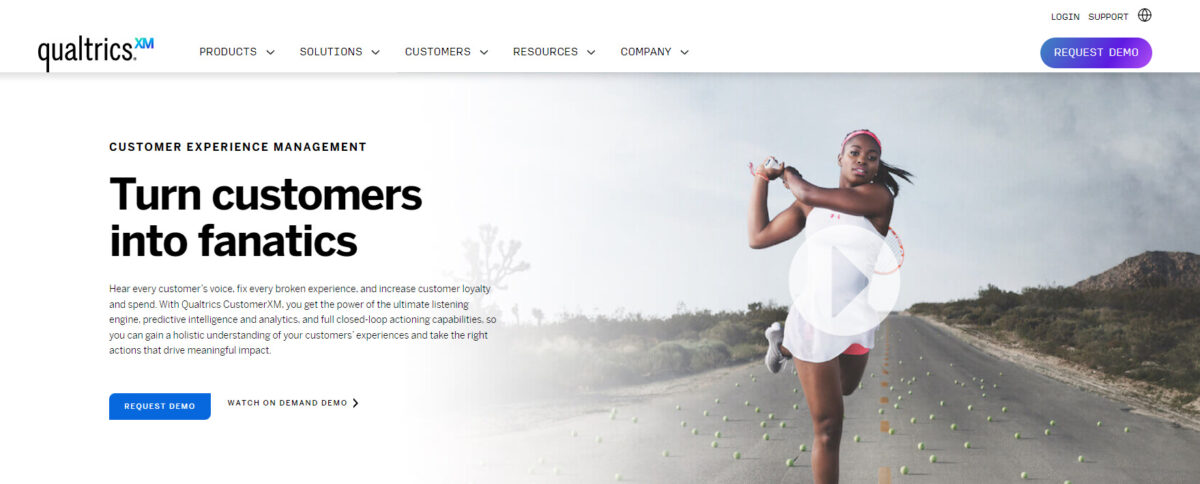 Best for: Experience management solutions
Qualtrics offers a diverse range of solutions aimed at helping businesses optimize their customers' digital experiences. Its Customer Journey Optimization and Analytics Software lets you identify and address friction points on omnichannel journeys to give your customers enhanced user experiences.
Qualtrics' CustomerXM solution lets you access rich data analysis powered by conversational analytics and natural language understanding, allowing you to get deeper insights into your customers' emotions, sentiments, and more. Furthermore, this solution also gives you access to business-critical tools, such as a listening engine, predictive intelligence and analytics capabilities, and closed-loop actioning capabilities, thus painting a more holistic picture of customer experiences. Best of all, CustomerXM is designed to be a scalable and sustainable customer journey analytics tool.
---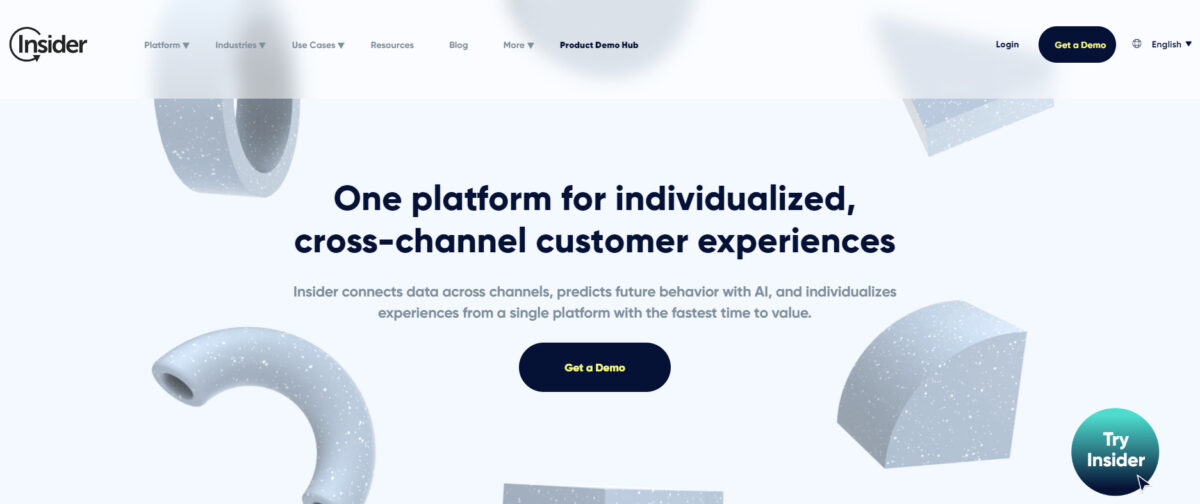 Best for: Creating individualized, cross-channel experiences
Insider is an all-in-one platform for optimizing cross-channel customer experiences. With it, marketers can seamlessly connect data across various channels and systems, use AI to anticipate customer behavior, and craft tailor-made experiences for their customers. Aside from customer journey analytics, businesses can use Insider for orchestration and personalization. The solution lets you integrate first-party and third-party data into the Insider platform, allowing you to create a singular customer journey. Its Multichannel
Growth Management Platform lets marketers drive growth at different stages in the sales funnel. It uses AI to deliver real-time predictive segmentation. Insider also supports integrations with major advanced analytics platforms, email marketing solutions, and CRMs such as Google Ads, Facebook Ads, Google Analytics, and Salesforce CRM.
Other notable features include ROI tracking, audience segmentation, smart cross-channel recommendations, and brand optimization.
---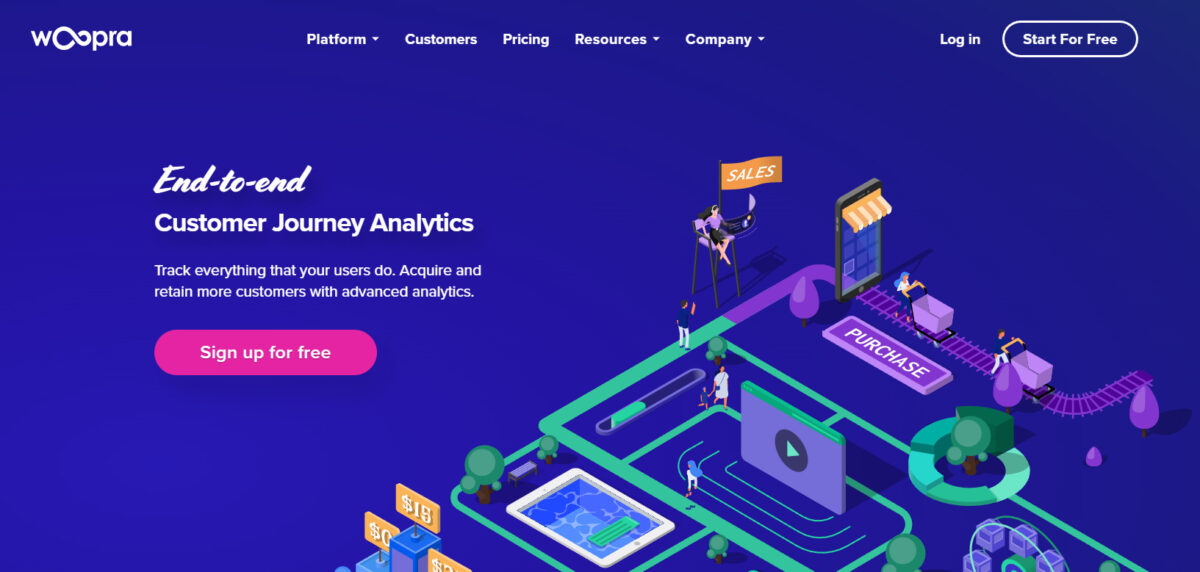 Best for: Tracking and unifying data and individual-level analysis
Woopra is designed to help you measure customer interaction. This customer journey and product analytics software tool offers end-to-end customer journey analytics for product, marketing, sales, and support teams. Using Woopra, you can track and unify data across different touchpoints, analyze customer journeys, uncover trends, and make real-time actions based on user behavior data.
Thanks to its user-friendly visual interface, users can share data and easily communicate with one another—all without having to write code. With its automation capabilities, you can trigger personalized interactions for emails, messages, or Salesforce fields. In turn, this unique feature allows you to create engaging customer interactions using the right channels at the right time.
Woopra also has over 50 one-click integrations with solutions and platforms such as ActiveCampaign, Campaign Monitor, HubSpot, Mailchimp, and Pipedrive.
Other notable features include:
Behavioral segmentation
Robust reports (Journey, Trends, Cohort, and Retention Reports)
---
---
Analyzing Customer Journeys: A Quick Guide
Here's a simple guide on how you can run customer journey analytics: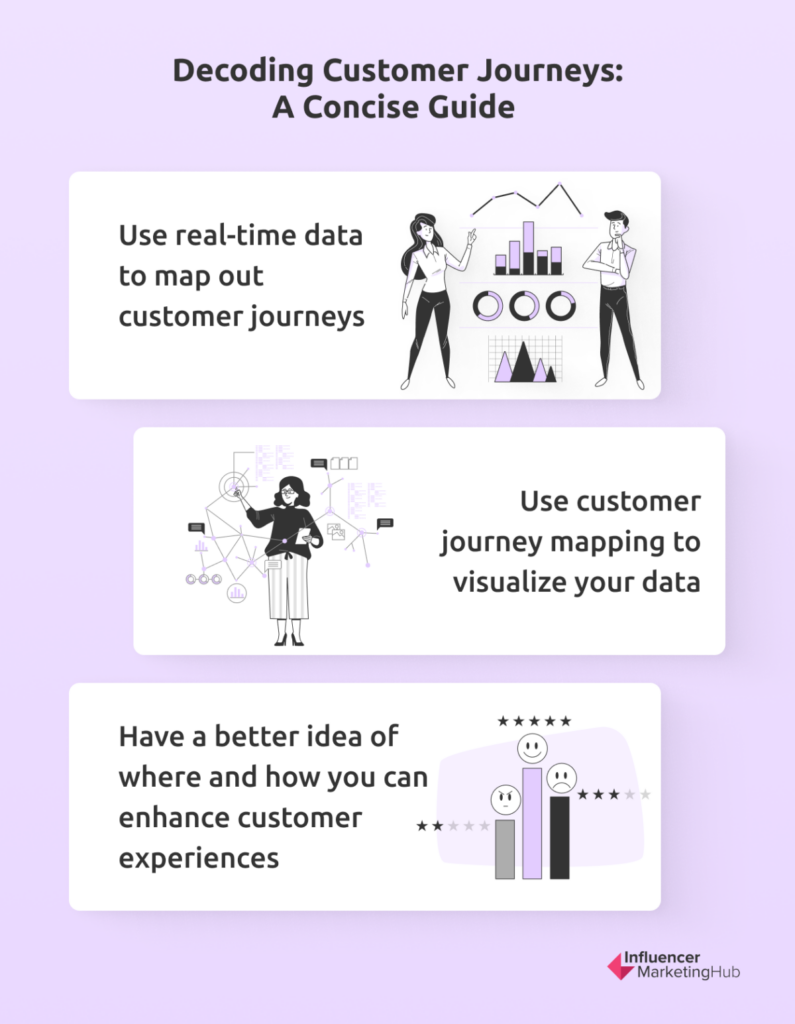 Use real-time data to map out customer journeys. Incorporate data from different channels and touchpoints. A good CJA tool can automate this process for you using first-party and third-party data. The main reason for using real-time data is it allows you to build a comprehensive map that can accommodate changes in customer behaviors.
Next, you can use customer journey mapping to visualize your data and test out different approaches for analysis. For example, you may want to focus on monitoring different funnel stages and touchpoints and follow this with identifying friction points and channels.
With analysis gleaned from CJA, you'll have a better idea of where and how you can enhance customer experiences. For example, if your customers react negatively to a particular interaction, you can use data to see how you can tweak their customer journeys and how this can potentially affect their decisions. It's worth noting that you still need to conduct tests to see which strategies are more effective, thus allowing you to continuously improve your CX efforts.
---
Bolstering Customer Journey Mapping Efforts With Customer Journey Analytics
Changing customer expectations are fueling the need for customer journey analytics. Nowadays, it's no longer enough to just utilize customer journey mapping—to better cater to customers' needs and expectations, you'll need to leverage data and connect all customer touchpoints to get a more in-depth view of the customer journey and all its stages. Through CJA, you can track every interaction and answer critical questions such as which channels drive the most engagement and at which point do customers churn. Leveraging CJA allows you to deliver optimized customer experiences that will ultimately drive revenue, enhance customer loyalty, improve your brand reputation, give you a competitive edge, increase customer lifetime values, and pave the way for happier customers.
Frequently Asked Questions
Who benefits from customer journey analytics?
Because it's data-driven and allows you to anticipate customer behavior, customer journey analytics benefits the following teams and industries:
Teams:
Marketing and sales
Product management
Customer experience
Customer service
Analytics
Industries:
Retail
eCommerce
Banking
Tech enterprises
What best practices can I follow for customer journey analytics?
Leverage your customer journey map to have a better understanding of your customers, including their pain points.
Pay attention to what your customers are saying by checking their reviews and feedback. Alternatively, you can use social media to monitor what your customers are saying about your brand.
Ensure that you have clear, realistic, and measurable goals in place.
Update your customer journey maps regularly to uncover new or emerging opportunities and gain a competitive edge.
What metrics do I need to track for customer journey analytics?
Metrics to track include:
Awareness
Open rate
Views
Click-through rate
Traffic sources
Bounce rate
Number of visits
Time to launch
Engagement
Net promoter score (NPS)
Completion