Advertising Disclosure
Advertising disclosure:
Our partners compensate us. This may influence which products or services we review (also where and how those products appear on the site), this in no way affects our recommendations or the advice we offer. Our reviews are based on years of experience and countless hours of research. Our partners cannot pay us to guarantee favorable reviews of their products or services.
Not all users start on your home page. And, as you would already know, the end destination isn't always the checkout page (if it were you would most likely be sipping a sundowner somewhere on a remote beach instead of reading this listicle).
Some users start on your pricing page, while some end here. Some start and end here too. Some rarely interact with your business website and mostly find all that they need on your social media channels. You get the picture.
Why does it matter? As long as you're making money, right, who cares?
Here's the thing: it's only when you really take the time to understand where they come from — their pain points, needs, and expectations — that you know where they want to go. This isn't always your checkout page as much as you like it to be. It's your job to meet them where they're at and guide them along.
To help you do this, here are 10 top tools that you can use to create customer journey maps and deliver a better customer experience. A few focus on the data you need, while most offer templates where you can add all this crucial data.
---
Top Customer Journey Mapping Software to Keep You on Track in 2023:
---
What Are Customer Journey Maps?
Customer journey maps (CJMs) use customer touchpoints to represent visually how your different customers interact with your brand. In other words, it considers all the different ways that consumers interact with your brand and then depicts that journey from start to finish visually.
There's are a number of different maps that you can use like:
The current state customer journey map
The future state customer journey map
A day in the life
Armed with this insight, you can tailor your content and marketing strategies, and even your product, to better address your potential customers, irrespective of where they are at in their journey. In return, you'll see your conversion rates reach new heights, helping to cement your brand on the map too.
---
10 Software for User Journey Mapping
Top
customer journey mapping software
2024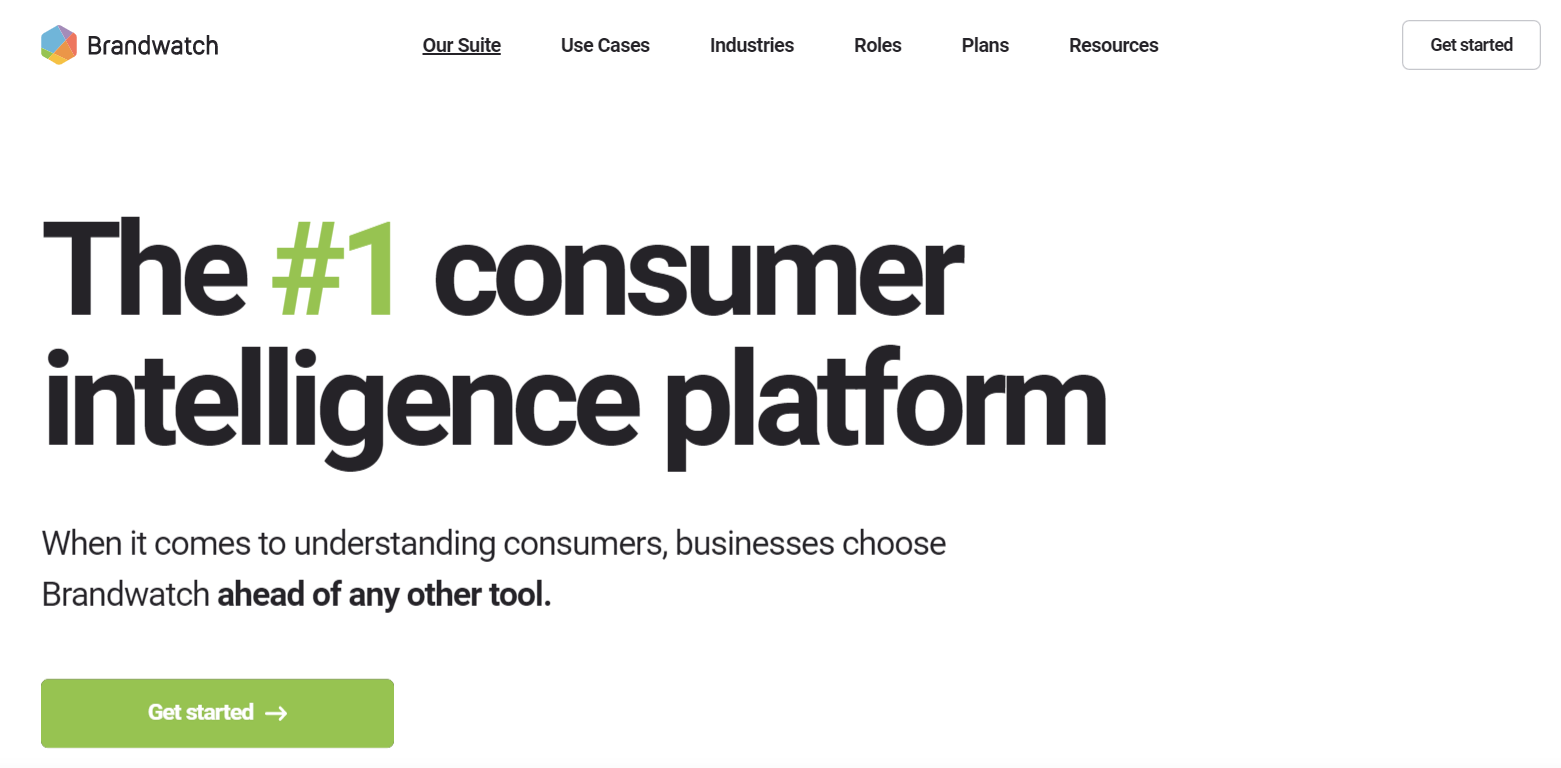 Unlike most of the other tools that offer customizable templates to help you visualize the entire customer journey, Brandwatch can give you the data needed to create these maps. It might not offer templates, but there are over 50 live visualizations that you can use to analyze your data.
What makes Brandwatch such a valuable tool for customer service teams is that it offers various features to help you understand the needs and expectations of your customers and identify any needs along the customer journey that are currently going unsatisfied. Trusted by a number of the biggest brands, like Unilever and Nestlé, it can act as your social customer relationship management (CRM) tool for all your one-to-one communication by presenting all your incoming messages in a unified view. In addition to this smart inbox functionality, you can also gain actionable insights by searching millions of posts and comments about your brand and then categorize these conversations based on the customer sentiment.
Brandwatch boasts hundreds of reviews on popular online reviews sites like Capterra and G2. Features that stood out to users are its ease of use and quality of support. So, even if you do run into some difficulty along the way, know that their support team will be eager and ready.
Key features include:
A flexible user interface
Powerful analytics
Access to historical as well as real-time consumer data
Image analysis
Plans and pricing: For more info about pricing, you'll need to reach out to Brandwatch directly.
---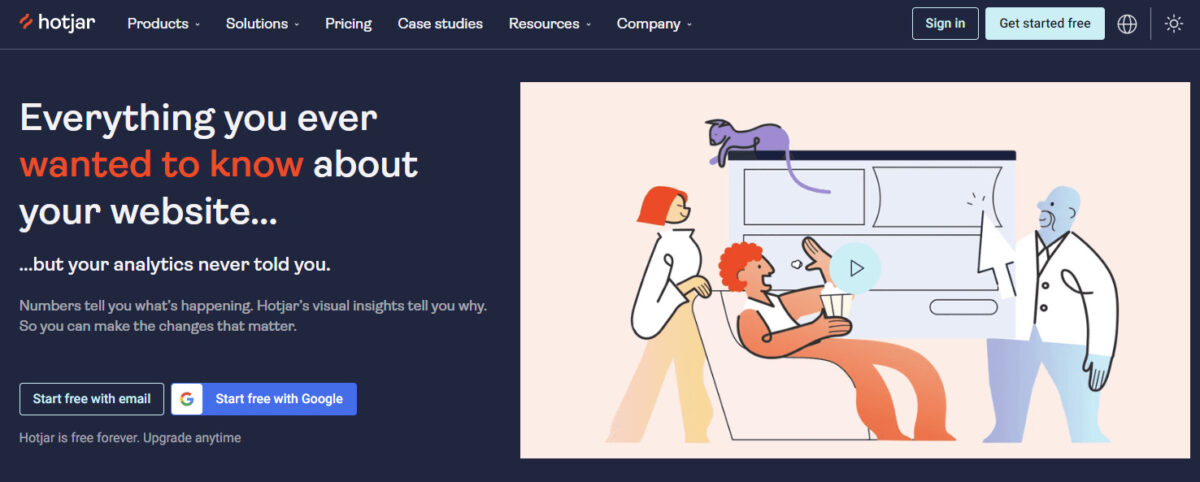 If you're a regular reader of Influencer Marketing Hub, you've probably come across Hotjar's name somewhere. It's one of the best tools for website and landing page optimization and can also be used for the customer journey mapping process.
Similarly to Brandwatch, Hotjar can help you to gather insights into customer behavior. It offers a number of useful tools like session recordings, surveys, and heatmaps. It also includes a Facebook widget that shares feedback and data about how users experience your website at different stages of their customer journey.
It's trusted by a number of well-known brands like TomTom and Ryanair, agencies like Directive Consulting, as well as SaaS brands like Audiense. For more social proof, you'll find hundreds of online reviews praising its dashboard and drag-and-drop functionality.
Key features include:
Heatmaps
Recordings
Surveys
Interviews
Plans and pricing: Hotjar offers a basic free plan and three paid options. Pricing starts at $39 per month, but you can save 20% by paying yearly. While Hotjar doesn't include a free trial, all plans include a 30-day money-back guarantee.
---

The idea behind UXPressia was born in 2014. The goal was to create a tool that beginners could understand, yet be packed with enough functionality that users with more complex needs would find it useful too. The company was officially established a year later and fast-forward eight years and they're nearing 400,000 users.
There are over 60 templates that you can choose from. These ready-to-use templates also link to articles, making it even easier to get started. Then, after you've tweaked the template, the real-time collaboration feature means that any new changes will appear instantly across all the different types of devices, making it a great tool for bigger teams or if you need to keep clients in the loop. Plus, with the branded export feature, you can add your client's logo and branding and export it as a print-ready doc in various popular file formats.
On Capterra, UXPressia is one of the highest rated customer journey mapping tools. It's especially its ease of use that has been praised.
Key features include:
A browser-based presentation mode
Integrated, real-time analytics data
Impact maps
Personas
Plans and pricing: After a free 14-day trial (no credit card required), pricing starts at $16 per user per month (or an annual fee of $160 per user, if you choose to pay it in one go). Custom pricing is also available for enterprise clients.
---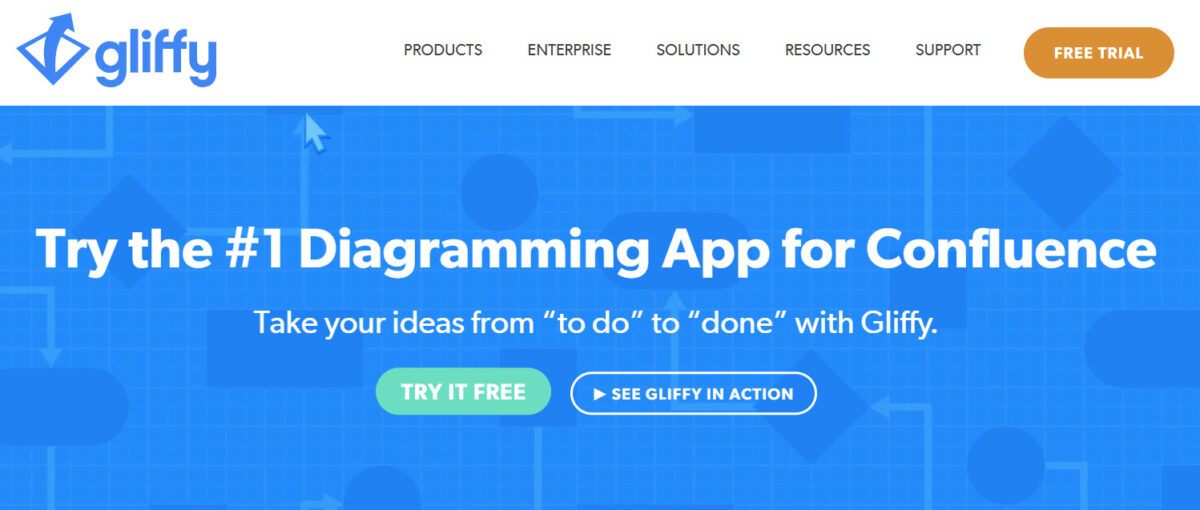 Gliffy is an online diagram software that helps various types of teams create a wide range of diagrams, including journey mapping. It can be a great tool for your product team to use, helping them to improve their understanding of your target customers so that they can optimize the user experience accordingly.
It includes a free customer journey mapping template that's been designed around the key steps needed to create one. This way, your team will remain focused on the touchpoints and data that matter and avoid getting overwhelmed by insignificant details. As a matter of fact, Gliffy's templates received full marks on Capterra. Plus, thanks to its drag-and-drop functionality, it's easy to edit text, move around shapes, or add extra ones.
Key features include:
Live diagram embedding
Commenting tool
Privacy controls
Version history for viewing saved changes
Plans and pricing: Gliffy uses a sliding scale — the more users you add, the cheaper monthly rate you're charged. For fewer than 10 users, pricing starts at $10 per user per month (you can enjoy a discount of 20% if you opt to be billed annually instead). There are also custom pricing packages available for large teams or enterprise organizations.
---
Smaply's goal is to create tools for "human-centered design". It's used by various industries including education, SaaS, and finance and has worked with several Fortune 500 companies. What sets it apart from other tools is its deep knowledge relating to service design. Plus, the fact that they're one of the oldest tools dedicated to journey mapping also helps.
While online reviews haven't rated its ease of use that highly, it does offer templates to speed up the process. In addition to offering journey map templates, Smaply also takes it one step further to include examples from different industries too. It also features its own image library with curated illustration galleries and an icon library where you can find icons curated by the Noun Project to speed up the process further.
Thanks to various team management features like multi-user access, the ability to see real-time changes, and a comment mode, it can be especially useful for bigger or remote teams. That being said, it offers plans to suit any budget, making it a viable solution for individuals or smaller teams too.
Key features include:
Templates
Branded exports
Personas
Storyboards
Integration with project management tools like Jira
Plans and pricing: Smaply offers a free plan, two subscription options, and custom pricing for enterprise clients. Pricing starts at about $20 per user when billed monthly (with annual payment you can save about 15%).
---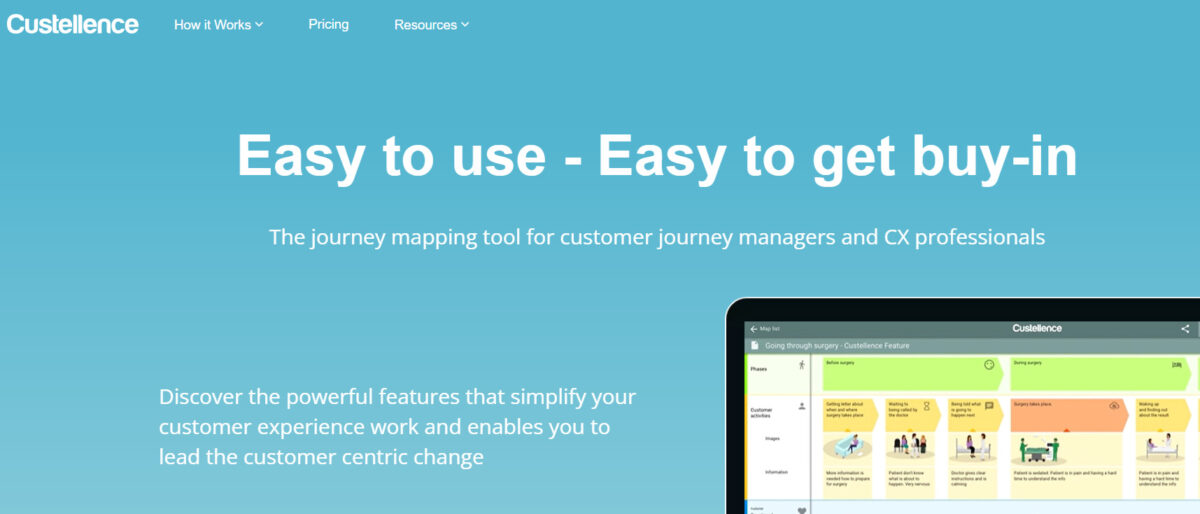 Aimed at customer journey managers and customer experience (CX) teams, Custellence is a powerful, yet intuitive, journey mapping tool. It's trusted by brands across a wide range of industries and can be used in all stages of development.
There's no learning curve involved and as everything is based on drag-and-drop features, chances that you'll get stuck at some point are slim. Plus, as Custellence has been designed for journey mapping specifically, you can expect a seamless workflow. If you need to add a card or lane, all it takes is the click of a button. There are also templates designed by mapping experts to save time or serve as inspiration.
One feature that deserves special mention is the ability to create sub-lanes. You can reserve this space for detailed information. What makes this such a nice feature is that it lets you still see the uncluttered, holistic picture by hiding these sub-lanes.
Key features include:
Map history and activity logs for monitoring changes
Real-time collaboration
Notifications on team activity
A unique image library with curated icons and images
Plans and pricing: It offers a free plan, one subscription option, and custom pricing for enterprise clients. Pricing starts at $30 per user per month.
---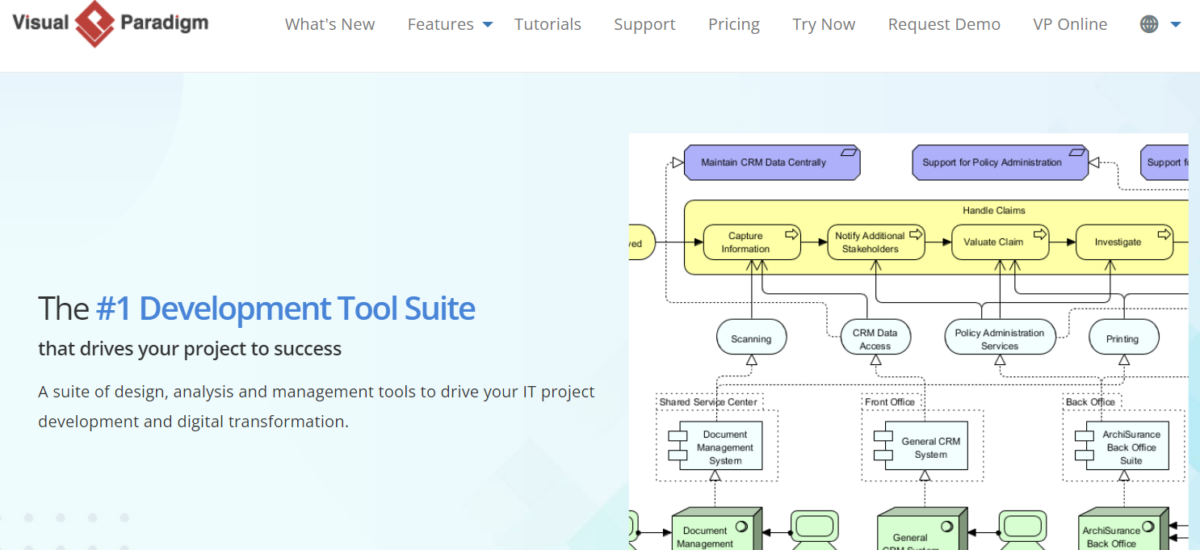 Visual Paradigm offers a number of award-winning software solutions that are used by hundreds of thousands of companies across several verticals. Included in their list of products is a 2D customer journey mapping tool.
You can use it to identify and describe key milestones of your customers' journey, add customer types, and much more. Then, to help you keep track and make sense of all the data, it offers a number of features to help you make sense of the data. You can, for example, use a cell-based chart for comparing a set of statistical info, an area chart for comparing quantitative progression over time, or a customer experience chart for communicating changes in customer emotion as time passes. You can also simply use smiley faces for the latter.
Key features include:
Personas
Bullet item cell format
Color-coding for better categorization
Plans and pricing: To be able to access the customer journey map feature, you'll need to sign up for its Standard plan which costs $19 per month. It also offers a generous free 30-day trial if you first want to try it out.
---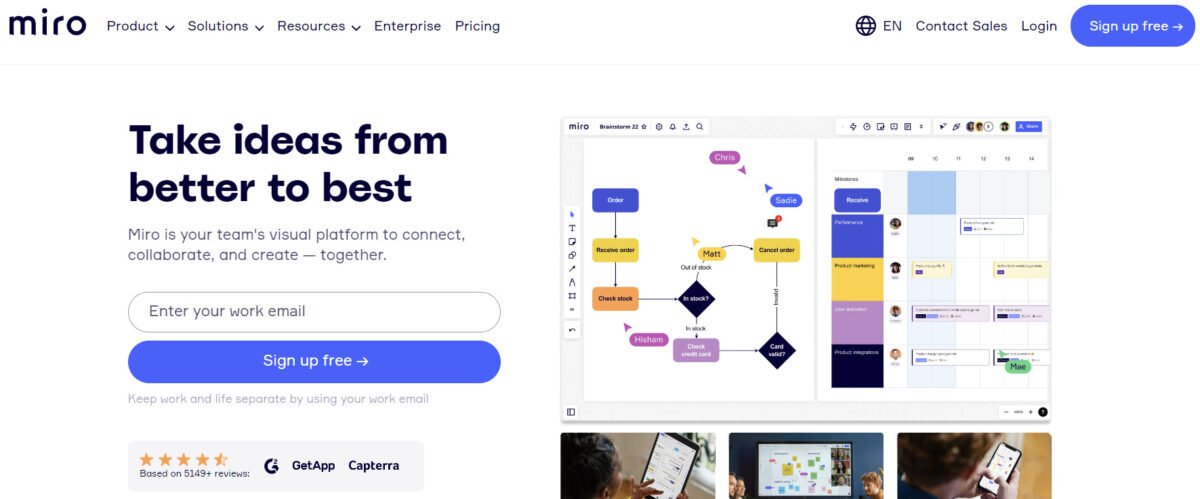 Founded more than a decade ago in 2011, Miro is an online, visual collaboration platform that unleashes creativity while at the same time improving innovation. As you would expect, being this long in business, you should have raked in quite the list of online reviews. This is exactly the case for Miro. On G2, they boast over 4,000 reviews, while over on Capterra, they're also one of the most reviewed (as well as highest rated) customer journey mapping tools.
It's created with various types of teams in mind and millions of users turn to its infinite canvas for brainstorming ideas and visual representation. For help with customer journey mapping, you can check out its customer touchpoint map template in addition to its customer journey map template. With the help of this first template, you can create the best customer experience using the point of view of your customers as a guideline. You can use it to determine all the different customer touchpoints of your brand/product and distinguish which ones need to be improved from those that are currently satisfactory. Armed with this map, you can then add more info to your customer journey map.
Key features include:
More than a 1,000 templates
Video chat
Roles for collaboration
Plans and pricing: Miro offers a free plan, and two subscription options. Pricing starts at $10 per user per month, but you can save 20% by paying annually instead.
---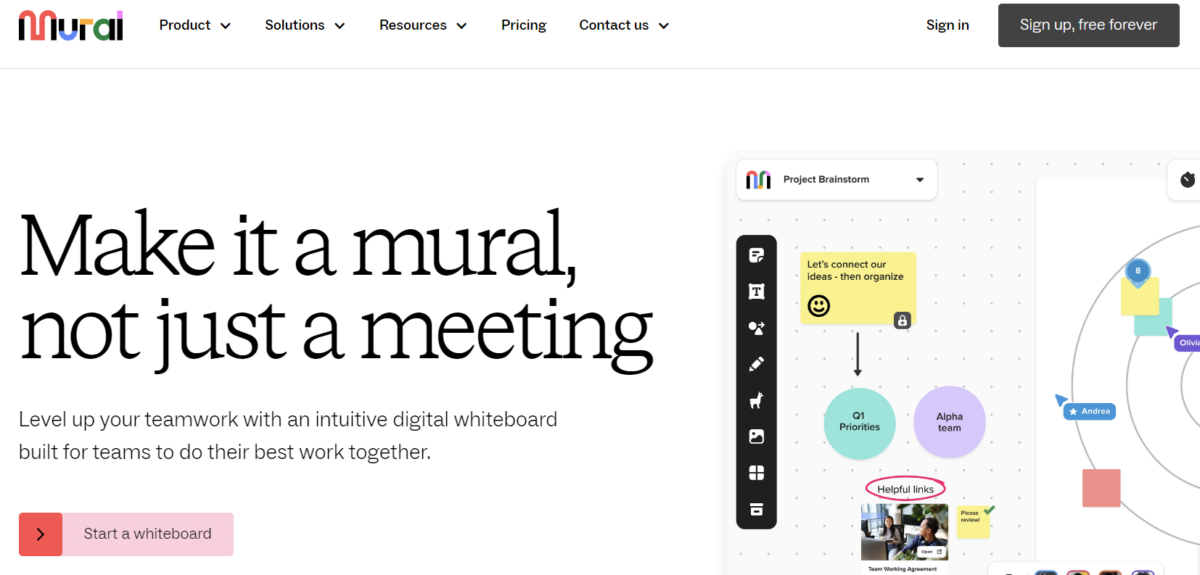 Mural offers a digital whiteboard system to help teams work better. It all started with a goal to simplify visual collaboration. As their LinkedIn page so eloquently puts it, their system provides "both a place to collaborate and the guidance to hone your team's collaboration skills".
It truly offers a long list of different use cases, including process mapping. After listing the workflow steps, you can add connections and relationships. Then, using sticky notes or text boxes, you can add action items or extra ideas.
There are also over 300 templates to help you get started faster. Alternatively, you can choose to begin with a blank page (or, as they like to call it, a mural) and whenever you're ready you can invite others to join the process asynchronously or in real time. You can also share your mural as a read-only file, if you choose not to get the input of others.
On G2, it's one of the most reviewed visual collaboration platforms. While its ability to collaborate via mobile devices was rated as below average, it still scored an impressive average of 88% for ease of use. Along with Miro, it was also included in Capterra's Idea Management Software Shortlist for 2023 as one of the top performers.
Key features include:
Premade templates
A content library where you can save shapes and other objects for later use
Flexible permissions
Plans and pricing: Mural offers a free plan which restricts you to three murals. For unlimited murals, you need to sign up for one of its paid plans with pricing starting at $12 per member per month (or $10 when billed annually). Enterprise pricing is also available upon request.
---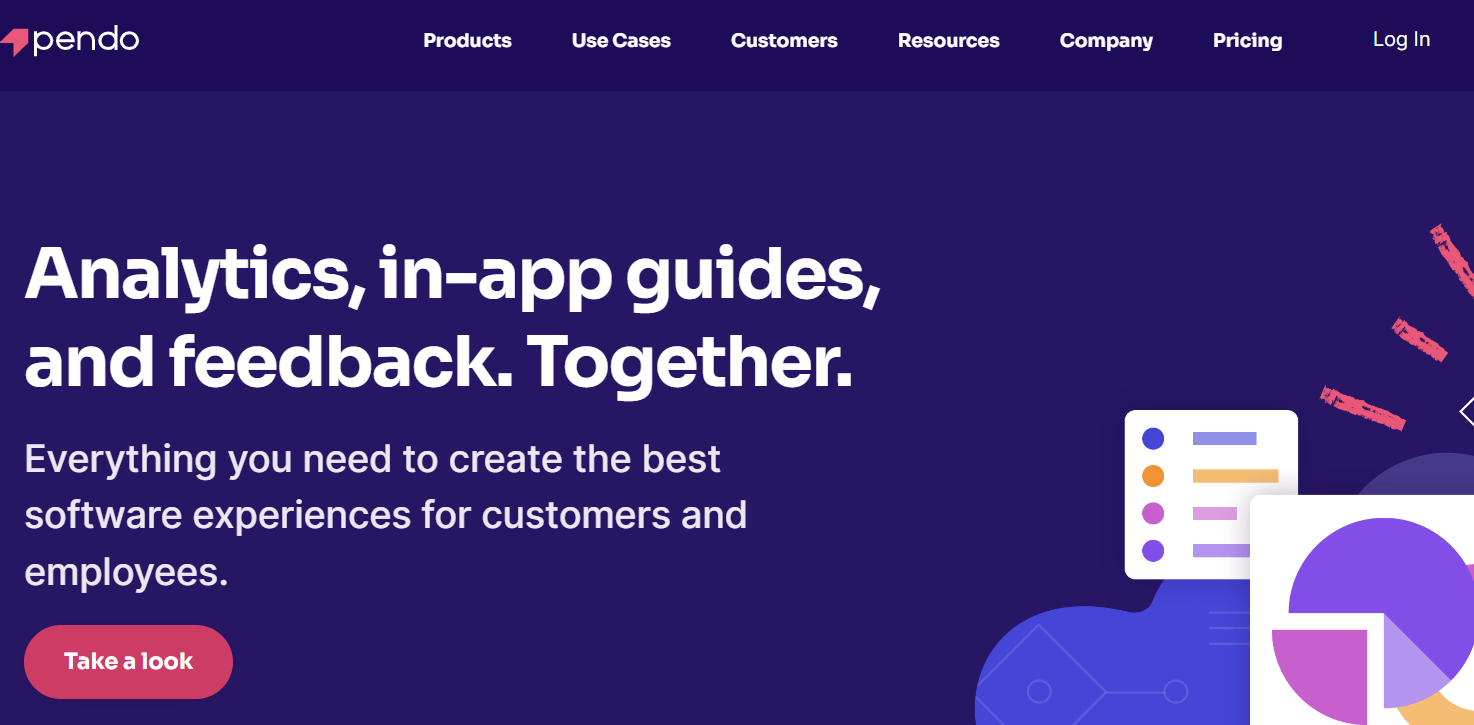 For help visualizing the user journey, you can check out Pendo. It can help you to create better software experiences for customers as well as employees. With it you can identify common user paths as well as hurdles along the way. It can also help you to find out where users typically begin, drop off, or end their journeys.
It's trusted by more than 600 million monthly users. If that doesn't speak to its capabilities, you can check out online software reviews sites where they have received hundreds of favorable reviews. It scored highly in all main categories and has been listed as one of the top performers in the customer experience software category a few years ago. That said, it doesn't come cheap, making it more suitable towards bigger companies with more spending power.
Key features include:
Product analytics
Roadmapping
Customer feedback capturing and segmentation
Plans and pricing: Pendo offers a free plan. For help with tracking sentiment, you'll need to sign up for its Starter plan, though, which is billed at $7,000 per year.
---