Advertising Disclosure
Advertising disclosure:
Our partners compensate us. This may influence which products or services we review (also where and how those products appear on the site), this in no way affects our recommendations or the advice we offer. Our reviews are based on years of experience and countless hours of research. Our partners cannot pay us to guarantee favorable reviews of their products or services.
If you want to be active on all the main social networks where your target audience spend most of their time, you need more than just a well-thought-out social media strategy. A solid social media management software solution is also a must.
While creating social media posts sounds like nothing too serious, what it does call for are loads of time and insights. Finding ideas, creating posts, publishing content, and then replying to comments and messages to encourage audience engagement is a never-ending process. You'll always find a gap on your content calendar. Then, to know when are the best times to post and on which social channel for maximum engagement, you'll need to have access to in-depth analytics. The solution — investing in a social media management solution.
There's a long list of social media schedulers, with Buffer being one of the most popular choices. However, it might not be the most sensible choice for your business, its budget, and marketing strategy. If you've checked out Buffer, here are other similar tools that you should also consider.
---
Top Buffer Alternatives for 2023:
---
Why Should You Check Out Buffer Alternatives?
The main focus of Buffer is content scheduling and posting. It's one of the top picks, especially for beginners or those looking to start with a free plan. You can also use it for other popular tasks like planning, analytics, and reporting. Though, one feature that it doesn't offer is social listening. Depending on your digital marketing strategy, this can be a deal-breaker. Hence, one reason why you might want to explore other options too.
Here are some of the pros and cons to keep in mind before you settle on Buffer:
Pros of Buffer
It has an intuitive calendar view.

It integrates with all the main social media platforms.

You can use it to schedule posting for multiple accounts at the same time.
Cons of Buffer
It lacks in the analytics department.

Social listening features aren't included.
---
What Are the Top Alternatives to Buffer?
Hootsuite

Sprout Social

MeetEdgar

Loomly

Agorapulse

Crowdfire
To help you decide which possible alternatives to try, we've done some of the homework for you. Here are short, but detailed, summaries of these tools and how they stack up against Buffer.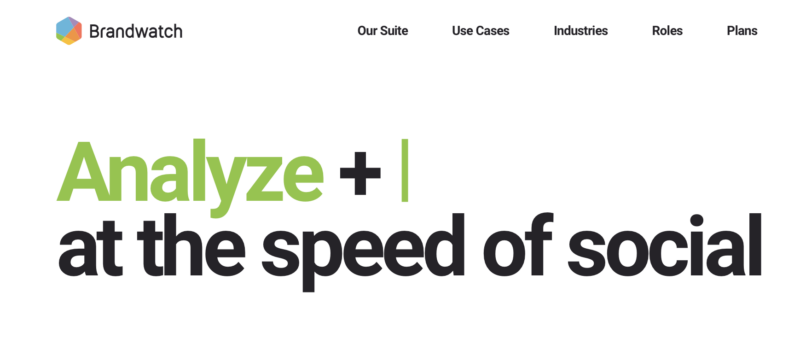 Brandwatch has two suites, one for consumer intelligence and the other for social media management. There are eight products included in its social media management suite to help you with more than just publishing. Plus, it's an official partner of Meta, Instagram, Twitter, and TikTok and offers powerful integrations to help you leverage other strategies like employee advocacy and UGC to make a real impact on social.
Here are some of Brandwatch's key features:
Tools that give you in-depth insights into your audience

A powerful integration with TikTok

Social listening to track what's being said online about your brand, its offering, and similar companies

A unified inbox to keep track of social engagement
Buffer vs Brandwatch
According to online reviews, user satisfaction is pretty much the same for Buffer and Brandwatch. In terms of functionality, Brandwatch does offer more tools, at least based on the way they've grouped their features.
While Buffer offers great reporting, Brandwatch takes it one step further with its Benchmark product. With this rather unique product, you can compare your brand's social media performance to competitors and other leaders in your industry.
Another standout feature is its Influencer product. It's an end-to-end solution that lets you manage all the key tasks like influencer discovery, communication, and campaign reporting in one place. If you plan on making influencer marketing a big part of your marketing strategy, this feature will very likely tip the scales in Brandwatch's favor.
Pricing: Brandwatch doesn't share any pricing info about their social media management solution on their website. For more details about their custom pricing, you'll need to book a meeting.
---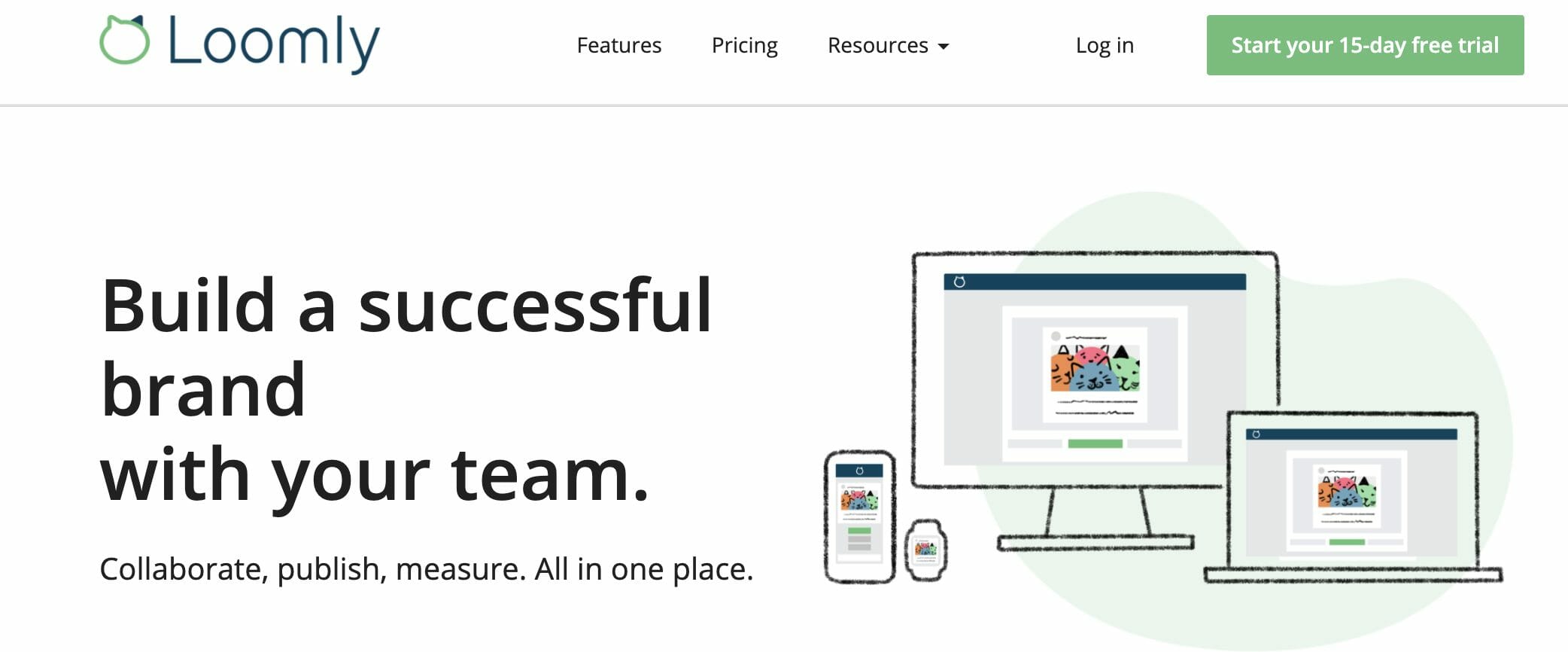 Loomly is a popular social media management platform among marketing teams as it offers useful features, like end-to-end post history, a commenting system, and a central asset library, to help simplify team management. In addition to the strong team management features, it also offers standard features like integrations with all the main platforms, post analytics, a calendar view, seamless scheduling, that you've come to expect of tools in this category.
Here are some of Loomly's key features:
One platform to manage all your social media content

Post ideas based on trending topics to help ensure you have an uninterrupted supply of content

Automatically generated post and ad previews to eliminate errors

A collaborative review and approval workflow for improved teamwork

Analytics to measure the performance of your posts in real time
Buffer vs Loomly
Buffer is great for publishing and reporting. While Loomly can help with these specific tasks too, it can also help you to get content so that you're ready for publishing. One very useful feature that Loomly has over Buffer is that it actually guides you with content creation by sharing post optimization tips in real time. It also shares post ideas by considering social media best practices and topics that are currently popular.
Price-wise they're more or less the same. Both offer free two-week trials. Buffer offers a free plan, but Loomly, on the other hand, has more pricing plans available.
Pricing: Loomly offers four subscription plans as well as custom pricing for enterprise clients. The Base Plan is $26 per month for two users and 10 social accounts. The Standard Plan costs $59 per month for six users and 20 social accounts. The Advanced Plan costs $129 per month for 14 users and 35 social accounts. The Premium Plan costs $269 per month for 30 users and 50 social accounts. All these prices are based on annual billing.
---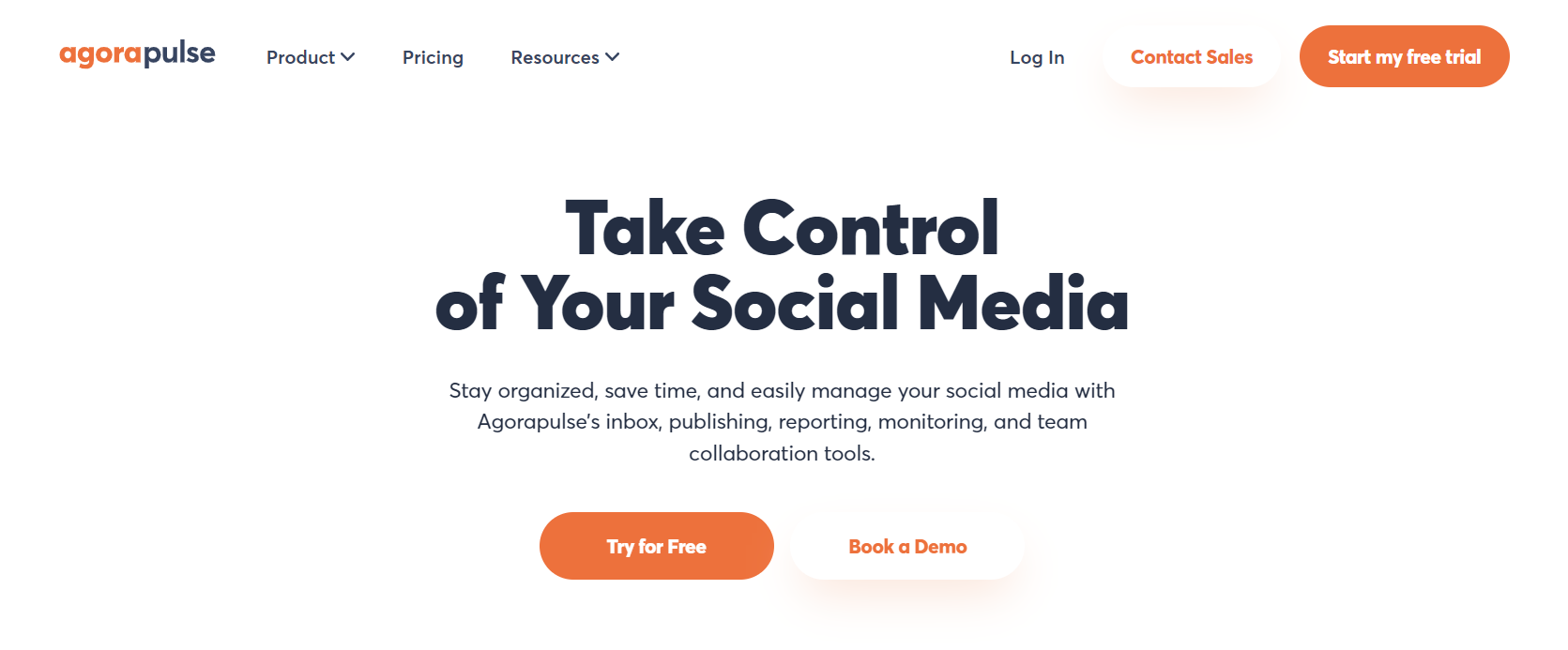 Similarly to Sprout Social, Agorapulse is a popular platform for social media management among bigger businesses with more heavy-duty needs. Its user-friendly interfacemakes it easy to get set up and it offers an inbox and various tools to help with publishing, reporting, monitoring, and team collaboration. While it offers great functionality, it doesn't include all the integrations that you would expect. Supported networks at this stage include Facebook, Twitter, Instagram, LinkedIn, and YouTube. Depending on your plan, you can also get integration with Google My Business, but sadly TikTok and Pinterest aren't included in any of its plans.
Here are some of Agorapulse's key features:
A unified social inbox to manage all messages, comments, and reviews across social media

Social listening to identify trends and insights about competitors and your own brand

Actionable reports to gain better insight into which strategies are effective
Buffer vs Agorapulse
As mentioned earlier, Agorapulse and Sprout Social are pretty similar, not just in features but also in pricing. So, if you're considering using Sprout Social as an alternative to Buffer, take the time to evaluate Agorapulse as a potential Buffer alternative too.
Buffer wins in the integrations department, while Agorapulse takes the cake when it comes to social media monitoring. So, if you can work without TikTok and Pinterest, yet don't mind paying slightly more for the ability to listen in on social conversations featuring your rivals and brand, this could be a good fit.
Pricing: Agorapulse offers a free plan, two subscription plans as well as custom pricing for enterprise clients. The Pro plan costs $79 per month for two users and 10 social profiles. The Premium plan costs $199 per month for four users and 20 social profiles. Both these prices are based on annual billing.
---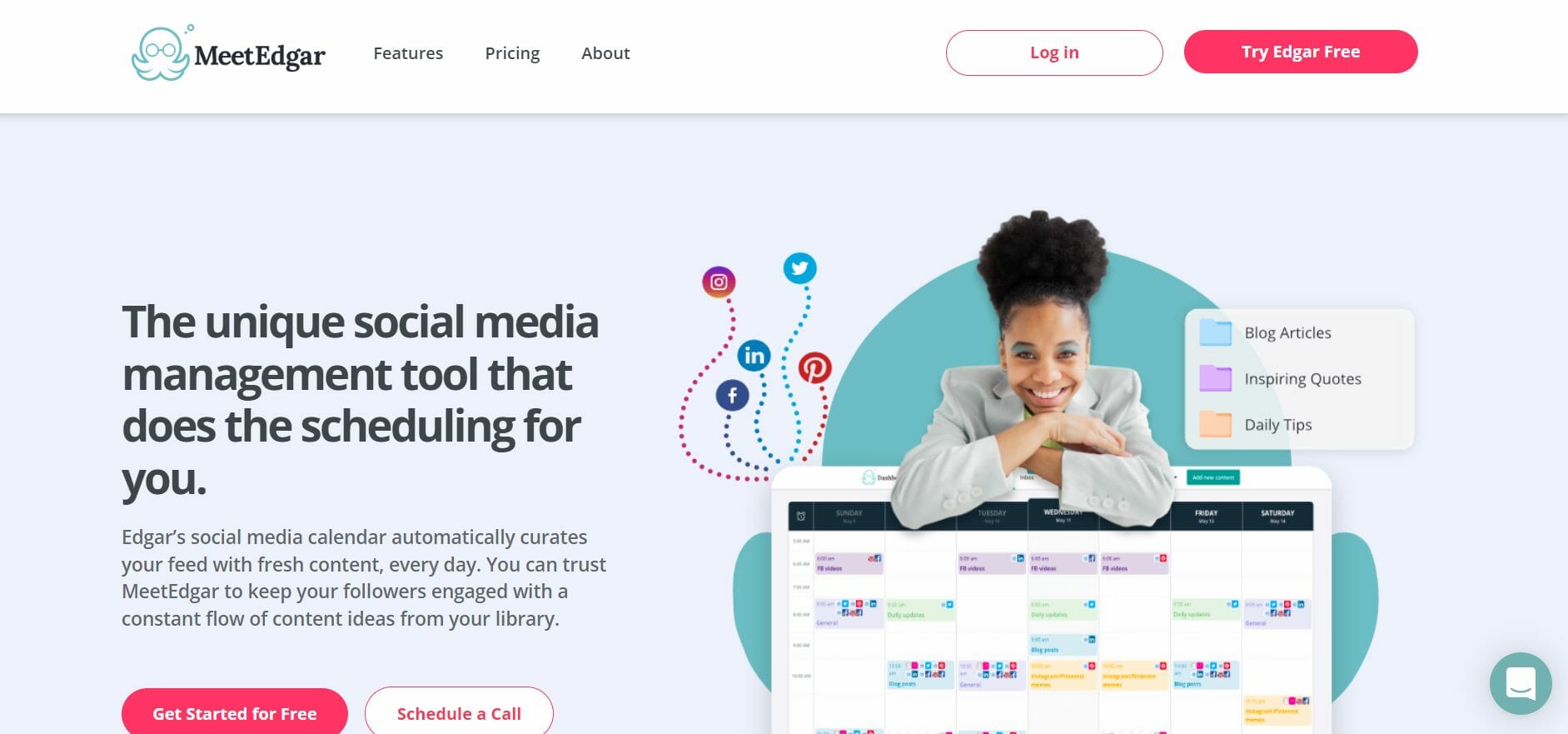 MeetEdgar is a female-founded, social media scheduling and management tool. It's aimed specifically at freelancers and small businesses, helping them to automate much of their social media needs by scheduling and queueing posts. All in all, it's very useful for content creation, helping you to utilize evergreen posts optimally and create up to five times more content.
Here are some of MeetEdgar's key features:
Suggested social posts will create variations for each update automatically

A/B test variations to see which content works best with which audience members

A limitless library where you can keep your content for when you run out of posts

A single dashboard for managing social media accounts

Real-time performance metrics
Buffer vs MeetEdgar
When it comes to functionality, Buffer might be a clear winner. However, depending on your needs, MeetEdgar can be a worthy alternative.
Buffer offers integration with all the main social media platforms — Facebook, Instagram, Twitter, TikTok, LinkedIn, Pinterest, and YouTube. On the other hand, MeetEdgar works only with Facebook (pages and groups), Instagram, Twitter, Pinterest, and LinkedIn.
Unlike Buffer, MeetEdgar also doesn't offer robust analytics or reporting. It does send a weekly performance report. However, it's very basic and shows you only how many posts you've published (and from which categories), changes in your followers, and clicks.
An area where MeetEdgar does excel, though, is content creation. It will automatically repurpose and republish evergreen updates, helping you to create an infinite content library.
Pricing: MeetEdgar offers only two subscription plans. The Eddie Annual Plan is about $25 per month and includes five social accounts. The Edgar Annual Plan costs about $42 per month for 25 social accounts. Monthly billing is also an option.
---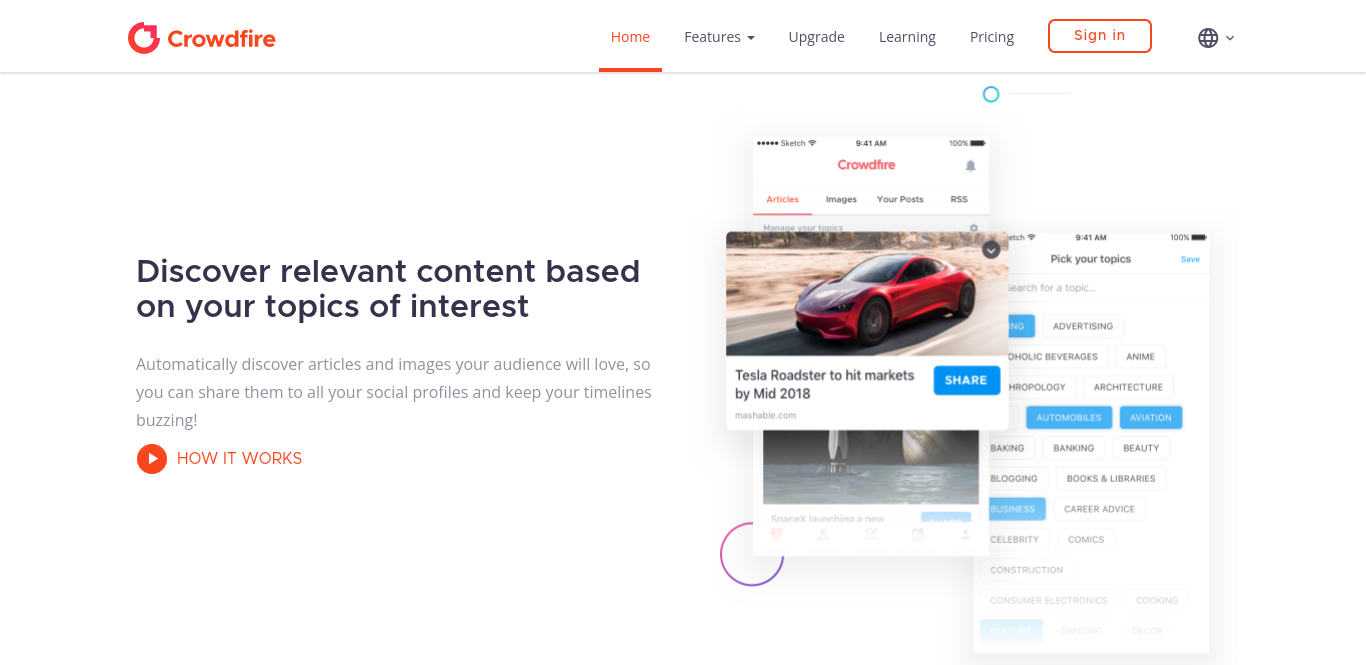 Crowdfire is fueling nearly 20 million users, helping them from publishing their content to analyzing the results, and virtually everything in between. For example, it can also help with scheduling, publishing, content curation, and mention tracking on select platforms. If you'll be working as part of a bigger team, it also lets you add and manage extra team members per profile.
Here are some of Crowdfire's key features:
A good selection of analytics that include social analytics, post analytics, and competitor analysis

Image and article recommendations to help with topic planning

Automatic best-time-to-post recommendations for each account
Buffer vs Crowdfire
When it comes to ease of use and overall user satisfaction, there's nothing really setting these two popular social media software solutions apart. Though, in terms of functionality and features, there are some key differences.
Where Buffer allows you to store thousands of scheduled posts in your queue, Crowdfire caps scheduled posts per account to less than a 1,000 (and that's with their top-tier plan — the cheaper plans limit it to only 100). Buffer also offers more in terms of integrations. In addition to Crowdfire's supported networks, you also get access to TikTok, YouTube, and Google Business profiles.
Depending on your needs, though, Crowdfire might work out cheaper than Buffer. While their entry-level plan offers great value for money, the jump between one plan to the next is quite steep.
Pricing: Crowdfire offers a free plan and three subscription plans. The Plus plan costs about $8 per month for five linked accounts. The Premium plan costs about $38 per month for 10 linked accounts. The VIP plan costs about $75 per month for 25 linked accounts. All these prices are based on annual billing.
---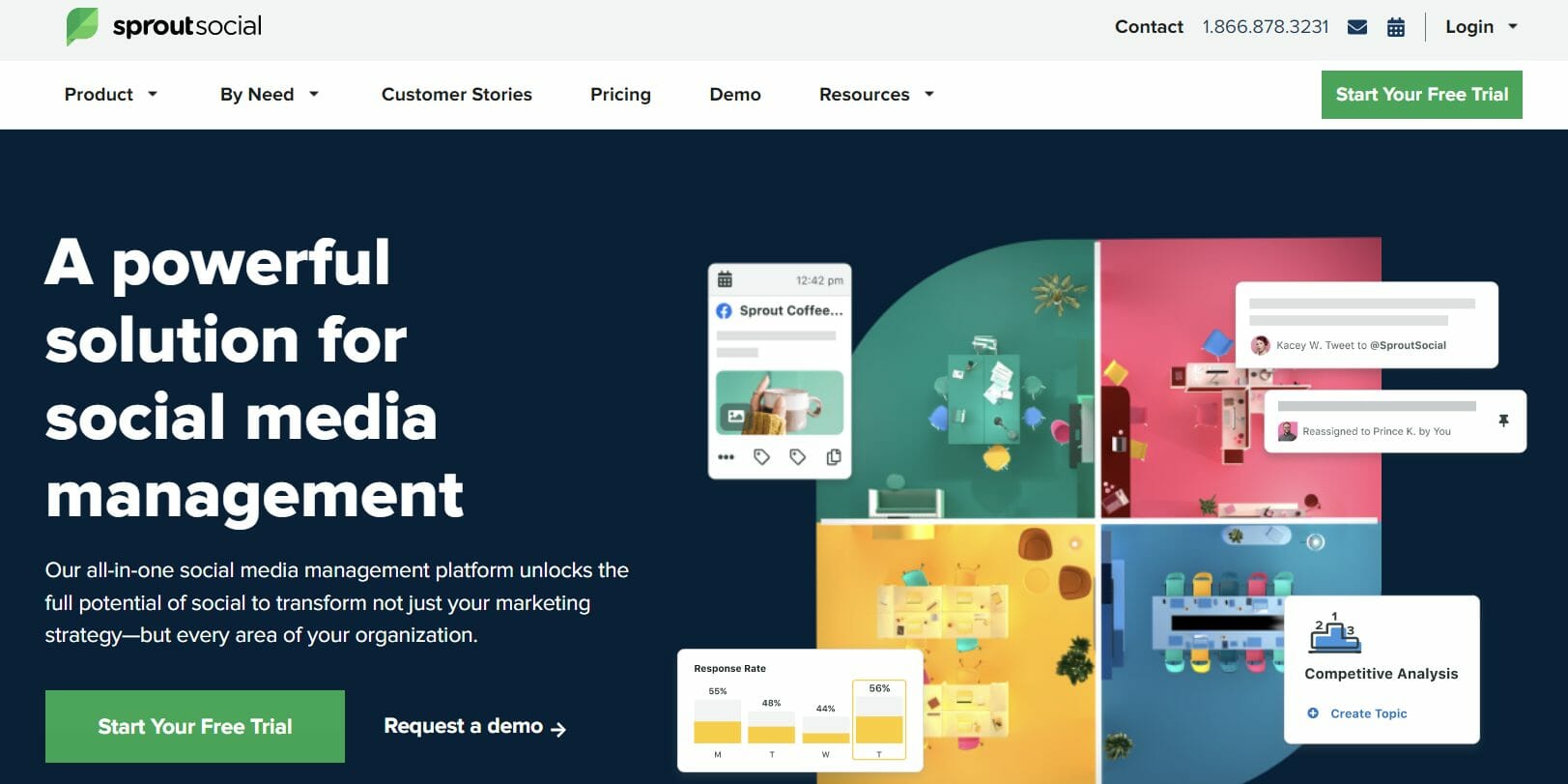 Sprout Social is a powerful social media management tool and one of the top picks if you specifically want to focus on social media monitoring. In addition to social media monitoring, it also offers all the other standard features such as scheduling, publishing, and analysis. While its platform is easy to understand and use, its pricing means that it's more suitable for bigger brands that have serious social media goals.
Here are some of Sprout Social's key features:
Real-time brand monitoring and powerful social listening

Review management to help you monitor and respond to reviews across various sites

A powerful reporting feature for user-friendly reports
Buffer vs Sprout Social
While both Buffer and Sprout Social are two of the most popular social media management tools, it's a bit like comparing apples to oranges when it comes to pricing. Both these tools offer free trials, but unlike Buffer, Sprout Social doesn't offer a free plan. It's also more than double Buffer's price.
Pricing aside, there are a few strong similarities. For example, both Buffer and Sprout Social offer integration with all the main platforms, including TikTok. Both offer all the standard tools to help with publishing and scheduling (including analytics to help with decision-making).
Though, one area where Sprout Social outshines Buffer is in the social listening department. To set up Buffer for social listening, you'll need to use a free tool like Mention that integrates with Buffer. Sprout Social, on the other hand, offers robust social listening features. So, if you want to leverage social listening, paying more might make more sense in the long run.
Pricing: Sprout Social offers three subscription plans. The Standard plan is $89 per user per month and includes five social profiles. The Professional plan costs $149 per user per month for 10 social profiles. The Advanced plan costs $249 per user per month for 10 social profiles. All these prices are based on annual billing.
---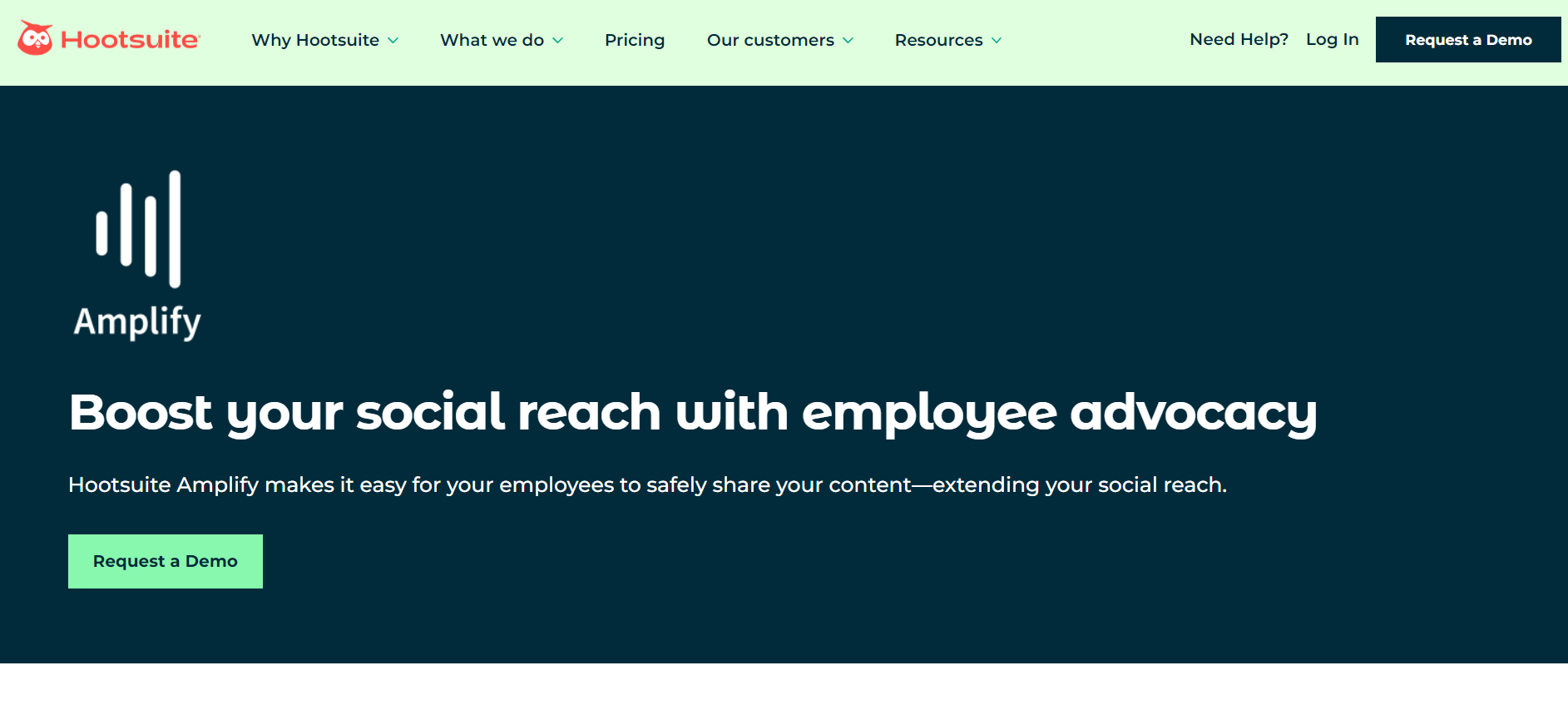 Hootsuite is one of the most popular social media management tools and alternatives to Buffer. It offers a scalable platform that includes several key features, such as publishing, content curation, and analytics, besides merely scheduling. It's also one of the more affordable alternative solutions. In addition to offering a free 30-day trial, they also include a free plan, while pricing for their subscription plans start at $49 per month.
Here are some of Hootsuite's key features:
A single dashboard with one calendar view for a quick overview of scheduled and published content

A Bulk Composer for scheduling multiple posts at once

An easy-to-use approval process for more effective teamwork

A unified inbox displaying all your incoming messages across your social accounts
Buffer vs Hootsuite
There's no denying that Buffer and Hootsuite are two of the most popular platforms for social media marketing. While they're both solid solutions that integrate with all the main social media platforms, a comparison between Buffer and Hootsuite shows that they approach certain tasks, like post scheduling, differently which will also ultimately play a deciding factor in which tool will be the best solution for your needs. Basically, Hootsuite tries to substitute your social media accounts, while Buffer is more concerned with creating a queue of posts.
Both tools choose to split some of its functionality across different apps. For example, to take advantage of social listening, you'll need to sign up for the Hootsuite Insights app.
One key difference, though, is the pricing. While both offer a free plan, depending on your needs, Buffer can work out cheaper (it's also a bit more user-friendly making it more suitable for beginners).
Pricing: Hootsuite offers a free plan, three subscription plans and custom pricing for enterprise clients. The Professional plan is $49 per month and includes one user and 10 social accounts. The Team plan costs $179 per month for three users and 20 social accounts. The Business plan costs $739 per month for five users and 35 social accounts. All these prices are based on annual billing.
---
---
Wrapping Things Up
Truth be told, there's no perfect tool. You'll most likely find that you'll try out a few before you find one that you can see a long(ish) future with. When choosing the best tool, start by checking out the social networks that it supports. It should support all the channels where you want to build a brand presence.
Then, consider features like a content calendar and built-in editor. These will come in handy and help to save loads of time.
If you plan on working with a bigger team, keep in mind which features it offers to help with collaboration. It should let you assign tasks and posts to different team members at the very least.
Lastly, access to analytics is also a deal-breaker. After all, if you want to be able to make improvements to your social media marketing campaigns, you'll need to know what works and what doesn't.
Frequently Asked Questions
What can I use instead of Buffer?
These are the top alternatives for Buffer:
Loomly

AgoraPulse

Meet Edgar

Crowdfire

Sprout Social

Hootsuite
Is HootSuite better than Buffer?
Buffer is better than HootSuite in some ways. For example, it is much more user-friendly and offers sophisticated and trustworthy social media management. The advanced analytics and social listening make it a great option for larger social media teams.
Is Buffer no longer free?
Buffer does have a "Free Forever" plan. However, their pro plan starts at $15 a month and their small business plan starts at $99 a month. They also have larger plans for enterprise and bigger businesses. You can do a 14-day free trial. Plans are paid monthly or yearly.
What are buffer tools?
Buffer's tools for social media managers and businesses will help you access analytics, advanced social media scheduling and more to grow your following and engagement.