Advertising Disclosure
Advertising disclosure:
Our partners compensate us. This may influence which products or services we review (also where and how those products appear on the site), this in no way affects our recommendations or the advice we offer. Our reviews are based on years of experience and countless hours of research. Our partners cannot pay us to guarantee favorable reviews of their products or services.
Web design is vital for any business's online presence. A well-designed website attracts customers and improves user experience, boosting engagement and conversions. Comprehensive digital marketing agencies typically offer web design services. However, some specialized agencies focus solely on web development and design.
Web designers undertake various processes to plan and produce electronic files that manage the visual aspects of your website. Their role includes enhancing user experience by working on layout, graphics, images, structure, color, text styles, and content to create an engaging site for your visitors.
But more than just the creative work, web design agencies also monitor website activity, traffic, and user behavior. This helps clients make informed decisions to improve website performance. Here's a list of the design services they offer:
User experience (UX) and User Interface (UI)

Frontend development

Backend development

eCommerce website development

Search engine optimization (SEO)

Website maintenance and support

Website hosting

Website analytics and reporting
Numerous agencies provide web design services today, with some specializing in specific industries, such as eCommerce, healthcare, nonprofits, government, retail, construction, and more. Collaborating with an agency that offers services tailored to your industry is essential.
---
Top Web Design Agencies
Getting your website design right is essential to ensure your brand's success. The professional web design service providers below have got you covered.
Top
website design service providers
2024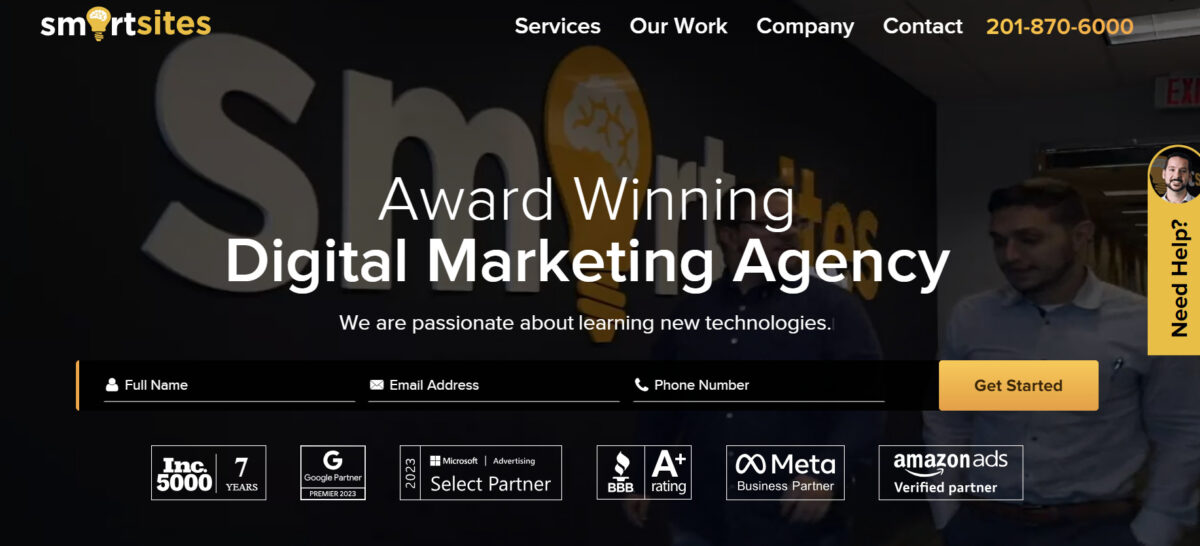 Founded: 2011
Location: Paramus, NJ
SmartSites is a digital marketing agency that boosts sales and customer acquisition through product promotion and website enhancement. One of its key services is website design, where its award-winning team customizes your website to showcase your brand remarkably. They begin with in-depth keyword and competitor research and ensure your site drives results with clear CTAs. SmartSites also makes your website responsive across desktop, tablet, and mobile devices.
SmartSites's web design services encompass safety and security, Google Analytics monitoring, optimization for Google Page Speed, onsite SEO best practices, and easy management through platforms like WordPress and Magento. They also provide ongoing support.
Bold Notable Clients: Harvard University, Porsche, Rockville Interiors, and MediSolutions.
Key Services:
Web Design
PPC Advertising
SEO
Email and SMS Marketing
Social Media Marketing
Pricing: Varies depending on the service; upon request
Industry Specializations: Home Services, Medical, B2B, Automotive, Legal, Hospitality, Retail, Education, Industrial, Nonprofit, Small Business
---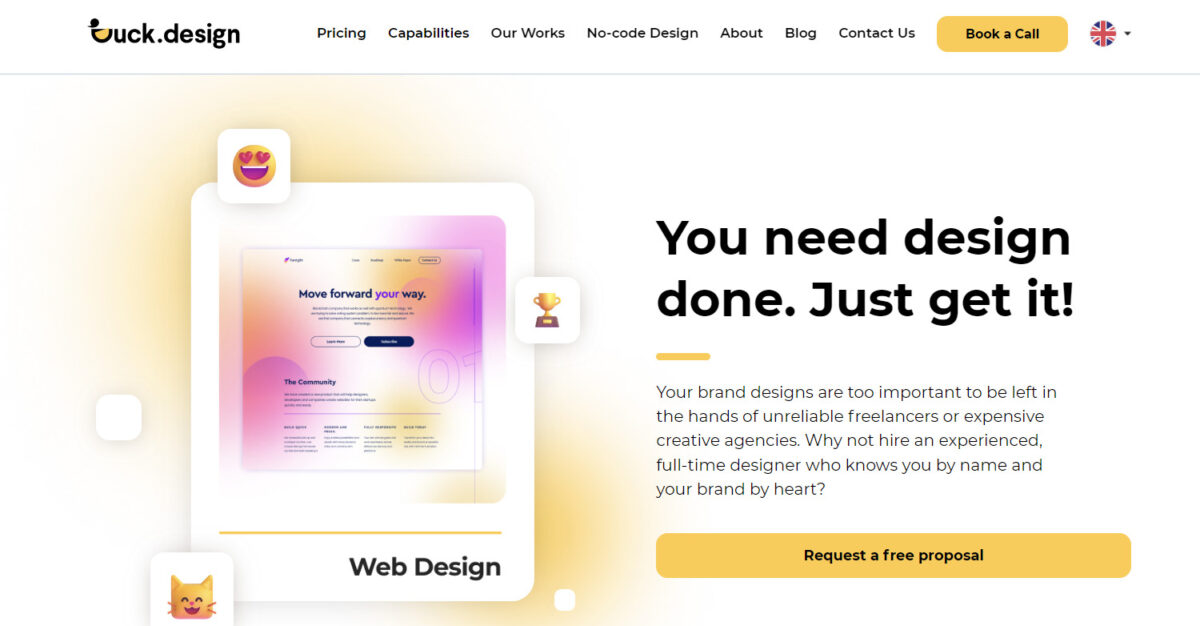 Founded: 2017
Location: London, England
Duck.Design is an acclaimed design agency offering a range of specialized design services. Its expertise is developing online stores, corporate websites, internet banking landings, and portals. Its design solutions address various business needs, including product promotion, customer service enhancement, and conversion rate improvement.
Collaborating with Duck.Design means partnering with a dedicated team of top-tier designers capable of quick turnarounds, including 12- or 24-hour services. Duck.Design also provides an enterprise-ready solution with a strong emphasis on security and confidentiality. They offer flexible, creative subscription plans to cater to your unlimited graphic design needs.
Bold Notable Clients: P&G, HSBC, Virgin Media, Burger King, and Samsung.
Key Services:
App UX/UI Design
Graphic Design
Motion Design
Branding Identity Design
No-Code Development
3D design
Packaging Design
Software Design
Amazon Design
Pricing:
Graphic design starts at $899/mo.
Costs of other services are available upon request.
Industry Specializations: Advertising and Marketing, Arts and Entertainment, Business Services, Consumer Goods, Education, Finance
---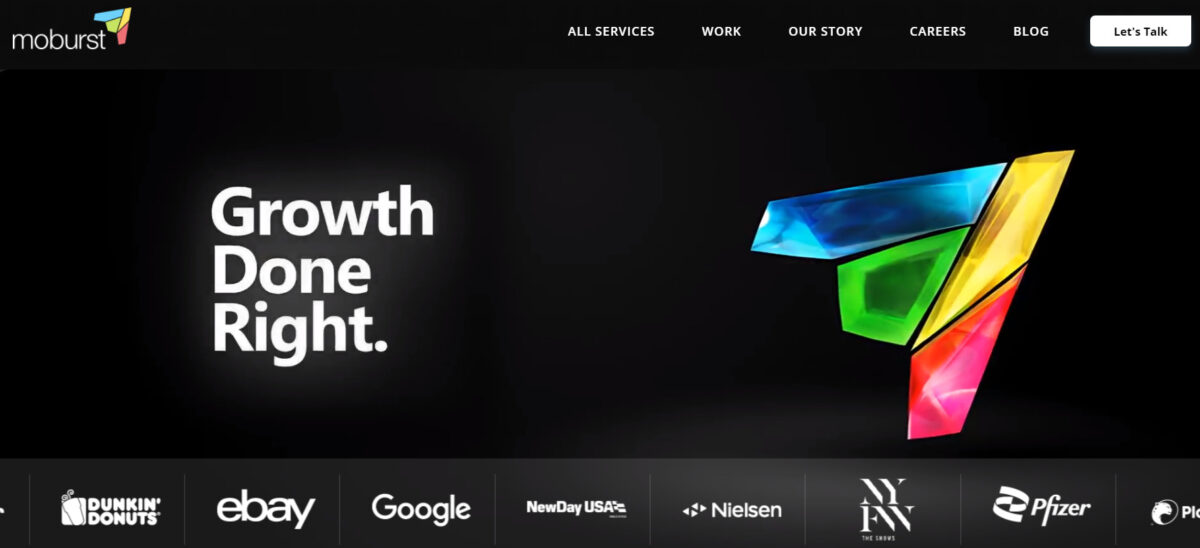 Founded: 2013
Location: New York, NY; San Francisco, CA; Tel Aviv, IL; London, UK
Moburst is a mobile-first digital agency that makes it its mission to help clients become industry leaders and exceed KPIs through creative solutions and innovative products. Its team has already worked on over 600 products, bringing expertise to the table and driving measurable results for clients. 
For its web design and development services, Moburst offers support for pre and post-launch, a well-optimized website, optimization and measurable growth, and integrations for enhanced ROI and efficiency.
Bold Notable Clients: Samsung, Uber, Reddit, Pfizer, and Discovery.
Key Services:
Website Development
UI//UX
Marketing
Organic Awareness
Creative & Content
Media Buying 
Product & Development
Pricing: Varies depending on the service; upon request
Industry Specializations: Consumer Goods, Tech, Transportation, eCommerce, Finance, Gaming, Security
---

Founded: 2016
Location: San Francisco, CA
Clay specializes in design and branding. Clay transforms modern brands through strategy, visual identity, and communication, blending user experience and storytelling for exceptional brand messaging. Its team creates engaging digital products informed by behavioral sciences, ensuring global usability. They optimize conversions and engage customers across mobile apps, websites, and enterprise software. 
Clay's designs are scalable and aligned with its clients' long-term business goals. Its web design services encompass UX/UI design, brand identity, interaction design, user testing, motion design, frontend and backend development, optimization, and more.
Bold Notable Clients: Meta, Coca-Cola, Amazon, UPS, Fiverr, Cisco, Google, Sony, and Uber.
Key Services:
Branding
Digital Products
Websites
Content
Development
Pricing: Varies depending on the service; upon request
Industry Specializations: Fintech, B2B and Enterprise Software, Crypto and Web3, Technology, eCommerce, Electronics, Food and Beverage, Startup, Healthcare and Life Sciences, Telecommunications, Mobility, Logistics
---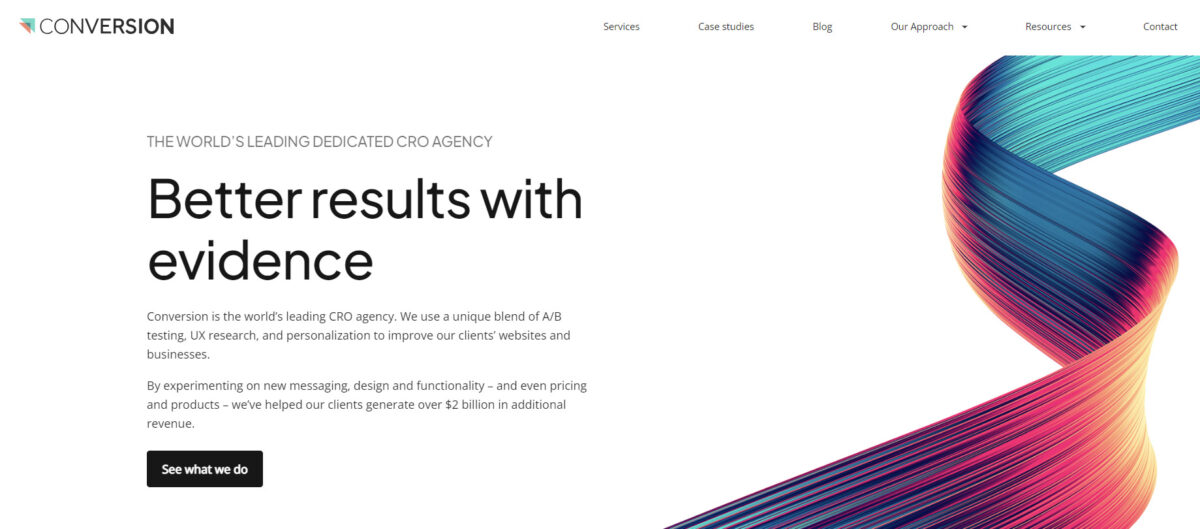 Founded: 2007
Location: Vancouver, CA; London, UK
Conversion is a premier CRO agency worldwide that combines UX research, A/B testing, and personalization techniques to enhance clients' sites and businesses. It focuses on CRO optimization and utilizes data-driven experimentation, resulting in improved results and customer experiences.  
The agency offers conversion-centered design services, aimed at helping clients design websites that are high-converting. Conversion helps you fix leaks in your conversion funnel before launch, ensuring that your website is able to deliver positive user experiences from the get-go.
Bold Notable Clients: Microsoft, Google, Canon, and Toyota.
Key Services:
Conversion-Centered Design
User Experience Research
Conversion Rate Optimization
Liftmap
Pricing: Starts from $10,000
Industry Specializations: Automotive, Consumer Services, eCommerce, Education, Energy, Food and Beverage, Media, Nonprofit, Real Estate, Retail, SaaS, Travel
---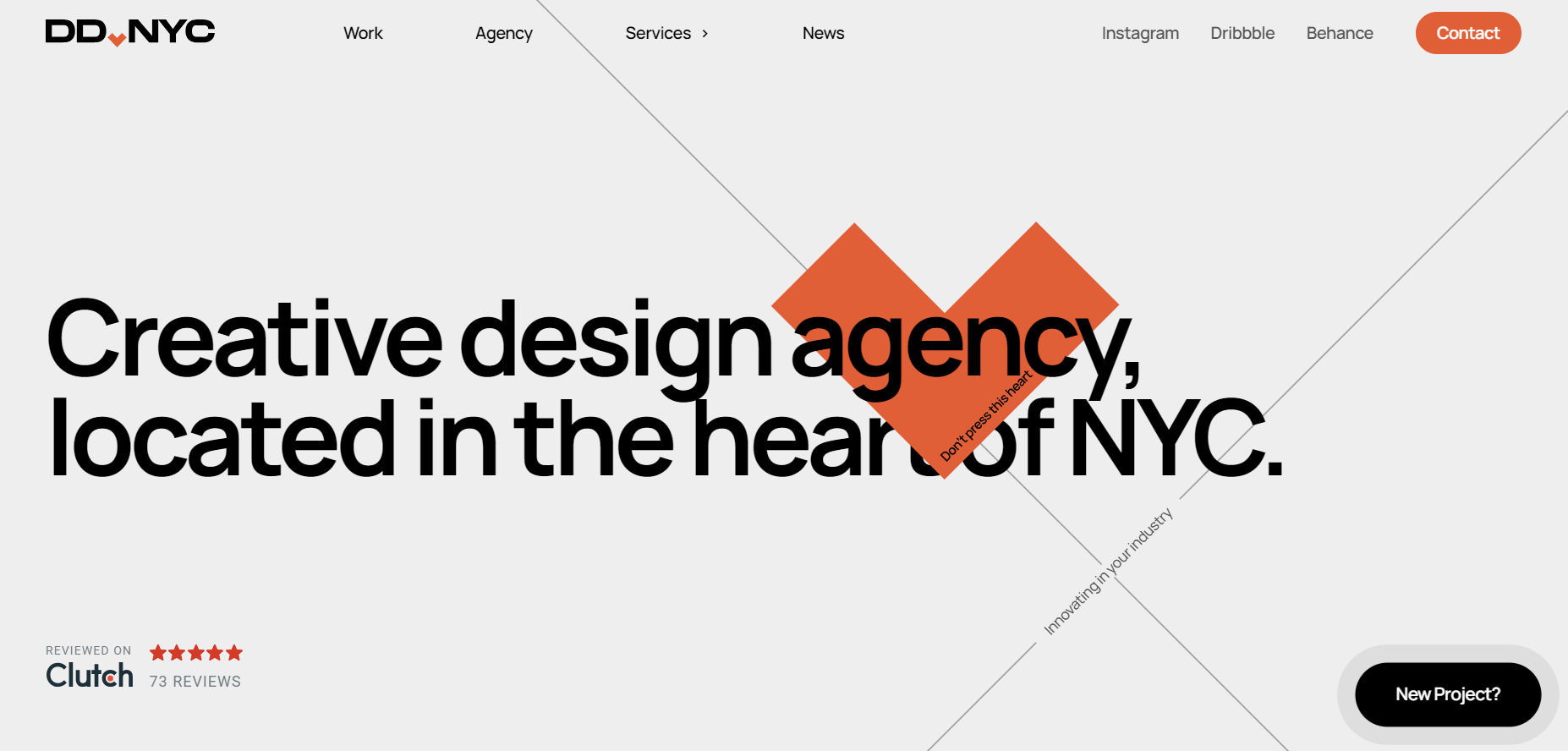 Founded: 2015
Location: New York, NY
DigitalDesign.NYC is an award-winning creative agency specializing in website and mobile app design and development. It primarily serves marketplaces in New York and Los Angeles. The team excels in creating top-notch, mobile-first web experiences using modern design techniques. They prioritize responsive design to ensure your website works seamlessly on all devices and interfaces.
DD.NYC offers various web design services, including custom innovative design, mobile-responsive websites, clear CTAs and conversion-focused design, WordPress websites, corporate and brochure sites, animated websites, and web support.
Bold Notable Clients: Global New Yorker, Airatae, iBrand, Roommate, Walmart, and Groupon.
Key Services:
Web Design
Branding
Packaging Design
Graphic Design
Pricing: Varies depending on the service; upon request
Industry Specializations: Food and Beverage, Luxury, Fashion, Healthcare, Finance, Hospitality, Construction, Real Estate, Legal, Retail, Government, Nonprofit
---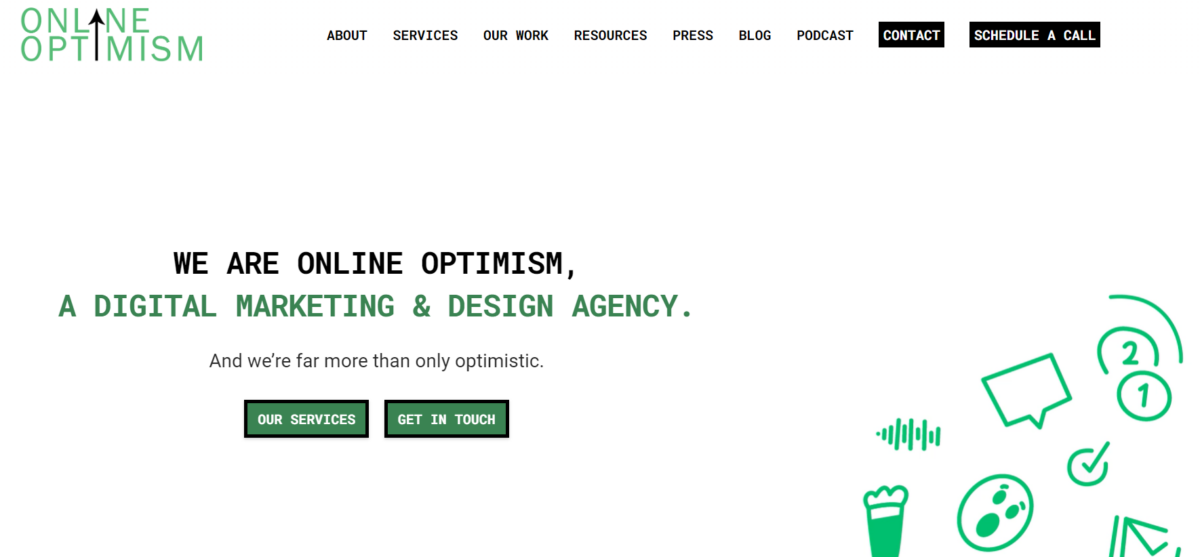 Founded: 2012
Location: Washington, DC.; Atlanta, GA; New Orleans, LA
Online Optimism is a leading creative digital marketing agency serving businesses across various industries. It employs a data-driven approach to maximize the value of your marketing investment and help you achieve your goals. Its web design services cover a broad spectrum, including ground-up website design and development, user experience optimization, and comprehensive website maintenance and monitoring. 
Its team seamlessly integrates web design with strategies like brand messaging, SEO, and backend development to enhance your site's engagement, increase conversion rates, and ensure long-lasting outcomes.
Bold Notable Clients: Doctors for America, Xavier University, First Bank and Trust, and Moxie Media.
Key Services:
Social Media Management
SEO Management
Digital Ads
Content Marketing
Web Design
Branding
Pricing: For website projects: Fees typically range from $8,075 to $250,325, with most falling between $15,000 and $100,000.
Industry Specializations: Hospitality, Healthcare, Automotive, Legal, Education, Government, Nonprofits, Cybersecurity, Consumer Packaged Goods, Alcohol, AEC, eCommerce 
---

Founded: 2016
Location: San Francisco, CA
Neuron is a UX/UI consultancy agency. It specializes in creating high-level business and enterprise tools to boost productivity, sales, and business intelligence. Its team's human-centric design approach involves understanding your customers, identifying pain points, and devising solutions to improve interactions with your brand or product. They offer detailed design specifications, the Product Blueprint, to streamline development by providing a straightforward user experience and interaction model.
The web design team at Neuron comprises experienced professionals, including creatives, strategists, technologists, and problem-solvers. Their process starts with wireframes and flows, then visual and interaction design and user testing, and concludes with delivery and handoff.
Bold Notable Clients: Hootsuite, Vendr, Sony, and Geojam.
Key Services:
Product Strategy
UX/UI Design
Prototypes
Design Systems
Pricing: Varies depending on the service; upon request
Industry Specializations: Human Resources and Management, Sales, Healthcare, Finance, Logistics
---
Founded: 2011
Location: Pittsburgh, PA; New York, NY; Los Angeles, CA
Huemor is a web design and development agency that excels in creating websites that attract more customers, outperform competitors, and aid in talent acquisition. It provides two primary services: web design and web support. For web design, its team can create a new website to meet industry standards or revamp an existing one to boost its sales capabilities. Both include dedicated website support for planning, executing, and measuring improvements.
Huemor's web design services encompass digital strategy, UX/UI design, full-stack web development, graphic and asset creation, data entry and migration, copywriting, and more. After completion, Huemor offers a 2-week post-launch support.
Bold Notable Clients: HITT, Skyline Construction, Harmony Bay, UN Women, and Luseta Beauty.
Key Services:
Website Redesign
Website Support
Pricing: Rebuild costs a one-time fixed fee ranging from $75,000 to $150,000.
Industry Specializations: Construction, Education, SaaS, Retail and Consumer Goods, Professional Services, Healthcare, FinTech
---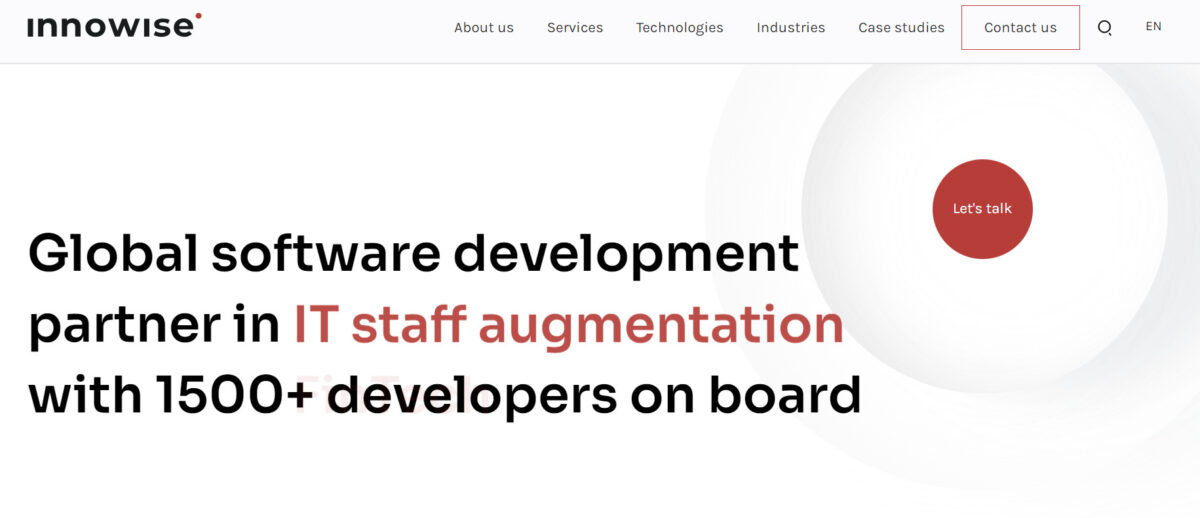 Founded: 2007
Location: St. Petersburg, FL; Berlin, Germany; Warsaw, Poland; Norwich, UK
Innowise is an IT consulting and services provider offering software engineering services and expertise in technology advancement. Its functional expertise includes UI/UX design, web and mobile development, DevOps, and IT staffing. The Innowise team excels in creating ergonomic UI/UX designs for web and mobile applications using the latest tools and technologies. They stay current with 2D/3D design trends to enhance their projects.
Innowise's UI/UX design services cover web and mobile design, app and website redesign, graphic design, UI/UX design audits, design research, design strategy development, and design concept creation. Their design process includes research and concept development, wireframing and prototyping, testing and validation, visual design, and development handover.
Bold Notable Clients: OneStop Pro, Topcon, and Atlas Guides.
Key Services:
IT Consulting and Advisory
Web and Mobile Development
Cloud Development
UI/UX Design
Software Testing and QA
DevOps
Blockchain, NFT, and Metaverse
AR and VR
IoT
Cybersecurity
Pricing: Varies depending on the service; upon request
Industry Specializations: Media and Entertainment, Telecommunications, Healthcare and Life Sciences, Finance, Insurance, eCommerce, Retail, Education, Energy and Utilities, Automotive, Logistics and Transportation, Marketing and Advertising, Manufacturing, Enterprise
---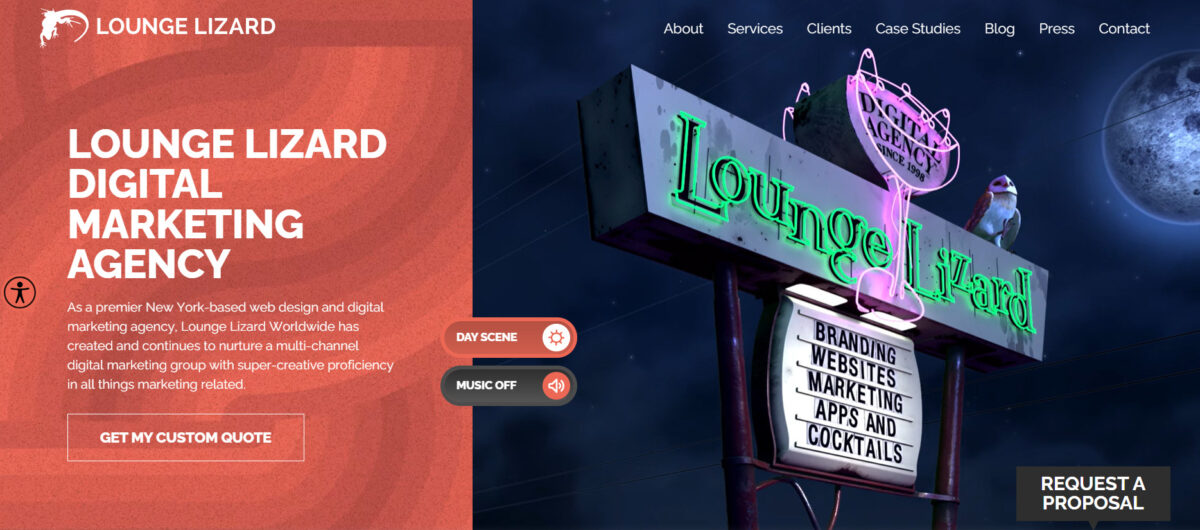 Founded: 1998
Location: New York, NY; Los Angeles, CA; Washington, DC; Nashville, TN; Miami, FL
Lounge Lizard is a multi-awarded web design and digital marketing agency that boosts brand identities through creative marketing strategies. It aims to drive business growth by crafting visually stunning and feature-rich website designs. With a skilled team of Marketing Mixologists and Brandtenders, it brings a unique blend of creativity, expertise, and current trends to web design. Having designed websites for over 600 clients, they offer a potent mix of creative vision, UI/UX design, and technical know-how.
Lounge Lizard's web services cover branding, UX/UI design, custom WordPress design, SEO, eCommerce (Shopify, Magento), responsive web design, corporate blog design, CMS web design, and website redesign.
Bold Notable Clients: ESPN, Capital One, Circa Resort and Casino, Department of Veterans Affairs, US Navy, Steak & Ale, Disney, and Princeton University.
Key Services:
Branding
Web Design
Digital Marketing
Web Development
App Development
Pricing: Varies depending on the service; upon request
Industry Specializations: Accounting, Health and Fitness, Agriculture, Hospitality, Architecture, Insurance, Automotive, Legal, Boating, Business Services, Manufacturing, Construction, Luxury, Consumer Electronics, Media, eCommerce, Healthcare, Education, Government, Nonprofit, Real Estate, Entertainment
---

Founded: 1995
Location: Harrisburg, PA; Cleveland, OH; Washington, DC; Indianapolis, IN; Raleigh, NC
WebFX is a leading web design agency with a solid track record of successful campaigns. Its team tailors web design services to your company's needs, allowing you to customize every aspect to match your products, services, and goals. From personalized quotes to initial designs, you have complete access to their web design pricing and strategies, and you can use the WebFX calculator to get a free, accurate, and instant quotation.
WebFX's design services encompass MarketingCloudFX, its proprietary revenue acceleration platform, SEO, website page creation, customized styles, web copywriting, responsive design, database integration, eCommerce functionality, and CMS. The agency also offers website redesign services.
Bold Notable Clients: Verizon, Auntie Anne's, US Botanic Garden, Subway, Black & Decker, and Wrangler.
Key Services:
SEO and Lead Generation
Revenue Marketing and CRO
UX and Interactive
Technology
Pricing: Varies depending on the service; upon request
Industry Specializations: Automotive, Education, Finance, Food and Beverage, Heavy Equipment, Industrial, Insurance, Legal, Professional Services, Health and Medical, Real Estate, Recreation and Entertainment, eCommerce, Retail, Tourism and Hospitality, Nonprofit, Technology
---
Why Do You Need Web Design Services?
Web design services are the cornerstone of creating an effective online presence, melding the art of visual design with the science of user experience to foster a virtual space where brands can flourish. A professional web design is more than just a pretty facade; it's an intricate puzzle where every piece, from aesthetics to functionality, fits together to enhance usability, solidify brand identity, and ensure accessibility across various devices. In the realm of search engine optimization (SEO), a well-crafted website stands as a sentinel, guiding visitors through the content in a way that also appeases the algorithms that dictate online visibility.
Take the real-world case of Airbnb's website redesign. By focusing on large, attractive imagery, clear, user-friendly navigation, and a simplified booking process, Airbnb not only bolstered its brand identity but also significantly improved user engagement. This redesign was not superficial; it responded to core user needs and business objectives, leading to a reported increase in bookings and a boost in their platform's overall usage.
By engaging web design services, businesses sidestep the pitfall of outdated, clunky websites that repel customers. Instead, they embark on a journey to carve out a digital niche that resonates with their audience and stands the test of time. This is not merely about staying current; it's about strategic foresight — anticipating user needs and technological shifts to maintain a competitive and compelling online domain.
The Importance of a Forward-Thinking Design Partner
The trends suggest that a design partner that not only reacts to trends but anticipates them is invaluable. A forward-thinking partner:
Provides Competitive Edge: They enable brands to stand out in a crowded market. For example, the introduction of responsive web design was a game-changer that allowed early adopters to capture a significant share of mobile traffic before the rest of the market caught up.
Ensures Future Compatibility: They create websites with an eye toward future integrations and scalability. When responsive design was still nascent, companies like Apple adopted it, ensuring that their sites delivered optimal user experiences across all devices, a practice that continues to be critical today.
Embraces Sustainability: Environmental considerations are becoming increasingly important. Sustainable web design focuses on efficiency and minimal carbon footprint, which resonates with eco-conscious consumers. A sustainable approach was exemplified when Google made changes to its search algorithms to favor websites with low carbon footprints.
Fosters Innovation: They invest in R&D and thus can bring innovative solutions to the table. Amazon's continuous innovation in web design, including the one-click purchase patent, has revolutionized the e-commerce space.
To remain competitive, businesses must not only adapt to changes but also anticipate and lead the charge towards new digital experiences. A partnership with a web design provider that demonstrates foresight and a commitment to innovation is no longer a luxury—it is a strategic imperative.
This kind of partnership serves as a lighthouse in the murky waters of digital transition, ensuring that businesses not only navigate safely but also reach new, uncharted territories of digital engagement.
The Cost of Web Design Services
The cost of web design services can vary widely based on several factors, including the complexity of the site, the experience level of the designer or agency, the specific services included, and the project's scope.
Here is a general breakdown of costs associated with different types of web design services:
It's important to note that these are general estimates and actual prices can differ. To get the most accurate pricing, it's always best to obtain quotes from several providers and ensure that you have a detailed understanding of what is included in the price.
Also, as trends and technologies change, these prices can fluctuate. Therefore, staying informed of market rates and adjusting your expectations accordingly is advisable.
What Should be Included in a Web Design Contract Agreement?
A web design contract agreement is a formal document that establishes the working relationship between a client and the designer or design agency. This contract should comprehensively cover the scope of the project, timelines, deliverables, and legalities to protect both parties' interests.
At the heart of the agreement lies the project scope, which articulates the boundaries and extent of the web design project. This section typically details the expected features, pages, and functionality that will be included in the website. It should be described with enough detail to prevent scope creep and to manage client expectations.
A crucial part of the contract is the schedule and milestones. This section not only sets out the timeline for the project, from kickoff to launch, but also defines key milestones for the delivery of specific elements, such as mockups, beta versions, and the final product. It often includes provisions for what will happen if deadlines are missed due to either party's actions.
Payment terms are equally significant. The contract should specify the total cost, payment schedule, and conditions, such as deposits, progress payments, and final payment upon completion. This will often be tied to the milestones, ensuring that work is compensated in alignment with the project's progress.
Intellectual property rights are another essential component. The contract must define who owns the website design, code, and any content created during the project once the final payment has been made. It should clarify whether the designer retains any ownership or rights to the design elements, and under what terms the client can use or modify the design.
The agreement should also outline the process for revisions and approvals, clearly stating how many rounds of revisions are included, what constitutes a revision, and how the approval process will move the project forward.
Liability clauses protect both parties from certain risks. For example, the designer might limit their liability related to the performance of the website, while the client might be required to indemnify the designer against third-party claims related to the content they provide for the website.
Finally, a well-drafted contract includes cancellation and termination terms, specifying how either party can terminate the agreement and what happens in such cases. This section typically covers notice periods, work compensation up to the termination point, and the handling of confidential information post-termination.
A contract might also touch upon post-launch services, like maintenance and updates, specifying the scope, timing, and costs associated with these additional services if they are to be included.
Having all these elements in a web design contract agreement ensures clarity, prevents misunderstandings, and builds a foundation for a successful professional relationship between the client and the service provider. It's a delicate balance of covering legal necessities and fostering a clear roadmap for the project at hand.
Choosing the Right Website Design Service Provider for Your Business
Given the array of agencies with distinct offerings, making a decision can be daunting. Here are essential factors to keep in mind:
Portfolio and Experience
Examine the agency's past work and client feedback to gauge its design style and expertise.
Services Offered
Ensure that the agency provides your specific services, such as responsive design, eCommerce capabilities, or content management systems.
Communication and Customer Service
Opt for an agency that communicates well and welcomes your input. Effective communication is vital for project success.
Pricing
Understand the pricing structure and confirm that it aligns with your budget. Don't hesitate to ask for quotations from the get-go. Remember that the cheapest option may not always offer the best value.
Timeline
Ensure that the agency can meet your project deadlines.
Maintenance and Support
Post-launch support is essential for addressing technical issues and website updates.
The Future of Web Design Services
Just like the digital ecosystem itself, web design industry is perpetually evolving. In the capacity of a seasoned professional in web design and digital strategy, my observations and analyses of the industry suggest a trajectory towards a more immersive, intuitive, and intelligent web experience.
Here are upcoming trends in web designing.
AI-Powered Web Experiences
Artificial Intelligence (AI) is rapidly becoming an integral part of web design services. AI can personalize user experiences by analyzing user data and predicting user preferences. Real-world application of AI in web design is exemplified by platforms like The Grid, which uses AI to design websites based on content without human intervention.
Voice User Interface (VUI)
With the increasing prevalence of smart speakers and virtual assistants, voice search optimization will become crucial for web design. VUI can greatly enhance accessibility and user experience. An early adopter of this trend is the BBC website, which has integrated voice navigation capabilities to cater to a broader audience, including those with visual impairments.
Advanced Interactivity through AR/VR
Augmented Reality (AR) and Virtual Reality (VR) technologies are being leveraged to create more engaging web experiences. For instance, the fashion industry has begun using AR to allow customers to "try on" clothing virtually. IKEA's Place app is another case in point, allowing users to visualize how furniture might look in their space.
Minimalist Design with Maximalist Expression
The juxtaposition of minimalism and maximalist principles is leading to the creation of web designs that are both clean and expressive. Dropbox's redesign is an example where minimalistic design elements are combined with bold, expressive illustrations to create a distinct brand identity.
Motion UI
The emergence of sophisticated web animation tools will see Motion UI become a staple in web design to guide users through a site, demonstrate relationships between elements, and add layers of interactivity. Websites for films like "Spider-Man: Into the Spider-Verse" have used motion UI extensively to create a dynamic user experience.
---
Final Thoughts
Partnering with a premier web design agency can be a game-changer for your enterprise. In today's digital milieu, your website acts as the central hub of your business identity — the initial handshake with potential customers. This crucial first impression is irreplaceable, and a professional service provider has the expertise to ensure it's not only positive but impactful.
By enlisting their services, you're afforded a sophisticated platform that invites and engages your audience, subtly guiding their journey through your offerings. Furthermore, an expertly designed website is a beacon for search engines, enhancing your online footprint and drawing a broader audience.
The web design services we've discussed stand ready to elevate your online presence; find the one that aligns with your vision and watch as they help chart your path to digital distinction.
Frequently Asked Questions
What is a website design service?
A website design service provider specializes in creating, designing, and maintaining websites. This encompasses layout design, graphic design, user interface, experience design, and, sometimes, content creation.
What makes a website design agency different from other digital agencies?
Unlike digital agencies that handle marketing, social media, SEO, and more, a website design agency specializes in creating and developing websites.
What are three tips for finding the best website design agency for your business?
Consider these three tips: review their portfolio, assess their services, and evaluate their communication style.