Advertising Disclosure
Advertising disclosure:
Our partners compensate us. This may influence which products or services we review (also where and how those products appear on the site), this in no way affects our recommendations or the advice we offer. Our reviews are based on years of experience and countless hours of research. Our partners cannot pay us to guarantee favorable reviews of their products or services.
The digital age's accelerated pace has pushed the auto industry's traditionally brick-and-mortar business into the online arena, making your website's design, functionality, and user experience more important than ever.
However, steering your online presence in the right direction is not a solitary journey. A formidable ally in this venture is an experienced automotive web design agency - a co-driver who understands the industry's unique demands and can transform these into powerful, effective, and user-centric digital experiences.
These agencies don't just design websites; they build online platforms that resonate with your brand's identity, echo your commitment to precision and innovation, and connect with your target audience on a deeper level. By leveraging the latest design trends, technologies, and their understanding of user behavior, they can craft an online space that not only attracts visitors but also fuels conversion and customer loyalty.
---
Top Automotive Web Design Agencies
With the above in mind, we have assembled a list of the top automotive web design agencies. Each of these frontrunners has demonstrated exceptional prowess in delivering compelling and high-performing websites tailored specifically for the auto industry. Dive in and explore these experts who can help turbocharge your online presence and steer your brand towards digital success.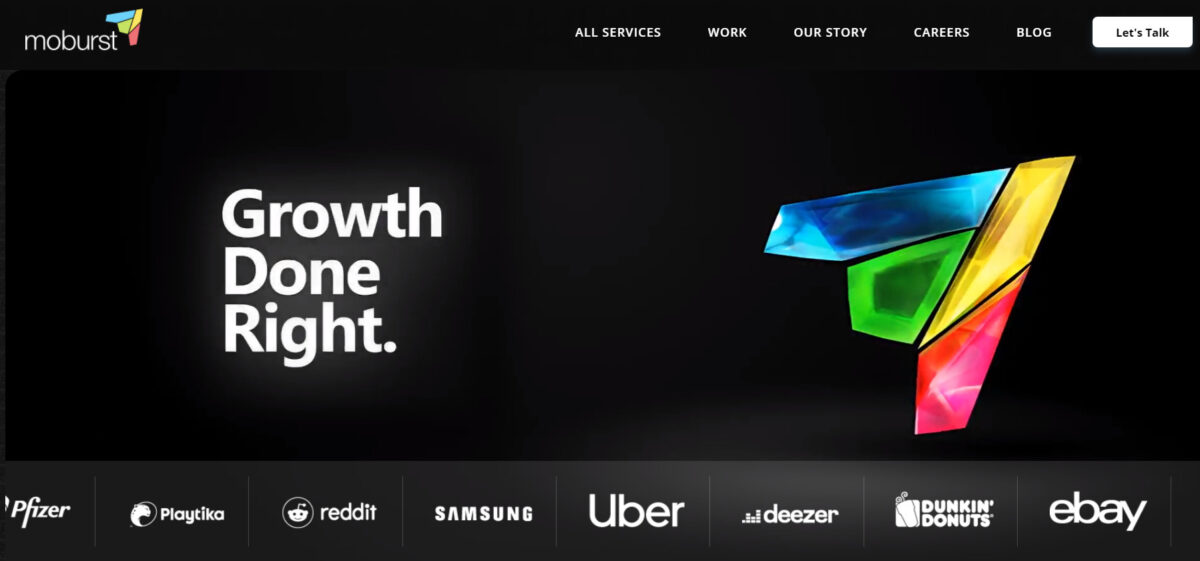 Average Hourly Rate: $150-$199
Average Project Cost: $25,000+
Headquartered in New York, NY, Moburst is a global player in the realm of digital marketing and automotive web design, with additional offices in San Francisco and Tel Aviv. Serving industry giants including automotive brands, and reputed clients such as Google, Uber, Samsung, and Reddit, the agency excels in igniting a buzz around brands and dominating the mobile and auto web design arena.
Moburst focuses on mobile and app marketing, web design and development specifically in the automotive sector, social media marketing, and advertising. This blend of services ensures that all designing needs of clients, including those from the auto industry, are met from a single platform.
Clients, particularly auto dealers and manufacturers, rave about Moburst's work on their websites, praising their modern design, automotive-specific functionality, and the significant increase in web traffic following the agency's intervention. With a keen understanding of conducting comprehensive market research and generating innovative concepts, Moburst is adept at enhancing the UI/UX of a client's platform to meet specific business objectives. For an all-inclusive, dedicated, and top-notch digital marketing and automotive web design approach, Moburst delivers on all fronts.
---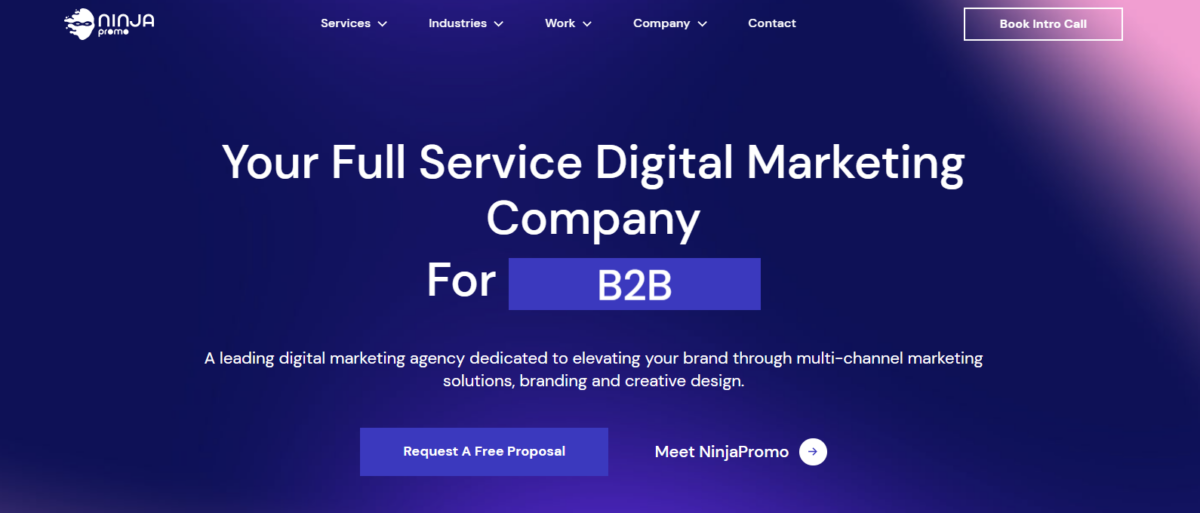 Average Hourly Rate: $50-$99
Average Project Cost: $1,000+
London-based NinjaPromo is a digital marketing agency with a multidisciplinary team of professionals adept at website design and development. They excel in creating sites that attract, captivate, and convert consumers with a combination of technical and marketing expertise.
Their web design services include creating custom designs for business, e-commerce, portfolio, or blog sites that are highly engaging and intuitive for the user. They take pride in their responsive designs that boast compatibility with mobile devices. Alongside web design, they offer marketing services ranging from strategy to SEO, ensuring comprehensive promotion of digital products. Their goal is to place your products front and center in the digital sphere, and they do so by leaving no stone unturned.
---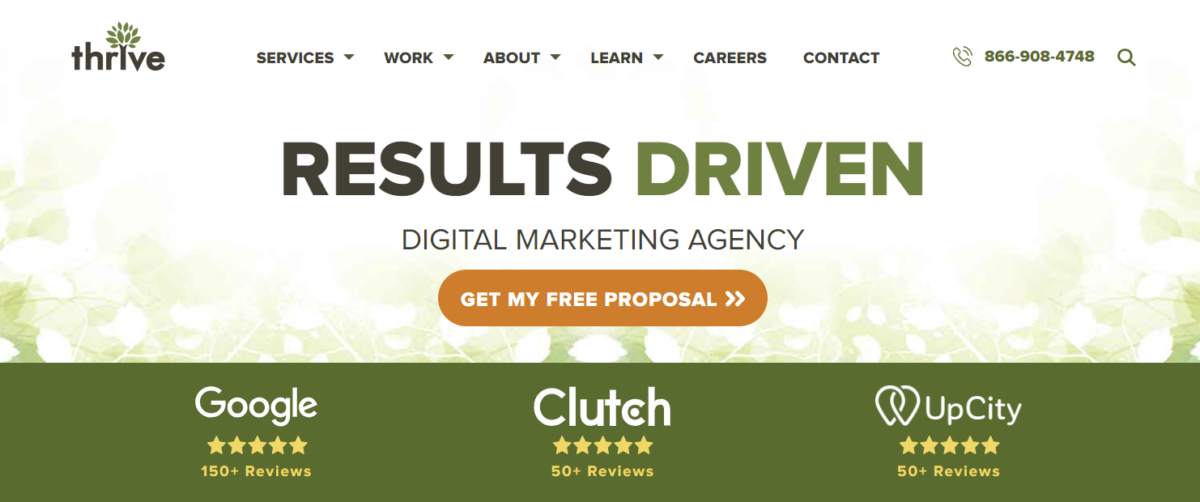 Average Hourly Rate: $100-$149
Average Project Cost: Starts at $1,000
Based in Dallas, Texas, Thrive is a robust digital marketing agency specializing in website design for the auto industry. They are committed to creating unique, SEO-friendly websites that streamline business operations, strengthen brand identities, and enhance customer experiences.
Thrive goes beyond aesthetic appeal, offering services like search engine optimization, content writing, Shopify web design, responsive web design, conversion rate optimization, website hosting, WordPress expertise, and custom web design. Their ultimate goal is to ensure your website is visible to your target audience, presents your business professionally, promotes exceptional customer experience, and effectively converts visitors into leads.
With over 15 years of experience, Thrive has successfully served numerous businesses across various industries, earning a reputation for their unique and interactive designs, 24/7 customer support, timeliness and reliability, and detailed reporting.
---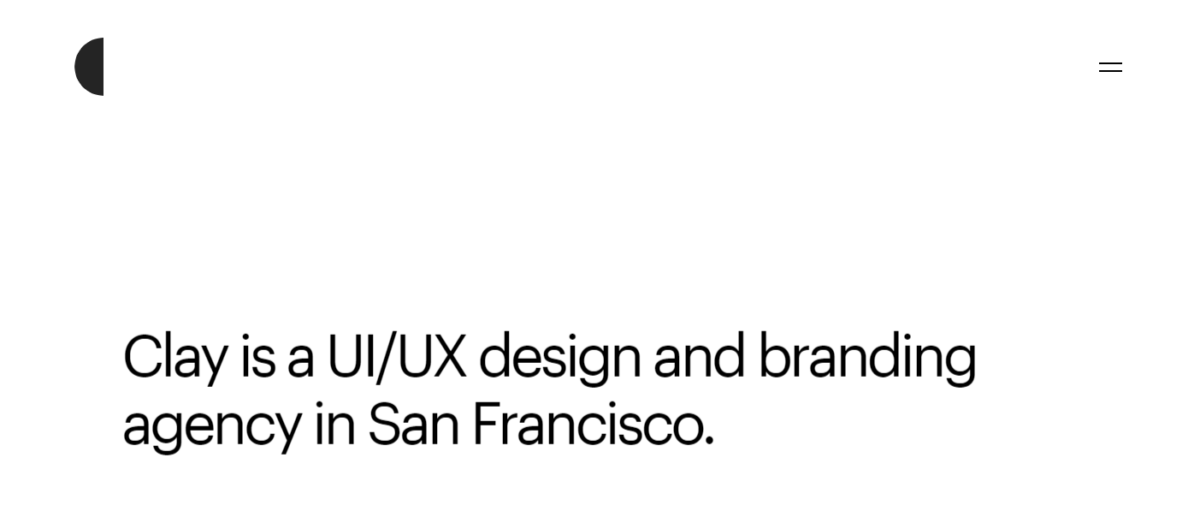 Average Hourly Rate: $150-$199
Average Project Cost: $50,000+
Based in San Francisco, CA, Clay is a renowned UI/UX design and branding agency that marries user experience with brand identity to create transformative digital experiences. Their client base spans startups to globally recognized brands, and they have a track record of excellence in developing websites that stand out both functionally and aesthetically.
At Clay, their major focus is on UX/UI design, followed by web design, and branding. This distribution of services ensures that they bring in-depth expertise to each aspect of a project, resulting in a high-converting digital product.
Clay's clients, including Facebook, Google, Amazon, and Credit Karma, applaud their ability to transform brands through strategy, visual identity, and communications. As a testament to their success, their digital products often exceed user expectations, and their approach to web design and brand identity results in a memorable digital presence that users love to interact with. For an agency that not only designs but defines world-class digital products, look no further than Clay.
---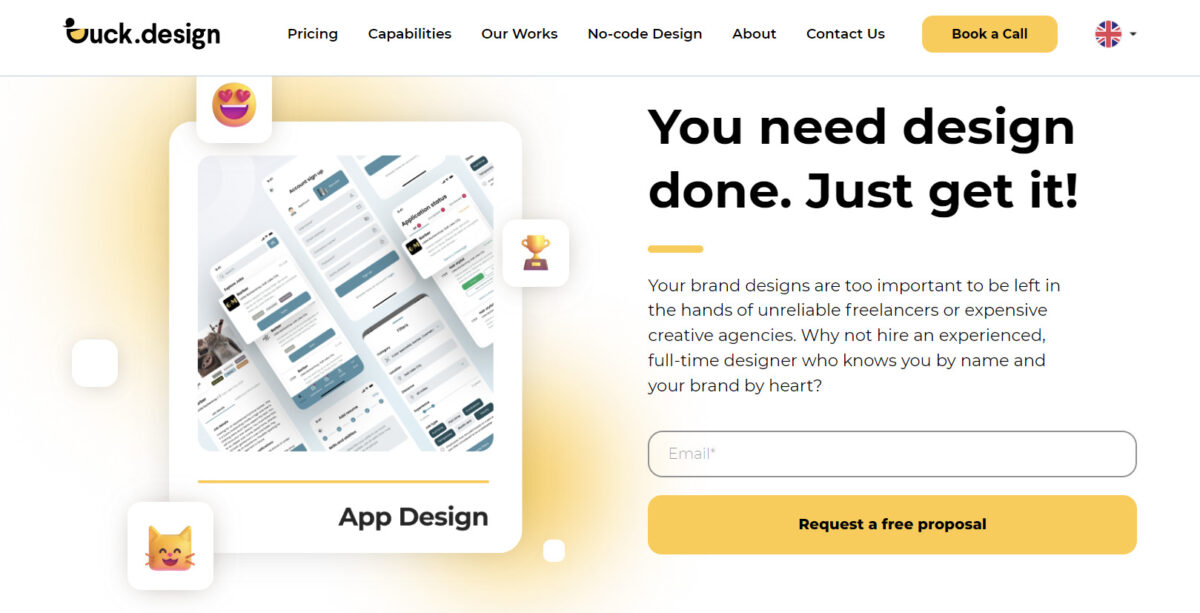 Average Hourly Rate: :$50-$99
Average Project Cost: $1,000+
Located in London, Duck.Design is a multi-disciplinary design agency specializing in creating engaging experiences across various platforms, including distinctive automotive web designs. Their offerings span across graphic design, product design, UX/UI design, automotive-centric web design, branding, packaging design, and print design.
Duck.Design is adept at organizing vast amounts of information professionally, building navigations, and crafting user-friendly websites that reflect the desired brand image. They provide tailored solutions for corporate websites, online automotive stores, promotional pages, and web portals. They understand the specifics of the auto industry, creating sites that effectively showcase vehicle ranges, parts, and services.
Moreover, they ensure a quick turnaround with their dedicated team of top designers, making them an excellent choice for fast-paced projects, such as launching new vehicle lines or promoting auto services. If you're looking for a well-rounded design service to establish a captivating digital presence, especially in the automotive industry, Duck.Design is an agency to consider.
---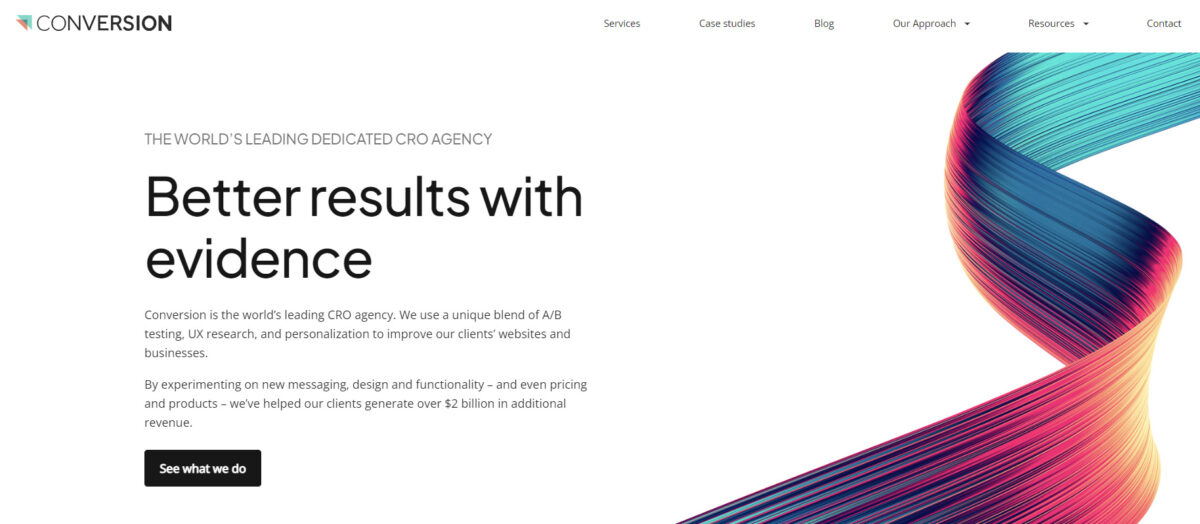 Average Hourly Rate: Undisclosed
Average Project Cost: $10,000+
Conversion, located in Vancouver, Canada, is a unique agency entirely focused on conversion optimization. This proficient team comprises seasoned strategists, UX/UI designers, and developers, who bring a wealth of industry knowledge to the table. They work with big brands, including Meta, Microsoft, Google, and Dominos, and their innovative approach to conversion rate optimization has generated more than $2 billion in added revenue for their clients.
At Conversion, every service is designed to help clients make better decisions. They follow a three-stage approach to decision making: Strategize, Measure, Decide. This structure ensures added value at each stage and supports clients at every step.
The Conversion team believes in experimentation and continuously seeks new ways of working to improve results for their clients and themselves. They approach every project with performance as the first goal, closely followed by aesthetics. For a service that merges decision-making support, pioneering strategies, and exponential impact, Conversion is your go-to agency.
---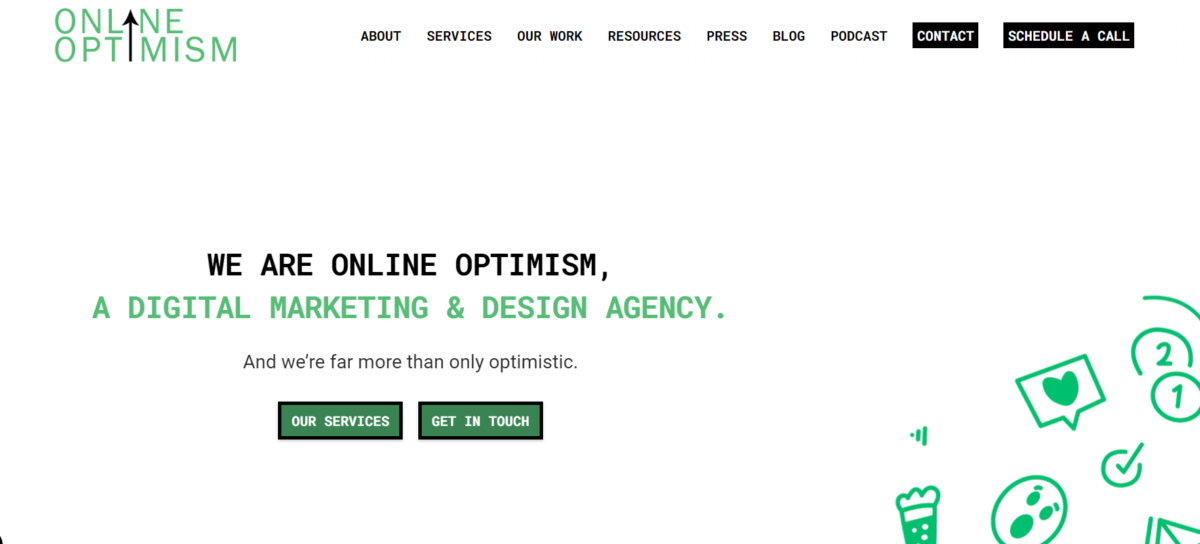 Average Hourly Rate: $50-$99
Average Project Cost: $1,000+
Online Optimism, headquartered in New Orleans, is a full-service digital marketing agency with a niche in automotive web design. They help businesses, especially within the automotive industry, craft a robust online presence, excelling in advertising, search engine optimization, social media marketing, content marketing, pay-per-click, and specialized automotive web design.
The agency prides itself on designing websites that not only mirror your automotive company's aesthetics but also function seamlessly as a digital showroom, effectively showcasing your range of vehicles, parts, and services. They create web pages optimized for conversions, with a strong emphasis on user experience – a crucial aspect in the automotive web design sector.
Their developers are proficient in creating websites that are intuitive for both you and your customers to use. In addition, their content team can handle any copywriting needs, ensuring all information is clearly accessible online, including the detailed specifications of your automotive offerings. Clients commend their exceptional customer service, original artwork, and provision for unlimited revisions. If you aim to transform your automotive brand's online presence into a powerful marketing tool, Online Optimism is an agency you should consider.
---
Average Hourly Rate: $50-$99
Average Project Cost: $25,000+
Based in New York, Humbleteam is a product design agency known for providing groundbreaking solutions in UX/UI design and branding. Working with a diverse range of clients from startups to enterprises, their expansive portfolio includes projects for esteemed organizations such as NASA and BMW.
The agency goes above and beyond in ensuring a streamlined workflow, maintaining an open line of communication, and employing extensive research to tackle design challenges. Their expertise extends to redesigning applications and websites for optimal user experience. If you're seeking an agency that emphasizes detail, thoughtfulness, and adaptability, Humbleteam is a commendable choice.
---

Average Hourly Rate: $100-$149
Average Project Cost: $25,000+
Based in San Francisco, Neuron is an agency that stands out for its focus on UX/UI Design, notably in the automotive web design sector. The company's iterative design process, which begins with low-fidelity design options and concludes with pixel-perfect mock-ups, effectively caters to the specific needs of automotive businesses.
At the core of their services is the creation of schematic drawings that shape page layouts and interactions, stripping away visual bias to prioritize the user journey – an approach that is especially significant in designing websites for the automotive industry. Their visual design skills create engaging interfaces that echo brand tones, efficiently showcasing a range of vehicles, parts, and services.
Their expertise in interaction design considers all the ways elements can interact to bring an automotive website to life. User testing is an integral part of their process, leveraging real user feedback to gain insights that stakeholders and team members may miss, thereby ensuring the created site resonates with the target audience. In addition, Neuron provides all necessary hand-off assets using Figma, a digital design and prototyping tool, for effective project management in the automotive web design domain.
---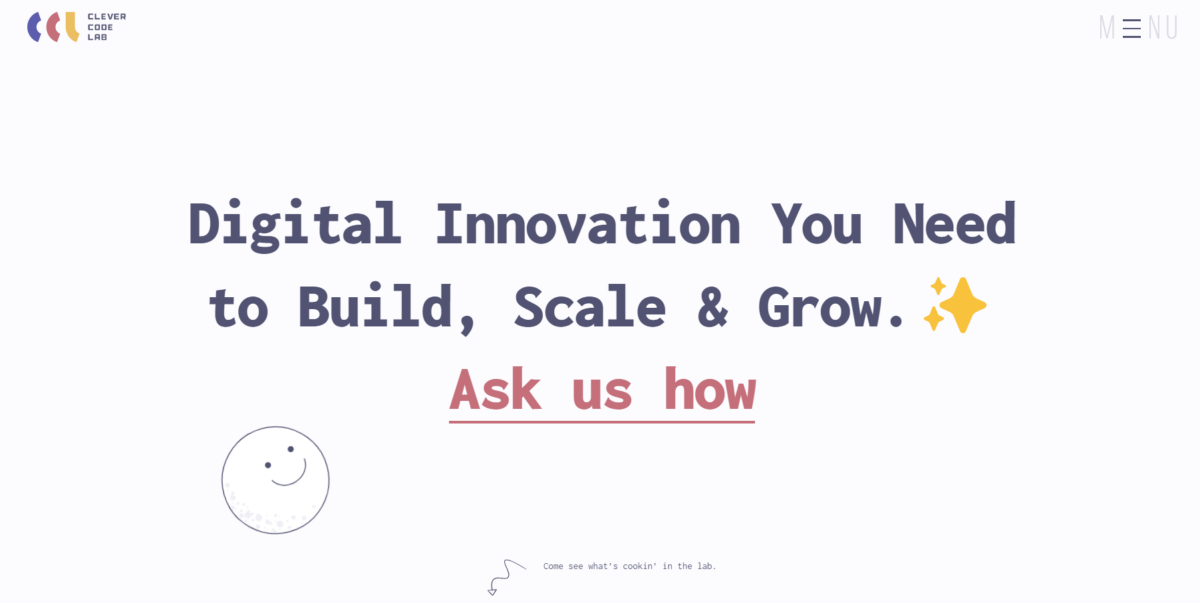 Average Hourly Rate: $25-$49
Average Project Cost: $5,000+
Located in Poltava, Ukraine, Clever Code is a diverse team of developers, designers, strategists, and creative thinkers. For over 5 years, the agency has redefined digital innovation, completing 40 successful projects with solutions that are simple, usable, and impactful.
They specialize in creating beautiful and user-friendly designs supported by high-quality code, bringing them to life on the internet, and providing after-launch support. Their design and art services extend to creating immersive illustrations and motion designs that capture audiences. With a focus on breaking the mold, they design B2B and B2C websites that reject the boring, instead introducing minimalist design, interactive elements, and user-focused digital experiences to captivate and delight audiences.
---

Average Hourly Rate: $50-$99
Average Project Cost: Starts at $1,000
Quenzel Marketing Agency, located in Fort Myers, Florida, recognizes that every business they work with has unique needs and challenges, particularly in the automotive sector. They believe that one size doesn't fit all and offer tailored website design services to suit each client's specific market, situation, and growth objectives.
Quenzel's expertise lies in creating custom, engaging website designs for the automotive industry. Their website design creatives focus on machine-tooled designs that generate excellent ROI metrics, which are reported to their clients monthly. Their services span across advertising, branding, other marketing services, and web design, making them a versatile choice for businesses in need of comprehensive marketing solutions.
The Quenzel team's goal is to drive successful outcomes for their clients by offering tailored solutions that align with their unique needs. Their dedication to creating compelling website designs is evident in their portfolio of work for clients in the automotive industry.
---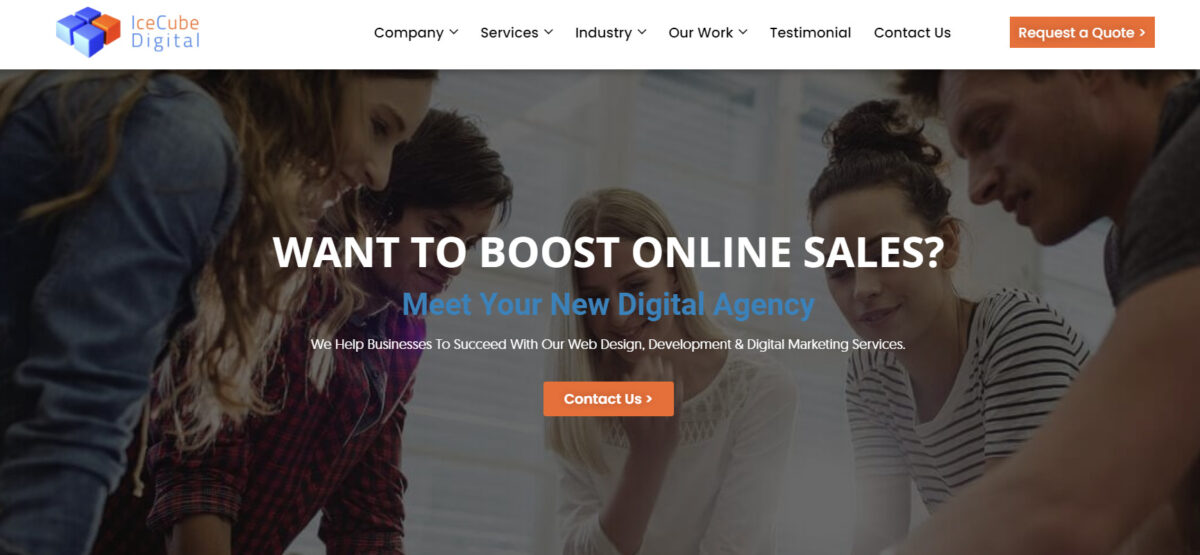 Average Hourly Rate: $25-$49
Average Project Cost: Undisclosed
Icecube Digital, specializes in website design and development for automotive businesses. Their services have a major focus on web design, E-commerce development, web development, and SEO.
The agency creates tailored E-commerce solutions, emphasizing aesthetically superior sites with competitive pricing. By understanding that cost-effectiveness shouldn't compromise quality, Icecube Digital is especially attuned to the needs of smaller enterprises. They ensure a responsive web design for seamless user experiences across multiple devices, crucial in today's mobile-centric world.
Icecube Digital excels in automotive website design and development, taking into account SEO and SEM for improved visibility and conversion rates. They analyze and optimize existing websites using advanced tools to enhance business growth. With comprehensive SEO services, Icecube Digital boosts webpage rankings and makes your business more visible online.
---
How to choose the right web design agency for your automotive business?
Selecting the right agency is a very important decision—one that should not be taken lightly. There are several aspects to consider when shortlisting potential partners. Not only should they have a proven track record in automotive web design, but they should also demonstrate innovation in their approach, understanding of the latest technologies, and a solid grasp of your brand's needs.
Firstly, the agency's portfolio should illustrate a broad spectrum of design capabilities, adaptable to your brand's specific visual identity and customer base.
Secondly, their approach to UX and user interface (UI) design should prioritize accessibility, navigability, and overall user satisfaction. This is paramount since nearly 88% of online consumers are less likely to return to a website after a bad experience.
Thirdly, in today's rapidly evolving digital landscape, it's essential that your chosen agency is well-versed in the latest technological advances. These include mobile optimization (given that over 50% of all web traffic now originates from mobile devices) and incorporation of immersive technologies like augmented reality (AR) and virtual reality (VR), which can simulate a physical showroom experience for online customers.
Finally, the agency should be able to articulate how they would encapsulate your brand's essence within the website's design. This includes not only the look and feel but also the content, ensuring that the messaging resonates with your target audience and supports your overall business strategy.
Frequently Asked Questions
What will the agency need from me to start designing my automotive website?
The agency will typically require information about your business, your goals for the website, and any specific features you want. They may also need access to your branding materials (logos, color schemes, etc.), product information, and any existing content you wish to include on the site.
How do I maintain and update my website after it's been built?
Many agencies provide ongoing support and maintenance services. They can help you manage and update your inventory, incorporate new features, ensure your site remains secure, and make adjustments for SEO. Alternatively, they can train you or your team to manage these tasks. Always discuss post-launch support before finalizing a contract with an agency.
What role does SEO play in the automotive website design process?
SEO is integral to the design process as it ensures your automotive website ranks higher on search engine results, thereby attracting more organic traffic. The agency should incorporate SEO-friendly elements right from the title tags to schema markup, improving your visibility online.
How does the agency ensure that my website stands out from the competition?
Agencies use various strategies to differentiate your site from competitors'. This can involve unique and responsive web design, effective SEO strategies, personalized content, and advanced functionalities like make-year-model search for auto parts. Discuss your competitors and your unique selling points with the agency to ensure these are highlighted on your site.