Your website is often the first interaction potential customers have with your brand. When well-designed, it creates a positive impression and establishes credibility and trust. Ultimately, this drives conversions and boosts revenue.
If you're still unconvinced about why it is essential to invest time and money in web design, here are some of the latest web design statistics that underscore its importance. Hopefully, you can gain insights into why web design matters and how to design your website for maximum digital impact.
---
Designing for Digital Impact: Your Guide to the Latest Web Design Statistics and Trends:
---
The Latest Web Design Statistics and Trends
Web design is not just about aesthetics. It is about creating a meaningful experience for your audience. It requires developing a functional and navigable yet visually striking and engaging site that captures and engages visitors. The following statistics cover core aspects of web design that impact businesses.
Mobile-Centric Design
People today want access to content whenever they need it, wherever they are. With mobile devices the device of choice for people on the go, prioritizing a mobile-centric design ensures users enjoy fast loading times and seamless navigation on your site.
To optimize your site for mobile, align your web design with your goals. Clearly define your target audience and what you want them to do on your site. Consider a responsive design that adapts to different devices to maintain consistency in experiences regardless of the gadgets your audience is using.
---
User Experience and Engagement
Getting traffic to your site is great. But what's more important is keeping visitors there and encouraging conversions. So when designing your website, keep user experience and engagement on top of your list. Among the web design elements that affect these are navigation, layout, and site speed.
---
Visual Content and Branding
Visual elements are powerful tools for conveying your brand's personality and capturing users' interest. High-quality images, videos, and consistent color schemes create a visually appealing environment that enhances brand recognition.
Videos, images, color, and other visual elements not only tell a story but also stimulate emotional connections. When utilized well, they can drive higher engagement and conversion rates.
---
Design Elements and Trends
Staying attuned to design elements and trends is essential for keeping your website fresh and appealing. Minimalistic design with clear calls to action (CTAs) streamlines the user journey while incorporating emerging trends like dark mode and vibrant gradients adds visual interest and modernity to your web presence.
Adapting to these trends shows your commitment to delivering a cutting-edge user experience. Take note, however, that not all trends are ideal for your web design. You must always align these elements with your brand goals, vision, and identity.
---
Accessibility and Personalization
Both accessibility and personalization exemplify your dedication to providing user-centric web experiences to all individuals, including those with disabilities and special needs. Moreover, integrating AI-powered personalization tailors the user experience to individual preferences.
Designing for accessibility ensures that your website is usable by everyone, regardless of abilities. This inclusivity enhances user satisfaction and expands your reach.
---
AI Integration
Artificial Intelligence (AI) integration is transforming web design by enabling dynamic personalization, data-driven insights, and enhanced user experiences.
By harnessing AI, you can create websites that adapt to user behavior, making interactions more meaningful and relevant. This integration goes beyond static design. It optimizes user journeys and fosters deeper engagement.
---
Costs and Turnaround Time
Before starting your web design and development project, you must make sure that you have funds to allocate for this initiative. Understand the factors that affect costs and turnaround times to know what to expect from designers and developers you work with.
---
Useful Tips for Impactful Web Designs
Aside from the insights we shared in the previous section, here are more tips that can guide you in creating your web design.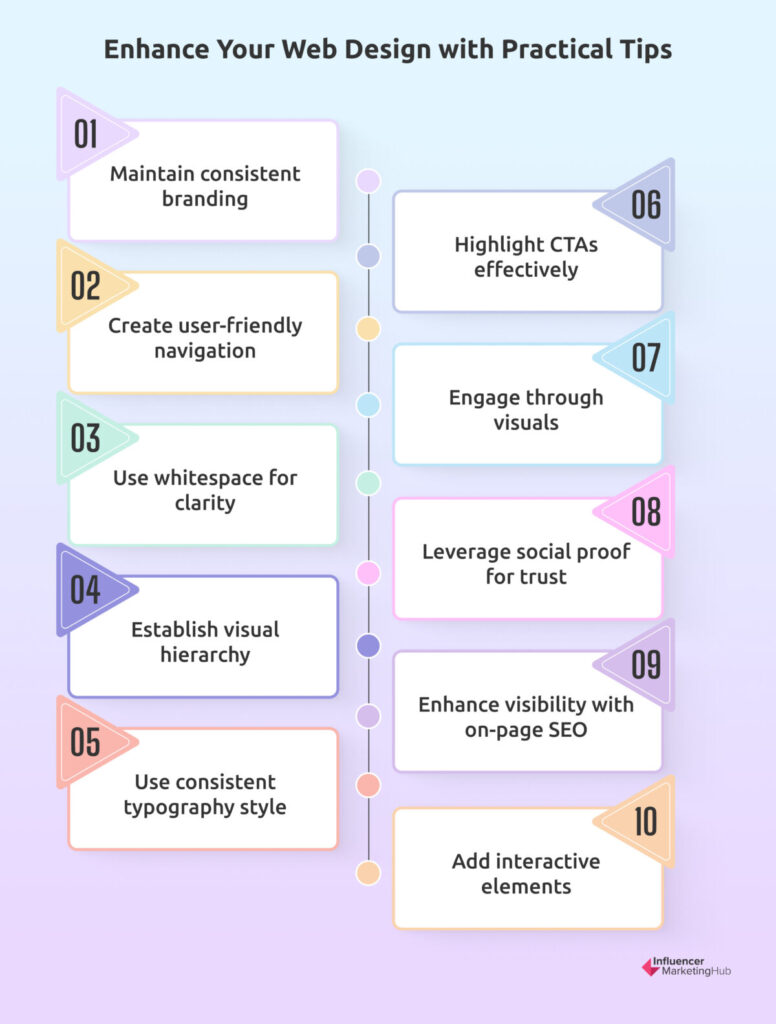 Use your brand colors, fonts, and logo consistently across your website. A unified branding approach helps reinforce your identity and builds recognition.

Design an intuitive navigation structure that helps users find information quickly and easily. Keep menus organized and limit the number of options to prevent overwhelming visitors.

Use whitespace effectively to create a clean and organized layout. A balanced use of whitespace can enhance readability and focus attention on key elements.

Use

design elements

such as size, color, and placement to establish a clear visual hierarchy. Guide users' attention to important content, calls to action, and key messages.

Choose legible fonts and maintain a consistent typography style throughout your website. Font size, line spacing, and contrast are essential for readability.

Strategically place CTAs to guide users toward desired actions, such as signing up, making a purchase, or contacting you. Use contrasting colors to make CTAs stand out.

Incorporate storytelling through visuals and copy to engage users on an emotional level. Narratives can help visitors connect with your brand and its mission.

Showcase testimonials, reviews, or case studies to build credibility and trust. Social proof can influence user decisions and foster a sense of community.

Implement on-page

SEO

practices, such as using relevant keywords, optimizing meta tags, and creating search engine-friendly URLs. A well-optimized site can improve organic search visibility.

Incorporate interactive elements like sliders, animations, and interactive forms to engage users and make the experience more dynamic.
---
Create a Web Design That Impacts Audiences
The steady growth of the web design services industry is indicative of the increased awareness of how web design impacts businesses today. If you want to remain relevant and competitive in the fast-paced digital world, prioritize web design and development for your business sites.
Create a web design that resonates with your audience, enhances user experience, and leaves a lasting positive impact. Consult web design experts on best practices and consider investing in professional web design services. These can help you create a website that maximizes digital impact.
Frequently Asked Questions
Why are web design statistics important for my business?
Web design statistics give you insight into emerging trends, user behavior, customer preferences, and other factors that impact your business. Keeping track of these statistics enables you to identify what your audience is looking for and what you can do to meet their needs.
How do web design statistics correlate with SEO rankings?
Web design factors such as site structure, mobile responsiveness, and page speed impact SEO rankings. Statistics show that search engines favor websites with better user experiences, often resulting in higher search rankings.
Are there any emerging web design trends supported by statistics?
We've shared some of the latest web design trends and their statistics. Web design trend statistics can shed light on emerging styles, such as dark mode, minimalistic design, and interactive micro-interactions. Staying updated with these trends can help your website stay visually appealing and relevant.