Advertising Disclosure
Advertising disclosure:
Our partners compensate us. This may influence which products or services we review (also where and how those products appear on the site), this in no way affects our recommendations or the advice we offer. Our reviews are based on years of experience and countless hours of research. Our partners cannot pay us to guarantee favorable reviews of their products or services.
So you've decided to introduce your small business to the digital world by launching a website—congratulations! You have chosen to join the league of forward-looking entrepreneurs who have harnessed this valuable resource to facilitate online sales and promote their products and services.
Since website development takes time, effort, and resources, you might want to know whether you should develop it or get expert services. Furthermore, you may even have to choose between working with a freelancer or a web design company.
Getting the services of a web development agency is the best route if you have the funds, time, and the right team to take on the project.
---
10 Best Design Companies to Ignite Your Small Biz Website:
---
Top 10 Website Design Companies for Your Small Business
If you're searching for a professional service provider to build your website, consider the list below to help determine your options.
| | | | |
| --- | --- | --- | --- |
| | | | |
| | Best for a collaborative, fast-forward approach | TrustAnalytica: 5, BrightLocal: 5 | Website has no fee details, but its "Contact Us" page asks for your budget |
| | Best for cost-effective, self-managing websites | Clutch: 5, BrightLocal: 5 | |
| | Best for SEO focus and responsive design | Design Rush: 5, Good Firms: 5 | Website has no fee details, but its Free Quote page asks you to indicate your estimated monthly budget (starting range is $300-$750 monthly) |
| | Best for specialized handling by a small team | | |
| | Best for eCommerce and "rescue" assistance | | Website has no fee details, but review sites peg the minimum at $1,000+ (DesignRush, Tigren, and Cloudways) |
| | Best for AI and AR-enhanced websites | G2: 5, WebDesignRankings: 5 | Starts at $15K (platform-based development) and $70K (custom development) |
| | Best for Shopify store owners | | Website has no fee details, but hourly rates start between $50 and $100 according to Dev Technosys |
| | Best for quick, industry-compliant output | | Website offers no payment details. However, their "Request a Quote" page has a dropdown menu for specifying your budget, with the lowest being "below $1K." |
| | Best for online merchants with ADA compliance needs | | Website has no fee details, but review sites peg the minimum at $5,000 (Clutch) to $10,000+ (DesignRush) |
| | | | Website has no fee details, but project cost may start at $25K, according to Hostinger |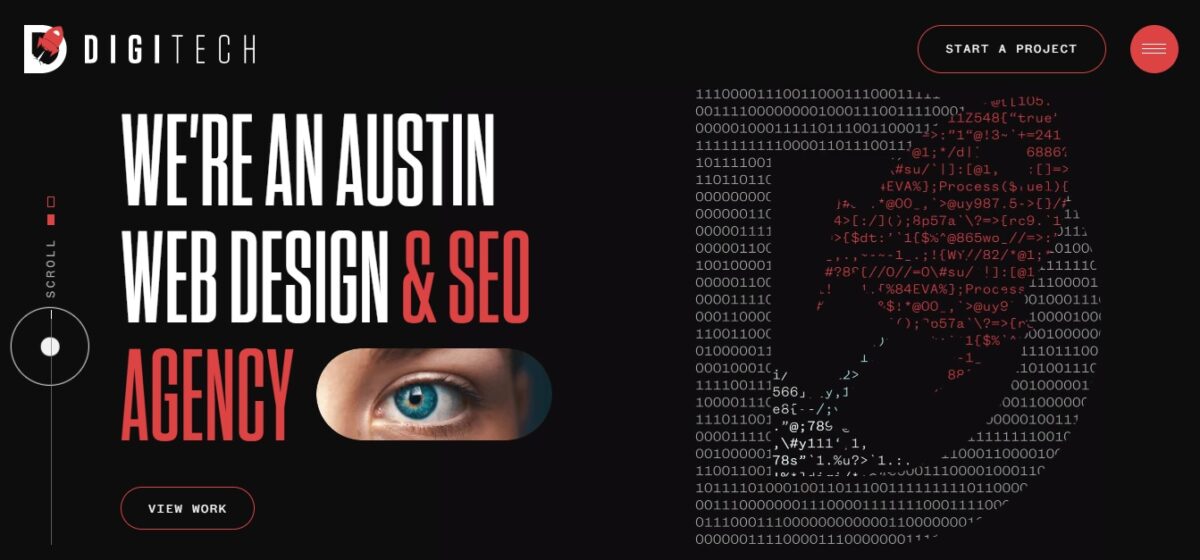 Best for a collaborative, fast-forward approach
DIGITECH believes that the strategy behind high-converting websites combines cutting-edge design wrapped around your user personas and advanced SEO technologies. Located in Austin, Texas, this 12-year-old company uses the Flowmapp tool, which promotes transparency and contribution throughout the wireframing design process.
DIGITECH also follows the design sprint method for website development. As the name implies, the process speeds up the project by completing a finished product in a week, testing prototypes to establish immediately what works and doesn't. DIGITECH refines the prototype, runs further tests, and launches the site only when it achieves remarkable functionality and enticing design.
---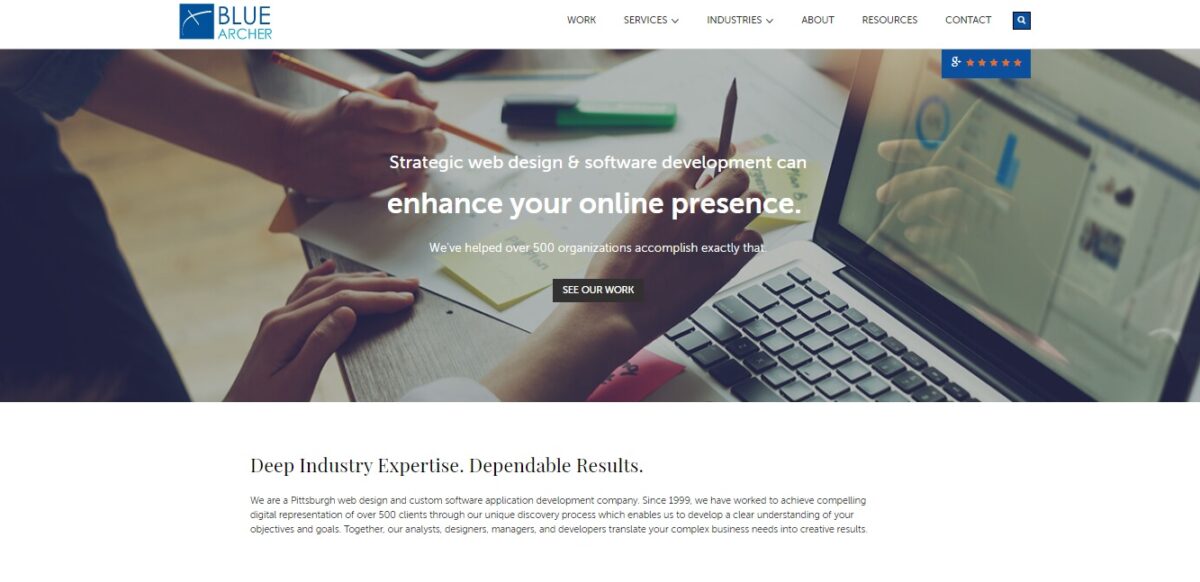 Best for cost-effective, self-managing websites
Established in 1999, Pennsylvania-based Blue Archer designs websites on a robust CMS, which hastens deployment and enables flexibility as the website can evolve as your company grows.
Its web development services cover wireframe and prototyping, digital identity (logo and message branding), conversion-driving user experience design, rapid development, easy-to-install CMS, SEO, measurement with evaluation (Google Analytics in Silver and Gold plans), secure virtual web hosting, and support and maintenance, including free CMS training. Blue Archer also offers maintenance support packages—for optimizing images, checking broken links, and more —if you add or edit your web content regularly.
---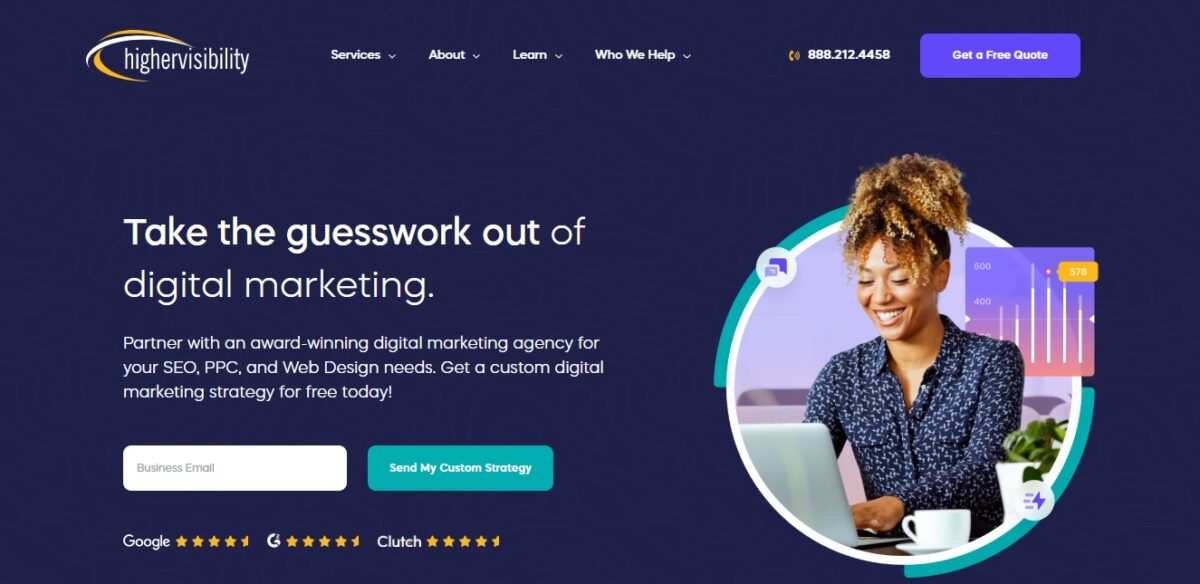 Best for SEO focus and responsive design
HigherVisibility produces customized websites that are SEO-friendly and responsive or adapt to the screen size of a user's device.
The company's website development team consists of regularly re-certified specialists whose design process involves a six-step process: discovering your design preferences and requirements, brainstorming the web design based on the discovery phase, designing and submitting page template mockups, converting mockup art files into website files (development phase), internal quality assurance review before presenting the site for client review, and website launch and training your team on functionality.
HigherVisibility builds on the WordPress CMS for most content-driven sites. The Tennessee firm, founded in 2009, has received awards from Forbes Advisor and Search Engine Land.
---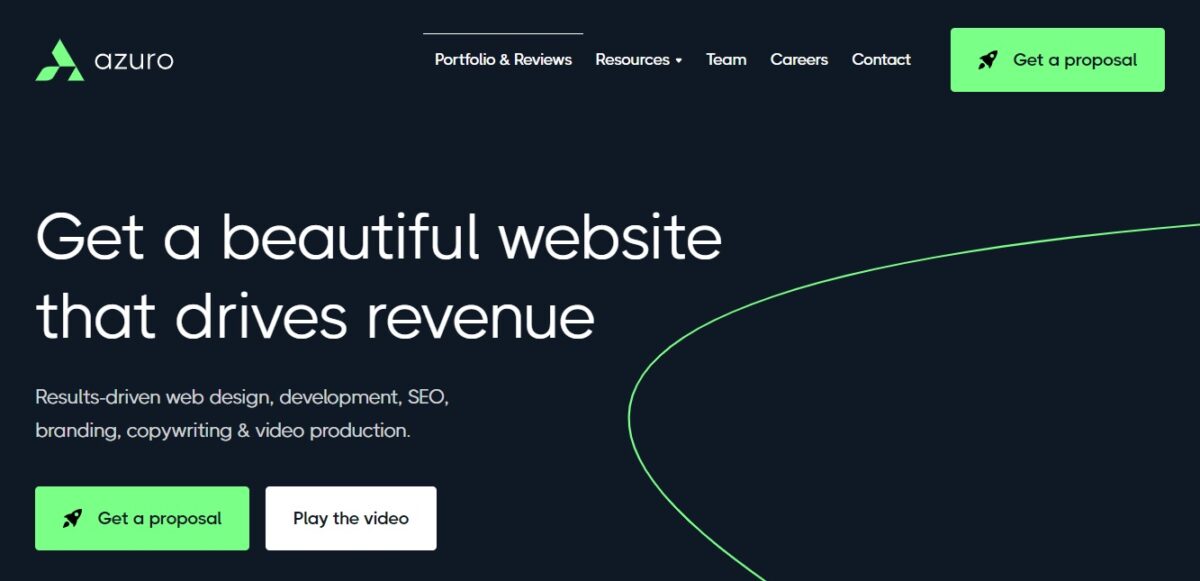 Best for specialized handling by a small team
CIO Review named Azuro Digital among its top 10 awardees for the Most Promising Web Design and Development Services Provider in 2022. Its main office is in Ottawa, Canada, but its remote team serves an international clientele.
The agency's services include custom design (including logo creation and branding), WordPress development and maintenance, content strategy and copywriting, SEO, video production and photography, and conversion rate optimization through visitor activity tracking.
Azuro ensures direct access to your web designer, who belongs to their agile and meticulous nine-member team. Moreover, the company offers unlimited content "revisions."
However, it aims to limit them by understanding your vision in-depth before starting the project.
---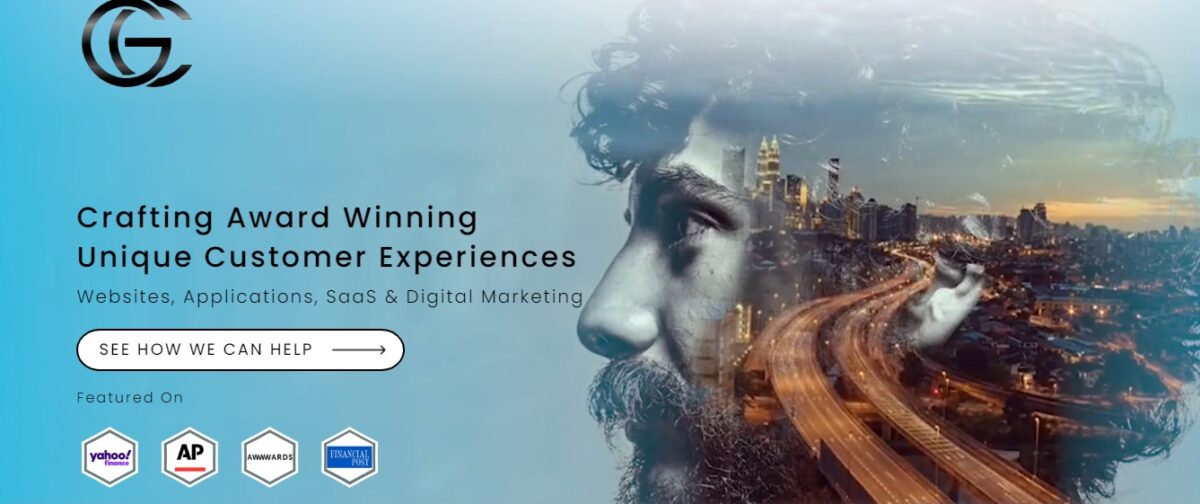 Best for eCommerce and "rescue" service
Another Canadian web design specialist company, GrayCyan handles various website development needs, from customizing one from scratch to redesigning an existing one.
Because its team includes WooCommerce and Shopify experts, GrayCyan's portfolio features eCommerce sites and peer-to-peer marketplaces besides other high-conversion corporate portals with e-mailing list integration. The company also offers "rescue" assistance, in case you had problems with your previous developer and must rebuild the site fast and transfer ownership.
This Toronto design studio is as young as Azuro (formed in 2018) but already delivered over 270 projects for various industries, including real estate, finance, manufacturing, energy, e-learning, healthcare, law, politics, transportation, and more.
---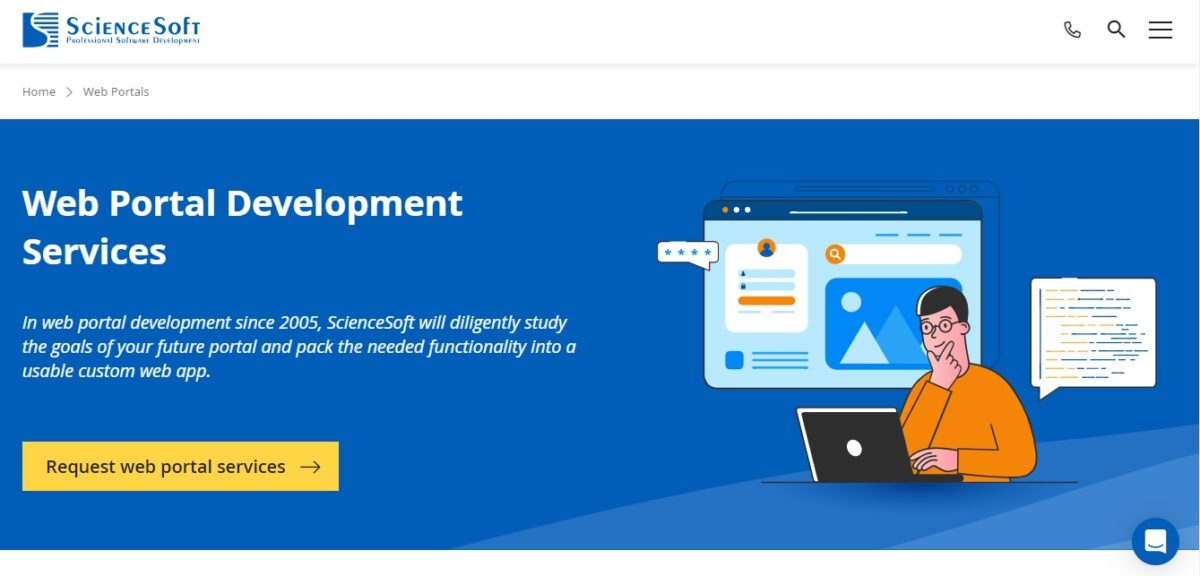 Best for AI and AR-enhanced websites
ScienceSoft offers full-cycle development that spans consulting, website development, mobile app development, integration with third-party systems, and after-launch support, such as user training and continuous website management. It can deliver innovative customer-enhancing features, such as AI-driven chatbots and personalization, voice-controlled navigation, AR-powered learning programs and user manuals, crypto payments, and live video consultations.
The company's projects since 2005 include vendor websites (for manufacturers and non-manufacturers), B2B sites, self-service sites, customer portals, employee sites, patient or telehealth portals, eCommerce and sales sites, eLearning websites, community portals, and BFSI (banking, financial services, and insurance) websites.
This Dallas-based firm is transparent about its workflow: the agency takes two to eight weeks to create a prototype. Meanwhile, it can present the first working portal version in three to four months.
---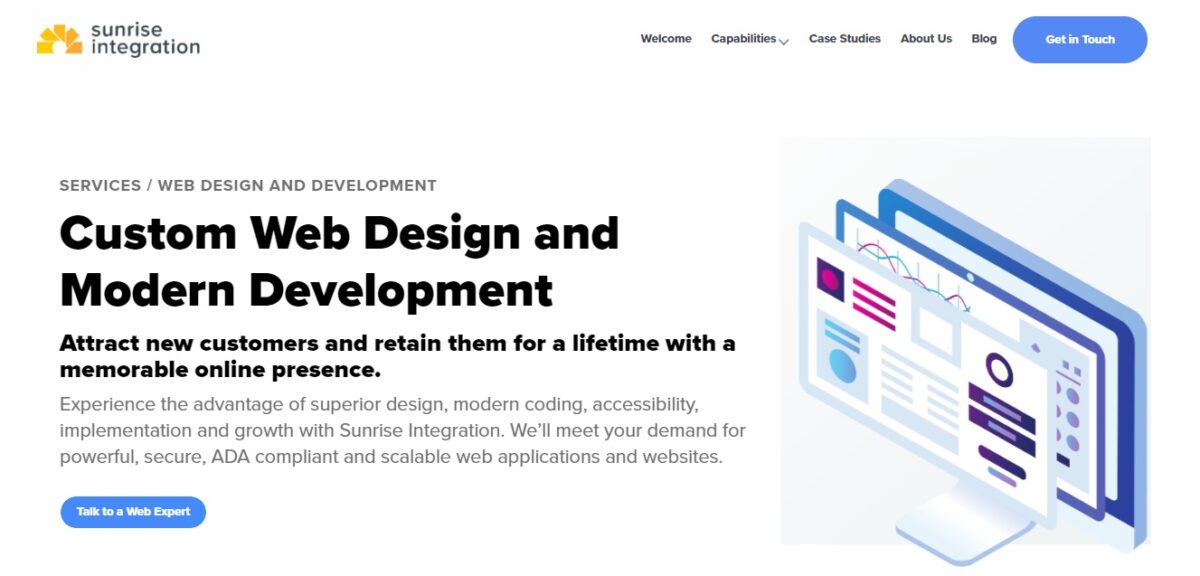 Best for Shopify store owners
Sunrise Integration's brand and UI/UX designers have over 23 years of existence in creating portals for B2B and D2C eCommerce firms in consumer packaged goods, fashion, lifestyle, software, entertainment, and more. In particular, its team has provided Shopify store creation and redesign services since 2014.
Its services include strategic ideation, UX design and mockups, graphic design, mobile-centric and fully responsive layout, ADA and WCAG accessibility compliance, user testing, and conversion optimization.
This Los Angeles firm can integrate AI and machine learning technologies into your portal's text generation, image detection, content moderation, and other functions.
---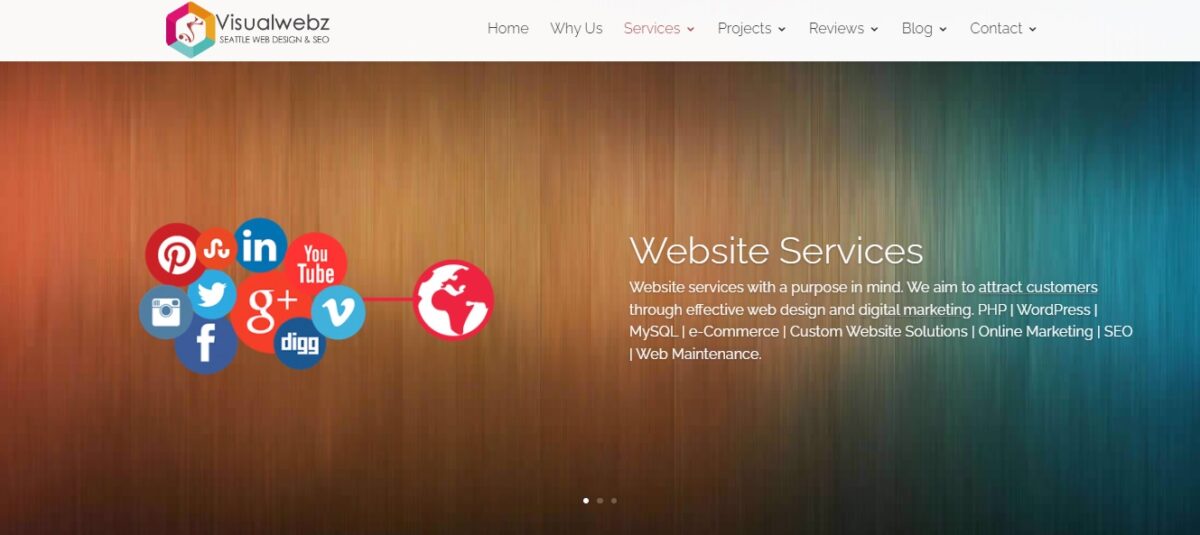 Best for quick, industry-compliant output
Visualwebz promises the delivery of a "simple" five-page website with up to 10 external links and e-mail setup in 48 hours. However, it recommends a comprehensive solution that includes content writing, ad campaigns, and analytic reporting in the long run.
This Seattle agency, which started operating in 2008, delivers websites built primarily on WordPress and ensures compliance with the Web Hypertext Application Technology
Working Group (WHATWG). The group sets HTML standards, which if properly followed, allow webpages to appear correctly on different browsers. Moreover, Visualwebz uses trusted digital certifications such as DigiCert or Global Sign or one issued by your on-premise private enterprise to ensure a secure browsing experience (encryption and authentication).
The company also offers graphic design (for new and "redesign" projects) and video/animation services for animated logos, interactive pages, and 3D promo videos.
---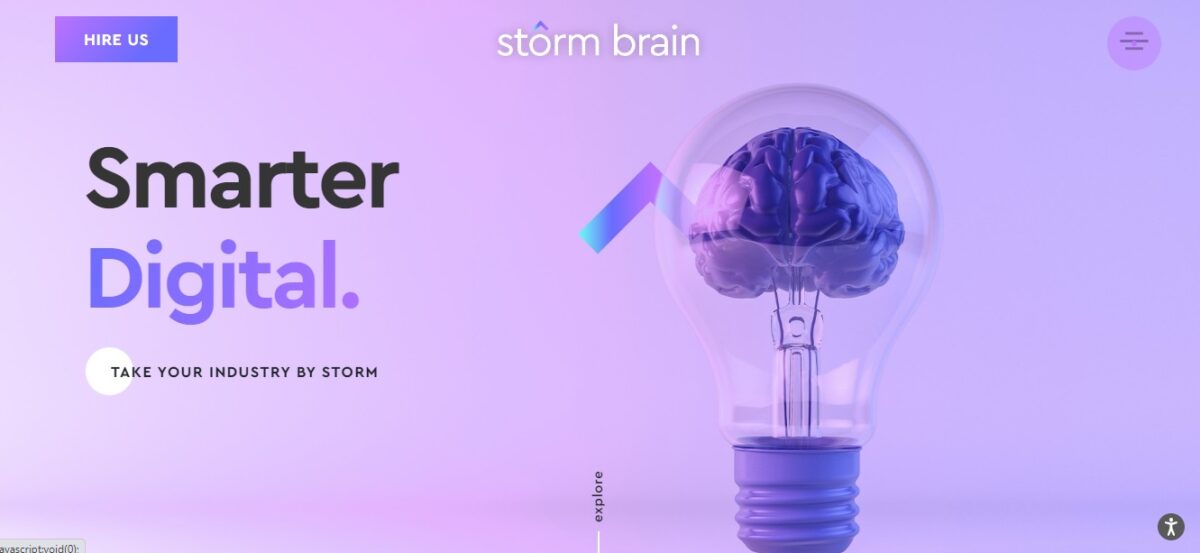 Best for online merchants with accessibility (ADA) needs
Storm Brain enables clients to "take their industries by storm" through market research and competitor analysis-backed ideation. Insights from this initial step allow their team to propose a design that aligns with your vision, resulting in a beautifully interactive and SEO-friendly website that's "sticky" or highly engaging with customers.
This San Diego internet marketing company's web development service suite includes mobile responsive design, eCommerce web design, ADA compliance, user experience design, managed website hosting, and maintenance. Its expertise in linking your site to various CMS platforms can streamline your campaigns and help you optimize experiences on your customers' preferred platforms. From brand strategy to visual design and analytics, Storm Brain's team has you covered.
---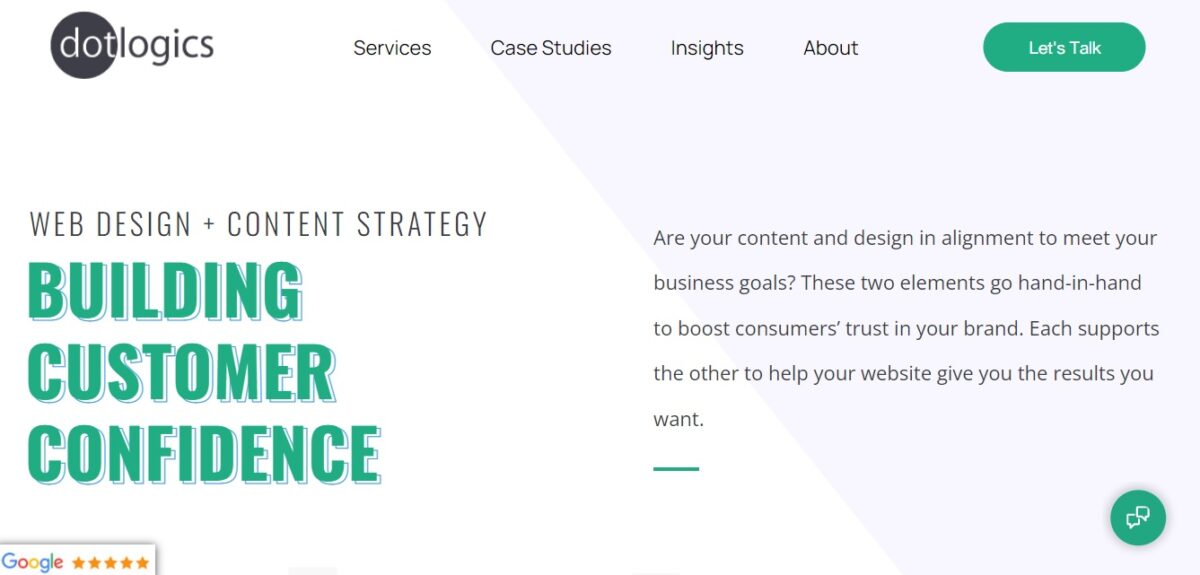 Best for personalization
DotLogics' formula for boosting customer confidence is to produce customer-centric content and action-provoking design, ensuring they align with your growth goals. To make this happen, the agency provides creative advisory, style guide development, wireframes, mockups, content strategy, and content writing.
DotLogics' team holds a discovery session with you to understand your business better by going through your organization's history, current marketing strategy, business objectives, and brand guidelines. If you have an existing website, the company will study customer segmentation and visitor analytics to help you refine target personas and your value proposition.
This New York-based firm's services also include competitor analysis, UX/UI improvements, and visual design and photography to make your site drive more conversions.
---
---
Should I Build My Own or Hire an Agency or Freelancer?
Deciding to have a business website is a significant step, considering that 27% of startups have yet to operate their site for their respective reasons. But with 252,000 new sites launched on the internet daily, the challenge is for your website to be unique and effective enough to garner repeat visits and purchases.
Three-quarters of consumers equate the quality of a company's website to its trustworthiness. Moreover, your visitors' first impression of your site gets formed in 50 milliseconds upon viewing it. Hence, website building involves thoughtful planning and execution. Here are some points to consider when deciding whether to develop it yourself or get third-party help.
Use a website builder or CMS if:
You have design experience and prefer to be directly involved in the design process.

You only need a simple website.

You want to launch the site quickly.

You seek a more affordable option.
Choose a freelance designer if:
Your budget is sufficient for a one-person design job.

You find an expert who is flexible enough to accommodate your timeline.

You want to avoid any long-term commitments, which some design firms may require.
Hire a web design company if:
You have a sizable budget for the project.

Your sales are growing fast.

You can wait a few weeks or even months for the final product.

You have a brand strategy but prefer someone else to create a unique design and a better user experience.

Your site appears outdated and needs a refresh.
---
How Long Does it Take to Build a Website?
The average time it takes to complete a website depends on various factors. They include your site-building method (using a website builder, a content management system or CMS, a design agency, or through coding), the kind of website you need (blog, business/corporate or eCommerce site), the size (number of pages), design complexity (including the number of features required), the time it takes to get content, feedback, and approvals, and the amount of search engine optimization (SEO) needed.
Website building can take from six hours using a website builder with pre-made templates to six months.
---
5 Factors to Consider When Choosing a Web Design Agency
How would you know which design studio is a good fit for your envisioned small business website? Be sure you've done the following steps before finalizing your choice: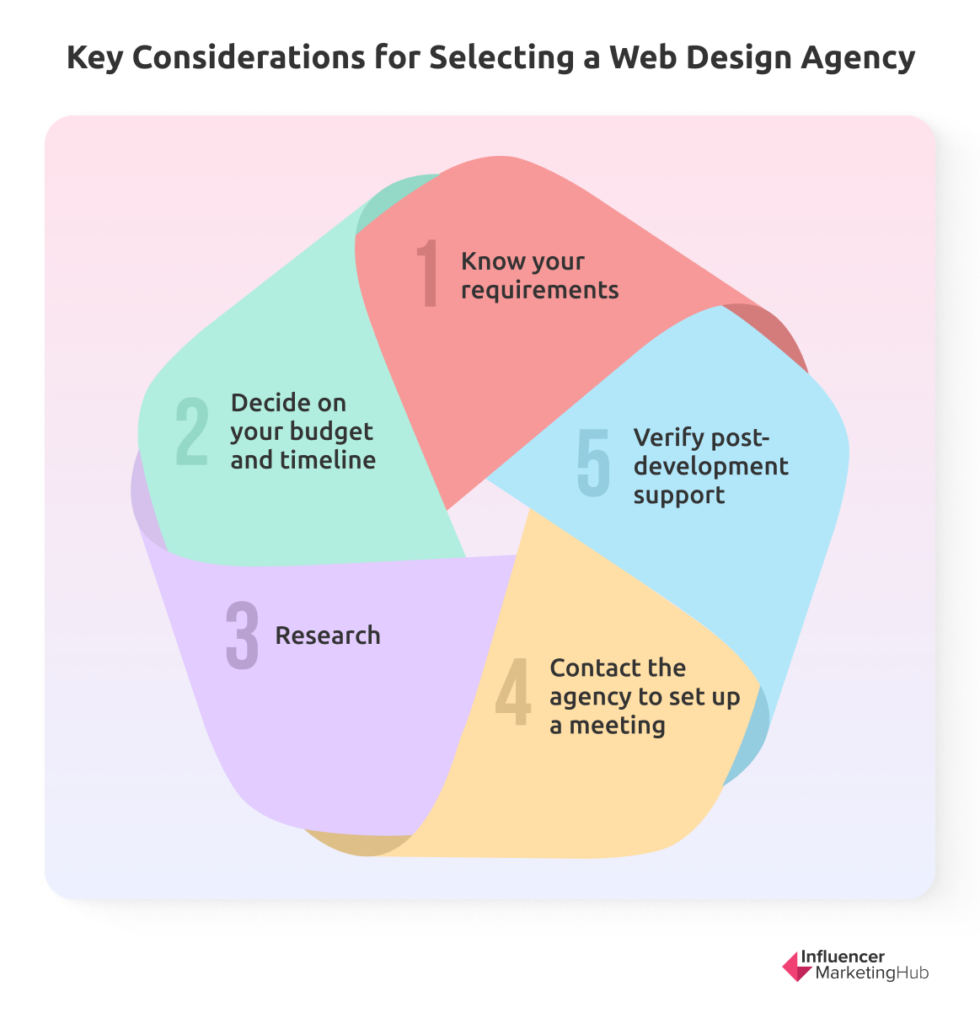 1. Know your requirements.
List your "must-haves" and non-deal breakers before calling or meeting prospective design groups. Identifying your needs will prevent you from forgetting your priorities. To help you vet candidates, make one list of non-negotiables, such as responsive design, specific functionalities such as registration and online payment systems, and integration with your current office systems, particularly your CMS. SEO, fast loading time, mobile-friendliness, and campaign tracking features should also be part of this list if you want a competent online presence.
Then make another list of "good-to-have" qualities, such as secure hosting, content creation, and logo design.
2. Decide on your budget and timeline.
Set a cost range instead of a single figure, and remember to verify what comes with your package. If you foresee seeking other services, such as photography and videography, ask how much you must pay for additional work.
Moreover, you must tell the agency if you have a hard deadline for the site's launch so they can assess if they can deliver. Ask what challenges they foresee in working with your timeline and what steps they'll take if they're running behind.
3. Research.
Your background check should cover the prospect's experience and portfolio. While its years in operation, skills, and level of expertise matter, you must choose an agency with thorough knowledge in your domain. A good design firm explains its specialization. Its representatives can honestly answer when you ask how familiar they are with your business type.
You should also review their portfolio and case studies to determine if the agency has worked with clients like you, including your rivals. Evaluate their solutions, quality, and how they met their customer's expectations. Case studies typically feature stats related to website traffic, visit duration, conversions, sales, and reduced bounce rate achieved after launching or refreshing a website.
Don't forget to read reviews and comments on your prospect's social channels.
4. Contact the agency to set up a meeting.
If possible, call the design studio to get a feel of their communication style. Website design can take a while and your future partner should be accessible, friendly, and sensitive to your needs.
During your phone call, note the kind of questions they ask—if the representative takes the time to know about your company or makes a hard sell right away.
5. Verify post-development support.
You'll eventually need to add fresh written content and images to your new website. Your company also needs to measure the portal's performance. Determine what assistance or training your partner agency offers after the site launch.
Frequently Asked Questions
What are the most common fears business owners have about having a website?
An UpCity survey showed that entrepreneurs are reluctant about owning a website due to:
Perceived irrelevance of websites to their business or industry (40%)

Availability and "sufficiency" of social media (21%)

Lack of website management skills (21%)

Cost (18%)
Other business owners prefer not to own websites due to cyber threats and long waiting times for web development.
Why is website loading speed important?
According to Sweor's report, 39% of people will leave a website if it takes too long to load. The expected loading time is two seconds or less.
Where are the best places to find freelance web designers?
Toptal
Upwork
99designs
Behance
PeoplePerHour
Fiverr
Freelancer