Advertising Disclosure
Advertising disclosure:
Our partners compensate us. This may influence which products or services we review (also where and how those products appear on the site), this in no way affects our recommendations or the advice we offer. Our reviews are based on years of experience and countless hours of research. Our partners cannot pay us to guarantee favorable reviews of their products or services.
Medical institutions and businesses understand that their website is often the first point of contact with prospective patients and customers. As such, they serve not only as an introduction to services and products but also as a representative of the quality of care and professionalism one can expect. This initial impression can influence decisions and shape relationships. Therefore, having a beautifully designed, intuitive, and responsive website is a necessity.
One way to achieve this is through partnering with a specialized healthcare web design agency. These agencies combine knowledge of healthcare industry requirements with extensive design and development expertise, crafting bespoke digital spaces tailored to the needs of healthcare institutions and businesses. They focus on creating websites that are easy to navigate, ADA-compliant, SEO-optimized, mobile-responsive, and visually engaging. Beyond aesthetic considerations, these agencies also help implement critical functionality such as patient scheduling modules, secure patient portals, telehealth integrations, and ecommerce capabilities for product sales.
The following article will provide you with a curated selection of leading agencies that have excelled in creating impressive, high-performing, and compliant healthcare websites.
---
Top 12 Healthcare Web Design Agencies for Patient-Centric Digital Platforms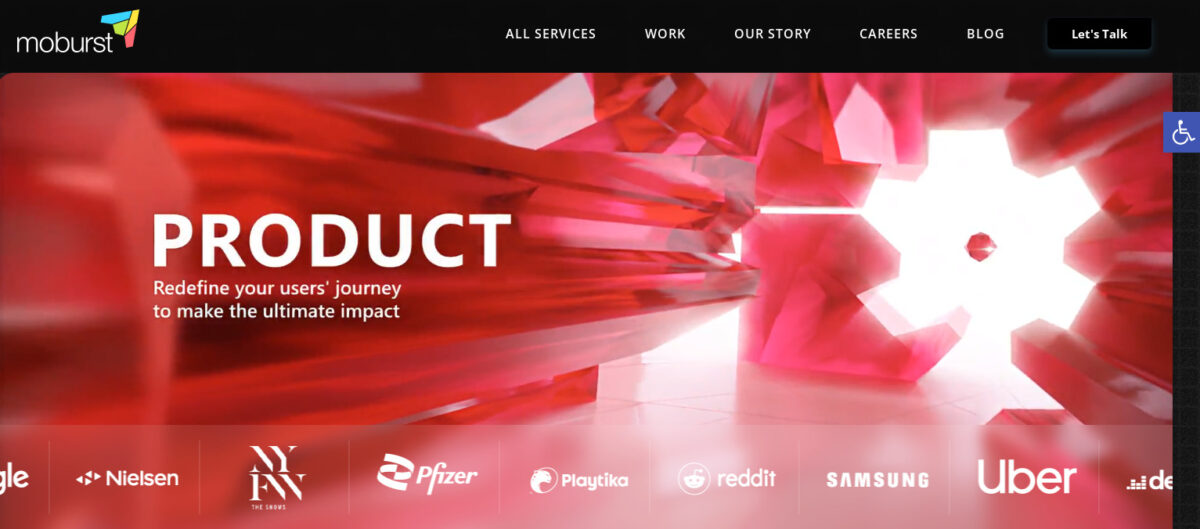 Average Hourly Rate: $150-$199
Average Project Cost: Starting at $25,000+
Based in New York, NY, United States, Moburst takes a mobile-first approach to healthcare web design, focusing on delivering bespoke healthcare experiences. Known for their innovative and data-driven methods in crafting web solutions in the healthcare sector, they cater to a diverse range of clientele, from startups to global brands.
Moburst's approach to healthcare web design is holistic, from building your healthcare website from the ground up to focusing on generating conversions, engagement, and customer satisfaction. Beyond design, they emphasize optimization within the healthcare digital space, constantly refining features and leveraging advanced technology to deliver relevant experiences tailored to each user. Their commitment to maintaining and updating your healthcare website, even post-launch, ensures that your digital presence in the medical field stays dynamic and up-to-date.
Services:
Advertising
Mobile and App Marketing
Social Media Marketing
Web Design
Web Development
---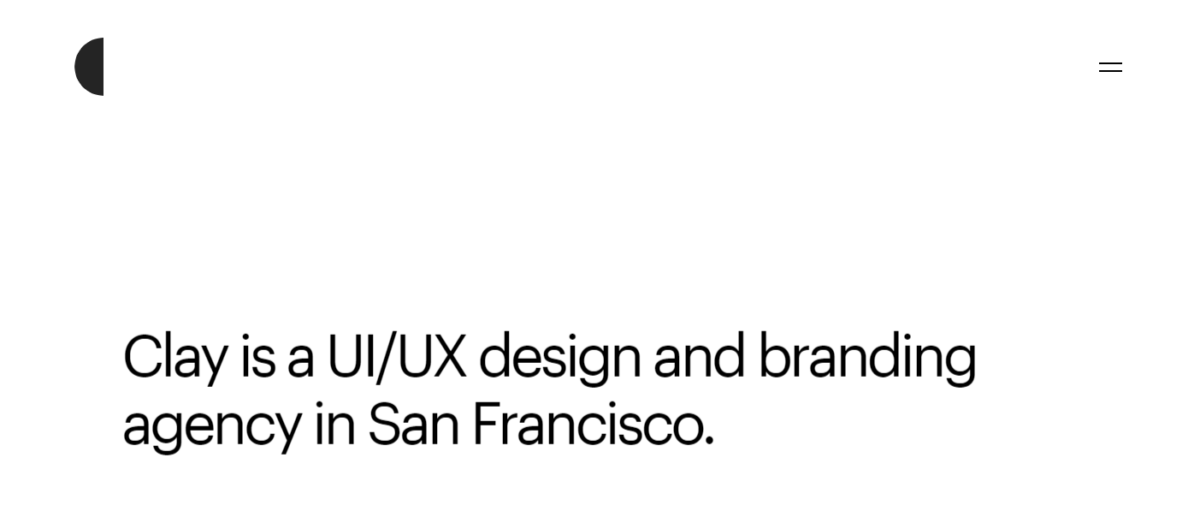 Average Hourly Rate: $150-$199
Average Project Cost: Starting at $50,000+
Clay is a San Francisco-based global design agency that brings a strategic blend of user experience and brand storytelling. With a strong focus on user experience and web design, Clay's portfolio boasts collaborations with renowned clients including Meta, Slack, Google, and Amazon.
Their strength lies in creating responsive websites that seamlessly integrate across devices, catering to a wide range of needs from product landing pages to UX UI for company intranet portals. Clay's team is composed of experienced designers and product experts, collaborating with top developers to deliver products within time and budget constraints. Reviews highlight their professional management and high-quality design services, with notable expertise in branding and web maintenance.
Services:
UX/UI Design
Web Design
Branding
---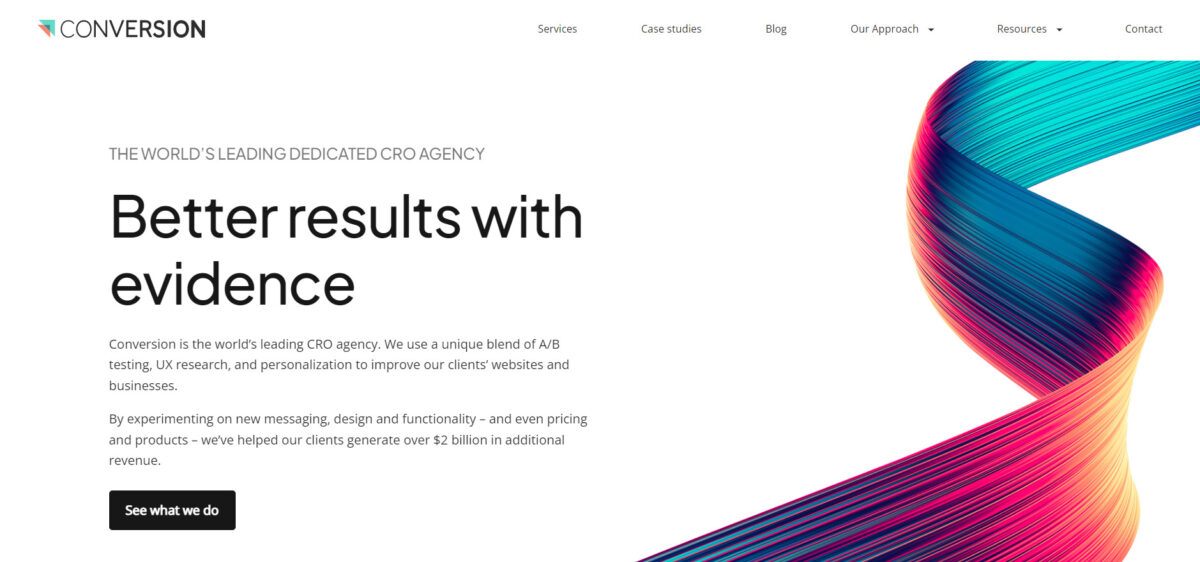 Average Hourly Rate: $150-$199
Average Project Cost: Starting at $10,000+
Conversion, headquartered in Vancouver, Canada, is a leading agency specializing in Conversion Optimization. Trusted by prominent brands like Microsoft, Facebook, and Google, they bring vertical expertise in healthcare and a unique approach to web design.
Emphasizing the importance of Conversion Centered Design, they design high-converting experiences from the start, focusing on user experience (UX) while also taking into consideration the aesthetics. They leverage their vast wealth of experience and experimentation programs, which have generated over $2 billion in additional revenue for clients, to deliver cutting-edge web experiences.
Their team of experts includes strategists, UX/UI designers, and CRO program managers who are adept at connecting departments and bringing experimentation programs to life.
Services:
---
Average Hourly Rate: $50 – $99
Average Project Cost: $25,000+
Located in New York, Humbleteam operates with a keen focus on branding and UX/UI design. The marketing agency has a strong track record in the development of digital products, having successfully launched over 100 products in its five-year lifespan. Humbleteam's broad client base includes startups and Fortune 500 companies alike, and they take pride in the fact that their startup clients have collectively raised over $500M, largely due to the compelling products Humbleteam has helped design.
Humbleteam's core services include product design and strategy, digital branding, and remote design teams. The agency guides their clients through each phase of the product journey, right from ideation, product-market fit, to successfully launching a scalable product in the market. They also craft unique brand identities that resonate with target audiences. Moreover, their flexible remote design teams provide an invaluable asset for businesses in need of seasoned designers on short notice.
Services:
Product Design and Strategy
Digital Branding
Remote Design Teams
---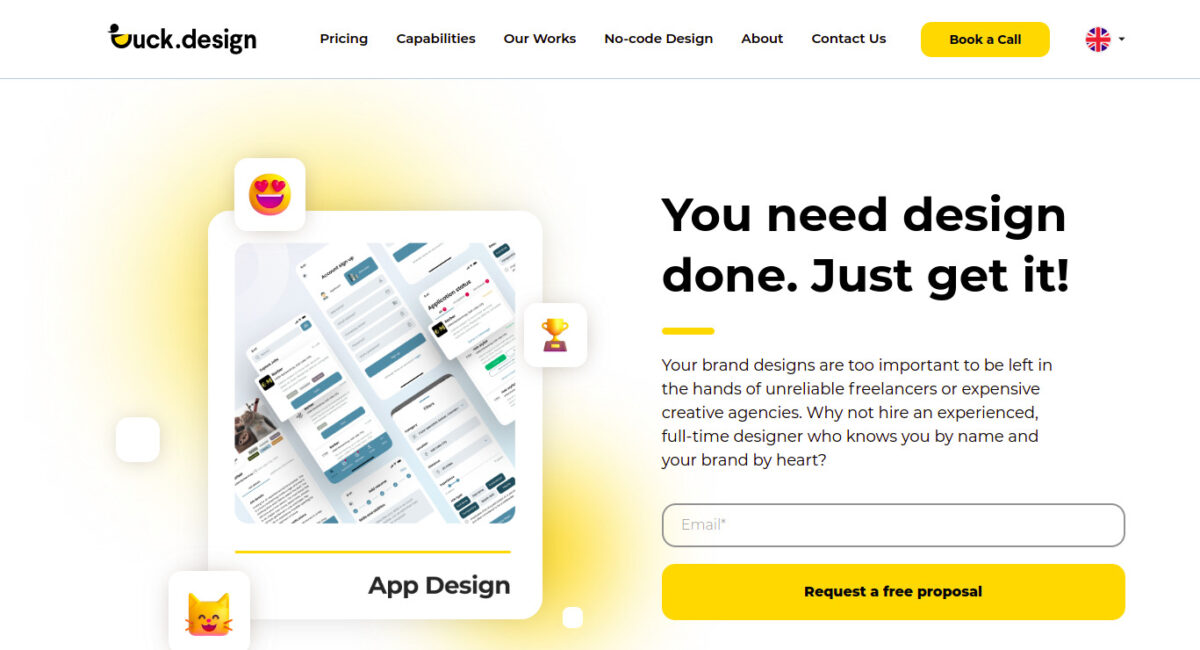 Average Hourly Rate: Undisclosed
Average Project Cost: $1,000+
Based in London, Duck.Design provides a myriad of design services including graphic design, product design, web design, and more. They specialize in crafting solutions tailored to the specific business needs of their clients, whether that involves developing online stores, corporate websites, Internet banking landings, or portals.
Duck.Design's approach to design focuses on solving business issues and improving customer service. Their capabilities extend to organizing vast amounts of information, building intuitive navigation systems, developing brand-reflective websites, launching and supporting online stores, and designing visually and semantically structured landing pages.
Services:
Graphic Design
Product Design
UX/UI Design
Branding
Other Design Services (Packaging, Print Design)
---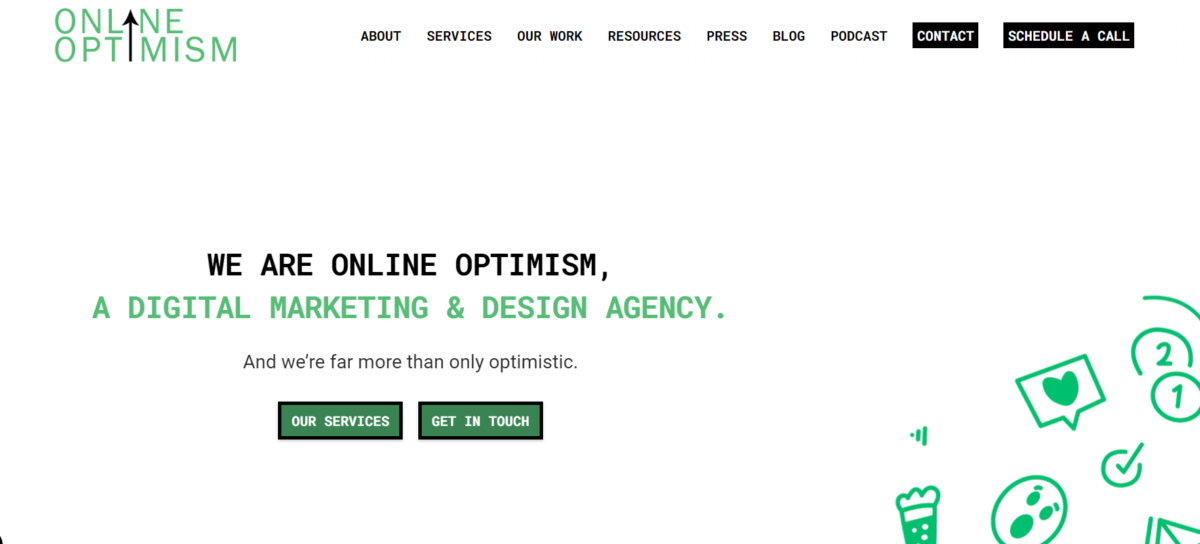 Average Hourly Rate: $50 – $99
Average Project Cost: $1,000+
Operating out of New Orleans, Online Optimism's service offerings span advertising, search engine optimization, social media marketing, content marketing, and web design. They work with clients to create websites that provide the best online experience for users, with a focus on engagement and high conversion rates.
Online Optimism prioritizes form and function in their web design services, offering comprehensive website design, user experience optimization, and ongoing website maintenance and monitoring. They ensure that their clients' sites are fully integrated with their broader strategy for better engagement, conversion rates, and sustainable results. Their notable work includes rebuilding the digital presence for St. Thomas Community Health Center, which resulted in a 40% increase in organic search traffic and a 33% increase in visitor time on site.
Services:
Advertising
Search Engine Optimization
Social Media Marketing
Pay Per Click
---

Hourly Rate: $100-$149
Average Project Cost: $25,000+
Based in San Francisco, California, Neuron is a reputable UX/UI design agency focusing on creating superior digital experiences for businesses to thrive in the digital landscape. They specialize in developing high-end B2B workplace products aimed at bolstering productivity, sales, and business intelligence, acting as an expert design partner to tackle any UX/UI challenges.
A prominent case study is their collaboration with AcuityMD, a medical device sales platform. In the second version of their product, Neuron crafted an improved experience while implementing new and robust features. They enhanced data architecture for more strategic lead targeting and improved profiles with comprehensive context to expedite the sales closure process. The agency borrowed UX conventions from travel, e-commerce apps, and search engines to increase user speed and familiarity. They also introduced an advanced pipeline management feature and increased the discoverability of new sales opportunities.
Services:
UX/UI design
Data architecture improvement
Pipeline management for medical sales
---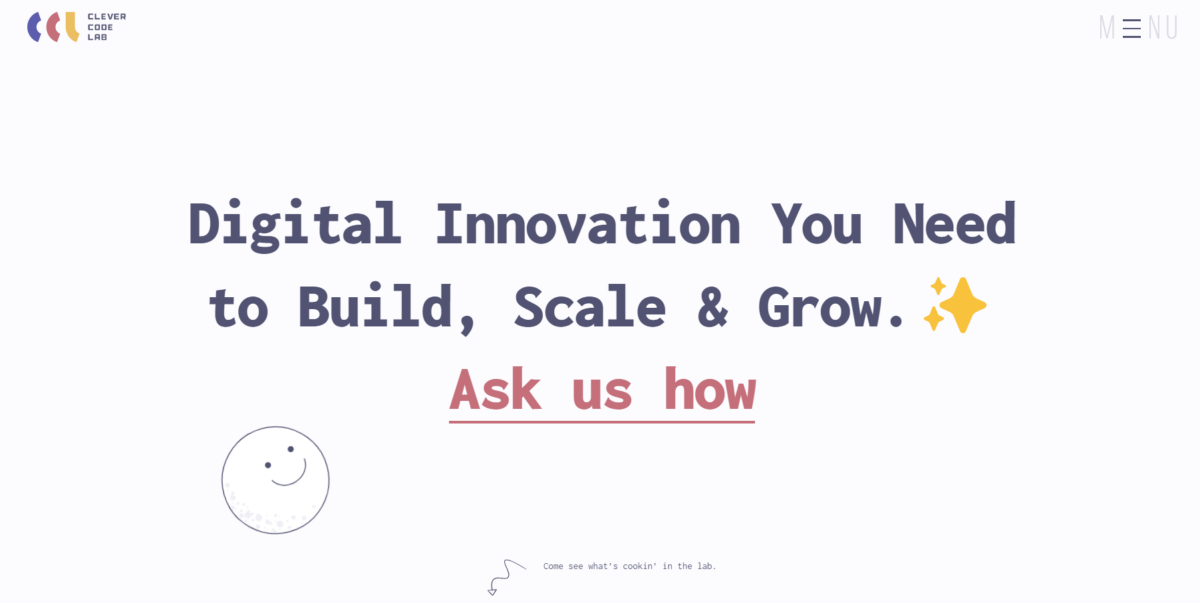 Average Hourly Rate: $25-$49
Average Project Cost: $5,000+
Clever Code, located in Poltava, Ukraine, is a well-established agency specializing in web development, graphic design, and web design. Their approach to designing is centered around making prototypes, producing visually appealing and user-friendly designs, coding with high quality, and providing continuous support post-deployment.
Their design aesthetic is simple yet inspiring, focusing on user-friendly, clean designs to ensure lasting success for your business. They design websites that are far from boring, incorporating minimalist or interactive elements like dynamic scrolling or playful cursors, depending on the client's requirements.
Services:
Product development
Product support
Prototypes
---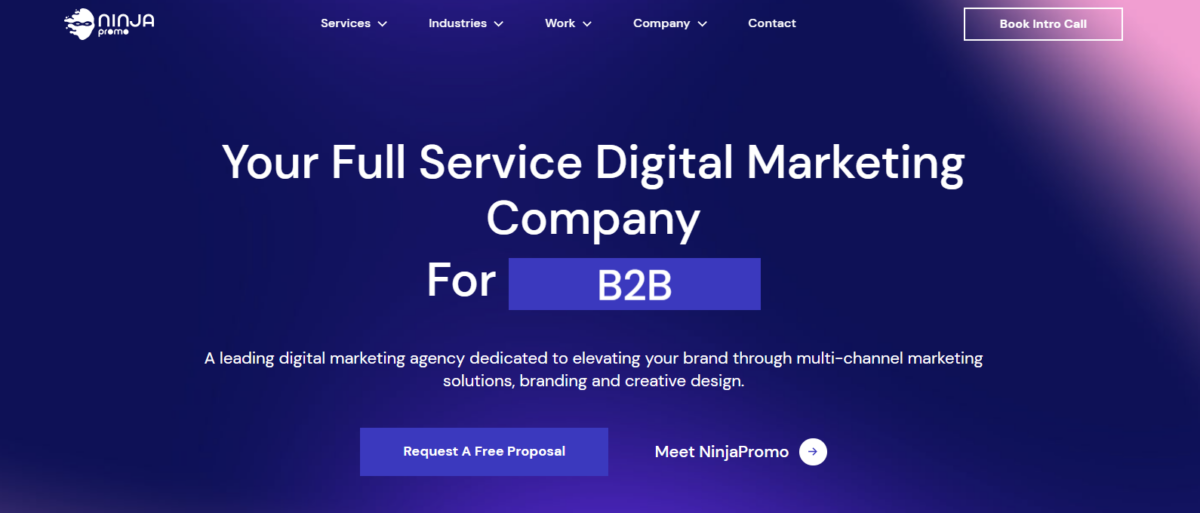 Average Hourly Rate: $50-$99
Average Project Cost: $1,000+
NinjaPromo, a London-based agency, has expertise spanning across various digital services including advertising, blockchain marketing, search engine optimization, social media marketing, video production, and branding. However, they excel in creating user-friendly, visually appealing websites optimized for search engines and mobile devices.
They are composed of a multidisciplinary team including project managers, web designers, developers, quality assurance engineers, and marketing experts who all work in harmony to create sites that attract, captivate, and convert consumers. Their marketing strategists excel at SEO and utilize data-driven tactics to enhance your site's search engine visibility.
They also offer comprehensive post-launch support, which includes regular software updates, content updates, security-health assessments, speed-assessments, file backups, and bug fixes, thus ensuring that your website always runs at optimal efficiency.
Services:
Email
Website maintenance
Site audit
Keyword research
Content updates
Bug fixes
---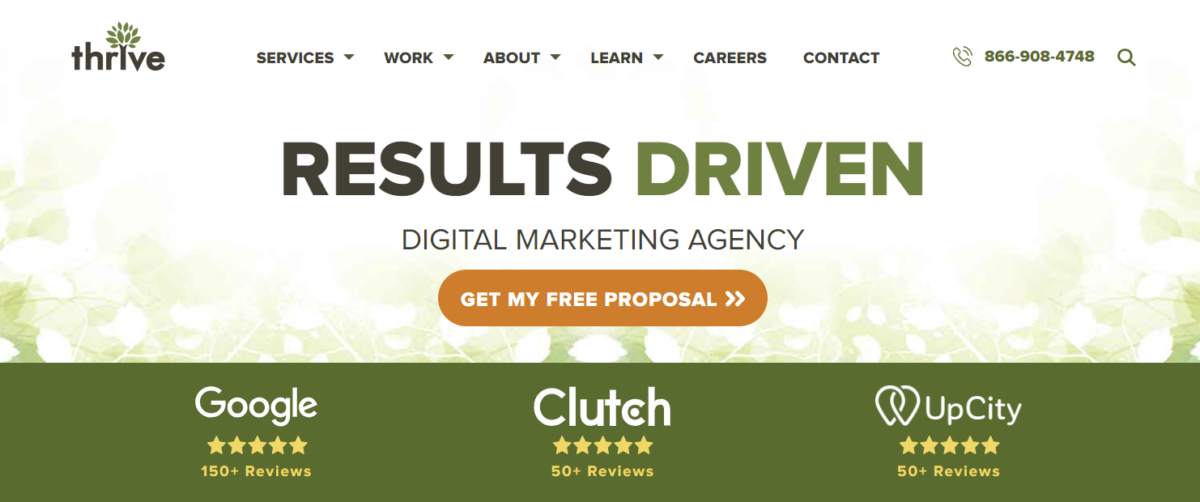 Average Hourly Rate: $100-$149
Average Project Cost: $1,000+
Thrive is a digital marketing agency with a primary focus on SEO (70%), as well as PPC, Social Media Marketing, and Web Design (each making up 10%). Based in Dallas, TX, they provide specialized healthcare web design services aimed at helping healthcare providers enhance their digital presence.
Thrive recognizes that the healthcare sector is broad, competitive, and operates much like a small business when it comes to attracting and retaining patients. They see the need for these businesses to establish a patient-centered medical website, and thus provide custom web design services that align with their clients' SEO strategies.
Thrive's proven results in the healthcare marketing sector include boosting conversion rates and acquiring new organic search users for their clients. Their clients include multiple-location orthopedic, dermatology, and orthodontic practice groups, who have seen substantial increases in monthly leads, new website users, top 5 keyword rankings, and monthly traffic.
Thrive's approach is mobile-first, user-centric, and comes with comprehensive site audits for continuous improvement. As a full-service agency, they also offer free project proposals, providing clients with insights on improving their digital presence.
Services:
SEO
Web Design
Development
Content Writing
WordPress Expertise
Responsive Web Design
Website Hosting
Video Production
Email Marketing
---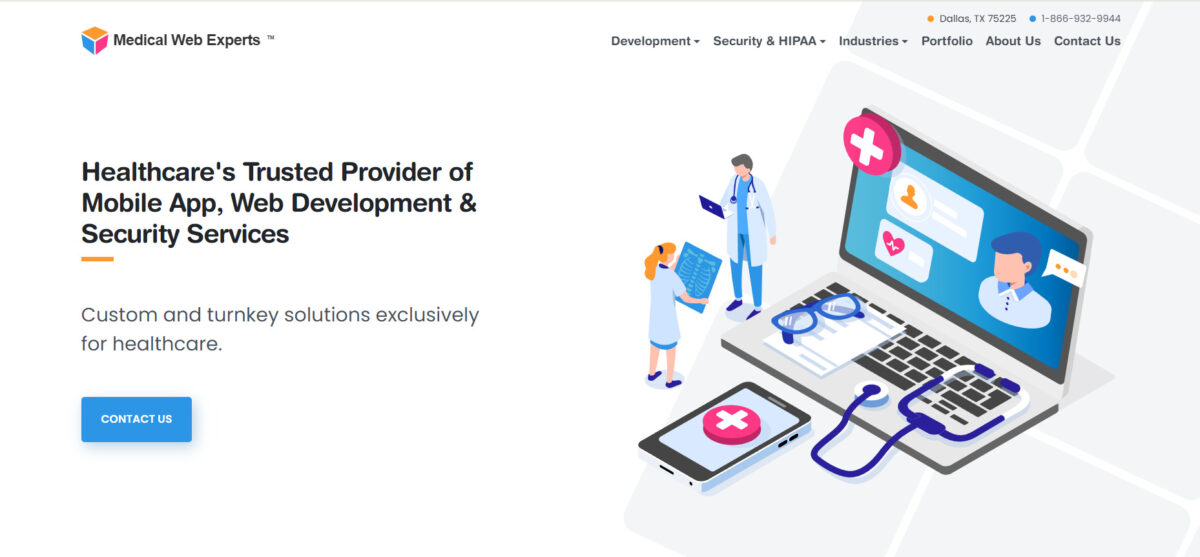 Average Hourly Rate: $50-$99
Average Project Cost: $1,000+
Based in Dallas, Texas, Medical Web Experts specialize in healthcare website design, crafting custom websites for healthcare organizations and businesses of various sizes. They have been in the industry since 2003, proving their experience and dedication in healthcare web design.
Understanding the unique challenges faced by healthcare websites, they ensure their designs are secure, compliant, stable, and scalable. Their designs focus on effectively communicating the business's voice, products, services, and mission, while also offering interactive features for messaging and data exchange. They put a great emphasis on security and regulatory standards compliance, including HIPAA, ADA, GDPR, and CCPA.
Medical Web Experts follow a thorough, tried-and-tested process starting from discovery, through design and development, to deployment, hosting, and continuous growth. They ensure to work in collaboration with their clients, providing ancillary services such as custom portal development, custom mobile app development, prebuilt modules, HIPAA-compliant hosting, and healthcare digital marketing.
Medical Web Experts offer custom and pre-built solutions for needs that healthcare businesses commonly face, which can be combined with the website. These include content management system (CMS) and blog, "Find a Provider" search functionality, "Find a Location" search functionality, patient scheduling modules, HIPAA-compliant messaging or live chat, classes and events, testimonial carousels, and eCommerce solutions.
Services:
Custom Healthcare Website Design
Custom portal development
Custom mobile app development
Prebuilt modules
Healthcare digital marketing
Search engine optimization (SEO)
Medical content writing
Custom image design
Branding and logo design
Live-action or animated videos
---
Average Hourly Rate: $150-$199
Average Project Cost: $10,000+
Operating out of Orlando, Florida, Intrepy Healthcare Marketing is a versatile agency with a focus on healthcare. Their expertise is distributed across multiple areas with a significant concentration on Search Engine Optimization (SEO) and Web Design.
Intrepy Healthcare Marketing's strength lies in its diverse service offerings, delivering on various facets of digital marketing to provide a comprehensive suite to clients. Alongside their core web design service, they also offer advertising, pay per click, and social media marketing services, all designed to build a strong online presence for their clients.
This agency takes a balanced approach, equally dividing its attention between organic and paid digital strategies. They place a strong focus on optimizing their clients' websites for search engines to improve visibility, while concurrently executing meticulously designed paid advertising campaigns to reach a larger audience.
Intrepy Healthcare Marketing has an innovative approach to social media marketing. They strive to utilize the power of social platforms to drive engagement, increase brand awareness, and ultimately lead to conversion.
Services:
Web Design
Search Engine Optimization
Advertising
Pay Per Click
Social Media Marketing
---
---
Why Is It Important to Hire an Agency Specialized in Healthcare Web Design?
The ideal agency understands the unique needs and challenges of the healthcare industry, including stringent regulatory standards, privacy concerns, and the need for clear, compassionate communication.
They use this understanding to inform their designs, creating websites that are not only visually appealing but also functional and compliant.
Further, an experienced healthcare web design agency will stay abreast of the latest industry trends and advancements, incorporating them into your website to ensure it remains at the forefront of digital healthcare solutions.
---
How to choose the right healthcare web design agency?
The task of selecting the right agency can be daunting, given the myriad of choices available. There are a few key factors to consider in your decision-making process.
These factors include the agency's experience in the healthcare industry, the quality of their previous work, their understanding of healthcare regulations, their technical capabilities, their approach to user experience (UX), their ability to integrate essential functionalities like patient scheduling, and their commitment to maintaining and updating the website post-launch.
It's equally important that the agency has a commitment to maintaining and updating the website post-launch. In light of the fact that 5% of all Google searches are health-related, and search drives three times more visitors to hospital sites than non-search methods, choosing an agency that understands the power of search is critical. This signifies the importance of a robust, user-friendly healthcare website that can cater to consumers who evaluate numerous providers before taking action.
With the right web design agency, healthcare institutions and businesses can effectively meet these digital expectations, enhancing patient engagement, fostering trust, and ultimately driving growth and success.
Frequently Asked Questions
How much do healthcare web design agencies typically charge?
The cost can vary widely depending on the scope and complexity of the project. Some agencies have project costs starting at around $1,000, while others may charge $25,000 or more. Hourly rates also vary, ranging anywhere from $50 to $199 per hour.
How do these agencies ensure the security of my healthcare website?
Reputable healthcare web design agencies prioritize the security of your website. They incorporate measures such as HIPAA-compliant hosting and data encryption to protect sensitive patient information. In addition, they follow best practices to guard against potential cyber threats and ensure compliance with federal and state regulations.
What is HIPAA-compliance in relation to healthcare website design?
HIPAA, or the Health Insurance Portability and Accountability Act, sets the standard for sensitive patient data protection. A HIPAA-compliant website design means that the website follows the regulations established by HIPAA to ensure patient data is protected.
Can a healthcare web design agency help me with online appointment scheduling features?
Yes, many of these agencies can integrate online appointment scheduling features into your website. This provides a convenient way for patients to schedule appointments, improving patient experience and office efficiency.
Can these agencies work with healthcare organizations of all sizes?
Yes, healthcare web design agencies typically work with healthcare organizations of all sizes, from small private practices to large hospitals and health systems. They can customize their services to fit your organization's specific needs and budget.