Advertising Disclosure
Advertising disclosure:
Our partners compensate us. This may influence which products or services we review (also where and how those products appear on the site), this in no way affects our recommendations or the advice we offer. Our reviews are based on years of experience and countless hours of research. Our partners cannot pay us to guarantee favorable reviews of their products or services.
Effective marketing and communication have become indispensable tools for medical practices, clinical researchers, and other healthcare-related organizations. However, promoting healthcare services, products, or research findings to a discerning and highly specialized audience requires a unique blend of industry knowledge, regulatory compliance, and creative prowess. Healthcare Advertising Agencies step into the limelight to help navigate the digital world and bridge the gap between clients and customers, serving as the linchpin for successful healthcare marketing campaigns.
Recognizing the significance of this industry-specific expertise, we have curated an extensive list of agencies that have consistently demonstrated their excellence in healthcare marketing. Each agency in our list brings its unique approach, insights, and methodologies, making it the perfect choice for organizations looking to make a substantial impact in the healthcare market.
So, let's dive into our guide to explore the top 10  front-runners in healthcare advertising and discover how their tailored strategies and innovative solutions can be the key to your brand's transformative journey.
---
Top Healthcare Advertising Agencies
Top
healthcare advertising agencies
2024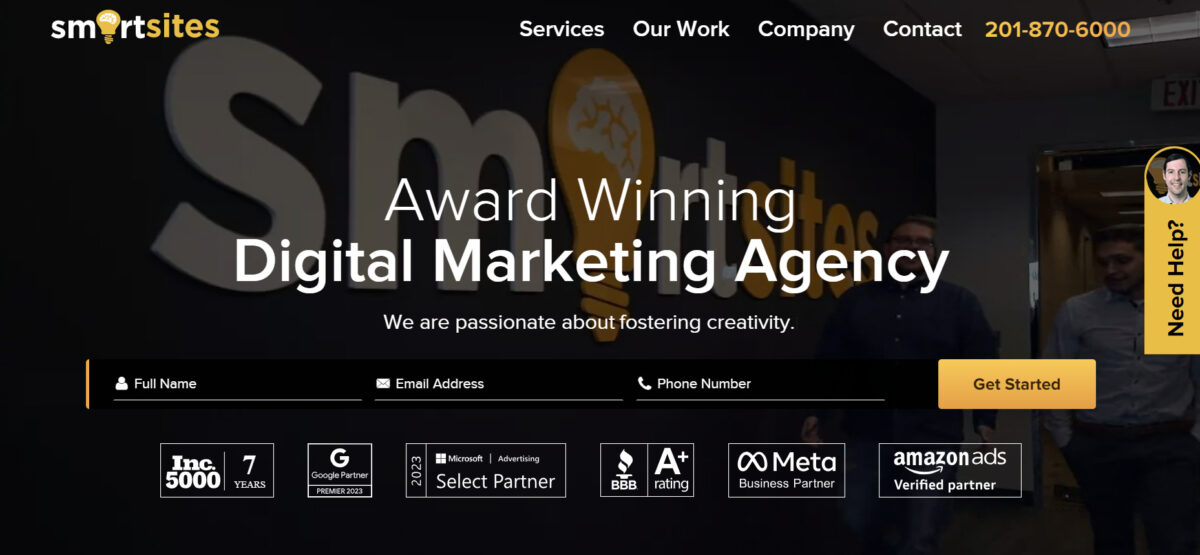 SmartSites, established in 2011 in Paramus, NJ, has emerged as a leader in healthcare digital marketing. They offer a wide range of services, from crafting memorable web designs for the healthcare industry to branding, site analytics, and Google and Facebook Ads. Their SEO team consistently delivers content that elevates organic traffic—a vital asset considering the dynamic nature of daily Google searches.
Boasting partnerships with notable platforms like Google Premier, Microsoft Advertising, Meta, Amazon Ads, and Hubspot, SmartSites has garnered multiple accolades. So much so that Inc5000 recognized them as a rapidly growing company, and they've even secured top positions on Upcity and TopSEOs lists of healthcare web design agencies.
Their successful collaborations, such as those with WIN Fertility and Podiatry Center of NJ, highlight their efficacy and showcase the tangible benefits of SmartSites' strategies. WIN Fertility saw a 58% decrease in CPL and a 343% conversion increase. In contrast, the Podiatry Center of NJ marked a 400% surge in conversions and an 82% CPL reduction.
---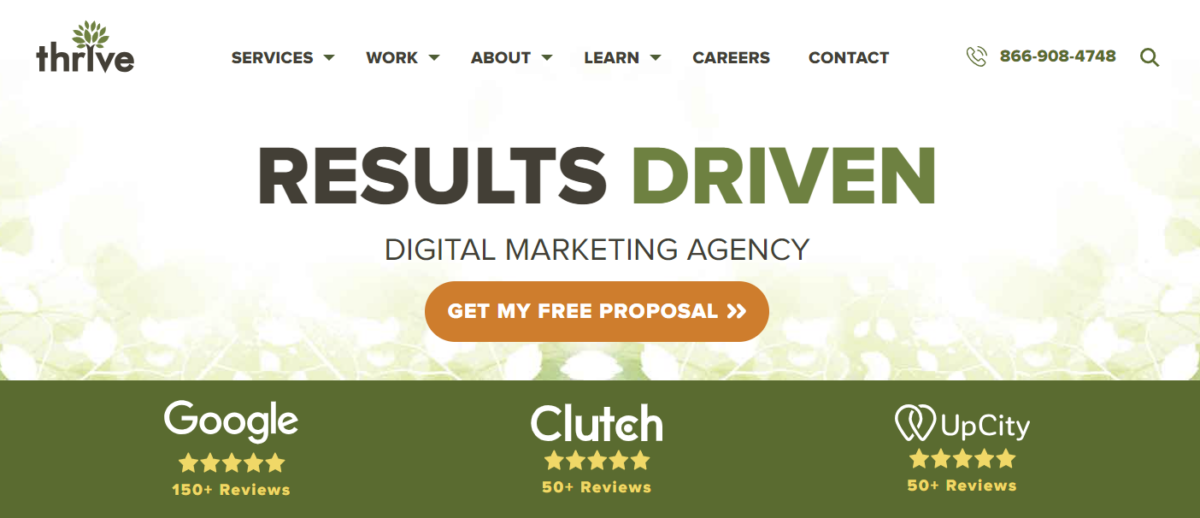 Founded in 2005 and headquartered in Dallas, TX, Thrive has positioned itself at the forefront of healthcare advertising agencies. With an adept team of professionals, they deliver a range of services tailored specifically to the healthcare sector. These range from web design, social media management, online reputation management, video production, and content writing to conversion rate optimization.
Thrive, with over 15 years of experience in healthcare digital marketing, offers expertise in SEO, local SEO, PPC, and bespoke advertising campaigns. Their approach, rooted in data-driven strategies, is complemented by transparent reporting and tailored solutions. By prioritizing client-specific needs and maintaining clear communication, they guarantee enhanced online visibility for both budding clinics and pharmaceutical industry leaders.
Thrive showcases a history of successful collaborations that have delivered tangible results. They transformed a multi-location orthopedic practice group's advertising strategy, resulting in a 557% surge in monthly leads and a 61.4% increase in website users. 
---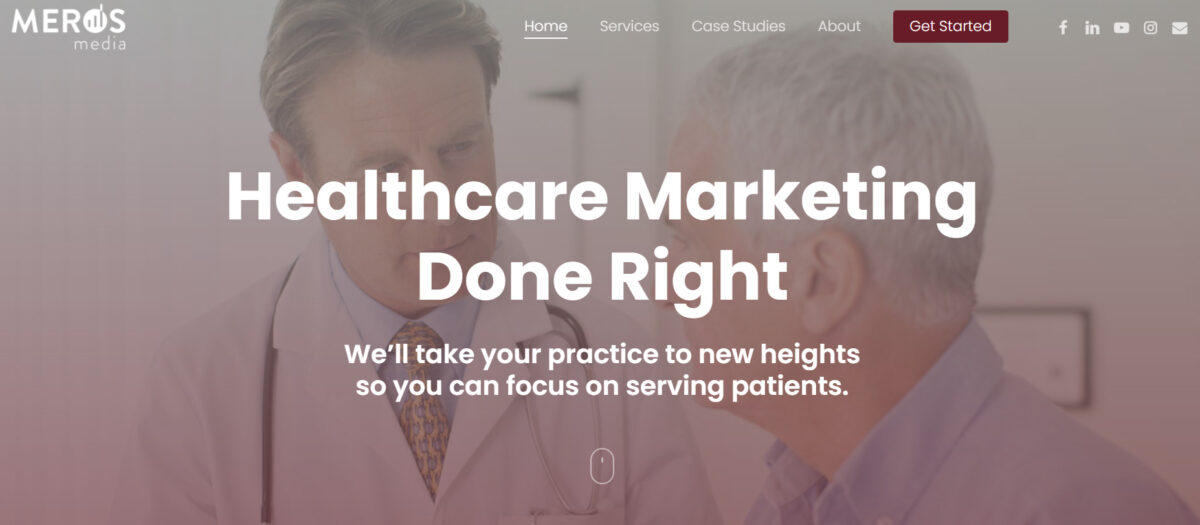 Having its headquarters in Las Vegas, NV, and operating since 2018, Meros Media has swiftly asserted its position as a powerhouse in healthcare advertising. They offer an expansive array of services, encompassing branding, SEO, and content production of impeccable quality.
Their content, whether ad copy, videos, or landing pages, is designed to be uniquely captivating, ensuring healthcare providers secure the highest potential organic traffic growth. Moreover, they offer services to the whole healthcare industry, from plastic surgery clinics to dental offices.
Meros Media's proficiency is evident in the competitive realm of healthcare advertising. Their success with Cellaxys, a Las Vegas-based clinic, encapsulates their prowess: an astounding 241% spike in patient volume within two years, transitioning from a mere 100 monthly page visitors to being the top search result for numerous keywords in Las Vegas.
---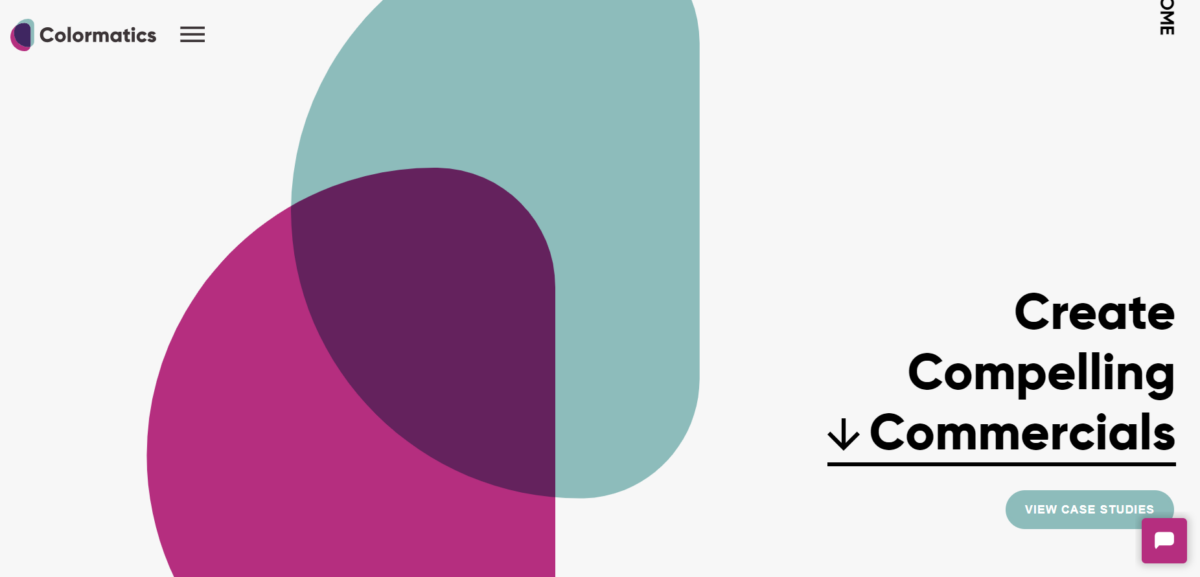 Established in New York City in 2014, Colormatics has swiftly risen as a beacon of innovation in healthcare advertising and a leading video marketing agency. With a keen emphasis on the evolving needs of the healthcare sector, their offerings stretch across a spectrum, from meticulously crafted video ads to emotionally resonant patient testimonial videos.
Beyond mere video production, Colormatics also develops holistic marketing strategies. They integrate social campaigns with search optimization and paid search initiatives to ensure healthcare practitioners don't just reach their audience but connect deeply with them.
Colormatics' collaboration with Jubilant Pharma further accentuates their prowess in the industry. Recognizing the critical need for awareness around Venom Immunotherapy (VIT), they masterminded the "BeeAware" commercial campaign. This targeted outreach campaign focused on the 7% of the US population vulnerable to insect stings. By fusing educational content with strategic digital ads, they aimed to amplify VIT sales and reduce ER visits due to stings.
---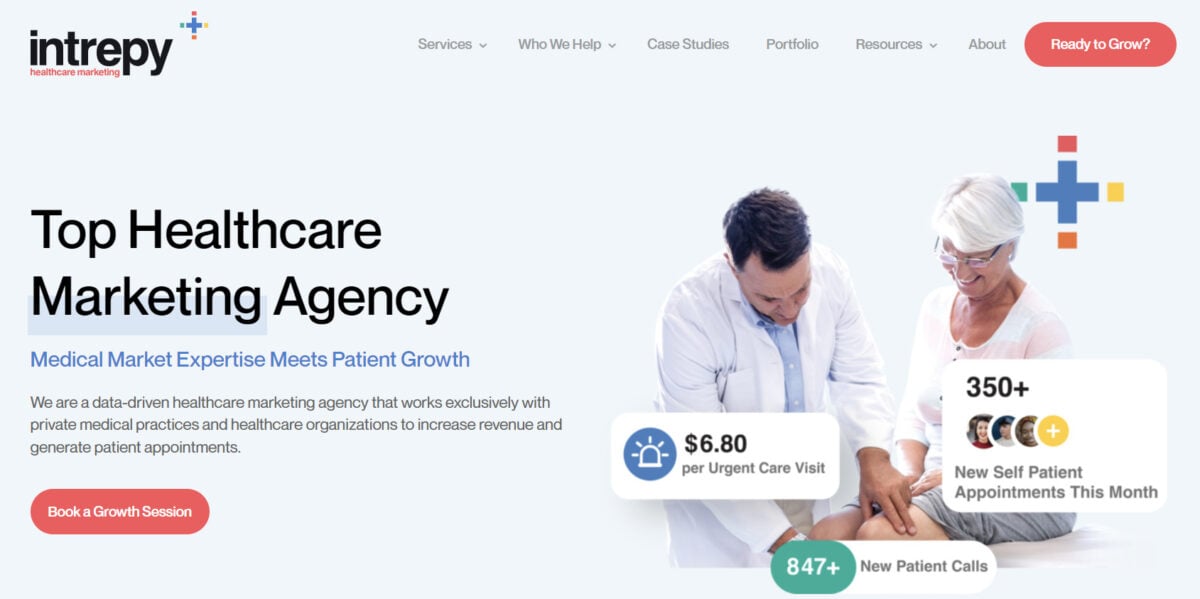 Intrepy Healthcare Marketing distinguishes itself in healthcare advertising, focusing on cultivating data-driven growth strategies tailored specifically for private medical practices and healthcare organizations. Based in Union Park, FL, and founded in 2014, this agency merges medical market expertise with patient growth dynamics.
Intrepy specializes in medical SEO, ensuring practices are easily found online, not just by their name but also by their area of expertise. They also use social media to share stories of doctors and patients. Plus, they handle all the heavy lifting of social media management for healthcare teams. Their proficiency in paid advertising ensures healthcare providers get the maximum investment return. They do this through well-planned campaigns, including Google ads, display ads, social media ads, and remarketing.
Intrepy's commitment to transparency is evident in their reporting dashboards, which provide insightful data and seamlessly integrate with EHR systems to connect marketing leads to actual patients. With testimonials from leading surgical practices and a proven track record in specialties like orthopedics and med spas, Intrepy Healthcare Marketing is an invaluable partner for those seeking growth in the healthcare sector.
---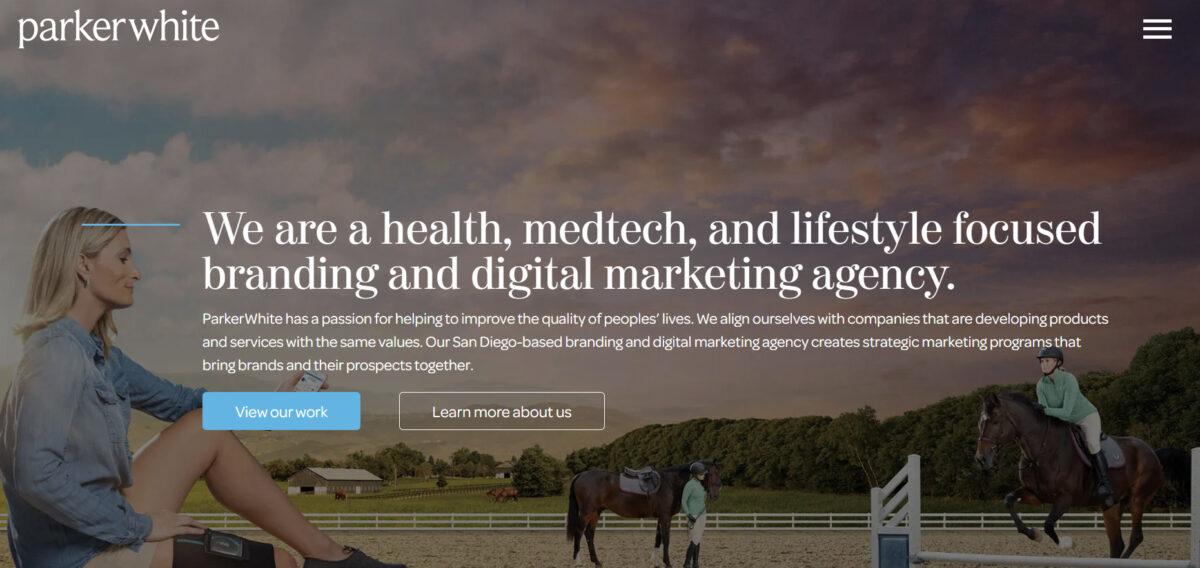 Founded in 1997 in Encinitas, CA, Parker White Brand Interactive stands out as a seasoned competitor in healthcare branding and digital marketing. Specializing in health, MedTech, and lifestyle niches, they provide a complete service pack that includes brand strategy, examining business challenges and potentials, and creative solutions that prioritize human-centric approaches.
A hallmark of their expertise is their website design and development, engineered for conversion-driven outcomes. Additionally, their adaptive and transparent approach to digital marketing ensures a collaboration tailored to each client's objectives. Moreover, Parker White recognizes the potency of visual narratives, offering video solutions adept at communicating influential stories across multiple platforms.
In a thriving collaboration with PolarisAR, Parker White designed a captivating website and messaging platform, offering a sneak peek into the future of surgical navigation. This strategic rollout not only piqued the interest of top medical device manufacturers and investors but also positioned PolarisAR's software system favorably for upcoming FDA approval in fall 2023.
---

Quaintise, a notable healthcare marketing agency, was founded in 2003 and headquartered in Santa Monica. The agency offers a wide range of services, from health and wellness marketing, brand strategy, public relations, and advertising campaigns to the nitty-gritty of website development, brochure, and logo design. Diving deeper into the digital age, their offerings extend to content marketing, inbound marketing, and a robust suite of video creation services, ensuring modern and engaging advertising solutions.
To showcase their adaptability and expertise, they've successfully partnered with a myriad of health institutions, ranging from family medicine practices, dental practices, and children's hospitals to specialized institutions like cancer treatment and addiction treatment centers. And most importantly, they have a diverse team of professionals—each an expert in their domain.
Quaintise notably transformed HPV Hub's digital footprint by employing advanced SEO, content creation, and high-authority backlinks, resulting in a remarkable 2,346% surge in HPV Hub's keyword rankings, with 362 keywords securing the top three search positions. 
---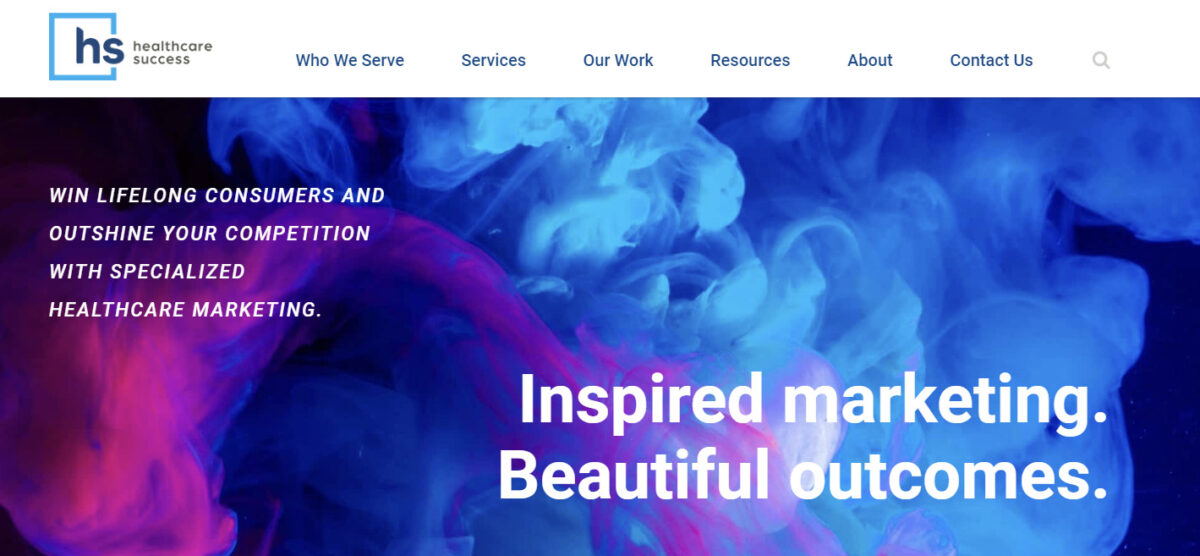 Established in 2006 in Irvine, CA, Healthcare Success stands as a premier healthcare marketing agency. Focusing primarily on specialized marketing solutions, they provide comprehensive services tailored to each of their healthcare clients.
Their holistic blend of both digital and traditional marketing strategies, grounded on ethical methodologies, ensures a well-rounded approach that keeps pace with the evolving medical marketplace. Their portfolio exhibits a deep industry grasp, drawing from successful collaborations with health systems, multilocation practices, addiction treatment centers, and life sciences, among others.
Drawing on data-informed marketing, they're fervent about maximizing ROI, even providing clients with a 24-hour analytics dashboard and a HIPAA-protected call tracking platform. Healthcare Success further enriches the sector with its widely read weekly healthcare marketing blog, seminars, and frequent contributions to associations and publications.
---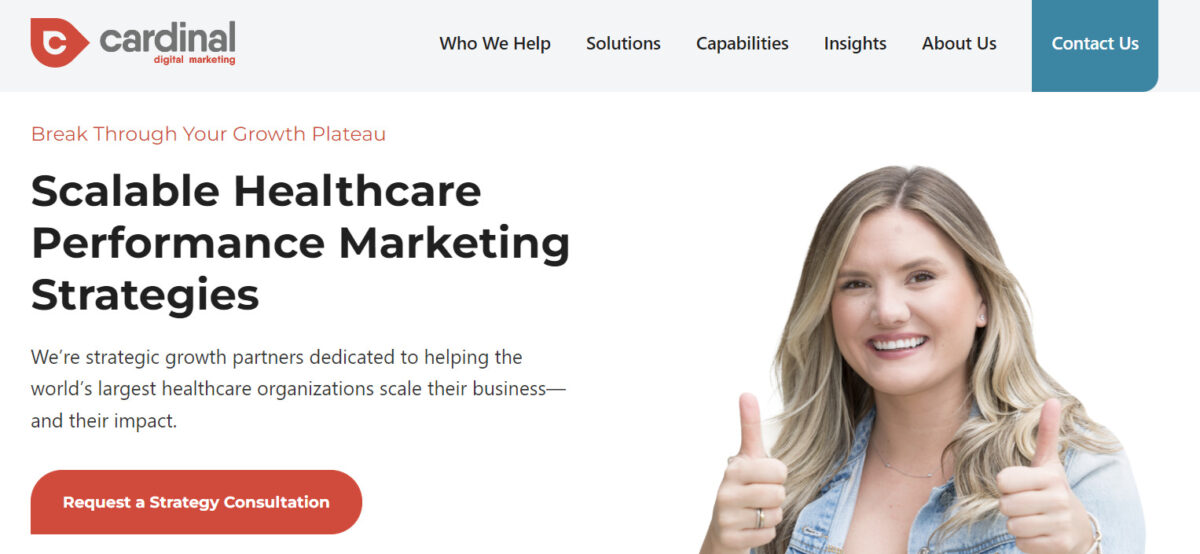 Cardinal Digital Marketing is a premier healthcare advertising agency specializing in crafting performance-driven digital marketing strategies tailored for the healthcare sector. Their offerings encompass a spectrum of services, including tailored SEO, PPC management, and innovative Facebook advertising techniques, all aimed at increasing patient volume, improving brand recognition, and driving revenue for healthcare organizations.
Founded in 2009 and headquartered in Chamblee, GA, Cardinal Digital Marketing is recognized for its proactive and strategic approach, emphasizing scalability and continuous improvement. Their agile methodology involves anticipating opportunities and catalyzing growth speed to achieve exceptional client outcomes.
The agency's impact is illustrated by its success stories, such as the 195% increase in total site conversions for LifeStance and a 30% reduction in cost per call for Smile Design Dentistry. Cardinal's commitment to delivering bespoke solutions, underpinned by in-depth market analysis and industry insights, has solidified its reputation as a trusted partner for high-growth, multi-site healthcare providers, earning them accolades such as being a Google Premier Partner and recognition in Inc. 5000.
---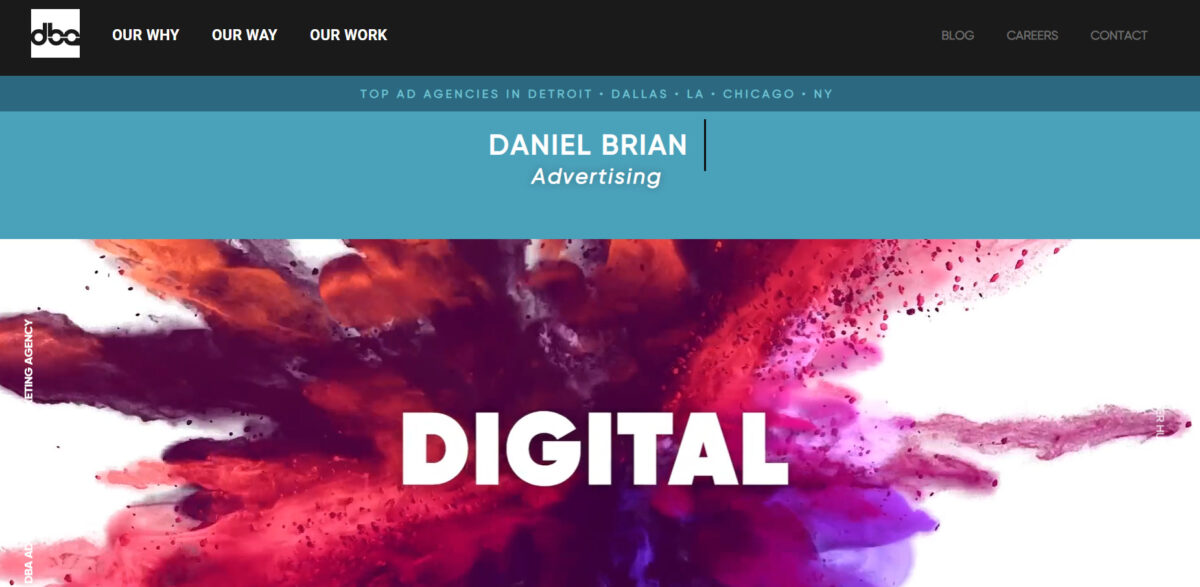 Daniel Brian Advertising, with roots in Rochester, MI, stands as a prominent figure in healthcare advertising. This full-service agency has significantly contributed to major projects like the Henry Ford Health System unification in Detroit. With a widespread presence in Dallas, Detroit, Nashville, LA, and NY, they have curated branding and advertising strategies for national healthcare leaders.
Prioritizing a patient-centered and collaborative approach, Daniel Brian Advertising focuses on enhancing the user experience, mirroring the standards of top-tier consumer brands. Their expertise includes integrating IT and marketing to deliver targeted media, promoting seamless patient communication, and devising award-winning mobile apps and patient engagement programs.
Their approach is evident through their digital platforms that offer "one-click" access, same-day appointments, and unparalleled patient engagement. With esteemed collaborations and distinctive branding strategies, Daniel Brian Advertising crafts emotional brand equities, resonant advertising campaigns, and influencer engagement strategies that amplify brand messaging. 
---
The Importance of Healthcare Advertising Agencies
In healthcare, a one-size-fits-all approach to advertising simply doesn't cut it. Unlike more general industries, healthcare brings with it a unique set of challenges, considerations, and audiences. Healthcare advertising agencies can develop tailored solutions that help address these challenges. Here's why healthcare advertising agencies are important for modern marketing:
Understanding the Audience: Healthcare consumers are often patients or potential patients looking for specific solutions to their health concerns. Therefore, understanding their unique needs, fears, and desires is crucial. A healthcare advertising agency can develop tailored strategies to pinpoint and address these needs accurately.
Regulatory Landscape: The healthcare industry is fraught with regulations that govern advertising and communications. Advertising agencies design strategies with these in mind, ensuring compliance while effectively reaching the desired target audience.
Building Trust: In healthcare, trust is crucial. Generic strategies might miss the nuances that resonate with patients and medical professionals alike. However, tailored campaigns leverage industry insights to forge deeper connections and establish credibility.
By opting for an agency uniquely molded to the healthcare landscape, medical practitioners stand a better chance at reaching their target audience and establishing lasting, meaningful relationships.
---
Selecting the Right Healthcare Advertising Agency
Choosing the ideal healthcare advertising agency can be a game-changer for your organization. Here's a step-by-step guide to making an informed choice:
Identify Your Needs: Before you start looking, understand your organization's specific needs. Are you looking for digital marketing, branding, SEO, or a mix of various services?
Research and Shortlist: Begin with a broad search and then narrow your options based on agencies specializing in healthcare advertising.
Check Credentials and Case Studies: Reputable agencies will have a track record of success. Examine their previous campaigns, client testimonials, and any industry awards or recognitions.
Consider their Regulatory Knowledge: Ensure the agency is well-versed with healthcare regulations, especially concerning advertising and patient data.
Communication is Key: The right agency should be easy to communicate with, open to feedback, and transparent about their strategies and methodologies.
Budgeting: While it's tempting to choose the most affordable option, it's essential to balance cost with quality. An agency that understands the intricacies of healthcare advertising might demand a premium but will often provide superior results.
Cultural Fit: The right agency should align with your organization's values, culture, and mission. It's not just about effective advertising but also about building a lasting and harmonious relationship.
---
Conclusion
As healthcare continues to evolve, these agencies are trusted associates, guiding practitioners and medical clinics toward growth, patient engagement, and measurable results. Such agencies exemplify the innovation and dedication required to thrive in healthcare advertising.
Frequently Asked Questions
What makes healthcare advertising agencies different from general marketing agencies?
Healthcare advertising agencies specialize in marketing strategies tailored specifically for healthcare organizations. They understand the unique challenges, regulations, and patient-centric approach required in this industry, setting them apart from general marketing agencies.
How can a healthcare advertising agency help my medical practice or healthcare organization?
These agencies can enhance your online presence, improve patient acquisition, and strengthen your brand identity. They have industry-specific knowledge to navigate healthcare complexities and create effective campaigns that resonate with patients.
What core services should I expect from a healthcare advertising agency?
Healthcare advertising agencies typically offer a range of services, including digital marketing, advertising, branding, and more. The specific services may vary but should cater to your organization's unique needs.
Are there agencies that specialize in certain healthcare niches, like dental or mental health?
Yes, many healthcare advertising agencies specialize in niche areas such as dental, mental health, or dermatology. They bring expertise and insights tailored to your specific field, ensuring more targeted and effective marketing.