Advertising Disclosure
Advertising disclosure:
Our partners compensate us. This may influence which products or services we review (also where and how those products appear on the site), this in no way affects our recommendations or the advice we offer. Our reviews are based on years of experience and countless hours of research. Our partners cannot pay us to guarantee favorable reviews of their products or services.
Artificial intelligence (AI) has a lot of applications in our daily lives, and the healthcare industry is no exception. As hospitals continue to be overloaded with patients, AI tools can help healthcare providers make more informed decisions and provide better care. This kind of technology is being extensively used in hospitals and clinics to optimize patient care and reduce medical errors.
AI-powered healthcare tools are making a significant impact on clinical workflows, patient satisfaction, and clinical outcomes. In this article, we'll tell you about the AI-powered healthcare tools commonly used in hospitals and clinics today. We will also discuss artificial intelligence in healthcare and its applications that are revolutionizing the industry.
---
How AI is Revolutionizing Healthcare: 5 Tools Used in Hospitals and Clinics:
---
What is Artificial Intelligence?
AI technology allows computers to learn and make decisions for themselves. AI has revolutionized healthcare by helping doctors diagnose and treat patients more accurately. For example, medical imaging or radiology can be analyzed using AI, which can help doctors detect abnormalities in a patient's body more quickly and with less human input. This also helps hospitals and clinics manage their resources more efficiently, avoiding duplicate tests or scans.
Additionally, AI is being used to assist physicians during routine tasks like reading a patient's health history or writing a prescription. Together with a customer data platform, this technology is also helping to improve the way patients communicate with their physicians.
With artificial intelligence, patients no longer rely solely on their doctor's opinion of a diagnosis or treatment plan, as the machine can offer a third-party perspective on the situation. This can lead to a better understanding between the patient and doctor and ultimately a better outcome for both parties.
---
5 AI Tools Used in the Healthcare Industry
With the healthcare industry embracing AI, there are many different tools and applications being used to improve patient care. Here are just a few of the most popular AI-powered healthcare tools.
---
---
---
---
---
The Different Solutions of AI in Healthcare
Technology is changing how healthcare is delivered and managed. From telemedicine to machine learning, AI technology is powering the next generation of healthcare solutions. Here are the different solutions and ways AI is being used in healthcare: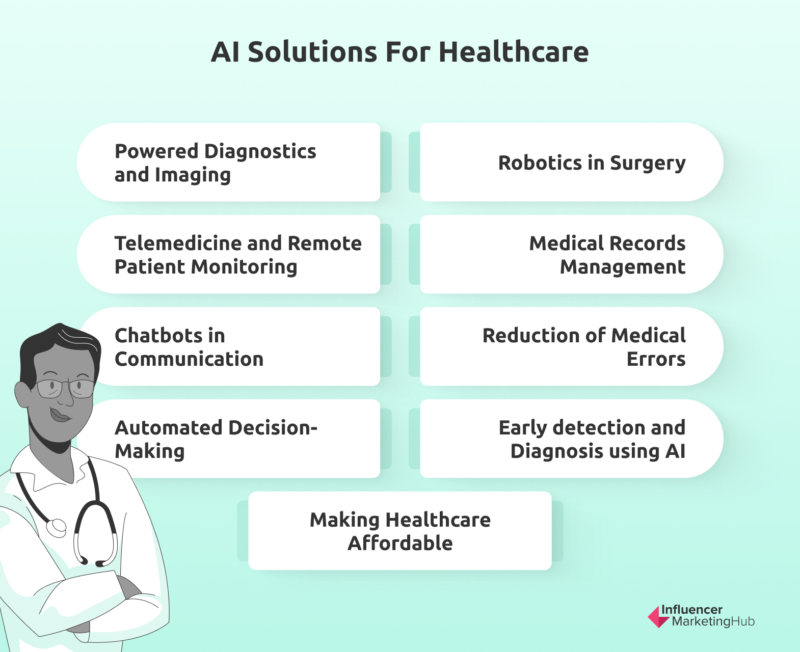 Powered Diagnostics and Imaging
AI algorithms can quickly detect abnormalities in images that may have previously remained unnoticed, drastically improving accuracy. AI-powered diagnostics are being used to assist radiologists with interpreting scans such as mammograms, X-rays, and CT scans. With deep learning and AI, these scans can be more quickly and accurately diagnosed. Physicians can also use AI to sift through radiology reports for potential health risks, all while a patient is in the waiting room.
Robotics in Surgery
In recent years, robots have been increasingly used in surgeries due to their rapid yet precise movements. As clinical trials continue to demonstrate the safety and efficacy of utilizing robots in surgery and other medical procedures, AI is being applied to further enhance their capabilities. For example, a machine learning algorithm can be employed to identify surgical landmarks as a surgeon performs an operation. This assists in improving patient outcomes by reducing errors and providing more accurate diagnoses during operations.
Telemedicine and Remote Patient Monitoring
Remote patient monitoring through AI is a growing trend in healthcare. By using AI to monitor patients remotely, healthcare providers can provide care for patients from their own homes or offices. Consider virtual meetings that can reduce clinic visits, shorten wait times, and improve access to care. This allows them to spend more time with patients and reduces transportation costs for medical appointments.
Medical Records Management
Medical records are a key component of healthcare. It can be very time-consuming to compile and manage these records manually. With AI, medical records can be automatically organized and sorted via machine learning algorithms. This helps providers better track patient care and reduces the time they need to spend on record-keeping tasks.
With the use of AI to manage medical records, providers can reduce the time needed to find and retrieve information. This will help improve patient care through faster diagnosis and more timely treatment. These organizations use data analytics to analyze patient records and uncover information that can help them treat a patient's health more effectively.
Chatbots in Communication
Chatbots are a type of AI software that can engage users through chat rooms or other messaging services. They are used to provide customer service, information, and entertainment, or to help people connect with businesses. In healthcare, chatbot applications of AI can be applied for a variety of purposes such as patient care coordination and data entry. As natural language processing algorithms are used, they are able to understand complex questions and respond quickly. This allows providers to keep patients more informed while they wait for appointments or receive medical treatment.
Reduction of Medical Errors
Automated AI systems can automatically detect and correct errors in patient records. This technology can help to reduce medical errors, such as misdiagnosis or treatment that is ineffective or harmful. In addition to identifying and correcting data entry errors, AI systems can also assist doctors in making more informed decisions about treatment options. By using a machine learning algorithm, AI can analyze a patient's medical records and suggest a treatment plan based on a deep understanding of the patient's health history.
Automated Decision-Making
AI can help healthcare providers identify potential problems early and recommend the most appropriate course of action. For example, AI can be used to recommend a treatment or medication that is most likely to work best for a patient at a more accurate and faster pace. By using this in healthcare, hospitals and clinics can improve patient care while reducing costs. With AI-powered health records, patients can track their progress and communicate with their healthcare providers more effectively.
Early detection and Diagnosis using AI
AI can help hospitals and clinics to identify and diagnose diseases earlier, which allows for more effective treatment. By using AI to analyze patient data and make accurate diagnoses, healthcare providers are able to provide patients with the most effective care possible. AI can also help improve patient care by providing information on the appropriate treatments for each individual. By using AI, healthcare professionals can tailor treatment plans to a patient's unique medical needs with predictive analytics.
Making Healthcare Affordable
Whether or not a patient is at the early stage of a disease, AI can help healthcare providers to save money on treatments and medications. It can automatically identify which patients are likely to respond well to a particular treatment or medication. This information can be used by healthcare professionals in order to make treatment recommendations that are most cost-effective for the patient. In addition, AI-powered health records allow patients quick access to their health information and data so they can track their progress and better communicate with their healthcare providers.
---
AI Penetrating the Healthcare Industry
The healthcare system is one of the most complex and data-rich environments in which artificial intelligence can be used. By using machine learning algorithms, AI can help healthcare providers to identify patterns and trends in patient data that may not be evident using traditional methods.
This deep understanding of patients' health histories allows healthcare professionals to make more informed decisions for more accurate treatment options. In addition, AI can improve patient care by helping providers to holistically understand a patient's preferences and habits. Finally, AI technology provides a new level of transparency for patients by providing an automated record of their medical history.
Frequently Asked Questions
How is AI used in healthcare examples?
Artificial intelligence tools in healthcare can help fix links between genetic codes, power surgical robots and maximize hospital efficiency.
Who is leading AI in healthcare?
The 5 top AI healthcare companies include:
Merative (Formerly IBM Watson Health)

Viz.ai

Enlitic

Regard

Twill
How does AI help in healthcare?
AI can help in healthcare by better automating administrative tasks like pre-authorizing insurance, following up with unpaid bills and better maintaining records. AI in healthcare can help ease the workload of healthcare professionals and save money in the long term.
What are the four uses of AI in healthcare?
AI algorithms ensure systems are more precise and help people better understand training data, which further helps workers get unprecedented insights into treatment options, care processes, diagnostics and patient results.