Advertising Disclosure
Advertising disclosure:
Our partners compensate us. This may influence which products or services we review (also where and how those products appear on the site), this in no way affects our recommendations or the advice we offer. Our reviews are based on years of experience and countless hours of research. Our partners cannot pay us to guarantee favorable reviews of their products or services.
A high-quality website is indispensable to every dental practice, it serves not only as the first point of contact but also a vital source of information about your dental services for both existing and potential patients. With the variety of options available, finding the perfect fit for your practice may seem daunting. That's why, in this review, we've curated a list of the top 10 agencies specializing in dental website design to help streamline your decision-making process.
Working with a professional web design agency offers the distinct advantage of receiving a custom-built site, tailored to your unique needs. Such an agency can handle everything from design to development, enabling you to focus more on your practice. Moreover, professional agencies have the expertise to integrate complex features, ensuring your website stands out in the competitive dental market.
However, the pursuit of a professionally designed website is not just about aesthetics; it's about building a platform that encapsulates the essence of your dental practice. From displaying services to articulating your value proposition, a well-designed website can effectively communicate your practice's core beliefs to potential patients.
---
Best Dental Website Design Agencies to Partner With:
---
Let's delve deeper into the offerings of each agency:
Best Dental Website Design Agencies to Partner With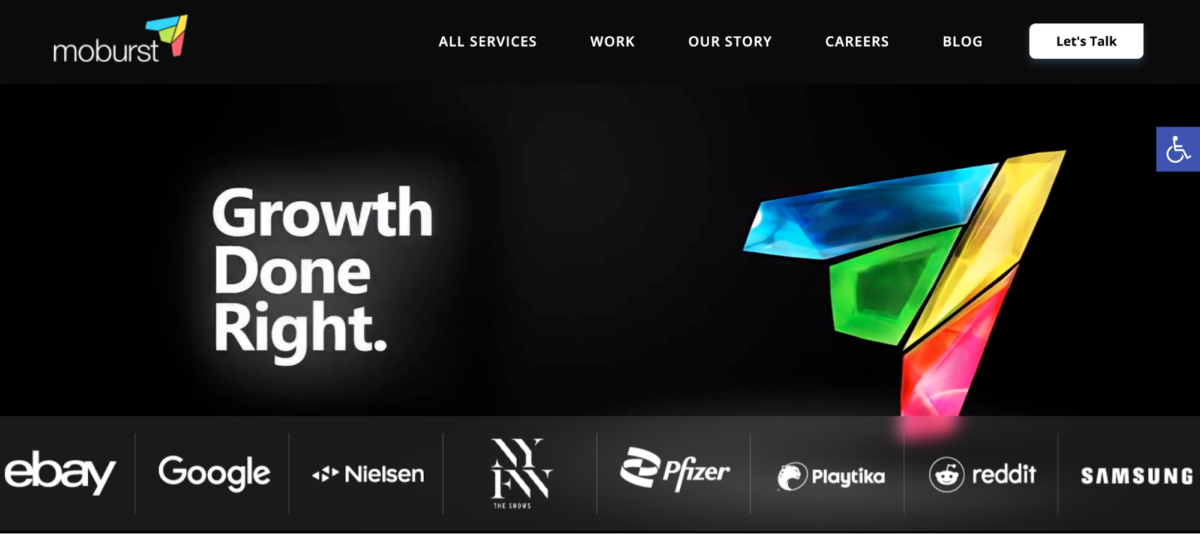 Average Hourly Rate: $150-$199
Average Project Cost: $25,000+
Located in New York, NY, Moburst is a highly specialized agency focusing on mobile and app marketing, web design, and web development. They are known for their holistic approach to web development, ensuring your website is 360° optimized for your digital marketing needs. They pride themselves on having all necessary departments under one roof, ensuring a cohesive and streamlined process.
Moburst's dental services include expertly crafted websites that make a lasting impression and facilitate strong audience connections. Their capabilities extend beyond web design, covering optimization of social channels, SEO, media, and campaigns. This integrated approach enables dental practices to effectively reach and engage their target audience.
Since its establishment in 2013, Moburst has collaborated with prominent clients including Google, Reddit, Uber, Samsung, and Discovery, attesting to their credibility and proficiency. They help dental businesses grow their online presence by creating relevant experiences for each user, from design and development to marketing and optimizing the entire mobile and digital experience.
Other Services:
Advertising
Social Media Marketing
For Influencers: If you are looking for agencies to represent you click here.
---
Average Hourly Rate: $50-$99
Average Project Cost: $1,000+
Based in London, United Kingdom, NinjaPromo is a comprehensive digital marketing agency offering a wide range of services. With a team of design professionals, NinjaPromo combines technical expertise and marketing strategies to deliver visually stunning and high-ranking websites that boost revenue. Their multi-channel marketing solutions, branding, and creative design are instrumental in putting their clients' products at the forefront of the digital sphere.
NinjaPromo's website design and development services ensure you attract and retain visitors on your dental site, while their logo designs are crafted to make your brand identity easily recognizable. Their SEO services increase your online visibility and attract the right organic traffic to your site.
Other Services:
Website Copywriting & Marketing Strategy
Website Maintenance & Support
---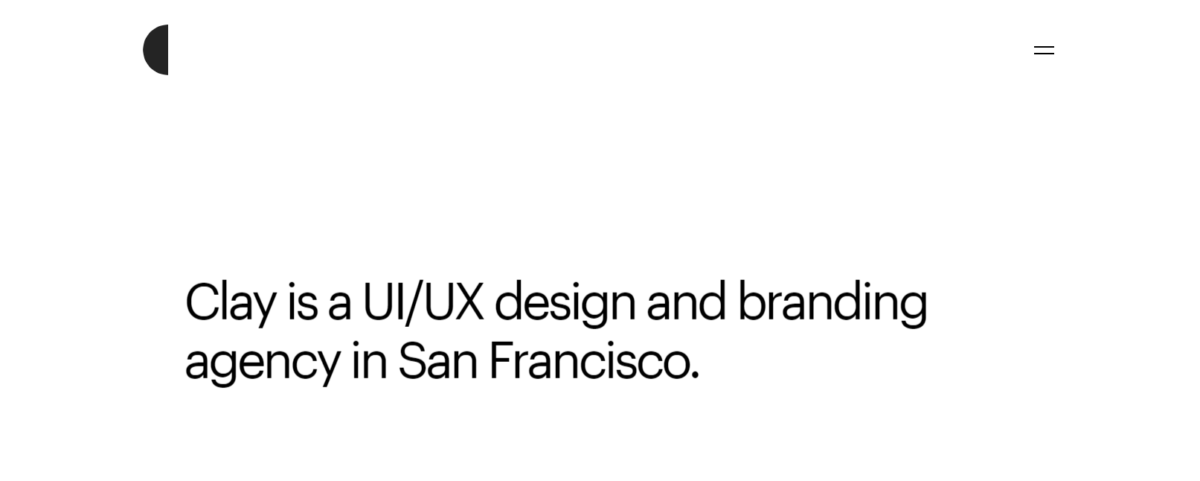 Average Hourly Rate: $150-$199
Average Project Cost: $50,000+
Based in San Francisco, CA, Clay is a well-regarded UI/UX design agency. They are celebrated for merging user experience with brand identity, resulting in functional, visually impressive websites. Their client portfolio includes industry giants like Facebook, Slack, Google, Amazon, and Credit Karma, attesting to their high caliber of service.
Clay's core dental services encompass the creation of websites that accurately represent your brand and engage users. They ensure their designs are user-friendly, aesthetically appealing, and aligned with your brand identity.
Clay's expertise lies in creating digital products loved by millions, modern websites that tell your brand's story, and immersive digital experiences. They work closely with clients to understand their needs and objectives, translating these into transformative digital solutions. As such, Clay's designs do more than just look good; they function optimally and fulfill your brand's objectives.
Other Services:
Digital Strategy
Marketing
---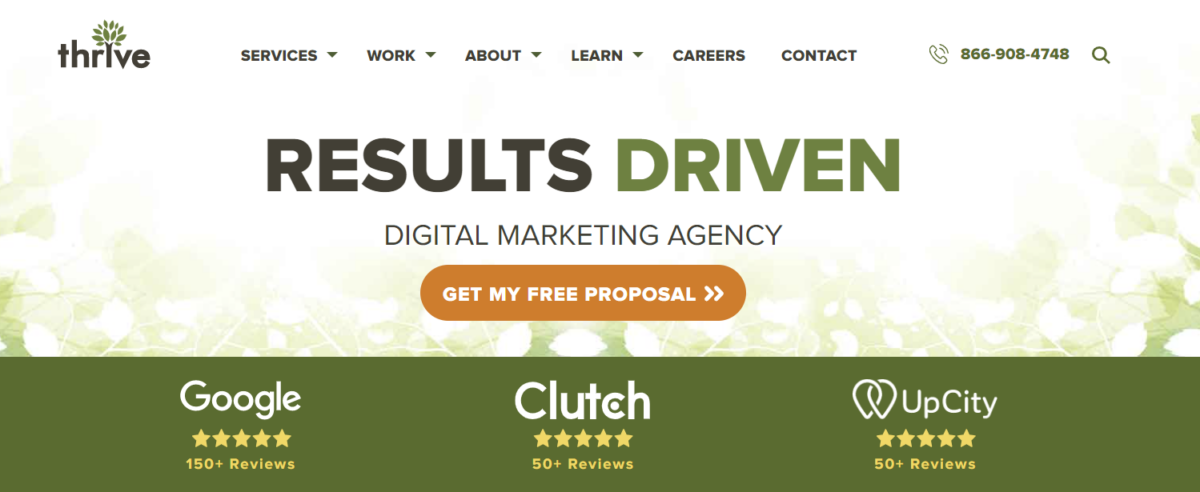 Average Hourly Rate: $100-$149
Average Project Cost: $1,000+
Thrive is a web design agency located in Dallas, Texas, with a team size of 10-49 experts. They offer a combination of dental web design services and digital marketing solutions, aiming to expand their clients' patient reach and boost brand awareness. They are committed to delivering targeted results that not only ensure a better online experience for the users but also enhance the brand's online presence.
Thrive optimize your website for search engines and online users, manage local listings, and build a well-structured site. Their web design service aims to reduce bounce rates and increase dwell time. They also provide free malware removal, online support, site security, and virtual private hosting services. Moreover, Thrive's expertise in video production and email marketing ensures effective communication and engagement with your target patients.
Other Services:
Search Engine Optimization (SEO)
Content Writing
Responsive Web Design
---
Average Hourly Rate: $50 – $99
Average Project Cost: $1,000+
Online Optimism, based in New Orleans, LA, United States, is a full-service digital marketing agency with a dedicated focus on web design. They create high-quality websites with user-friendly design and engaging content, ensuring a balance between the needs of the consumer and the needs of the producer.
Their team of experts design websites keeping in mind their clients' goals, hence creating something that matches the client's aesthetic while driving conversions and new business. Their dedication to understanding clients and their business needs results in a responsive web design that proves easy for customers to use. Online Optimism's staff includes professional writers, editors, photographers, videographers, and designers who are all committed to the personalization of your site.
Other Services:
Advertising
SEO
Social Media Marketing
Content Marketing
Pay Per Click
---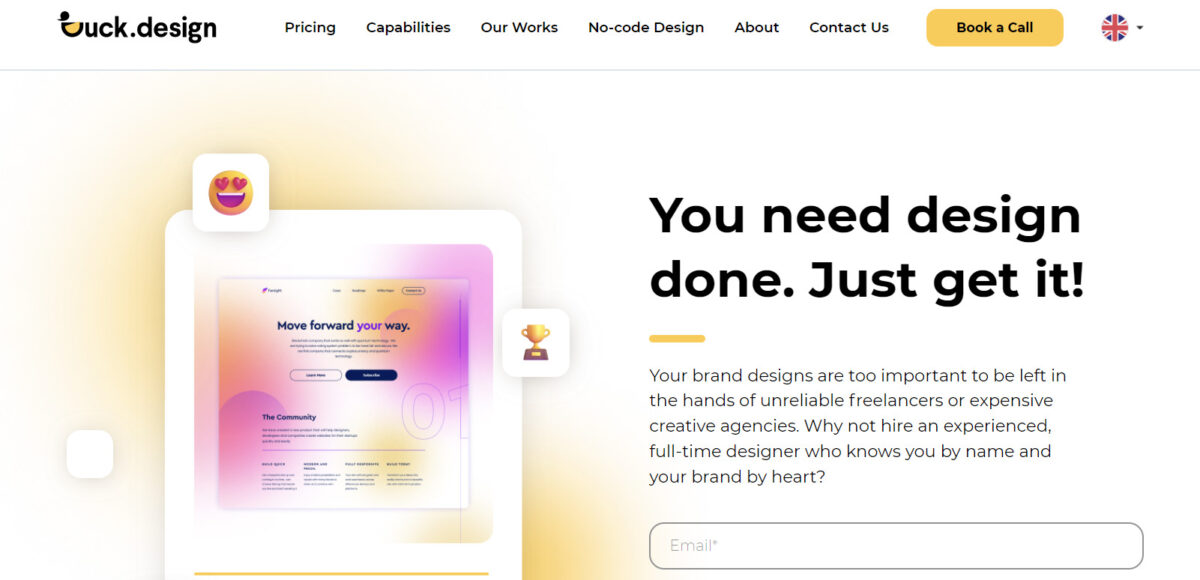 Average Hourly Rate: Undisclosed
Average Project Cost: $1,000+
Located in London, United Kingdom, Duck.Design is an innovative design agency that offers a wide range of creative services. With a balanced focus on multiple disciplines in dental web design, Duck.Design is committed to creating transformative digital experiences.
Duck.Design have shown adeptness in organizing large amounts of information professionally, building user-friendly navigation, and supporting users in making choices among numerous offers for multi-user projects.
Having worked with top-tier clients like HSBC, UBS, and Burger King, Duck.Design offers scalable and reliable design solutions. They promise top designers, fast turnarounds, fully-managed processes, accurate pricing, and trainings on brand guidelines, all designed to scale with the needs of growing teams.
Other Services:
Graphic Design
Product Design
UX/UI Design
Branding
Packaging Design
Print Design
---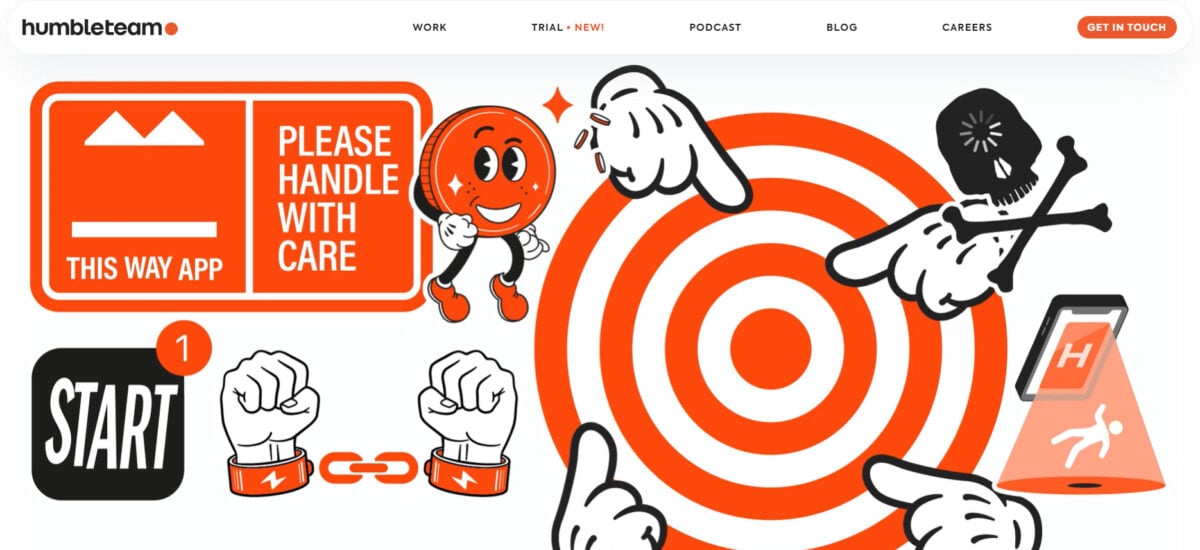 Average Hourly Rate: $50 – $99
Average Project Cost: $25,000+
Situated in New York, Humbleteam stands out as a design agency that can offer unique perspectives to dental practices. While they have worked extensively across 20 industries, their adaptable approach enables them to deliver excellent results for your dental website design needs.
Humbleteam's core services revolve around Branding and UX/UI Design, combining both to deliver a well-rounded, strategic, and impactful digital presence. They use design as a strategic tool, understanding that it's faster and cheaper to figure out how an app should work in the design phase than in code.
With a lean team of 40 product designers, Humbleteam prides itself on minimal organizational overhead. They promise flexibility and scalability, providing experienced designers on short notice and ensuring seamless collaboration with in-house teams during crunch time.
Other Services:
Logo Animation
Product Design
Mobile App Development
---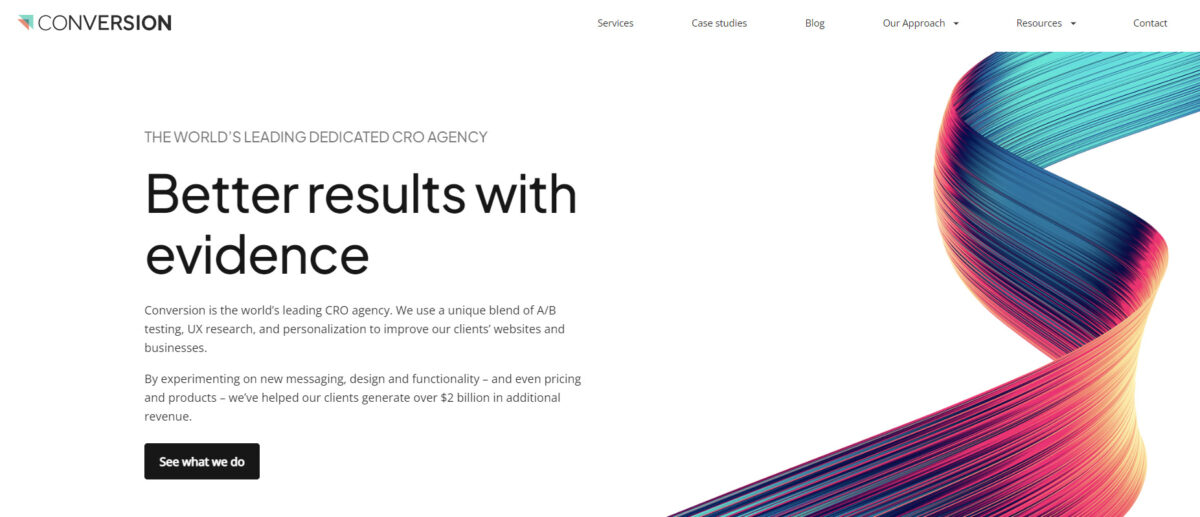 Average Hourly Rate: Undisclosed
Average Project Cost: $10,000+
Based in Vancouver, Canada, Conversion is a premier agency with a comprehensive approach to decision-making, incorporating a 3-stage process: Strategize, Measure, and Decide. Their deep understanding of this process underpins their design of products and services, ensuring value addition at each stage and supportive assistance for your business at every step.
Conversion's key dental services center around designing high-converting experiences from the start. They operate on the belief that a well-optimized website can effectively convert website visitors into actual patients. They strategically measure each facet of their efforts to make data-driven decisions, fostering continuous improvement.
Conversion is committed to assisting businesses make informed decisions with greater confidence, recognizing the cumulative impact of multiple informed decisions leading to exponential growth. With their exclusive focus on Conversion Optimization, they are aptly equipped to help dental practices achieve their conversion goals and secure long-term success.
Other Services:
UX Research
Personalization
---

Average Hourly Rate: $100-$149
Average Project Cost: $25,000+
Headquartered in San Francisco, California, Neuron is a top-notch dental web design agency focusing 100% on UX/UI Design. They are committed to delivering engaging, easy-to-use interfaces that accurately reflect the tone of your dental practice.
The agency kicks off their design process with low-fidelity schematic drawings to define page layouts and user journey. Neuron pays great attention to visual and interaction design, considering all the ways elements interact to enhance user experience. They also use motion and animation design to breathe life into the product.
Other Services:
User Testing
Delivery & Hand-off
---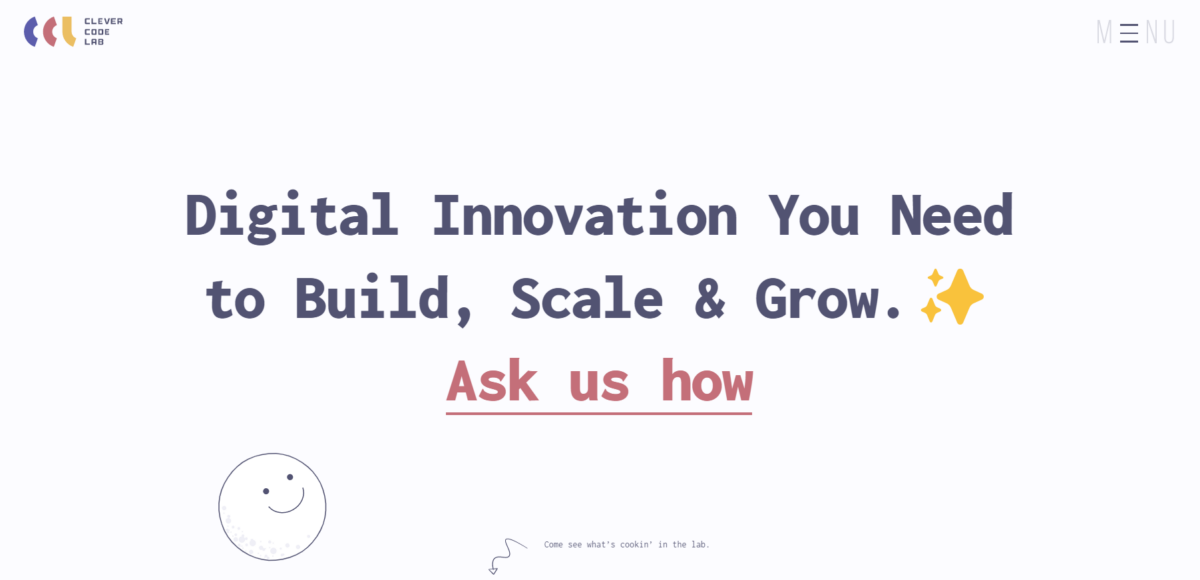 Average Hourly Rate: $25-$49
Average Project Cost: $5,000+
Located in Poltava, Ukraine, Clever Code is a renowned web design agency specializing in web development, and graphic design. They understand the unique requirements of dental practices and tailor their services to meet those needs.
Clever Code's services include developing multiple websites and dedicated landing pages specifically for various dental services and dental laboratories. They have a profound understanding of user interface (UI) and user experience (UX) design, providing valuable advice to enhance the usability and visual appeal of your online platforms. They are known for their professionalism, commitment, and prompt delivery within agreed-upon deadlines.
Their expertly designed websites and landing pages have proven successful in leveraging clients' online presence and establishing a steady stream of new customers. Their work has significantly contributed to the growth of dental practices by attracting a consistent flow of new customers, with at least 75% of new customers applying for dental services online.
Other Services:
---
Why do you need a web design agency specialized in dental design?
These specialist agencies understand the ins and outs of dental practices, the unique challenges they face, and the requirements they need to meet, allowing them to create bespoke designs that communicate the desired image and message.
But, more than the aesthetic appeal, a successful dental website is also one that is easy to navigate, mobile-friendly, fast-loading, and SEO optimized. This combination enhances online visibility, engages users, and eventually converts website visitors into actual patients, contributing to the growth of the dental practice.
---
How to choose the right dental web design agency?
Choosing the right dental website design agency, therefore, is a critical business decision. It requires careful deliberation and comparison, factoring in aspects such as the agency's track record, expertise, services offered, and client testimonials.
Equally important is an agency's ability to deliver a responsive design that performs exceptionally across different devices and browsers, given the increasing prominence of mobile internet usage.
Frequently Asked Questions
Why is it important to have a dental-specific website?
A dental-specific website is tailored to highlight the unique services, values, and patient care philosophy of your practice. It can also incorporate specific features that cater to the needs of your patients, such as online booking, dental health information, and patient testimonials. This customization can help to attract and retain patients.
How much should I expect to pay for a dental website design?
The cost can vary widely based on the complexity of the website, the reputation of the agency, and the specific services included. On average, you can expect to pay between $1,000 and $10,000+ for a custom dental website design. It's important to get a clear estimate before committing to an agency.
How long does it usually take to design a dental website?
The timeline for designing a dental website can vary depending on the complexity of the site, the number of pages, and the specific features you want to incorporate. On average, you can expect the process to take between 4 to 12 weeks.
Can a web design agency help with online marketing and SEO?
Yes, many dental web design agencies also offer digital marketing and SEO services. This can help your website rank higher on search engine results, making it easier for potential patients to find your practice online.
How often should I update my dental website?
To keep your website fresh and relevant, it's advisable to update it regularly with new content, such as blog posts, patient testimonials, and information about new services or technologies. Most experts recommend a major website redesign every 2-3 years to keep up with changes in design trends and technology.