Advertising Disclosure
Advertising disclosure:
Our partners compensate us. This may influence which products or services we review (also where and how those products appear on the site), this in no way affects our recommendations or the advice we offer. Our reviews are based on years of experience and countless hours of research. Our partners cannot pay us to guarantee favorable reviews of their products or services.
As per data from January 2023, the United States hosts approximately 311 million internet users, representing a significant prospective client base for dental services. However, the challenge resides in navigating the digital domain: with over 200,000 dentists registered in the United States, differentiation becomes a paramount concern.
The pivotal tool for securing online visibility and distinguishing a dental practice is digital marketing. Dental marketing agencies, acting as strategic partners, leverage an assortment of techniques, including Search Engine Optimization (SEO) and content creation, to boost the digital presence of a dental practice. The role of these agencies is key in ensuring that a dental practice not only survives but thrives amid fierce competition.
It is crucial to acknowledge that the effectiveness of dental marketing strategies can vary significantly. A subset of these entities is pioneering innovative tactics, such as localized SEO optimization for improved community engagement and inventive social media campaigns to connect with potential patients. The ultimate goal is to identify an agency that synchronizes with your vision and objectives and is capable of elevating your practice to a dominant position in the digital realm.
---
Top 10 Dental Marketing Agencies to Attract More Patients:
---
Top 10 Dental Marketing Agencies
This article will provide an in-depth analysis of each agency, discussing their unique strengths, range of services, and proven track record. We will also provide valuable insights into their methodology, approach to client relationships, and the factors that contribute to their exceptional success rates.
Our aim is to empower dental practices with the information they need to make an informed decision when selecting a marketing partner that aligns with their vision, goals, and requirements.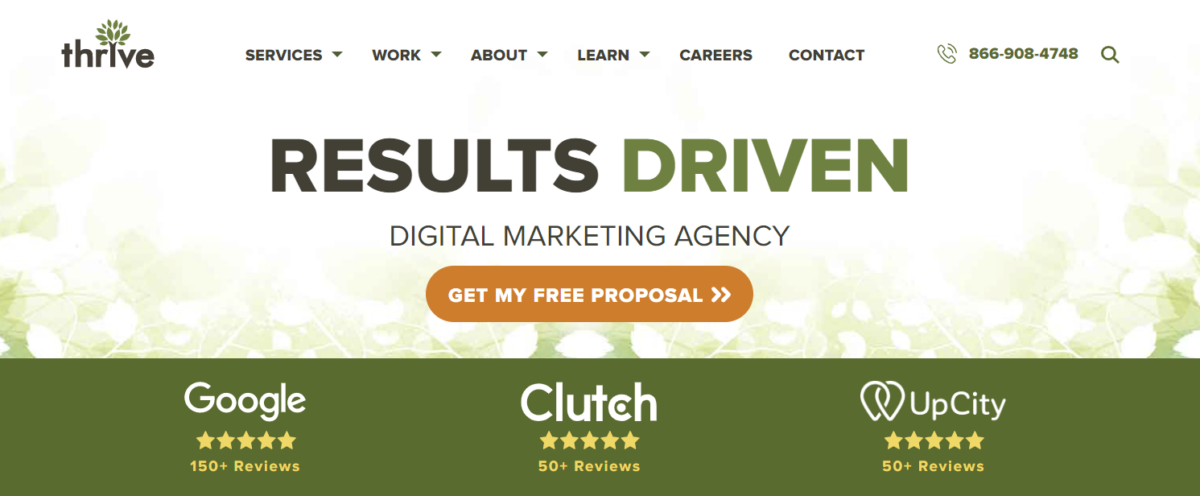 Thrive Digital Marketing Agency is an innovative and forward-thinking company that has been delivering top-notch digital marketing services for dental practices for over 15 years. Their comprehensive approach to dental marketing includes search engine optimization (SEO), web design and development, and PPC advertising resulted in a 122%, pay-per-click (PPC) advertising, online reputation management, content writing, video production, conversion rate optimization, and local SEO. These services have helped numerous dental practitioners improve their online presence, lead generation, and conversion rates.
Thrive's team of dental digital marketing experts boasts a proven track record of success, as evidenced by a case study involving a multiple-location orthodontic practice group. Their combined efforts in on-page optimization, link building, and PPC advertising resulted in a 122% increase in monthly leads, a 226% improvement in top 5 keyword rankings, and a 257% boost in phone call conversion rates. This success showcases Thrive's ability to adapt to the latest digital advancements and leverage data-driven strategies to achieve outstanding results for their clients.
Headquartered in the United States, Thrive's experienced team is committed to working collaboratively with clients, providing transparency, punctuality, and data-driven solutions. They have earned glowing reviews from satisfied clients and have been recognized as a leading provider of dentist digital marketing services.
---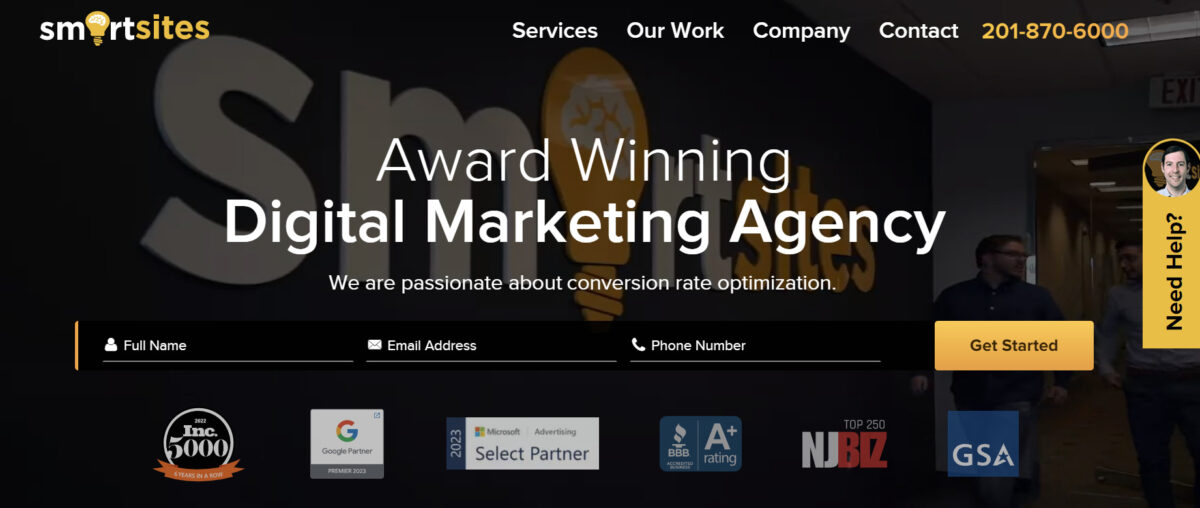 The award-winning dental marketing agency SmartSites offers tailored internet advertising solutions to help dental practices expand and thrive. Their expertise lies in digital marketing, website design, search engine optimization (SEO), and pay-per-click (PPC) marketing, all aimed at helping dentists acquire more patients and gain a competitive edge in the dental industry.
Their impressive track record includes a 439% increase in organic search traffic and a 133% rise in total site traffic for Real Smile Dental. These results demonstrate their ability to create effective marketing campaigns that drive traffic, engagement, and conversions. SmartSites is also recognized as one of the top healthcare digital marketing agencies and has received over 325 perfect client reviews on Google!
SmartSites' team of experts is dedicated to crafting customized marketing solutions for each dental practice, considering the unique needs and goals of their clients. Their dental website design services focus on creating visually stunning, user-friendly websites that reflect the values and ethos of the dental practice, while their comprehensive SEO and PPC strategies aim to deliver long-term success and rapid results, respectively.
---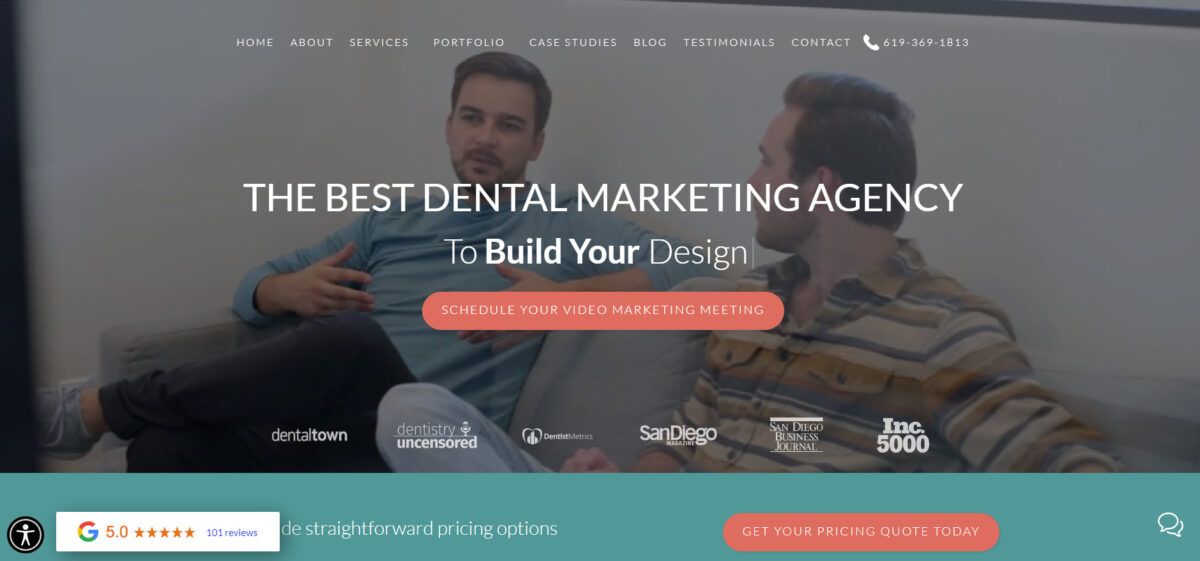 Offering full-service marketing solutions to boost new patient numbers and ensure the success of dental practices, Wonderist is a top-notch dental marketing agency. Their team of experts crafts tailored services that cater to the unique needs of each client. From custom dental websites optimized for mobile and SEO, to Google Ads campaigns and dental SEO services, they help practices rank higher on Google for keyword searches, attracting more quality leads.
One standout feature of Wonderist is their innovative Virtual Consult Integrated Marketing platform. This platform simplifies the process for dentists to engage with patients interested in changing their smiles and integrates seamlessly with all marketing campaigns, including website, AdWords, SEO, and social media. Wonderist's in-house team of dental marketing enthusiasts is committed to offering personalized and transparent pricing options for each client.
---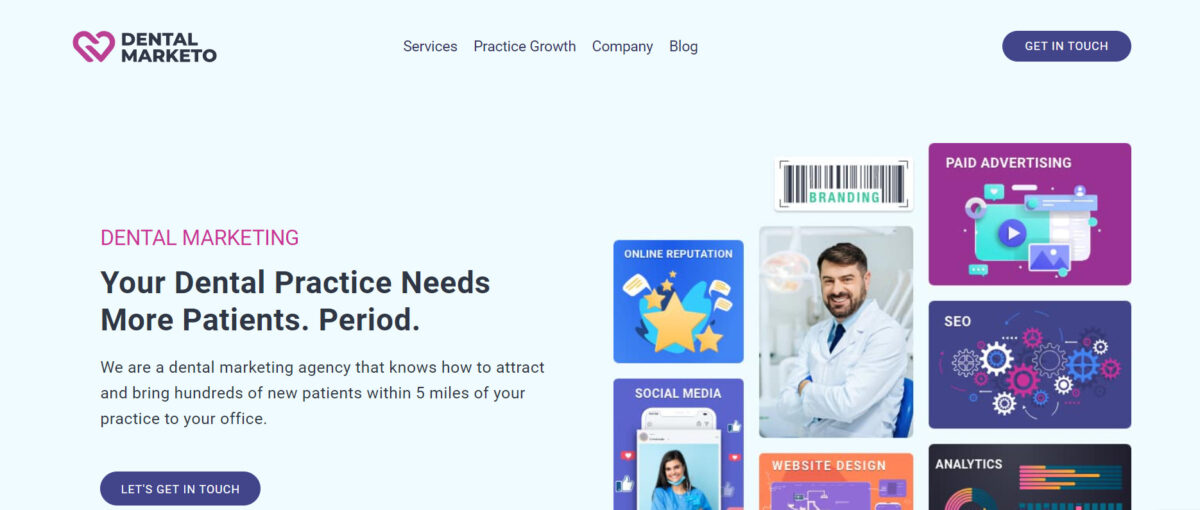 Dental Marketo is a dental marketing agency that specializes in attracting hundreds of new patients within a 5-mile radius of dental practice. Their customized dental marketing services help practices achieve their growth potential and reach their practice goals. They offer dental digital marketing, dental website and technology services, dental reputation management, dental branding and design, and integrated growth strategies.
Their dental digital marketing services include dental SEO, dental advertising (PPC), dental social media marketing, email marketing, and content marketing. Dental Marketo ensures that a practice's website is user-friendly, optimized for new patient appointments, and offers online scheduling and chatbot capabilities. Their dental reputation management services help practices build and maintain a positive online dental reputation, which helps deliver an exponential increase in new patient appointments. They also provide dental branding and design services, which differentiate a practice from its competitors and build a positive public perception of the practice.
---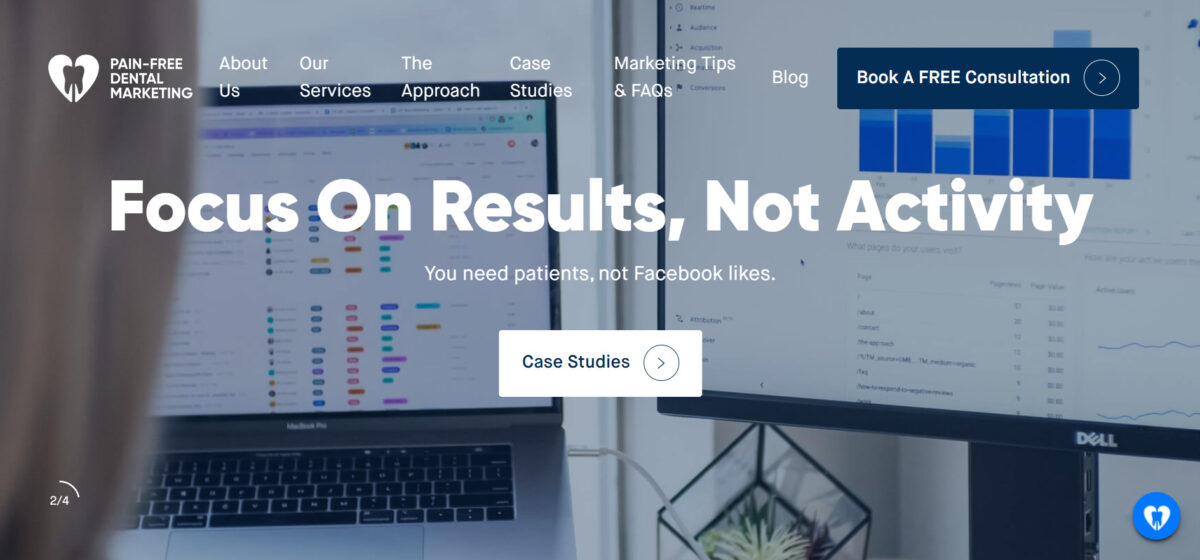 With a focus on delivering personalized marketing plans, Pain-Free Dental Marketing is a specialized agency that caters exclusively to dental practices. They use data on practice, location, and historical performance to gain insights, and survey surrounding demographics to target the right patients, ensuring a more effective approach to finding productive patients.
Pain-Free Dental Marketing designs customized marketing plans based on collected data, which may encompass Google Ads, SEO, social media, or traditional advertising. The agency continuously tracks results and internal metrics to verify that their efforts translate into new patients and increased production.
Known for its local presence, great resources, and dedication to understanding and helping clients achieve their goals, Pain-Free Dental Marketing's approach is strategic, results-driven, and personalized. Their team of friendly, knowledgeable, and responsive professionals has received high praise for excellent work, industry expertise, and ability to generate results.
---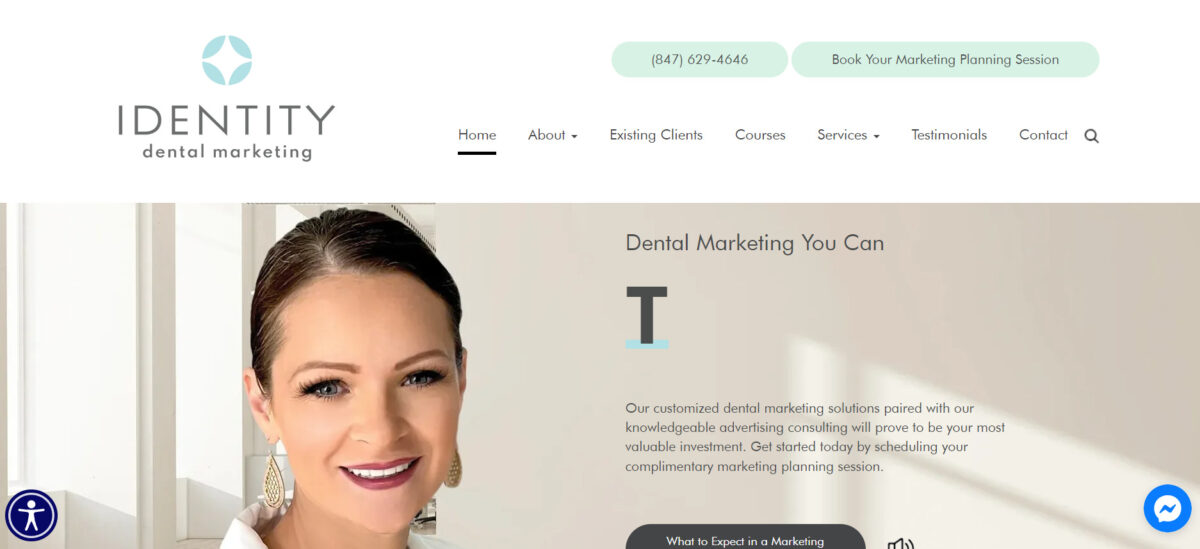 Identity Dental Marketing is a trusted dental marketing agency that has been providing successful marketing strategies to dentists of all niches and specialties since 2009. The agency offers customized dental marketing solutions and knowledgeable advertising consulting that proves to be the most valuable investment for their clients. The agency's focus is on consolidating and tracking the effectiveness of their client's marketing efforts. They provide ongoing investment advising at an affordable rate to ensure that their clients receive exceptional customer service and tangible results.
Identity Dental Marketing is a proven dental marketing agency that has helped hundreds of happy clients improve their rankings, attract new patients, and improve the patients' experience. The agency's team is professional, knowledgeable, punctual, friendly, and attentive.
Clients have given high praise for the agency's ability to deliver on what they promise. The agency's focus on proven strategies ensures that clients receive personalized marketing plans that are tailored to their unique needs.
---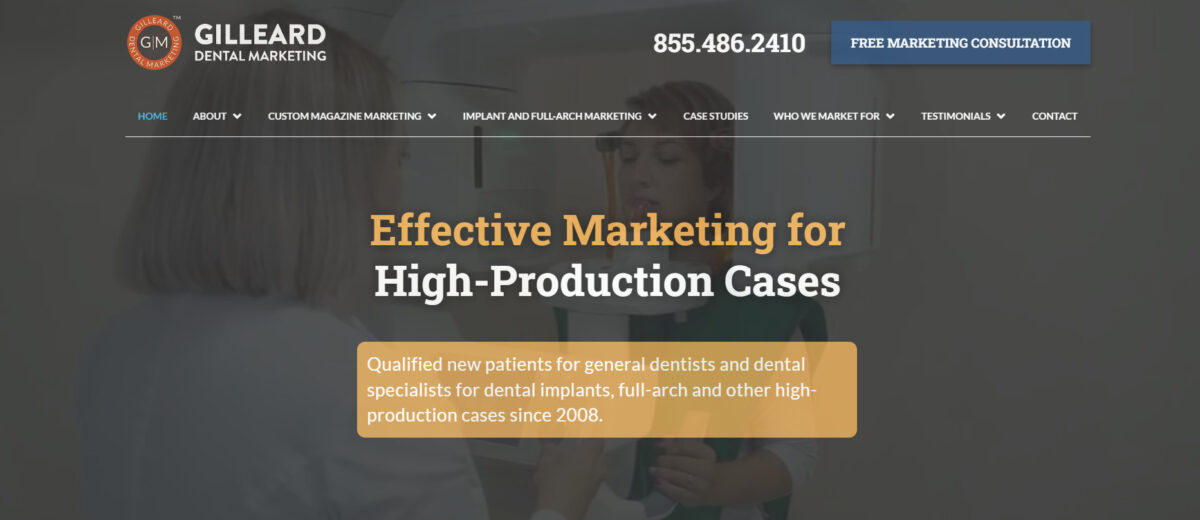 Gilleard Marketing has been providing effective marketing for high-production cases to qualified new patients for general dentists and dental specialists, such as dental implants, full-arch, and other high-production cases since 2008. They offer unique dental marketing to reach the right target demographics, with great ROI and a consistent flow of full-arch and implant cases. Gilleard Marketing's Custom Magazine Program is an innovative marketing tool that not only fits all the requisites but also brands your office as a top dental office in your area. With over 14 years of experience in marketing large cases, they have tested multiple marketing avenues and have done over 10,000 interviews with large-case patients to understand exactly what's important to them.
Their customized implant and full-arch marketing program provide enough content about implant and full-arch treatment, the doctors, your practice, testimonials, etc. to trust you and call your office. The owners of Gilleard Dental Marketing, Keith and Deborah Gilleard, are experienced in corporate and ad agency style-marketing and have streamlined their proven marketing strategies for dental marketing, including market research and surveys, to provide the blueprint for success. They use analytics, market research, and other scientific marketing to ensure that their marketing programs are based on sound marketing principles plus their years of experience in dental marketing.
Gilleard Dental Marketing has a proven track record of success in dental marketing, tracking all their results and developing protocols to help clients have successful marketing. By creating truly custom marketing using scientific marketing technology, they ensure that their marketing resonates with the target audience and gets them to not only want to do the treatment that will help them, but also to do it at your office.
---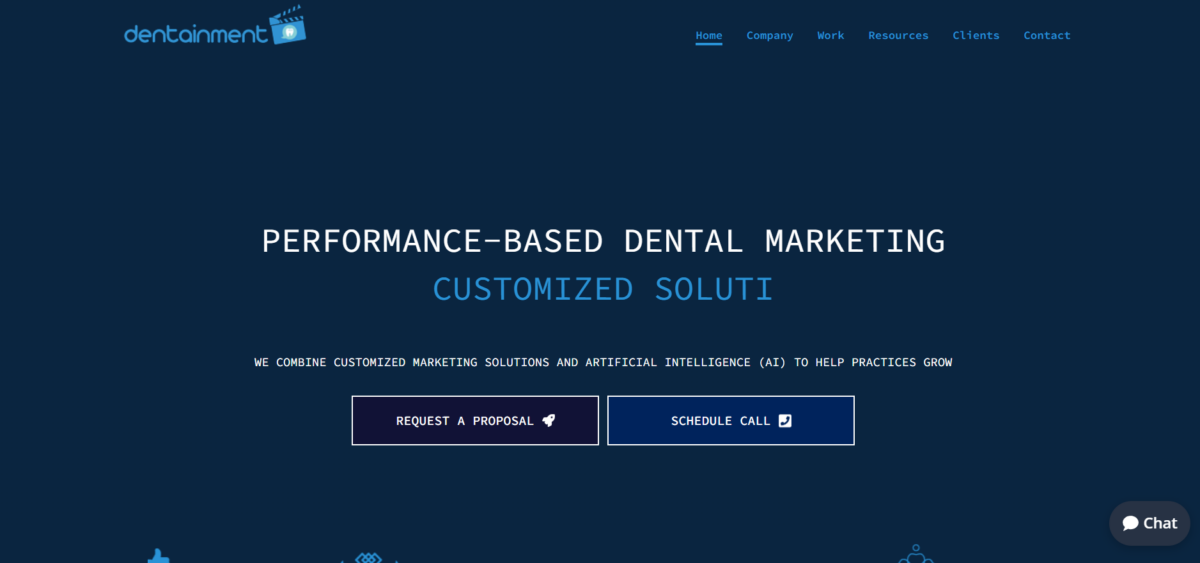 As a performance-based dental marketing agency, Dentainment offers tailored marketing solutions to help practices grow. Their dedicated account managers collaborate with clients to create personalized marketing strategies that blend customized marketing solutions and artificial intelligence (AI) to attract new patients, increase revenues, and build brand equity. They provide multi-channel solutions, such as Google Ads, Facebook Ads, Expertise, Bing Ads, and AAD, that deliver results.
Dentainment's team is passionate about developing engaging digital projects like The Practice Grows web-based show, which covers a wide range of topics, strategies, and initiatives to elevate dental practice marketing to new heights of success. Their DentalYear Mobile App offers 365 days of dental marketing ideas, inspiration, and wisdom, featuring daily fun holiday ideas, marketing tips, weekly team exercises, video content, and more.
Hosted by dental marketing expert and Dentainment's founder and chief buzz officer, Brad Newman, the BUZZ Dental Show provides audience members with the latest recommendations and trends in marketing. Additionally, their DentalTimes Mobile App delivers real-time news, insights, and analysis for the worldwide dental industry.
---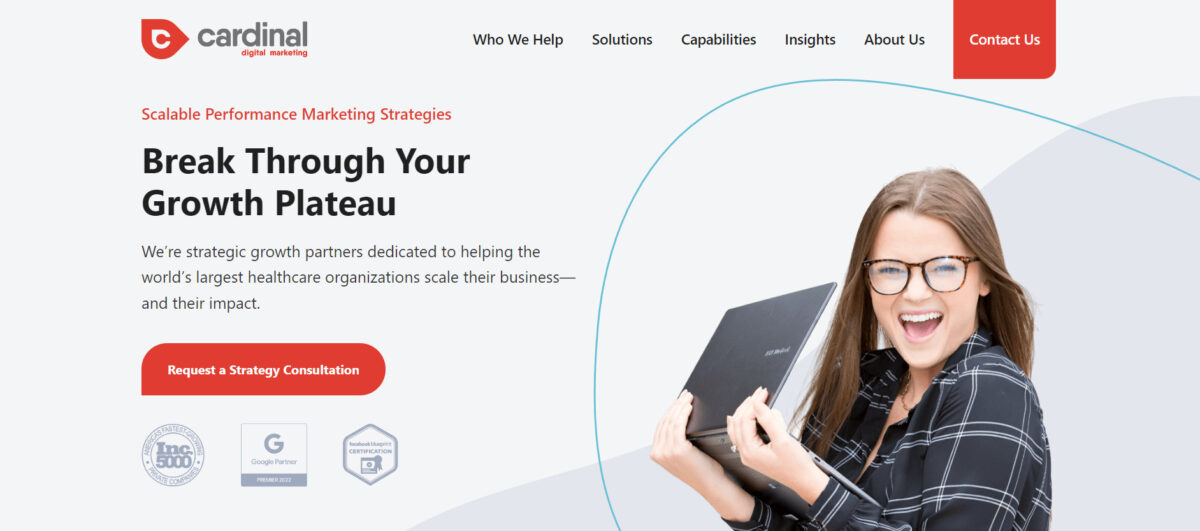 Cardinal Digital Marketing prides itself on its performance marketing services, specifically tailored for dental groups and Dental Support Organizations (DSOs). With a deep-rooted presence in the dental industry, this agency has gained the trust of the nation's top dental groups. Cardinal's primary focus is on ambitious growth, utilizing proven tactics to help businesses scale efficiently and strategically. As performance marketing experts, they strive to surpass growth targets consistently.
A testament to their expertise, Cardinal has a multitude of success stories, such as helping the country's largest orthodontic group increase lead volume by 73% and assisting a top dental provider in driving 35,000 new patients in 2019. Their holistic growth strategies encompass services like Search Engine Optimization, Media Management, Conversion Rate Optimization, and Facebook Advertising.
The dental marketing agency stays ahead of the curve by identifying top dental marketing trends, ensuring that their clients remain competitive in the industry. As a partner to dental practices and DSOs, they empower businesses with custom performance marketing solutions to achieve meaningful growth.
---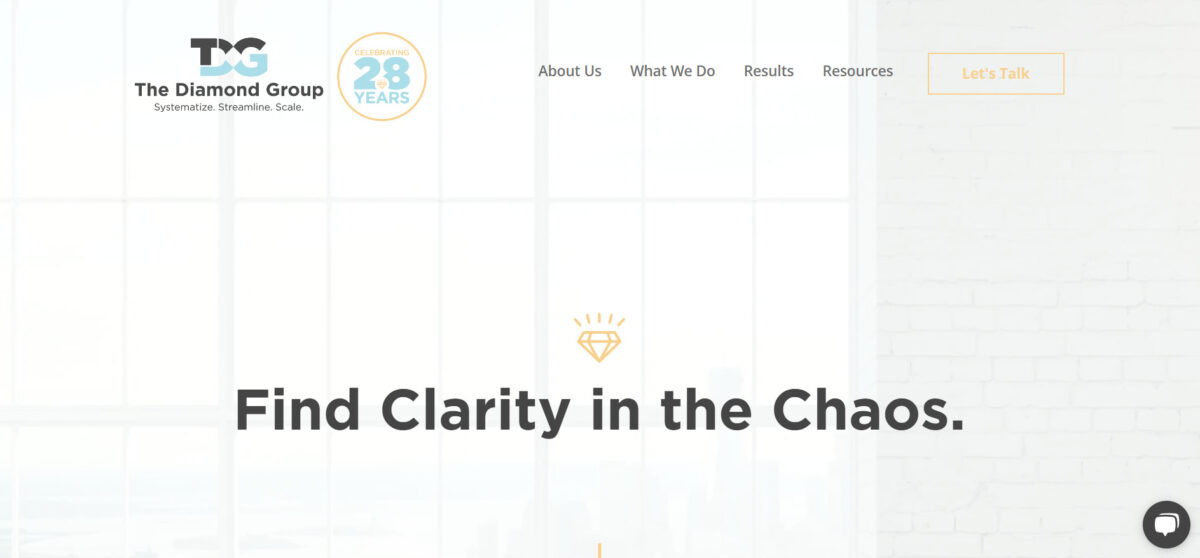 The Diamond Group offers dental marketing services to dentists looking to scale their practices exponentially. With a scalable system, they help increase patient volume and develop a personalized 'marketing treatment plan' to turn goals into achievements. Their expertise lies in Web Design, Social Media, SEO, and Google Ads.
The Diamond Group understands that 77% of prospective patients start their search for a dentist online, with 80% of the buying decision made before they even contact the practice. They work diligently with dentists aiming to attract new patients and scale their practices. Their unique approach focuses on systematizing, streamlining, and scaling dental practices through determination, courage, and excellence.
Some of their key offerings include beautiful website design, SEO to improve online visibility, and branding to build connections that resonate with patients. The Diamond Group utilizes Google Ads, Social Media, and Print Ads to accelerate growth and engage with both online and offline audiences. One of their notable case studies features a dentist website achieving 300% growth due to their well-executed strategy.
---
Frequently Asked Questions
How can dental marketing agencies help increase patient retention?
Dental marketing agencies can help increase patient retention by creating and implementing targeted email and social media campaigns, offering special promotions and discounts, providing educational and informative content, and delivering exceptional customer service that exceeds patient expectations.
Can dental marketing agencies help with patient targeting and segmentation?
Yes, dental marketing agencies can help with patient targeting and segmentation by analyzing patient data and behavior, creating buyer personas, developing targeted messaging and offers, and implementing personalized marketing campaigns.
What is a dental marketing audit and why is it important?
A dental marketing audit is an evaluation of your practice's marketing activities, assets, and performance, conducted by a dental marketing agency. It is important because it helps identify strengths, weaknesses, opportunities, and threats of your marketing efforts, and provides insights and recommendations for improvement and optimization.
Can a dental marketing agency help with patient referrals?
Yes, many dental marketing agencies can help with patient referrals by implementing referral programs that incentivize and encourage patients to refer friends and family, creating referral-specific landing pages and forms, and tracking and measuring referral performance.