Advertising Disclosure
Advertising disclosure:
Our partners compensate us. This may influence which products or services we review (also where and how those products appear on the site), this in no way affects our recommendations or the advice we offer. Our reviews are based on years of experience and countless hours of research. Our partners cannot pay us to guarantee favorable reviews of their products or services.
As small businesses continue to explore the digital realm, they recognize the importance of having a solid online presence. This could mean a lot of things, from participating in online conversations through social media to having a dedicated website to showcase products and services.
But as each industry becomes increasingly competitive, small businesses are presented with the compelling task of creating an online footprint that stands out, captures attention, and fosters growth. At the heart of this task lies the crucial decision of selecting a web development agency that aligns with a business's vision, goals, and values. 
This guide provides insight into the world of web development agencies for small businesses, elucidating their importance and offering pointers on making the right choice. So, here's our listicle of the top 10 Web Development Agencies to help propel small businesses to new heights in 2024.
---
Top Web Development Agencies For Small Businesses
Top
web development agencies small businesses
2024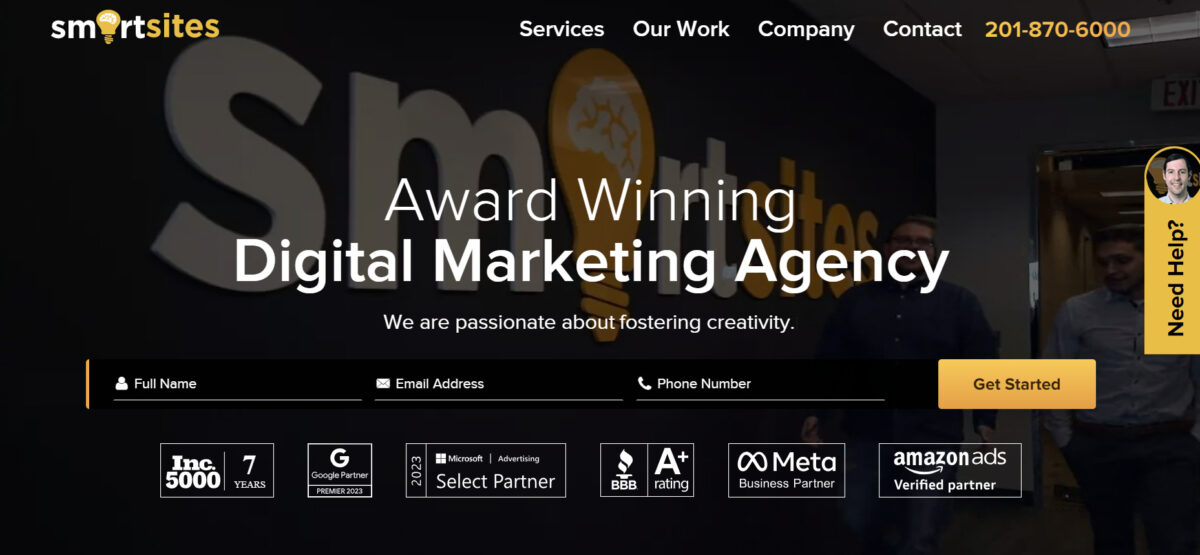 Headquarters: Paramus, NJ, United States
Pricing: SmartSites services begin at $1,000.
SmartSites is a beacon of innovation and expertise in the realm of web development. With a team that's certified and recognized by industry giants, they've firmly established themselves as leaders in the digital space.
Their journey in the industry has seen them garner accolades such as being ranked the #1 Software Development Company by Upcity and receiving a perfect score from over 325 client reviews on Google. Their adaptability is evident in their extensive service offerings, catering to diverse business needs.
At the heart of SmartSites is a commitment to excellence. They don't just develop websites; they engineer experiences that resonate with the end-user. Their full-stack development approach ensures businesses get a product that's efficient, scalable, and tailored to each separately.
Key Web Development Services Include:
Custom Web Services
PHP Frameworks (Symfony 2 and Yii 2)
Database Management (MariaDB, MongoDB, and MySQL)
Frontend Frameworks (Bootstrap and Material-UI)
Javascript & Framework (React, Angular, and Vue.js)
---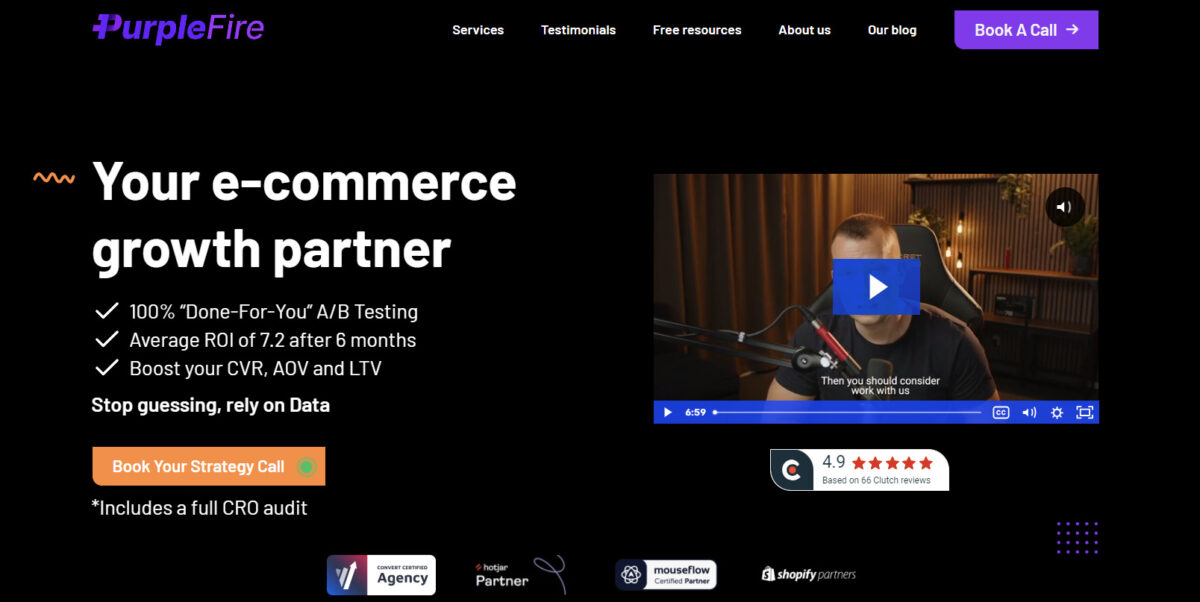 Headquarters: Rødovre, Denmark
Pricing: PurpleFire services start from $1,000.
PurpleFire is not just another web development agency; they are artisans of the digital world. Their expertise spans across various industries, from manufacturing and finance to healthcare and entertainment, showcasing their versatility.
They believe in understanding the business model thoroughly before crafting a solution that's functional and adds tangible value. Whether it's a simple corporate website or a complex SaaS product, PurpleFire has the expertise and the tools to deliver.
Their commitment to excellence is evident in their meticulous development process, which involves gathering requirements, design, development, testing, and post-launch support. They also pride themselves on their ability to integrate almost any tool, ensuring that businesses have a seamless digital experience.
Key Web Development Services Include:
Landing Pages Development
E-commerce Solutions
Customizable CRM Systems
SaaS Solutions with Secure System Architecture
Blockchain and NFTs Development
Data Mining and Analytics Solutions
---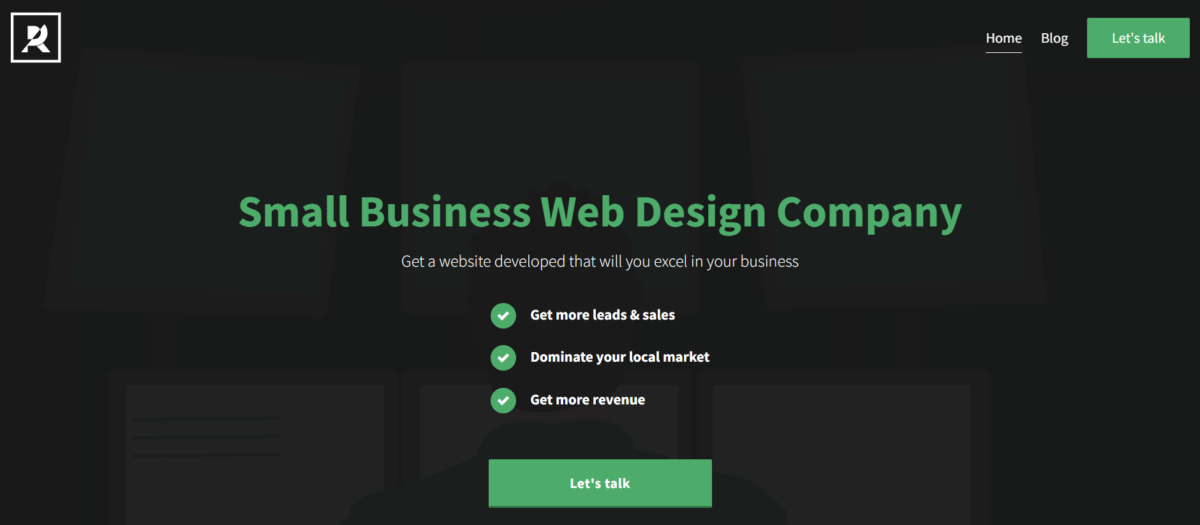 Headquarters: Rzeszów, Poland
Pricing: PROGMATIQ services begin at $5,000.
PROGMATIQ stands out as a beacon for small businesses seeking web design agencies to partner with. With a clear focus on delivering websites that look good and drive business results, they've carved a niche for themselves in this highly competitive industry.
Their development journey is marked by a commitment to understanding the unique challenges faced by small businesses. They don't just build websites; they craft digital platforms that attract, engage, and convert potential clients. Their approach is rooted in the belief that a website should be more than just an online presence; it should be a tool that drives business growth.
PROGMATIQ's team of experienced developers is the driving force behind the agency's success. Their expertise, combined with their dedication, ensures that clients receive solutions tailored to their specific needs.
Key Web Development Services Include:
Custom Web Development
Front-end and Back-end Development
Ecommerce Solutions
CMS Development
Web Application Development
---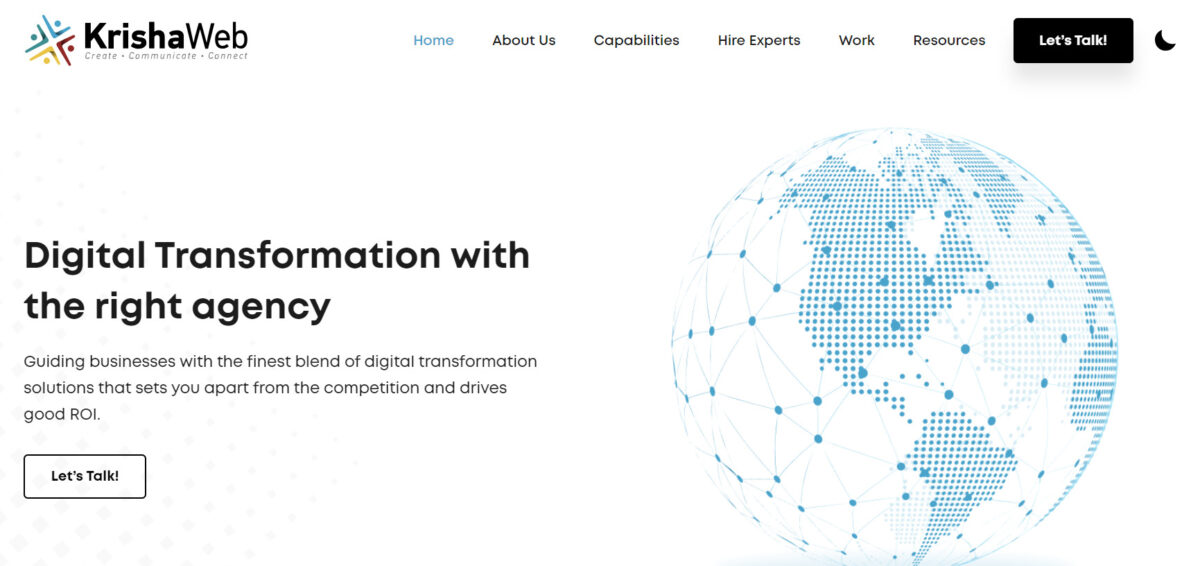 Headquarters: Loveland, CO, United States
Pricing: KrishaWeb services start from $1,000.
KrishaWeb isn't just a web development company but a digital marketing agency for small businesses. Since 2008, they've been partnering with businesses to deliver solutions that resonate with their audience.
Their strength lies in their ability to offer a comprehensive range of services, ensuring businesses have a one-stop solution for all their web development needs. Their commitment to quality is unwavering, and they pride themselves on delivering solutions that are secure, user-friendly, and aligned with the latest industry standards.
KrishaWeb's approach is rooted in the belief that every business is unique. Therefore, they take the time to understand the client's objectives, challenges, and vision, ensuring that the final product is not just a website but a powerful business tool.
Key Web Development Services Include:
Front-end and Back-end Development
Custom and Ecommerce Development
CMS and Web Application Development
Technology Consulting and Quality Assurance
Support and Maintenance
---

Headquarters: Orem, UT, United States
Pricing: Busy Human services start from $1,000.
Busy Human is a powerhouse in the realm of web development, with a keen focus on crafting custom web software and applications. Their expertise is underpinned by the use of cutting-edge technologies across the board, ensuring the solutions they deploy are adaptable and scalable in a cloud environment.
Their commitment to creating meaningful mobile and web experiences is evident in their portfolio. Simply put, they craft digital tools that genuinely enhance people's lives, making everyday tasks more engaging and efficient.
Busy Human's ethos revolves around integrity, innovative design, and delighting users. Their approach promises functionality, adaptiveness, and engagingness, turning mundane information into interactive experiences.
Key Web Development Services Include:
Custom Web Development
Mobile App Development
Ecommerce Development
Cloud Server Management
UX/UI Design
Web Design
---

Headquarters: Thorold, Canada
Pricing: Computan services start from $1,000.
Positioning themselves as the "Developers for Marketers," Computan stands out for its unique blend of technical prowess and marketing acumen. They understand marketers' challenges and offer tailored solutions to meet those specific needs.
Computan has a rich history and a team passionate about developing web-based solutions. Their approach is rooted in honesty, ensuring that clients know exactly where their money is going. Moreover, they pride themselves on delivering projects on time and within budget, making them a reliable partner for navigating the digital sea.
However, Computan's main strength lies in their versatility. Whether building new web pages, integrating tools, or developing custom applications, they have the expertise to get the job done. They are particularly adept at working with various eCommerce solutions, ensuring businesses have a one-stop solution for all their web development needs.
Key Web Development Services Include:
Custom Web Development
HubSpot Development
WordPress Development
Mobile App Development
Game Development
---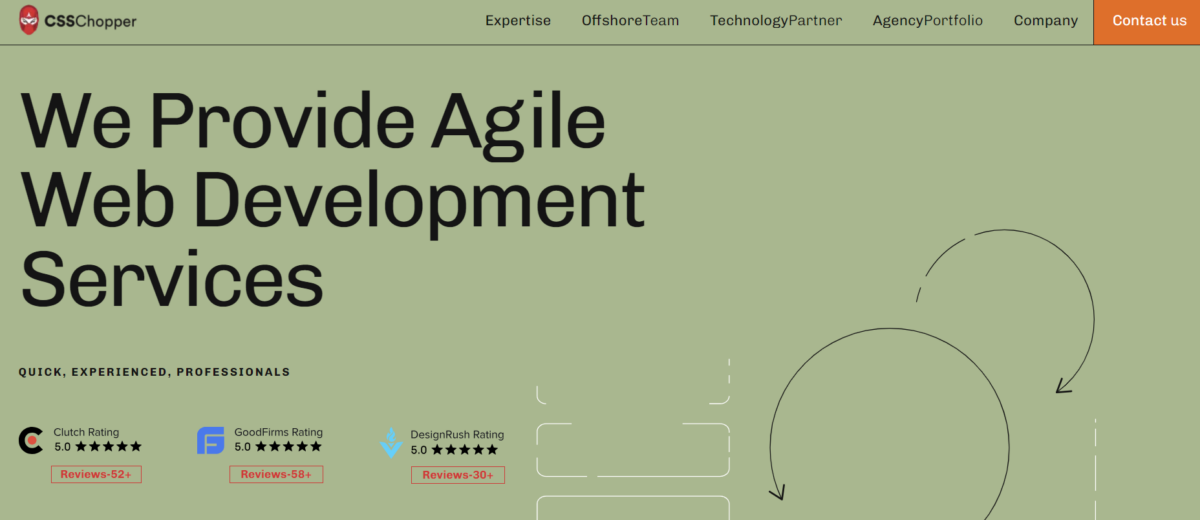 Headquarters: New York, NY, United States
Pricing: CSSChopper services start from $1,000.
CSSChopper is a renowned full-stack web development agency with a rich history of delivering top-tier website solutions for small and medium-sized businesses. Their team is adept at harnessing the latest technologies to craft scalable, high-performance, and secure web platforms tailored to a diverse clientele, from startups to established businesses.
Their commitment to excellence is evident in their approach. They prioritize using industry-standard tech, ensuring client websites are equipped with modern features like chatbots, AI, and AR/VR. 
Moreover, their dedication to accessibility ensures that their creations are usable by everyone, including those with disabilities.
Key Web Development Services Include:
Design to Code Conversion
CMS Website Development (WordPress, Drupal, Magento, etc.)
Custom Web Development
Web App Development
AMP & PWA Development
eCommerce Web Development
Website Maintenance and Support
---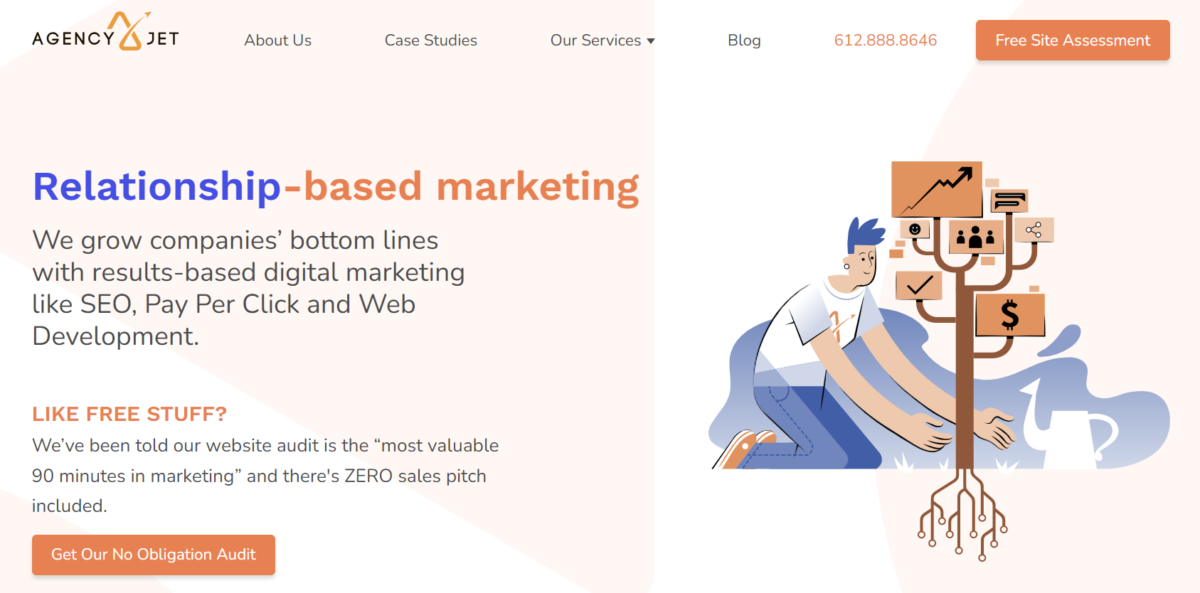 Headquarters: Las Vegas, NV, United States
Pricing: Agency Jet services start from $1,000.
Agency Jet is a web development agency that seamlessly blends creativity with functionality. They pride themselves on delivering projects that look stunning and serve as powerful tools for business growth. Their process is meticulously planned, from discovery calls to rigorous testing, ensuring it meets standards.
Their approach is centered around understanding the brand at an executive level so the final product truly resonates with the company's ethos and objectives. Moreover, their focus on SEO and conversion ensures that the websites they craft for small businesses are more than just digital showpieces—they're effective sales tools.
Key web development services include:
Custom Web Application Development
Content Management Websites
Ecommerce Development
User Experience Planning & Responsive Website Development
SaaS Software Development
Mobile Application Development
CRM, Payment Gateway, and Social Media Integration
Platforms expertise in WordPress, Magento, Shopify, and more
---

Headquarters: Berlin, Germany
Pricing: The Weather services start from $1,000.
The Weather is a Berlin-based digital transformation studio known for its no-nonsense approach to web development. With a portfolio boasting collaborations with global clients, they have carved a niche for themselves in the digital realm. Their work is a testament to their commitment to creating websites that help small businesses reach the top of the food chain. 
Their accolades, such as being ranked the #1 Web Design Company in Germany and having their projects featured as Elementor's Top 10 Websites, speak volumes about their expertise and level of quality. This is due to their holistic approach, combining tech, design, and content creation, ensuring that every project they undertake is comprehensive and tailored to the client's needs.
Key Web Development Services Include:
Web Development (WordPress & Elementor, Webflow, and Jamstack)
Design & Branding
Digital Advisory
SEO
SMM
Video production
---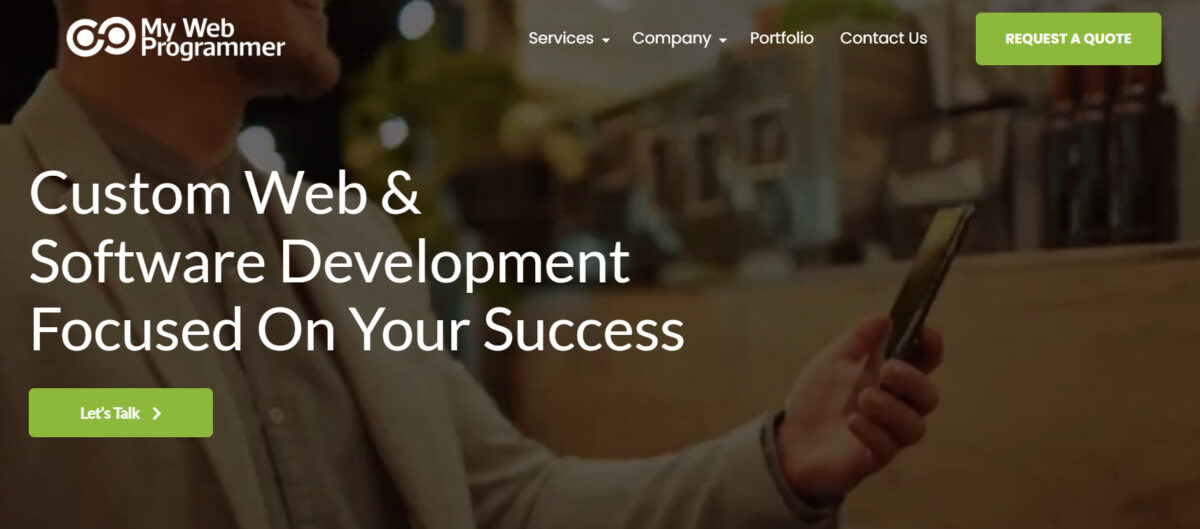 Headquarters: Atlanta, GA, United States
Pricing: My Web Programmer services start from $1,000.
For over 12 years, My Web Programmer has been at the forefront of web development, delivering impactful and results-driven solutions. Based in Atlanta, they have a streamlined development process, ensuring every project is executed precisely and with close attention to detail.What sets them apart is their unwavering focus on user experience. They believe in building solutions that are not only high-performing but also user-friendly, secure, and scalable. 
Their commitment to quality is evident in their approach, which emphasizes understanding client requirements, using the latest technologies, and ensuring that the final product is of the highest standard.
Key web development services include:
Custom Web Design and Development
Web Application Development 
Ecommerce Website Development
Quality Assurance Testing
CRM 
SMM
---
What Is the Role of Web Development Agencies for Small Businesses?
The modern consumer journey invariably begins with a digital touchpoint. Prospective customers now turn to the vast expanse of the internet to seek solutions, discover brands, and make informed decisions. Given this behavior, a well-designed website serves as a small business's virtual storefront. 
The digital handshake offers the first impression and sets the stage for all ensuing interactions. Small businesses risk losing valuable opportunities to connect with their audience, promote their offerings, and establish a brand identity without a professional and engaging online presence.
Web development agencies cater to this precise need by molding technology and creativity into a cohesive digital strategy. They don't just design websites; they architect experiences. Each pixel they craft and each line of code they write is orchestrated to bolster the business narrative, elevate brand perception, and drive measurable outcomes. This means increased visibility, a broader audience reach, augmented sales, and heightened brand loyalty for a small business.
---
Key Factors To Consider When Looking For Web Development Agencies For Your Small Business
The importance of a web development agency transcends the technical aspects of website creation. These agencies play a pivotal role in ensuring the website remains current, functional, and optimized in an environment where technological advancements are relentless. Regular updates, seamless user experience, mobile responsiveness, and security measures are only a few facets of their comprehensive services.
Thus, choosing the right web development agency is an investment that goes beyond financial considerations. In simple terms, it's a strategic partnership. The chosen agency becomes an extension of the business, understanding its ethos, imbibing its values, and translating them into the digital realm. But with myriad agencies vying for attention, how does a small business owner discern the best fit?
When evaluating potential agencies, businesses must assess a multitude of factors. These range from the agency's portfolio and expertise to their project management methodologies, communication protocols, post-launch support, and, most importantly, their ability to understand and align with the business's objectives.
 An ideal agency not only brings technical prowess to the table but also offers strategic counsel, ensuring that the website is a potent tool for business growth and brand amplification.
---
Conclusion
As small businesses navigate the dynamic digital waters, the decision to collaborate with a web development agency is not just about building a website - It's about laying the digital foundation for sustained growth, forging lasting customer relationships, and carving a distinct brand niche. 
This guide endeavors to shed light on the nuances of this decision, ensuring businesses are equipped with the knowledge and discernment to select an agency that propels them toward unparalleled digital success.
Frequently Asked Questions
Do these agencies offer post-launch support or maintenance?
Yes, many agencies provide ongoing support and maintenance packages to ensure your website remains updated, secure, and functional. It's advisable to discuss post-launch services and their costs before starting the project.
Will my website be secure from cyber threats?
Most reputable agencies prioritize website security, implementing various measures to protect your site from potential threats. It's essential to discuss security protocols with your chosen agency to ensure your website's and users' data remains safe.
Can the agency integrate specific tools or software I currently use into the new website?
Yes, many agencies can integrate a wide range of tools, software, or third-party applications into your website. Ensure you provide a list of these tools during the consultation phase so the agency can assess compatibility and integration possibilities.
How involved will I need to be during the website development process?
Your involvement can vary based on the agency's workflow. Typically, agencies will require your input during the initial stages for design preferences, content, and functionality requirements. Regular check-ins or reviews might also be scheduled to ensure the project aligns with your expectations.