Advertising Disclosure
Advertising disclosure:
Our partners compensate us. This may influence which products or services we review (also where and how those products appear on the site), this in no way affects our recommendations or the advice we offer. Our reviews are based on years of experience and countless hours of research. Our partners cannot pay us to guarantee favorable reviews of their products or services.
Every business, big or small, must navigate the digital wave to stay relevant. But as industries transform along with the ever-evolving technological advances, the demand for comprehensive web solutions has skyrocketed. Enter Full Stack Web Development Agencies — the multifaceted maestros of the digital realm.
Traditionally, web development was divided into the front-end (dealing with the website's look and feel) and the back-end (managing data, servers, and application logic). However, as businesses sought streamlined processes and holistic solutions, the boundaries began to blur. Full Stack Web Development Agencies emerged as a one-stop-shop, proficient in handling everything from systems and databases to server engineering, user interface design, and actual user interactions on sites.
That brings us to this article, where we will delve deeper into the world of Full-Stack Web Development Agencies and explore what sets the best ones apart in today's fast-paced digital landscape.
---
Best Full-Stack Web Development Agencies
Top
full stack web development agencies
2024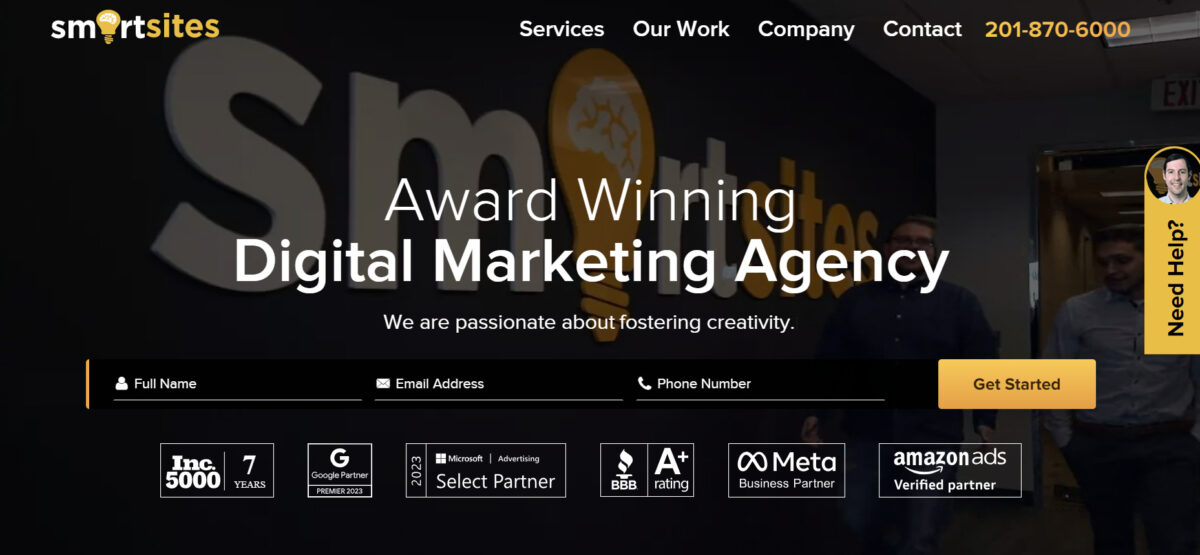 Headquarters: Paramus, NJ, United States
Employees: 250-999
Hourly Rate: $100 – $149
SmartSites is a premier full-stack web development agency known for its certified programmers who seamlessly blend teamwork and experience. The company prides itself on its various certifications, reflecting its technical prowess and dedication to innovation. 
With a series of accolades, including being listed on Inc. 5000 for six years and holding an A+ BBB rating, SmartSites is more than just a web development agency; it's a force transforming digital landscapes. 
Businesses turning to SmartSites can expect creativity, technical mastery, and strategic vision to achieve goals. The agency's expertise spans a wide range of technologies and platforms, ensuring robust web solutions tailored to your unique needs. From frontend frameworks like Bootstrap and React to backend technologies such as Node.js and PHP, SmartSites ensures a comprehensive web solution.
Key USPs:
Ability to develop web solutions that generate sales for clients
Specializes in CMS development and third-party integration, catering to diverse business needs
Recognition from global tech giants such as Google, Microsoft, and Meta
Holds the title for the #1 E-Commerce Development Company by Top Developers
---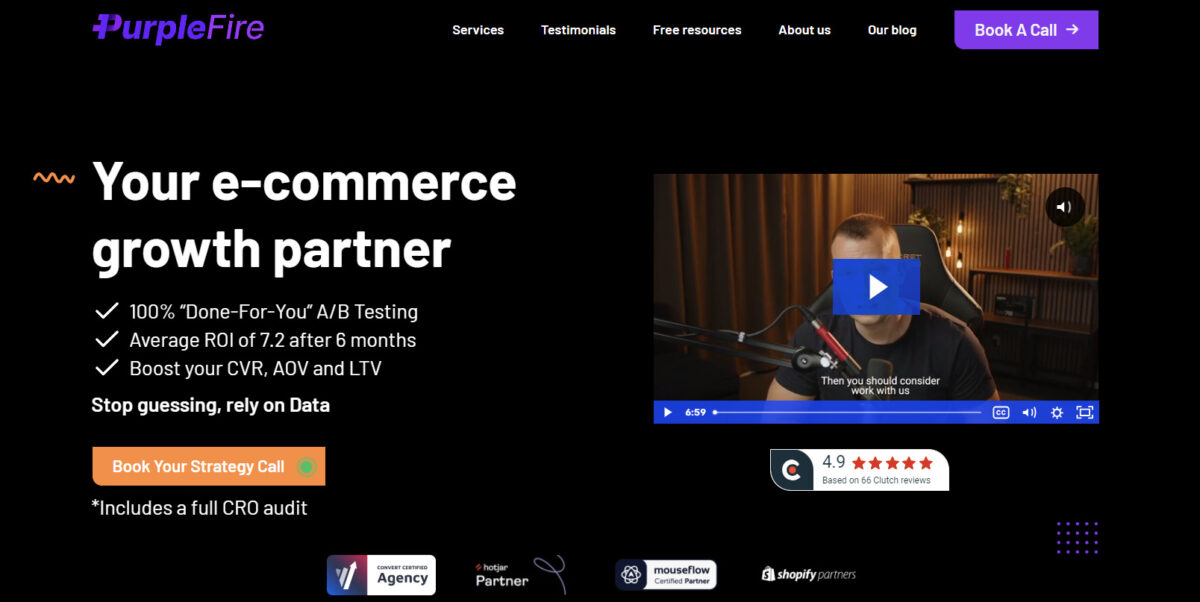 Headquarters: Rødovre, Denmark
Employees: 10-49
Hourly Rate: $50 – $99
PurpleFire is a reputable full-stack development agency boasting a rich blend of creative flair and robust technical expertise. With a mission to deliver top-notch web solutions that bring tangible business value, PurpleFire combines spotless designs with resilient backend logic. Whether it's a simple corporate website or an intricate SaaS product tailored for competitive markets, PurpleFire stands ready to address and cater to your specific business needs.
PurpleFire offers a holistic approach to website development, focusing on your needs and ensuring a smooth user journey from inception to completion. The agency's offerings are diverse and well-suited for the ever-increasing market demand. Their expertise in the field is anchored on best development practices and continuous learning. Moreover, they're entrusted by more than 85+ global brands to create tailored solutions. 
Key USPs:
Extensive experience in building diverse web and Web3 solutions
Offers in-depth audits to help you understand your conversion leaks
Emphasis on business-driven development, with project managers assisting in building project visions
Cross-industry eCommerce proficiency
---

Headquarters: San Francisco, California
Employees: 1,000-9,999
Hourly Rate: $100 – $149
Toptal is a global giant for outsourcing full-stack web development services. With a commitment to connecting top companies with the world's most talented developers and designers, they've cemented their position as a leader in the industry. Renowned brands trust Toptal for their ability to identify elite and independent contractors for all web-based needs.  
Their unique business approach separates Toptal from other agencies on our list. Namely, Toptal is a platform and a destination for enterprise-grade freelance talent solutions, allowing brands and companies to leverage world-class talent from the business, design, and technology sectors. From developers to finance experts and project and product managers, the Toptal platform has it all. 
Regarding their full-stack web development talent, Toptal ensures the applicants are proficient in the latest technologies, ensuring you always have access to the best talent that keeps up with technological advancements. 
Key USPs:
Agile development with Scrum teams
Expertly matched talent from a global pool
Access to the Top 3% of talent with a 98% trial-to-hire success rate
Utilizes top JavaScript frameworks and database technologies for proficient full-stack web development
Clients receive development-ready specs, time, and cost estimates
---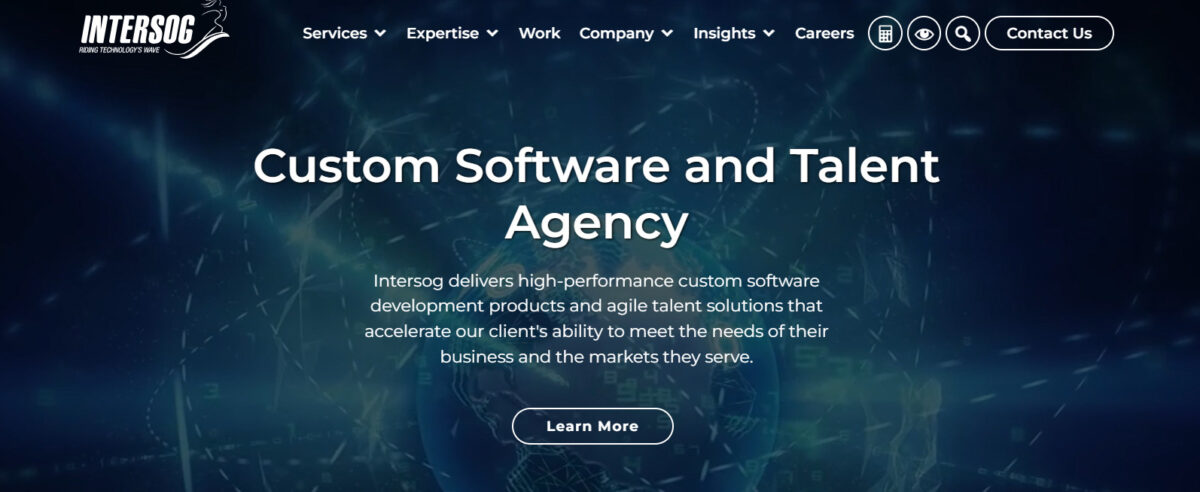 Headquarters: Chicago, Illinois
Employees: 50-249
Hourly Rate: $50 – $99
Intersog has been a beacon of trust in full-stack web development, serving American clients since 2005. This Chicago-based team is renowned for providing team staffing and a gamut of web development services. With more than 1300 projects under their belt, Intersog has mastered the art of bridging the gap between clients' vision and impeccable execution.
Intersog offers an unrivaled combination of global talent and premium quality. Their hassle-free hiring process ensures you onboard developers without the typical recruitment challenges. With partnerships spanning ten countries, Intersog promises to deliver cutting-edge digital solutions. 
In addition, they offer custom software services, from front/back-end web, mobile & IoT development to game development and system programming.
Key USPs:
Global talent pool of full-stack developers
Over 250 technology experts
Comprehensive skill set, from Python, Java, PHP to UI/UX design and cloud services
Seamless and transparent remote team coordination
---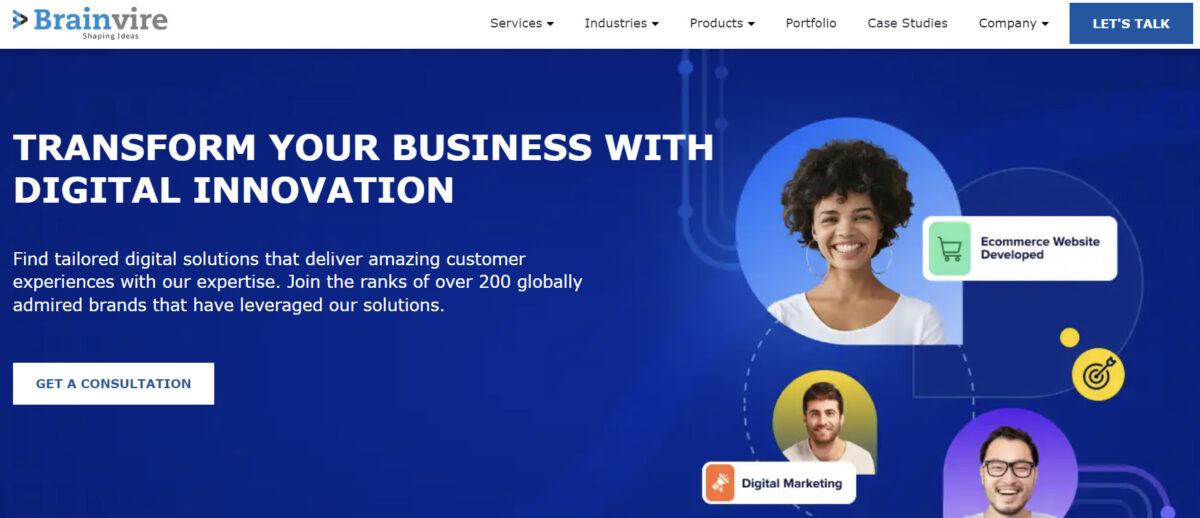 Headquarters: Irving, TX, United States
Employees: 250-999
Hourly Rate: $25 – $49
Brainvire is a top-tier full-stack development agency offering solutions ranging from mobile app development to eCommerce, bringing businesses closer to their vision. With their comprehensive understanding of the intricacies of full-stack development, they have positioned themselves as an industry leader, ensuring your business reaches its growth potential. 
Brainvire's clientele testimonials sing praises of their robust communication, a testament to their dedication. Opting for Brainvire means you're investing in top-notch services that harness the power of popular frameworks, such as Node.js, React, and AngularJS, to build potent web applications. Their expertise covers various industries, from healthcare and retail to banking and finance, showcasing their versatility. With their agile methodology, they promise top quality, punctuality, and absolute client satisfaction.
Key USPs:
Expertise in a broad range of full-stack technologies
Client-centric approach with continuous support and maintenance
Comprehensive understanding of business requirements
Emphasis on quality, security, and innovative solutions
---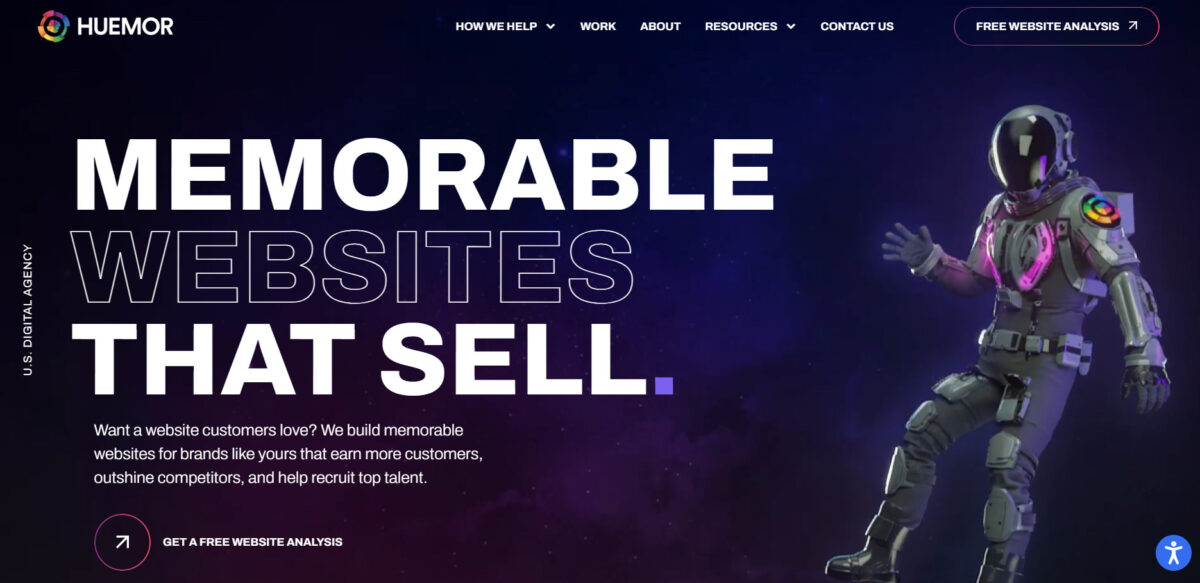 Headquarters: Pittsburgh, PA, United States
Employees: 50-249
Hourly Rate: $150 – $199
Huemor stands out as a full-stack web development powerhouse focusing on creating highly functional websites. Recognizing the limitations of out-of-date websites, Huemor strives to make your website a sales machine. Their dedication is evident, with their average website redesign boasting a remarkable +83% monthly visits and a +94% conversion rate increase. 
If your brand suffers from a forgettable website, Huemor offers the remedy. Their expertise guarantees your sites enhance your digital marketing efforts. They also emphasize the importance of modern tools and integrations, ensuring your business can capitalize on the full potential of its digital presence. The impressive results of their rebuilds are a testament to their prowess.
Key USPs:
Expertise in creating lightning-fast websites
Strong emphasis on lead generation
Delivers tangible results with custom website builds
Portfolio showcasing a diverse range of industries
---

Headquarters: Sunrise, FL, United States
Employees: 1,000-9,999
Hourly Rate: $25 – $49
Chetu, headquartered in Sunrise, Florida, is a renowned full-stack development company committed to offering custom solutions tailored to your specific business needs. They cater to a diverse range of industries and provide impeccable development services by augmenting teams with proficient developers. Their mastery extends from front-end languages like HTML and CSS to intricate tech stack programming, including PostgreSQL, Amazon Web Services (AWS), and more.
Choosing Chetu guarantees you a comprehensive full-stack solution. Their developers are adept at both ends and showcase expertise in all forms of mobile and web development, Magento development, back-end engineering, and open-source stack development. Chetu's dedication to quality assurance and client satisfaction ensures they meet and surpass your expectations. 
Key USPs:
Dynamic on-demand AI solutions.
Unique integration capabilities, from payment systems to email marketing.
Proficient support and maintenance services post-delivery.
Scalable business model, allowing you to increase or decrease team size
---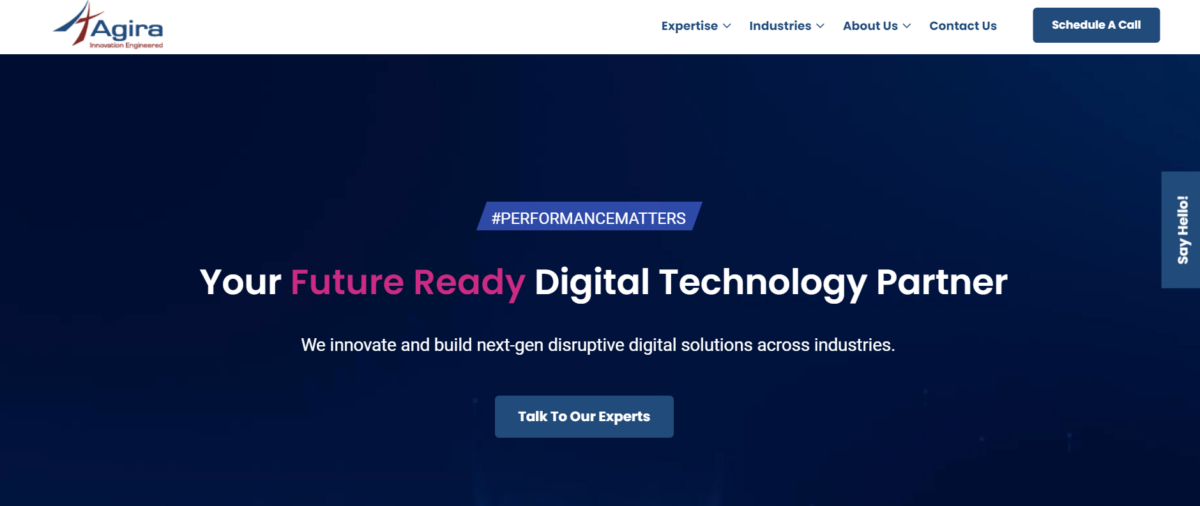 Headquarters: North Brunswick, NJ, United States
Employees: 50-249
Hourly Rate: $25 – $49
Hailing from North Brunswick, New Jersey, Agira Technologies establishes itself as a leader in the web development sector. With a deep-rooted emphasis on Agile methodologies and Clean Architecture, they craft client-focused, conversion-oriented web solutions. Their portfolio includes 100+ successful web applications developed in collaboration with both startups and large enterprises, ensuring they cater to a diverse clientele.
Engaging with Agira Technologies means embarking on a digital voyage. Their developers specialize in seamless user experiences across devices and screens. Leveraging high-end technologies like HTML5 and Javascript, they guarantee enhanced functionality for your project. Furthermore, their commitment to web security ensures all layers of your web application are fortified against potential threats.
Key USPs:
Expertise in responsive web designs
Utilizes modern web development techniques with top-tier design
Offers enterprise-level customization with microservices architecture
Pioneers in integrating AI and ML technologies
---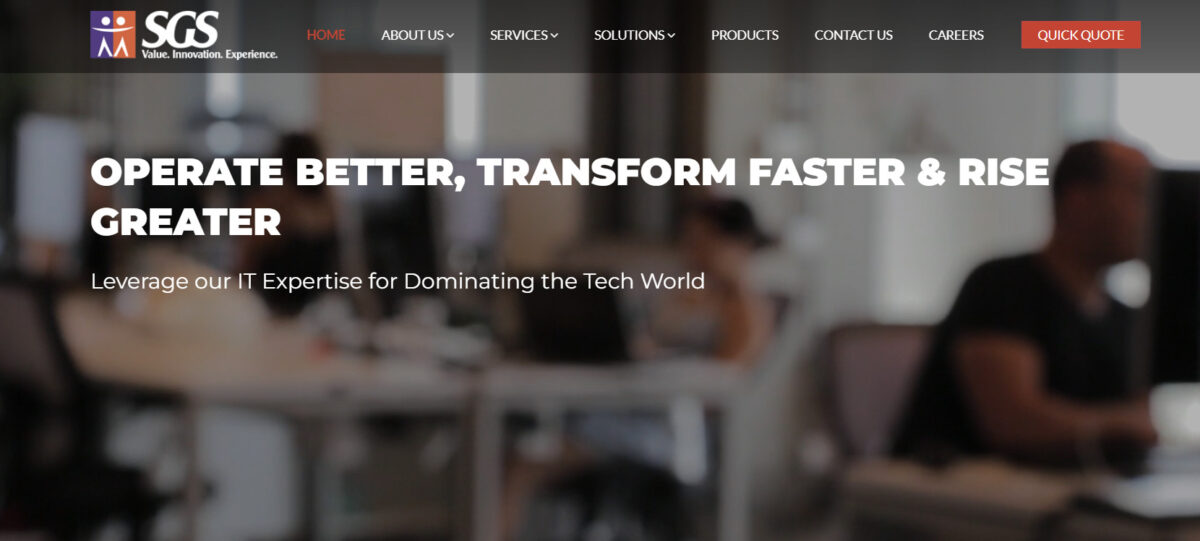 Headquarters: Jacksonville, Florida
Employees: 50-249
Hourly Rate: $100 – $149
SGS Technologie has carved a niche for itself in the realm of full-stack web development. As their tagline suggests, they aim to build "something great together" with their clientele. SGS is known for offering tailored, scalable, and reliable full-stack development solutions encompassing both the front-end and back-end of websites and applications. Their commitment to employing Agile and DevOps methodologies means you receive a seamless development experience.
Choosing SGS Technologie equates to employing an efficient, comprehensive, and intensive development process. Their well-versed professionals can effortlessly diagnose the crux of a technical issue. They offer expertise in a variety of technologies, enabling them to craft holistic software solutions from back-end databases to front-end design. Additionally, their proficiency ensures easy upgradability for applications.
Key USPs:
Commitment to adhering to the best industry practices in full-stack web development
Expertise in various technologies from Bootstrap to Angular
Cost-effective solutions due to integrated back-end and front-end processes
Complete client engagement at all levels
---
Headquarters: Santa Clarita, California
Employees: 50-249
Hourly Rate: < $25
eBizneeds stands as a distinguished name in full-stack development, as they take pride in assisting enterprises with their mobile app and web development needs. Their adept developers ensure you get result-oriented solutions right from the initial idea to deployment. Their approach is characterized by a blend of professionalism, innovation, and technical prowess.
eBizneeds promises a comprehensive development experience, ensuring the end product meets your expectations. Their rich service palette features full-stack app development, web development, eCommerce development, and more. To show their prowess, they've served numerous brands and crafted solutions tailored to specific industry needs, from healthcare to travel.
Key USPs:
Wide range of full-stack services, including Multi-Tier API and Backend Development
Expertise in ReactJS, Mean.JS, Meteor, LMP, and PHP
Strong emphasis on flexibility and agile development
Cost-effective full-stack development solutions
Comprehensive post-launch support and maintenance
---
Why Full Stack Development Matters to Business Owners
Engaging with a Full-Stack Web Development Agency comes packed with numerous advantages for business owners. At the forefront is the ability to have a unified strategy.
By entrusting all aspects of web development to one agency, businesses are awarded a harmonized approach, ensuring both the vision and execution are cohesive. This results in an optimized and consistent user experience. 
Furthermore, collaborating with a singular agency is often more cost-efficient. The financial dynamics shift favorably, eliminating the need to coordinate with multiple specialized agencies, thus potentially reducing overheads and fostering better financial management. This consolidated approach also leads to more direct communication.
The channels become simpler, decision-making is expedited, and an agile response mechanism is in place to swiftly address feedback or adapt to changing market needs. Beyond these, there's the assurance of holistic maintenance.
These agencies, with their expertise stretching across the spectrum of web development, are well-equipped to provide comprehensive maintenance, ensuring each website component operates at its peak.
---
Key Considerations When Selecting the Right Full-Stack Development Agency
For businesses delving into the digital realm, recognizing the significance of Full-Stack Web Development Agencies is only half the equation; identifying the perfect agency to partner with is equally paramount.
Key factors influencing this decision encompass examining the agency's portfolio, which stands as a tactile reflection of their capabilities, giving a glimpse into their design philosophy, technical mastery, and adaptability.
It's also vital to verify the agency's technical acumen, ensuring they are skilled in both the visual nuances of front-end development, characterized by technologies like HTML, CSS, and JavaScript, and the intricate layers of back-end development, synonymous with platforms such as Python, Ruby, PHP, and Node.js. 
Beyond technical prowess, the standing of an agency in the industry cannot be overlooked. Gauging an agency's reputation becomes simpler with client feedback, endorsements from industry peers, and their overall market reputation. Then there's the human element — the importance of the agency's alignment with the business's distinct communication nuances and organizational culture cannot be overstressed, as this ensures frictionless collaboration and mutual comprehension.
Finally, businesses must look ahead, querying whether the prospective agency can evolve with them, catering to their immediate needs and aspirations for growth or diversification down the line.
---
Conclusion
In our exploration of Full Stack Web Development Agencies, it's evident that web development has grown exponentially in complexity and importance. Businesses today, more than ever, are relying on skilled professionals to navigate the multifaceted world of both front-end and back-end development. 
A clear understanding of what full-stack development entails and the value it brings is crucial for businesses looking to establish a strong online presence. The decision to engage with a Full-Stack Web Development Agency should be well-informed, considering their technical capabilities and ability to understand and adapt to unique business needs.
Frequently Asked Questions
How do I know if an agency is genuinely 'full stack'?
A genuine Full Stack Agency will have expertise in both front-end technologies (like HTML, CSS, and JavaScript frameworks) and back-end technologies (like server setup, database management, and server-side scripting). Always ask for their portfolio or case studies to see the breadth of their work.
Will the agency assist with migrating my existing website to a new platform?
Yes, many Full Stack Web Development Agencies offer migration services. They can help you seamlessly transition your current website to a more scalable or feature-rich platform.
How long does it typically take for a Full Stack Agency to develop a website or application?
The timeframe varies based on the complexity of your project, but a basic website can take a few weeks, while complex applications may take several months. Always discuss timelines upfront.
What happens if I face issues with my website after it goes live?
Most Full-Stack Agencies offer support packages or warranties for a certain period post-launch. During this time, they'll fix any bugs or issues at no extra cost. It's always good to clarify the post-launch support terms before beginning a project.