Advertising Disclosure
Advertising disclosure:
Our partners compensate us. This may influence which products or services we review (also where and how those products appear on the site), this in no way affects our recommendations or the advice we offer. Our reviews are based on years of experience and countless hours of research. Our partners cannot pay us to guarantee favorable reviews of their products or services.
Web applications, or simply web apps, have become widely used in a lot of industries. Web apps are software programs that are stored and run on remote servers and can be accessed through any device via a web browser. Unlike native apps, web apps do not need to be installed in the device for a user to gain access to it. And unlike websites which are often mainly static, web apps offer more functionalities such as push notifications and the ability to use certain features of your device like the camera.
In short, web apps are sort of like a cross between native mobile apps and static websites. It combines the functionalities and interactivity of mobile apps with the speed and accessibility of websites. It's no wonder that web apps are increasingly becoming more popular, as companies strive to provide better user experiences for their clients and customers. With more than five billion web users globally, businesses need to strategize more critically, utilizing both web and mobile apps for maximum impact.
---
A Guide to Web App Development (Plus the Top 8 Web App Development Companies):
---
What Is Web Application Development?
Web application development is just the creation of web apps for specific purposes. Sounds simple, but in reality, web app development is intricate work that involves precise skills in both programming and user experience.
Similar to websites, web app development consists of front-end development and back-end development. Front-end developers create the client-side elements of the app—what your customers or users see and interact with. Back-end developers are in charge of what goes on behind the scenes—the server side of the software. To ensure a fully functional web app that performs what it is tasked to do, both front-end and back-end programmers need to collaborate.
---
Stages of the Web Application Development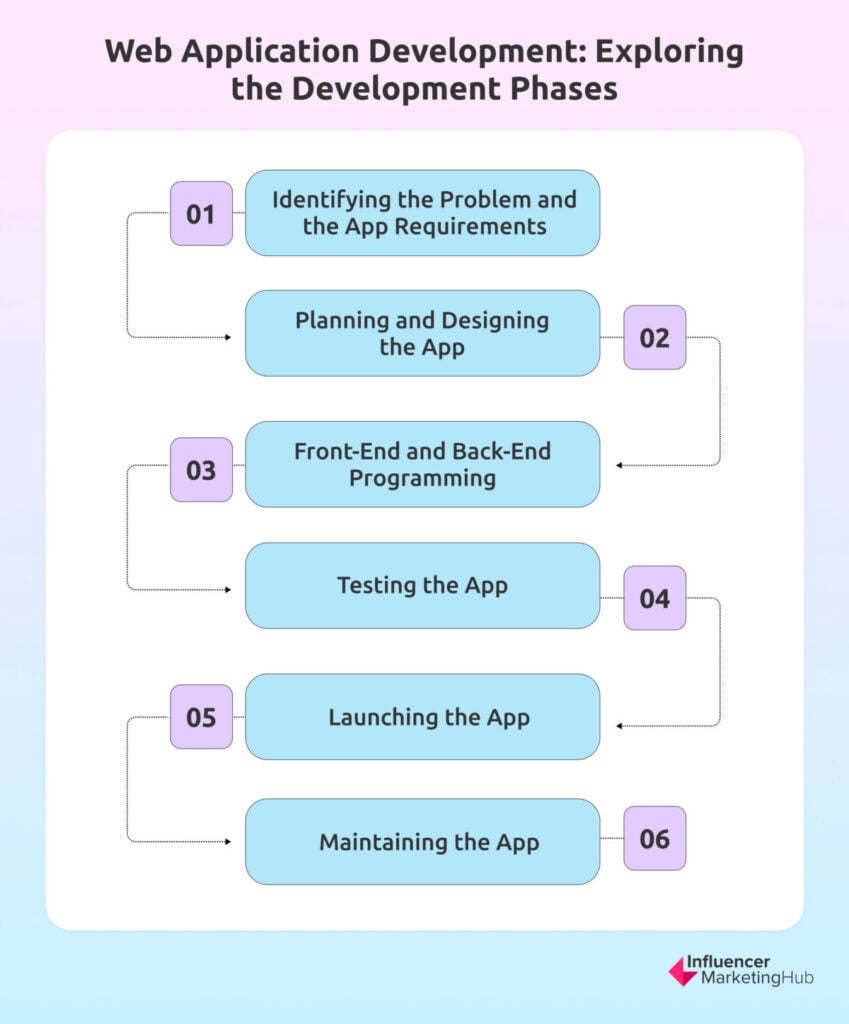 Identifying the Problem and the App Requirements
Web app development consists of first identifying the problem or objective of the user, so the developer can have a more specific idea of the type of web app to create. This is important because web apps can be straightforward, like a one-page form that asks for customers' email, or they can be more complex, like Google Workspace. The web apps needed to address vastly different purposes will obviously require different levels of skill sets and resources, not to mention time and effort.
---
Planning and Designing the App
The second step involves planning the blueprint of the app. Programmers need to decide which technology stack to use, including frameworks, APIs, and databases. Decisions about these things will come from the information that programmers will get from the user, as well the developers' skill set. Aside from the purpose of the web app, they will also need to know your issues, the types of people who will use the app, and other requirements you may have.
As of 2022, the most popular technology in the web development tech stack is HTML, followed by CSS.
Next is the design process, where web app developers create sketches and prototypes of what the web app will look like and how users will navigate it. Developers need a solid grasp of user experience and a good knowledge of effective visual design in order to come up with an app that is both functional and aesthetically pleasing.
The UX/UI element of web app development is as important as the functionality. According to available data, around 50% of users think that a business' credibility is affected by its website design, with good design signaling credible brands. In fact, 38% of web visitors quit browsing if the content or layout of the website is not designed well. Even more significant, 88% of visitors are less likely to return to a website if their experience is inadequate or unsatisfactory.
---
Front-End and Back-End Programming
The next part involves the actual process of creating the web app. This is where the front-end and back-end programming comes in. This phase of the development process can take weeks or months, depending on the scope of the project. Of course, more complex apps will take longer to code and program than simpler projects.
The most common web frameworks as of 2022 are Node.js and React.js with reported usage at 47% and 43%, respectively. Coming at a far third is jQuery with 29% of software developers saying they use it.
---
Testing the App
After coding is done (including content), it's time to test it. A quality assurance team ensures that the app functions well, meets the standard of the client, and does what it is supposed to do. Aside from functionality, testing also checks if the design is user-friendly. Problems are sometimes overlooked in the designing stage, so a thorough review and check of the initial web app is required to ensure that users will not run into any problems with the app.
---
Launching the App
Once everything checks out—both the developers and the client have given their thumbs up—the web app is ready to launch. From here, developers still need to keep a close eye on the app in case of last-minute glitches, sudden issues that did not come up during testing, or any other problems.
---
Maintaining the App
Finally, the best web app development firms offer post-launch maintenance services. Bugs can and do crop up even in the best-made apps, so the client needs the development team to work these out. Updates and small improvements are also key to a well-maintained app. This part of the development process is perhaps the most overlooked by clients, as they might think the end of the project is the launch. But in order to maintain a high-performing app, the development company needs a post-launch support and maintenance plan for their clients.
---
Benefits and Challenges of Web Apps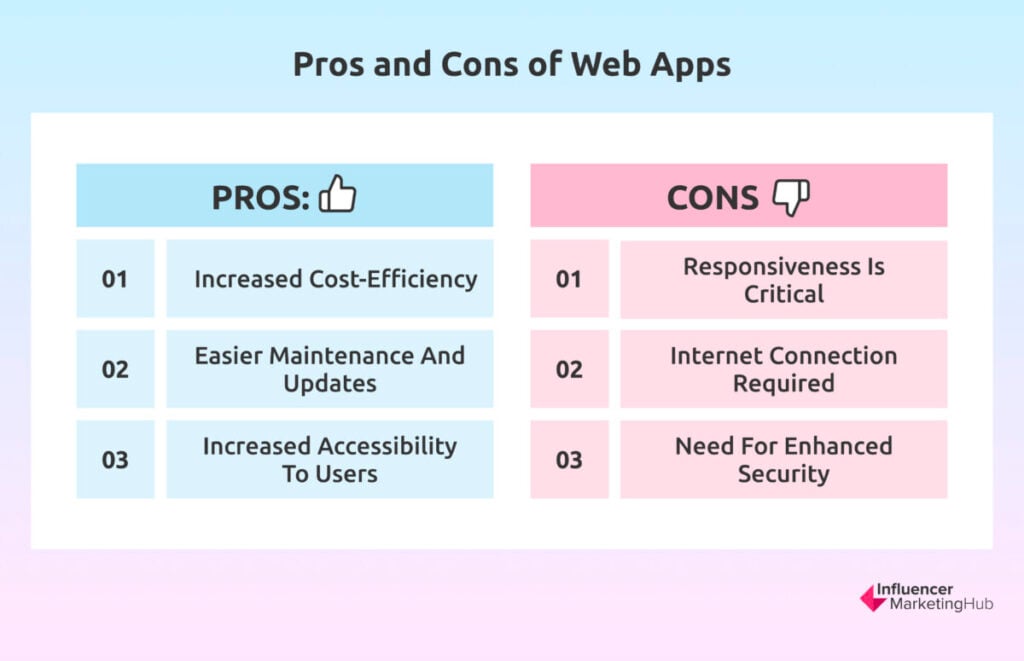 There are several benefits of web apps. Among them are:
Increased Cost-Efficiency. Web apps are less costly to develop than native apps. They also don't need to be downloaded from an app store, eliminating further costs.
Easier Maintenance and Updates. Because they are web-based, web apps do not need to be updated in a way similar to downloaded mobile apps. Developers can incorporate maintenance updates without the need for end-user action.
Increased Accessibility to Users. Web apps can run on any operating system and on almost any browser. All you need is a URL; no need to download a separate app to be able to access its features.
Of course, web app development is not without its challenges:
Responsiveness Is Critical. If the website is not responsive enough, you run the risk of losing visitors and customers.
Internet Connection Required. Without access to the internet, users will not be able to go to the website, unlike native apps that sometimes can be accessed offline.
Need for Enhanced Security. Threats and attacks to web apps are very common. Recent research by Verizon found that 26% of breaches involve web app attacks. Security is thus an integral part of web app development.
---
Top Web Application Development Companies
It's easy to get lost in the midst of all these details. With so many web application development services available today, how will you know which ones get the work done and get it done well?
We've narrowed down the list and come up with the top eight web application development companies today. Scroll down to check them out and see which ones can offer you the web app that can propel your business to greater efficiency.
---
---
---
---
---
---
---
---
Frequently Asked Questions
How much do web development services cost?
There's no standard costing for web app development. Each developer has their own range, and it will all depend on the company's expertise, as well as the scope and complexity of the web app you need.
How long does it take to develop a web application?
It can take anywhere from a few weeks to several months. Simple apps can be launched faster, of course. You can discuss your timeline with the web app development company that you choose.
How do we choose the best web application company for our needs?
A good web app development company knows the current trends in app development and strives to incorporate these wherever appropriate. You can also take a look at their past projects, reviews online, or even talk to their previous clients if you can. Know their strengths and see if they are a match to the type of app you need. Finally, make sure that they offer important services such as post-launch maintenance, updates, and strong security measures.
Which framework should we use for our app?
Developers can suggest frameworks that would apply to your needs. Ask for its advantages and disadvantages, and see whether or not the team has the skills required to build a web app with that framework. But the best web app developers will already know which frameworks suit what type of apps, and how to build them well.