Advertising Disclosure
Advertising disclosure:
Our partners compensate us. This may influence which products or services we review (also where and how those products appear on the site), this in no way affects our recommendations or the advice we offer. Our reviews are based on years of experience and countless hours of research. Our partners cannot pay us to guarantee favorable reviews of their products or services.
The digital revolution is no longer a phenomenon of the future; it is here, and it is transforming every sector, including construction. A growing number of construction companies are turning to specialized construction web design agencies, acknowledging their profound impact on business growth, lead generation, and conversion rates.
Construction web design agencies are experts in creating websites that not only showcase your construction portfolio with flair but also serve as a persuasive tool to attract potential customers and facilitate lead conversion.
They bridge the gap between digital presence and customer conversion through strategic design, targeted messaging, and seamless user experiences that reflect your brand ethos and meet your business goals. This combination of aesthetic appeal and technical finesse aids in boosting visibility, building credibility, and driving sales and leads.
---
Top 12 Construction Web Design Agencies for a Strong Digital Foundation
As we proceed to unveil our list of top construction web design agencies, consider that the right web design agency can help transform your online presence, and in turn, your business. Here is our list of some of the best construction website design agencies.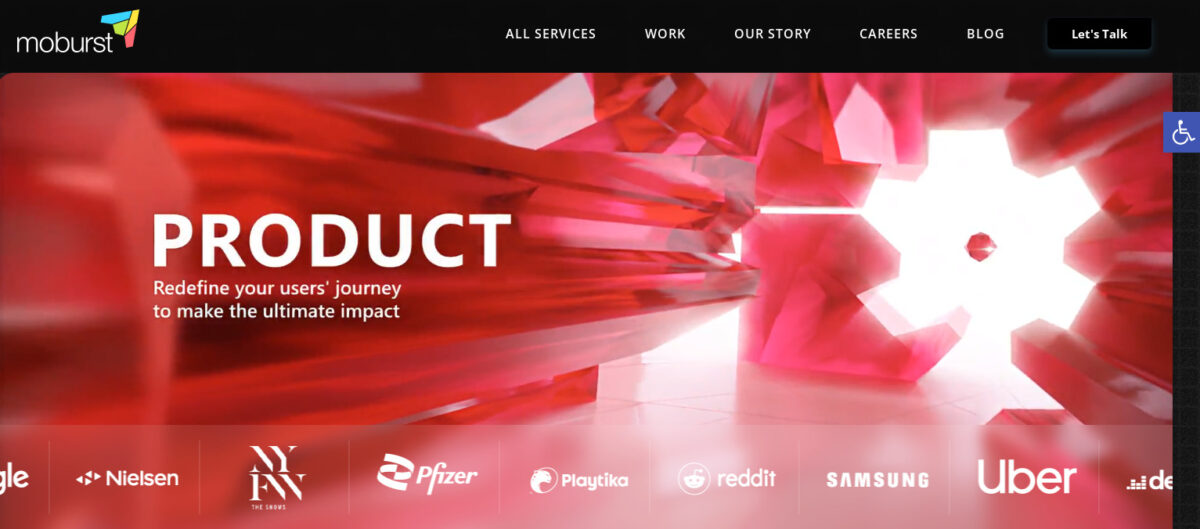 Average Hourly Rate: $150-$199
Average Project Cost: $25,000+
A New York-based agency, Moburst excels in mobile-first and digital creative strategies, aiming to assist companies in amplifying their business growth. Their primary focus lies in mobile and app marketing, web design and development, advertising, and social media marketing, contributing to an impressive portfolio of clients including Google, Uber, and Sony Music.
What sets Moburst apart is their capacity to tailor services to the specific demands of a business, transforming visions into captivating platforms that foster customer relationships. Their web design expertise is grounded in generating conversions, customer engagement, and satisfaction, enabling your construction business to leave a lasting digital impression.
Moburst continuously optimizes your website, ensuring that as your business grows, your online presence does too. Leveraging advanced technology, creative thinking, and data-driven strategies, Moburst aims to drive performance at scale and connect brands with highly targeted audiences.
---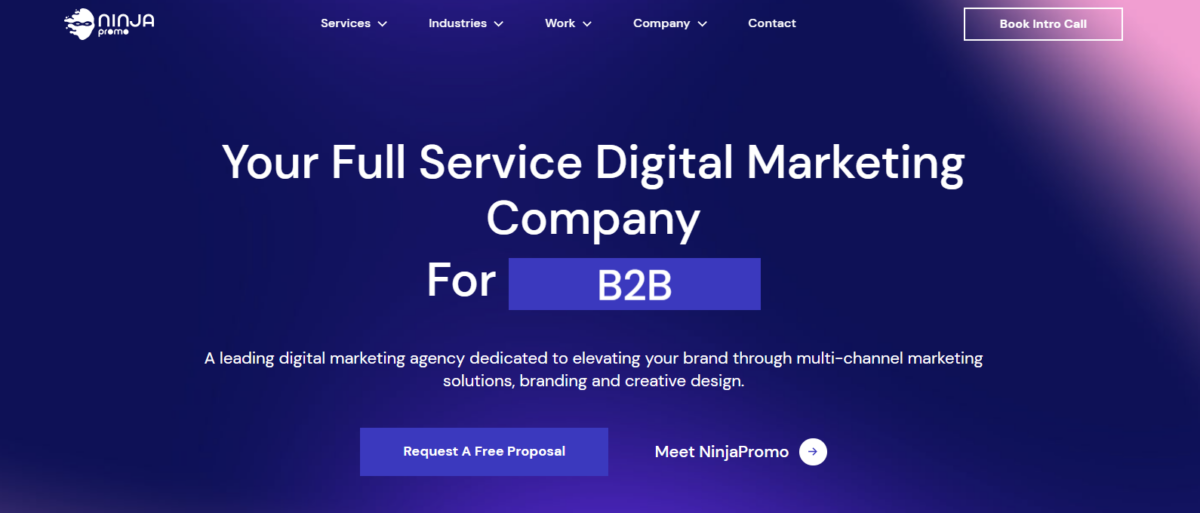 Average Hourly Rate: $50-$99 
Average Project Cost: $1,000+ 
NinjaPromo, based in London, United Kingdom, is a diverse digital agency providing services in advertising, SEO, social media marketing, video production, and branding. Employing a team of diverse professionals, they specialize in combining technical skills with marketing acumen to produce captivating websites that attract, engage, and convert consumers. 
NinjaPromo takes a multi-disciplinary approach to web design, utilizing a broad team of experts in various fields such as web design, front-end and back-end development, and quality assurance. Their marketing strategists complement the technical team, guiding clients through promoting their digital products using a variety of proven strategies, including email campaigns, social media campaigns, ads, SEO, and PPC. Along with their comprehensive web design services, they offer ongoing maintenance solutions, ensuring your construction business's online platform remains flexible, efficient, and updated. With their expertise and experience, they aim to help your business overcome digital marketing challenges and earn more revenue. 
---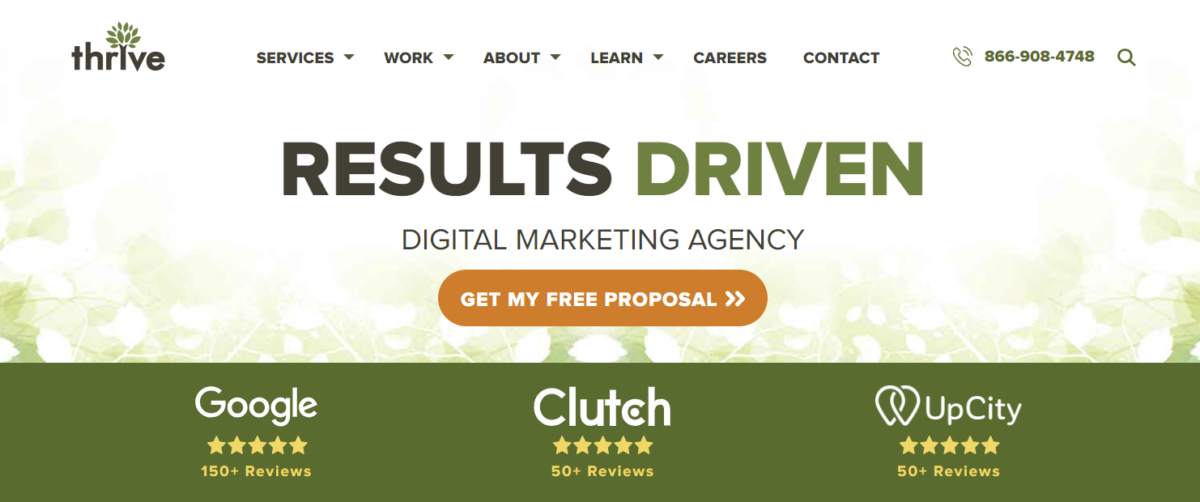 Average Hourly Rate: $100-$149 
Average Project Cost: $1,000+ 
Based in Dallas, Texas, Thrive is a digital marketing agency that specializes in SEO, PPC, Social Media Marketing, and Web Design. Thrive brings over 15 years of industry expertise in creating innovative, interactive, and lead-generating websites, particularly in the construction sector. This agency comprehends the challenges faced by construction businesses, including increased competition, rising costs, and evolving marketing demands. 
Thrive's web design services are comprehensive and bespoke to each client's needs. Beyond aesthetics, they work to ensure that your website performs optimally across all search engines, providing a seamless browsing experience for visitors. They focus on content marketing, using specialized writers and editors to turn casual visitors into brand supporters. They are also experts in Shopify web design, responsive web design, and WordPress, offering custom web design plans tailored to your brand's requirements. 
Thrive values transparency and punctuality, always keeping clients in the loop with their campaigns and ensuring on-time delivery of high-quality projects. They prioritize their clients, fostering partnerships with dedicated digital marketing specialists invested in your business's growth. Their integrity-driven approach to business assures clients that their success is Thrive's success. 
---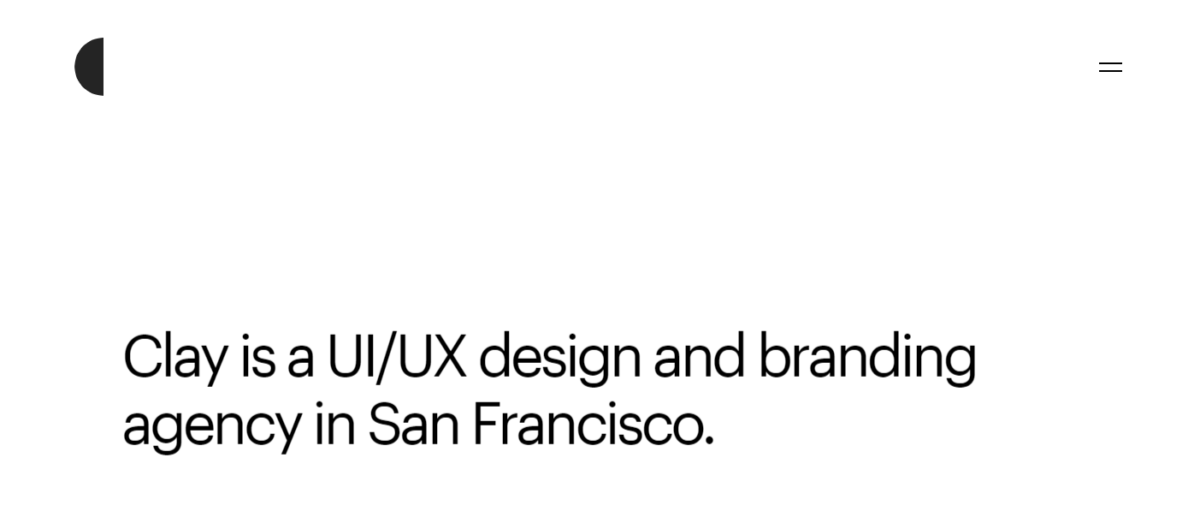 Average Hourly Rate: $150-$199
Average Project Cost: $50,000+
Located in San Francisco, Clay is a renowned global design agency renowned for its proficiency in UX/UI design, web design, and branding. They collaborate closely with their clients, delivering outstanding products on time and within budget. Their client base includes leading industry players such as Google, Slack, and Amazon.
Clay provides high-quality web design and branding services, tailored to the unique requirements of your construction business. They stand out due to their seasoned marketing team, who manage client work efficiently and professionally. With Clay, you receive weekly work updates, ensuring transparency throughout the design process.
Their advanced UI/UX design technology caters to the specific needs of a construction business, aiding in expanding your customer base and enhancing your digital footprint. As per their clients' reviews, Clay provides excellent value for money, making them a great choice for your web development needs.
---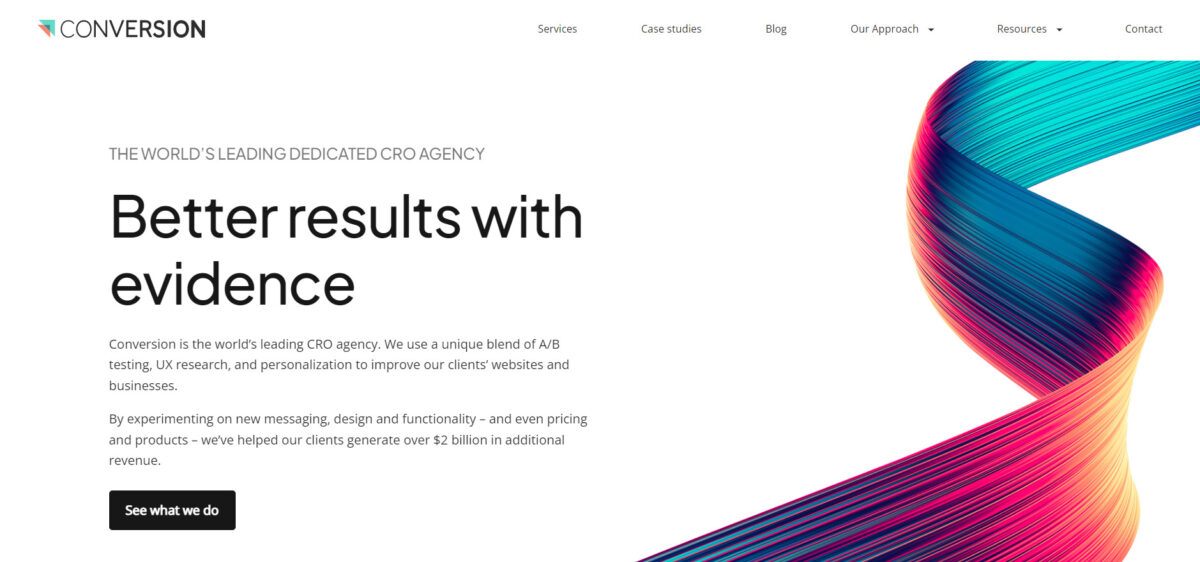 Hourly Rate: Undisclosed
Average Project Cost: $10,000+
Based in Vancouver, Conversion stands tall as a conversion optimization specialist, committed to designing high-converting experiences. Their clientele includes giants like Microsoft, Facebook, and Google.
Their unique approach is centered around designing for conversion rather than aesthetics alone. This means that your construction website is built from the ground up with user experience and lead conversion as the core focus. Conversion prides itself on fixing leaky conversion funnels before launching, ensuring a solid foundation for your website.
Working with Conversion allows your construction business to get quality products to market faster, courtesy of their expert UX design team that has deep industry knowledge. With over fifteen years of experience and a track record of generating over $2 billion in additional revenue for clients, Conversion's team of strategists, designers, and developers is well-positioned to build high converting websites tailored to your needs.
---
Average Hourly Rate: $50-$99 
Average Project Cost: $25,000 
Humbleteam, a product design agency with a base in New York, USA, has a commendable track record of delivering successful digital products across numerous sectors. Over the past five years, they've helped startups raise over $500M, and their client portfolio includes established brands like Royal Caribbean and Deloitte, and governmental agencies like NASA. 
Specializing in UX/UI Design and branding, they help construction businesses deliver a superior digital experience aligned with both user and business needs. Their product design and strategy services are comprehensive, spanning ideation, strategy, product-market fit, and market entry. 
Humbleteam's branding expertise helps businesses carve a distinctive identity to appeal to their target audience. Their remote design teams provide flexible, scalable, and timely services, merging seamlessly with in-house teams during critical periods. 
---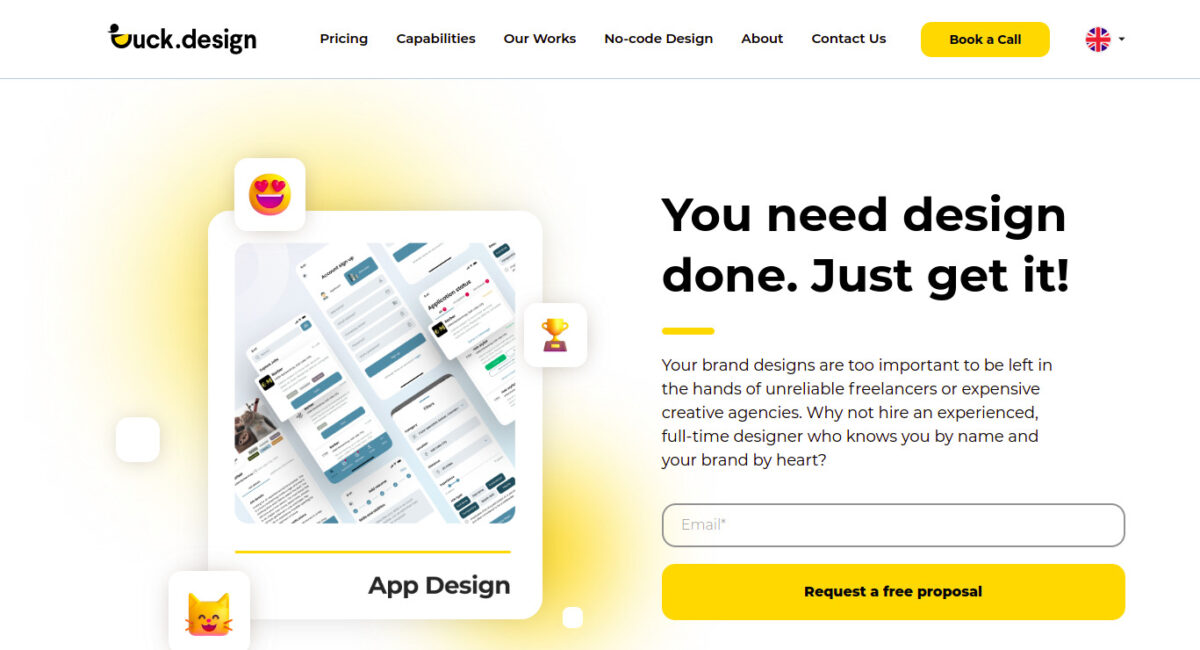 Average Hourly Rate: Undisclosed
Average Project Cost: $1,000+
Based in London, Duck.Design is a comprehensive web design agency offering a diverse array of services. Specializing in Graphic Design, Product Design, UX/UI Design, Web Design, Branding, and more, they develop corporate websites, online stores, portals, and promotional pages to tackle a wide range of business challenges.
They excel in structuring large volumes of information professionally, building intuitive navigation systems, and crafting compelling landing pages to attract and involve users. With a focus on the Construction industry, Duck.Design develops websites that reflect a brand's established values and helps in presenting the product to partners and customers effectively. Their commitment to offering 'always-on' services ensures they deliver designs promptly, meeting the urgent needs of businesses.
---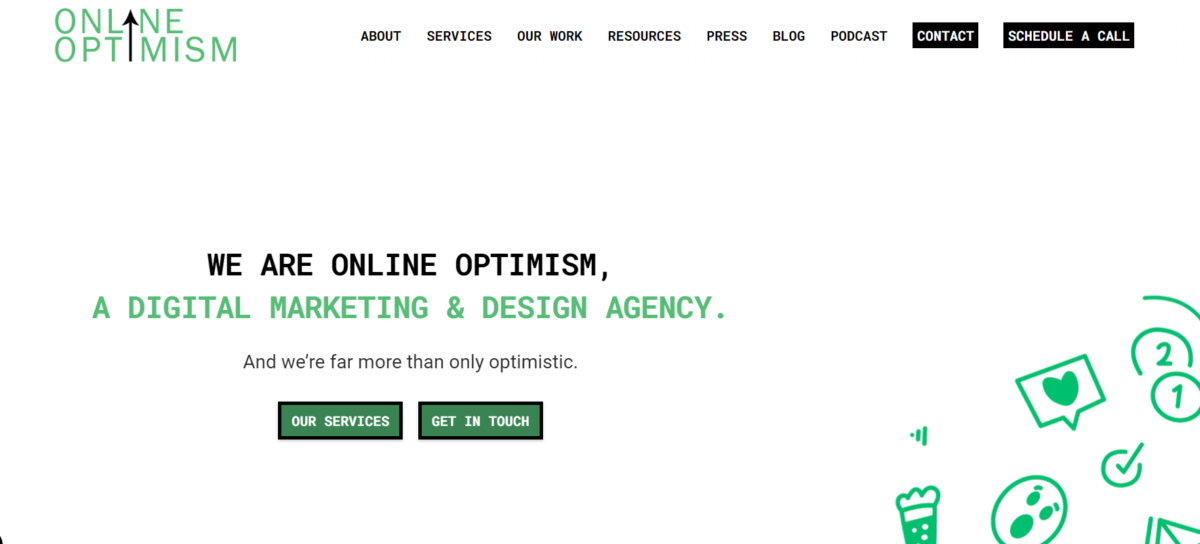 Average Hourly Rate: $50-$99 
Average Project Cost: $1,000+ 
Online Optimism, based in New Orleans, LA, is a full-service digital marketing agency with a strong focus on web design. Whether catering to architecture firms, construction companies, or interior design agencies, they understand the importance of a compelling, functional, and responsive website in today's digital age. Their holistic approach to web design integrates goal-setting, Google Certified Analytics, and continuous website maintenance. 
With deep expertise in construction sector, they tailor their services to fit their clients' specific objectives. They offer a responsive design that ensures optimal display and function across all devices and platforms, enhancing user experience and search engine optimization. 
Their commitment to creating a fully custom site is evident in their provision of professional writers, editors, photographers, videographers, and designers to deliver high-quality content, and their back-end development work ensures ease of long-term site upkeep. 
---

Average Hourly Rate: $100-$149 
Average Project Cost: $25,000+ 
Operating out of San Francisco, CA, Neuron is an industry-leading UX/UI design consultancy. They specialize in creating stellar digital experiences that help businesses flourish in the digital realm. With a team of 10-49 employees, they stand out as a specialized task force for tackling UX/UI challenges, particularly those related to business and enterprise tools. 
Neuron aims to enhance productivity, increase sales, and boost business intelligence through their design expertise. When you're introducing a new product, adding a new feature, or overhauling an existing one, they ensure you're equipped for success. They consider themselves your special ops design team, dedicated to solving the most pressing design challenges your construction business may encounter.  
Their proficiency in UX/UI design will ensure a seamless user interface that is both visually appealing and highly functional for your construction website, ultimately enhancing user engagement and satisfaction. 
---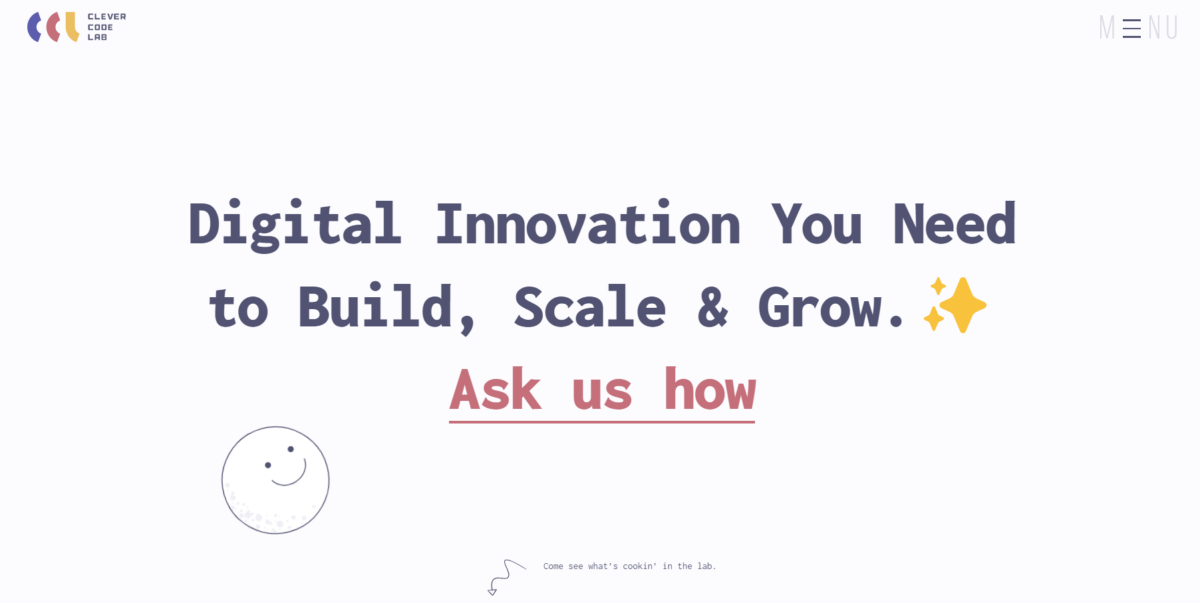 Average Hourly Rate: $25-$49 
Average Project Cost: $5,000+ 
Based in Poltava, Ukraine, Clever Code provides web development, graphic design, and web design services to businesses worldwide. With a balanced workforce of 10-49 individuals, they combine creativity and technical expertise to provide bespoke solutions for construction companies. 
Clever Code's comprehensive approach includes developing prototypes and ensuring that the final design is visually stunning, user-friendly, and encodes high-quality. Their design principles aim to attract and retain attention, leading to increased credibility, market share, and edging out competitors. By offering B2B and B2C web design services that blend minimalist design with fun, interactive elements, Clever Code provides user-centric digital experiences designed to impress and engage. They are more than just a design agency; they are a strategic partner committed to transforming your construction business website into a digital masterpiece. 
---
Average Hourly Rate: $100-$149 
Average Project Cost: $1,000+ 
Straight North, based in Chicago, Illinois, is a web design agency specializing in crafting professional websites that attract potential clients in the construction industry. They understand the nuances of the construction sector and leverage this knowledge to build websites that effectively convert visitors into leads, even upon the first visit. 
Straight North focuses on creating a successful construction website design that drives potential customers to the company's contact information, thereby boosting leads and job requests. They work to build trust with site visitors, prominently featuring elements such as licensure, certifications, memberships, awards, recognition, and client testimonials on the website. 
Straight North uses their construction web design expertise to craft an effective conversion funnel, guiding site visitors from awareness and interest in the company's services, to the desire to partner, and finally to action—contacting the company. With their comprehensive approach, Straight North helps construction businesses generate more effective leads and grow their online presence. 
---

Average Hourly Rate: $100 – $149 
Average Project Cost: Starting from $1,000 
Operating out of Philadelphia, Pennsylvania, The 215 Guys specialize in web design, e-commerce development, and web development. They are known for creating quality, professional websites that act as a 24/7 business card for construction businesses. 
Their strength lies in simplifying complex web design processes and delivering user-friendly, easy-to-navigate websites. Through their services, construction businesses can showcase their work to potential clients, strengthening their online presence and reputation. They leverage web strategy and SEO to ensure your website's success and growth in the online sphere. 
In addition to their main services, The 215 Guys offer training and management support, helping you run your website smoothly and efficiently. They provide maintenance services, ensuring all aspects of your website are well-managed and issues are quickly addressed. They are skilled in website development and are experts in designing WordPress and e-commerce websites, offering a comprehensive web solution for construction businesses. 
---
Frequently Asked Questions
How do construction web design agencies handle mobile responsiveness?
A professional construction web design agency ensures that your website is mobile-friendly. This means the site will automatically adjust its layout and features based on the device a visitor is using, whether it's a desktop, tablet, or mobile device. This is crucial, as more and more people use mobile devices for internet browsing.
How does a construction web design agency ensure my website is user-friendly?
User-friendliness is a key focus during the web design process. Agencies ensure this by creating intuitive navigation, using clear and readable fonts, ensuring fast load times, and making information easy to find. They may also use tools like heatmaps and user testing to analyze how users interact with your site and make improvements.
What kind of maintenance does a website require?
Websites need regular updates and checks to ensure they're running smoothly. This can include updating content, checking for and fixing broken links, ensuring the site is secure, and making sure it's optimized for search engines.
How long does it usually take to design and develop a website?
The time it takes to design and develop a website can vary widely, depending on the complexity of the site and the specifics of your project. On average, you can expect it to take a few weeks to a few months.