Advertising Disclosure
Advertising disclosure:
Our partners compensate us. This may influence which products or services we review (also where and how those products appear on the site), this in no way affects our recommendations or the advice we offer. Our reviews are based on years of experience and countless hours of research. Our partners cannot pay us to guarantee favorable reviews of their products or services.
Many business owners are now leveraging the services of digital marketing agencies that specialize in construction to stand out in the crowded marketplace. A reputable construction digital marketing agency can assist in implementing a robust online marketing strategy to attract new customers, boost sales, and amplify your company's reputation.
Construction digital marketing agencies bring a unique blend of industry knowledge and digital marketing expertise. These agencies understand the specific needs of construction companies, their clients, and their unique market dynamics. They use this knowledge to create personalized, effective digital marketing strategies that will not only get your construction business noticed online but will also convert visitors into actual customers.
---
Top Construction Marketing Agencies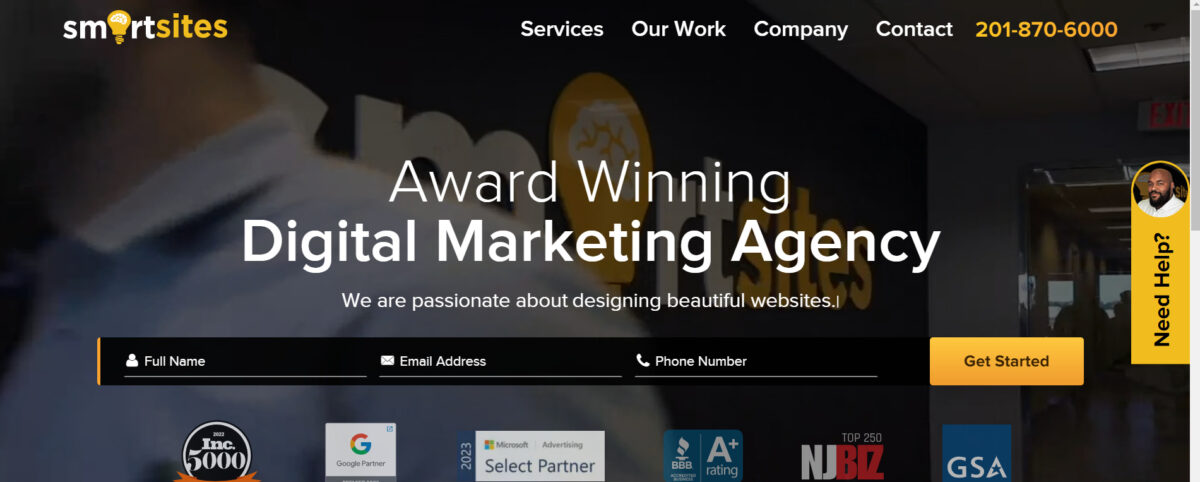 Average Hourly Rate: $100-$149
Average Project Cost: $1,000+
Based in Paramus, NJ, SmartSites focuses on a wide range of digital marketing services. They specialize in helping construction companies boost their online presence and reach a wider client base.
SmartSites starts by designing an attractive, responsive website for your construction business. The website is tailored to showcase your services, increasing your credibility and leading to more conversions. They prioritize quality content creation, emphasizing the need for excellent and specific information that appeals to the construction industry.
SmartSites also offers Search Engine Optimization services, utilizing various white hat techniques to ensure your site captures attention and ranks high on search engines. They pride themselves on having one of the best construction SEO teams in the industry.
For quick customer acquisition, SmartSites employs a Pay Per Click marketing strategy, creating campaigns specific to your construction business. They evaluate various keywords to determine the most profitable and cost-effective ones while keeping your campaign within budget. The use of analytics and lead tracking techniques ensures higher clicks and conversions for your construction site.
Services:
PPC
SEO
Advertising
Social Media Marketing
Web Design
---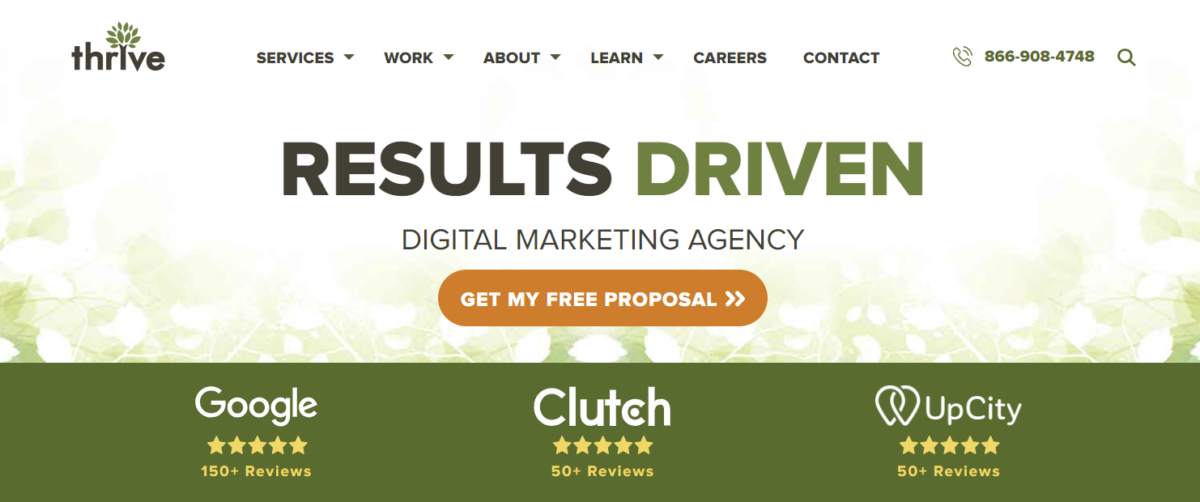 Average Hourly Rate: $100-$149
Average Project Cost: $1,000+
Thrive, located in Dallas, TX, is a data-driven digital marketing agency focusing primarily on SEO. They specializes in aiding construction companies in optimizing their online presence.
Thrive starts by understanding your campaign requirements and goals, from which they create the best construction marketing campaigns tailored for your business. They work to create a custom digital marketing platform that streamlines your services and processes, implement data-driven construction marketing solutions to drive more leads to your website or online channels, and perform competitive market research to provide insights for improving your processes and strategies.
Thrive provides SEO services using the latest construction digital marketing trends and white hat methodologies. They also build high-performing websites that resonate with your brand and engage your audience.
To reach a wider audience, Thrive applies social media marketing strategies, turning visitors into brand advocates. They have Google partner PPC specialists providing cost-effective paid advertising solutions that deliver measurable results.
Their work with Nationwide Construction resulted in an 800% increase in online leads and a 640.9% increase in the conversion rate.
Services:
SEO
PPC
Social Media Marketing
Web Design
Online Reputation Management
Local SEO
Video Production
Content Writing
Conversion Rate Optimization
---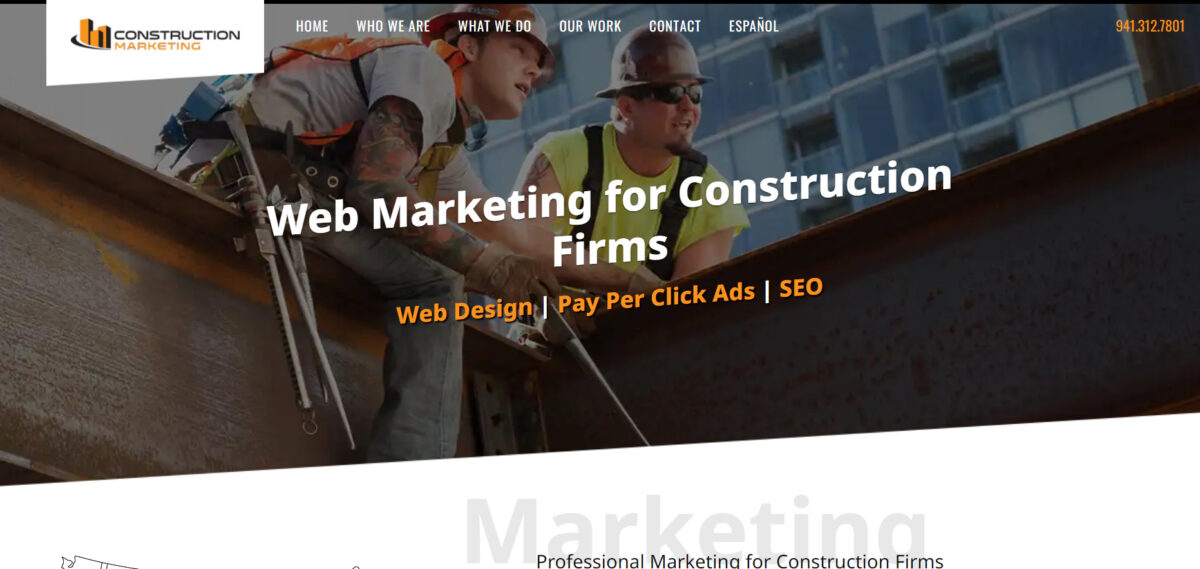 Average Hourly Rate: Undisclosed
Average Project Cost: Starts from $5,000
Situated in Sarasota, Florida, Construction Marketing Inc. is a full-service digital agency and marketing consulting firm. They bring a customer-centric attitude to serve firms across the United States, Canada, and worldwide, with a specialized focus on the construction industry.
The agency excels in assisting contractors and suppliers share their message via an all-encompassing range of services. They help to develop and execute marketing plans that align with brand development, website design and development, search engine optimization, social media marketing, pay-per-click advertising, and content creation.
To improve local SEO for construction businesses, Construction Marketing Inc. meticulously optimizes websites for specific keywords and creates local listings. This not only bolsters your visibility to potential customers but also elevates your firm's website in the top search results.
Their approach to construction branding is all about creating the desired first impression. They are diligent about getting you in front of the right people, at the right time, with the right message. They're a team of marketing experts who specialize in construction industry marketing, known for their deep understanding of the industry and commitment to help clients achieve their business objectives.
Services:
Strategy
Web Design
SEO
PPC
Graphic Design
Copywriting & Editing
Photography
Video Production
PR
---
Average Hourly Rate: $50 – $99
Average Project Cost: Starts from $10,000
Blue Corona, based in Gaithersburg, Maryland, has made a name for itself in the field of construction marketing since its inception in 2008. They work with a laser-focused approach to increase brand authority, website traffic, leads, and booked jobs for construction and commercial contractors.
Their philosophy is centered around optimizing the digital presence of construction businesses. Recognizing the website as the primary marketing asset, they are proficient at generating website traffic and converting visitors into repeat customers. They take pride in increasing leads and sales, reducing marketing costs, and differentiating brands in the marketplace.
Blue Corona doesn't bind their clients with long-term contracts and guarantees the ownership of every single deliverable from your website to your content. Their meticulous approach towards tracking, measuring, and analyzing everything they do helps in lowering your costs and maximizing results.
The agency assigns a dedicated account manager as a guide along with a support team that includes an analyst, web designer/developer, and a dedicated copywriter.
Services:
Content Marketing
Email Marketing
Pay-Per-Click (PPC)
Search Engine Optimization (SEO)
Social Media Marketing
---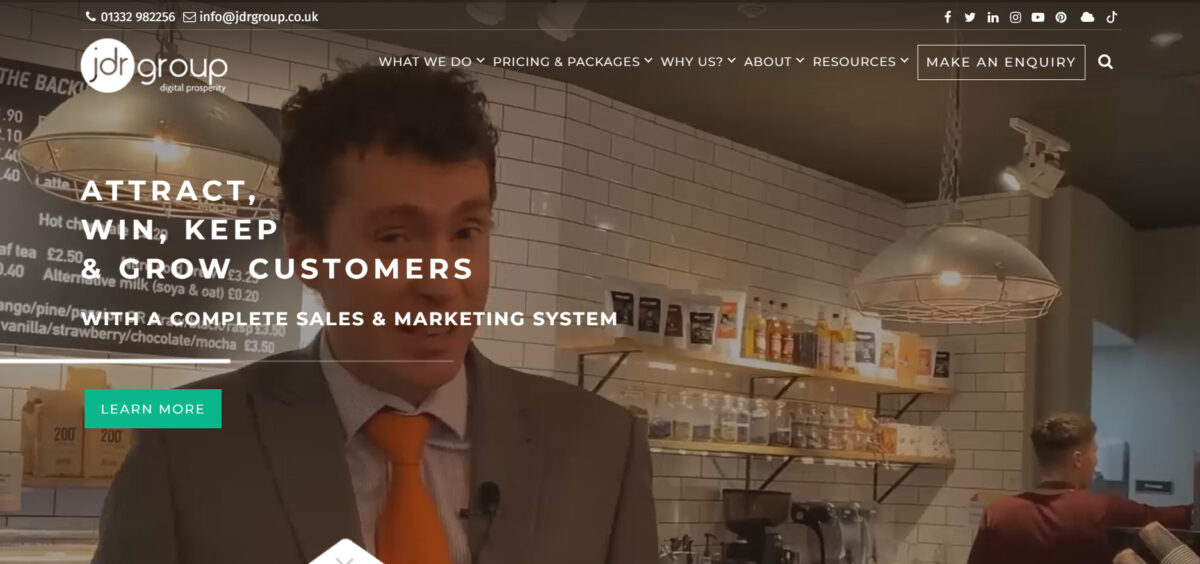 Hourly Rate: $150-$199
Average Project Cost: $10,000+
Based in Derby, United Kingdom, JDR Group has accumulated over 18 years of experience in digital marketing tailored to the construction sector. Their proficiency in handling contracting or trade businesses stands out, with the capability to drive robust online marketing that amplifies lead generation and reputation building for their clients.
Recognizing the frustration that businesses in the sector face in dealing with digital marketing, JDR Group offers a proven marketing system that effectively measures and optimizes marketing and advertising efforts. They ensure their client's digital presence, including websites, blogs, and social media profiles, is consistently updated, informative, and appealing. Their team also generates content such as new project descriptions, case studies, blogs, and articles to educate potential customers and showcase client work.
They offer an industry-oriented CRM system to keep track of every lead and inquiry, ensuring nothing gets missed. They also facilitate automated follow-ups to keep clients on top of quotes.
Services:
Strategy Development
Website Design & Development
Content Creation
CRM System Implementation
Lead Follow-up Systems
Measurement
---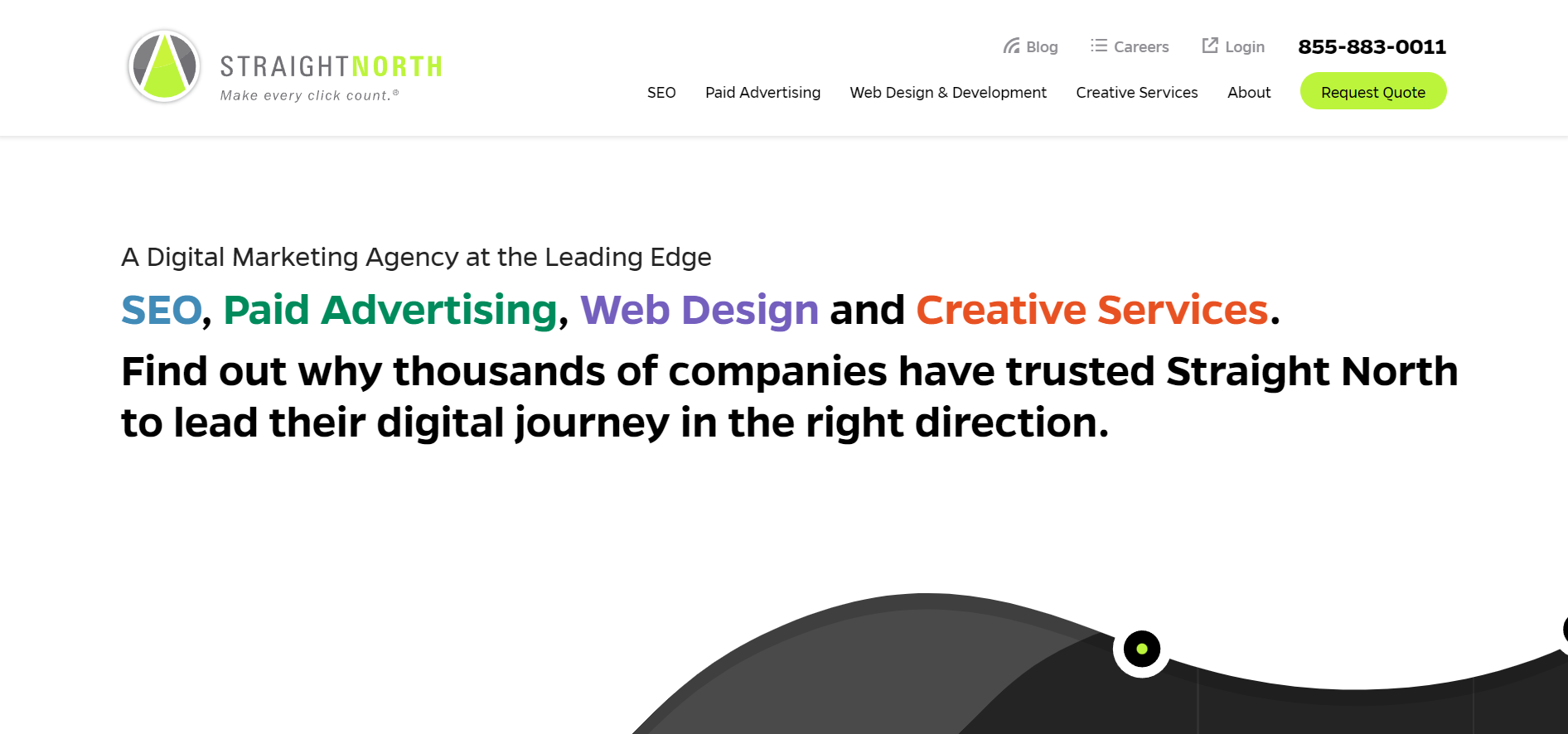 Average Hourly Rate: $100-$149
Average Project Cost: $1,000+
Operating out of Chicago, IL, Straight North is a seasoned player in providing construction digital marketing services. Their expertise in marketing construction products and services has been honed to create an image of credibility and reliability for their clients, making them successful in the industry marked by intense competition.
Straight North provides a broad range of web marketing services for B2B and B2C organizations. Their services range from SEO and paid advertising to web design & development and creative services. Their strategies are results-driven and targeted at enhancing visibility and lead generation for clients.
In an industry that requires effective marketing for survival and growth, Straight North employs a strategic, multilayered approach to business building. They use a mix of proven tactics, backed by thorough analysis of the specific company, to attract new clients. Their professional construction marketing services are data-driven, helping clients capitalize on both internet marketing and more conventional marketing efforts for optimal results.
Services:
SEO
Paid Advertising
Web Design & Development
Creative Services
Market Research
Strategic Marketing Campaign Development
Brand Consistency Maintenance
---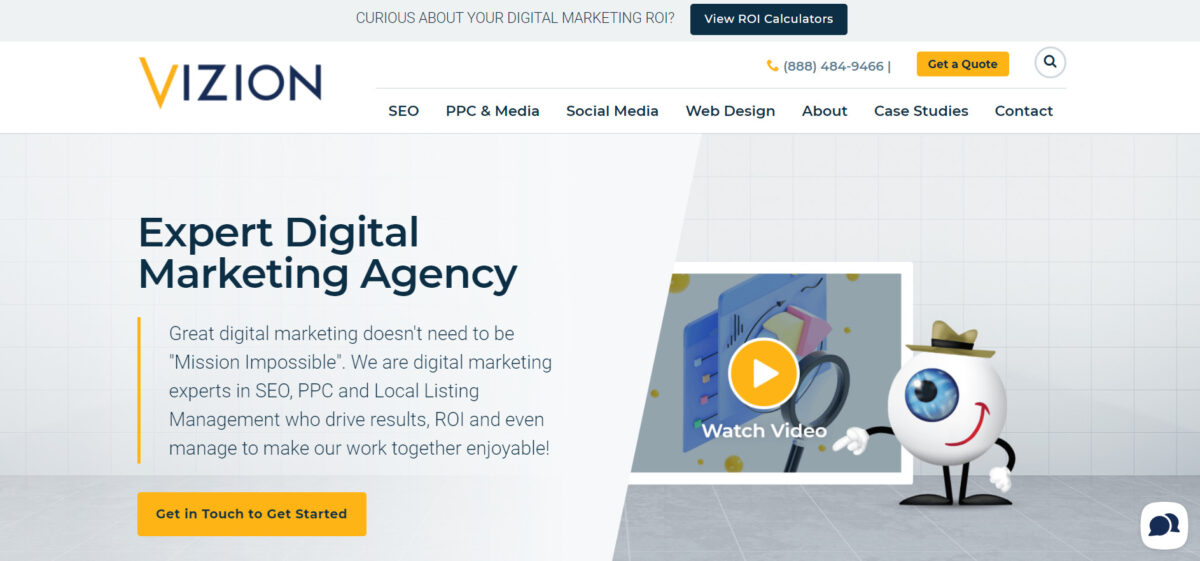 Average Hourly Rate: $200 – $300 
Average Project Cost: $5,000+ 
Located in Irving, Texas, Vizion Interactive stands out in the construction digital marketing industry for its expertise in digital marketing. Operating within a highly competitive sector, Vizion Interactive develops dynamic marketing strategies for construction businesses, enabling them to garner a significant share in a rapidly growing industry. 
Vizion Interactive emphasizes the vital role of digital marketing for construction companies in today's digital age where clients base their decisions on online resources. The agency enables construction businesses to optimize their online presence, drive more leads to their website, monitor market competition, adjust marketing campaigns for desired results, and create bespoke digital marketing solutions. 
Vizion Interactive offers a vast array of services including, but not limited to, SEO and PPC for construction companies, website design and development, social media marketing, review generation and monitoring, local SEO, conversion rate optimization, and comprehensive audits for SEO and PPC. 
The agency prides itself on a client-centered approach, prioritizing their needs and delivering results through data-driven strategies. Their open lines of communication, timely delivery of services, and commitment to transparency make them a preferred choice for many construction businesses. 
Services: 
SEO

 

PPC

 

Web Design & Development

 

Social Media Marketing

 

Review Generation & Monitoring
---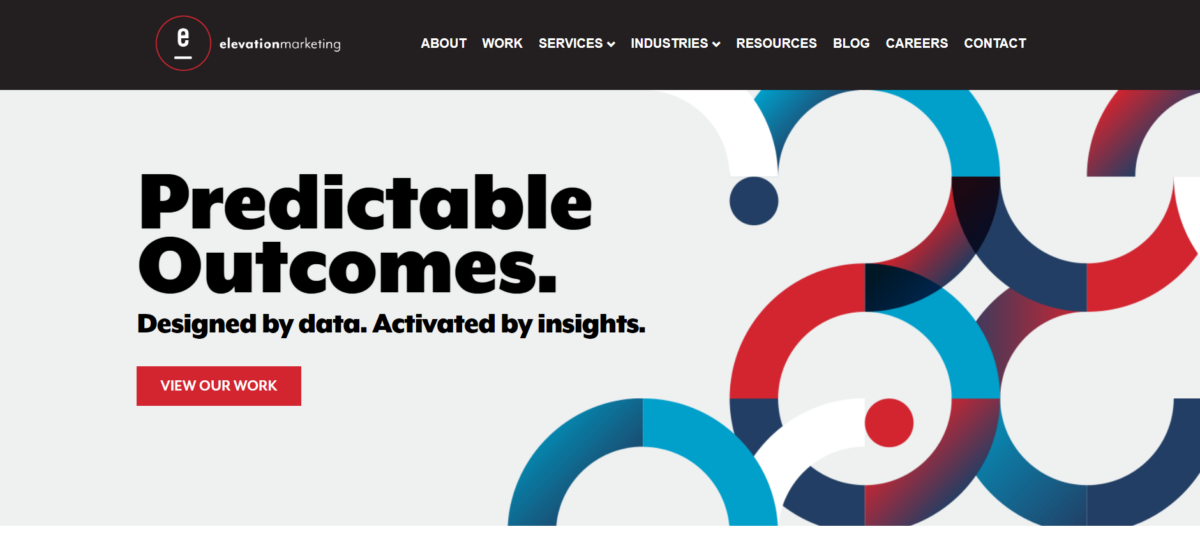 Average Hourly Rate: $100 – $149 
Average Project Cost: $5,000+ 
Elevation Marketing, based in Mesa, Arizona, offers a balanced service focus. The agency specializes in providing fast and reliable solutions for businesses in the construction industry, aligning its services with the specific requirements of various roles within the industry. 
The agency employs straightforward messaging in its marketing strategies, offering potential clients a blend of traditional and digital marketing techniques. Their approach to account-based marketing, in collaboration with sales teams, enables them to precisely target B2B clients based on various data points. 
Elevation Marketing offers a wide range of services that include branding, strategy, content development, website design, digital marketing, social media, creative design, market research, media buying, SEO/PPC, public relations, channel marketing, app development, events, and lead generation. Their branding services are designed to appeal to customers' emotions as well as their professional needs, creating a compelling brand story that resonates with the target audience. 
Elevation Marketing's approach is rooted in deep industry knowledge, strategic thinking, and creative design, positioning them as an agency capable of helping construction businesses distinguish their offerings and grow their B2B customer base. 
Services: 
Branding

 

Content Development

 

Website Design

 

Digital Marketing

 

Social Media Marketing

 

Creative Design

 

Market Research

 

Media Buying

 

SEO/PPC

 

Public Relations

 

Channel Marketing

 

App Development

 

Lead Generation

 
---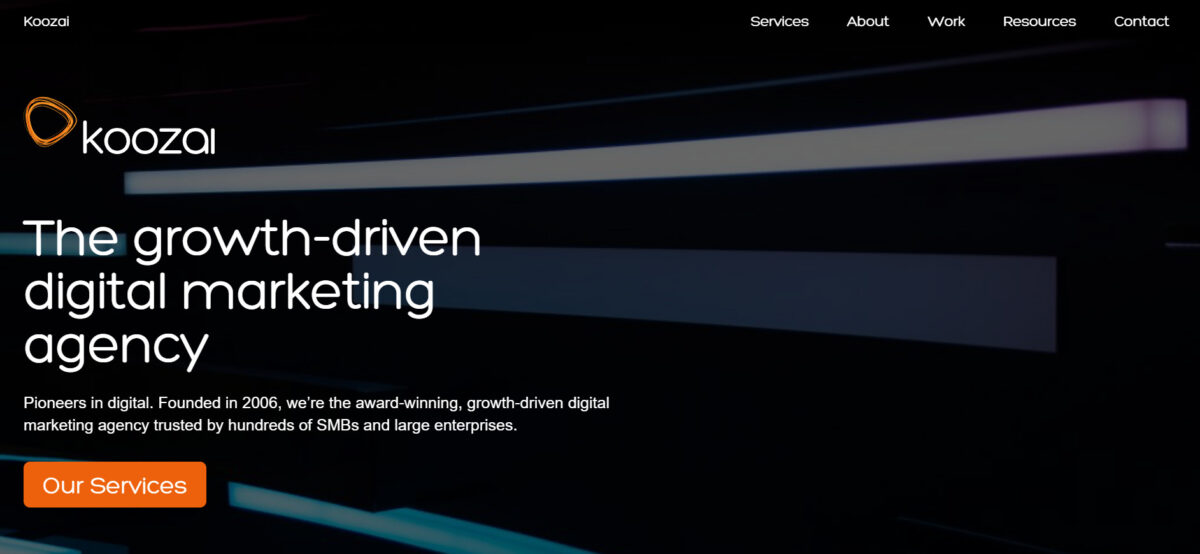 Average Hourly Rate: $150-$199 
Average Project Cost: $5,000+ 
Headquartered in Fareham, United Kingdom, Koozai is a leading agency specializing in construction digital marketing. With a team size of 10 to 49 professionals, they are devoted to propelling construction businesses to the forefront of their respective markets. 
Koozai uses its more than 15 years of experience in digital marketing to provide a unique blend of services, including Content Marketing and search engine marketing. This combination of services ensures comprehensive coverage, making sure your brand reaches your target audience through various online channels. 
They focus on providing exceptional digital solutions specifically tailored for the construction industry. By adopting an individualized approach, they take on the role of an extended part of your team. This includes utilizing market-leading tools, artificial intelligence, and advanced predictive purchase processes to deliver top-tier results. 
Their strategy also centers around the customer journey, ensuring your online visibility is maximized when customers are making purchasing decisions. Koozai takes the time to educate their clients on the digital world, what they're doing for your business and why, making sure you're never left in the dark. 
Services: 
Content Marketing

 

PPC

 

PR

 

SEO

 

Social Media Marketing

 
---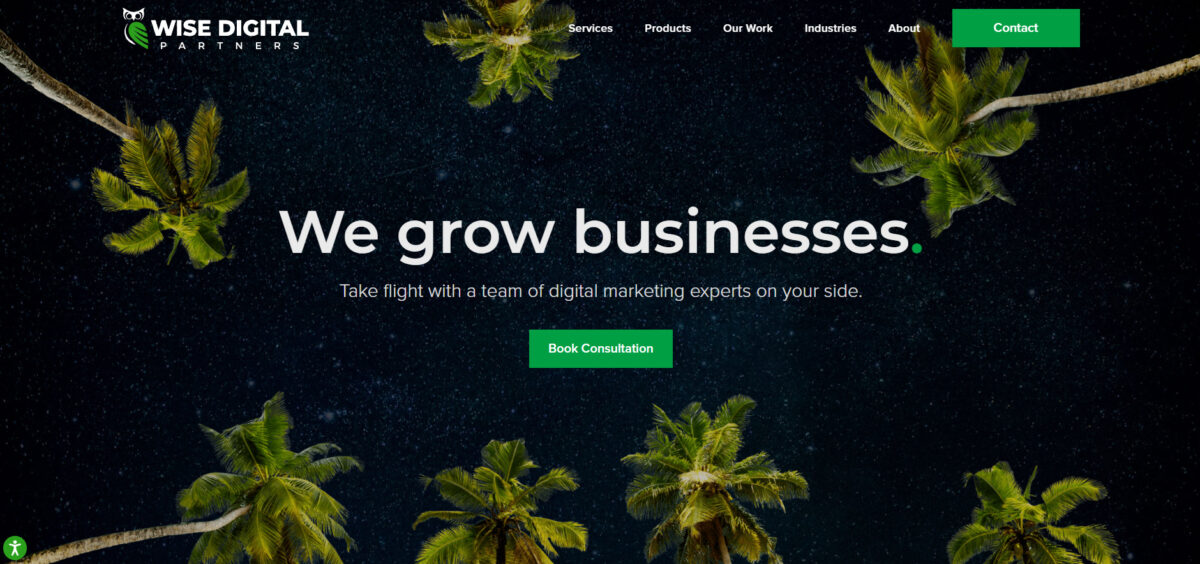 Average Hourly Rate: $150-$199  
Average Project Cost: $10,000+ 
WISE Digital Partners, based in San Diego, CA, has a team of dedicated professionals offering a wealth of services to help your construction business grow. They're known for helping businesses overcome the challenge of effectively marketing their services while focusing on core operational tasks. 
The agency offers a balanced suite of services. WISE Digital's team designs websites with a strategic-first approach to leave a lasting impression and engage potential clients effectively. Their SEO team works in tandem with the website team to ensure you get a significant amount of traffic from the keywords your audience searches online. 
WISE Digital excels at running ads for construction companies, achieving conversion rates that are 8 times the industry average, showcasing their exceptional capability in this area. They also prioritize helping you understand the data and ROI behind your marketing efforts, ensuring your marketing strategies are data-driven and results-oriented. 
Services: 
Web Design

 

Web Development

 

PPC

 

SEO

 

Digital Strategy
---
---
How to choose the best construction digital marketing agency?
From website development and search engine optimization (SEO) to social media marketing and pay-per-click (PPC) advertising, a wide range of digital marketing strategies can propel your construction business to new heights with a reliable and professional agency.
However, not all construction digital marketing agencies are created equal. In order to fully reap the benefits, it's crucial to partner with the right agency. When choosing a digital marketing agency, several factors need to be considered. First, look at the agency's experience and track record in the construction sector. Do they have successful case studies to share? What do their client reviews say?
Next, consider the range of services they offer. An agency that can provide a comprehensive suite of digital marketing services tailored to your specific needs is often the best choice. Lastly, look at their approach to customer service and communication. A good digital marketing agency should be a partner, not just a service provider. They should understand your business goals and work closely with you to achieve them.
The era of digital marketing is here, and for construction businesses, it offers significant opportunities. The right construction digital marketing agency can help you navigate this complex landscape, harnessing the power of online platforms to grow your business. It's time to take a step forward and let the digital world take your construction business to new levels of success.
Frequently Asked Questions
What is a construction digital marketing agency?
A construction digital marketing agency is a company that specializes in promoting construction businesses online. These agencies use digital strategies such as SEO, PPC, content marketing, social media marketing, and digital PR to help construction businesses attract new customers, boost sales, and enhance their reputation.
Why should I consider hiring a construction digital marketing agency?
Construction digital marketing agencies possess a unique understanding of the construction industry, its market, audience, and challenges. They can create tailored strategies that effectively communicate your company's value, driving leads and conversions. If you're struggling to reach your target audience or want to boost your online presence, a specialized agency can provide the expert support you need.
What kind of services do these agencies offer?
Construction digital marketing agencies typically offer a range of services such as SEO, PPC, content marketing, social media marketing, PR, web design and development, and digital strategy. Some agencies might also offer additional services like influencer marketing, mobile marketing, media buying, and more.
How will I measure the success of the agency's efforts?
Most digital marketing agencies provide regular reports detailing their efforts and results. Key metrics might include website traffic, search engine rankings, social media engagement, leads generated, and conversions. An open conversation about expected outcomes and timelines at the beginning of your partnership can set a clear framework for measuring success.