Advertising Disclosure
Advertising disclosure:
Our partners compensate us. This may influence which products or services we review (also where and how those products appear on the site), this in no way affects our recommendations or the advice we offer. Our reviews are based on years of experience and countless hours of research. Our partners cannot pay us to guarantee favorable reviews of their products or services.
Establishing your company's branding is necessary for connecting with your consumer base and making your business as recognizable as it should be. Building this connection does take time, and you will need the help of a branding agency to guide you through this gradual process of solidifying your company's reputation.
So why is it a good idea to work with a reputable brand agency? An experienced branding firm knows your audience thoroughly, and they understand what works in the current market. But first, you must find a branding agency that you can trust—working with one that is not a good fit for your company can have an adverse effect on your brand.
---
Top Branding Agencies and Services in the USA:
---
Here's a list of branding agencies that embody the qualities above: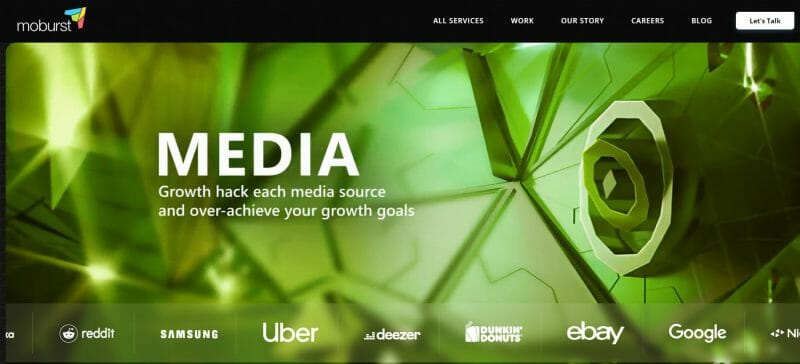 Moburst is a dynamic branding agency providing expert services to establish and enhance your brand identity. They provide a comprehensive range of services from logo creation, color palette selection, font, visuals, to voice and tone development, backed by robust brand identity guidelines. They make your brand stand out on all social media platforms by maximizing visibility and reach. With their social search services, Moburst ensures you're easily discoverable by potential customers across leading social media and search platforms.
For your brand's digital presence, Moburst's team combines the power of art and data, delivering websites with custom code, high-end visuals, and effective SEO elements. Their aim is to increase brand exposure, creating a continuous growth mechanism for your company. They prioritize brand sustainability, offering services designed for long-term growth. A partnership with Moburst means entrusting your brand to a data-driven agency committed to maintaining sustainable brand growth and ensuring your business's success for years to come.
---
---
---
---
---
---
---
---
---
---
---
---
---
---
---
---
---
---
---
---
What to Look for in a Branding Agency
Rebranding is more expensive than getting it right the first time, which is why you must choose your branding agency as carefully as you can. Here are the factors to look for:
A Diverse Branding Portfolio
Any agency can tell you that they are the best in the business, but they will need a diverse branding portfolio to back it up. An impressive portfolio reflects the agency's level of expertise, which will make it possible for you to define expectations.
Look for a portfolio that shows a variety of brands, styles, and tones. This is necessary to determine if the agency will align with the needs of your business. Make it a point to ask any agency-specific examples of creativity and innovation in their work. Aside from this, the agency should be versatile cross-channel-wise and maintain a consistent brand voice across social media channels and platforms.
A top-quality branding agency possesses brand strategy and identity design expertise in different industries. You should be working with a firm that supports your brand's growth by using established brand strategies, design, and market adoption.
Excellent Branding Reputation
The agency should have the right expertise to run a branding campaign in your type of industry. Remember that they need to produce unique, usable content that will improve the messaging, design, and outlook of your business.
An agency should be able to communicate with you over the long term. It may come in the form of status calls, updates, or check-ins. The key is that they should be collaborative, proactive, and instructive, always. Communication should also include a detailed explanation of short-term expectations, long-term goals, and a breakdown of how their people will meet those goals and expectations.
A Well-defined Branding Process
Evidence-based methodologies are essential to crafting compelling messages that will authenticate your brand. This is one of the pillars of a successful branding campaign.
Your agency should have a well-defined process and research-based approach. Without these, the agency wouldn't be as capable, and they wouldn't be able to replicate the success that they achieved in past campaigns. Remember, you must hire an agency based on the success of their past branding campaigns and not because they will do exactly what you say. Look at the strength of their strategies and the effectiveness of their executions.
A good agency should use data to show you how your past strategies have failed and how inefficient your current branding is. A well-defined process will make even the hardest of branding cases doable.
Look for measurable results such as analytics, reports, and data metrics. A branding agency should always be ready to show you these to showcase their success and expertise. Always ask for case studies that will discuss the ROI in detail. These studies will also give you an idea of the tactics that the agency values most based on their measurable metrics.
Total Investment Over Initial Cost
The saying "You get what you pay for" applies in this case. An agency's rate is a good indicator of the type of relationship you can expect. It's not to say that budget agencies are not valuable, but you need an agency that understands your business and can meet your branding needs. An agency like this usually comes at a higher price.
Cost shouldn't be the only influence on your decision in choosing an agency. Remember that you're going to establish a long-lasting relationship, and for this kind of relationship, the lowest bidder may not be able to cut it. It's best to look at the big picture and be straightforward about the return you expect from your relationship and investment.
With these guidelines, you will be able to find an agency with the portfolio, process, experience, and expertise to run a successful branding campaign in your industry. You should settle for nothing less than a branding agency that understands the nuances of your business and use that to differentiate you from your competitors, which is essentially what branding is all about.
---
Final Thoughts
The right branding agency can revolutionize your business. You need to find one that will transform your brand into a future-forward one in which physical and digital touchpoints are expertly intertwined. It's worth working with an agency that can give your business a holistic brand experience.
Frequently Asked Questions
What services do branding agencies offer?
Branding agencies offer a multitude of services, including:
Rebranding an already-established business

Brand positioning

Brand messaging

Building or refining a brand strategy

Creating company logos

Brand guidelines for design, style and tone
What do branding agencies do?
A branding agency is a business that specializes in creating and launching brands as well as managing business rebranding. Branding agencies will create, plan, measure and manage strategies for their clients. This may involve promotion and advertising as well.
What is a creative branding agency?
A creative branding agency will offer branding and communications as well as digital marketing and graphic design. These creative branding agencies will help companies engage with a broader audience online, whether that be social media, ads, or commercials.
How do I start a personal branding agency?
To start your personal branding agency, follow these preliminary steps:
Establish goals

Put together a value proposition

Build a business plan

Develop your visual identity

Build your brand strategy

Prepare a content plan

Rollout activities