Finding the best eCommerce courses is about more than just doing a Google search and choosing the top result. You'll get better results when you take a look at curated lists of eCommerce courses like this one that takes more into account than just having good SEO. In this list, you'll find 11 of the best eCommerce courses for 2023—some free, some paid, and all high-quality.
---
Top 11 eCommerce Courses for 2023:
---
Do You Need an eCommerce Course?
If you're starting an eCommerce business or looking to take your existing eCommerce business to the next level, taking an eCommerce course in 2023 will help you out. Ecommerce courses can teach you about both the basics of eCommerce as well as new marketing strategies and business growth strategies you can use. Plus, these courses tend to be run by some of the biggest names in eCommerce, so they draw a nice pool of students that are networking gold.
Starting an eCommerce business is a lot different than opening a brick-and-mortar store. Many eCommerce business owners are starting their eCommerce businesses on their own, meaning they don't have others to bounce ideas off of. Taking eCommerce courses can give these entrepreneurs the opportunity to connect with like-minded people and can lead to partnerships, business friends, and even mentorships that are invaluable to eCommerce businesses.
In addition to the connections you can make with other eCommerce business owners and the experts who teach eCommerce courses, you'll also be able to learn or fine-tune your eCommerce skills. There are several things that go into eCommerce business, from SEO to content marketing to business strategy. And, of course, there are eCommerce courses for all of this.
---
How to Choose the Right eCommerce Course
Not all eCommerce courses are created equal. There are definitely some courses out there that are put together by people who call themselves "experts" but who haven't actually started or run an eCommerce business themselves. This is a red flag.
Before enrolling in an eCommerce course, research the instructor to ensure that they're truly an expert in what they're teaching. You might look for the degrees that they have (look for business, marketing, and sales degrees). More important than a degree, in our opinion, is actual experience. This means an instructor who has actually been part of a successful eCommerce business.
Once you've found a course taught by a reputable instructor, you'll want to make sure that you have access to course materials even after the course is over. This makes it much more cost-effective and means that you don't have to worry about missing anything.
Speaking of cost, you'll want to take a look at how much you're going to need to invest in your eCommerce course. While free or lower-cost eCommerce courses can be beneficial and give you checklists and tools to get started, you'll want to consider some higher-ticket eCommerce courses that touch on specific skills or strategies.
---
11 Best eCommerce Courses for 2023
There are tons of options out there for eCommerce courses for 2023. The eCommerce courses we're including here will let you learn the best eCommerce tips, tools, and strategies to start, run, and expand your eCommerce business.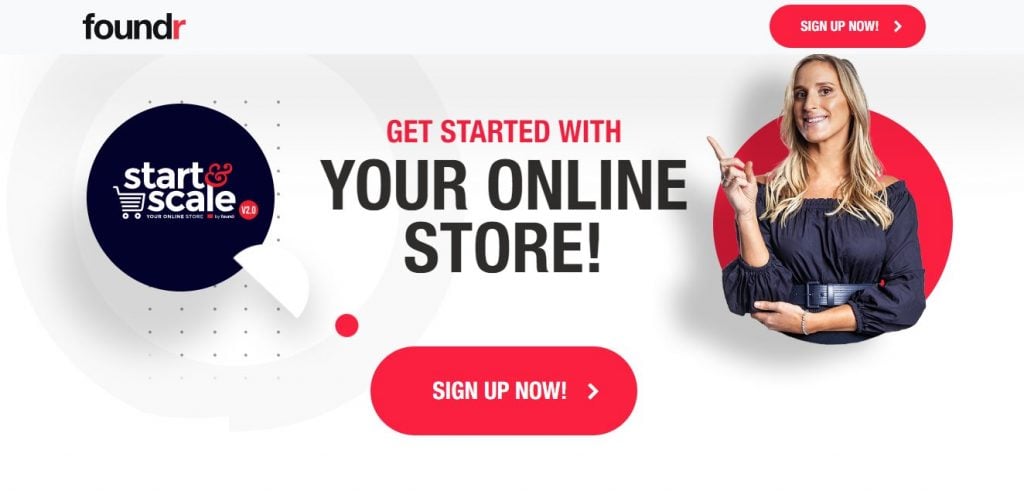 Cost: $1,997
Start and Scale is for both aspirational and experienced eCommerce marketers. Instructor Gretta Van Riel has seen million-dollar sales days in her online stores. In this course, she puts her skills and experience to work to help you create and build a successful eCommerce business.
This is a step-by-step eCommerce course that includes private mastermind groups and takes you through the entire eCommerce process from finding and validating an idea to building your audience and launching your product. The course is self-paced so you can work through the eight modules as slowly or as quickly as you need to, to absorb and apply the information.
The eight modules include more than 50 videos by Van Riel and the Foundr staff and you also get professionally produced workbooks in a Shopify-approved course. Here's what you'll learn:
How to find your idea.

Learn the framework that Van Riel uses to start new eCommerce businesses.

Branding and store setup.

Discover

how to create a brand

that stands out and attracts buyers and influencers.

How to develop and plan your idea.

Work through the entire process of building your idea from prototyping to first sample to international orders.

How to turn a profit.

Part two of developing your product idea.

How to build your audience.

Learn how to launch stores to day one sales.

Where influencers fit in.

Learn how to find, work with, and use

influencer relationships

.

Launch and operations.

Discover all you need to know to launch your store.

How to scale your store's operations.

Learn how to scale your store post-launch.
While the course is more expensive than the rest of the eCommerce courses on our list, it's a powerful and comprehensive course that can help you start or scale an eCommerce business.
---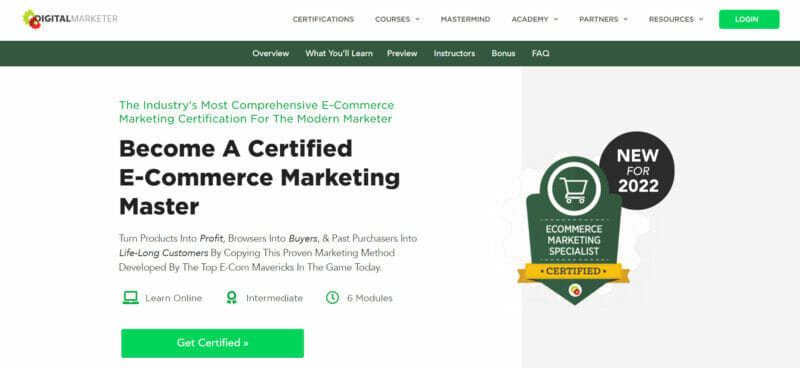 Cost: $495
Digital Marketer is a well-respected name in digital marketing and eCommerce. In this 4-hour eCommerce course, you'll learn about the marketing tools you need to run a successful eCommerce store. The course includes 40 video lessons, worksheets, and quizzes. It covers topics like the eCommerce ecosystem and supporting technology, store architecture, how to optimize your store, and email automation as well as some of the basics of lead nurturing and content marketing.
---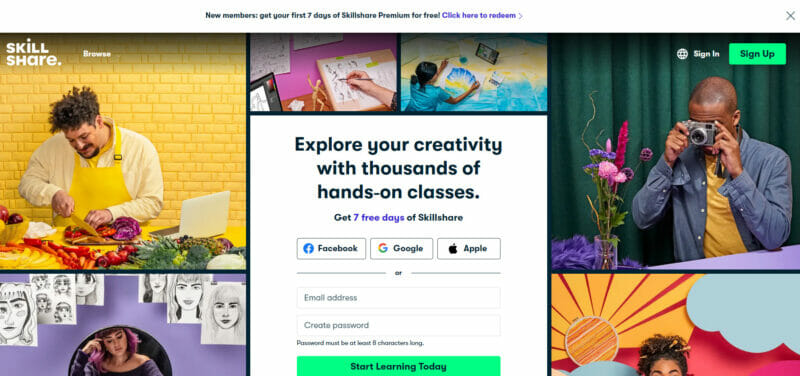 Cost: You'll need a Skillshare account starting at $24/month.
This eCommerce course is taught by Tracey Wallace, editor-in-chief at BigCommerce. She has expertise in marketing, design, development, strategy, and more. She regularly works with retail experts and influencers to educate business owners on how to drive more traffic and increase sales.
The course itself takes about an hour to complete and promises that you'll have a better understanding of the marketability of your product, how to create an online store and set up a successful marketing strategy, ways to increase your site traffic, and how to get more sales. This course covers:
Finding your product niche

and choose the right product to sell

Evaluating market viability

Conducting a competitive analysis

Finding the right

eCommerce platform

to sell your product

Creating a content marketing strategy.
---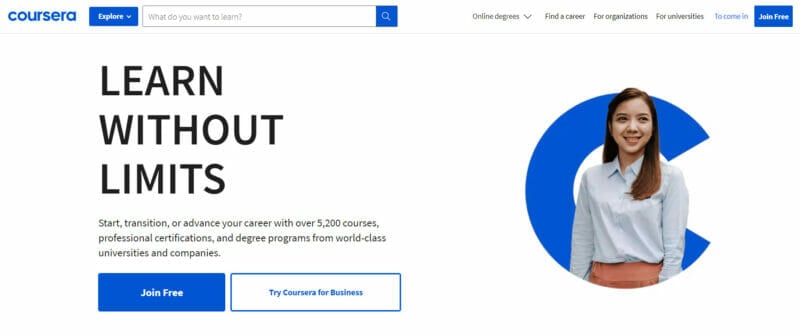 Cost: Free from Coursera.
This specialization is presented through Coursera by the University of Illinois at Urbana-Champaign and will help you gain a better understanding of digital marketing concepts and how you can apply them to your business. The specialization includes seven courses:
Marketing in a Digital World.

Learn how digital tools like the Internet, smartphones, and 3D printing are changing marketing.

Digital Marketing Analytics in Theory.

Learn about web analytics and how you can use data to inform your

marketing and business strategies

.

Digital Marketing Analytics in Practice.

Learn how to apply the knowledge you've learned from the previous course.

Digital Media and Marketing Principles.

Learn about the impacts of digital technologies on marketing communication strategies.

Digital Media and Marketing Strategies.

Gain a deeper understanding of the core processes of planning a

digital marketing campaign

.

Marketing in an Analog World.

Find out how digital has changed the analog world.

Digital Marketing Capstone.

Complete a project that draws on everything you've learned.
This is an in-depth course that's part of the iMBA degree offered through the Illinois MBA. The specialization takes about five hours each week for completion in up to eight months.
---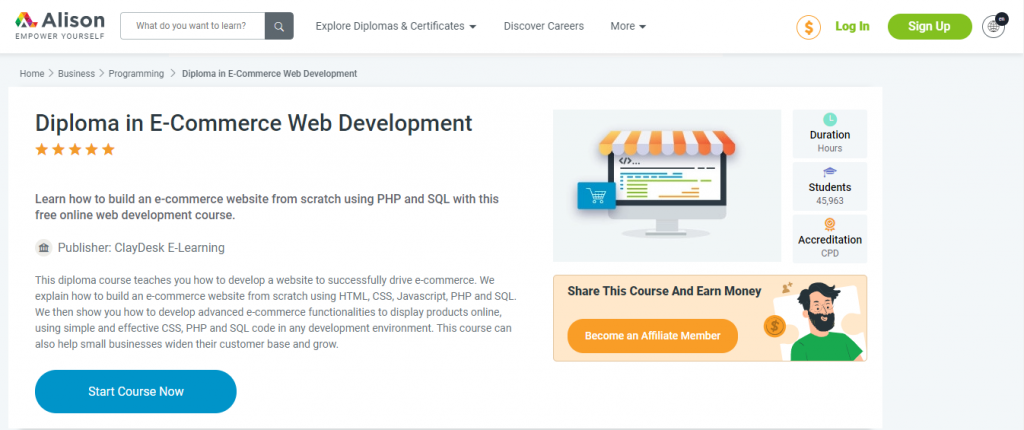 Cost: Free from Alison
Alison is an enormous online platform and provides free courses to anyone who wants to learn. This free online eCommerce course introduces you to digital marketing strategies for businesses. The course will teach you about the most successful Internet marketing strategies and techniques employed by marketing professionals, and teach you how to apply these strategies and techniques to your own business.
---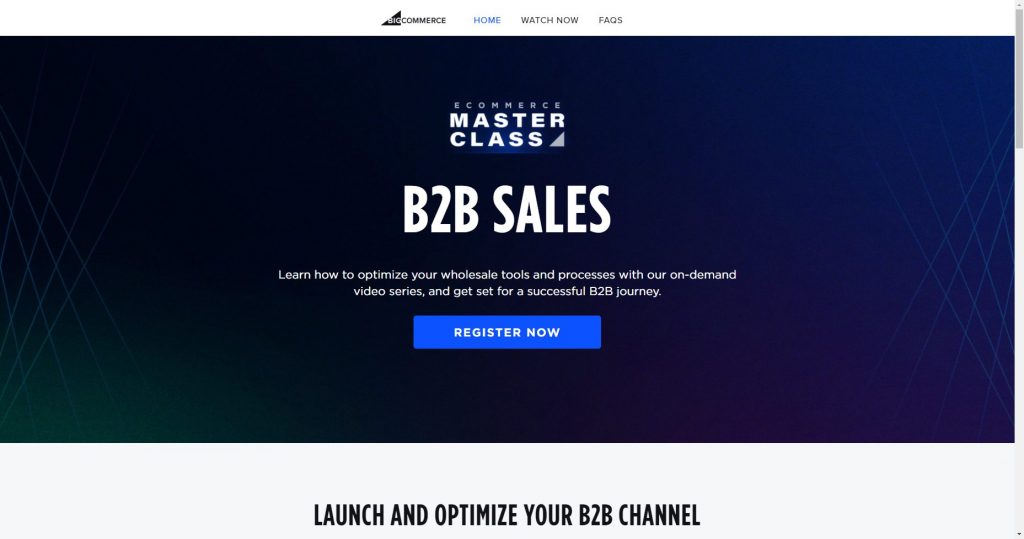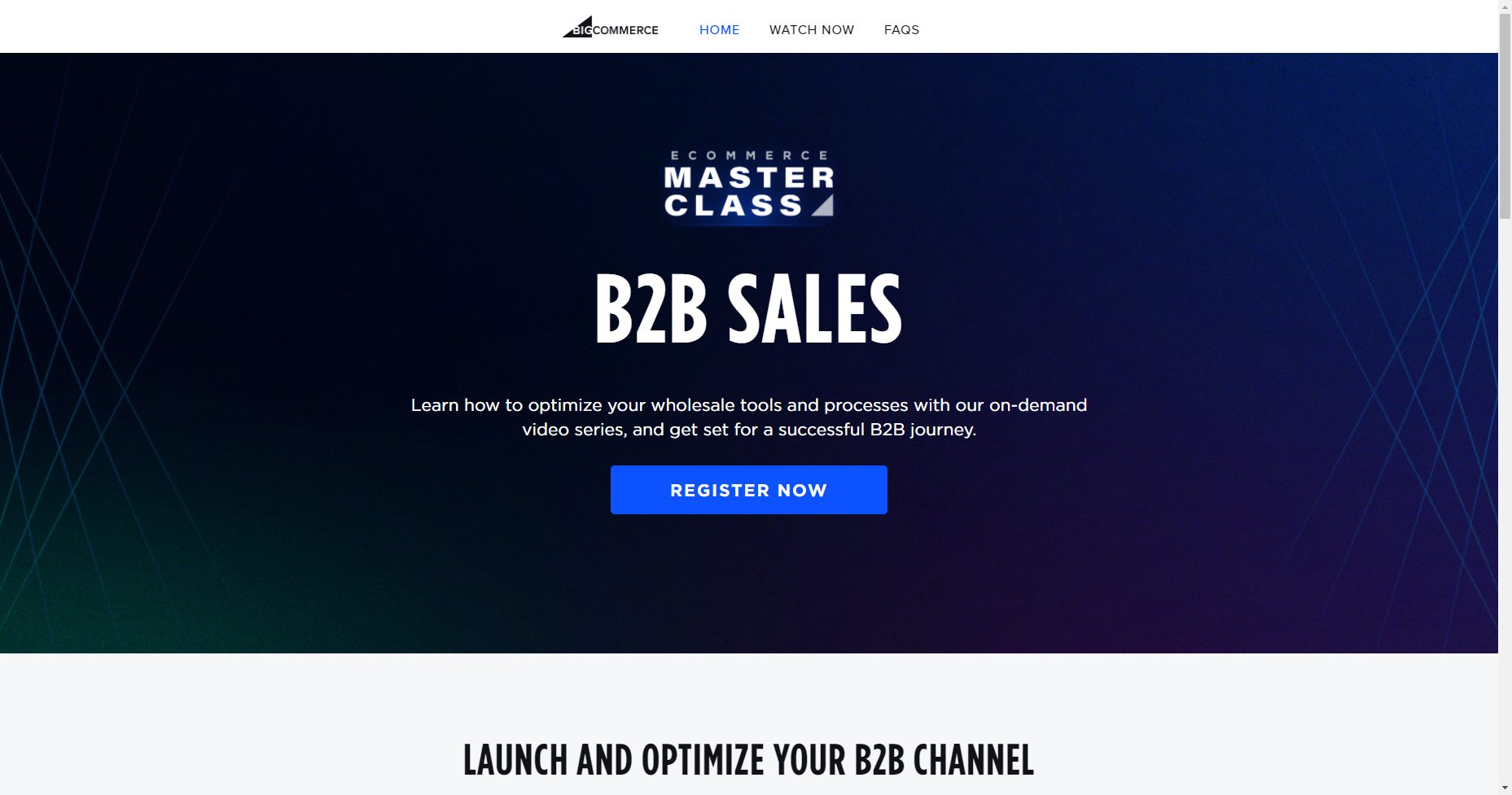 Cost: Free with registration
BigCommerce is a giant in the eCommerce industry. With this on-demand video series, they put their knowledge at your disposal to set you up for B2B eCommerce success. If you're expanding or starting a B2B eCommerce business, this course is designed for you. It includes:
How to set up a B2B portal, back office, and PIM

Digital procurement and choosing the right suppliers

Pricing, field quoting, and multi-level purchase approvals

Account management

B2B shipping

...and more!
---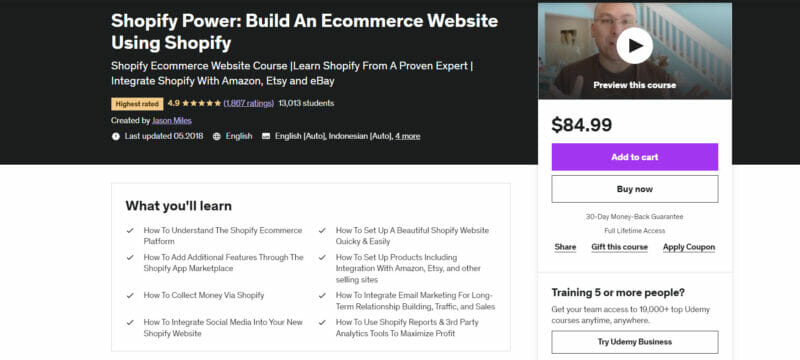 Cost: $13.99 (regular price is $84.99)
This eCommerce course is presented by Jason Miles who is one of the most successful Udemy eCommerce trainers. He is an eCommerce expert with specialized knowledge in web design. In this course, you'll learn all about:
The Shopify eCommerce platform

Setting up a Shopify website quickly

Adding features through the Shopify App Marketplace

Setting up products and integrations with Amazon, Etsy, and other

eCommerce platforms

Collecting money on Shopify

Integrating your email marketing and social media

Shopify's reports and analytics
---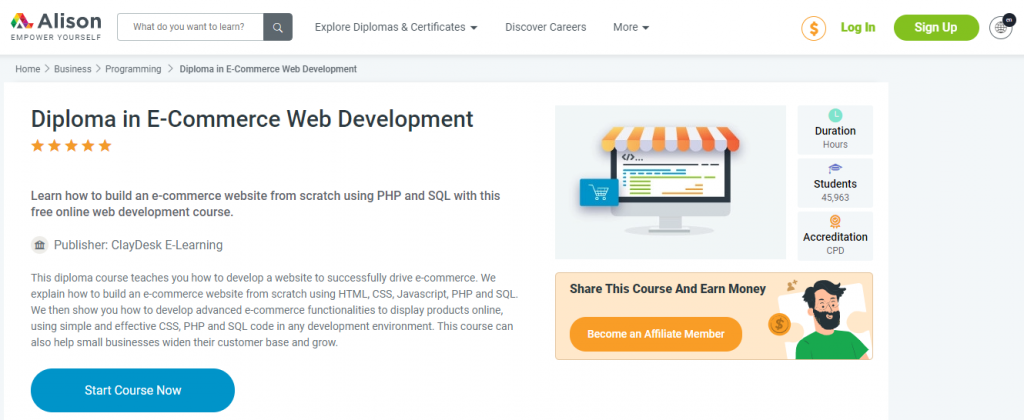 Cost: Free with Alison registration
This is another eCommerce course from Alison. In this course, you'll learn how to create a strong online business strategy. The course starts by teaching you how to build an online marketing plan and improve your landing pages to increase conversion rates. The course is heavy on Google services, teaching students how to use Google Analytics, Google Ads, Google AdSense, and Google Webmaster to implement your online marketing strategy.
---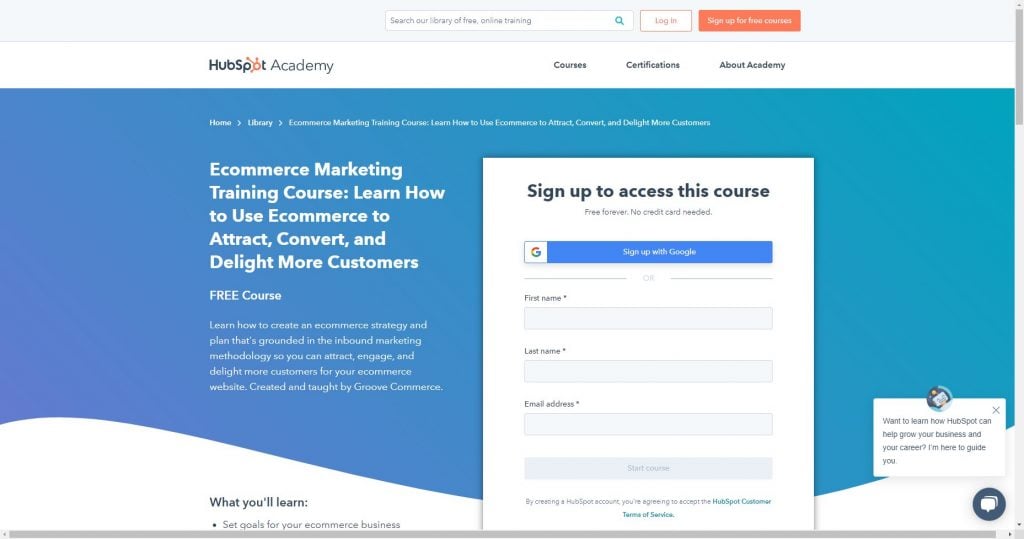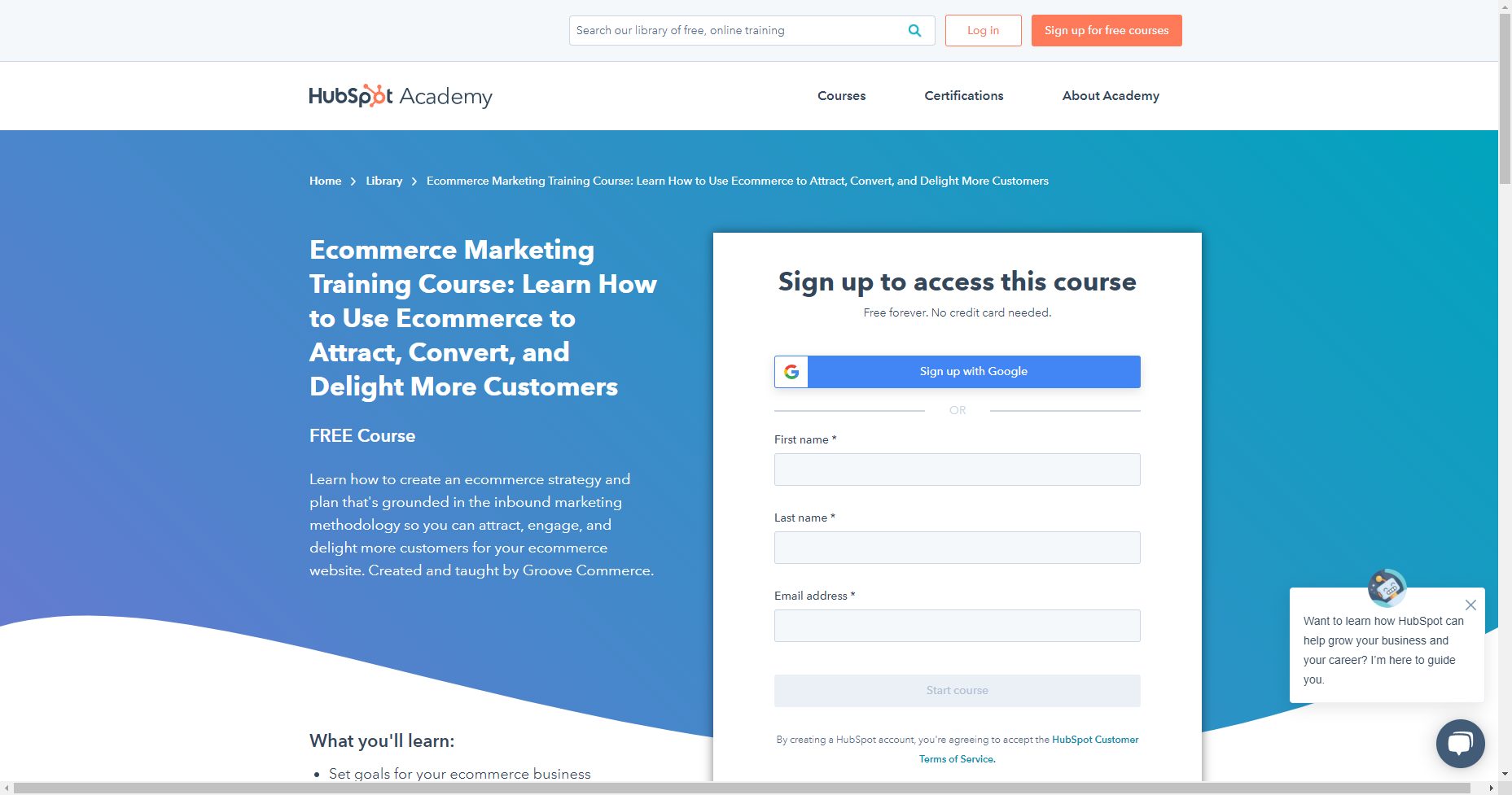 Cost: Free with HubSpot registration
This free course from HubSpot will teach you how to create an eCommerce strategy that's based on inbound marketing methods so you can attract and engage your customers. You'll learn how to set goals for your eCommerce business, attract more traffic to your eCommerce store, and create your own eCommerce inbound marketing strategy.
---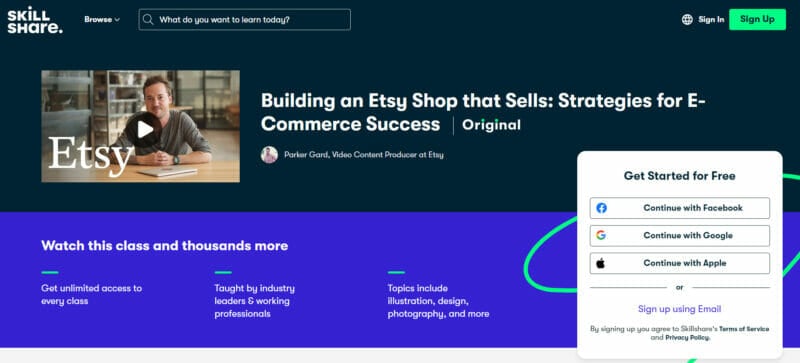 Cost: You'll need a Skillshare account starting at $24/month.
Parker Gard is a content producer at Etsy and uses his vast knowledge of the platform to teach students how to build their best Etsy shop. In this eCommerce course, you'll learn all about creating a successful eCommerce business on Etsy. Gard shares knowledge he's learned from years of experience with Etsy to give you the tools you need to succeed on the platform. The course includes:
How to find the target customer for your product

Creating a memorable brand that stands out from your competitors

Targeting the right shoppers

How to succeed in an online marketplace with a built-in customer base
---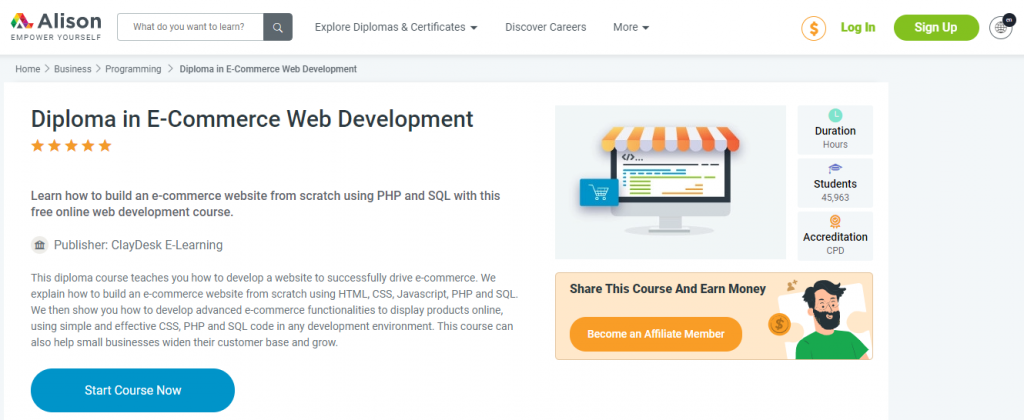 Cost: Free from Alison
In this free eCommerce course from Alison, you'll learn all about eCommerce infrastructure, communication, and security. This course teaches different strategies you can use to reach more customers as well as the technologies you need to drive and support your online business. This is a 101-level course that offers a high-level introduction to common questions and concerns for eCommerce businesses.
---
How to Get the Most from an eCommerce Course
Now you have 11 eCommerce courses for 2023 to explore. But how do you get the most from whichever course you take? In this section, we'll show you how to milk every bit of knowledge from your eCommerce courses so you can start or grow a successful eCommerce business.
First, you'll want to set goals. Really take the time to figure out why you're taking the course and what you want to get from it. We know it seems like an unnecessary step but you'll approach the course differently depending on whether or not you're interested in mastering the content or simply getting basic knowledge. Setting goals before you start looking for an eCommerce course can be very helpful, too. That way, you can be sure to find a course that meets your needs. After you've set your goals and have chosen the right eCommerce course for you, you'll want to make sure that you set aside enough time to go through the course and really learn the content.
Once you've enrolled in the course, take the time to work through and apply the content. It might even be fun to create a mock business that you use to apply your learning so you've done it once before you apply it to your actual business. Putting everything into practice is vital to developing your skills.
---
Wrapping Up
There you have it! 11 of the best eCommerce courses for 2023 that will teach you how to start and grow your eCommerce business. If you're just starting out, eCommerce courses can be invaluable to get your business started off on the right foot. If you're already running an eCommerce business, eCommerce courses can provide the tools you need to scale your business, generate more leads, and get more sales.
Frequently Asked Questions
How can I get started with e-commerce?
One of the best ways to get started with e-commerce is to sign up for one of the many online e-commerce courses available. Some of them you might even be able to complete for free, if you simply register. A good place to start if you are new is to complete "Introduction to Ecommerce", a free course from Alison. This 101-level course will teach you more about infrastructure, security, communication, as well as different strategies and technologies to reach more customers and support your business.
Is an e-commerce course worth it?
While not all e-commerce courses are created equally, there are many e-commerce courses that can be really helpful if you are starting an e-commerce business or want to take your existing business to the next level. It can teach you about the basics of e-commerce and new marketing and business growth strategies. As these courses are usually run by a few of the biggest names in the industry, they attract a decent selection of students which makes them a valuable networking opportunity as well.
How do I find the right e-commerce course?
You should start by researching the instructor. You are searching for instructors who have experience as well as a degree (ideally). If the person who has created the e-commerce course has not started or run an e-commerce business, it is a red flag. You also want to check that you will still be able to access the course materials even after the course is over. This way you do not have to worry about missing important information and it also just makes it more affordable.
What are the best free e-commerce courses?
There are a few free e-commerce courses available (the only thing that you will have to do is to register). These include Digital Marketing Specialization (presented through Coursera by the University of Illinois at Urbana-Champaign), Ecommerce Masterclass: B2B Sales and Ecommerce Marketing (from HubSpot). Alison, a huge online platform, also offers a few that include E-commerce – Introduction to Internet Marketing Strategies for Businesses, Diploma in E-Business and Introduction to Ecommerce.
Where I can learn more about Shopify?
You can sign up for Shopify Power: Building an Ecommerce Website Using Shopify. It is an affordable e-commerce course that teaches you all the basics about using Shopify. In this course, you will learn how to set up a Shopify website, add features via the Shopify App Marketplace, and collect money. It is presented by Jason Miles, one of the most successful Udemy e-commerce trainers.