The world of ecommerce is a rapidly evolving landscape that presents both opportunities and challenges for businesses of all sizes.
The global ecommerce market is an incredibly diverse and complex ecosystem that encompasses cross-border commerce, borderless business, and international online retail. While it presents tremendous opportunities for businesses to expand their reach and increase their customer base, it also poses significant challenges, such as navigating the complexities of different markets, understanding local laws and regulations, and overcoming language and cultural barriers.
To be successful in the ecommerce market, businesses must stay on top of the latest trends and developments, understand the unique needs of their customers, and be willing to adapt to the ever-changing landscape. In this article, we'll provide an in-depth exploration of the global ecommerce market, including market size, growth trends, and key players.
---
Ecommerce Takes the Lead: Analyzing Market Share and Growth Statistics:
---
Current Market Share of Ecommerce
The ecommerce market has seen tremendous growth in recent years, as businesses shift their focus to online sales channels. According to the U.S Department of Commerce, in 2022, there was an increase of 8.1 percent (±0.9%) in total retail sales compared to the previous year, with e-commerce sales making up 14.6 percent of the total sales in the same year. Moreover, growth is expected to continue, with ecommerce projected to reach 23% of total retail sales by 2025, representing a 5.2 percentage point increase in just five years.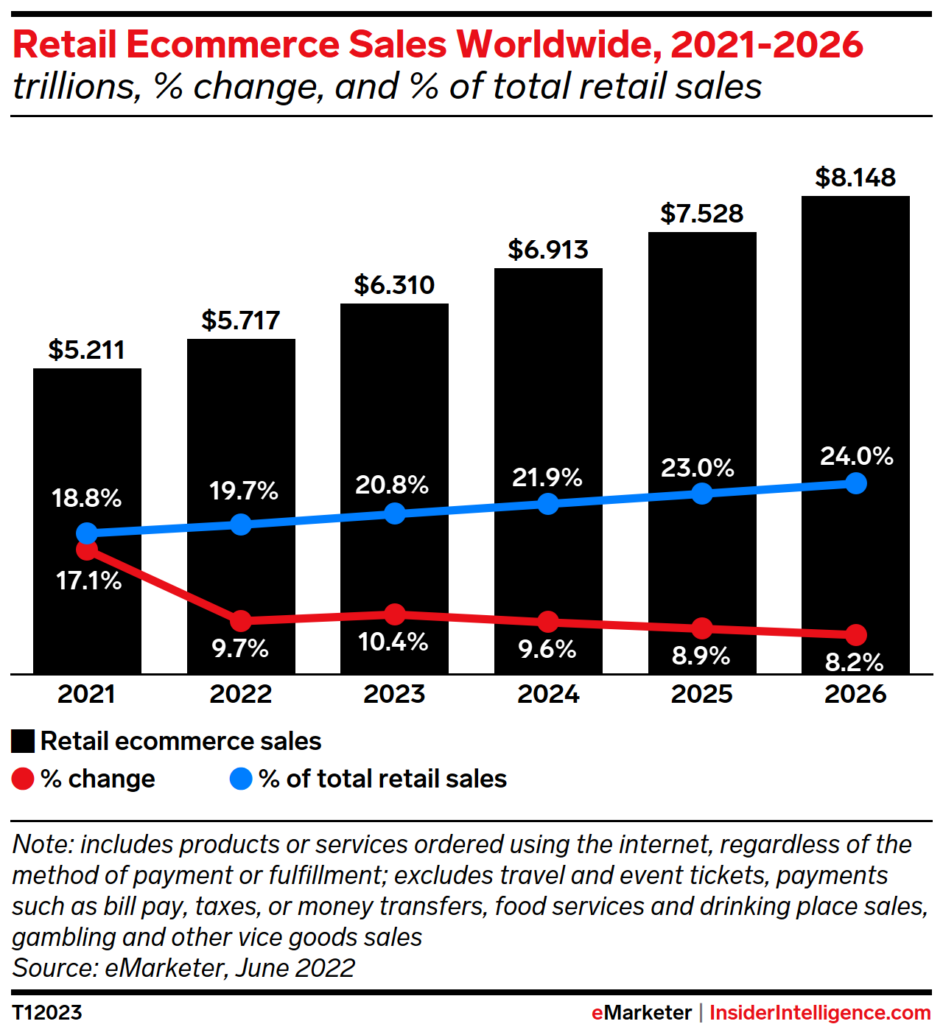 ---
Overview of Global Ecommerce Market
Global ecommerce is the selling of products or services across geopolitical borders from a company's country of origin, normally defined as its founding or incorporating location. The ecommerce market has become increasingly global, as more businesses seek to expand their reach and tap into new markets. The advantages of international ecommerce include easier expansion into foreign markets, easier-to-find product-market fit, shorter B2B sales cycles, quicker building of international presence, and lower barriers to entry.
Based on recent study by eMarketer and Statista, it is anticipated that online retail sales will achieve a value of $6.51 trillion by the conclusion of this year, with ecommerce websites comprising 22.3% of total retail sales. The top five ecommerce markets are China, the United States, the United Kingdom, Japan, and South Korea, and they are expected to remain in the top five until 2025. China is the leader in the global ecommerce market, accounting for 46.3% of all retail ecommerce sales worldwide, with total online sales exceeding the $2.8 trillion mark in 2022. China also holds the record for having the largest number of digital buyers worldwide, with over 780 million individuals making up 39.4% of the total digital buyer population.
China will remain the world's most penetrated ecommerce market in 2022, with 46.3% of the country's retail sales taking place online. https://t.co/NFmg7uPpci#ecommerce #china pic.twitter.com/XFsyMOYxLL

— Chart of the Day (@ChartoftheDay_) January 31, 2022
Regional Distribution of Ecommerce Market Share
Asia Pacific dominates the ecommerce market with a projected increase in market value from $3,082.3 billion in 2021, $3,468.6 billion in 2022 to $5,306.2 billion by 2026. The B2C ecommerce industry in Asia Pacific promises to have an attractive medium to long-term growth story. It is expected to grow steadily over the forecast period, recording a CAGR of 11.21% during 2022-2026. Developing infrastructure facilities and surging numbers of internet users are expected to fuel the regional market growth.
North America and Europe are anticipated to witness steady growth over the forecast period, with the US ecommerce market projected to reach $1,011.00 bilion in 2023, a little less than China's which is projected at $ 1,487.00 billion in 2023. The Middle East and Africa and Latin America are expected to witness significant growth in the forthcoming years, owing to the growing young population and rapidly evolving online shopping market.
---
Comparison of Ecommerce Market Share with Brick-and-Mortar Retailers
Brick-and-mortar retailers and ecommerce businesses have been in a tug-of-war for market share for years. As we've seen, the ecommerce market share has been steadily increasing in recent years, with 16% of all retail purchases being made online. However, brick-and-mortar retailers are still an important part of the retail industry, with physical stores generating $6.22 trillion in the US alone in 2022.
In 2022, Shopify reported that US retailers opened double the number of stores than those that shut down, indicating that brick-and-mortar stores are still a valuable part of the retail landscape.
Interestingly, research has shown that consumers often use both channels to shop, with 73% of customers shopping through multiple channels. In fact, 56% of shoppers visit a physical store before making a purchase online, highlighting the importance of physical stores as a key touchpoint in the purchasing journey.
When it comes to specific industries, fashion purchases are still largely made offline, with 70% of fashion purchases happening in-store. However, it's worth noting that younger generations, such as millennials and Gen Xers, prefer purchasing online, with 67% of millennials and 56% of Gen Xers preferring online shopping to in-store shopping.
---
Growth Statistics of Ecommerce
Ecommerce has experienced remarkable growth in recent years, driven by the increasing use of smartphones, expanding internet infrastructure, and growing consumer trust in online shopping. In this section, we'll explore the latest growth statistics of ecommerce in more detail, including an overview of ecommerce growth, ecommerce sales by industry, mobile commerce growth, and social commerce growth. In addition, we'll also take a closer look at some of the key ecommerce companies driving this growth, including Amazon, Walmart, Alibaba, and Etsy.
---
Overview of Ecommerce Growth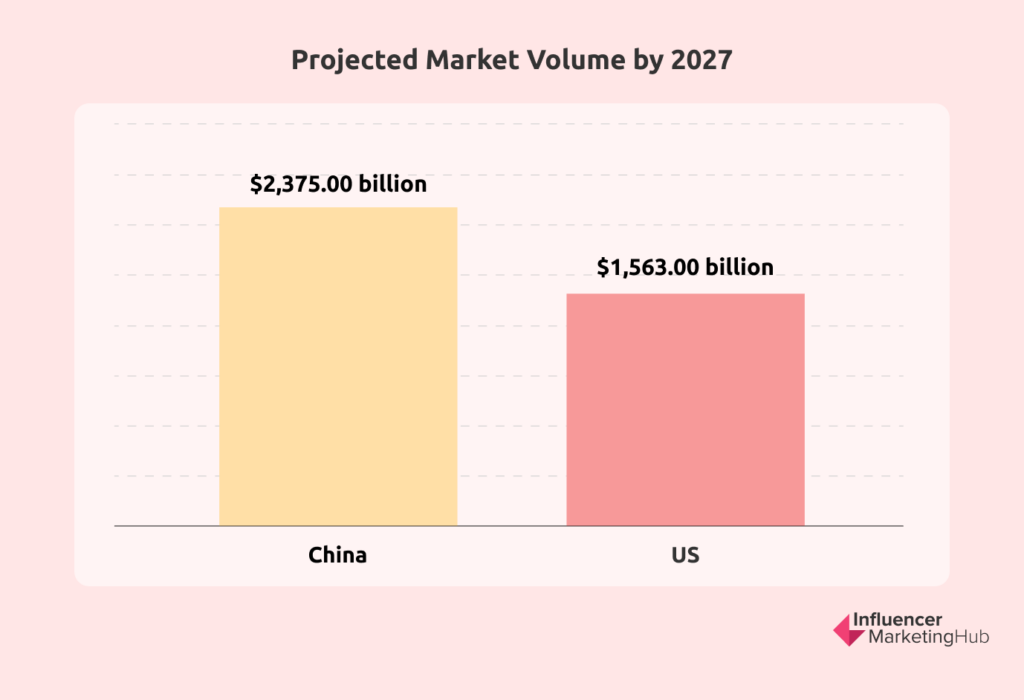 When it comes to ecommerce growth, as previously mentioned, China is leading the way with a projected market volume of $2,375.00 billion by 2027, thanks to an annual growth rate of 12.42% (CAGR 2023-2027). Meanwhile, the US is also expected to see a strong growth rate of 11.51% (CAGR 2023-2027), resulting in a projected market volume of $1,563.00 billion by 2027. While China is currently ahead in terms of market volume, the US is not far behind and both countries are experiencing steady growth in the ecommerce industry.
---
Major Players in the Ecommerce Industry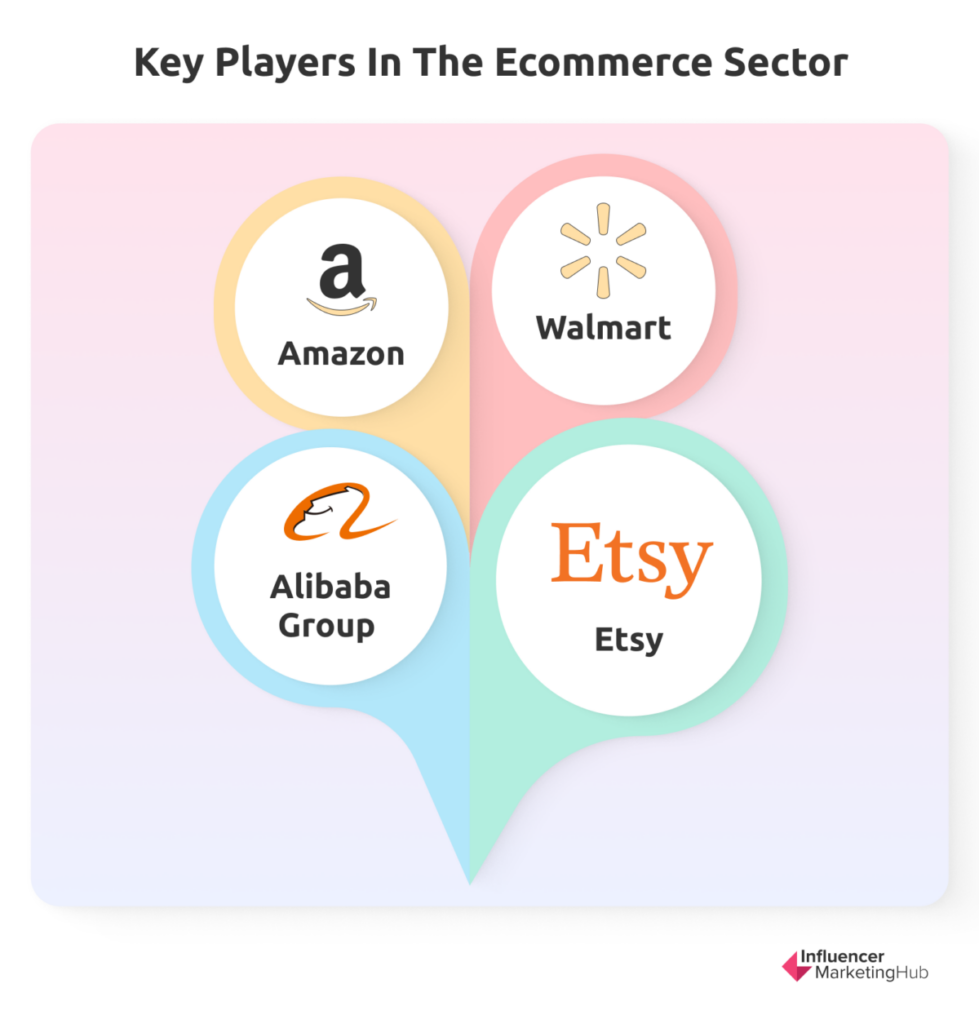 Amazon
Amazon.com is one of the most prominent e-commerce companies in the world, offering a vast range of products and services, including online retail, computing services, consumer electronics, digital content, and local services such as daily deals and groceries. Here are some key facts about Amazon as a major player in the e-commerce industry:
In 2022, Amazon had net sales revenue of nearly $514 billion worldwide, making it one of the most valuable brands globally.
The majority of Amazon's revenue is generated through e-retail sales of different product categories, followed by third-party seller revenues, retail and media subscriptions, and AWS cloud services.
Amazon serves as a global platform for both first-party and third-party sellers, with third-party sales accounting for around 59% of total paid units on Amazon's marketplace.
Amazon offers Amazon Prime, an annual membership service that includes free and discounted shipping rates, which is considered a key advantage by many customers. Prime perks contributed to the increasing sales registered during the Prime Day sale event worldwide.
Like other e-commerce players, Amazon has been affected by the economic recession and general downturn in online consumer demand following the COVID-19 pandemic surge. Since Q1 2022, the company has downsized its headcount, and in early 2023, CEO Andy Jassy announced further workforce reductions. In the same year, the company reported the biggest net loss in years, while in Germany and the United Kingdom, two of its biggest cross-border markets, showed declining net sales.
Despite these challenges, Amazon remains a leading player in the e-commerce industry, with a massive global reach and a diverse portfolio of products and services. Its strong brand and innovative selling strategies, such as third-party marketplace and Amazon Prime, continue to attract a loyal customer base, making it a major force to be reckoned with in the e-commerce market.
---
Walmart
Walmart, formerly named as Wal-Mart Stores, Inc., is one of the largest and most recognizable retailers in the world.
In 2022, Walmart reached global net sales of almost $568 billion, making it the largest retailer in the world by revenue. The company's gross profit margin remains stable at around 24-25% over the last few years.
Walmart is divided into: Sam's Club, Walmart International, and Walmart U.S. Walmart U.S. generates the most sales for the company, with around $393 billion in 2022, while the global segment generated nearly $101 billion in sales. Walmart's Sam's Club is a membership-based warehouse retailer, similar to Costco.
Walmart is a primary source for groceries, clothing, household items, and more for millions of consumers worldwide. Lost year, Walmart recorded nearly 230 million customer visits per week, and, Sam's Club, reached whooping $2.2 billion from membership fees. Walmart also operates a successful e-commerce site, which has grown in recent years and generating nearly $73 million in 2022.
Although Walmart is the largest retailer in the world by revenue, it trails behind Amazon in terms of e-commerce sales. In 2022, Amazon's net sales revenue was nearly $514 billion, compared to Walmart's $73 million in e-commerce sales. However, Walmart's brick-and-mortar presence and successful omnichannel strategy give it a competitive edge over Amazon.
---
Alibaba Group
Founded in 1999 as a B2B wholesaler, Alibaba Group is the undisputed king of e-commerce in China. Its business spans across multiple categories, including B2B, B2C, and C2C e-commerce, cloud computing, local service, logistics, and financial services.
Here are some key statistics and facts about Alibaba Group:
Despite its significant success, Alibaba Group is facing significant challenges:
The competition from social commerce and short-video commerce platforms like Pinduoduo, Douyin, and Kuaishou has intensified.

Alibaba's

average customer acquisition cost

in 2021 was almost six times higher than Kuaishou's.

Alibaba has faced regulatory challenges due to China's anti-monopoly law and political uncertainties. In 2022, Alibaba Group received a record

$2.8 billion

fine for violating China's anti-monopoly law.
Alibaba Group remains a dominant player in the global e-commerce market, but its future success depends on how it navigates the challenges ahead.
---
Etsy
Etsy is an online marketplace that connects customers with artists, crafters of handmade items, and collectors of vintage products. The platform engages in customer-to-customer (C2C) or peer-to-peer (P2P) e-commerce. Founded in 2005, the platform's annual gross merchandise sales volume has steadily increased, rising from less than $200,000 in 2005 to almost five billion in 2019. In 2020, Etsy's finances really took off, generating revenues of around $1.7 billion. This growth continued in 2021, reaching 2.3 billion U.S. dollars. Other key points about Etsy include:
In 2022, the number of active buyers on the Etsy.com platform reached almost

90 million

.

Since 2017, more than half of the company's gross merchandise sales volume was generated from the use of mobile devices.

Etsy ranks among the leading shopping apps in its home market, with nearly

98 million

products being listed for sale as of 2022.

Most of Etsy Inc.'s revenue is generated from its marketplace segment, powered by the fees users pay to sell their products on the company's online platform.

In April 2022, Etsy

increased its transaction fee per item

, causing a weeklong strike by Etsy vendors in protest of the new policy.
Overall, Etsy's unique focus on handmade and vintage items has helped it carve out a niche in the crowded e-commerce marketplace. However, the company's recent fee increase and vendor strike demonstrate that it still faces challenges in balancing the needs of its users with the need for growth and profitability.
---
Mobile Commerce Growth
Mobile commerce, or m-commerce, is rapidly growing thanks to the widespread use of smartphones and tablets worldwide. Although U.S. mobile phone conversion rates have consistently been lower than for desktops or tablets, mobile retail e-commerce spending in the United States exceeded 387 billion U.S. dollars in 2022, more than double the spending done in 2019 prior to the COVID-19 pandemic. A survey also found that shoppers of all demographics are increasingly using their mobile devices to make online shopping decisions.
According to a forecast by Insider Intelligence, the m-commerce share of total retail will resume growing next year, reaching 8.7% by 2026. M-commerce sales in 2022 will hit $415.93 billion, representing 6.0% of total retail sales, with sales expected to reach $534.18 billion in 2024, accounting for 40.4% of e-commerce sales.
Smartphones and tablets are driving the m-commerce revolution, with smartphones accounting for 87.2% of m-commerce sales. While tablet commerce experienced a two-year resurgence, it is expected to decline in share and value of orders in the coming years due to overall tablet use decreasing and the improvement of the mobile shopping experience. Overall, the mobile commerce market is poised for continued growth, with smartphones leading the way.
---
Social Commerce Growth
Social commerce, the integration of e-commerce and social media, has become a rapidly growing market with significant potential for retailers worldwide. According to McKinsey, the global social-commerce market is projected to surpass $2 trillion by 2025, representing a paradigm shift in how consumers interact with brands.
Social media platforms, such as TikTok and Instagram, are becoming essential tools for retailers, as consumers can now make purchases without leaving the platform, enabling a fast and direct customer journey. In terms of buying preferences, the most purchased product categories on social networks around the world are apparel, grocery, and food delivery services.
In 2022, the worldwide revenue of social commerce is valued at $724 billion and is forecasted to surpass $6 trillion by 2030. In comparison, China's social commerce retail sales are worth nearly ten times that of the U.S. Last year, goods and services purchased through live-stream shopping in China represented whooping $514 billion!
Social commerce has gained traction across all age groups, with millennials experiencing the best-targeted ads and having the most fun while social shopping.
With the increasing demand for easy and instant online shopping, social commerce is poised for further growth in the years to come.
---
Driving the Growth of Ecommerce
In this section, we'll focus on the key factors that are driving the expansion of the ecommerce industry.
Convenience and Accessibility One of the major drivers of ecommerce growth is the convenience and accessibility it provides to consumers. Online shopping allows customers to browse and purchase products from the comfort of their own homes, without the need to visit a physical store. This has become particularly relevant during the COVID-19 pandemic, as many people have opted to shop online to avoid crowds and reduce their risk of exposure. Ecommerce has also made it easier for consumers to access products that may not be available locally, thereby increasing their shopping options.
Personalization and Customization Another factor driving ecommerce growth is the ability for online retailers to personalize and customize the shopping experience for each individual customer. With the use of data analytics and machine learning, ecommerce platforms can track a customer's browsing and purchasing history to make personalized recommendations, offer discounts, and tailor marketing campaigns. This personalization can lead to increased customer loyalty and repeat business.
Competitive Pricing Ecommerce has also been able to drive growth through its competitive pricing. Online retailers are often able to offer lower prices than their brick-and-mortar counterparts due to lower overhead costs. Additionally, ecommerce platforms can easily compare prices across multiple retailers, giving consumers the ability to find the best deals quickly and easily.
Technological Advancements in technology have also played a significant role in the growth of ecommerce. The rise of mobile devices has made it easier for consumers to shop online from anywhere at any time. Additionally, improvements in payment systems and logistics have made online transactions more secure and efficient. These advancements have also made it easier for small businesses to enter the ecommerce market and compete with larger retailers.
Changing Consumer Behavior Finally, changing consumer behavior is a key factor driving the growth of ecommerce. With the increasing use of technology and social media, consumers are becoming more comfortable with making purchases online. Additionally, younger generations are more likely to prefer online shopping to traditional brick-and-mortar stores. As these trends continue, ecommerce is expected to become an even more important part of the retail landscape.
What is the current market share of ecommerce? The current market share of ecommerce varies by region and industry, but it has been consistently increasing worldwide. As of 2022, ecommerce accounted for approximately 20% of all retail sales globally.
Frequently Asked Questions
What is ecommerce?
Ecommerce, or electronic commerce, refers to the buying and selling of goods or services over the internet.
How does ecommerce work?
Ecommerce typically involves a website or online platform where customers can browse and purchase products or services, and a payment gateway to securely process transactions.
What are some examples of ecommerce companies?
Some popular ecommerce companies include Amazon, Walmart, Alibaba, and Etsy.
What are the benefits of ecommerce?
Ecommerce allows businesses to reach a larger audience, operate 24/7, reduce costs associated with brick-and-mortar stores, and provide customers with a more convenient shopping experience.
How has mobile commerce impacted ecommerce?
Mobile commerce, or m-commerce, has become increasingly popular as more consumers use their smartphones to shop online. This has led to the development of mobile-friendly ecommerce websites and apps, and a shift towards mobile payment methods.
What is social commerce?
Social commerce refers to the use of social media platforms to facilitate buying and selling of products or services. It allows businesses to reach customers directly through social media, and can lead to increased brand awareness and sales.