Since its launch in 2005, Etsy has positioned itself as one of the world's leading eCommerce platforms. Despite the emergence of various competitors, it remains a steadfast performer in the sector. As of the first quarter of 2023, Etsy reported a Gross Merchandise Sales (GMS) of $3.10 billion, a slight decline of 5% year-over-year from $3.25 billion. While this marks a slight downturn, the overall GMS still attests to Etsy's significant market presence. From an annual perspective, GMS slipped by a mere 1% from $13.49 billion in 2021 to $13.32 billion in 2022.
This eCommerce titan continues to attract new sellers and buyers alike. Interestingly, a significant portion - 37% - of these newcomers become repeat customers, coming back to Etsy for their future purchases. This recurring customer base underscores the platform's ability to retain its users with its unique offerings and customer experience.
Etsy has strategically broadened its scope through a series of acquisitions and investments. The company has executed 9 acquisitions and made 1 investment, dedicating over $2.13 billion to these ventures. With a diverse investment portfolio encompassing sectors like Fashion Tech, Horizontal E-Commerce, Music Tech, and more, Etsy has further solidified its foothold in the eCommerce landscape.
But given these latest figures and strategic moves, is Etsy still a viable platform for launching an online store in 2023? Keep reading as we delve into the latest stats and trends to assess the ongoing profitability potential of being part of the Etsy community.
---
20 Key Etsy Statistics Every eCommerce Entrepreneur Should Know in 2023:
---
What is Etsy?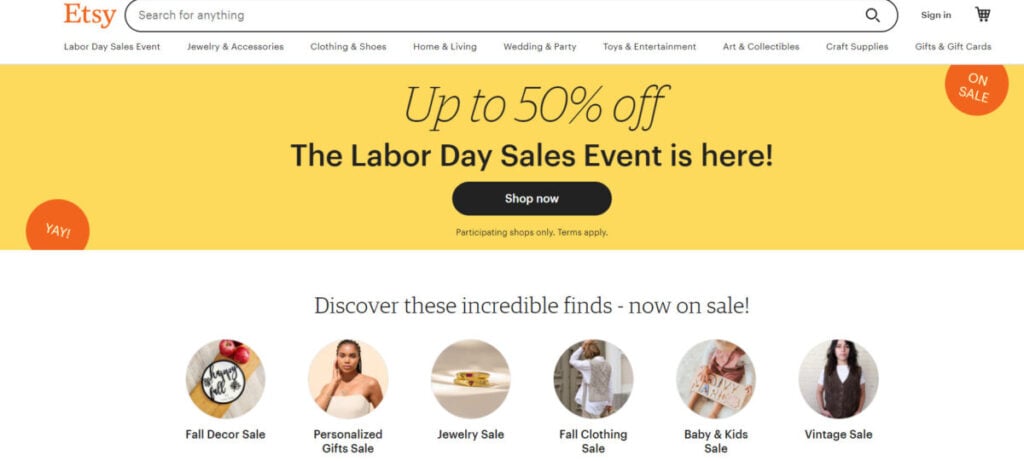 Etsy is a popular eCommerce platform that's designed to help independent creators sell their products online. Etsy houses an array of unique items, ranging from vintage pieces to handcrafted goods. It connects independent creators with consumers who are looking to purchase one-of-a-kind items.
---
Why Sell on Etsy?
Despite having been around for more than a decade, Etsy continues to be popular for creators who are looking to sell unique handmade goods.
It supports its sellers by implementing reasonable fees and diverse tools, as well as offering support and education that can help them maximize their selling ability. Moreover, Etsy's reach continues to grow, acquiring millions more new buyers. This online marketplace also focuses on marketing niche items, helping sellers connect with like-minded buyers across the globe.
As an Etsy seller, you'll have access to a user-friendly interface that won't require you to build your own website. Additionally, you'll be equipped with the necessary tools, such as built-in analytics, that will help you measure your performance.
---
20 Key Etsy Statistics in 2023
We're sharing some impressive Etsy statistics, facts, and trends that can inform your selling strategy.
Etsy 2023 Trends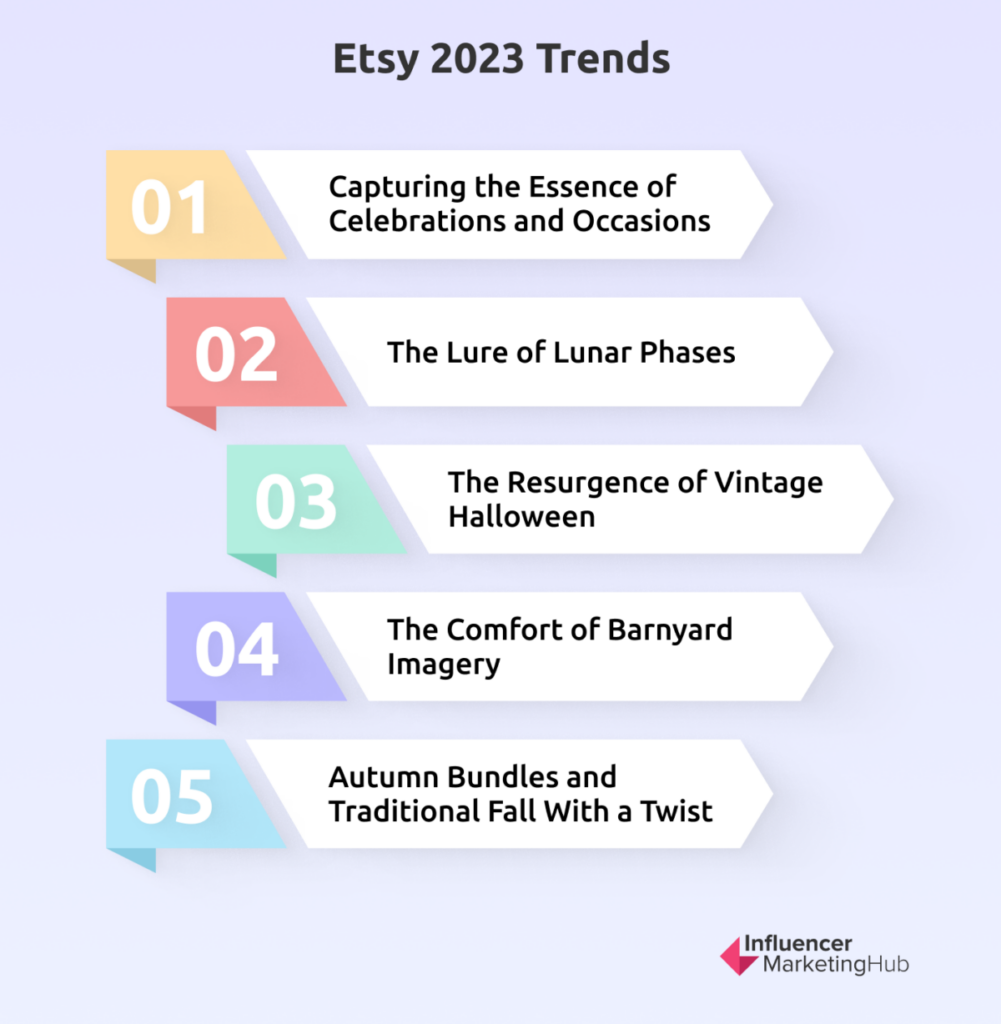 To help sellers attract buyers, here are some fall 2023 Etsy trends that are worth paying attention to:
Capturing the Essence of Celebrations and Occasions
As 2023 unfolds, shopping trends are highlighting the vibrancy of autumn, filled with activities from back-to-school preparations to Thanksgiving festivities. Sellers are encouraged to help shoppers reimagine vintage styles for a modern age and infuse new life into festive fall graphics.
The fascination with lunar phases continues to gain momentum, fueled by the social media trend of moon phases and an ongoing interest in zodiac signs and star maps. Moon phase journals, lunar-themed wall art, and moon- and star-shaped earrings are trending on Etsy.
The Resurgence of Vintage Halloween
With a nod to sustainability and the trend of upcycling, shoppers are looking for vintage and secondhand items for their Halloween costumes and décor, particularly from the '80s and '90s.
The Comfort of Barnyard Imagery
Children's clothing and décor are taking cues from farm animals and agricultural themes, with a particular focus on chickens, cows, and barns.
Autumn Bundles and Traditional Fall With a Twist
Classic maize motifs are being paired with thistles and blooming artichokes to create delightful décor, cards, and linens for the botanical-loving shopper. Simultaneously, innovative entertaining décor, like hand-painted gourds and autumn leaf-shaped objects, are gaining popularity.
The Luxury of Embossed Stationery
Cards are seen as an inexpensive yet personal touch to any occasion, with embossed cards and embosser stamps and seals adding an extra layer of personalization.
Wedding gift shoppers are keen to find meaningful presents that tell the story of a couple's love journey, from where they first met to their wedding day.
The color pink reigns supreme, with pink-colored weddings, floral accents, and heart-shaped patterns on the rise. Wedding dresses, cake accessories, and invites in rosy hues are particularly popular this year.
Embracing New Hobbies and DIYs
DIY presents and hobby-inspired gifts are growing more popular. Male shoppers have shown an increasing interest in traditional handcrafts like sewing, crocheting, and knitting.
Style Trends: Nostalgia and Sustainability
'90s and y2k fashion trends are making a comeback, with vintage items and products made from reusable or deadstock materials. Shoppers are looking for styles that combine nostalgia with eco-conscious consumerism.
New Boho and Punk meets Prep
The refined version of hippie-chic stylings is gaining popularity, with flowy, floral-patterned dresses and moss agate jewelry topping the list. There is also a resurgence of the punk-meets-prep look that combines refined lines with asymmetry and juxtaposes feminine and edgy aesthetics.
Lingerie-style everyday wear in moody, gothic palettes and silhouettes are gaining popularity. This trend includes corsets and bustiers layered over dresses, lacy details, and punk-inspired lingerie.
Decor Trends: Comfort, Inspiration, and Personality
Home décor trends emphasize comfort, inspiration, and personal expression. With the approach of autumn and cooler temperatures, indoor spaces are taking center stage. Shoppers are seeking unique, handmade, and vintage items that reflect their identities.
New Cottagecore and Mermaidcore
The trending aesthetics of new cottagecore and mermaidcore are going strong with modern interpretations of traditional countryside looks and an obsession with the oceanside lifestyle.
Rugs offering pops of personality, bright colors, intricate designs, and plush vintage style are quickly transforming rooms and winning the hearts of shoppers.
In conclusion, 2023 promises a continuation of trends that value nostalgia, sustainability, and personal expression. Etsy sellers who can tap into these trends are well-positioned for success.
---
Key Etsy Facts
Etsy was launched in 2005 in Brooklyn, New York by three entrepreneurs: Robert Kalin, Haim Schoppik, and Chris Maguire. The site sold its first item, a zip pouch, for $8. It became a publicly traded company on April 16, 2015.
Designed for independent creators
Etsy began as an online marketplace for creators. Through the years, it grew to become a global eCommerce platform that still retains its original ethos, which focuses on selling handmade and original, vintage, or craft supply products. Sellers are prohibited from marketing services, rentals, and metaphysical services or items.
Powered by renewable electricity
As part of its commitment to help the planet, Etsy runs on 100% renewable electricity. This covers the data centers used to host the site, the Sell on Etsy and Etsy apps, and its global offices and employees.
Etsy prioritizes diversity not only for its business but also for its workforce. It continues to strive toward being a more diverse and inclusive workplace that welcomes different perspectives by doubling its efforts to hire more Black, LatinX, and Native American employees. In 2022, they constituted 23.9% of Etsy.com U.S. hires. The percentage of Etsy.com employees in the U.S. from URCs rose from 12.9% to 15.3% in of the total workforce in 2022.
---
Etsy Seller Statistics
Continuous growth in number of active sellers
Every year, Etsy enjoys an increasing number of active sellers on the platform. In Q1 2023, Etsy have 7.9 million active sellers, with a YoY growth of 3.8%.
Etsy's survey of 4,000 US-based sellers revealed that the platform predominantly attracts female entrepreneurs, with females accounting for 86% of the sellers. These sellers are more likely to be young adults, specifically under 35 years old. Around 17% of Etsy sellers come from households with an annual income of under $25,000. Regarding their educational background, the median age of Etsy sellers is 39, and 56% of them hold college degrees.
Solo Business Operations on Etsy
The majority of Etsy sellers are independent entrepreneurs, with 88% of them operating their businesses solo. Only a small fraction, 12%, receive assistance from unpaid family or friends, while a mere 5% hire help for their business operations. Notably, a significant percentage of sellers, particularly those in the handmade category (83%), are self-taught.
Startup Capital among Etsy Sellers
When it comes to starting their businesses, 65% of Etsy sellers needed initial capital. The majority (83%) used their personal savings, while a mere 1% resorted to loans.
Seller contributions to the US economy
In 2022, Etsy sellers contributed a total of $13.5 billion to the US economy, paving the way for the creation of more than 3 million jobs within the independent worker economy. California leads the US states in terms of Etsy seller representation, hosting 14% of sellers. Other states with significant Etsy seller populations include Texas and Florida (both at 7%), New York (6%), and others such as Pennsylvania, North Carolina, Washington, Georgia, Illinois, Ohio, Michigan, and Virginia (each accounting for between 3-4% of sellers).
---
Etsy Buyer Statistics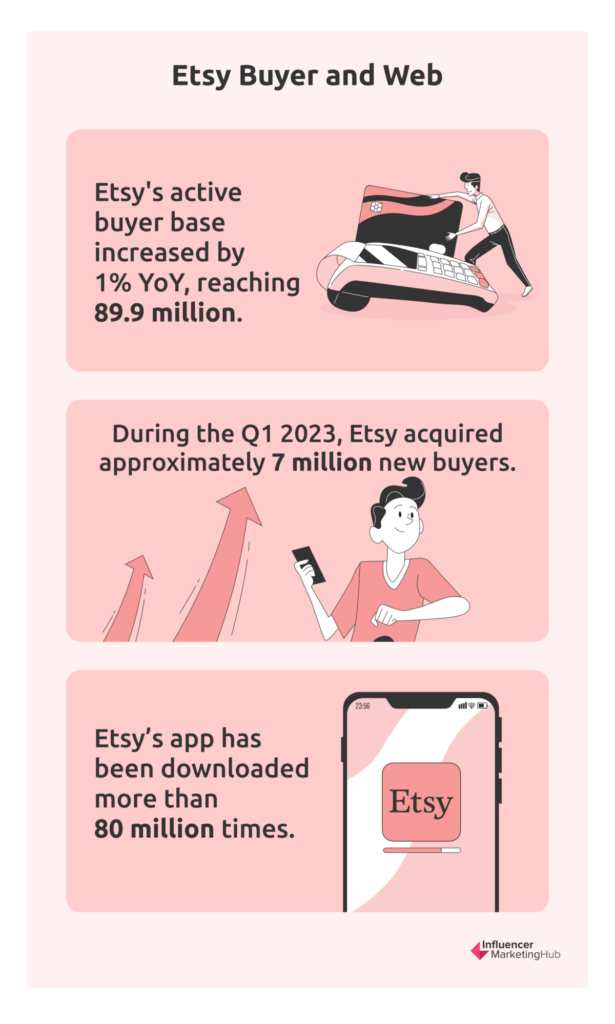 Almost a ninety million buyers
The Etsy marketplace grew active buyers by 1% year-over-year to 89.9 million. The first time this metric has grown on a year-over-year basis since the fourth quarter of 2021.
Expanding buyer population
During the Q1 2023, Etsy acquired approximately 7 million new buyers, reactivated 21% more buyers than during the prior year period, and retained active buyers at levels above pre-pandemic rates on a trailing twelve month basis. On a quarterly basis, retention trends improved both from the prior year and the prior quarter.
---
Etsy Web Stats
Etsy's app has been downloaded more than 80 million times. Its acquisition of Depop helped the company gain more than 23 million downloads, 20 million of which came from iPhone owners.
Etsy has been monitoring the proportion of sales initiated from mobile gadgets, including smartphones and tablets, since 2013. It's worth noting that sales started on mobile but finalized on desktops are not included in this metric. As of the first quarter of 2023, mobile sales stands at 67.0%, marking a 2% annual increase from the previous 66.0%.
---
Etsy Shop and Products Statistics
This year, some of the top-selling items on Etsy include products from categories like handmade jewelry, crafts and supplies, notebooks and journals, printables, and zero waste products. Here are five of the most popular items being sold on Etsy today:
Nine Most Popular Items Sold on Etsy Today
Handmade Jewelry: Unique and creative jewelry continues to be a top-seller on Etsy, reaching new heights in 2023. As consumers increasingly look for personalized and meaningful accessories, handmade jewelry makers on Etsy find a ready audience for their creations, which often tell stories or hold sentimental value.
Notebooks & Journals: Personalized notebooks and journals have also gained popularity on Etsy. With an increased focus on mental health and self-care, consumers are looking for unique and customized stationery to record their thoughts, ideas, and aspirations.
Printables: In 2023, the demand for printables, particularly planners, has skyrocketed. These products cater to the modern consumer's need for organization and productivity tools that are both functional and aesthetically pleasing.
Wedding & Party Supplies: As more people choose to plan their weddings and parties in a more personalized and intimate manner, Etsy has become a go-to platform for unique wedding and party supplies. Invitations, favors, personalized gifts, and decorations are among the best-sellers.
Zero Waste Products: As environmental consciousness grows, zero-waste products have seen an upsurge in popularity. Products in this category range from reusable bags to bar soaps, all designed to reduce waste and promote sustainability.
---
Etsy Sales and Revenue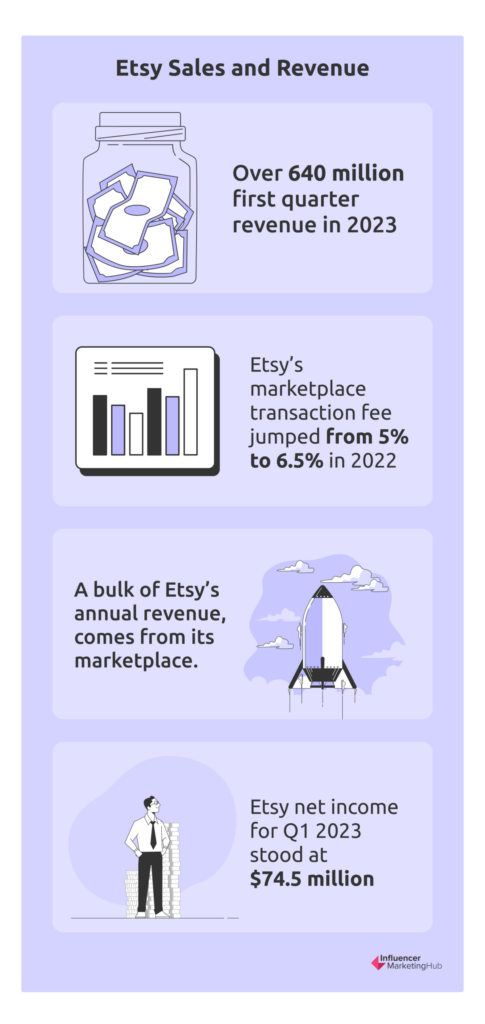 Over 640 million first quarter revenue in 2023
The consolidated revenue reached $640.9 million, showing a 10.6% growth compared to the first quarter of 2022. With a take rate of 20.7% (calculated by dividing the consolidated revenue by consolidated GMS), this uptick in revenue can be attributed to the transaction fee hike in the Etsy marketplace, implemented on April 11, 2022.
In 2021, habitual buyers spent an average of $200. During that period, the number of habitual buyers grew 26% YoY.
Increase of marketplace transaction fee
Etsy's marketplace transaction fee jumped from 5% to 6.5%. The increase took effect on April 11, 2022.
Multiple acquisitions over the past years
Over the years, Etsy has acquired several notable companies, including:
Depop

Reverb

Elo7

Blackbird Technologies

Adtuitive

Grand St.

Trunkt
Various sources of income
Etsy mainly generates income from its services, promoted listings, and marketplace fees, such as a listing fee for every item on the platform, transaction or commission fees, and advertising and promotional fees. A bulk of Etsy's annual revenue, that's 75.5% of its company revenue, comes from its marketplace.
Growing year-on-year net income
Etsy's 2021 net income was at $162.2 million, which indicates an 8.8% YoY increase.
---
Etsy—More than Just an Online Marketplace
Etsy is a popular eCommerce platform that gives entrepreneurs an accessible and potentially profitable avenue for marketing their products. With its mission to "Keep Commerce Human" while striving to have a positive impact on both people and the planet, Etsy remains committed to helping sellers earn more and minimizing its carbon footprint.
Despite new eCommerce stores cropping up left and right, Etsy continues to hold its own and enjoy steady growth. The numbers on this list prove that. We hope that this will encourage you to open your own Etsy shop and start your journey not only as a creator but also as an entrepreneur.
Frequently Asked Questions
Is Etsy still profitable in 2023?
Selling on Etsy can still be a profitable venture, even in 2023. Etsy itself remains one of the most popular eCommerce sites in the world, raking in more than 450 million visits as of July 2023. It also makes it easier for creators to set up their online shops and start selling their handmade goods. Compared to building a website from scratch, Etsy is a time-saving and cost-effective option that gives you access to an established audience.
How many sellers are on Etsy?
Etsy has 7.9 million active sellers and more than 90 million active buyers during the fourth quarter of 2021.
What are the best-selling items on Etsy?
Some of the most popular product categories on Etsy are:
Craft supplies and tools

Personalized items

Home and living

Jewelry

Clothing

Art and collectibles

Toys and games
How can I start selling on Etsy?
To start your Etsy journey, you need to set up your store by visiting the Etsy site. Once there, click Sell on Etsy and tap the Open your Etsy shop button. Once you've come up with a name and have finished setting up your shop, you need to choose your preferred payment method and set the appropriate shipping fees. Once done, you can start listing your products.
Does Etsy have fees?
Yes, Etsy imposes fees on sellers. You'll be charged a listing fee of $0.20 USD for every item listed, whether they're on the Etsy site or on any of Etsy's mobile apps. Etsy also charges a transaction fee of 6.5% of your item's listed price. Other fees to account for include:
Advertising and promotional fees

Etsy ads fees

Offsite ads fees

Subscription fees

In-person selling fees

Payment processing fees

Shipping fees

Regulatory operating fees

Pattern fees
Note that these fees aren't all applicable to your shop. Subscription fees, for example, are only imposed on sellers who opt to use Etsy Plus. To learn more about Etsy's fees and payment policies and which ones apply to you, check out its House Rules.
Can I open more than one Etsy shop?
Yes, you can open a second shop on Etsy. To do so, you need to create a new account using a different email address. And yes, you can open more than two Etsy shops.