Etsy has been around since 2005 and has since become one of the world's top eCommerce companies. Despite the influx of other eCommerce platforms, it remains a strong and consistent performer, with a consolidated GMS of $4.2 billion in the fourth quarter of 2021. That's a 16.5% year-over-year increase. The eCommerce giant continues to drive new sellers and new buyers, and 37% of these new buyers return to Etsy to make a new purchase.
It has acquired other marketplaces like Depop, Elo7, and Reverb, further expanding its reach. Every year, the platform continues to grow, but is it still worth it to open your very own Etsy store in 2022? Check out these stats and trends to see why being on Etsy still proves to be lucrative.
---
25 Key Etsy Statistics Every eCommerce Entrepreneur Should Know in 2022:
---
What is Etsy?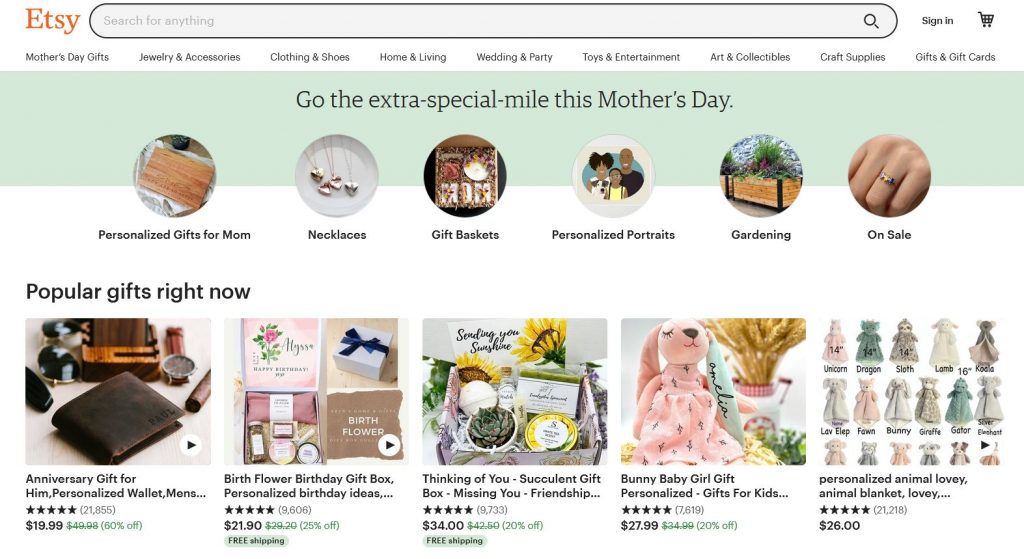 Etsy is a popular eCommerce platform that's designed to help independent creators sell their products online. Etsy houses an array of unique items, ranging from vintage pieces to handcrafted goods. It connects independent creators with consumers who are looking to purchase one-of-a-kind items.
---
Why Sell on Etsy?
Despite having been around for more than a decade, Etsy continues to be popular for creators who are looking to sell unique handmade goods.
It supports its sellers by implementing reasonable fees and diverse tools, as well as offering support and education that can help them maximize their selling ability. Moreover, Etsy's reach continues to grow, acquiring millions more new buyers. This online marketplace also focuses on marketing niche items, helping sellers connect with like-minded buyers across the globe.
As an Etsy seller, you'll have access to a user-friendly interface that won't require you to build your own website. Additionally, you'll be equipped with the necessary tools, such as built-in analytics, that will help you measure your performance.
---
25 Key Etsy Statistics in 2022
We're sharing some impressive Etsy statistics, facts, and trends that can inform your selling strategy.
Etsy 2022 Trends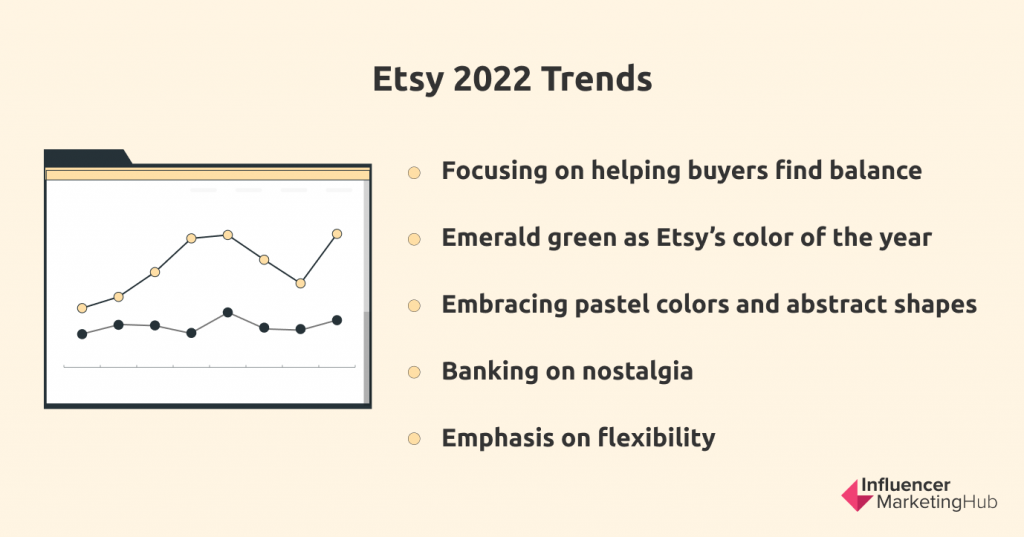 To help sellers attract buyers, here are some early 2022 Etsy trends that are worth paying attention to:
Focusing on helping buyers find balance
This year will be all about buyers embracing the philosophy of balance when making a purchase. Building on the Swedish philosophy or "Lagom," or having balance in all aspects of life, consumers will be more likely to rethink their buying decisions and purchase fewer but higher-quality and more meaningful items.
Emerald green as Etsy's color of the year
Green is in this 2022, along with products that showcase natural textures.
Embracing pastel colors and abstract shapes
Pastels and abstract shapes are always evergreen on Etsy. As such, you may want to focus on creating items that revolve around these themes.
Nostalgia can influence a buyer's decision and in 2022, it's still a profitable phenomenon. Millennial and Gen Z shoppers are drawn to items that prompt nostalgia, whether it's retro or something more recent, like the 1990s.
Buyers are big on embracing flexibility and that also applies to what they're buying. Etsy predicts that consumers will tend to look for multipurpose items that will fit nicely into their ever-changing lifestyles.
Etsy's 2022 predictions for trends also highlight the likelihood of buyers doing a "New Year's refresh," or starting the new year right by focusing on items that can help them get organized and practice self-care. It also identifies trends for specific product categories such as:
Some of the key trends that will define home and living include versatility, natural textures, and personalized décor.
As mentioned earlier, 2022 will be a year of finding balance and this philosophy is expected to apply to clothing. Some of the key trends that will define this category are the 90s, pastel goth, and classic pieces with a twist.
Experimentation will be big when it comes to jewelry and other accessories. This means keeping an eye out for trends like textured stones, rounded shapes, and brooches.
Craft supplies and tools will also be influenced by trends such as tufting, sustainability, and beginner-friendly crafting items.
---
Key Etsy Facts
Etsy was launched in 2005 in Brooklyn, New York by three entrepreneurs: Robert Kalin, Haim Schoppik, and Chris Maguire. The site sold its first item, a zip pouch, for $8. It became a publicly traded company on April 16, 2015.
Designed for independent creators
Etsy began as an online marketplace for creators. Through the years, it grew to become a global eCommerce platform that still retains its original ethos, which focuses on selling handmade and original, vintage, or craft supply products. Sellers are prohibited from marketing services, rentals, and metaphysical services or items.
Powered by renewable electricity
As part of its commitment to help the planet, Etsy runs on 100% renewable electricity. This covers the data centers used to host the site, the Sell on Etsy and Etsy apps, and its global offices and employees.
Etsy prioritizes diversity not only for its business but also for its workforce. It continues to strive toward being a more diverse and inclusive workplace that welcomes different perspectives by doubling its efforts to hire more Black, LatinX, and Native American employees. In 2020, they comprised 20% of the company's new hires. In 2021, they made up 12.2% of the entire workforce, a significant increase from 2018's 8.6% and 2019's 10.5%.
---
Etsy Seller Statistics
Continuous growth in number of active sellers
Every year, Etsy enjoys an increasing number of active sellers on the platform. The eCommerce giant had more than 4.4 million sellers in 2020 alone. By the fourth quarter of 2021, this grew to 7.5 million.
Seller majority in the U.S.
Etsy's sellers come from over 200 countries, including the UK, Canada, and Australia, but most of them are based in the US, making up 62% of the Etsy sellers in 2020. Most of the Etsy sellers in the US are based in California (14%). This is followed by Texas, Florida, and New York, which make up 7%, another 7%, and 6%, respectively.
86% of Etsy's sellers are women and the average age of sellers, both men and women, is around 39 years old.
Etsy's efforts to become a more diverse and inclusive online marketplace extend to its sellers. Efforts such as highlighting shops owned by underrepresented groups and creating a Black-owned Business Etsy Team, further reinforce the company's efforts toward diversity, equity, and inclusion.
Seller contributions to the US economy
In 2021, Etsy sellers contributed a total of $14.3 billion to the US economy, paving the way for the creation of more than 3 million jobs within the independent worker economy.
---
Etsy Buyer Statistics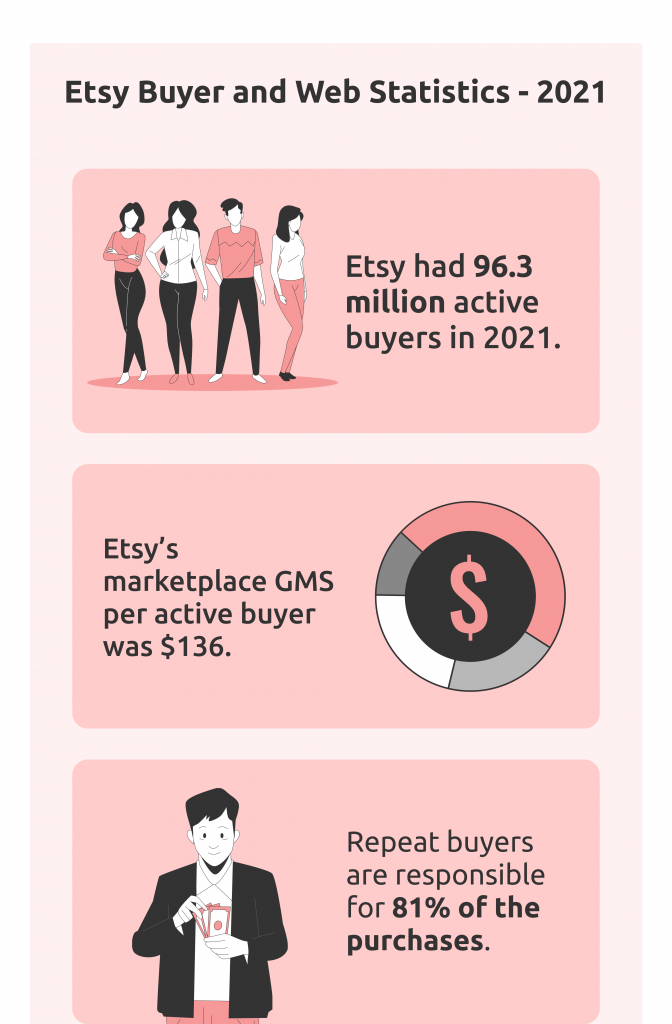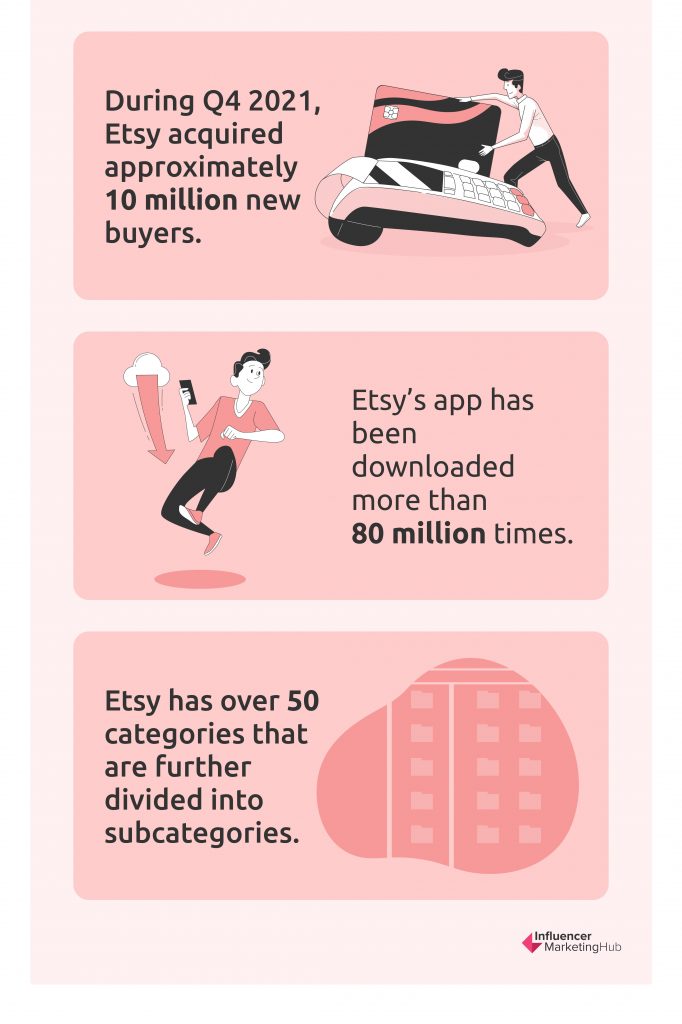 Almost a hundred million buyers
According to its Q4 2021 and Full Year 2021 report, Etsy had 96.3 million active buyers. Its marketplace GMS per active buyer was at $136, or a 16% YoY growth. Repeat buyers are responsible for 81% of the purchases on the platform.
Expanding buyer population
During the Q4 2021, Etsy acquired approximately 10 million new buyers—its highest level of buyer acquisition since the Q4 2020.
---
Etsy Web Stats
Etsy's app has been downloaded more than 80 million times. Its acquisition of Depop helped the company gain more than 23 million downloads, 20 million of which came from iPhone owners.
Sales from mobile devices grew to 65% in the fourth quarter of 2021, an increase from 63% (Q1 and Q2) and 64% (Q3). 67% of mobile visits come from smartphones.
---
Etsy Shop and Products Statistics
Wide variety of categories
Etsy has over 50 categories that are further divided into a range of subcategories. Some of the top-level categories include accessories, arts and collectibles, bags and purses, clothing, electronics and accessories, and shoes.
Lifestyle, fashion, and beauty brands as popular categories

Some of the most popular categories in 2020 include home and living, art and collectibles, jewelry, clothing, accessories, and bath and beauty. Global seller shares for these categories range from 6% to 25%. Other notable categories include toys and games, bags and purses, and weddings.
This year, some of the top-selling items on Etsy include products from categories like home décor, jewelry, toys and baby items, organic cosmetics, clothing, and craft supplies and tools.
---
Etsy Sales and Revenue

Over 500 million first quarter revenue in 2022
For the first quarter of 2022, Etsy's revenue was between $565 million and $590 million.
In 2021, habitual buyers spent an average of $200. During that period, the number of habitual buyers grew 26% YoY.
Increase of marketplace transaction fee
Etsy's marketplace transaction fee jumped from 5% to 6.5%. The increase took effect on April 11, 2022.
Multiple acquisitions over the past years
Over the years, Etsy has acquired several notable companies, including:
Depop

Reverb

Elo7

Blackbird Technologies

Adtuitive

Grand St.

Trunkt
Various sources of income
Etsy mainly generates income from its services, promoted listings, and marketplace fees, such as a listing fee for every item on the platform, transaction or commission fees, and advertising and promotional fees. A bulk of Etsy's annual revenue, that's 75.5% of its company revenue, comes from its marketplace.
Growing year-on-year net income
Etsy's 2021 net income was at $162.2 million, which indicates an 8.8% YoY increase.
---
Etsy—More than Just an Online Marketplace
Etsy is a popular eCommerce platform that gives entrepreneurs an accessible and potentially profitable avenue for marketing their products. With its mission to "Keep Commerce Human" while striving to have a positive impact on both people and the planet, Etsy remains committed to helping sellers earn more and minimizing its carbon footprint.
Despite new eCommerce stores cropping up left and right, Etsy continues to hold its own and enjoy steady growth. The numbers on this list prove that. We hope that this will encourage you to open your own Etsy shop and start your journey not only as a creator but also as an entrepreneur.
Frequently Asked Questions
Is Etsy still profitable in 2022?
Selling on Etsy can still be a profitable venture, even in 2022. Etsy itself remains one of the most popular eCommerce sites in the world, raking in more than 400 million visits as of March 2022. It also makes it easier for creators to set up their online shops and start selling their handmade goods. Compared to building a website from scratch, Etsy is a time-saving and cost-effective option that gives you access to an established audience.
How many sellers are on Etsy?
Etsy has 7.5 million active sellers and more than 90 million active buyers during the fourth quarter of 2021.
What are the best-selling items on Etsy?
Some of the most popular product categories on Etsy are:
Craft supplies and tools

Personalized items

Home and living

Jewelry

Clothing

Art and collectibles

Toys and games
How can I start selling on Etsy?
To start your Etsy journey, you need to set up your store by visiting the Etsy site. Once there, click Sell on Etsy and tap the Open your Etsy shop button. Once you've come up with a name and have finished setting up your shop, you need to choose your preferred payment method and set the appropriate shipping fees. Once done, you can start listing your products.
Does Etsy have fees?
Yes, Etsy imposes fees on sellers. You'll be charged a listing fee of $0.20 USD for every item listed, whether they're on the Etsy site or on any of Etsy's mobile apps. Etsy also charges a transaction fee of 6.5% of your item's listed price. Other fees to account for include:
Advertising and promotional fees

Etsy ads fees

Offsite ads fees

Subscription fees

In-person selling fees

Payment processing fees

Shipping fees

Regulatory operating fees

Pattern fees
Note that these fees aren't all applicable to your shop. Subscription fees, for example, are only imposed on sellers who opt to use Etsy Plus. To learn more about Etsy's fees and payment policies and which ones apply to you, check out its House Rules.
Can I open more than one Etsy shop?
Yes, you can open a second shop on Etsy. To do so, you need to create a new account using a different email address. And yes, you can open more than two Etsy shops.