So you finally took the plunge and listened to your entrepreneurial spirit today. Congrats! You are one step closer to fulfilling your dreams of running a business. With a computer and the power of the Internet by your side, you too can make a profit off selling digital products.
But what digital products should you sell and how do you sell them, you ask?
Digital products range from online courses, software, multimedia, and more. Every day, we use digital products to get by with work, school, and hobbies. Isn't this a great opportunity to join the market and produce your line of digital products?
Selling digital products saves you the hassle of packing, shipping, and doing a regular inventory count as with physical products. But like with any business, thorough planning and a solid business strategy are necessary for crafting digital products.
Nobody wants to spend their time working on a product that wouldn't sell well. So buckle up as we walk you through a comprehensive guide on making a profit out of selling digital goods.
---
Beyond Brick-and-Mortar: A Comprehensive Guide to Selling Digital Goods Online:
---
What Is a Digital Product?
A digital product is any intangible asset uploaded and sold online. These can range from templates, licensed audio samples, stock photos, and software. Digital products free the seller from the responsibilities of shipping orders and counting item stock. Buyers can purchase and get the digital product at any time from anywhere in the world.
---
Why It's Worth Selling Digital Products
Selling digital products is a profitable business if you know how to play your cards well. With a few clicks, customers can purchase and receive your products instantaneously. The range of products or services you can put up for sale is endless. It's also a great source of passive income.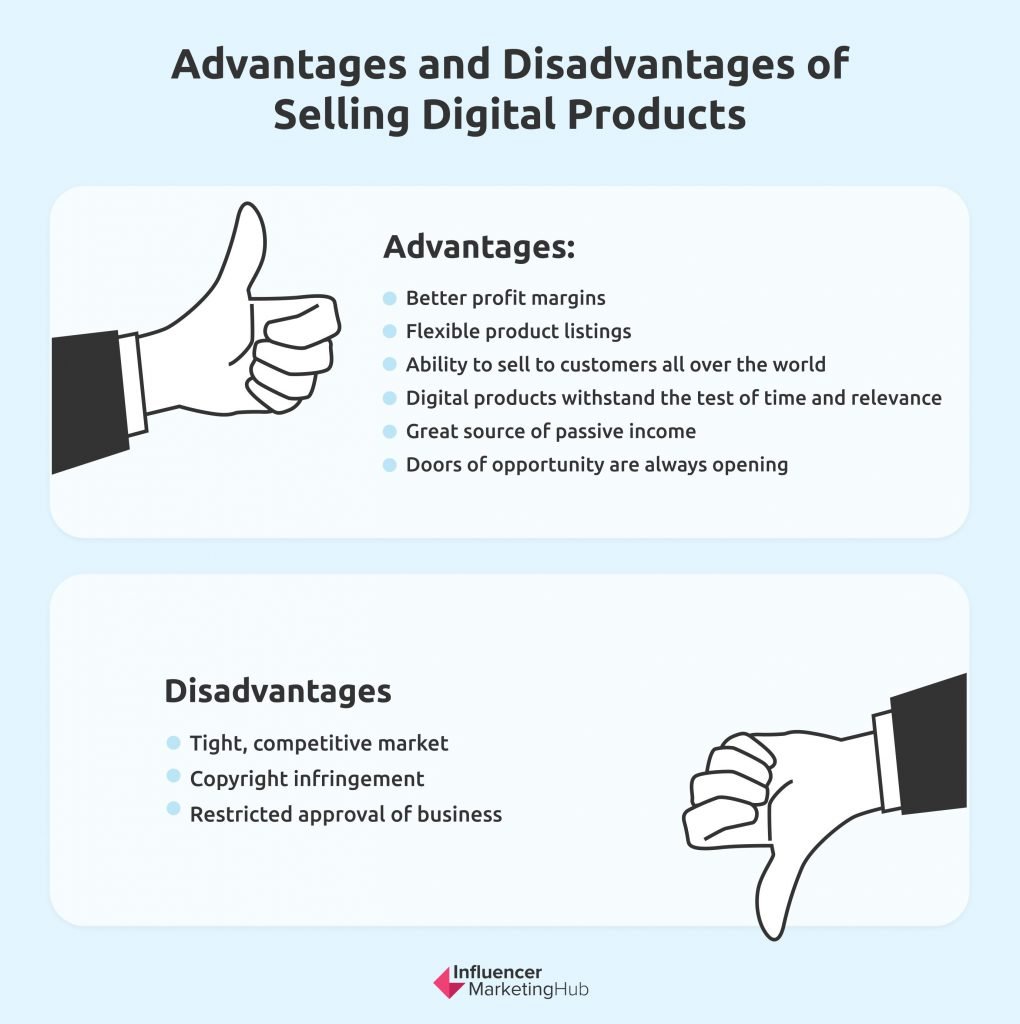 There are several advantages to selling digital products, as well as drawbacks. Let's discuss more of them below:
---
Advantages
You don't need a physical area like a warehouse to store your digital products. By selling digital products, you save up on fees that would have been spent on packing materials and shipping for physical products.
Flexible product listings
Unlike physical product sales, you have greater freedom in exploring other niches to produce digital products. For example, your template printable business is booming with constant support from freelancers and corporate employees. If you wish to expand your audience to the younger demographic, you can put up a listing of fun and quirky planner templates for high school and college students to print out and use. You can also do a trial run by sharing free templates via newsletter subscriptions.
Ability to sell to customers all over the world
Perhaps the most attractive benefit of selling digital products is opening your online store to an international audience right at the get-go. Gone are the days you and your buyers have to worry about shipping costs. With a simple file download, your buyers can receive copies of your digital products instantly.
Digital products withstand the test of time and relevance
Physical products can get damaged, worn down by time, or simply go out of date. Digital products, however, are easily updated and reissued. As technology develops, sellers can also update the compatibility and timeliness of their digital products.
Great source of passive income
You don't have to spend long hours every day to make sure your online store is making a profit. Some sellers claim they make money even in their sleep. Selling digital products is a business that is open 24 hours a day and 7 days a week for anyone who needs anything you have up for sale. Digital product sales save you from spending unnecessary effort.
Doors of opportunity are always opening
With the power of the Internet and your creative juices, you can profit off of anything these days. College students can benefit from your old chemistry notes, while graphic designers and architects may take interest in your design templates. There are various niches you can create digital products for. All you will need is hard work and a lot of patience.
---
Disadvantages
Tight, competitive market
The ease of selling digital products entices many individuals. However, by the time you join the market, other businesses have already established their brand and presence online. Free content makers can also make online selling challenging.
Similar to physical products being reproduced as bootleg versions, your digital products are also prone to copyright infringement. Thieves can steal and make a profit out of your hard work. Consider seeking legal help or placing security measures for every file download your customers make.
Restricted approval of business
Digital products may set you free from the worries of shipping and keeping stock, but not all online platforms support digital product sales. Instead, they can restrict and suspend any business activity done in their channel. This is why sellers must invest in a trustworthy e-commerce platform.

---
Types of Digital Products to Sell
There are several main types of digital products, and these are:
Educational material, such as ebooks and journals

Templates, trackers, printables

Stock photos and videos

Graphic design elements and digital art

Music and podcasts

Software

Online courses and premium memberships
These digital products cater to different interest groups. To start your business, it's best to focus on one type of digital product. This will allow you to establish your branding and presence in the market.
---
How to Sell Your Digital Products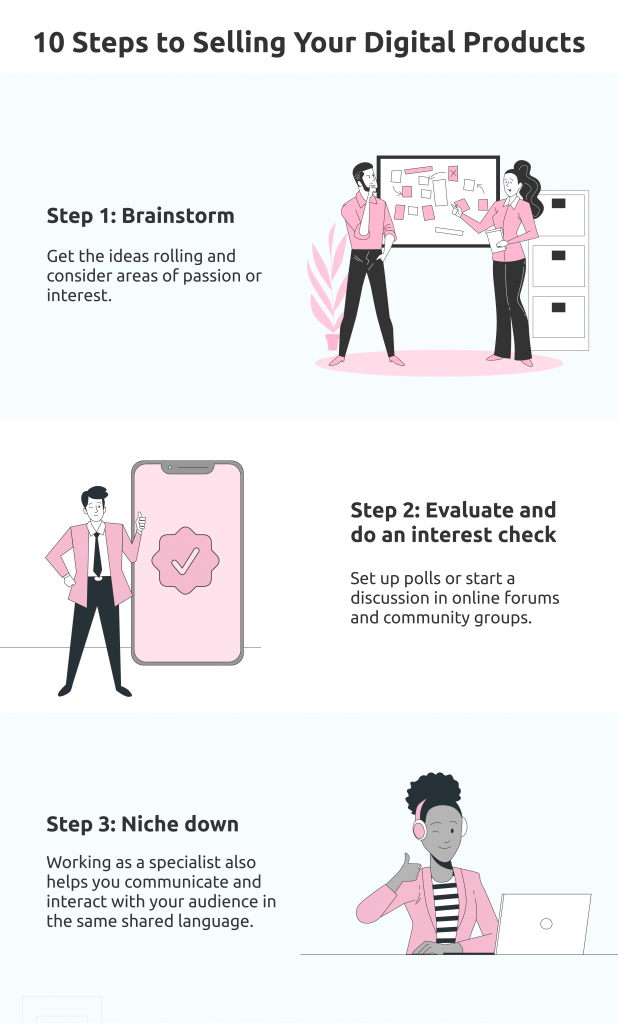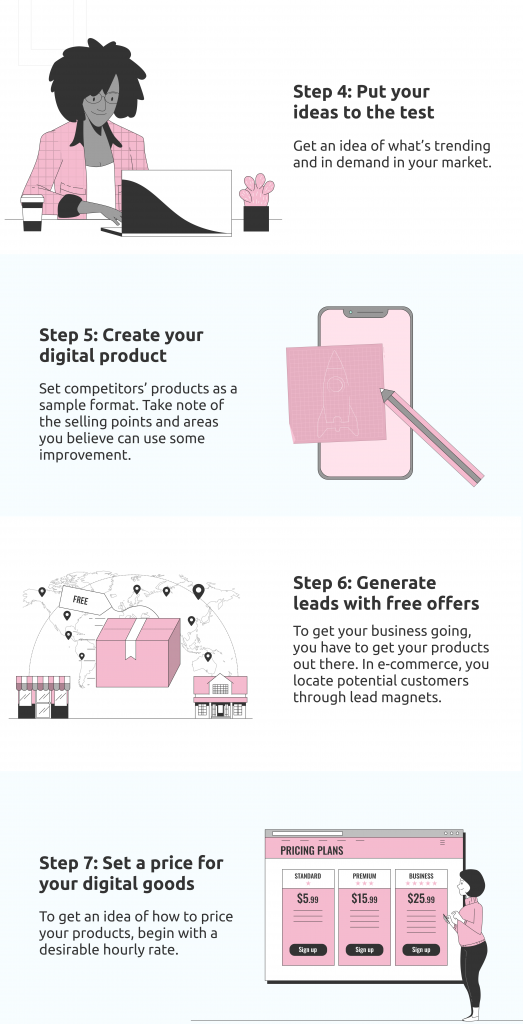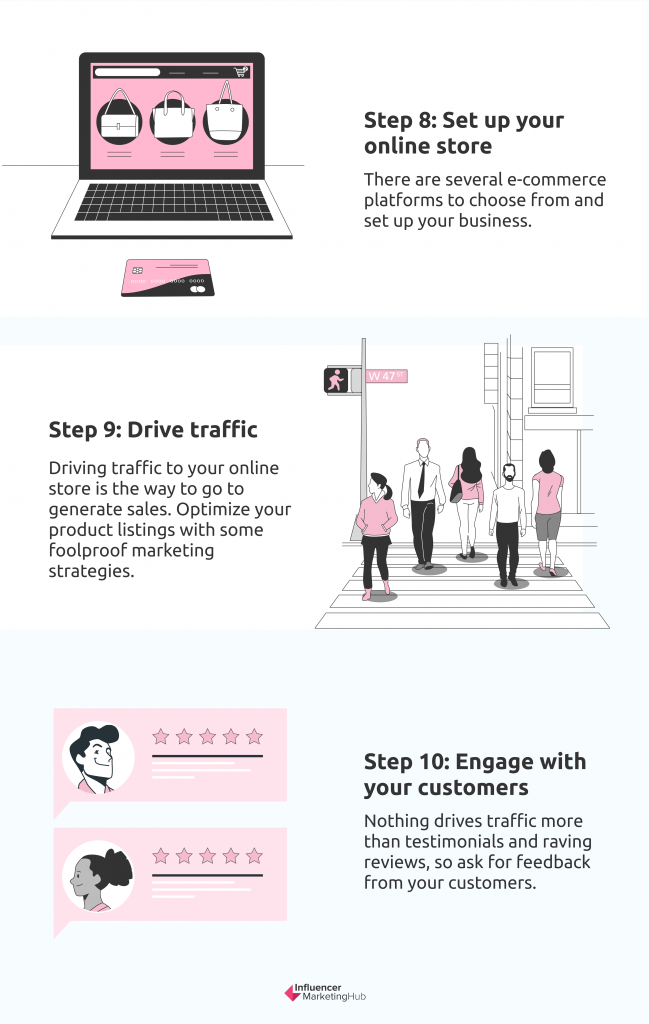 Whether you want to sell digital goods as a full-time business or as a side hustle, you want to make sure none of your efforts go to waste. Now that you are familiar with the different types of digital goods, it's time to strategize your business approach and efficiently establish your digital product business.
Every business starts with an idea. Grab a pen and paper, and jot down all the ideas you can come up with. There's no need to categorize ideas as either good or bad; simply fill the paper with whatever comes to mind.
To help you get those ideas rolling, consider the following:
What skills and knowledge can you transfer or teach to other people?

What are your passions, or what are you interested in engaging in discussion?

What digital goods could complement a physical product or other businesses?

What values do you wish to impart to your customers?
Take all the time you need to brainstorm. Research the activity and interests of online buyers. Are they young and fond of journaling? Are they adventurous and seeking for next week's DIY project? Knowing such information can help you find which niche you can align your business idea with.
Evaluate and do an interest check
After listing down your ideas, evaluating pain points is the next step. Evaluation helps in visualizing the potential of your business idea.
For example, if you plan to sell digital artwork, you are positioning yourself as a capable illustrator to your customers. Authors, influencers, and fellow creatives can rely on you and your business for detailed and customized art pieces.
Interest checks are also great for reaching your potential target audience. Set up polls or start a discussion in online forums and community groups. Touch upon the peoples' needs, expectations, and services they are looking for in a business.
Now that you have specified your pain points and heard the feedback of your potential customers, it's time to decide on catering to a specific target market.
Niching down helps you create digital goods or provide services that are specially tailored for that specific audience. If you have experience in portrait photography, you can lead an online course and teach handy tips, tricks, and techniques for capturing captivating portraits.
Working as a specialist also helps you communicate and interact with your audience in the same shared language. If you and your business's intent are well-received, you generate more sales and a more satisfied customer base.
Put your ideas to the test
Regardless of which niche market you are planning to enter, competition will always be present. For now, establishing your presence within the community is the most important goal.
You wouldn't want to spend time and energy on digital goods that wouldn't perform well on the market. However, that does not mean you have to simply follow what your competitors are doing.
Get an idea of what's trending and in demand in your market. You can use the following:
Google Trends

– Google Trends lets you see the volume of searches made for certain keywords. This gives you an idea of how much or how little the demand is for your goods and/or services over some time.
SEMrush

– SEMrush is a digital marketing tool that helps businesses keep track of analytics, online presence, and branding. This tool is also great for keeping track of organic keyword searches. It gives you insight into how frequently people look up products and services related to your idea.
Sprout Social –

For the more seasoned online business owner, Sprout Social analyzes data across all your social media accounts. Sprout Social also allows you to optimize your marketing strategy by analyzing trends and sentiments among customers.
Create your digital product
With your business idea finalized, it's time to work on your digital product. Set competitors' products as a sample format. Take note of the selling points and areas you believe can use some improvement. These will guide you in developing a digital product that is fresh, engaging, and uniquely yours.
Generate leads with free offers
Certainly, you're excited to start making money. But what if you are a new business owner with little to no following? To get your business going, you have to get your products out there.
In e-commerce, you locate potential customers through lead magnets. This can be an email campaign or paid advertisements on social media platforms. In exchange for viewing the lead magnet, you offer users a free glimpse of your products. If you are a graphic designer, you offer a free bundle of templates for use across cloud-based design programs.
Set a price for your digital goods
Pricing your products can be tricky, especially with your direct competition being free digital goods. However, thanks to your lead magnet, you can already have several potential customers showing interest in purchasing your products.
To get an idea of how to price your products, begin with a desirable hourly rate. Work on each product with a timer to keep track of the time you spend on each project, from brainstorming, drafting, production, and finalization. This can help you decide just how much your product is worth selling for.
With a growing following and a solid first batch of digital products ready for release, you are all set to open your online store.
There are several e-commerce platforms to choose from and set up your business. They also come with different purposes and opportunities for businesses to highlight their products.
There are a handful of platforms that can integrate their functions with existing websites. Online selling solutions specifically catering to certain digital products are available too.
Some e-commerce platforms worth checking out are the following:
Easy Digital Downloads

SendOwl

Gumroad

WooCommerce

Etsy

Sellfy

Shopify and Digital Downloads

Pulley

FetchApp

Courses
Driving traffic to your online store is the way to go to generate sales. Optimize your product listings with some foolproof marketing strategies.
Some marketing techniques are:
Search Engine Optimization (SEO)

– Optimizing your store and product listings can help improve their visibility to users looking for the same or related items. Meta descriptions, relevant images, and tags can help your website rank higher on search engine results.

Advertising

– Whether organic or paid, adverts are designed to attract your target audience into visiting your online store. Ads help spread the word around the Internet. Google Ads, Facebook Ads, and Twitter Ads make for easier ad campaign management.

Content marketing

– Create content showing off your product. This can be in the form of photos, vertical videos, blog posts, and articles.
Engage with your customers
Nothing drives traffic more than testimonials and raving reviews. Ask for feedback from your first few customers, and get their permission to share it with the public. Earn peoples' trust online with honest customer reviews.
You can partner with other blogs and promote affiliate links. Influencer marketing is also a good way of networking and widening the scope of your target audience.
---
Choosing the Right Platform for Your Digital Product Business
As discussed earlier, there are several e-commerce platforms where you can launch your online business. Each platform comes with its own strengths and weaknesses. Read on for an overview of some of the highly recommended e-commerce platforms.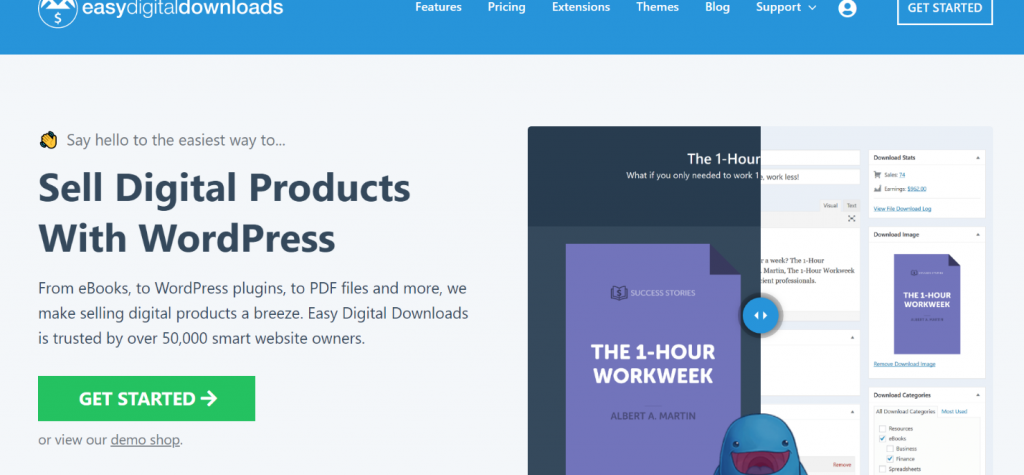 Highlighted features:
Among the most recommended digital product distribution channels

Advanced features and extensions

Smooth customer experience
Easy Digital Downloads allows you to integrate product distribution to your WordPress site. This platform is highly recommended because it gives you free rein on the functionality and visual appeal of your online shop. It supports several payment methods such as PayPal, Stripe, and Apple Pay.
Easy Digital Downloads Pros:
😊 Highly intuitive user interface
😊 Built-in discount offers and promotional codes
😊 Friendly customer management tools, such as Wishlist and Add to Cart options
Easy Digital Downloads Cons:
😩 Pricey
😩 Advanced analytics tools and other extensions are separate purchases
---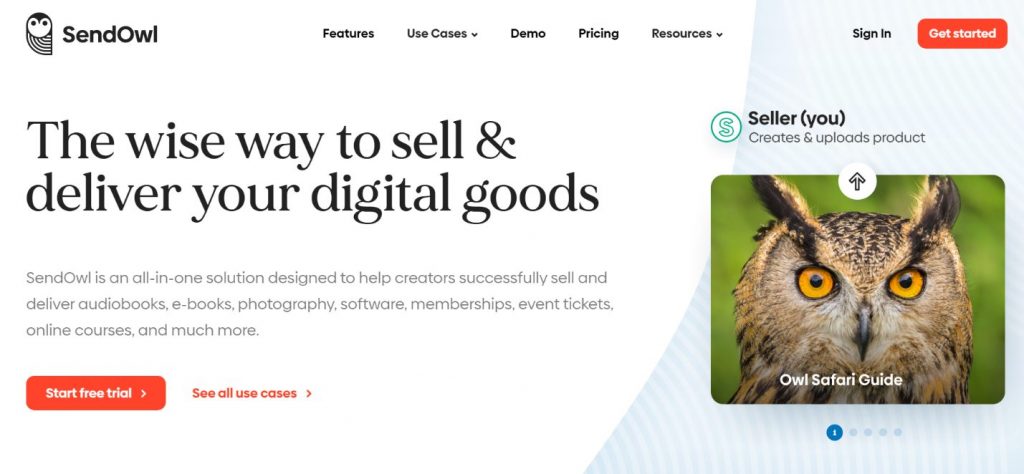 Highlighted features:
Minimalist layout

Secure download links

Quick and easy product listing upload
SendOwl is another preferred online selling solution for digital products. This platform innovates the selling of digital goods to a whole new level. It offers customers secure instant download links for their purchases with hassle-free transactions.
SendOwl supports a broad spectrum of digital products, such as ebooks, apps, software, podcasts, and digital assets. Sellers can use SendOwl with Google Analytics to see an overview of their sales and ranking.
SendOwl Pros:
😊 Simple and easy to use
😊 Affordable, with different subscriptions to choose from
😊 Secure uploads, downloads, and payment transactions
SendOwl Cons:
😩 Customization options are limited
😩 No live chat support
---
Highlighted features:
Ideal for artists and musicians

Easy checkout process

Rental offers and 'pay what you want' option for customers
Gumroad is perhaps the most beginner-friendly digital product distribution channel. Gumroad caters to artists and musicians, but it's still a viable option for other digital goods.
It isn't packed with powerful features, but it comes with a clean interface and does most of the necessary functions of an e-commerce platform just fine.
Gumroad Pros:
😊 Free plan offer
😊 Easy to understand for beginners
😊 Supports Bootstrap functions
Gumroad Cons:
😩 Lacks advanced features
😩 Takes a percentage from every successful sale
---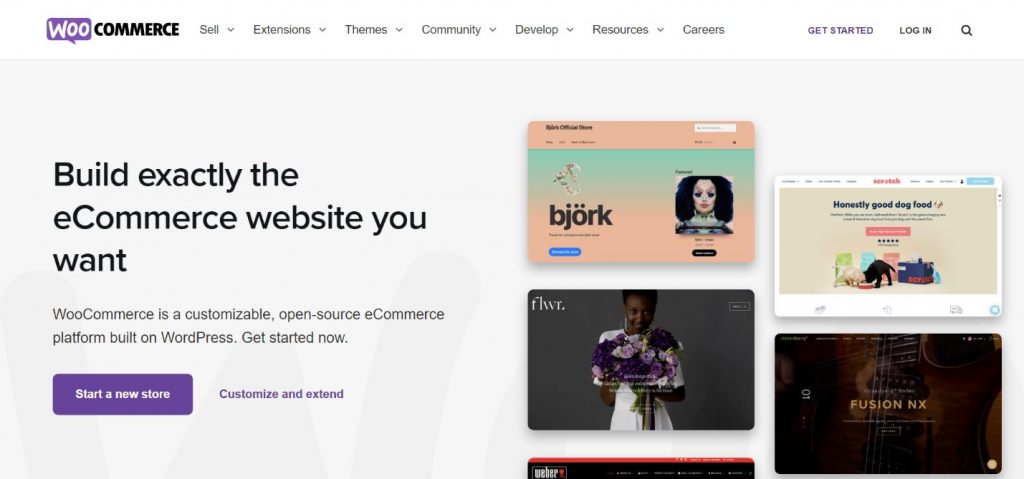 Highlighted features:
For physical and digital product sales

Easy WordPress plugin

Free, open-source, and has customizable features
If you are a dedicated user of WordPress, WooCommerce is the platform for you. It integrates smoothly with your WordPress site, giving you the freedom to customize every function and appearance.
WooCommerce is a preferred option by businesses selling both physical and digital products. It starts as a free, customizable plugin, but advanced extensions have to be bought and managed separately.
WooCommerce Pros:
😊 Free e-commerce plugin
😊 Personalized functionality and appearance
😊 Flexible product listing support
WooCommerce Cons:
😩 Needs plugins for advanced reporting
😩 Paid extensions
---
Highlighted features:
Best for digital tools and printables

Simple store setup

Flexible product listing
Etsy is well-known as an e-commerce platform for novelty gifts, DIY projects, and of course, digital products. It's among the bigger e-commerce platforms that jump started the digital product business.
If your digital goods involve templates, printables, and the like, Etsy is the way to go. It offers quick transactions and quicker downloads upon purchase.
Etsy Pros:
😊 Quick and easy to access
😊 Optimized ranking of products
😊 Active and helpful seller community
Etsy Cons:
😩 Listing and transaction fees
😩 Saturated marketplace
---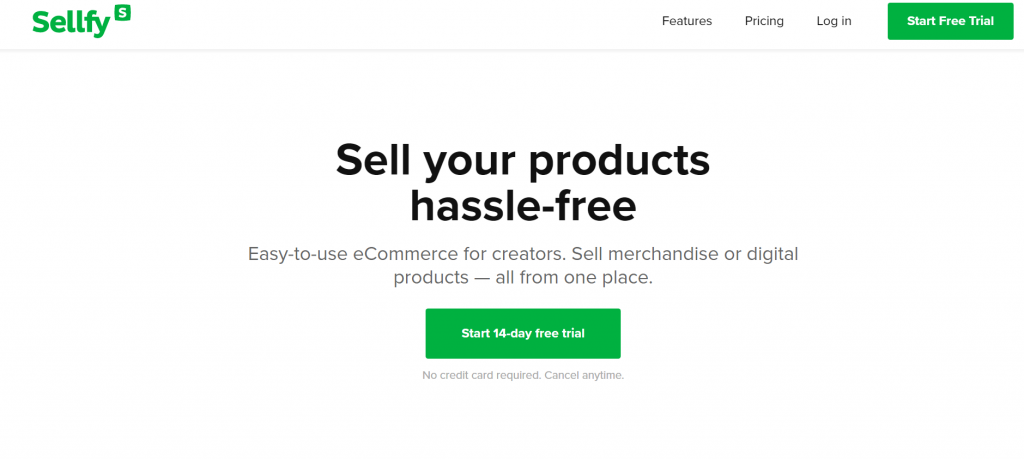 Highlighted features:
Fast and easy store setup

Intuitive "Add to Cart" extension

Unlimited product listing for starter plan
Sellfy boasts a quick online store setup that takes about 5 minutes. This e-commerce platform features a highly customizable storefront, letting you add your brand colors, logo, and more to establish your presence.
Sellfy allows sellers to upload product listings quickly. It also has a built-in marketing campaign feature, where you can send email campaigns to email lists directly from your Sellfy shop site.
Sellfy Pros:
😊 Simple and clean layout
😊 Supports both physical and digital products
😊 Integrates with a variety of apps
Sellfy Cons:
😩 Limited payment options
😩 Flat and basic interface and features
---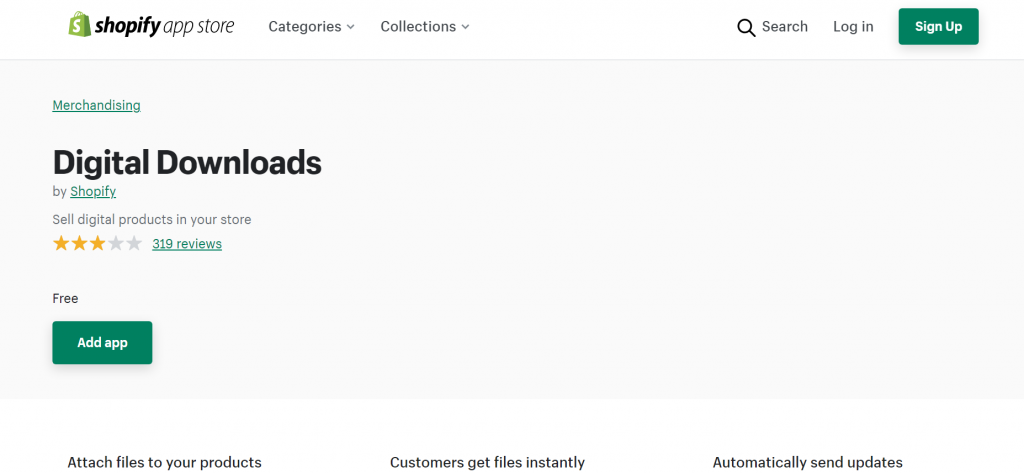 Highlighted features:
Shopify's app for digital product listings

Comes with independent mobile app

Automatic link updates
Digital Downloads is an app designed by Shopify. As Shopify is geared more toward physical product sales, they created Digital Downloads, an app for digital product sales. Digital Downloads supports various digital product types for free.
Simple and straightforward, Digital Downloads allows sellers to upload their digital products at no cost at all. It also lets sellers control the number of allowed downloads per day.
Digital Downloads Pros:
😊 Free
😊 Easy product uploads
😊 Option to set download limits
😊 Regularly updates download links
😊 Is its own app and software
Digital Downloads Cons:
😩 App experiences bugs and laggy issues
---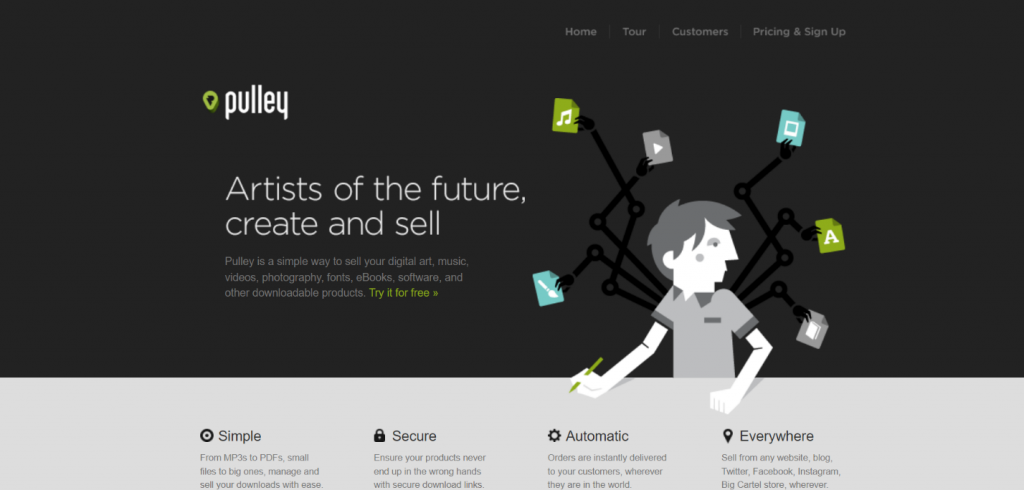 Highlighted features:
Simple e-commerce channel for artists

Integrates with social media and Big Cartel

Zero transaction fees
If you are an artist looking for an alternative to Gumroad, Pulley is your next best bet. Designed simpler than its competitors, Pulley presents a basic and manageable selling platform for artworks.
Pulley stands out among the rest because it charges zero transaction fees. All there is to pay in getting the platform's services is the monthly subscription, which ranges from $6 to $299.
Pulley Pros:
😊 Basic user interface
😊 Easy upload feature for art pieces
😊 Fast download link delivery
Pulley Cons:
😩 Very basic software
---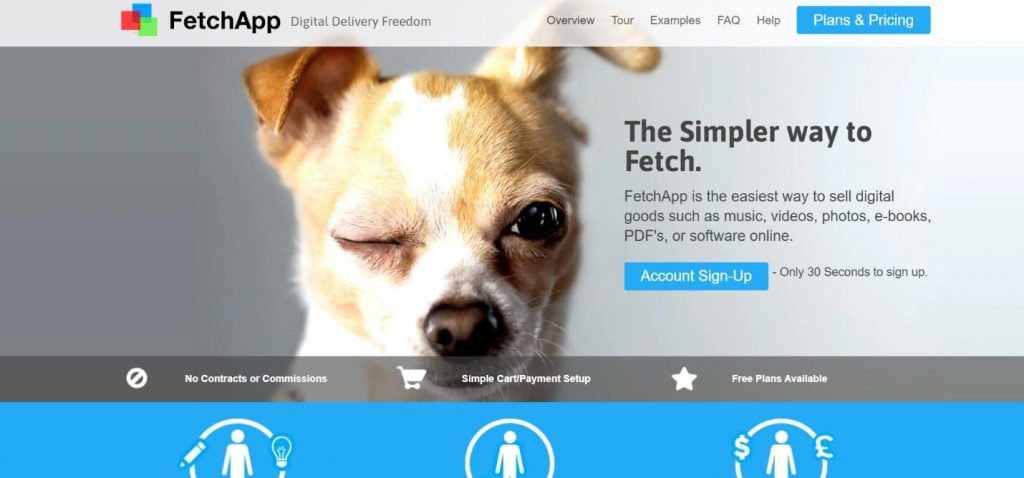 Highlighted features:
Affordable pricing plans

Unrestricted features with every plan upgrade
FetchApp is a no-fuss online selling platform. Quick and easy to navigate, FetchApp allows you to securely deliver your digital products instantaneously.
Unlike most online selling platforms, FetchApp features a range of budget-friendly plans. For as low as $5, you can set up shop on the platform and make use of its functions. With every upgrade you make, FetchApp grants additional storage space for your product listings.
FetchApp Pros:
😊 Easy to navigate
😊 Secure download link delivery
FetchApp Cons:
😩 Downtimes are common
---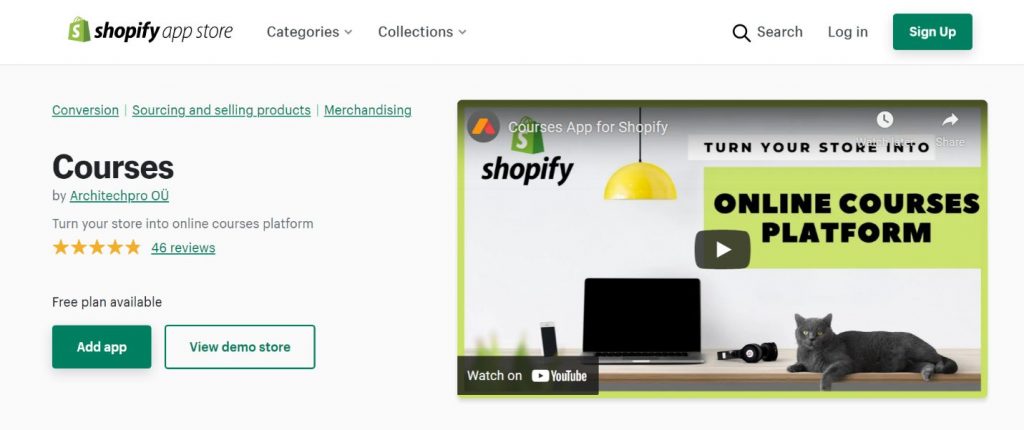 Highlighted features:
Recommended for online courses

Has its own app

Trackable learning progress
If you are looking into selling educational material, consider working with Courses for Shopify. It's specially designed as an online learning place where customers can enroll in online courses, receive tutorials, and more.
Similar to Coursera and other popular learning management systems, Courses allows students to track their progress and download e-certificates.
Courses Pros:
😊 Easy progress tracker
😊 Convenient user interface
Courses Cons:
😩 App experiences low-performance issues
---
Conclusion
Different digital products call for the use of e-commerce platforms that specifically cater to that product category. Most e-commerce platforms today support multiple product types. However, problems can arise in product listing optimization.
Choosing how to sell digital goods online requires more than just creativity and your unique line of digital products. We highly recommend you choose an e-commerce platform that is most suitable for your needs and right within your budget.
Frequently Asked Questions
What is an example of a digital product?
Digital products can range from ebooks and software to online courses and media such as videos, audio, photos, and graphics.
Is selling digital products worth it?
Selling digital products can be a lucrative venture, particularly if you've taken the time to thoroughly research your market. It also offers attractive advantages such as reduced overhead fees and convenience in managing the business.
What digital products are profitable?
Courses and educational materials are among the most profitable digital products. You can also look into selling ebooks, software, music, and digital artwork.
How can I sell digital downloads without a website?
You can utilize marketplaces such as Etsy for selling digital downloads. You can also leverage online tools like the ones we've listed above, including Gumroad, SendOwl, Pulley, and more.
How do I make my digital business successful?
You must have a thorough strategy, and you must know your audience well. Stay on top of analytics and metrics, incorporate customer feedback, and consistently watch out for trends to stay competitive.