Advertising Disclosure
Advertising disclosure:
Our partners compensate us. This may influence which products or services we review (also where and how those products appear on the site), this in no way affects our recommendations or the advice we offer. Our reviews are based on years of experience and countless hours of research. Our partners cannot pay us to guarantee favorable reviews of their products or services.
Dive into the digital product arena where innovation meets execution. Our expertly curated list spotlights trailblazing agencies that excel in crafting digital products with precision and flair. In a realm where one misstep can derail progress, these agencies stand out for their strategic foresight and creative prowess, ensuring your digital venture is not just a fleeting trend but a market-defining success. Join us as we unveil the agencies responsible for creating cutting-edge solutions.
---
Top Digital Product Agency Choices
Top
digital product agencies
2024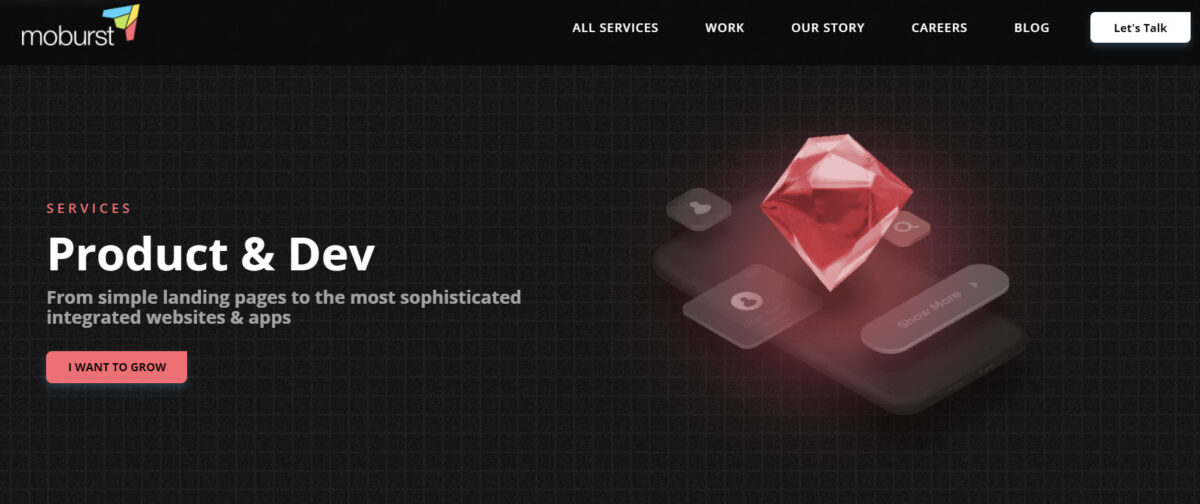 Pricing Info: Minimum Project Size is $50,000+
Moburst is a digital product agency specializing in mobile-first experiences, ensuring your product not only enters the market but also conquers it. With a client list that includes giants like Google and Uber, Moburst has proven expertise in launching and scaling digital products. Their data-driven and user-centric approach focuses on maximizing engagement and conversion rates. As you collaborate with Moburst, you'll leverage their proficiency in app store optimization, mobile strategy, and user acquisition to ensure your digital product stands out. They excel in turning mobile concepts into robust, scalable products. Their campaigns are designed to capture attention and drive action, utilizing the latest in digital marketing techniques and technologies. Their success stories, like the viral campaigns for Samsung and Discovery, highlight their capability to deliver exceptional results.
---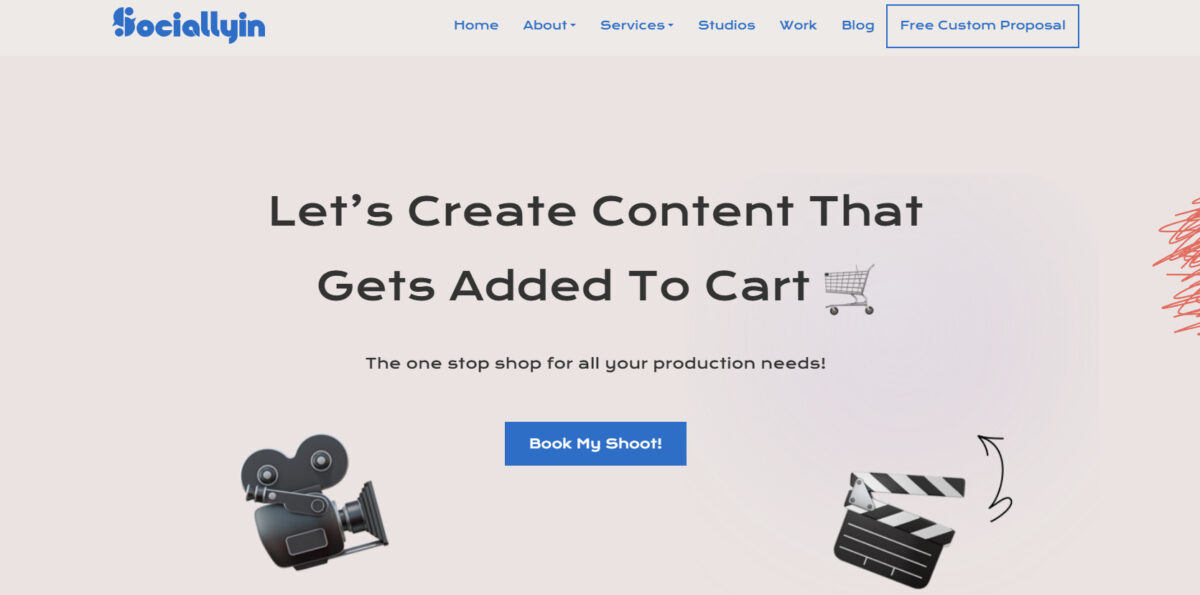 Pricing Info: Minimum Project Size is $5,000+
Sociallyin stands out as a digital product agency that breathes social media. They craft strategies and products that ensure your brand not only participates in the conversation but shapes it. With a suite of services that includes everything from social media strategy to influencer marketing, Sociallyin is the partner you need to amplify your digital presence. Your journey with Sociallyin will tap into their expertise in community management, content production, and paid social advertising, ensuring your digital products resonate with your audience. They are a digital product agency that understands the nuances of social platforms, creating campaigns and strategies tailored to each channel's unique dynamics. Their work with industry leaders across various sectors showcases their ability to drive engagement and deliver tangible results.
---
Pricing Info: Minimum Project Size is $5,000+
Disruptive Advertising is your go-to digital product agency for turning advertising into profit. With a keen focus on Pay-Per-Click, conversion rate optimization, and analytics, they ensure your digital products don't just reach the audience but also resonate with them. Their approach is rooted in data, with a relentless pursuit of optimizing every aspect of the customer journey. Partnering with Disruptive Advertising means benefiting from their expertise in identifying and leveraging the most effective advertising channels for your digital products. Their portfolio, rich with success stories from clients like Guitar Center and Fandango, underscores their prowess in driving growth and improving ROI.
---

Pricing Info: Minimum Project Size is $1,000+
Thrive is a digital product agency that propels your brand forward with a comprehensive suite of digital marketing services. From SEO to content writing, they ensure your digital products gain visibility and traction in a crowded online space. Their strategic approach is designed to increase your digital footprint and drive conversions. As you work with Thrive, you'll experience their commitment to creating digital products that are not only visually appealing but also optimized for search engines and user experience. They understand the importance of a cohesive digital strategy, integrating various marketing channels to achieve the best results. Their work with clients like Restoration 1 and Driver Support showcases their ability to elevate brands and enhance their digital presence.
---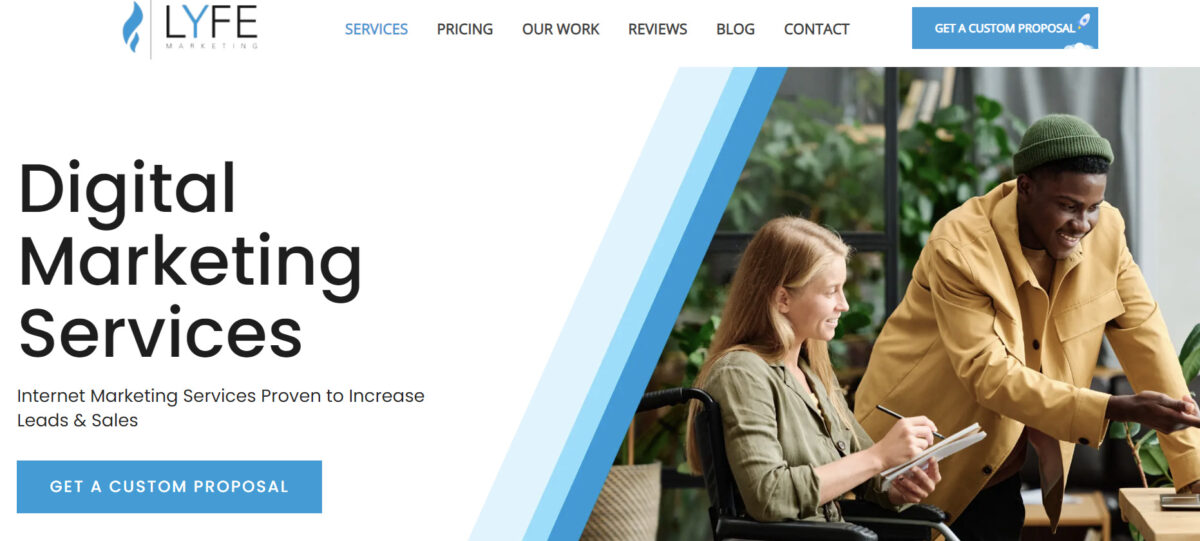 Pricing Info: Minimum Project Size is $1,000+
Lyfe Marketing is a digital product agency specializing in creating impactful digital marketing campaigns for small businesses. Their expertise lies in social media management, PPC, SEO, and video production, ensuring your digital products launch successfully and continue to thrive. They pride themselves on delivering affordable and effective marketing solutions that drive growth. Your partnership with Lyfe Marketing will harness their ability to craft targeted campaigns that speak directly to your audience. As a digital product agency, they excel in producing content that engages and converts, leveraging the power of digital platforms to maximize your product's potential. Their success stories, from increasing leads for dental clinics to boosting eCommerce sales, demonstrate their skill in navigating the digital landscape.
---

Pricing Info: Minimum Project Size is $5,000+
At Work & Co, you'll discover a digital product agency where innovation is the norm and excellence is the standard. With a client roster that reads like a 'who's who' of industry titans, including Apple, Google, and Nike, Work & Co is synonymous with transformative digital experiences. Engaging with Work & Co means entering a space where strategy, design, and technology converge to create digital products that are not only market-leading but also redefine what's possible. Their products are meticulously tested, user-focused, and designed to evolve with your customers' needs. Their work, such as the eCommerce hub for Gatorade and IKEA's digital transformation, is a testament to their ability to meet and exceed their clients' digital aspirations.
---

Pricing info: Minimum Project Size is $100,000+
AREA 17 crafts digital experiences that are aesthetically pleasing and deeply rooted in strategic design. They are in the business of creating work that simplifies complexities and endures over time, serving people, and solving problems through a thoughtful blend of technology and design. As you collaborate with AREA 17, you'll find their approach is about more than just the end product; it's about crafting a narrative that resonates with your audience. They're a digital product agency that believes in the power of storytelling, ensuring every digital product is a reflection of your brand's identity and values. Their portfolio, featuring collaborations with The New York Times, Balenciaga, and Nike, showcases their prowess in delivering digital solutions that drive engagement and deliver results.
---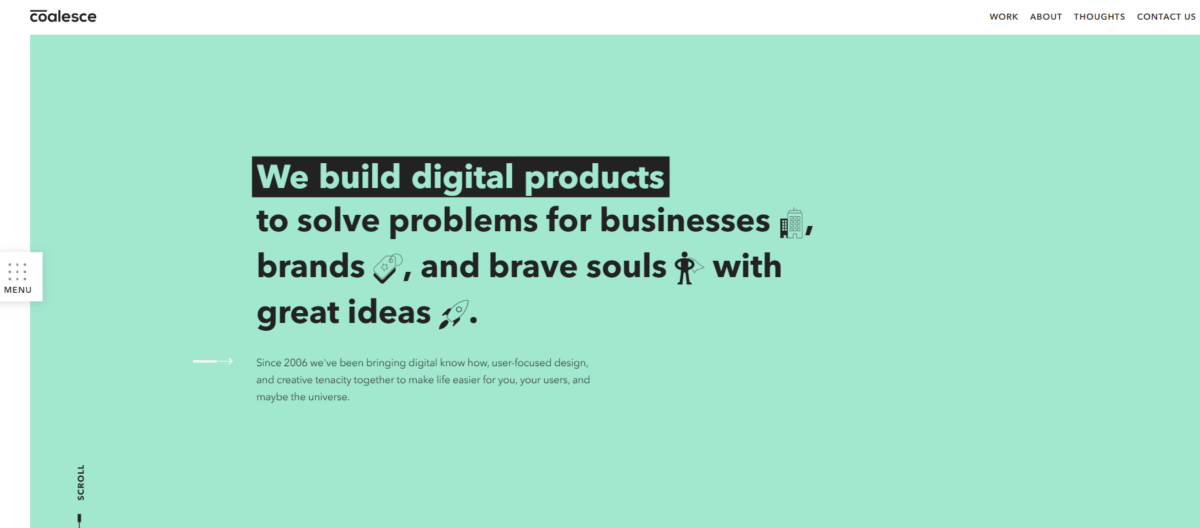 Pricing Info: Minimum Project Size is $10,000+
Coalesce specializes in transforming complex problems into user-friendly digital solutions. They have honed the art of simplifying life through digital innovation, whether for businesses, brands, or individuals with bold ideas. Their services include UX/UI design, branding, and web development. But they're not just building websites; they're crafting digital experiences that stand out in the crowded digital landscape. Their work, such as the unique eCommerce site for Knopman Marks or the suite of technology for Paperchef, exemplifies their commitment to creating products that are not only visually appealing but also functionally superior. As a digital product agency, Coalesce is recognized for their ability to deliver results, as evidenced by their accolades from Inc Magazine and Expertise.com.
---

Pricing Info: Minimum Project Size is  $100,000+
At AMP Agency, your brand's digital potential is fully realized. As a digital product agency, they excel in creating products that engage and retain your consumer base. AMP Agency leverages a product-centric service design, adeptly crafting mobile applications and interactive installations that resonate with users and elevate brand experiences. Your journey with AMP Agency involves a deep dive into user needs, employing ethnography, surveys, and persona creation to ensure that the digital products developed are innovative. They are an agency that prides itself on a comprehensive suite of services, from strategy and roadmapping to UX and interaction design, all the way through to prototyping and development. Their portfolio showcases their versatility, with notable projects for clients like Microsoft and Real Madrid.
---
Pricing Info: Minimum Project Size is $75,000+
As a digital product agency, you'll find Beyond at the intersection of design innovation and technological prowess. Your collaboration with Beyond means tapping into a world-class team that architects, prototypes, and tests digital solutions, ensuring they meet key performance metrics and win markets. Beyond stands out for their customer-centric approach, engineering products that are functional and resonate on a human level. They have demonstrated their expertise through projects like the Global Fibre Impact Explorer, aiding fashion brands in making greener choices and enhancing the Google Partners Directory with a focus on diversity and security.
---
How Marketing Helps Increase Your Digital Product Visibility
Marketing plays a pivotal role in enhancing the visibility of digital products. From startups to established brands, leveraging the right marketing strategies can significantly boost online presence, attract potential customers, and drive sales. Let's explore how different facets of digital marketing contribute to this process.
SEO (Search Engine Optimization)
SEO is the backbone of digital visibility. It involves optimizing your website and its content to rank higher in search engine results. This is crucial because higher rankings increase the likelihood of users finding your digital product when they search for related keywords. Effective SEO strategies include using relevant keywords, optimizing website speed, and ensuring mobile-friendliness. Consistent SEO efforts lead to increased organic traffic, which is essential for long-term visibility and credibility. In fact, 68% of online experiences begin with a search engine, and 53.3% of all website traffic comes from organic search​​.
Social Media
Social media platforms are powerful tools for increasing digital product visibility. With an estimated 4.8 billion social media users worldwide, these platforms offer a direct line to engage with your audience, build brand awareness, and promote products. Platforms like Facebook, Instagram, Twitter, and LinkedIn allow businesses to reach a diverse audience. Creating engaging content, running targeted ads, and actively interacting with followers can significantly boost your product's online presence.
Content Marketing
Content marketing is about creating and distributing valuable, relevant, and consistent content to attract and customers. Blogs, videos, infographics, and podcasts are some of the ways to provide content that resonates with your target market. This approach helps establish your brand as a thought leader in your industry, improving SEO and driving traffic to your website. Moreover, 44% of marketers say improving the quality and value of their content has led to success​​.
Email Marketing
Email marketing remains one of the most effective ways to increase product visibility and nurture leads, with email revenues estimated to reach $11 billion by the end of the year. By sending tailored content, product updates, and exclusive offers to a subscribed audience, businesses can keep their brand top-of-mind. Segmenting email lists based on user behavior and preferences ensures that your messages are personalized and relevant, increasing engagement and conversion rates.
PPC Advertising
Lastly, Pay-Per-Click (PPC) advertising is a model where marketers pay a fee each time one of their ads is clicked. Global PPC spending stands at $118 billion, with the average ROI of PPC being $2 for every $1 spent. PPC can effectively increase visibility and drive traffic to your digital products. It's particularly useful for targeting specific demographics or interests, leading to higher conversion rates.
---
Key Considerations for Selecting the Right Digital Product Agency
Embarking on the journey of selecting the right digital product agency involves several critical considerations that ensure the alignment of the agency's capabilities with your business vision and objectives. Here's a synthesis of expert advice and industry best practices: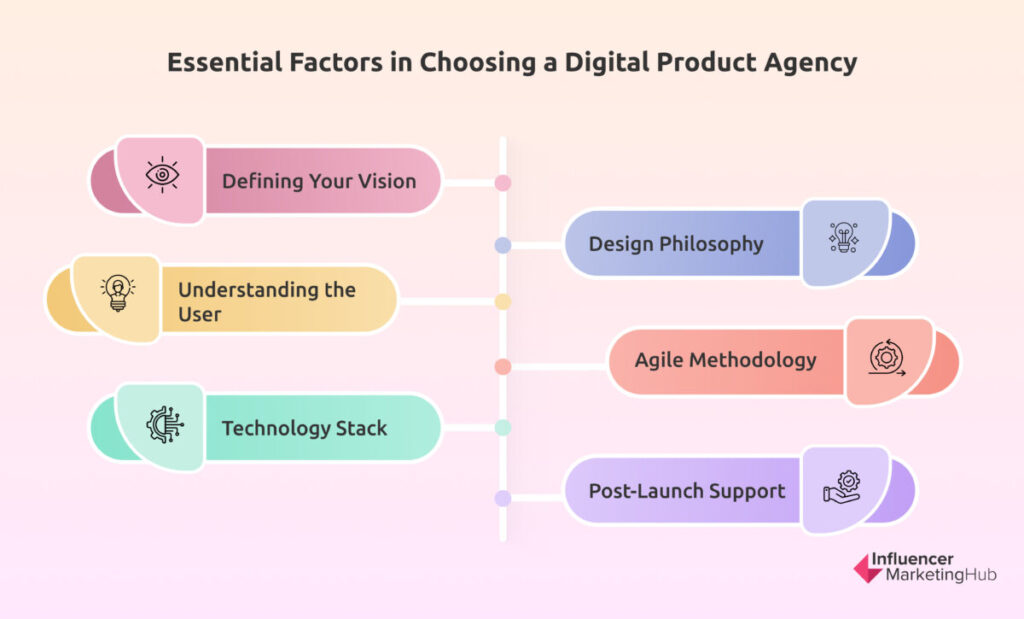 Defining Your Vision
Articulating a clear vision for your digital product is foundational. Agencies will understand your vision and actively refine it to align with market and technological trends. This involves asking probing questions to grasp the core of what you aim to achieve, demonstrating transparency about their capabilities and potential fit for your project, and having a track record of long-term client and employee retention, which speaks to their stability and reliability.
Understanding the User
Identifying and understanding the end user is paramount. A proficient agency will have robust user research methodologies to delve into your audience's needs and preferences, ensuring that the end product resonates with its intended users.
Technology Stack
The technology used in the process is the backbone of your product. Choosing an agency with proven expertise in the specific technologies required for your project is imperative. They should be able to explain their processes clearly and have a history of adapting their workflows to client needs, ensuring they can deliver value quickly and efficiently.
Design Philosophy
The agency's design philosophy should prioritize usability and accessibility, with a portfolio that showcases deep UX and UI expertise, especially in creating interfaces that accommodate various user interactions and screen resolutions.
Agile Methodology
Agility in methodology allows for flexibility and responsiveness to changes. Agencies that employ agile practices are generally more collaborative and transparent, reducing risks associated with timeline and budget while fostering innovation.
Post-Launch Support
After launch, the digital product needs ongoing support to thrive. Look for an agency that views the partnership as a long-term commitment, offering continuous improvement, maintenance, and feature enhancement support.
---
Methodology
Our rigorous selection process for the top digital product agencies is underpinned by an exhaustive analysis of industry metrics and qualitative insights. We've meticulously reviewed over 14000 agencies, drawing upon our team's six-plus years of expertise in digital marketing and a wealth of knowledge from crafting over 3000 articles. Our criteria span a spectrum of core competencies, including innovation, user experience design, technological prowess, and client feedback. We've also weighed the agencies' strategic approaches to project management, adaptability to market shifts, and their track record of delivering transformative digital solutions. This holistic methodology ensures our list reflects a blend of empirical data and nuanced industry understanding, providing a reliable guide for businesses seeking exceptional digital product services. Our commitment to this thorough evaluative approach stems from our extensive experience and dedication to the digital marketing realm.
---
Conclusion
Selecting a digital product agency is a pivotal decision that shapes your brand's trajectory. The agencies featured by our experts are the crème de la crème, recognized for their innovative solutions and ability to sidestep the industry's common pitfalls. They are not just service providers but visionary partners who will propel your brand to the forefront of the digital revolution.
Frequently Asked Questions
What is a Digital Product Agency?
A digital product agency specializes in bringing digital products to life, ranging from websites and apps to software programs. They cater to businesses of all sizes, guiding them through digital transformation with scalable software solutions and comprehensive teams that may include coaches, designers, and developers. These agencies differ from traditional marketing or IT agencies by focusing on a complete lifecycle of product development, from ideation to execution and beyond.
How Do I Choose the Right Digital Product Agency for My Business?
Choosing the right digital product agency involves understanding your specific needs and budget first. Demand full transparency and look for agencies with a clear address, bios, and client list on their website. Check their credibility through client testimonials and references, including those from less successful engagements. Experience in your industry is beneficial but not mandatory; a fresh perspective can be just as valuable.
What Are the Benefits of Working with a Digital Product Agency?
Working with a digital product agency gives you access to specialized expertise across various disciplines without the need for in-house hiring. They provide high-quality outcomes within shorter timelines, thanks to their interdisciplinary teams and efficient processes. Agencies assist in crafting both short- and long-term product strategies, ensuring a high ROI and alignment with business objectives.
How Much Does It Cost to Hire a Digital Product Agency?
The cost of hiring a digital product agency can vary widely, from a few thousand dollars to hundreds of thousands, depending on project scope and complexity. Agencies may charge a fixed fee or an hourly rate. It's essential to request quotes from multiple agencies to compare pricing and services, ensuring you find the best fit for your budget and needs.
What Should I Expect When Working with a Digital Product Agency?
When engaging with a digital product agency, expect a collaborative process that typically includes stages of discovery, strategy, design, development, and deployment. Agencies should communicate regularly and keep you involved throughout the process, with transparency in their operations and a clear understanding of your business goals and user needs. Post-launch, anticipate ongoing support and maintenance to ensure your digital product remains current and functional.