Building strong emotional bonds with customers can remain a challenge for businesses despite available data collection, engagement, and forecasting tools. For many companies, the problem is the absence of a system that can gather data across various channels to create a single unified profile for each customer. Such profiles can help marketing teams develop campaigns that create more meaningful customer experiences.
Customer data platforms (CDPs) are software solutions that can handle this function. With the aid of artificial intelligence, CDPs offer real-time analytics that marketers can use to engage customers in the right way and at the right moment, all the time. These platforms can also provide companies with insights to streamline operations and innovate products.
Let's take a look at the types of data that CDPs consolidate and ingest to understand their capacity to dish out actionable insights for your business.
---
10 AI-Driven CDPs to Upgrade Your Customer Data Strategy:
---
CDPs and First-Party Data
In our article about how CDPs can transform your business strategy, we discussed that these platforms mainly deal with first-party data. Consumer information collected by your marketing channels—such as your website or e-store, mobile app, and social pages—make up first-party data.
In response to the public's demand for more stringent privacy protection, web browsers have announced the eventual phase-out of tracking cookies. A long-time staple among marketers, cookies pull information from external websites and social channels to help brands discover their consumers' behavior. Brands buy them from aggregators or data collection companies, who also purchase the information from digital ad platforms and other websites. However, these third parties don't guarantee or verify the accuracy of their data.
With first-party data becoming the gold standard, CDPs are the ideal solution for secure and authentic customer data. These platforms can assemble, unify, and reconcile various data types, including:
CDPs record and save sensitive details such as customers' names, bank account numbers, and addresses, which your official portal or social networks collect when your customers shop, subscribe to your official newsletter, or answer a survey.
CDPs gather data about buyers' purchases and engagement activities from your customer relationship management tools and integrate it with other profile data.
Customer service or behavioral information
First-party data covers online customer information and data gathered from other touchpoints, such as emails and in-store or call center interactions. Hence, CDPs can help you discover and deliver appropriate responses to client problems and other pain points.
CDP analytics features allow you to learn how customers use your website and respond to your marketing programs. For instance, these tools can calculate the ROI of your pay-per-click ads. They can also show which app notifications or emails received the highest open rates. Learning about your campaigns' performance allows you to tweak your strategies as necessary.
Using the financial information from customer purchase records, you can arrive at a better estimate of the time it takes from access to purchase and discover your buyers' preferred payment modes so you can make the process easier for them.
---
Advantages of an AI-Powered Customer Data Platform
A CDP that runs on AI cleanses large data sets to remove duplicates and ensure accuracy. This process allows your marketing team to have a 360-degree view of your clients and aspects of the customer journey that it can improve. Moreover, it automates data analysis after building customer profiles. As a result of these two actions, a CDP enables your company to:
You can focus your ad spend only on those with the highest probability of converting instead of showing targeted ads to all prospects.
CDP can point you to customers who are likely to churn and intervene instead of trying to win them back with a re-engagement email.
Make recommendations through your app or channels
Predictive modeling lets you determine "next-best actions," including identifying and offering the products and offers that specific customers will most likely buy.
Propensity scoring can help you determine the cold to warm leads to approach with coupons and discounts instead of hot prospects.
---
10 Best AI Customer Data Platforms
You may have begun shopping around for CDPs after learning about their capabilities. Our CDP guide offers a checklist of 7 questions you must consider when selecting a platform for your company. A CDP's intuitive use and integrations are among the topmost considerations.
To aid your search for the right AI CDP for your business, we've listed 10 of them and their top features.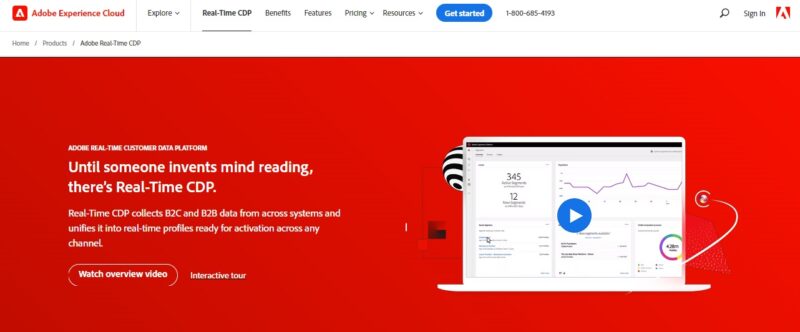 Adobe Experience boasts insights driven by its AI engine—Adobe Sensei—that captures data from various sources and devices to create up-to-the-second B2C and B2B profiles. Prebuilt connectors allow the platform to integrate with non-Adobe applications to speed up campaign setup and launch. Moreover, these integrations link directly to marketing and advertising tools so you can launch campaigns at scale. You can even automate responses and campaigns (from form fills to conversion events and opt-outs) according to your customers' activity or inactivity.
---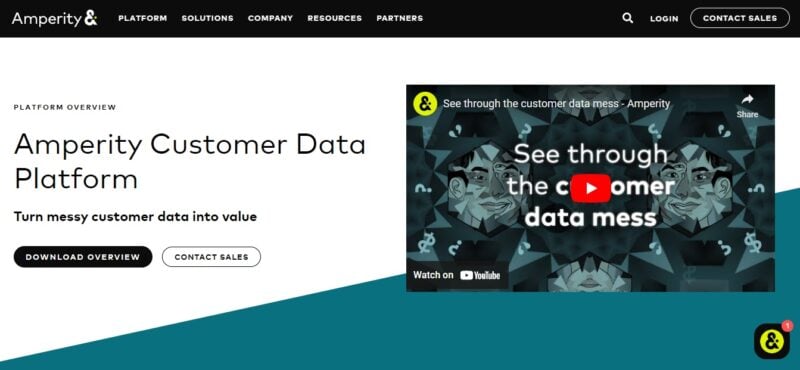 Amperity's CDP promises to "turn messy customer data into value" through its raw customer data ingestion and management, unified customer views based on your use case and user access preferences, and insights that cover segmentation and real-time analytics across your entire customer base. Thanks to its patented AmpID and Stitch AI, client profiles are flexible enough to incorporate new data, allowing you to view profiles up to their last-second interaction with your brand on any channel.
Amperity offers over 200 built-in connectors with the leading tools of Adobe, Amazon, Apple, Facebook, Google, HubSpot, Microsoft, Oracle, and other business intelligence or adtech partners.
---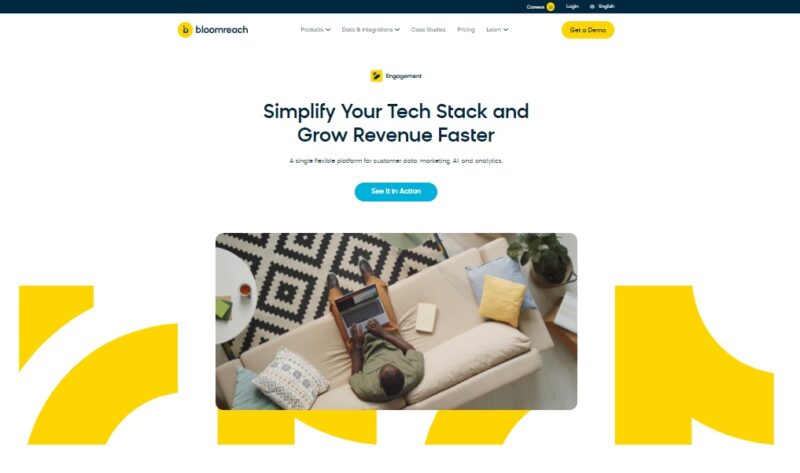 Bloomreach refined the CDP of SaaS firm Exponea, which the former acquired in 2021. Geared toward eCommerce, this platform can serve as a standalone CDP, but its Engagement feature lets you personalize marketing activities. When you don't have any data infrastructure yet, Engagement's customer data engine has built-in ingestion and unification for profile creation and a single view of your customer. These processes facilitate deep segmentation, consent management (tracking and logging of consent granted by users about their data), and marketing intelligence to activate your campaigns. Or you can integrate Bloomreach into your existing enterprise-wide data infrastructure and use the same data engine for real-time customer segmentation and product recommendations on your official website and channels, SMS, email, apps, and more.
---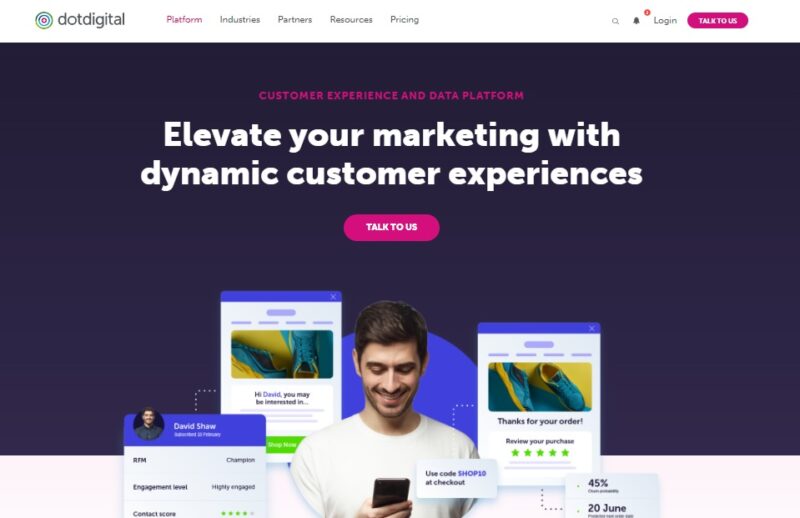 Dotdigital calls itself a CXDP—"customer experience and data platform"—with its program builder that personalizes and automates cross-channel marketing for conversion and retention. This automation works with persona and customer dashboards that show your segments' intent, identifying those needing more nurturing and others ready to convert. The platform's AI enables send-time optimization (STO) or the arrival of your message at a time when your customer is most likely to engage. Moreover, Dotdigital's AI runs affinity scoring, which points you to the right products and content to recommend to your clients.
The platform has hundreds of integrations and an API library that allow seamless connection with your favorite marketing solutions.
---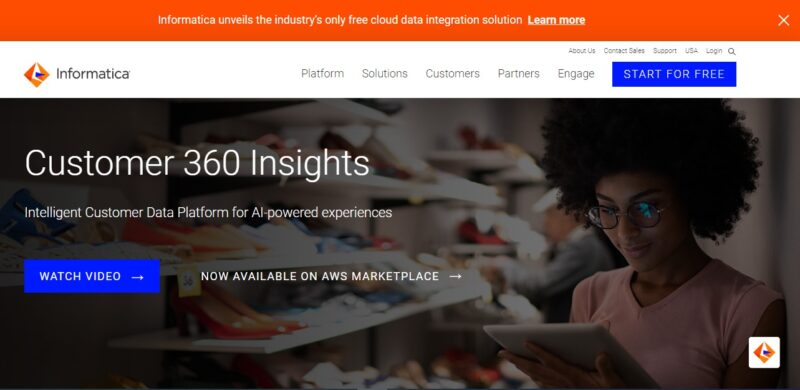 Informatica's AI engine CLAIRE works on the platform's Intelligent Data Management Cloud to turn "chaotic" or unmanaged data into "living" and trusted assets for delivering the next best customer experience. The key features of its Customer 360 Insights CDP service include identity resolution, insights, segmentation, perspectives (customer attributes that are most relevant to your use case and job role), actionable insights, and complex relationships (visualizations). Besides identifying the right approach to reach your customers, Informatica's intelligence also spots potential friction areas and guides users in avoiding churn.
The platform, an Amazon Web Services partner, follows consumption pricing that adjusts to what you need—you can start with services to meet your most pressing business demands and then scale up or down according to your needs.
---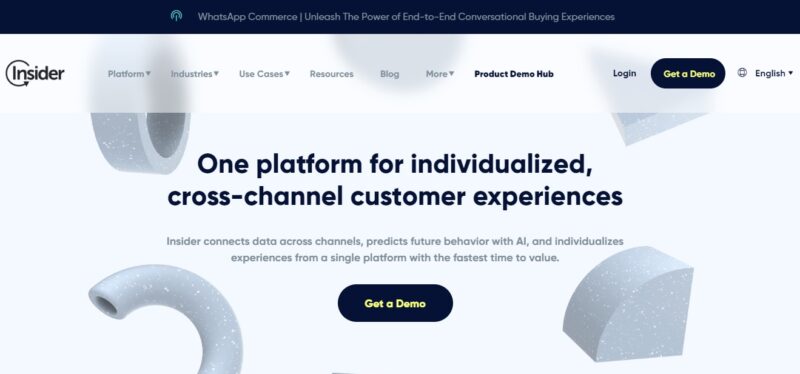 Insider describes itself as a platform that simplifies marketers' roles to build "brand love" at scale by connecting client data from various channels, helping you better understand your customers' choices, segment them, and predict their future behavior through AI. This knowledge allows the platform's users to test and build relevant and timely "1:1 interactions" throughout the customer journey. You can experiment with over 100 templates for messages, websites, mobile apps, and email that were pre-built and marketer-tested to spark connections at every touchpoint. With Insider, you can optimize content for each platform to produce a winning combination of experiences for every customer segment. Its CDP also recommends high-performing activation use cases to help you achieve higher conversions.
---
Lytics promises faster implementation and results through its AI-powered Decision Engine, which allows you to optimize campaigns and view your ROI in as short as 30 days. The AI uses segmentation, behavioral scoring, lookalike or LAL modeling (searching and sending messages to others who "look" or share the same traits as your existing customers), and content affinities (measurement of a customer's interest in a topic) to identify customers who can fuel the highest return on ad spend and open email rates. The Design Engine is among Lytics' 3 core products, which also include the Conductor, which securely connects your data sources for profile building. Meanwhile, Cloud Connect enriches client profiles by updating them without duplication and connecting them to more than 40 channels or apps—particularly ad networks—for reporting and activation.
---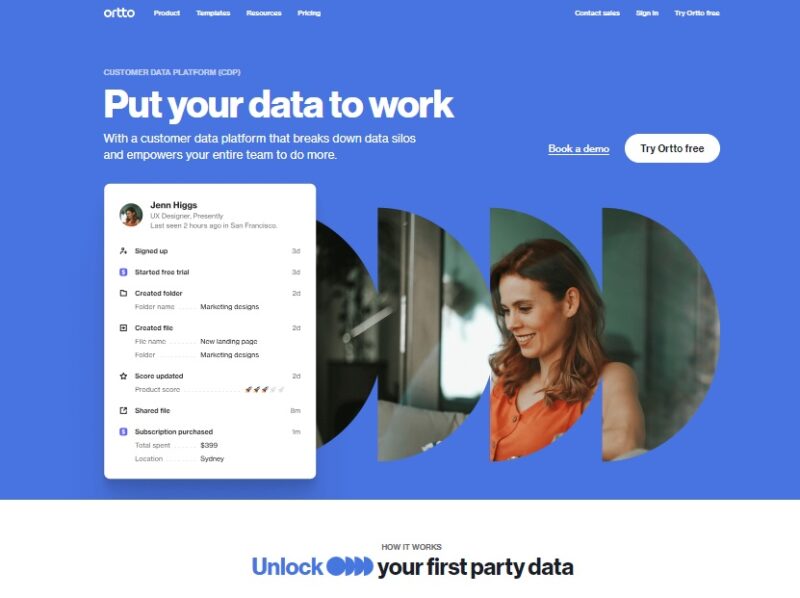 Ortto started as the former visual customer journey builder Autopilot, which made waves in 2015 for offering affordable automated multi-channel marketing that companies could plug into their existing tech stacks. However, the demand grew for marketers to glean insights from each of their data-storing apps.
When the company changed its name to Ortto, it developed a report builder that tracks metrics to help make sense of the data, create visualizations, and identify opportunities. The brand-new CDP also allows users to execute targeted campaigns (the right message in the right channel at the right time) on the same system that stores unified client profiles. Ortto's AI uses LAL modeling.
You can connect Ortto to over 5,000 apps. It has a "free forever" plan and a 14-day free trial for paid plans.
---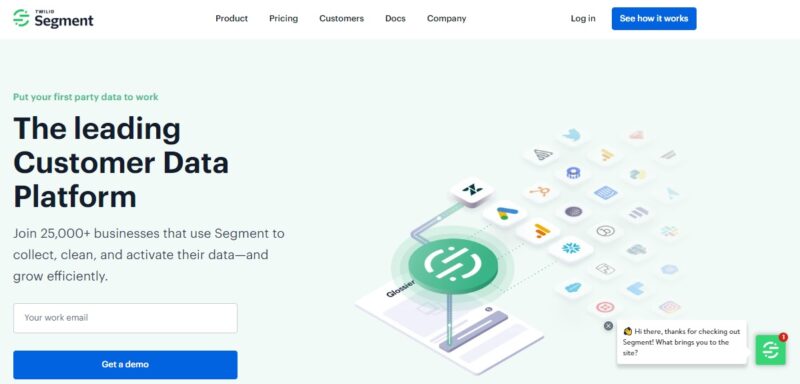 Segment creates a single "source of truth" about your customers, which your various business units—from your product development and engineering teams to your executives—can access to speed up decision-making and workflows. Then the platform connects your data to tools for creating meaningful and personalized interactions with your consumers. Its attribution models show which campaigns are behind the highest customer acquisitions, while analytics help you measure and improve product usability.
Segment CDP can deliver customized experiences for every customer anytime, anywhere with its over 400 integrations, as well as native SMS and email. Meanwhile, knowing where, how, and when dormant customers dropped off can help you plan your re-engagement strategy.
---

Terminus Data Studio is the CDP of the Terminus Platform, a B2B account-based marketing solution. This tool empowers companies to have a unified view of their corporate clients from firmographic (such as organization type, industry, and geographic location), intent, behavioral, psychographic, CRM, and marketing automation platform data. The platform also uncovers interest or intent so your sales team can prioritize engagement automatically with AI. Lastly, Data Studio can segment accounts to upgrade your campaign targeting, making each step of your customer's journey personalized and immersive. Use this CDP with Terminus Measurement Studio to analyze campaigns and what generates revenue.
---
Measuring the ROI of CDPs
CDPs pay off quite quickly, with Tealium reporting that 75% reached an ROI in less than a year, while 89% saw their platforms delivering value in the first 18 months. Some metrics to consider in measuring your CDP's ROI include:
You can reduce ad spend by focusing only on those ready to purchase as identified by AI tools.
Higher conversion rate and lower return rates
CDP uses data to recommend the most relevant action for your individual customers or segments, such as what offers to make or content to publish. Your conversion rate should be at par or above the current industry average.
Meanwhile, accurate targeting can reduce return rates (the number of items returned divided by the number of items sold in a period).
Increased client loyalty and retention
Insights from CDP help you focus your marketing efforts on high-value customers and those you're at risk of losing. Holding surveys and checking your repeat purchase ratio (number of returning customers divided by your total number of customers) every month or quarter can help you measure your retention and loyalty levels.
Improved customer lifetime value (CLV)
Segmentation, hyper-personalization, and better cross and upsell opportunities affect CLV. Monitor how your CLV changes as you roll out new campaigns based on insights from your CDP.
In measuring your CDP's ROI, compare your metrics before and after using the CDP within the same period. For instance, analyze the first quarter results of this year against the next. Also, remember to note factors that may skew results, especially changes in your monthly marketing budget.
---
Optimize and Economize While Seeing Revenues Rise with AI CDP
The right AI CDP can provide an accurate pulse on your leads to customers, leading to better management of your marketing time and resources. Discover more tools by visiting our other listicle, "Top 30 Customer Data Platforms to Drive Data-Centric Marketing Campaigns in 2023."