What exactly is brand love?
The feelings we have toward brands can compare to how we feel about other people. Obsession. Admiration. Loyalty. Whatever it is we feel, it's even more important in a world where consumer tastes are constantly evolving.
Why do we put up with impossibly long lines for that new Bali-inspired, coconut-based, vegan hand cream? What makes us willing to travel ridiculous distances for our favorite double cheeseburger? And why on earth do we lose hours of precious sleep for that gizmo gadget that goes on sale at midnight? The things we do for love. Brand love.
An individual doesn't just wake up and decide to love a brand. There are phases to brand love, just as a relationship has different stages. There are heaps of contributing factors, including service, accessibility, and quality.
How do you achieve brand love? Talkwalker's Brand Love Story 2021 dives into 11 methods top corporations use to drive brand love, one of which is influencer marketing.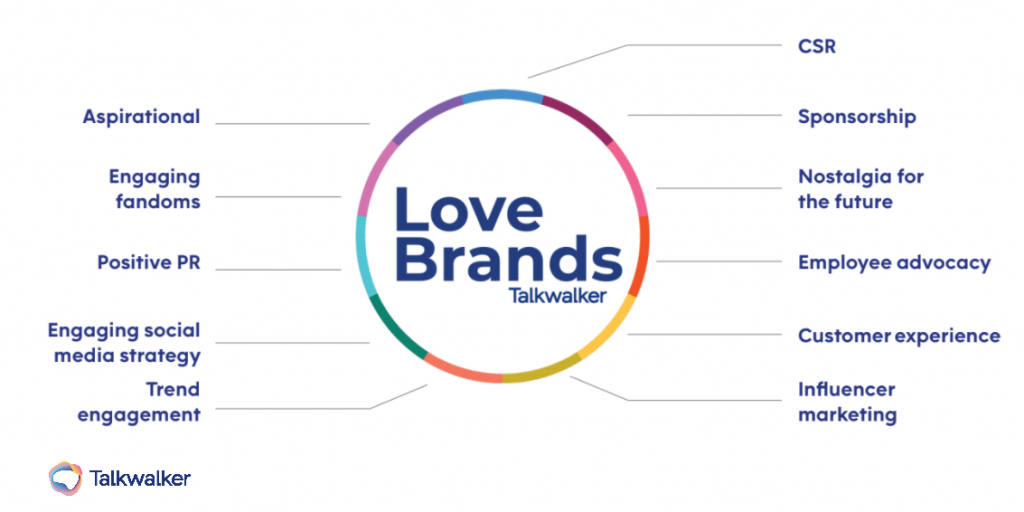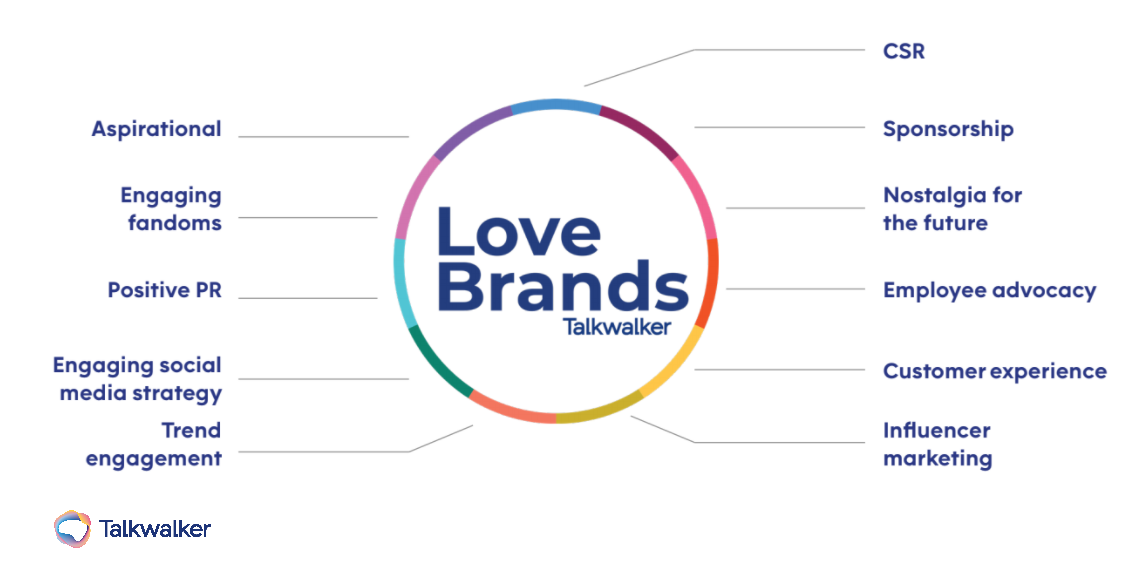 ---
Brand Love Makeover: How 6 Brands Apply Influencer Marketing:
---
The pandemic caused a sharp increase in people staying in and working from home. It reshaped the conversation around brands and how we interact with and feel about them. So what does that mean for brands?
People were eager to balance isolation by finding connections online, with other people as well as brands. Consumers were desperate for social and emotional connections, resulting in ample opportunity for the brands that managed to connect.
Brand love isn't just about metrics and numbers. It shouldn't be reduced to who has more clicks or views. The more relatable a brand's content is, the more engagement can be garnered.
This is where the benefits of influencer marketing come in.
If you're able to forge a relationship with an influencer, you're not just potentially getting new customers or exposure; you have the opportunity to boost brand love by building off of an influencer's existing fanbase.
As social media grows, so too does influencer marketing and its reach. Instagram, Facebook, LinkedIn, YouTube, Twitter, Reddit; the list goes on. More and more companies all over the world are successfully incorporating influencers to improve engagement, increase sales, and spread awareness. In short, to drive brand love.
Talkwalker compared 1,228 global brands from around the world, looking into social media, blogs, forums, and more to identify the top 50 most loved brands in the world. Unsurprisingly, several, if not all the top companies use influencer marketing to their advantage.
---
Makeup influencers: micro, macro, and icons
Many of the brands that made it into Talkwalker's list were makeup brands, highlighting the impact of influencers in the beauty and skincare industry. An incredible 67 percent of women claim to follow beauty influencers online.
Multiple brands recognize the power and reach of influencers and not just A-list celebrities. Micro-influencers are just as able to drive brand love and increase engagement thanks to an at times more engaged following. Deciding between partnering with a macro or micro-influencer generally comes down to the marketing goals of each brand.
Let's dive into some recent, successful instances of influencer marketing within the makeup industry, as well as the choices brands made to collaborate with global celebrities or more local influencers.
1. M.A.C.
M.A.C. has always been a powerhouse in the makeup industry. One of the many brands that profited from increased demand for infotainment, the beauty brand has partnered with a long list of influencers and celebrities. M.A.C. is a prime example of how to drive engagement and turn up brand love.
By enlisting Lisa from Blackpink as a global brand ambassador, M.A.C. was able to connect with Blackpink's incredibly passionate fanbase, resulting in a huge amount of mentions and engagement. Talk about a worthwhile partnership! The collaboration is long-term, meaning the cosmetics brand is likely to continue reaping the benefits of associating with a K-pop star with such a strong global influence.
Lisa's birthday is just getting started 💜! Respond with your best birthday wishes – so she can start cutting this iconic cake 🎂. #MACLovesLisa pic.twitter.com/69oZwgJ0HV

— maccosmetics (@MACcosmetics) March 26, 2021
K-pop celebrities have some of the most diehard-loyal fans on the internet, and by tapping into this remarkable audience, M.A.C. was able to significantly expand its social reach.
However, brands can't always collaborate with global superstars, mega-influencers, or Hollywood's elite. Micro-influencers tend to have very engaged followers, and brands are able to leverage that devotion by collaborating with them as well.
Whether it's reposting UGC photos or sharing content from local influencers, harnessing the niche impact of micro-influencers also goes a long way to improving awareness. By reposting or sharing content, brands increase the possibility of further engagement later on down the road.
M.A.C. exemplifies a brand that understands long-term partnerships and the power of influencer marketing. They consistently reach out to A-list celebrities as well as influencers with smaller audiences, making sure they cover all their bases.
---
2. Huda Beauty
The next example is not just a simple success story of a brand partnering with an influencer. Huda Kattan started off as a beauty influencer and content creator, making videos on YouTube and amassing a loyal following across multiple platforms. With over 40 million followers on Instagram, it's no wonder Kattan was successful in transitioning from an influencer to a global brand that grew quickly.
Since her cosmetic line Huda Beauty launched in 2013, the brand has consistently worked with other influencers across their platforms.
The trend of user-generated content continues to grow as other content creators try to follow in Kattan's footsteps. Looking for that big break that will transform their channels into booming businesses. In the last few years, there have been several successful businesses and brands that have achieved this, especially in the beauty industry.
There is no proven recipe for success, but following what Huda Beauty did is not a bad idea. By starting off with quality content. Kattan was able to build a base as an influencer in the industry, and eventually build out a brand with products and services.
---
3. Benefit Cosmetics
Benefit Cosmetics definitely benefited from the sharp increase in demand for infotainment. Utilizing content that heavily focuses on influencers, they produce bite-sized entertainment that keeps their audience engaged and coming back for more. They consistently partner with influencers across channels that already have large, relevant audiences making it easier for fans to engage with Benefit.
From makeup gurus like Noors Stars and Nikita Dragun to celebrities like Skai Jackson and even TikTok stars like Abbie Herbert, Benefit puts influencers at the core of their marketing strategy and online presence.
"This work with popular influencers means their audience is not just engaged, but excited by the brand. Benefit's net sentiment was consistently high, never dropping below 80%."
By reposting content from micro and macro-influencers, Benefit Cosmetics is able to engage with new followers that would potentially be interested in their products.
Benefit is also able to boost brand love by sharing other influencers' and users' content. This encourages more engagement and also helps them identify content that is already performing well to boost interactions on their own channel.
Additionally, their affiliate program increases partnerships by reaching out to influencers, bloggers, and vloggers who have fanbases and followings that already align with Benefit's own audience. In addition to being flexible and cost-effective for brands, affiliate programs are a great way to bring in more targeted traffic.
---
4. Urban Decay
Leveraging the increasing popularity of bands originating from South Korea, Urban Decay turned heads by naming Monsta X their global ambassador. Known for targeting a diverse audience and partnering with a range of celebrities and influencers, Urban Decay understood that Monsta X was a fitting representation of the difference they aim to relay to their audience.
By engaging and promoting users and influencers across social media, Urban Decay is able to drive engagement, build brand love, and tap into a wider audience than more conventional makeup brands.
Highlighting users' differences and the ways they stand out works in the brand's favor. In a move that hit two birds with one stone, Urban Decay promoted and shared content from a variety of AAPI creators for Asian and Pacific Islander Heritage Month. In leveraging influencers as well as incorporating CSR, Urban Decay reached a wider audience while making it clear to their existing consumers that they cared about the issues customers were invested in.
---
5. Olay
Yet another cosmetics brand that recognizes the impact of influencers in the beauty industry is Olay. At the forefront of skincare solutions, Olay embraces both micro and macro-influencers, using their platform to connect with their audience.
Olay's partnership with Keke Palmer addressed that acknowledging different kinds of beauty, and the realities of social media are important to their brand and mission. Palmer has been diagnosed with polycystic ovary syndrome (PCOS) and has been open about the challenges surrounding it and skincare.
By tapping her as a global ambassador not once, but twice, Olay sends a clear message to their consumers that representation and diversity are matters they prioritize. Working alongside the actress over time yields positive engagement while increasing brand love through their own channels.
---
6. Lancôme
French luxury cosmetics brand Lancôme knows just how big of an impact a successful event with celebrity presence can have. Their La Vie Est Belle Podium with actor Erica Nlewedim garnered significant attention in Nigeria, and their recent campaigns have seen the likes of major players such as Zendaya, Lily Collins, and Penelope Cruz.
As seen in the campaign visuals with Zendaya, Lancôme recognizes that merely slapping a photo of a celebrity across their social channels is not enough. Influencer marketing involves a strategy, authenticity, and oftentimes a message that resonates. By weaving their campaign with empowering women, the makeup brand takes a stance that resonates with their intended audience.
---
Why influencer marketing and makeup works
Is there a reason that makeup brands and influencers are able to drive so much engagement? It is a fast-moving industry, and beauty brands have to adjust and adapt to keep up. Influencer initiatives have increasingly become a norm, with marketers partnering with micro-influencers who are at times more approachable and able to really engage genuinely with their fanbase. Authenticity, especially if buying a product is involved, is critical when thinking about which influencers to collaborate with.
As the lines between social media stars, influencers, and celebrities slowly begin to blur, companies need to keep up with those that make the greatest impact. With Gen Z and Gen X users at the frontlines of trends and shopping habits that shape sales, beauty brands have more reason than ever to allocate more funds for influencer marketing.
---
How influencer marketing drives brand love
The basic building blocks of brand love are actually quite simple. However, the pandemic resulted in a vastly changed world and industry, and there are still global consequences. The disruption has impacted almost every brand and organization worldwide. However, some brands reacted quickly and adapted, strengthening consumer relationships.
Influencer marketing is just one of the many methods to drive brand love, but it performed comparatively well, allowing brands to leverage the increased demand for infotainment and online browsing.
The makeup industry performed strongly during lockdown, benefiting from bite-sized influencer content and eye-catching creative videos and photos. Whether brands decided to exclusively partner with big-name celebrities or opted for more niche content creators, there's no denying the incredible reach and sway of today's influencers.
---
Brand love moving forward
Brand conversations are happening online, with or without you. You can ignore them, or take initiative to boost your brand love. There are several things you can do to increase engagement and success:
Make your customer the focus: Understand your audience, the issues they're facing, how the pandemic has impacted them, and what topics will get them engaged.

Discover where your customers talk: There are a variety of channels and platforms out there; make sure you know how to connect with consumers. Then, adjust and adapt your content to match.

Start conversations: Consumers want authentic connections with brands, and that often means giving them what they want to hear. Whether it's tackling topics that are making global impact or simply asking how they are, you need content that allows people to connect.

Add to conversations: Marketing isn't and shouldn't be one-sided. Be proactive and join the conversations that are happening around your brand. Use social listening to find the mentions you may have missed, answer the questions people are asking, respond to social messaging.

Continue monitoring your brand love: Brand love, as well as consumer perception, can change at any moment. A new campaign might boost engagement, while a social media crisis will drag you down. By monitoring your brand constantly, you'll be aware of any possible opportunities or problems.
As consumers become more and more specific about their needs, brands will need to step up and ensure their influencer marketing strategies include the right people and the right message.