As influencer marketing becomes more and more popular, we're seeing a number of new ways to work with influencers pop up. One of these tactics is called product seeding.
Product seeding is a great tactic to employ alongside a traditional influencer marketing strategy or as a starting point for new brands or brands with smaller budgets. Many brands often find that it's easier to give out free samples versus allocating budgets towards full influencer campaigns.
Throughout this guide, we're going to talk more about what product seeding is, key benefits, examples, and how to create your own product seeding strategy.
---
The Ultimate Guide to Product Seeding in Influencer Marketing:
---
What is Product Seeding?
Product seeding—also known as influencer gifting—is when brands send out free products to a group of influencers. Oftentimes, this gift is also accompanied by a discount code the influencers can share with their followers. In return, the influencer may post about the products as a way of helping your brand increase awareness and reach.
You want to carefully curate your group of influencers, making sure you're only sending free product to influencers who will genuinely enjoy the gift. This is the best way to increase the odds of getting them to post about your brand.
---
Benefits of Product Seeding
Product seeding can be a great strategy for your brand to test out. There are a number of benefits involved that can make this tactic well worth the buy-in of sending free product.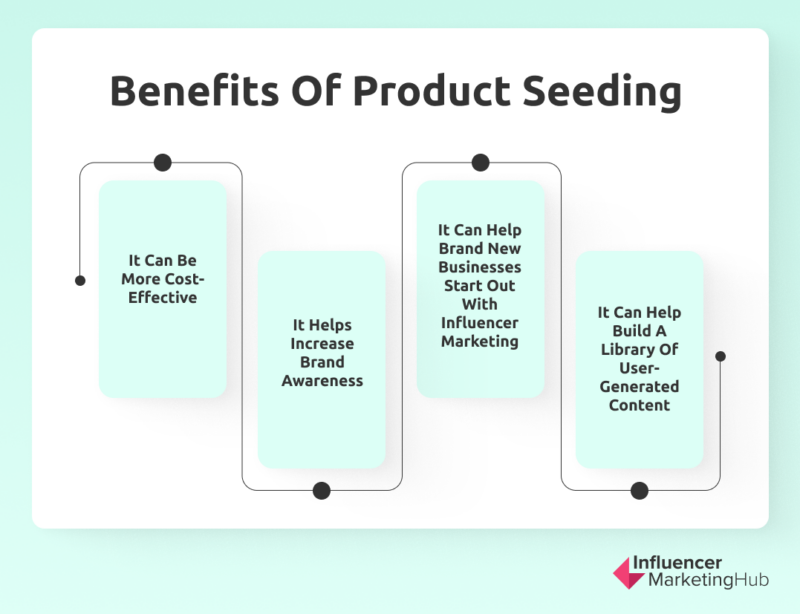 It can be more cost-effective.
Product seeding has no upfront costs other than the cost of product (which you likely already have) and shipping. While this also means there's no guaranteed return because you aren't paying for a full influencer campaign, this can still be a solid strategy.
Why? Because a product seeding campaign has very little costs associated with it, so the percentage of influencers who will end up showcasing your brand tend to be worth it, even if it isn't a 100% return.
---
It helps increase brand awareness.
Even a small mention in an unboxing video can be great for spreading brand awareness. When influencers and content creators showcase your product and your business within one of their posts—be it an Instagram post, a story, an unboxing video, etc.—it introduces your brand to their audience.
And if you've done your research, their audience should also be your target audience. Meaning your brand is being put right in front of the people most likely to buy your product. This helps increase brand awareness and potential sales, all in one fell swoop.
---
It can help brand new businesses start out with influencer marketing.
Brand new businesses often don't have a large marketing budget. They're still building their audience and working to increase sales and profit. But product seeding can be a great strategy for newer businesses to get the word out and have influencers help.
---
It can help build a library of user-generated content.
If you see influencers that you sent products to posting about your brand, reach out and ask them if you can share the posts on your own social media. If they agree, product seeding can be a huge help in gathering user-generated content, which is often viewed as more authentic than traditional branded content.
---
Top Examples of Product Seeding in Action
To get an idea of what a successful campaign might look like, take a look at these three examples of product seeding in action.
Albion Fit
Albion Fit gifted this influencer one of their bomber jackets. She made a great post showcasing herself wearing the bomber jacket as a part of her travel outfit and included a discount code for her own followers to get 10% off their orders.
This was a great strategy because Albion Fit ended up getting an entire post dedicated to their product. And they left two comments: "Okay this is adorable on you!!" and "Your whole outfit is 🔥🔥" helping to fuel engagement on the post.
---
Costa Farms
Costa Farms is a plant nursery that supplies house plants to a number of stores but also has their own online DTC shop. This popular plant influencer was pregnant, and Costa Farms made the smart move to provide her with free plants for decorating the new nursery.
Because influencers love sharing information about big life updates—hello, new baby—this is a great way to make sure you'll get some kind of mention. Successful product seeding campaigns use this kind of insight to make sure they're sending product to the right influencers.
---
Let's Aroo
Pet influencers need gear, too! Let's Aroo sent Leuleu the Australian Shephard an adorable bandana that was featured in the above post, also accompanied by a discount code for followers to buy for their own furry friends.
Let's Aroo partners exclusively with pet Instagram accounts—of which there are many—creating the perfect influencer to work with in a product seeding campaign. Be smart about who you're sending your products to and make sure they promote the type of products you sell on a regular basis—or at the very least, have a solid use for them.
---
Product Seeding Best Practices
Make the most out of your product seeding strategy—keep these tips and best practices in mind throughout the entirety of your campaign.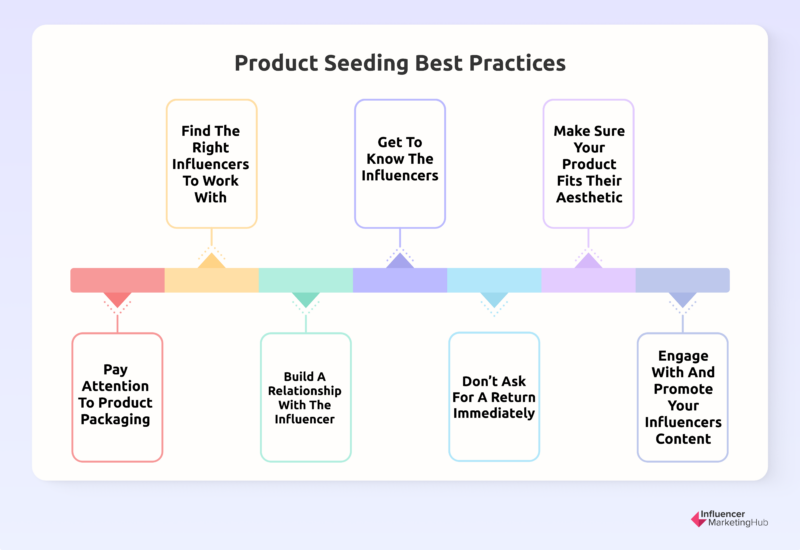 Find the right influencers to work with.
Start by researching influencers. There are so many amazing content creators out there with audiences perfectly aligned with your own. Those are the people you want to be sending free products to.
Create a list of influencers on various platforms that look like they would have a real use for your product—whether they post content about your industry or seem to have a need for what you're selling.
---
Get to know the influencers.
One of the best ways to see success with your product seeding campaign is by sending products that will perfectly fit each influencer. To do this well, you need to get to know the influencers—before you ever even reach out to them.
Follow each influencer you're considering adding to your product seeding campaign. Review their content religiously. Understand the types of things they share, the types of products they use, any life changes coming up, etc.
Think back to our Costa Farms example. They helped decorate a plant influencer's nursery. That could be just one angle. They may also have paid attention to influencers moving house, buying new cabinets, getting a greenhouse, or other big changes that give them space for new plants. Costa Farms could easily reach out and say, "Hey, we'd love to help you add some life to your new space," almost guaranteeing them a shoutout by each influencer.
Think about how you can utilize this same strategy when reaching out to influencers and asking to send them products.
---
Make sure your product fits their aesthetic.
This goes hand-in-hand with our last tip. Not only do you want the products to be actually useful—it's the best way to get a post—you want them to match the influencer's aesthetic.
For example, if your product is used in the home and it comes in multiple colors, pay attention to photos of each influencers' home decor. If they love bright colors, make sure to send them something to match. Same goes for if they seem to go for more muted, neutral decor.
Those extra touches don't go unnoticed. If the creator can immediately give it a home without it seeming out of place, you've won.
---
Pay attention to product packaging.
Just because you're sending a free product doesn't mean you should place it in a boring, unmarked box and send it on its way. Go all out with your product packaging—just as much or more so than you do with regular orders.
Influencers regularly receiving free product will often record unboxing videos. If your product makes it in, the packaging can help it stand out more than the rest. Add beautiful, branded paper, thank you cards, business cards, additional goodies, and anything else you can think of to make your package pop.
Personalizing the package is also a great idea by writing out a thoughtful note for the influencer, sharing why you chose this product for them and how you hope to see them use it.
---
Build a relationship with the influencer.
Keep the influencer informed of when they can expect to get their package, then check in once it's arrived to see what they think. Be helpful, offering insight and tips on getting the most out of your product. Build up a relationship through email, talking about your product, and creating a rapport between you/your team and the influencers you've chosen to work with.
---
Don't ask for a return immediately.
Because product seeding isn't a traditional paid influencer marketing campaign, you can't expect a return—i.e., a post, story, reel, or mention of any kind.
However, after you've spent some time nurturing the relationship and allowing each influencer to really try out your product, there's no harm in asking if they'd mind sharing the product with their followers, you just have to try a more subtle approach. You could even offer a discount code they can share with their audience as a way to encourage sales if they've hinted that they are in.
Don't be offended if some influencers decide not to share content about your product—after all, you haven't paid them to do so. But others, especially those who have really found it useful, will be happy to share. Especially if they also can offer their followers a deal.
---
Engage with and promote your influencers' content.
If you do get some influencers to share content about your product, make sure to engage with and promote that content. Share it on your own stories or repost (with permission) to your feed. Help the influencers get even more reach while they do the same for you.
Furthermore, engage with content that isn't only about your brand. Make influencers feel like you've created a solid relationship together. This is a great way to make sure they'll want to continue working together in the future.
---
Add Product Seeding to Your Influencer Marketing Strategy
Start incorporating product seeding into your strategy. Identify hyper-relevant influencers and send them free products to enjoy—it can be a great and low-budget way to get your brand name out there. To create an even more robust influencer marketing strategy, take a look at these key trends for 2023.
Frequently Asked Questions
What is product seeding?
Product seeding, also known as influencer gifting, is a strategy involving sending free products to influencers with the hopes that they share those products with their audience—at no additional cost to your brand.
Why is product seeding important?
This tactic is important because it's a great way to share the word about your business at little to no cost. Yes, giving away free product can be a bummer—but if you already have the product and no other budget, it can be a great way to build brand awareness with what you already have on hand.
How can you get your product into the hands of influencers?
Many influencers share their PO box address publicly on their website. If they don't, you can always email to ask for their mailing address so that you can send them free product with no strings attached.
How many influencers should you send your product to?
There's no set number of influencers you should use. You might want to try this tactic with just a handful of influencers before dedicating more products to a bigger batch if you see some kind of return.
Will product seeding work for your brand?
There's no guarantee with many marketing strategies. This is why you might want to start by sending product to just a few influencers as a test run to make sure you don't invest too much time and money (especially with shipping costs) into a strategy that doesn't work for your brand.