Advertising Disclosure
Advertising disclosure:
Our partners compensate us. This may influence which products or services we review (also where and how those products appear on the site), this in no way affects our recommendations or the advice we offer. Our reviews are based on years of experience and countless hours of research. Our partners cannot pay us to guarantee favorable reviews of their products or services.
Have you ever wondered how successful global companies grab their customers' attention? Reaching a specific group of people can be difficult, especially when dealing with different cultures and languages while trying to connect with potential customers. Ineffective marketing campaigns often lead to a sense of wasted resources. Understanding who your target audience is and what they're like is crucial, so you can create and sell a product that works for them. Gaining a better understanding of the audience can help create more impactful campaigns that resonate with them. Acquiring audience insights is the key to achieving this goal.
---
Top Audience Insights Tools for 2024 + Ways to Optimize These Platforms:
---
What Are Audience Insights?
Audience insights in marketing refer to critical data gathered about a specific target audience to help companies better understand their prospective customers. This information may include demographic data such as age, gender, and location, as well as psychographic information such as interests, preferences, and lifestyle habits. Marketers can gain a more extensive understanding of their target audience's needs, desires, and intentions by analyzing these insights.
The primary purpose of using audience insights is to develop more effective marketing campaigns and strategies relevant to the target audience. The data enables brands to tailor their messaging, products, and services better suit their potential customers' preferences, increasing the likelihood of conversion and customer satisfaction.
Customer surveys, social media analytics, website analytics, and market research are all methods for accumulating audience insights. Marketers can create detailed audience personas, which are fictional representations of their ideal customers, by combining this data to guide their marketing decisions.
---
What Are Audience Insights Tools?
In today's digital landscape, individuals connect and engage online, demonstrating interest in various topics and products across websites, social platforms, and applications. Liking content, interacting with apps, or providing information during sign-up processes can generate such data. Companies specializing in consumer insights and data subsequently harness this anonymized information. Audience insights tools collect and analyze demographic, habitual, and interest data to create a comprehensive profile of a target audience. These tools process large amounts of data into easily digestible insights, enabling businesses to tailor marketing strategies, connect with customers, and make informed decisions across advertising, PR, product development, and customer service.
Many audience insights tools on the market integrate first-party and third-party data to offer a comprehensive view of your target audience. Incorporating third-party information is essential for obtaining a comprehensive understanding of customers' interactions, interests, and affinities beyond the confines of your brand. This comprehensive understanding allows for more targeted and effective marketing campaigns across multiple platforms and industries.
---
What Are the Ways to Optimize Audience Insights Tools?
Audience insights can have various uses depending on the type of business and the goals of your company. As a marketer, you may use the data collected by these tools to segment consumers, identify influencers, perform market research, and improve decision-making processes. These platforms empower companies to make swift, informed decisions regarding brand marketing, content strategy, advertising, and product development by presenting instant and continuous access to audience intelligence and analysis.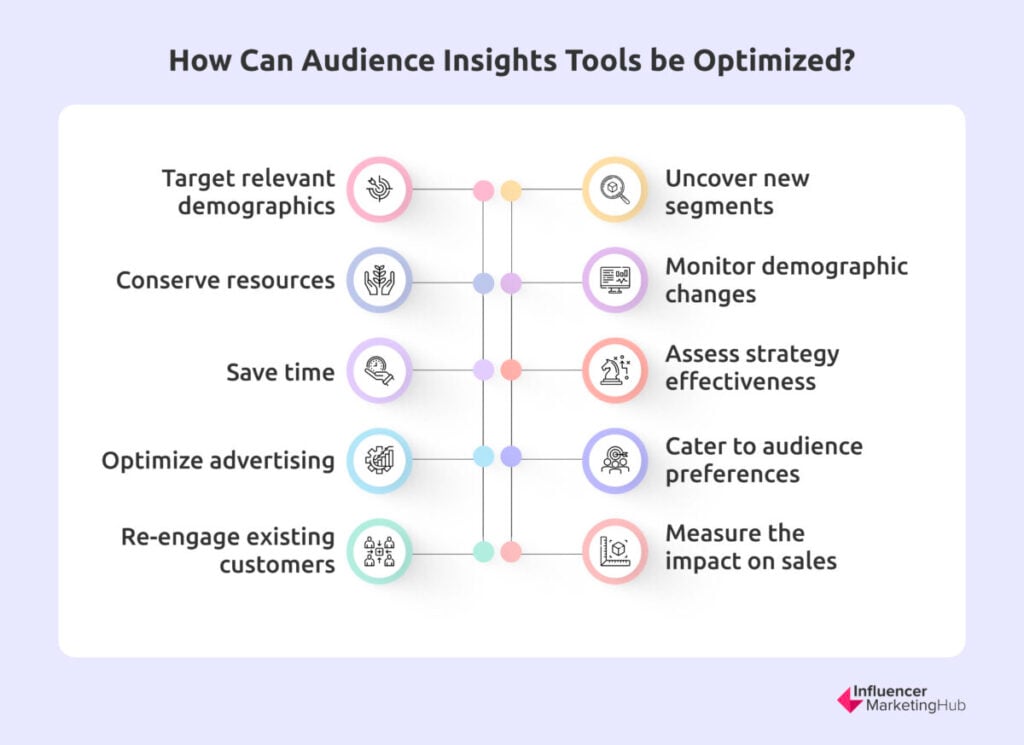 Target relevant demographics
An audience insights tool can aid you in identifying individuals who may express interest in your products or services. This allows you to optimize your social listening strategy for the specific target demographic in question. Consequently, you will be equipped with the necessary elements to attract the appropriate consumers for your brand.
---
Conserve resources
Traditional market research can be both time-consuming and costly. Pursuing accurate results through interviews or studies demands a significant budget. In contrast, audience insights offer precise information at a lower expense. With a fully automated process, there is no need to invest time or effort in data collection, making it a more affordable alternative to conventional methods.
---
Save time
The long-established market study can span months or even years, involving several steps that take time. Audience insights technology eliminates these lengthy stages, granting you rapid access to valuable information. No longer will you spend countless hours creating surveys or conducting focus groups; with audience insights software, data about your current and potential customers are available within minutes.
---
Optimize advertising
Advertising is often associated with high expenses, making it crucial for marketers to avoid launching campaigns that may fail. Using audience insights tool ensures that your marketing efforts reach the right people and maximize your ROI.
---
Re-engage existing customers
Traditional methods like email and telemarketing are no longer sufficient for connecting with customers. To make an impact and increase brand awareness, being active on social media and mainstream media is essential. A key benefit of audience insights is understanding the media preferences of your target audience, including their preferred social networks, publications, and types of media content. By adapting to their preferences, you're increasing the likelihood of successfully engaging with your target audience.
---
Uncover new segments
Audience analysis uncovers untapped segments and reveals surprising demographics. Exploring competitors' customers allows you to tailor services, create content, and target rival clientele, promoting business growth and expanding market share.
---
Monitor demographic changes
By examining audience demographics over time, you can detect trends in audience behavior and preferences. This analysis will inform you if your target audience has shifted.
---
Assess strategy effectiveness
Regular audience analysis helps you understand what content resonates with your target audience and what to avoid in the future. It also highlights any weaknesses in your marketing approach.
---
Cater to audience preferences
Audience analytics offer insights into your audience's preferences, making content creation more efficient. Brand managers can tailor their content to better align with their target audience's tastes, saving time and reducing trial and error.
---
Measure the impact on sales
While some companies have an active social media presence and high content engagement, not all strategies result in increased sales. Analyzing your audience insights will help you assess whether your social media efforts positively impact your sales.
---
Top Audience Insights Tool for 2024
Top
audience insights tools
2024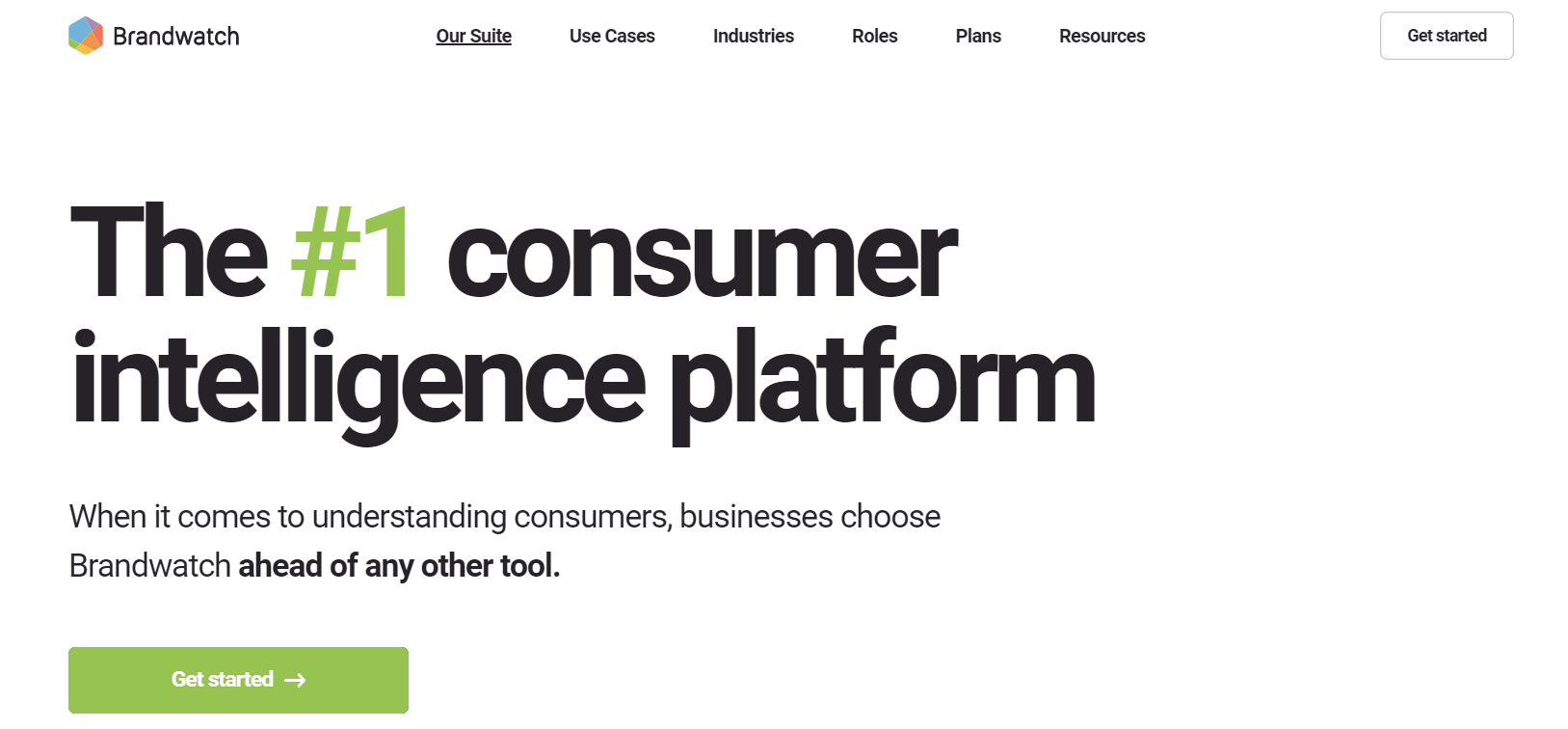 Brandwatch serves as a comprehensive resource for managing all your social media needs. Recognized as an industry leader by analysts and clients, Brandwatch solutions help you better understand and connect with your customers. One such solution, Brandwatch Audiences, is designed to provide people-centric insights, granting you quick access to valuable audience information through the largest database of its kind.
Brandwatch Audiences helps you identify the people who matter most. By using this tool, you can boost your social ROI by accurately targeting the right individuals. It enables you to easily find groups of people based on what matters to you, such as demographics, interests, professions, locations, and who they engage with online.
Brandwatch Audiences also helps you understand your audience's world by giving you content that is timely, relevant, and effective for them. Gain insight into what your target audience is currently discussing and sidestep global trends to pinpoint unique marketing opportunities that resonate with your audience.
The tool also helps you uncover the distinctive qualities of your target audience, allowing you to develop data-driven marketing strategies based on a deeper understanding of your customers. By comparing your audience to others, you can provide unique context and craft messages that stand out and appeal directly to the right people.
Notable clients: Unilever, GSK, Nestle, Carlsberg, Toyota, Tui
Pricing: upon request
---

Audiense is a sophisticated Audience Intelligence platform designed to help marketers and consumer researchers gain a deeper understanding of their target audiences. It provides comprehensive data, from demographics and affinities to occupations and hobbies, empowering you to make well-informed communication strategy decisions.
The platform offers two primary services: Audiense Insights and Audiense Connect. With Audiense Insights, you can engage your audience more effectively by using data-driven personas, identifying the perfect influencers, and pinpointing niche markets. Audiense Insights classifies audiences based on interests, uncovering cultural insights and affinities for diverse audience types. A unique advantage of Audiense is its language neutrality, as its account segmentation and analysis rely on network graphs rather than language.
Notable clients: Apple, Manchester United, Warner Music Group, TikTok
Pricing: Free, Twitter Marketing (£32/month), Audience Intelligence (£556/month); Enterprise (upon request)

Key Features: Search/Discovery, Audience Analysis, Social Listening, Competitor Research,
Channels: Instagram, Facebook, YouTube, TikTok
---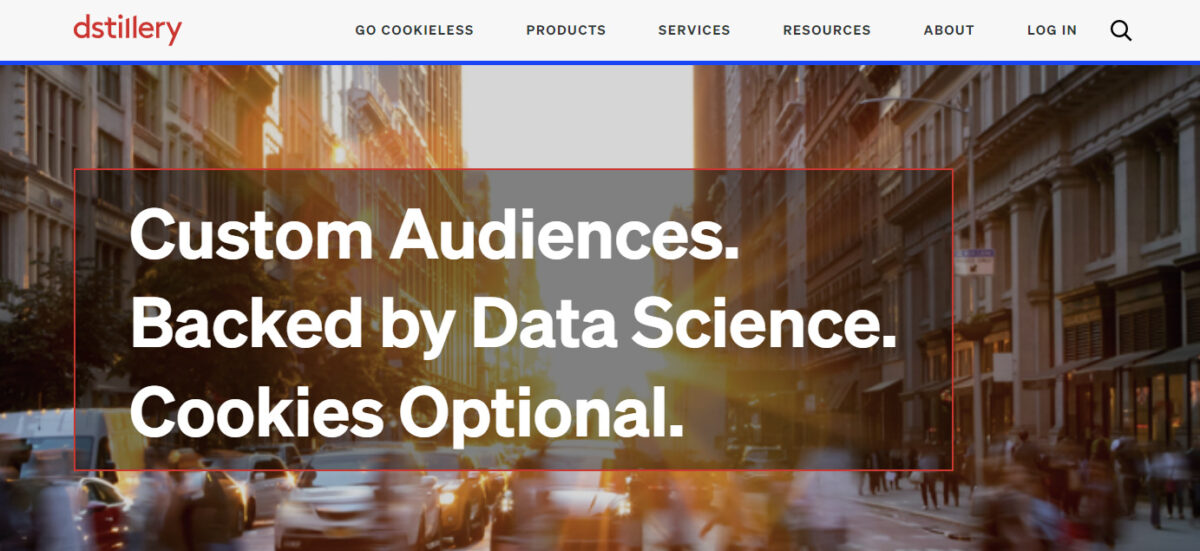 Dstillery offers exceptional audience solutions, enabling businesses and agencies to reach their target consumers for successful programmatic advertising campaigns. With 16 patents under its belt, Dstillery's AI technology ensures precise and scalable audiences, mostly due to its top-notch Data Science.
Five of Dstillery's seven core services focus on gathering audience insights. Their flagship solution, Custom AI Audiences, facilitates unparalleled growth and new client acquisition by expanding your best consumers. Custom AI audiences are formed by examining your first-party data and crafting a profile tailored to your business. This profile is utilized to create a Custom AI Model, that assesses and ranks potential audience members every day based on current market signals, ensuring your audience remains up-to-date and targets only relevant customers.
Additionally, Dstillery's Audience Studio is a self-service tool that allows you to explore, create, and activate audiences on your preferred DSP. This tool recommends which audiences to engage with, enabling you to focus more on achieving your goals and less on navigating complex technologies. It also emphasizes audience overlap and ranks to enhance data transparency and provide valuable insights.
Custom Built Audiences, meanwhile, are unique combinations of Dstillery's Pre-built Audiences that help you connect with your target persona without relying on first-party data. By employing Boolean logic (and, or, not), customers can create any distinctive combination from Dstillery's ever-growing library of Pre-built Audiences that suits their targeting needs.
Lastly, Search for Audiences enables you to explore over 10,000 and growing audiences in Dstillery's database. Smart Search uses a proprietary search algorithm to find matches.
Notable clients: Dell, Delta, Applebee's, T-Mobile, Taco Bell, PayPal, Capital One, Bayer, Rakuten,
Pricing: undisclosed
---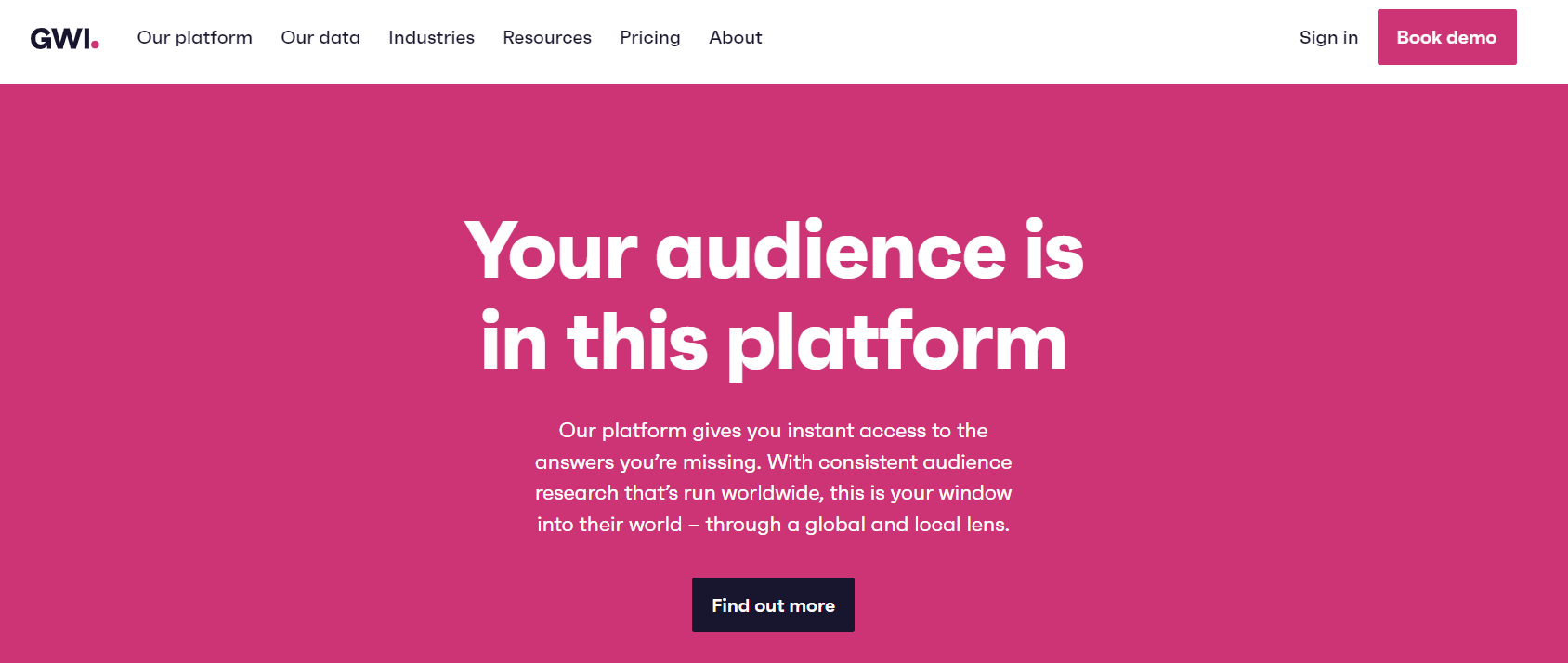 GWI (formerly known as GlobalWebIndex) is a company that provides audience insights to publishers, media agencies, and advertisers across the globe. The firm has been in business since 2009 and uses a panel of 18 million connected consumers to profile consumers in 46 countries. GWI platform is subscription-based and allows you to gain deeper insights into your target audience quickly. You can access on-demand insights that will help you make informed decisions about important marketing issues. With over 200K profiling points, you can build and discover unique audiences.
By using GWI data, you can create a global plan that covers 52 markets or focus on a particular region. You can compare countries easily and use the insights to make smart, data-driven choices. Whether you're testing a new campaign style, seeking new partnerships, or developing a new product, the GWI platform keeps your audience research up-to-date and helps you make confident decisions.
Notable clients: Google, BuzzFeed, Spotify, LinkedIn, Snapchat, The Guardian, Omnicom Group
Pricing: Free, Pro (upon request)
---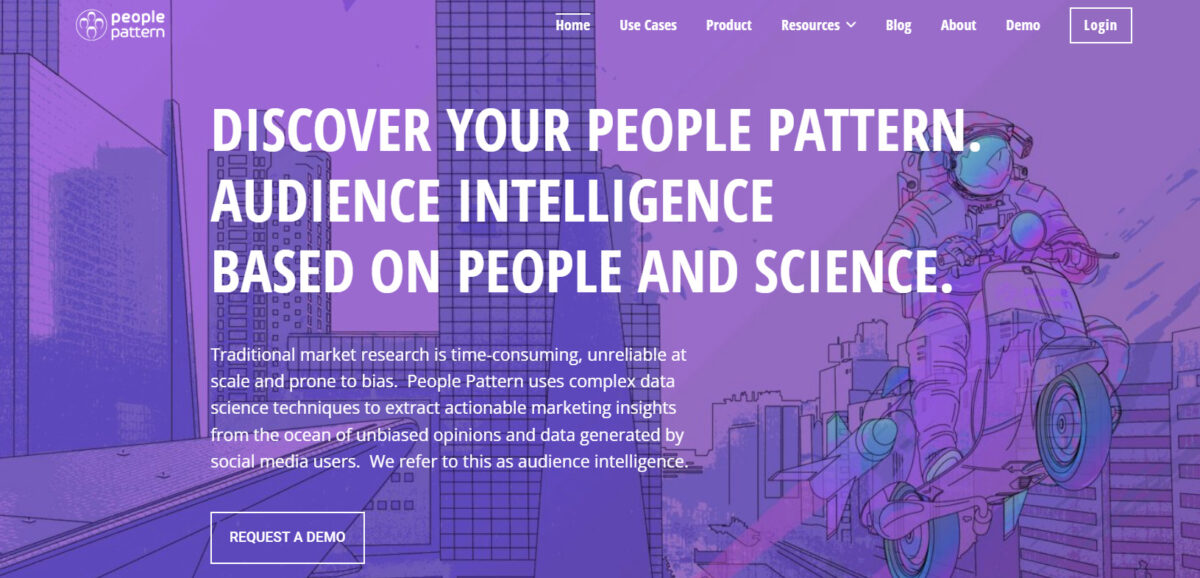 People Pattern is a platform that specializes in audience analytics. It uses data science approaches to extract valuable marketing insights from social media users' views and data. Unlike other social marketing tools that analyze brand-related interactions, People Pattern focuses on understanding the individuals behind the conversation using rigorous data science.
People Pattern's data science team uses trustworthy and widely used machine learning algorithms to extract insights from unstructured social data. They are continuously retraining and fine-tuning their prediction models to achieve the optimal balance of recall and accuracy. By using a combination of machine learning methods and topic modeling algorithms, People Pattern creates clusters of individuals that fit into a particular niche. This allows you to gain insights into audiences and industry professionals without having to select them first.
Additionally, People Pattern enables you to identify topic-specific influencers to disseminate your brand's message and discover industry trends by studying what a panel of experts is discussing and posting. With People Pattern's enhanced audience groupings, you can move beyond vanity metrics and use more advanced methods of evaluating, targeting, and engaging high-impact audience groups.
Notable clients: McDonald's, Walmart, Cisco, Samsung, PBS, Nintendo,
Pricing: upon request
---

Meltwater is a media intelligence and social media monitoring platform that equips organizations with the necessary tools to track, assess, and gauge their online presence. The platform scrutinizes millions of digital sources, including news sites, blogs, and social media, employing AI and machine learning algorithms to deliver real-time insights about a company's performance. Its consumer insights platform fuses top-notch social data with AI and human expertise to uncover actionable insights, empowering organizations to make well-informed decisions throughout their brand's lifecycle.
Meltwater consists of data scientists, market researchers, and consumer insights experts with vast experience in audience insights and consumer research across various industries. The feature enables them to intelligently organize the data, paying close attention to the context and the specific attributes of their client's markets. This allows them to move beyond basic social listening and help clients discover valuable consumer insights.
Notable clients: Lexus, Epic Games, Lacoste, LVMH, Publicis Groupe
Pricing: undisclosed
---
Final Thoughts
With the ever-changing market landscape, marketing strategies and technology must adapt as well. Audience insights tools are among the rapidly expanding marketing technology products that can assist you in comprehending your customers more effectively. Utilizing an audience insights tool can provide you with crucial consumer information and data, enabling you to make strategic decisions and guide your business toward growth and success.