Advertising Disclosure
Advertising disclosure:
Our partners compensate us. This may influence which products or services we review (also where and how those products appear on the site), this in no way affects our recommendations or the advice we offer. Our reviews are based on years of experience and countless hours of research. Our partners cannot pay us to guarantee favorable reviews of their products or services.
Have you ever wondered how successful global companies grab their customers' attention? Reaching a specific group of people can be difficult, especially when dealing with different cultures and languages while trying to connect with potential customers. Ineffective marketing campaigns often lead to a sense of wasted resources. Understanding who your target audience is and what they're like is crucial, so you can create and sell a product that works for them. Gaining a better understanding of the audience can help create more impactful campaigns that resonate with them. Acquiring audience insights is the key to achieving this goal.
---
Top Audience Insights Tools for 2023 + Ways to Optimize These Platforms:
---
What Are Audience Insights?
Audience insights in marketing refer to critical data gathered about a specific target audience to help companies better understand their prospective customers. This information may include demographic data such as age, gender, and location, as well as psychographic information such as interests, preferences, and lifestyle habits. Marketers can gain a more extensive understanding of their target audience's needs, desires, and intentions by analyzing these insights.
The primary purpose of using audience insights is to develop more effective marketing campaigns and strategies relevant to the target audience. The data enables brands to tailor their messaging, products, and services better suit their potential customers' preferences, increasing the likelihood of conversion and customer satisfaction.
Customer surveys, social media analytics, website analytics, and market research are all methods for accumulating audience insights. Marketers can create detailed audience personas, which are fictional representations of their ideal customers, by combining this data to guide their marketing decisions.
---
What Are Audience Insights Tools?
In today's digital landscape, individuals connect and engage online, demonstrating interest in various topics and products across websites, social platforms, and applications. Liking content, interacting with apps, or providing information during sign-up processes can generate such data. Companies specializing in consumer insights and data subsequently harness this anonymized information. Audience insights tools collect and analyze demographic, habitual, and interest data to create a comprehensive profile of a target audience. These tools process large amounts of data into easily digestible insights, enabling businesses to tailor marketing strategies, connect with customers, and make informed decisions across advertising, PR, product development, and customer service.
Many audience insights tools on the market integrate first-party and third-party data to offer a comprehensive view of your target audience. Incorporating third-party information is essential for obtaining a comprehensive understanding of customers' interactions, interests, and affinities beyond the confines of your brand. This comprehensive understanding allows for more targeted and effective marketing campaigns across multiple platforms and industries.
---
What Are the Ways to Optimize Audience Insights Tools?
Audience insights can have various uses depending on the type of business and the goals of your company. As a marketer, you may use the data collected by these tools to segment consumers, identify influencers, perform market research, and improve decision-making processes. These platforms empower companies to make swift, informed decisions regarding brand marketing, content strategy, advertising, and product development by presenting instant and continuous access to audience intelligence and analysis.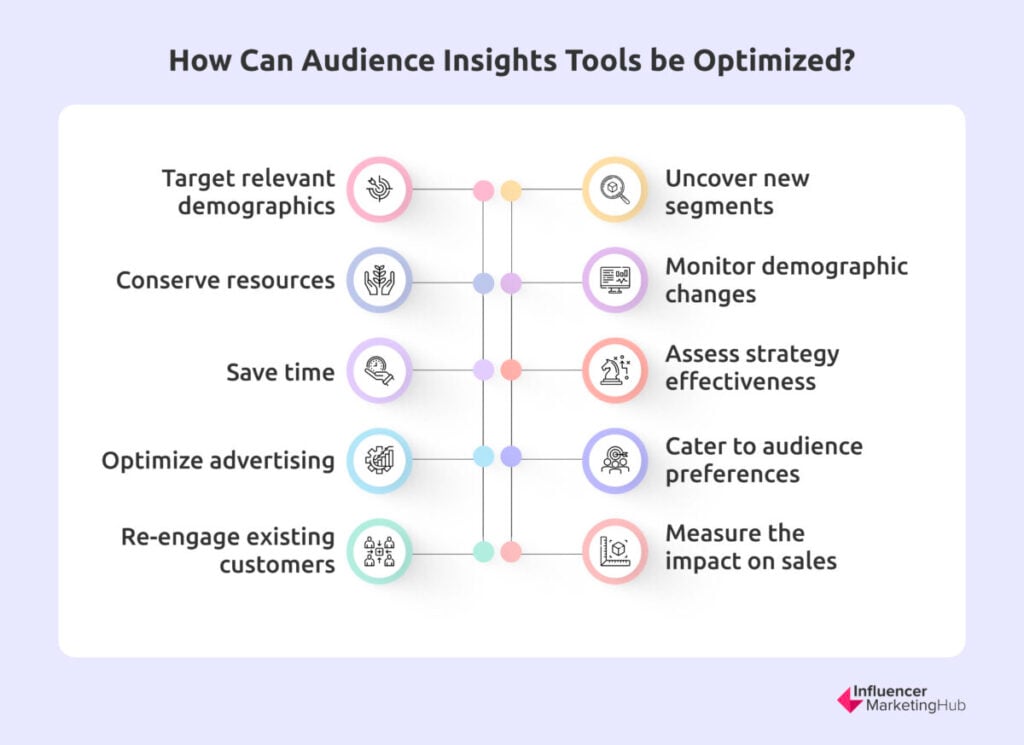 Target relevant demographics
An audience insights tool can aid you in identifying individuals who may express interest in your products or services. This allows you to optimize your social listening strategy for the specific target demographic in question. Consequently, you will be equipped with the necessary elements to attract the appropriate consumers for your brand.
---
Conserve resources
Traditional market research can be both time-consuming and costly. Pursuing accurate results through interviews or studies demands a significant budget. In contrast, audience insights offer precise information at a lower expense. With a fully automated process, there is no need to invest time or effort in data collection, making it a more affordable alternative to conventional methods.
---
Save time
The long-established market study can span months or even years, involving several steps that take time. Audience insights technology eliminates these lengthy stages, granting you rapid access to valuable information. No longer will you spend countless hours creating surveys or conducting focus groups; with audience insights software, data about your current and potential customers are available within minutes.
---
Optimize advertising
Advertising is often associated with high expenses, making it crucial for marketers to avoid launching campaigns that may fail. Using audience insights tool ensures that your marketing efforts reach the right people and maximize your ROI.
---
Re-engage existing customers
Traditional methods like email and telemarketing are no longer sufficient for connecting with customers. To make an impact and increase brand awareness, being active on social media and mainstream media is essential. A key benefit of audience insights is understanding the media preferences of your target audience, including their preferred social networks, publications, and types of media content. By adapting to their preferences, you're increasing the likelihood of successfully engaging with your target audience.
---
Uncover new segments
Audience analysis uncovers untapped segments and reveals surprising demographics. Exploring competitors' customers allows you to tailor services, create content, and target rival clientele, promoting business growth and expanding market share.
---
Monitor demographic changes
By examining audience demographics over time, you can detect trends in audience behavior and preferences. This analysis will inform you if your target audience has shifted.
---
Assess strategy effectiveness
Regular audience analysis helps you understand what content resonates with your target audience and what to avoid in the future. It also highlights any weaknesses in your marketing approach.
---
Cater to audience preferences
Audience analytics offer insights into your audience's preferences, making content creation more efficient. Brand managers can tailor their content to better align with their target audience's tastes, saving time and reducing trial and error.
---
Measure the impact on sales
While some companies have an active social media presence and high content engagement, not all strategies result in increased sales. Analyzing your audience insights will help you assess whether your social media efforts positively impact your sales.
---
Top Audience Insights Tool for 2023
---
---
---
---
---
---
Final Thoughts
With the ever-changing market landscape, marketing strategies and technology must adapt as well. Audience insights tools are among the rapidly expanding marketing technology products that can assist you in comprehending your customers more effectively. Utilizing an audience insights tool can provide you with crucial consumer information and data, enabling you to make strategic decisions and guide your business toward growth and success.