Advertising Disclosure
Advertising disclosure:
Our partners compensate us. This may influence which products or services we review (also where and how those products appear on the site), this in no way affects our recommendations or the advice we offer. Our reviews are based on years of experience and countless hours of research. Our partners cannot pay us to guarantee favorable reviews of their products or services.
Understanding your target audience better comes through market research, which involves the systematic collection and analysis of data about your consumer base. It also includes studying industry trends and competitors to help you make more educated decisions about your operations, potential clientele, and business strategies.
Insights about consumers and other industry players put you in a better position to design marketing plans to attract quality leads, improve products, and enhance customer experience. Thus, data and its analysis affect every aspect of your business—your brand, product, marketing and sales, and customer service.
---
Top 10 Agencies That Empower Companies Through Market Research:
---
Top 10 Market Research Agencies
Here are some leading market research consultancies that can help widen your perspective of the media and competitor landscape surrounding your business.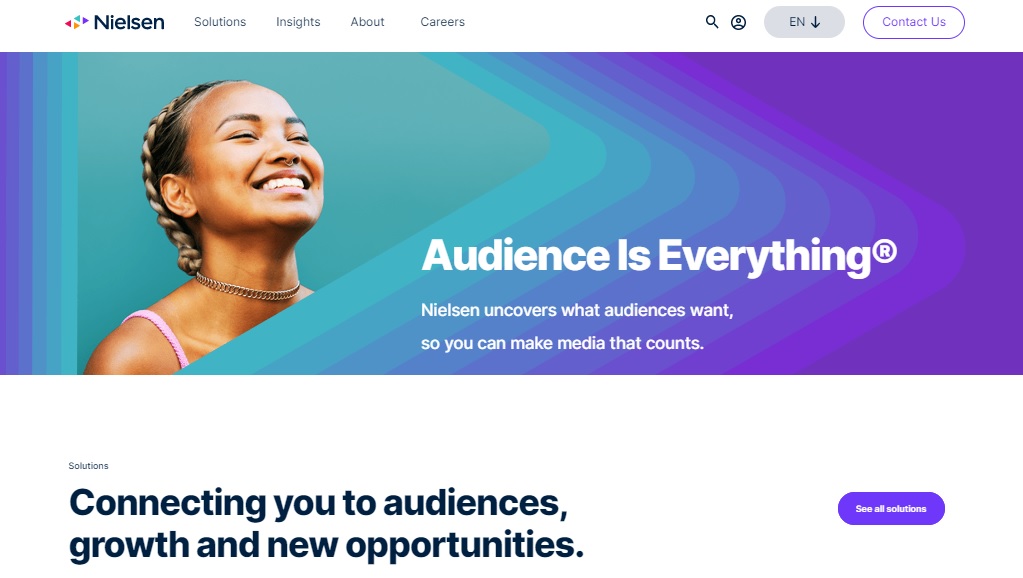 Nielsen is a global leader in audience intelligence by measuring consumer behavior across platforms. Over 750,000 people worldwide join its panels and surveys, providing the company with representative data that media firms worldwide have come to rely on for over 50 years.
Nielsen's core services include audience measurement, which covers habits on audio, streaming platforms, and TV; media planning, which analyzes audience segments across platforms and competitors' campaigns, as well as testing advertising scenarios; marketing optimization through the discovery of ad and marketing impact on audiences; and content metadata or datasets that you can use in offering recommended content to your consumers.
Headquarters: New York, New York
Founding year: 1923
Clients: NBC Universal/Comcast Corp, Twenty-First Century Fox, Procter & Gamble, Unilever Group, Nestle S.A., Coca-Cola
---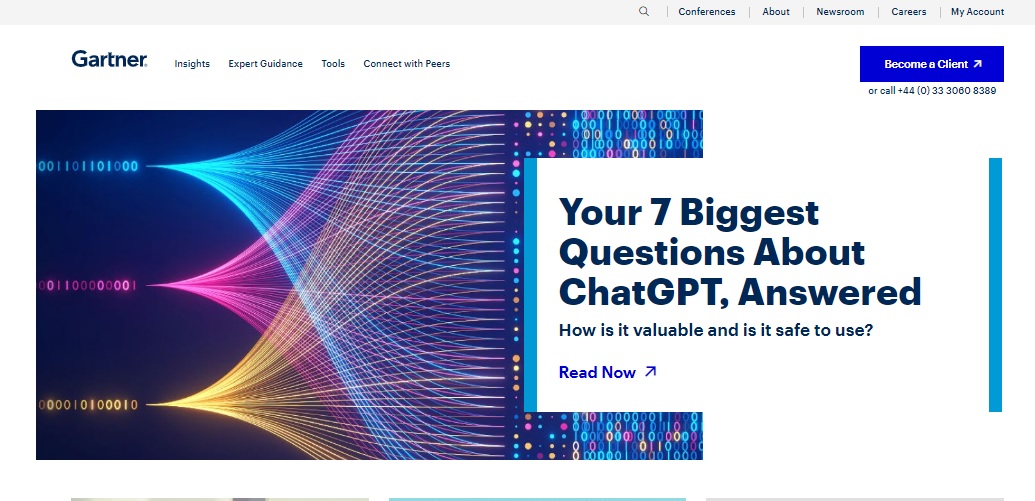 Gartner delivers IT-related insights that can help you select technologies and develop strategies to improve your business performance and increase your value and that of your stakeholders. The agency combines expert guidance and tools for smarter business decisions and effective strategy planning. Some of their tools include the Gartner Score Benchmark and Gartner Digital IQ Index, which track the impact of your online initiatives on your industry. Another tool is the Gartner Magic Quadrant, which evaluates how marketing service providers and technology providers can execute your needs. Gartner also has Hype Cycles, which allow you to understand which existing and emerging technologies are overhyped or expect accelerated adoption, so you can determine which ones to invest in and avoid.
Headquarters: Stamford, Connecticut
Founding year: 1979
Clients: Microsoft, IBM, Deloitte, NASCO, WDCi Group, Standard Insurance Company
---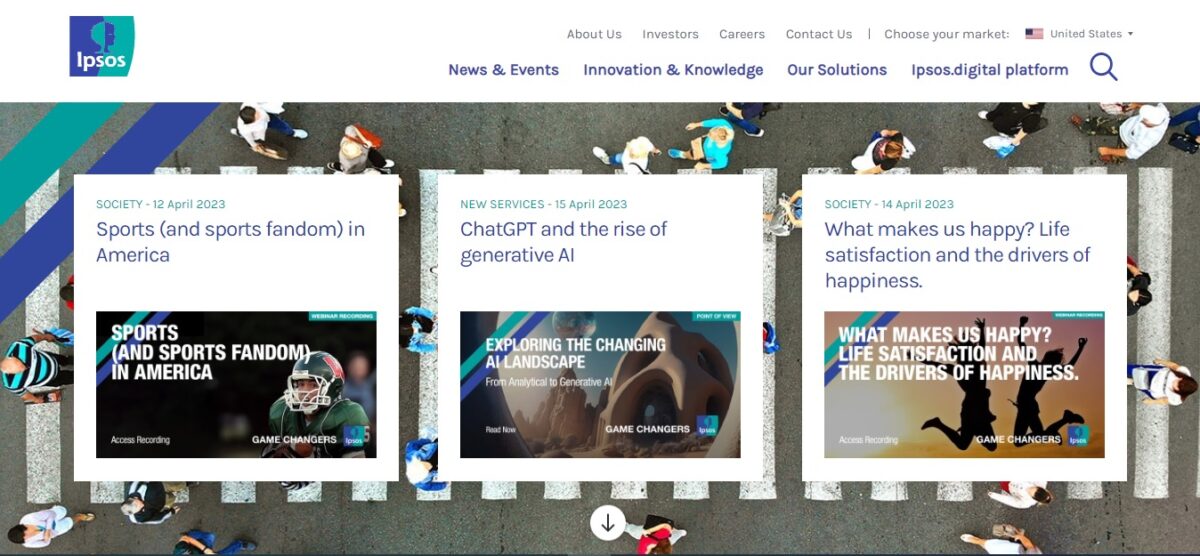 Ipsos upholds its slogan, "You act better when you are sure" through products that fall into various categories. There's market strategy and understanding, which includes insights into consumer behavior and its impact on the entire industry, including your competitors (market structure), your omnichannel touchpoints (shopper journey), and your consumers' emotional and mental triggers (brand positioning). There's innovation, which covers product testing and packaging research), and brand health tracking. Creative excellence assesses the "Creative Effect Index" of your communication strategy and campaigns. Channel performance includes sizing channel opportunities and mystery shopping. Meanwhile, qualitative research covers interviews, discussion boards, and online communities.
Headquarters: Paris, France (with offices in New York and Washington D.C.)
Founding year: 1975
Clients: Citizens Bank, Merck Corp., Advil, Tropicana, Jif, Kingsford Charcoal
---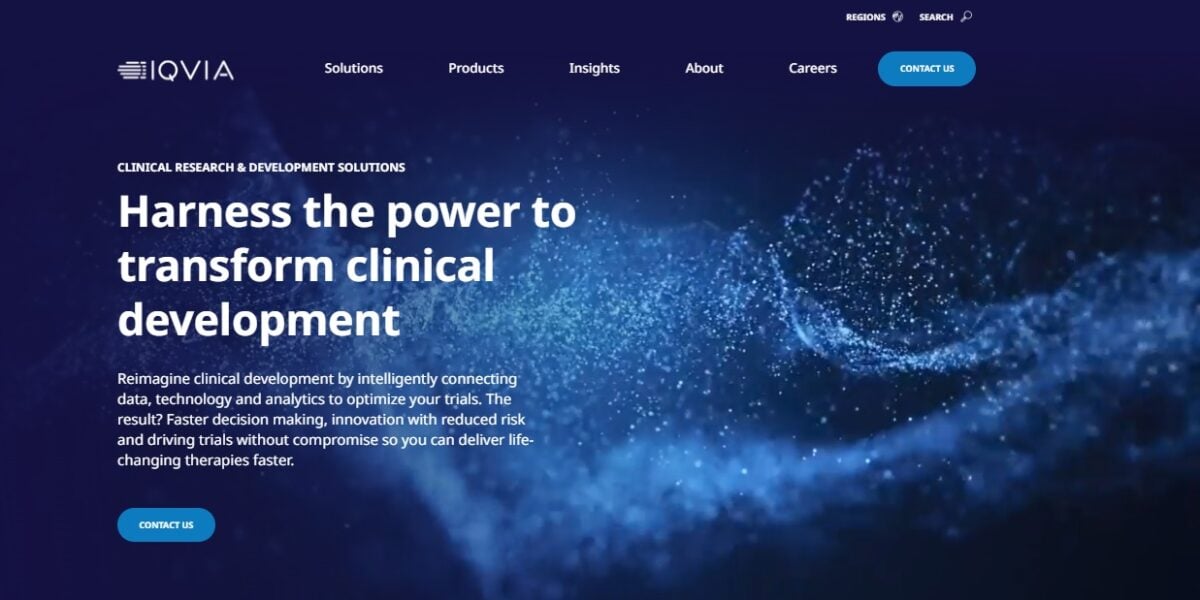 IQVIA is a clinical research, advanced analytics, and technology solutions provider serving the life sciences industry, which comprises the pharmaceutical, medical device, biotech, and medical research fields. IQVIA Connected Intelligence has helped clinical trial leaders to speed up the development and commercialization of health treatments. The AI-powered tool uses real-time patient data to speed site selection, streamline enrollment, boost patient participation, and reduce risks to patient safety. IQVIA's methods have resulted in decentralized trials—which mix virtual and hybrid models—and faster establishment of proof of concept.
The healthcare sector can also tap IQVIA Primary Intelligence, which uses a "secondary first" approach (proprietary data plus primary research through interviews and focus groups) to gather insights about patients and the market. Also, the agency uses the FINDr database of validated physicians and workplaces to identify and survey the specialists that suit your project.
Meanwhile, its Therapeutic Centers of Excellence give you access to global data from millions of patients to aid your research, trial outcomes, and commercialization of medication.
Headquarters: Durham, North Carolina
Founding year: 2016 (merger of contract research company Quintiles and IMS Health)
Clients: AstraZeneca, Johnson & Johnson, Sanofi, Bristol-Myers Squibb Company, EyeCare Partners, Syngenta
---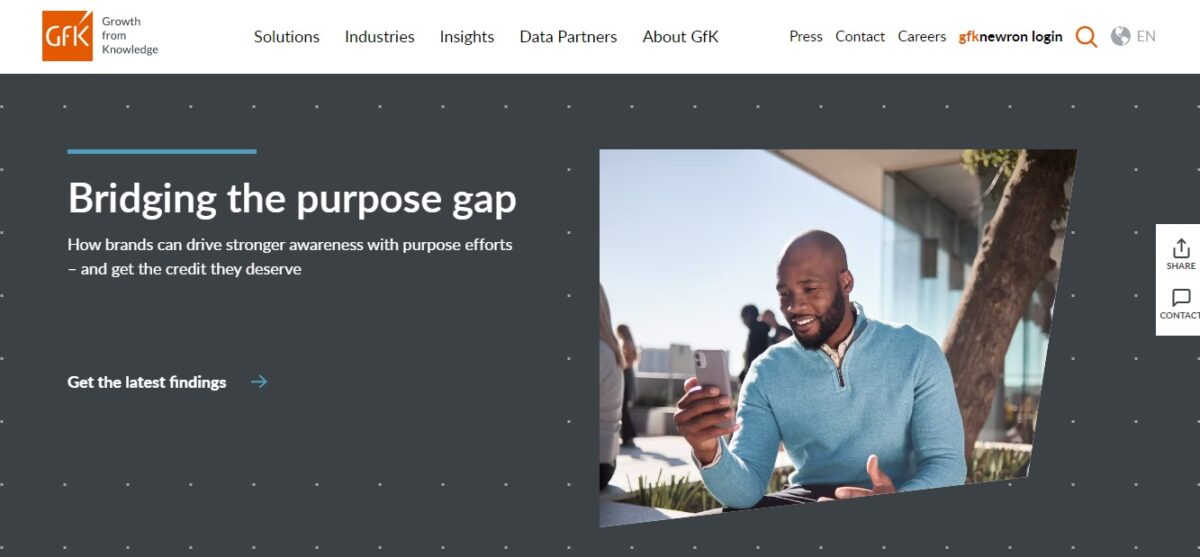 GfK promises "Growth from Knowledge" through always-on intelligence that offers a deep understanding of your market, picking up the right "signals from the noise" for actionable recommendations. The agency has solutions for evaluating: brand and marketing performance (brand intelligence using GfK Brand Architect, segmentation and targeting, campaign tracking, and ad testing), consumer and shopper intelligence (trends, attitudes, segmentation, customer journey), sales and market growth (market dynamics, competitive analysis, supply and distribution, pricing and promotion), and media measurement (digital, published media, video, audio, and total audience measurement).
Headquarters: Nuremberg, Germany
Founding year: 1934
Clients: Unilever, Philips, IKEA, Lenovo, Vodafone, American Income Life, Elon, Char-Broil
---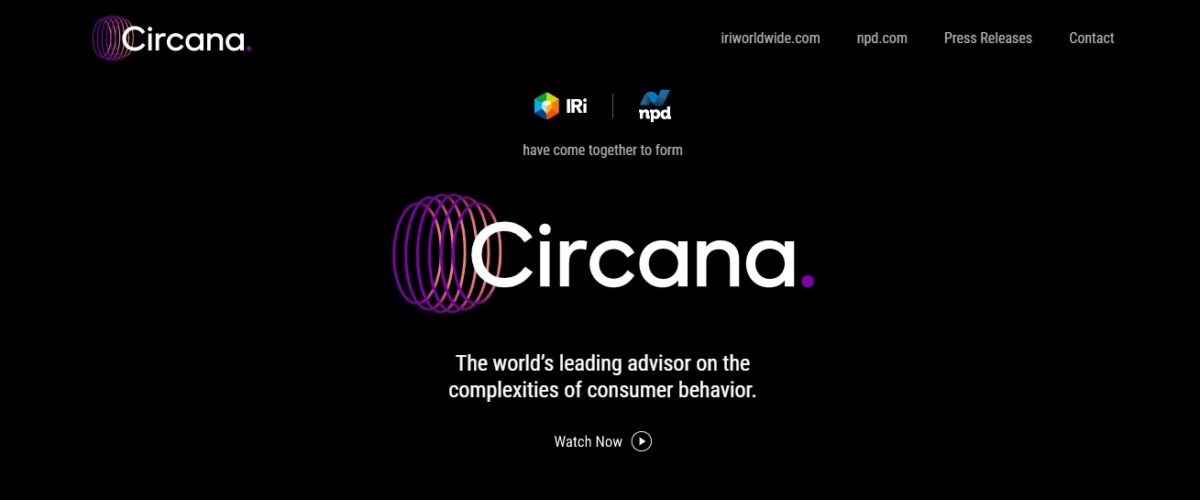 Circana's products tap into IRI's Liquid Data platform—which tracks millions of products from over 2,000 categories across over 500,000 stores in 26 industries. The agency's market performance and strategy solutions include customized eCommerce insights, omnichannel measurement, in-store program audit, strategy to uncover new growth pockets and M&A opportunities, and innovative ideas based on sales data and consumer interest and satisfaction.
Meanwhile, its consumer and shopping solutions cover "in-the-moment" shopping behaviors, concept testing, segmentation, and activation. You can personalize your customers' experiences better using Circana's retail solutions, which identify the best product placement on shelves through historical data and predictive analytics. Circana Audiences offer multi-channel retailer data to help you with targeted ads. Furthermore, the company's analytics and in-market execution tools can guide you with product pricing and supply chain management.
Headquarters: Chicago, Illinois
Founding year: 2022 (merger of Information Resources Inc. or IRI established in 1979, and The NPD Group founded in 1966)
Clients: Starbucks, Ferrero, Agiliti, Saputo Inc. (IRI) Walmart, McDonald's, Toshiba, Macy's, Bloomingdale's (NPD)
---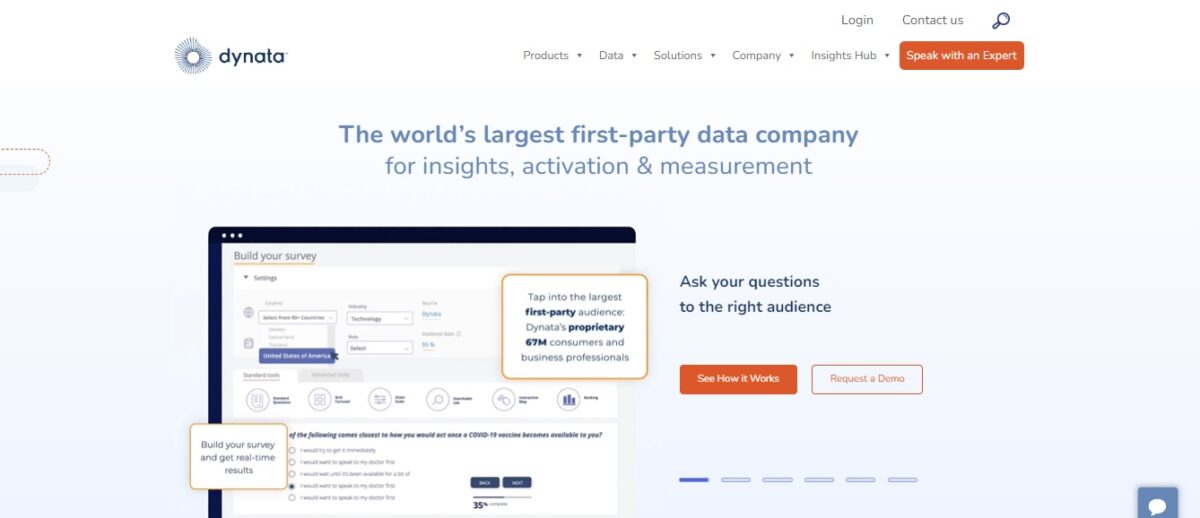 Dynata's founders pioneered using surveys—via phone polls and online panels—to study consumer attitudes. It boasts itself as host to the largest first-party data and insights platform that promotes diversity among respondents and inclusivity among researchers. Its data set comprises 70 million consumers and business professionals.
Moreover, its AI-powered Sharpr knowledge management tool—integrated into the patented Dynata Insights Platform—allows you to gather, search, and publish content from different sources and share real-time insights with your internal and external audiences. You can access help for mobile-ready survey design and development from the agency's 3,000 experts in 44 offices worldwide. Also, Dynata works with Neutronian to verify data privacy and quality—a necessary facet in audience targeting for improved campaign results.
Headquarters: Plano, Texas
Founding year: 2019 (merger between Survey Sampling International founded in 1977, and Research Now—established as E-Rewards—in 1999)
Clients: Spotify, AXA, Havas, Pepsico, Amazon, WSJ, Virgin Media, Bain & Company
---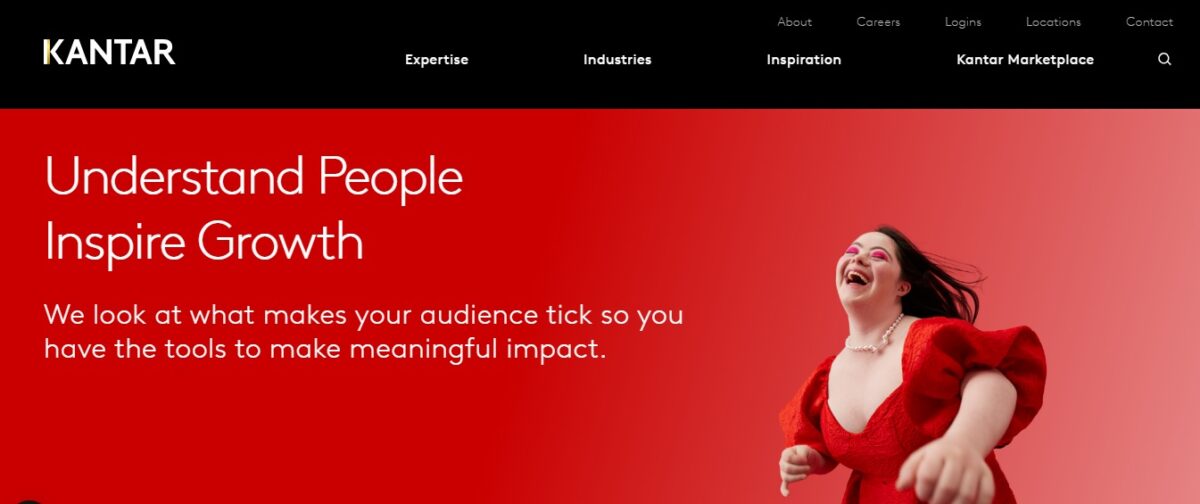 Kantar's teams are connected to a brand-building platform that spans 12 years of continuous data representing 4 million consumers across 18,000 brands in 90 markets around the globe. It prides itself in ISO-certified and ARF-awarded data practices, including data validation by the Marketing Accountability Standards Board (MASB). Moreover, Kantar uses AI-driven analytical apps to integrate media, survey, social, and behavioral data.
The agency sources information through qualitative research using its NeedScope psychological framework, Spotlight qualitative analysis, ThinkTank online community, and text interviews through conversational AI; behavioral science through its behavior change toolkit; and virtual reality and eye tracking using the Shopper eValuate VR environment and Eye Square for eCommerce testing.
Headquarters: London
Founding year: 1992
Clients: Colgate-Palmolive, TBWA Worldwide, Air France, JCDecaux, Randstad Malaysia
---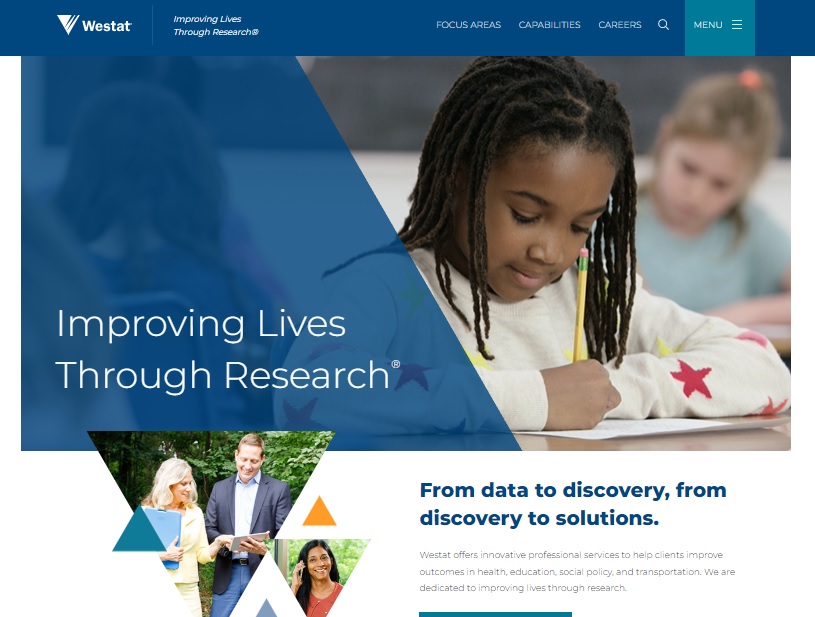 Westat, built by three University of Wyoming statisticians as Western Statistics in the 1960s, specialized in survey services early on. Its first clients were government agencies, which make up the majority of its clientele until now. Its market diversified from the 1990s to include biomedical science, computer systems technology, transportation, education, communications, social marketing, and others.
Westat uses collection strategies—questionnaire design, web surveys, field operations, focus groups, and cognitive testing—to match the client's needs and optimize survey responses. Also, research, multimedia materials development, event planning, strategic communication planning, and health behavior theory experts make up its campaign development and management team.
Headquarters: Rockville, Maryland
Founding year: 1963
Clients: U.S. Department of Health and Human Services, Internal Revenue Service, NYC Mayor's Office for Economic Opportunity, DC Public Schools, SiriusXM, The Johns Hopkins University, Toyota
---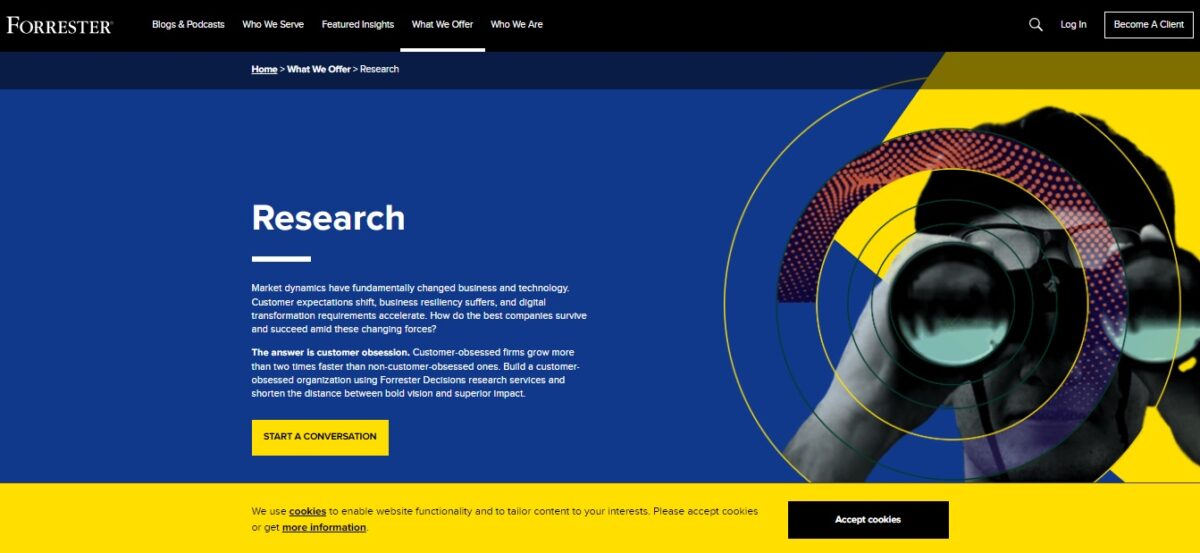 Forrester is a research and advisory firm that believes in aligning revenue-generating and technology functions around customer value to grow businesses twice as fast as non-customer obsessed-firms. Forrester Decisions is a suite of research customized to meet your priorities based on your most pressing challenges and opportunities. The service includes proven strategic models and templates—KPIs, assessments, and peer benchmarks—for vision implementation. Moreover, you get expert guidance from strategy and planning to execution so you can hasten progress and apply best practices to reduce risky decisions.
For a holistic view of your business, add Forrester Market Insights to Forrester Decisions to discover how your buyers see you and how your competitors are faring.
Headquarters: Cambridge, Massachusetts
Founding year: 1983
Clients: NASA, Qualtrics, Fujitsu, HCL Technologies, Lexmark, Onyx CenterSource, ArcBest
---
---
3 Types of Market Research Companies
You can conduct market research in-house or hire a third party with this specialization. Market research firms fall under the following categories:
Custom market research agencies
These firms accept outsourced research jobs to gather data and insights unique to one company's service or product. A full-service research firm can provide custom research services from study design to helping you act on the research findings and insights.
Research report purveyors or syndicated firms
These agencies collate and package research centered on specific industries, market trends, demographics, and psychographics, which they can sell to businesses. Companies can then apply the broad, overarching points of the study to their business strategy.
As the name implies, these agencies go to the field or engage with your target market through surveys, interviews, focus groups, and other activities to collect participants' data. These firms can send out "mystery shoppers" to personally interact with your target audience—disguising themselves as fellow customers—to observe consumer reactions and preferences. Other hi-tech agencies gather insights by capturing the movements of your store customers on video.
It's best to hire these companies when you have launched a study and need statistics to back up your research.
---
Benefits of Outsourcing Market Research
Doing market research is part of crucial leg work in business. The Chamber of Commerce says that one of the most common reasons small enterprises flop—18% within their first year—is unproductive business planning, which includes market analysis—identifying threats and opportunities within the broader market. Insights from such research help businesses know what they're up against and strategize how they can keep up with or overcome industry challenges.
Although simple tools are now available for your in-house team to conduct basic market research, a professional agency has more skills and experience to do a thorough job.
You benefit from a market research firm's expertise in the following ways:
Low risk of bias, which leads to more credible findings
Application of best practices for survey design and structuring interview questions
Timely updates and delivery due to focused attention on the research project
Cost savings on research software and other resources, as the agency will use its own
Customized reports that the agency can create according to your requirements
---
What to Look for When Choosing a Market Research Agency
You must consider several factors when selecting an expert team to handle your market research. However, before even starting your search, clarify the purpose of outsourcing the study. Identify your expected outcomes, timeline, and budget. Most companies spend 5% to 20% of their yearly revenue on research and development.
Working with a full-service agency is a better option than conducting the research in-house using a survey software or similar platform if:
You're under a time constraint and can't accomplish the study using a DIY/self-service approach
You have a large enough budget for research
You're looking to run in-depth interviews and extensive focus groups
Once you've determined the three points, you can begin your online search and asking referrals from trusted sources. Check their specialization to ensure you only consider agencies with the expertise for your research type and subject. Remember to go through customer reviews as well. Then request proposals from your shortlisted companies, detailing information about your project, budget, and timeline. When evaluating these firms, examine the following:
Choose an agency with a proven track record in conducting research for businesses in your industry and company type.
Your chosen service provider must have an established reputation in market research for transparency and integrity.
Find out their range of solutions—quantitative (survey), qualitative (focus groups), or both—and the kind of visualizations/reporting they offer. Their research methods should match your objectives.
Request a demo from the account manager to see whether they can tailor-fit their methodology to the level you desire.
Compare fees and find a company that can provide high-quality research services at a fair price or offers pricing options.
Clear communication channels
The agency must assign an account manager for your project and show a collaborative approach that seeks to understand your research needs and maintain open communication throughout the research process.
Actionable recommendations
Partner with research companies that can offer advisory services for long-term growth and development based on their study's findings.
---
Market Research Approach Shouldn't Be an Either-Or Issue
Deciding whether to hire a third-party research vendor or conduct the study with your team isn't always a matter of who's better. You can work with an external team while tracking real-time data on your own using business intelligence tools, influencer marketing platforms, and customer experience platforms.
You can apply email segmentation and use customer engagement platforms to optimize your various consumer touchpoints as part of your ongoing marketing efforts and while waiting for your research results.