Email marketing is one of the oldest forms of digital marketing, and it remains highly successful for many businesses. However, you must be careful when mass sending emails, as you don't want email service providers to think of your emails as spam. The secret to successful email marketing is sending the right emails to the right people at the right time. This isn't always as simple as it sounds, however.
---
Your Ultimate Guide to Email Marketing Segmentation:
---
What is Email Marketing Segmentation?
Email marketing segmentation, aka list segmentation, helps brands align their marketing messages and campaigns to the interests of targeted groups. You sort your email contacts into a series of targeted groups based on common characteristics. As we see below, you can create these groups in various ways, including demographics, industry, profession, business needs, and more.
Once you have segmented your email contacts into categories, you can send consistent messages to groups of people with similar characteristics.
---
Why Use Email Marketing Segmentation?
Segmentation ensures that you are only sending messages to the right people. You aren't spamming people with messages of no interest to them. Email marketing segmentation enables you to:
Send personalized content

Nurture leads down the marketing funnel

Identify untapped market opportunities and segments

Improve email marketing return on investments (ROI)

Increase your open rates and conversion rates

Decrease the cost per click on your emails
Mailchimp found that segmented campaigns received 14.31% more opens than non-segmented campaigns, 10.64% higher unique opens, 100.95% higher clicks, 4.65% lower bounces, 3.90% lower abuse reports, and 9.37% lower unsubscribes.
---
Importance of Using an Email Marketing Platform
Successful email marketing requires that you build yourself a quality email list. Unfortunately, you won't be able to do this with your everyday email provider. Instead, you will need to sign up with an email marketing platform specializing in sending bulk emails. They will provide a means for you to collect email addresses that will become the basis of your email list.
You can effectively use your email marketing platform as a database of your business contacts. When you segment your email list, you split your entire email database into smaller, more manageable groups.
---
Ways to Segment Your Email List
It can be challenging to decide how to segment your email list. So we suggested various ways in our Ultimate Email Marketing Strategy Guide. These include:
Where are people in your funnel?

How often do they use your product?

What content do they download?

What pages of your website do they visit?

Who replies to your emails?
However, this post will look at the bigger picture behind how you could segment your email list.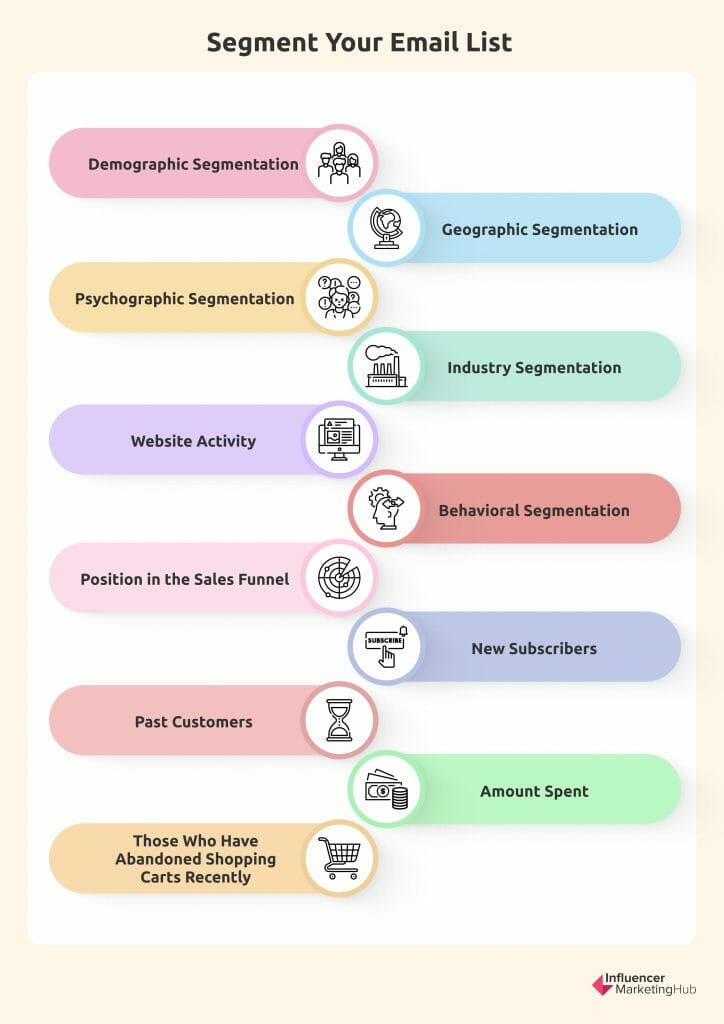 1. Demographic Segmentation
With demographic segmentation, you split your email list up by where people fit as members of humanity. You segment your list based on factors like age, gender, profession, location, and income level. People tend to fit cleanly into demographic categories, making it a relatively straightforward way to segment your list.
The more information you can learn about your audience when they give permission to join your email list, the better your demographic segmentation can be. However, you must balance this against people's concerns about privacy and a general dislike for filling out forms. In addition, if you ask for more information than you need, you are likely putting off potential customers. Therefore, it's best to decide which metrics are the most important for your needs and not ask for any additional information.
One way to gain extra information you can use for email marketing segmentation is with a survey or quiz. This gives you a valuable opportunity to gain demographic information about your customers and other types, such as psychographic data. If you want a reasonable completion rate for your survey or quiz, you may need to give some form of incentive, such as entering a draw for a prize.
However, you have to be careful when using demographic segmentation in the 2020s. For example, many people nowadays would be upset if they discovered that you sent blue-themed emails to boys promoting cowboy toys and pink-themed emails to girls promoting princess dolls.
---
2. Geographic Segmentation
As its name suggests, geographic segmentation separates your email list by where people live. For example, you can email specific communities, states, regions, or countries.
This can be particularly useful if you hold regional events. For instance, you might plan to have a conference in a particular city. In that case, you might send promotional emails to members of that community, but not to people who live a greater distance away.
Obviously, geographic segmentation is excellent for local marketing. However, there is little point in sending emails to people who physically can't buy your goods or enjoy your service. It may even harm your relationships with them if you get their hopes up and then dash them in the fine print when they discover that the email's offer doesn't apply to them.
Another way to use geographic segmentation is to split your email list by time zone, enabling you to send emails at a preferred time, no matter where your audience lives.
Some brands customize their emails to only be for customers of a particular store. They often modify versions of emails they send to reflect availability and pricing in the store nearest each customer.
---
3. Psychographic Segmentation
Psychographic segmentation focuses on the psychological characteristics of your email list, including their personality, lifestyle, social status, activities, interests, opinions, and attitudes. According to Survey Monkey, you can use psychographics for market segmentation to understand:
How consumers really perceive your products and services

What consumers really want—and why

Gaps or pain points with your current products or services

Opportunities for future engagement

How to better communicate with your target audience
Once you have collected relevant psychographic data about your email list, you can create emails targeting similar types of people.
For example, if you sell different types of drinks, you could create a list of people who indicate an interest in health and nutrition. You would then send them emails about your fruit drinks rather than your sodas and sugary drinks.
---
4. Industry Segmentation
Sometimes you will want to create emails that target potential customers in particular industries. This is particularly relevant for B2B businesses. If you segment your emails by sector, you can share content relevant to a specific industry and avoid sending these emails to people who have expressed no interest in that sector.
---
5. Website Activity
You can use your Google Analytics to keep track of people who visit your website. Although not all your site visitors will have volunteered their email addresses, you can tailor emails to those who have and reflect their browsing behavior on your site.
You should be able to determine where your audience comes from, how long they stay on your site, and the pages they visit. With heat mapping software, you can even tell the specific parts of pages that they spend time on.
---
6. Behavioral Segmentation
You might like to create segments relating to different behaviors of those in your email list. If you do, you are in the minority. According to Drip, a surprisingly low percentage of firms use consumer behaviors to trigger campaigns:
Yet each of the above behaviors is a perfect opportunity to reach customers with customized emails. For example, you can create effective campaigns with behavioral segmentation, sending targeted emails to leads after they've completed desirable behaviors.
A straightforward example of behavioral segmentation is examining existing email engagement. First, you can look at your open rate and click through rate metrics here, which you should be able to obtain from your email marketing provider. Next, you can segment future emails based on how people have reacted to your past emails. For example, you might send a series of re-engagement emails to people who haven't opened your emails after a particular time.
---
7. Position in the Sales Funnel
You will likely have people in your email list at different sales funnel stages. For example, you may have people who have scarcely heard of your product, perhaps only giving you their email address because they were interested in a lead magnet you had created. But conversely, you will have regular customers who repeatedly buy your products and take a keen interest in new lines you put out.
People at different places in your sales funnel should receive very separate emails. There is little value in trying strong sales tactics on those at the top of the funnel. Whereas your regular customers won't need introductory emails telling them the basics of your firm – they will already know it.
---
8. New Subscribers
Technically, an example of behavioral segmentation, creating a list of your new subscribers gives you a chance to make them feel welcome and part of your community. Certain emails will be suitable for your new customers, which you wouldn't want to send to everybody else whenever someone joins your list. For example, you might send a welcome email or a series of nurture emails featuring your best content. Some brands offer a discount to new email subscribers on their first purchase.
By segmenting your new subscribers, you recognize that they have different needs from your existing customers, some of whom may have been on your list for years and who know you well.
---
9. Past Customers
Another specialist type of behavioral segmentation involves segmenting those who have purchased from you in the past. Looking at their past purchases, you should have a reasonable idea of the products that interest them. You can then create marketing campaigns based on people's past purchases.
For example, you might notice when people purchase appliances from you. Then, after a specific period, you might send emails promoting a new, improved version of that product type, or perhaps you might suggest they change the batteries in their remote.
---
10. Amount Spent
If you sell products at different price ranges, it may be worth segmenting your past customers by the level of money they spent. That way, you can send varying emails to those who have bought cheap products in the past compared to those who have purchased your most expensive items. That way, customers are more likely to be interested in what you have to promote, rather than seeing promotions for things outside their price range.
---
11. Those Who Have Abandoned Shopping Carts Recently
Firms with online sales capabilities often have people going most of the way through the purchasing process but abandoning their actions before they finalize the purchase.
Studies suggest that shopping cart abandonment is surprisingly high. Indeed, the Baymard Institute found that the average shopping cart abandonment figure on the desktop is 69.80% and as high as 85.65% on mobile. Due to shopping cart abandonment, eCommerce stores lose $18 billion in sales revenue yearly. Therefore, it makes sense for brands to do as much as possible to encourage these people to change their minds and finish their purchases.
There are many reasons potential customers abandon their shopping carts, not simply because they don't want to make the purchase. It can be as simple as a customer making it most of the way through the checkout process and finding they don't have their credit card on them, or they left the purchase to research another product and got distracted, forgetting to return.
Therefore, it is well worth sending a reminder email to these potential customers. This may be all it takes to jog their memory to go back in to complete the purchase. You might wish to sweeten the deal by emailing them and offering them a discount on the product they were about to purchase.