Every few years, someone poses the question "Is email marketing dead?" The answer has always been a resounding "no." For 40 years, email marketing has been a critical marketing tactic across industries and businesses. It's a very effective way to engage new and existing customers and nurture leads from prospect to customer to brand evangelist. Plus, email marketing is cost-effective and has an amazing ROI of 4200%! That's why it's important to explore the best email marketing services to find the perfect one for your business and marketing needs.
Businesses put a lot of thought into the email marketing service provider they choose. Email marketing services make email marketing a lot easier with features and functionalities that streamline your email marketing strategy, help you identify qualified leads, nurture leads, and increase your revenue.
With so many email marketing services on the market, though, it can be difficult to find the right one. In this guide, we'll compare the best email marketing services for you so you have a better idea of the one that will work best for your business. 
---
---
What Is an Email Marketing Service?
Email marketing services are used to send out email newsletters, promotional emails, transactional emails, and more. Some email marketing services are built only for email newsletters and offer a simple and streamlined tool for that purpose. Others are packed with features that will help you grow your email marketing list, segment your list, automate your emails, and send drip campaigns (a series that is pre-written and sent on an established schedule). The email marketing services we've included here are geared more towards filling all of your email marketing needs using a single tool.
---
How to Choose the Best Email Marketing Service
Email marketing services should be able to create engaging email newsletters quickly and easily or whatever your email marketing strategy asks of it. We really love drag-and-drop editors, but there are a few really good email marketing services out there that require a bit more effort. We also recommend finding an email marketing service that offers at least basic automation services. When you can write emails in advance and create email series based on certain segments, behaviors, locations, and more, it makes your email marketing much easier.
Another great feature to look for is contact management. This is helpful for segmenting your subscribers and tracking the performance of your email marketing campaigns based on the information you know about your subscribers. While your email marketing service doesn't need to be a full-blown CRM (customer relationship manager), it's helpful if it integrates with a CRM or offers at least some contact management, segmentation, and personalization features.
Now that you know a little bit more about what to look for, let's check out some of the best email marketing services and how they compare to one another.
---
8 Best Email Marketing Services Compared
For each of the email marketing services on our list, we're comparing both features and pricing details. For the most up to date information, though, be sure to check out the service's site and pricing pages.
---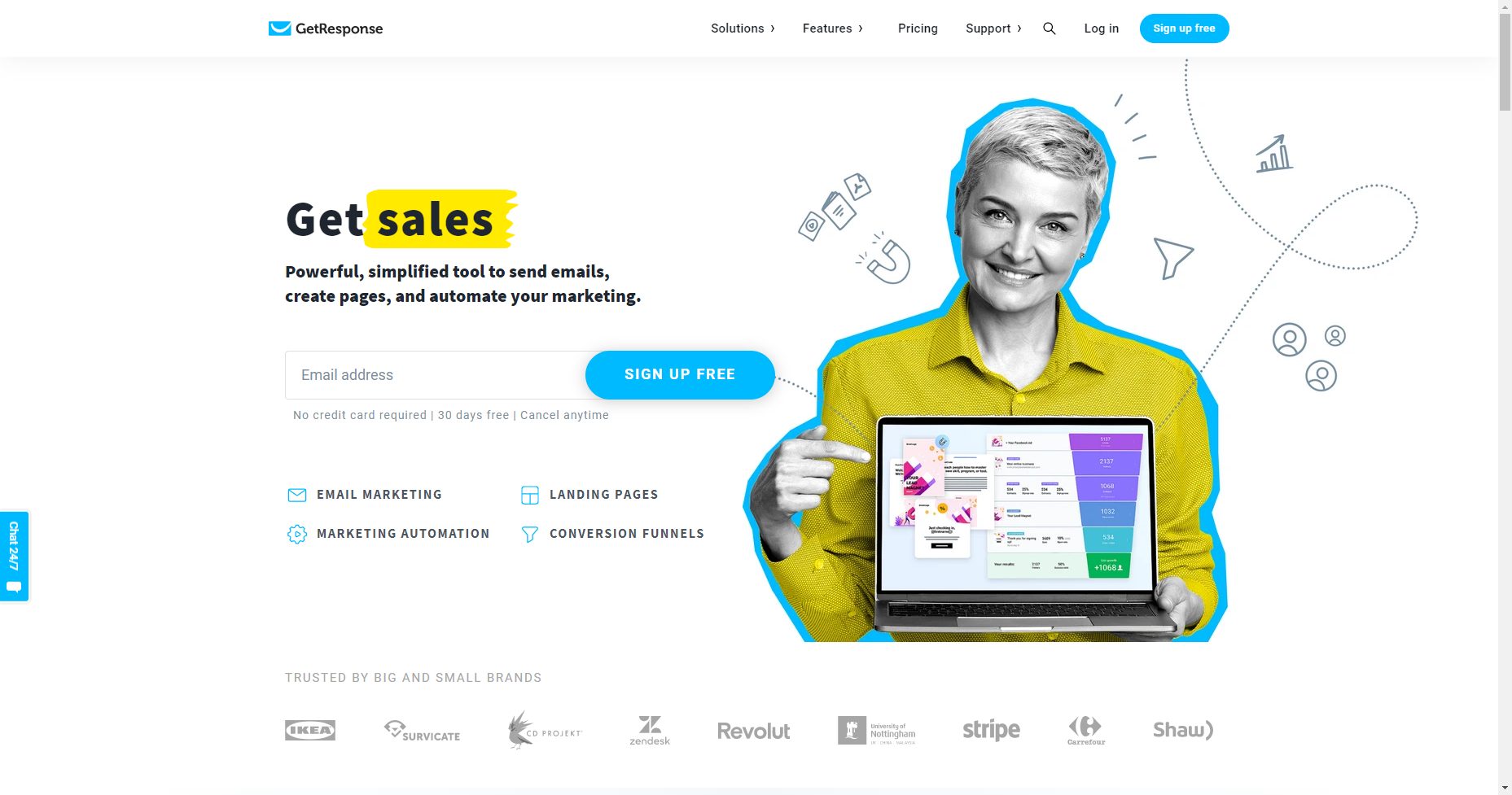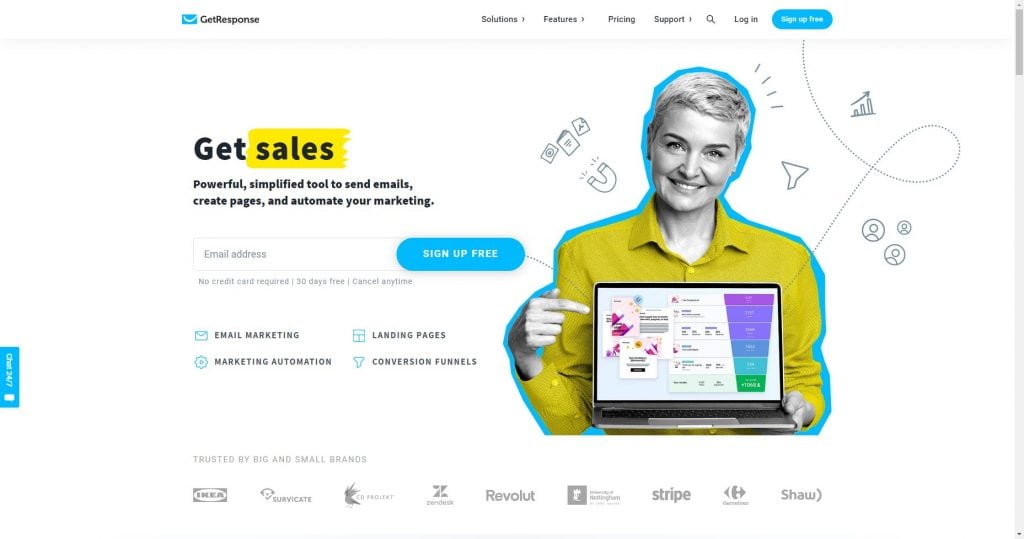 Free Plans: GetResponse doesn't have an ongoing free plan but does offer a free 30-day trial of any plan. No credit card required.
Paid Plans: Paid plans start at $15/month for up to 1,000 contacts.
GetResponse has a huge number of features that go well beyond email marketing including video email marketing, landing pages, design testing, A/B testing, and more. They also offer outstanding automation features so you can create automated email campaigns based on different conditions and triggers. On the more expansive plans, you'll also get access to a webinar feature and inbuilt CRM in addition to other tools.
One of GetResponse's best features, in our opinion, is the Conversion Funnel feature that lets you create sales funnels and landing pages to generate leads and move leads through your marketing funnel. You can even make your emails shoppable to reduce the number of clicks it takes your customers to complete a purchase and integrate your email marketing with your online shop.
If you're interested in a tool that will help you run multi-channel marketing campaigns, GetResponse is worth a good long look.
Check out our GetResponse review here!
---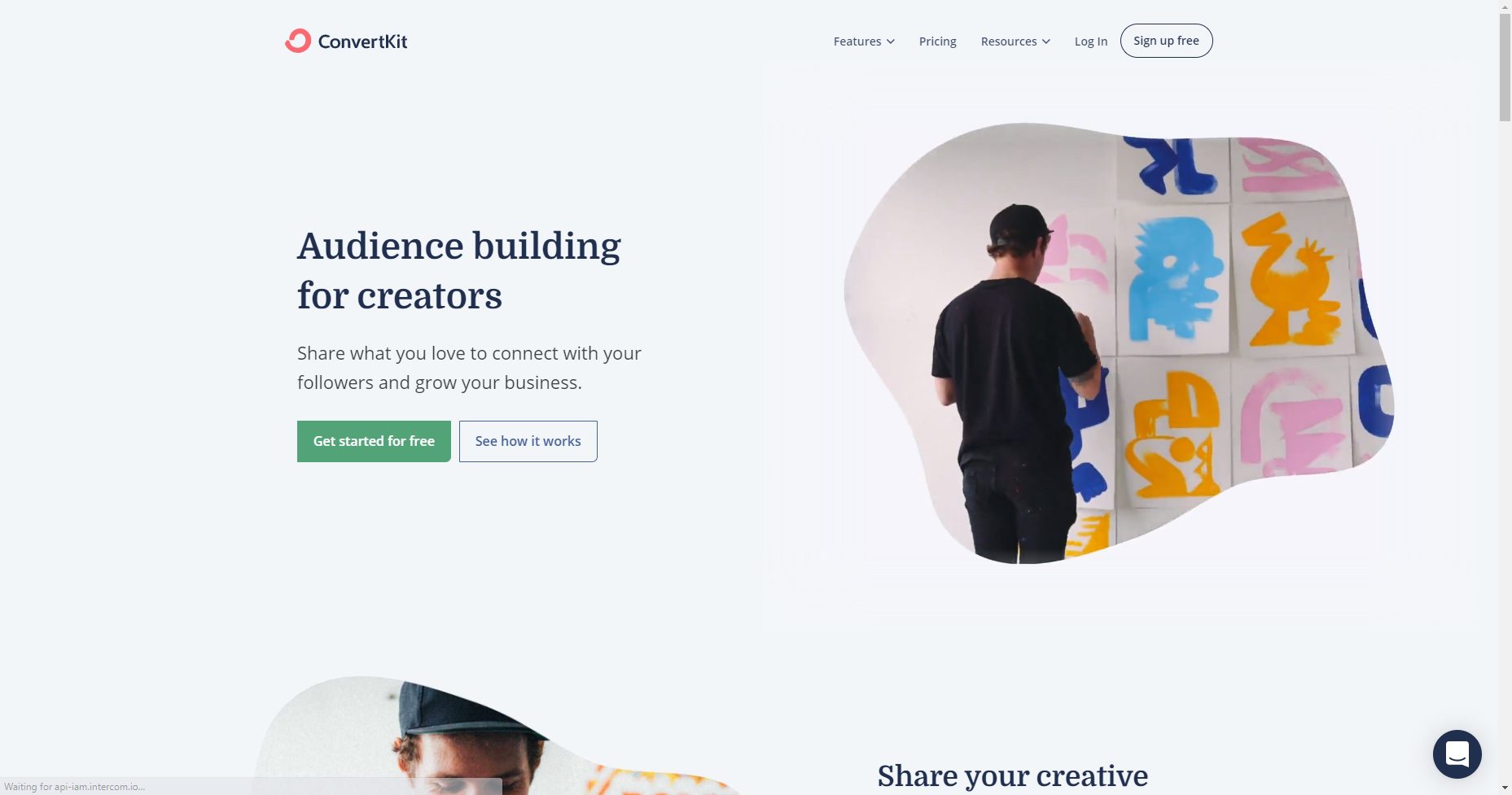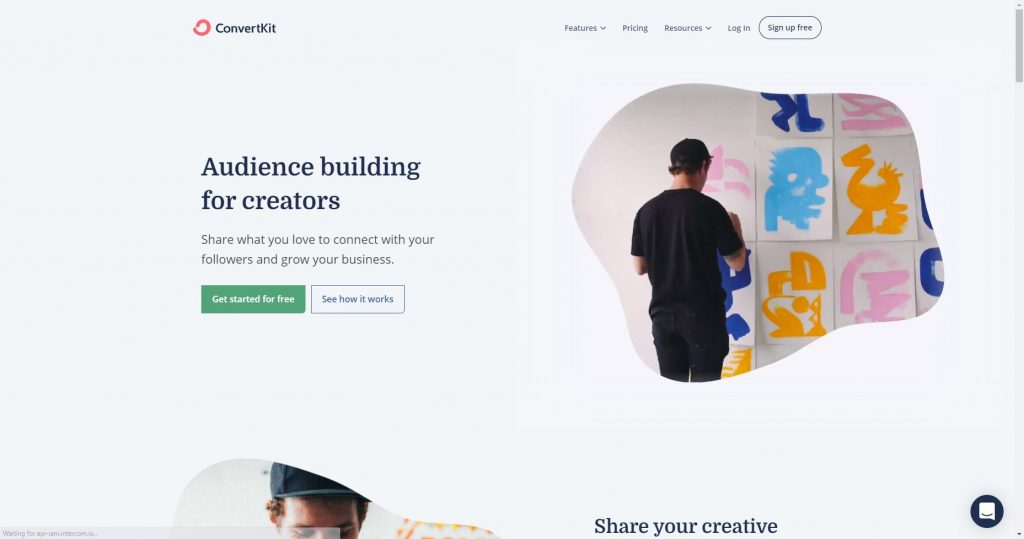 Free Plans: With ConvertKit's free plan you can manage up to 1,000 subscribers.
Paid Plans: ConvertKit offers two plans: Creator and Creator Pro. Pricing starts at $29/month and depends on how many subscribers you have.
ConvertKit is one of the best email marketing services for creators selling products. It offers a drag-and-drop email builder and quite a few pre-built templates. While we love ConvertKit, we find the templates to be a bit dull. However, the platform itself is brilliant, offering integrations with eCommerce platforms, landing pages, and membership sites. If you're looking to build automated email funnels, ConvertKit offers a visual workflow builder that makes automation easy.
ConvertKit keeps your subscriber list in a single place, letting you add tags manually or automatically based on behavior so you can send personalized email marketing campaigns. You can tag your subscribers however you want which makes personalization and automation incredibly versatile.
ConvertKit has 70+ third-party integrations, custom reporting, and customizable forms. Plus, if you switch over to ConvertKit with more than 5,000 subscribers they offer a free migration service.
You can check out our ConvertKit review here!
---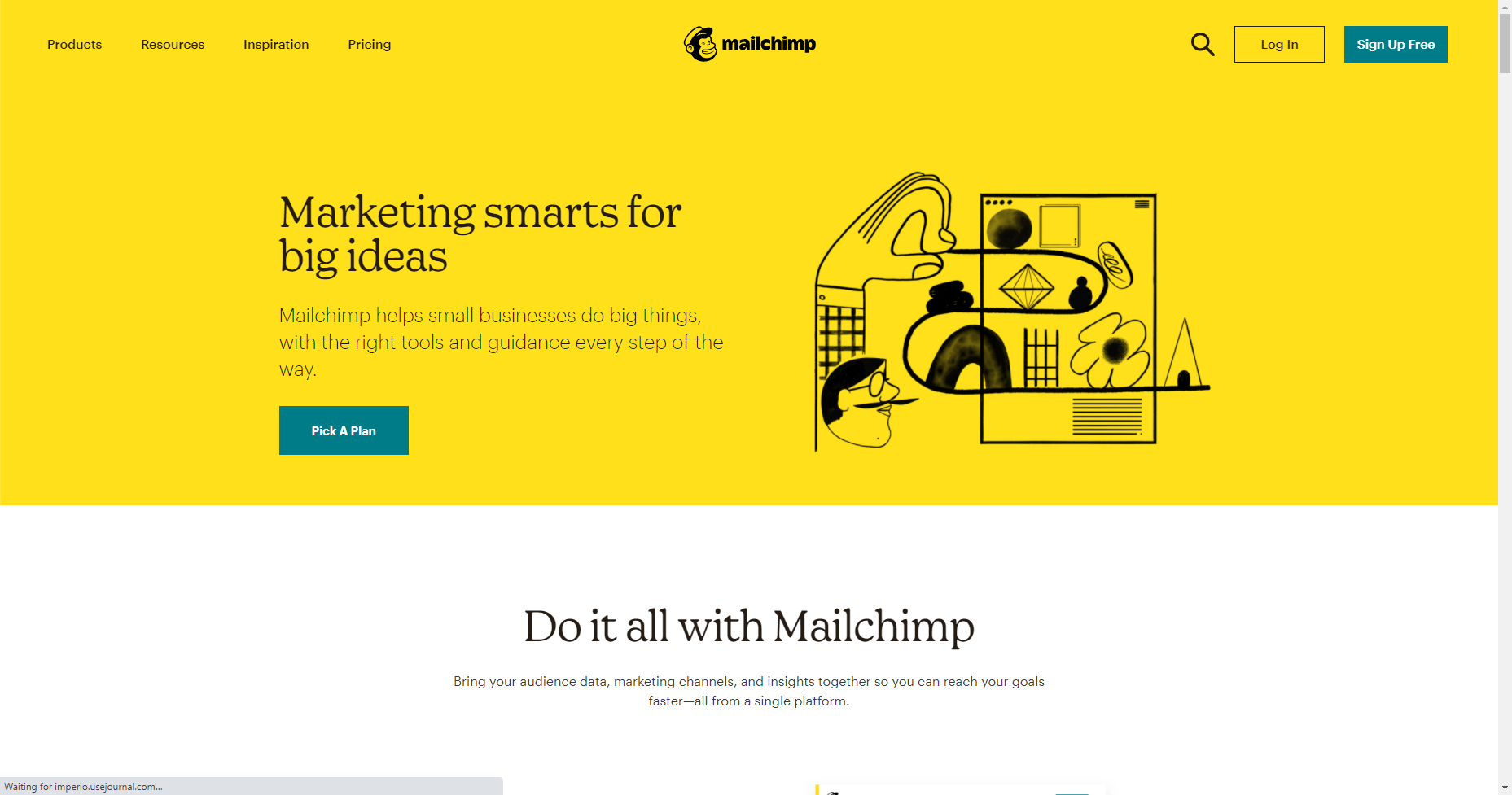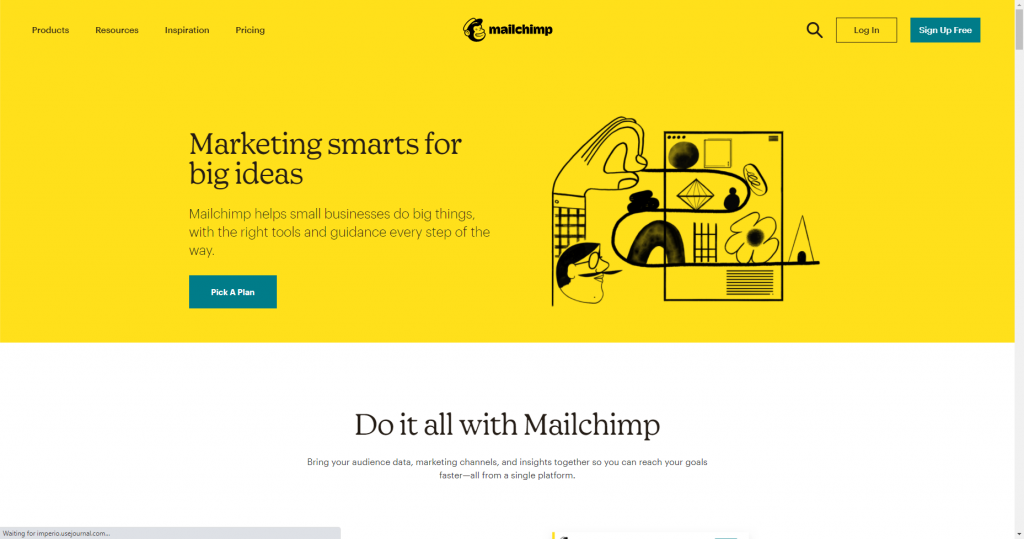 Free Plans: Mailchimp offers a free plan for up to 2,000 subscribers with one audience included.
Paid Plans: Paid plans start with the Essentials at $9.99/month for up to 50,000 contacts and three audiences. We recommend at least the Standard plan ($14.99/month) since it comes with a customer journey builder.
Mailchimp is an industry favorite and tends to be the go-to email marketing service for many email marketing beginners. It makes it easy to reach your target audience across distribution channels since Mailchimp lets you promote on social media and create shopping or regular landing pages in addition to email marketing. Mailchimp also has a mobile app so you can create and email your email marketing campaigns wherever you are (updates sync automatically).
Mailchimp provides analytics tools on an easy-to-understand dashboard so you can keep track of your campaign performance and learn more about your subscribers. Using the data you collect, you'll be better poised to send personalized email marketing messages that really resonate with your subscribers. And, if you've connected your Mailchimp account to your eCommerce platform, Mailchimp can help you find your most valuable customers.
Mailchimp also has a creative assistant feature that makes it easy to resize your designs so your emails always look great in addition to its content studio. There you can store the visuals you use so they're accessible for all of your campaigns.
---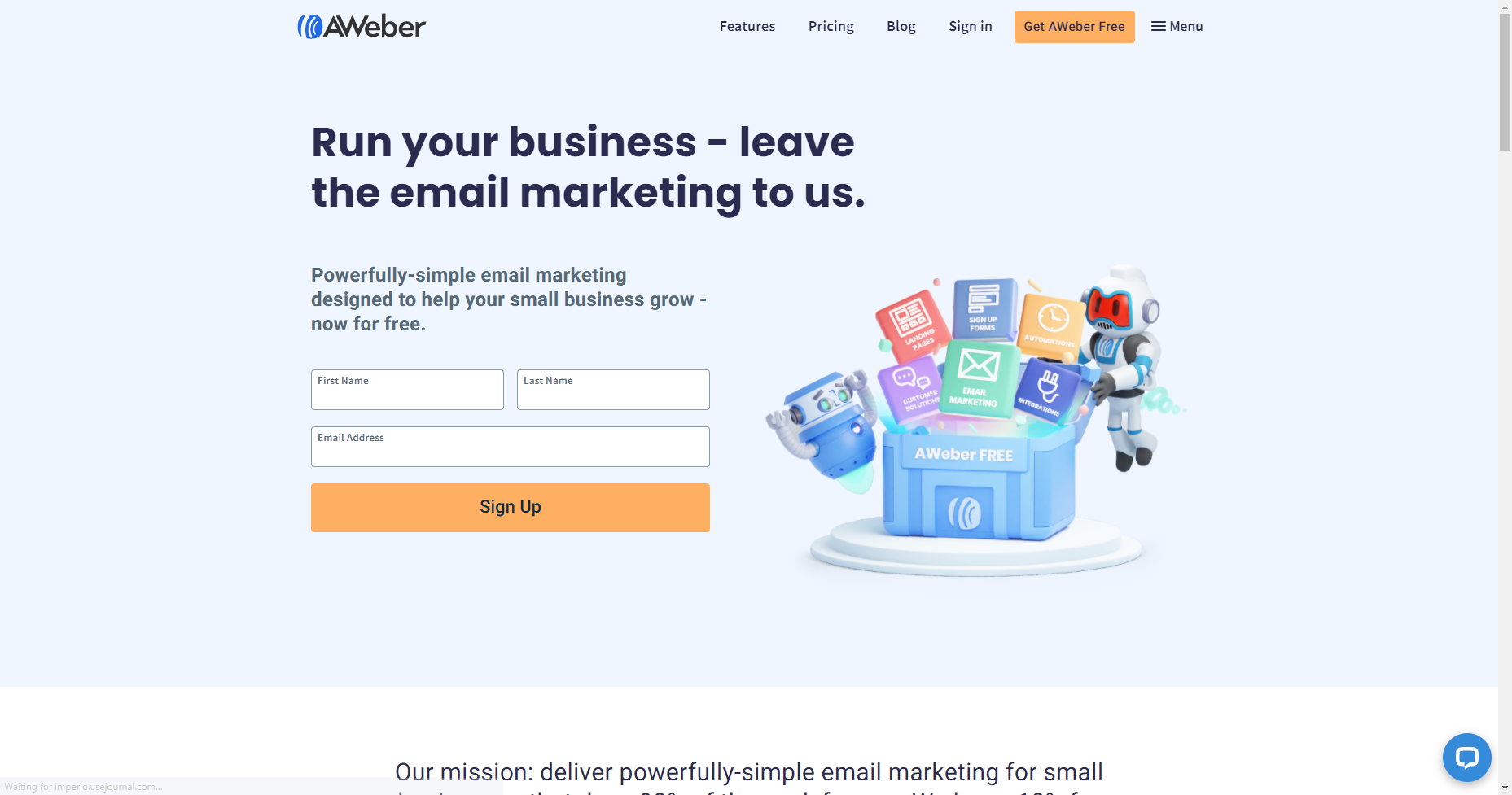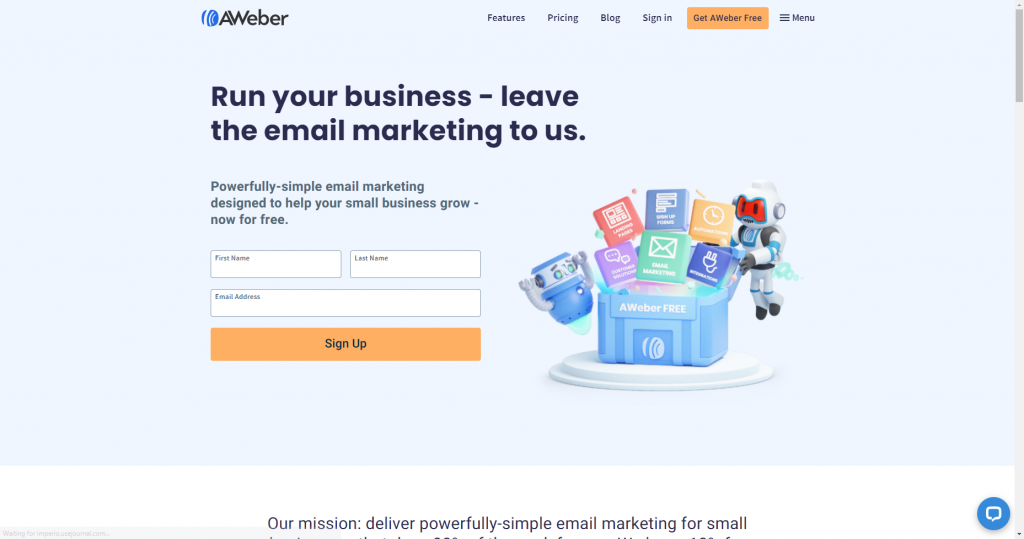 Free Plans: AWeber offers a free plan for up to 500 subscribers with limited features.
Paid Plans: The paid AWeber plan starts at $19/month for access to all features and up to 500 subscribers. Final pricing depends on how many subscribers you have.
AWeber has an easy to use drag-and-drop email builder and editor with an AI-driven design assistant that helps users build beautiful, on-brand emails automatically. If you're not feeling creative, AWeber has a campaign marketplace where you'll find pre-made email marketing templates that you can import to your dashboard and customize so you don't have to create your own campaigns from nothing.
In addition to email marketing, AWeber includes the tools you need to create landing pages you can use even if you don't have a website. You can also use the auto-newsletter feature to automate email content creation by broadcasting the latest published content from your blog.
---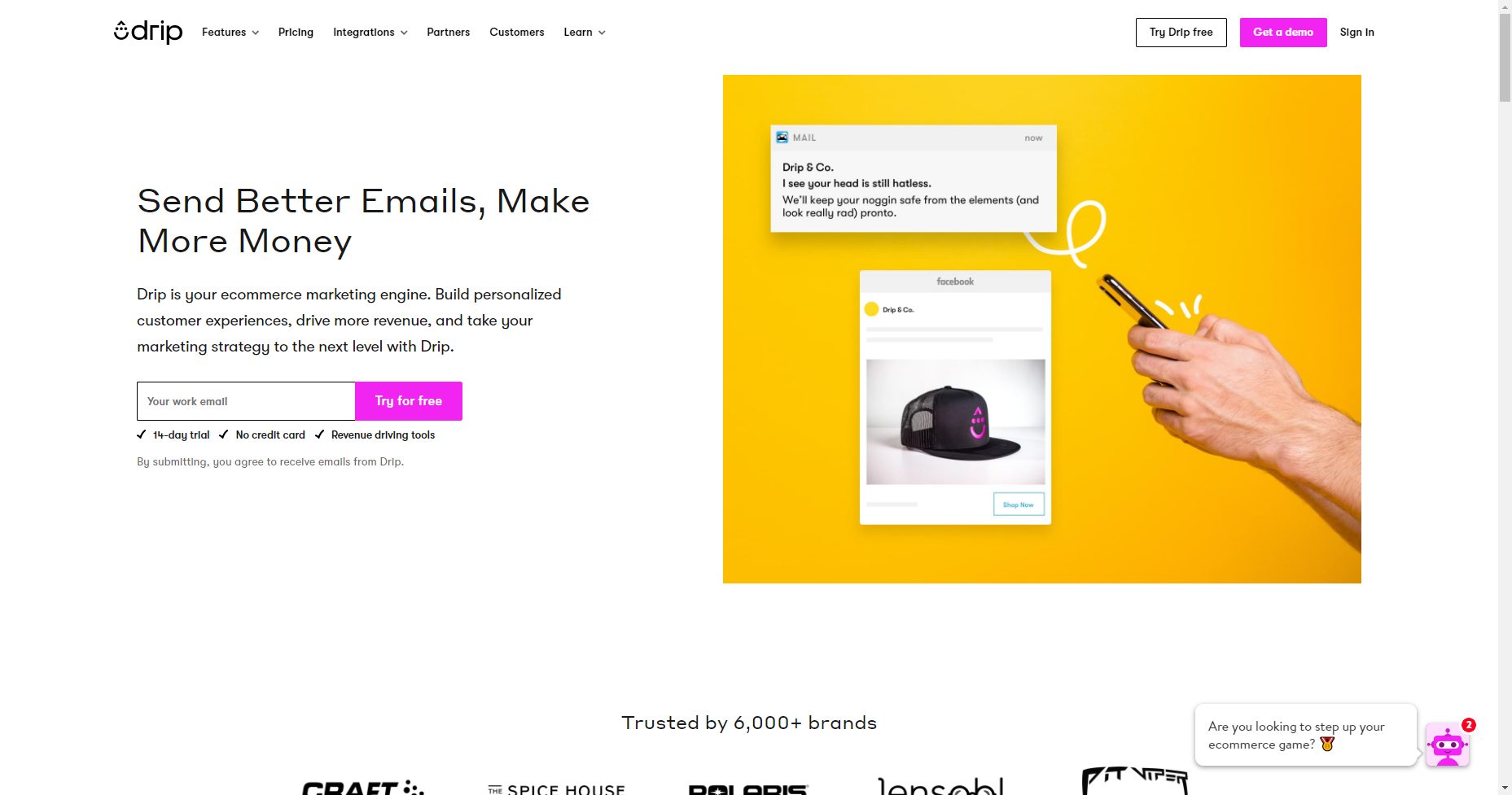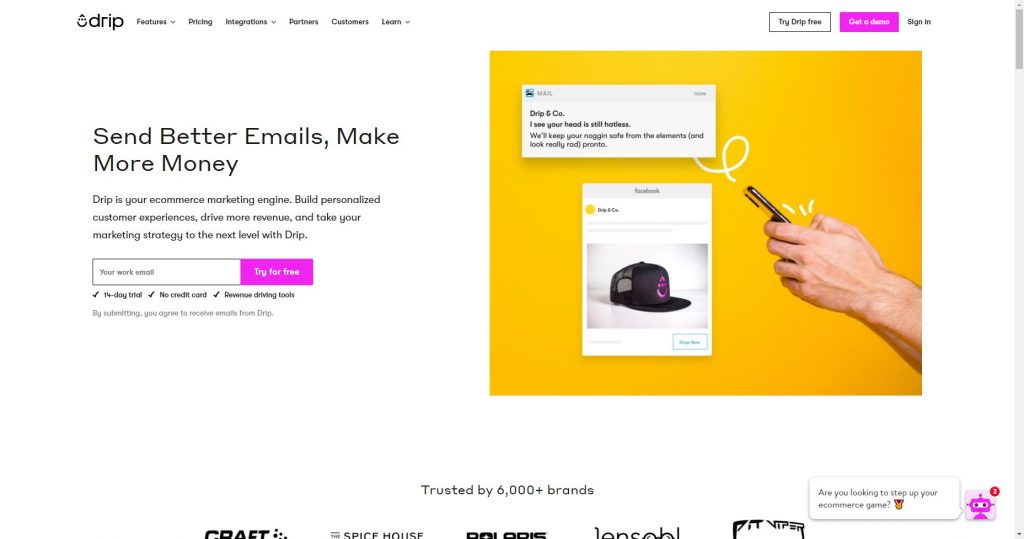 Free Plans: Drip doesn't offer a free plan. You can sign up for a 14-day free trial without entering your credit card information.
Paid Plans: Drip's paid plans start at $19/month for up to 500 subscribers. The final price will depend on how many subscribers you have.
Drip is one of the more powerful email marketing services on our list and is a great choice for enterprise-level eCommerce, blogging, and digital marketing users. It has a huge array of tools for automation, sales funnels, and personalization. Drip integrates with all the popular website builders including WordPress and WooCommerce and makes it easy to add opt-in forms so you can grow your email list.
Drip sets itself apart with tools like intelligent automation tools, split testing, smart segmenting, and a visual workflow builder. Using these features will help you send targeted messages to just the right subscribers when they need to see it most.
---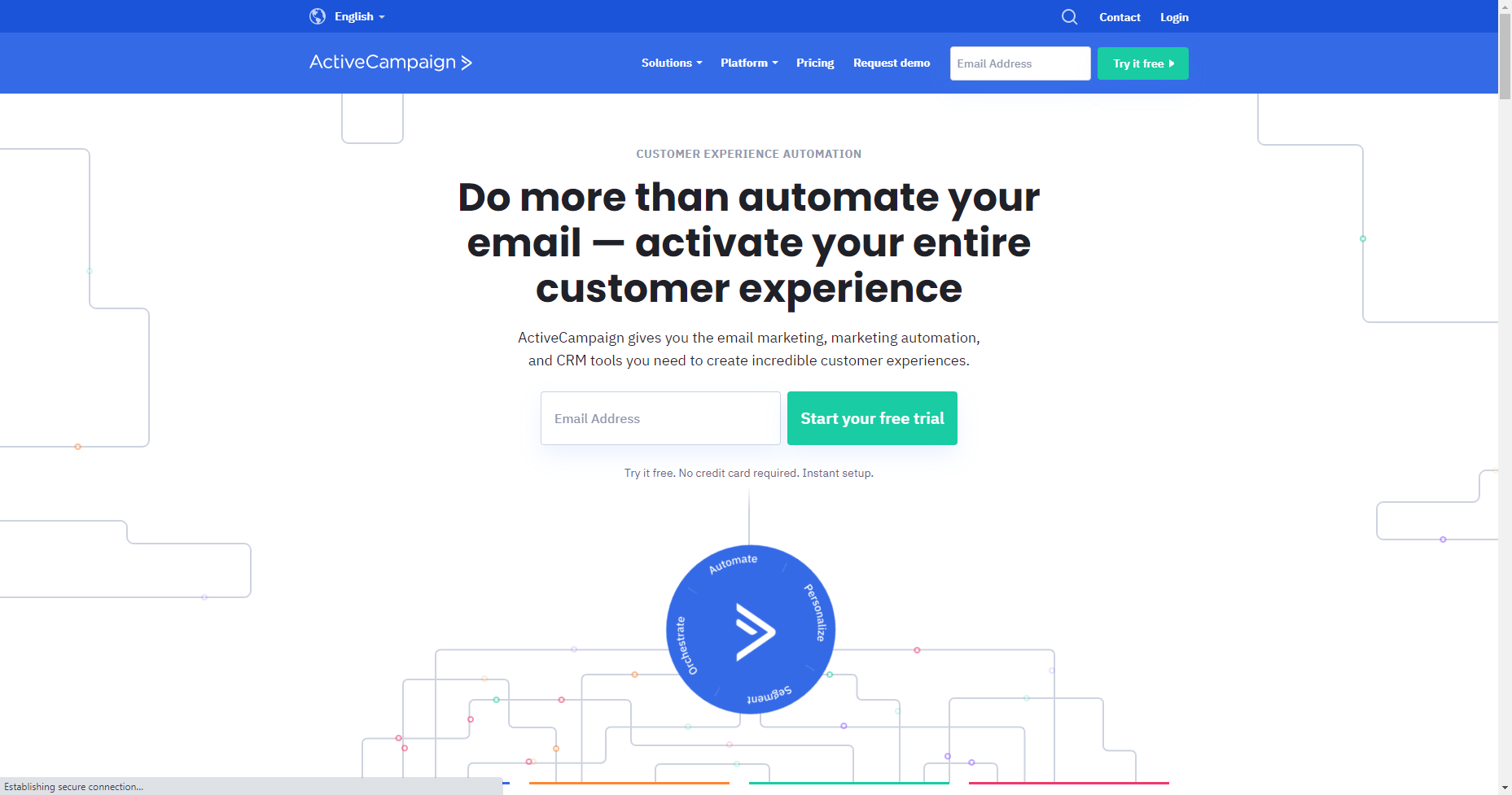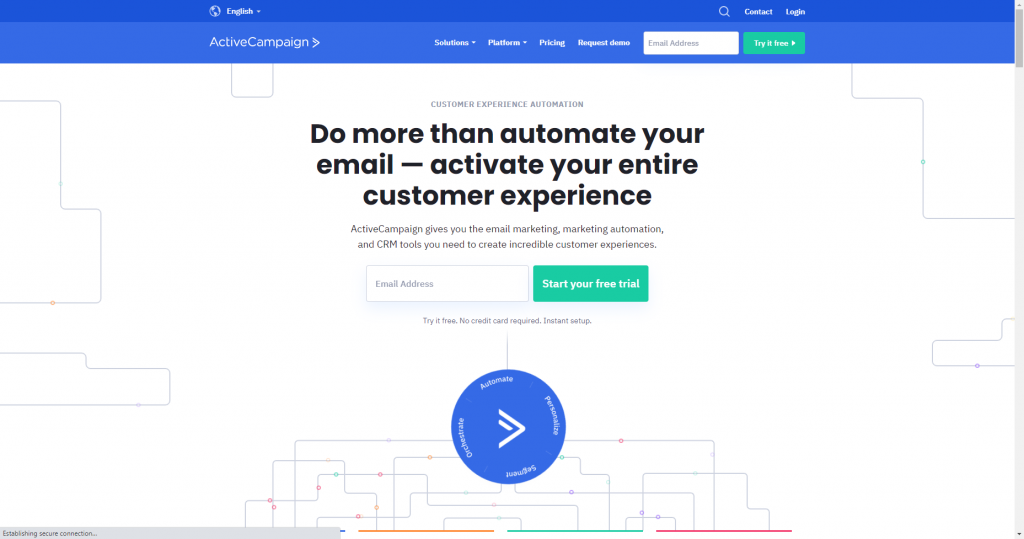 Free Plans: ActiveCampaign doesn't offer a free plan, but does have a free trial.
Paid Plans: Paid plans start at $9/month for up to 500 contacts. Their most popular plan is the Professional Plan that gives you access to a lot more features at $129/month.
ActiveCampaign is one of the more automation-driven email marketing services on our list. Autoresponders are included with all ActiveCampaign plans and can be based on a broad array of conditions so you're sure to send the right response at the right time. You can even automate contact list management and set up automations using ActiveCampaign's inbuilt CRM. The CRM lets you add notes, send messages, and even set appointments with your contacts.
ActiveCampaign has a messages feature you can use to send targeted marketing messages to your website visitors based on their behavior. This type of targeting, personalization, and automation is great for building and nurturing relationships.
---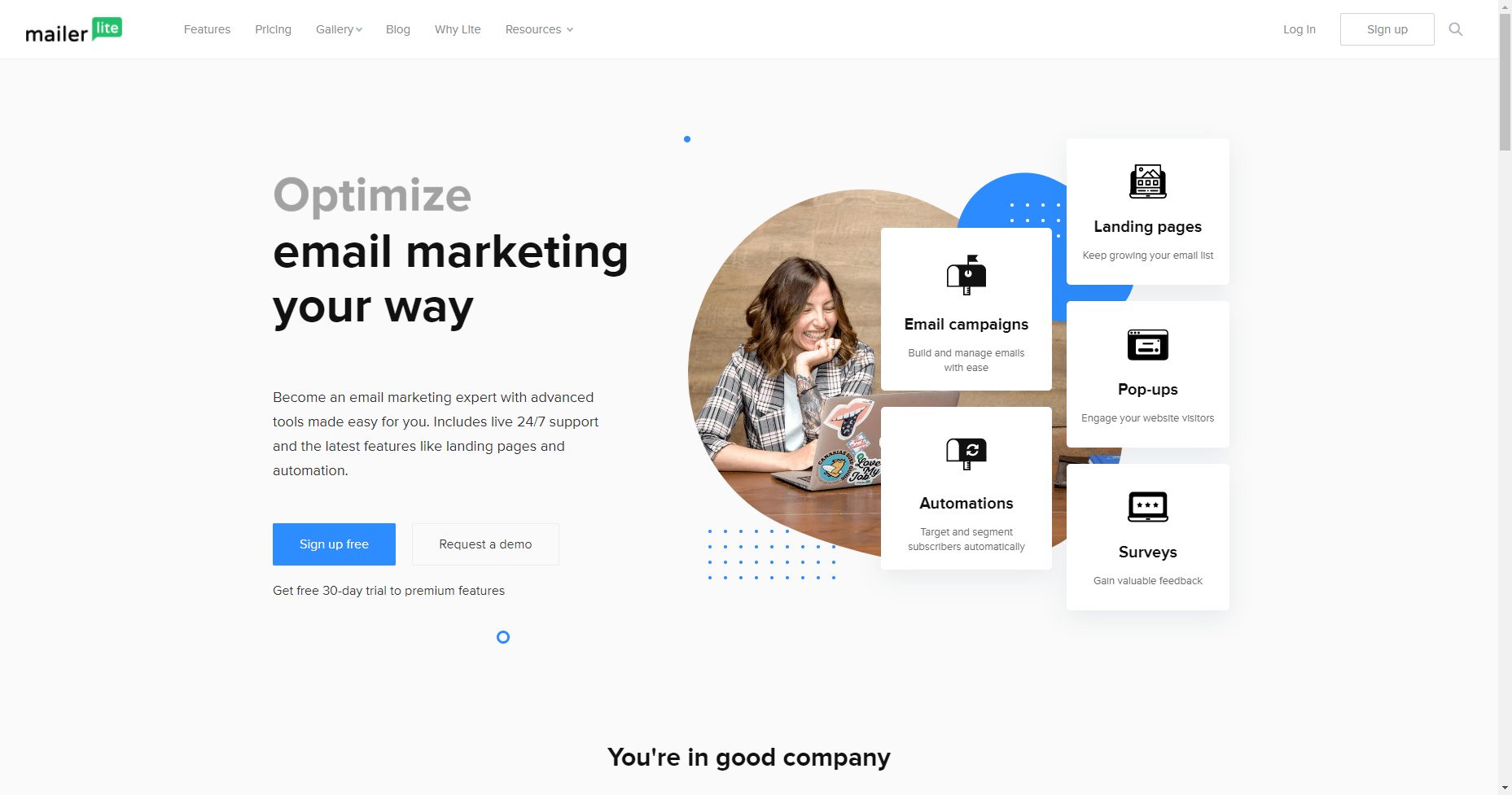 Free Plans: Mailerlite offers a free plan for up to 1,000 subscribers and 12,000 emails/month.
Paid Plans: Mailerlite's paid plans start at $10/month and are based on the number of subscribers on your list. There are also add-ons like unlimited websites and landing pages ($10/month), a dedicated IP ($50/month), and priority support ($100/month).
Mailerlite is a streamlined email marketing service with solid features and a powerful email editor. It comes with well-designed, customizable templates as well as features like landing pages, opt-in forms, and reporting. While most users are probably going to opt for the drag-and-drop builder, Mailerlite also offers a rich text editor, custom HTML editor, and newsletter and eCommerce campaign templates.
With Mailerlite, you can personalize your email marketing campaigns using its advanced targeting and automation features. Mailerlite includes automation for welcome emails, anniversary emails, abandoned cart emails, and more. Plus, you can automate subscriber updates, follow up on purchases, create segments based on behavior, send personalized content, and reward loyal customers with special promotions.
---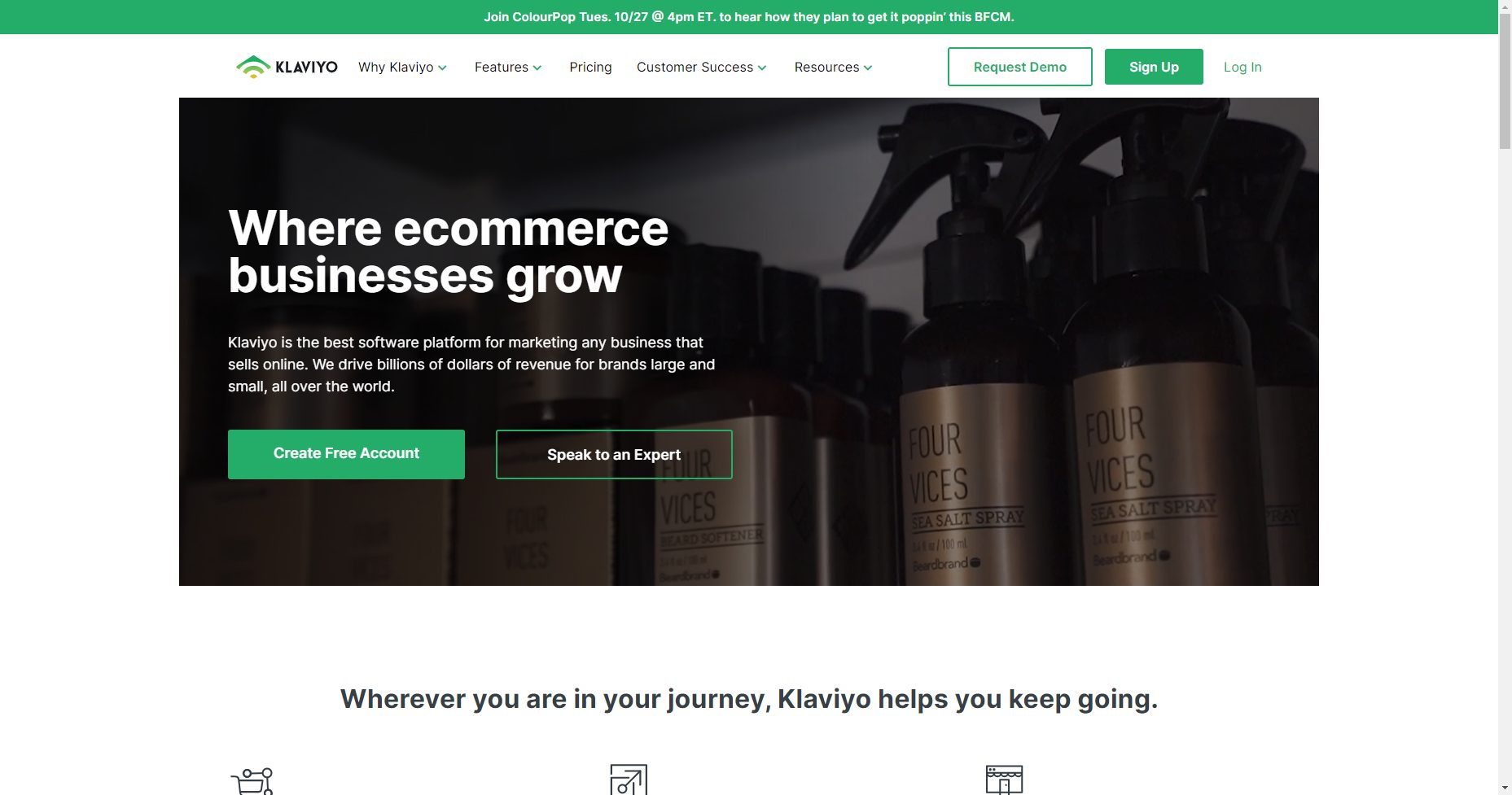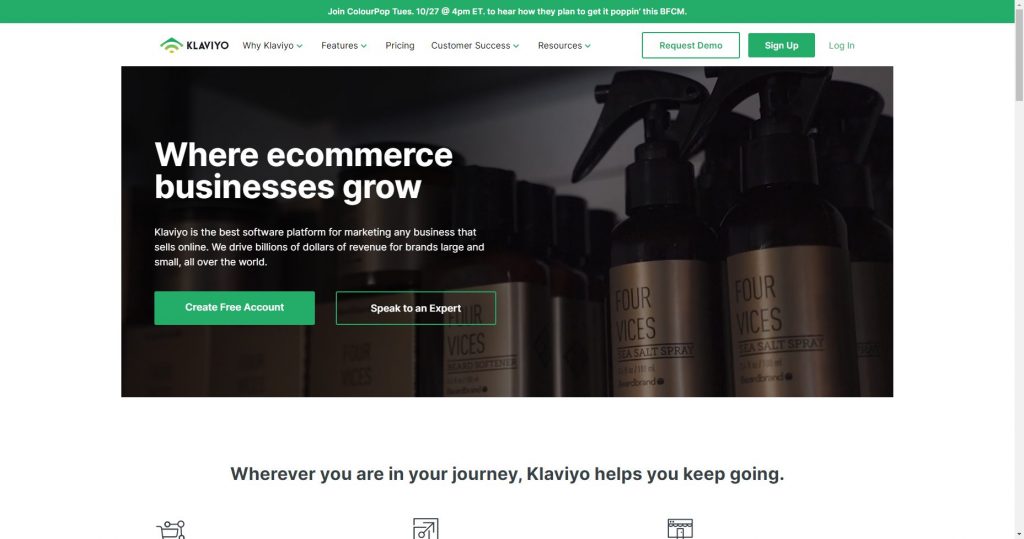 Free Plans: Klaviyo email marketing is free for up to 250 subscribers and up to 500 email sends.
Paid Plans: Paid email marketing plans start at $20/month with final pricing dependent on the size of your email list. You can add SMS marketing for about $0.01 per message.
Klaviyo is one of the more complicated to use email marketing services on our list, but the learning curve isn't too steep. It was built for eCommerce businesses and, as such, offers close integrations with eCommerce platforms like Shopify, Magento, WooCommerce, BigCommerce, and more. Thanks to these integrations, you'll be able to easily segment based on buying behavior, user properties, and engagement with previous campaigns so your email marketing campaigns are always on point.
In addition, Klaviyo's web tracking gives you insight into what your website visitors are doing, so you can build campaigns around that behavior like reaching out to customers who haven't been on your site recently (or those who are frequent visitors) as well as get in touch with visitors who looked but didn't buy. Klaviyo also has the automation tools and reports that you need to stay on top of things without letting it take up your entire day.