Email marketing success is about more than just growing your email list. You actually have to nurture those budding relationships if you expect to keep your subscribers engaged and push them to become customers and, eventually, brand evangelists. Email newsletters are one of the best ways to keep your email list engaged. Plus, you can use your email newsletters to educated your subscribers about your brand and how you are uniquely positioned to resolve their pain points. To help you on your journey to email marketing success, we've put together this list of 20 email newsletter tools.
---
20 Email Newsletter Tools You Can Use to Succeed at Email Marketing:
---
What Are Email Newsletters and Are They Really Important?
Email newsletters are a key component in a successful email marketing strategy. With email newsletters, your brand can share information that's important to your subscribers. You can also use your email newsletters to promote products and offer discounts. Email newsletters should be sent on a regular basis. We recommend sending them at least weekly but you can send them on whatever frequency works for you and your subscribers.
Email marketing has the highest ROI of any marketing channel. In fact, for every $1 you spend on email marketing, you can expect to bring in up to $42 of revenue. That's an ROI of 4200%! Email newsletters help you build and nurture relationships with your subscribers, increasing the odds that they'll become paying customers.
---
20 Best Email Newsletter Tools
Email newsletters are essential to building relationships with your subscribers and email newsletter tools can help you create and send emails that your subscribers will love. But not all email newsletter tools are created equal. There are differences in pricing and features to think about, as well as how a certain tool helps you meet your brand's goals.
With so many email newsletter tools out there, it can be difficult to find the email newsletter tools that are best for you and your brand. That's why we've put together this list of 20 email newsletter tools you can use to succeed at email marketing.
1. HubSpot
Price: Get started for free. Plans start at $540/year.
HubSpot's drag-and-drop email newsletter editor makes it delightfully easy to create a stunning email newsletter personalized to fit your brand's style and personality—no coding required. This email newsletter tool offers personalization, A/B testing, smart content rules, and advanced reporting so you can be sure that your email newsletters are just right. Using the reporting features, you'll be able to see which subscribers are engaging with your newsletters, when, and how.
---
2. ConvertKit
Price: Free for up to 1,000 subscribers. Plans start at $29/month.
ConvertKit is the perfect email newsletter tool for creators to build relationships with subscribers, share ideas and products, and boost sales. ConvertKit is easy to use and has a great user interface. The newsletter tool offers easy segmentation so you can share highly targeted content to each of your subscribers, increasing open rates and getting more sales. ConvertKit has a gorgeous analytics dashboard so you can check on the performance of your email newsletters.
---
3. AWeber
Price: Free for up to 500 subscribers. Plans start at $16.15/month when billed annually.
AWeber is an email newsletter tool with tons of features. It has a free Smart Designer so you can create stunning email marketing templates in moments. You can also use AWeber to automatically create email newsletters from blog posts or use the drag-and-drop editor and more than 700 mobile-responsive templates to create one-of-a-kind email newsletters that reflect your brand and encourage your subscribers to engage.
---
4. MailerLite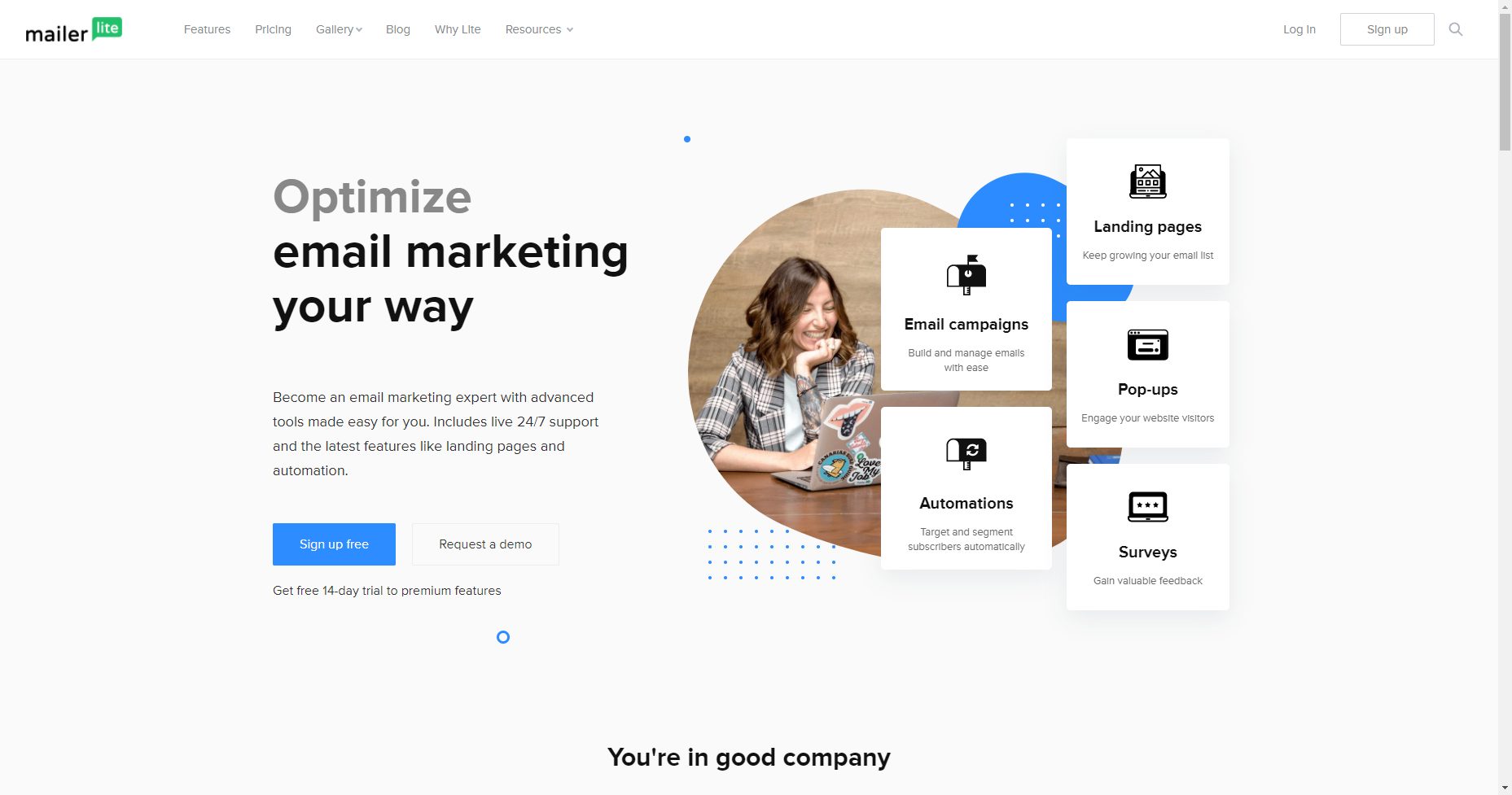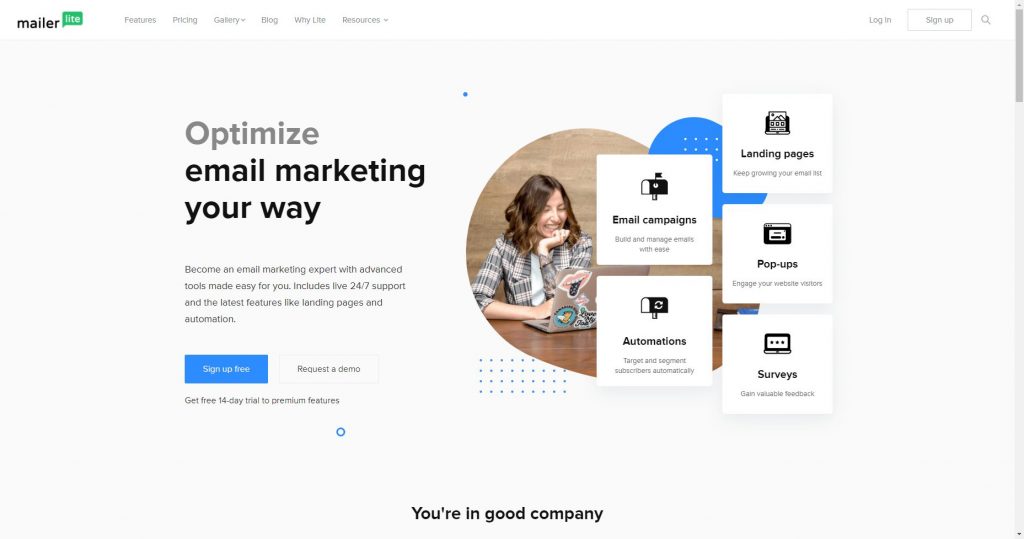 Price: Free for up to 1,000 subscribers and 12,000 emails per month. Plans start at $84/year.
MailerLite is an email marketing tool that offers features that are perfect for your brand no matter if you're looking for something simple or advanced. It's easy to create an email newsletter using MailerLite's editor. You can choose from pre-designed content blocks for elements like menus, logos, buttons, images, video, and text. Once you have your email newsletter set up the way you want it, just choose the list you want to send it to and click send. MailerLite also offers advanced features like email automation, segmentation, A/B testing, photo editing, and more.
---
5. TinyLetter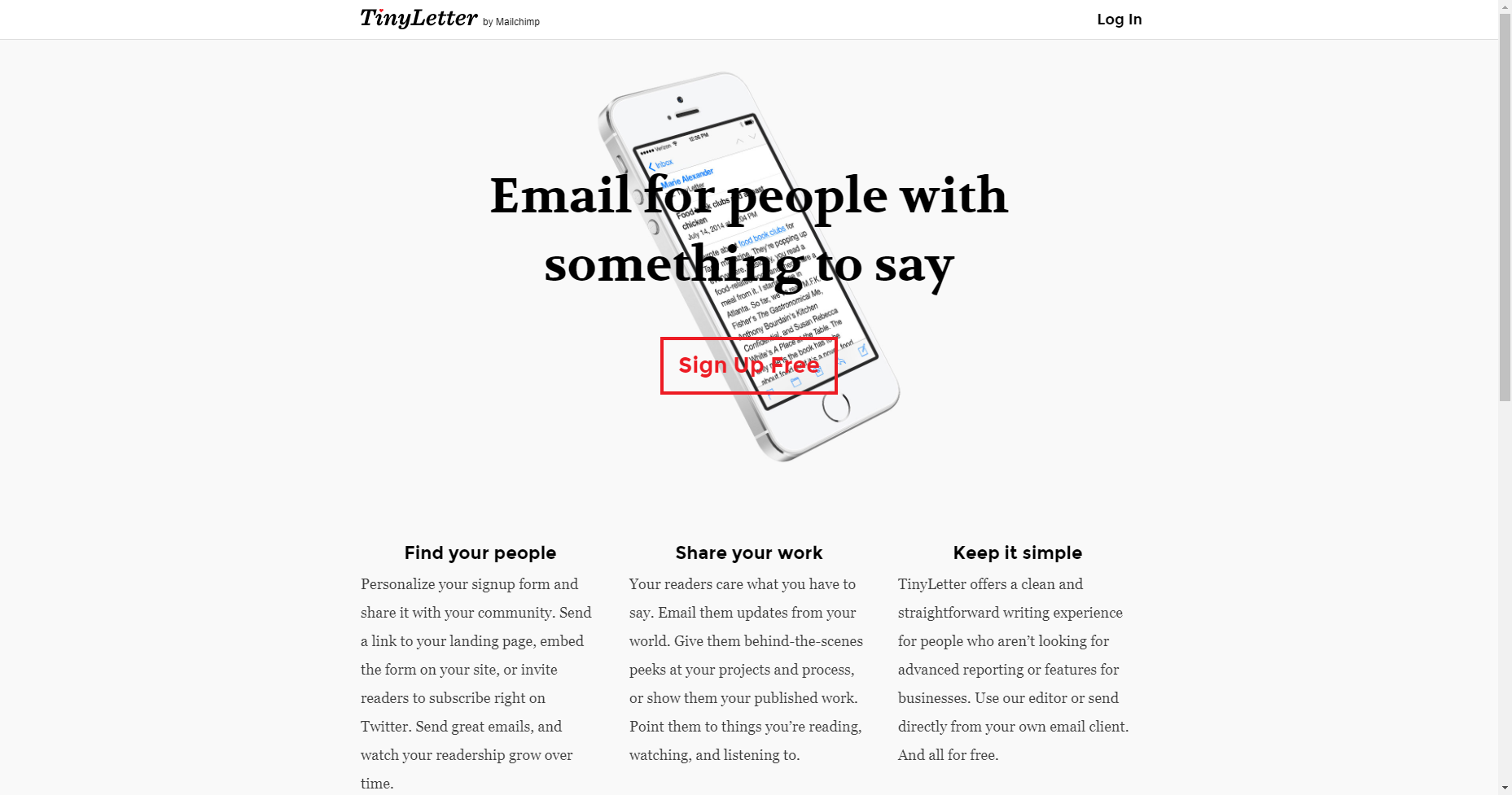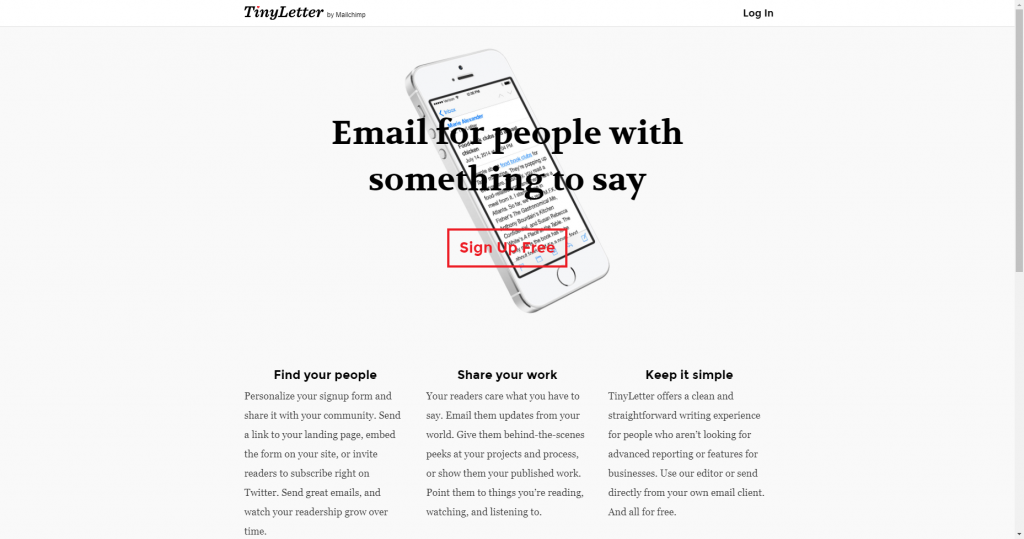 Price: Free
TinyLetter is one of the simpler email newsletter tools on our list. It was created by Mailchimp and is a big favorite of folks who are writing more personal newsletters. This tool could be great for influencers or those who want to become an influencer since it's a no-frills option that can be used to build up a following without requiring a monetary investment.
---
6. Mailchimp
Price: Free for up to 2,000 contacts. Plans start at $9.99/month.
Mailchimp is probably what you immediately think about when you think about email marketing. They're a huge name in the business, and with good reason. You can use Mailchimp to create a simple email newsletter and track your newsletter's performance with the reporting tools. Mailchimp also offers several advanced tools like email automation, landing pages, segmentation, and a whole lot more.
---
7. Benchmark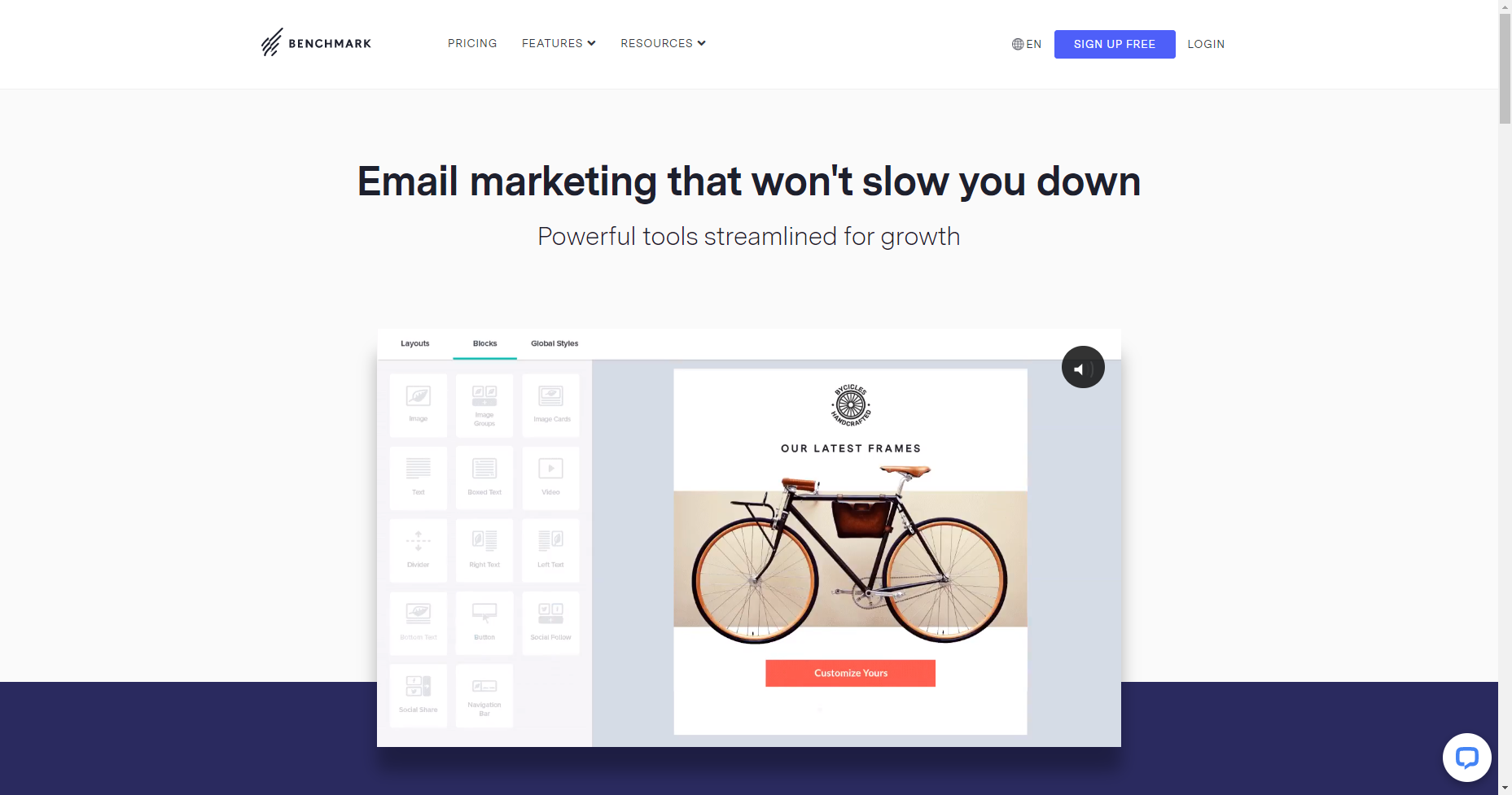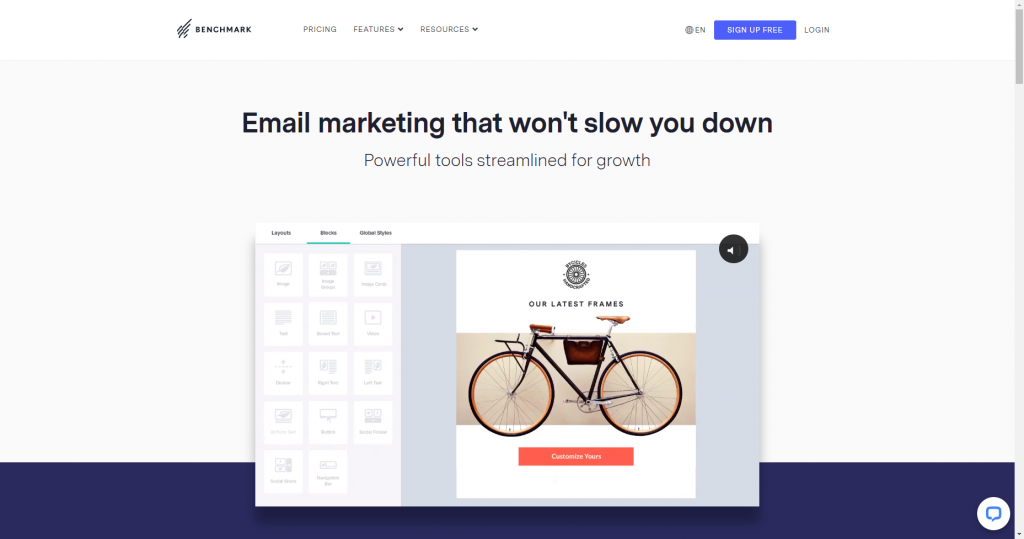 Price: Free for up to 205 emails per month. Plans start at $13/month.
Benchmark is another of our email newsletter tools that has an easy-to-use drag-and-drop editor, making it easy for the non-techy among us to create high-quality newsletters. Benchmark also has a nice selection of templates that you can customize so you don't have to start from scratch. If you're looking for advanced features, Benchmark has you covered with A/B testing, detailed analytics, spam testing tools, responsive designs, autoresponders, and segmentation.
---
8. Flodesk
Price: Start for free. While Flodesk is in Beta, users can lock in pricing at $38/month for life, no matter the list size.
Flodesk is a basic but effective email newsletter tool that includes tagging, segmentation, and design tools that make it easy to create visually appealing email newsletters with no design experience.
---
9. Campaigner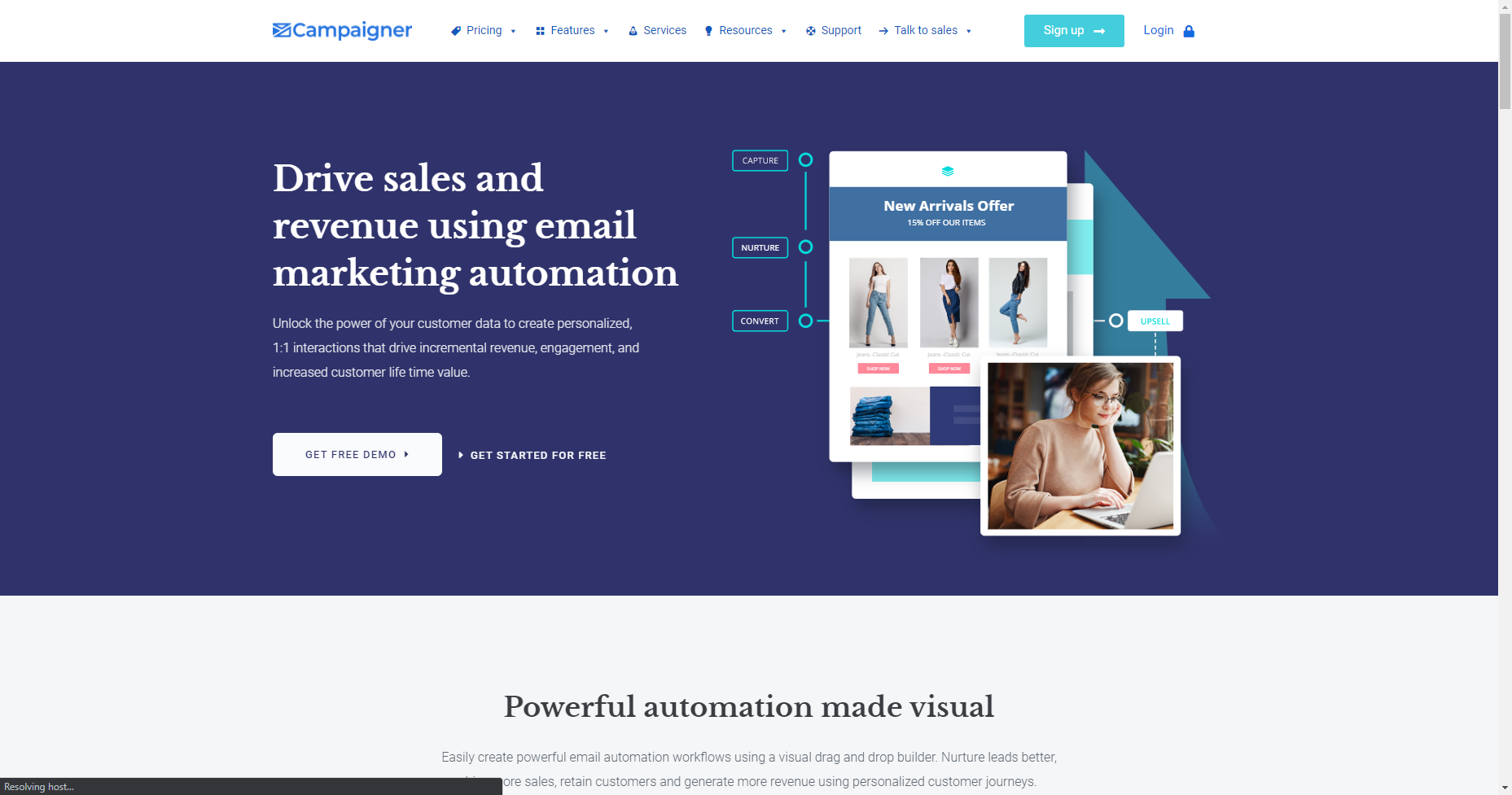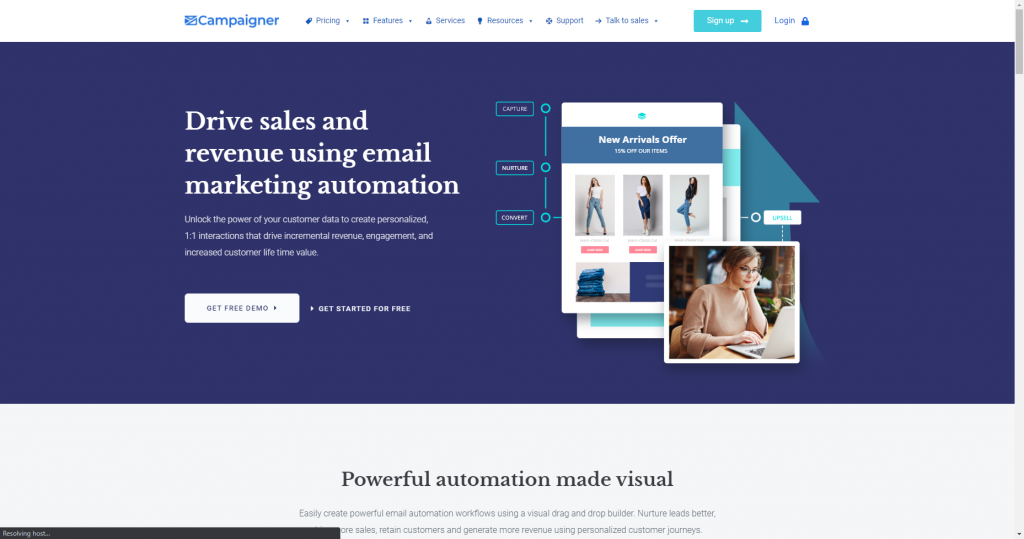 Price: Lite plan starts at $19.95/month for up to 1,000 contacts. Standard plans start at $40.95/month when billed annually.
Campaigner is an email newsletter tool that includes a drag-and-drop email editor that includes templates to get you started. Campaigner also includes advanced features like email automation, segmentation and personalization, multiple testing tools, and more.
---
10. Constant Contact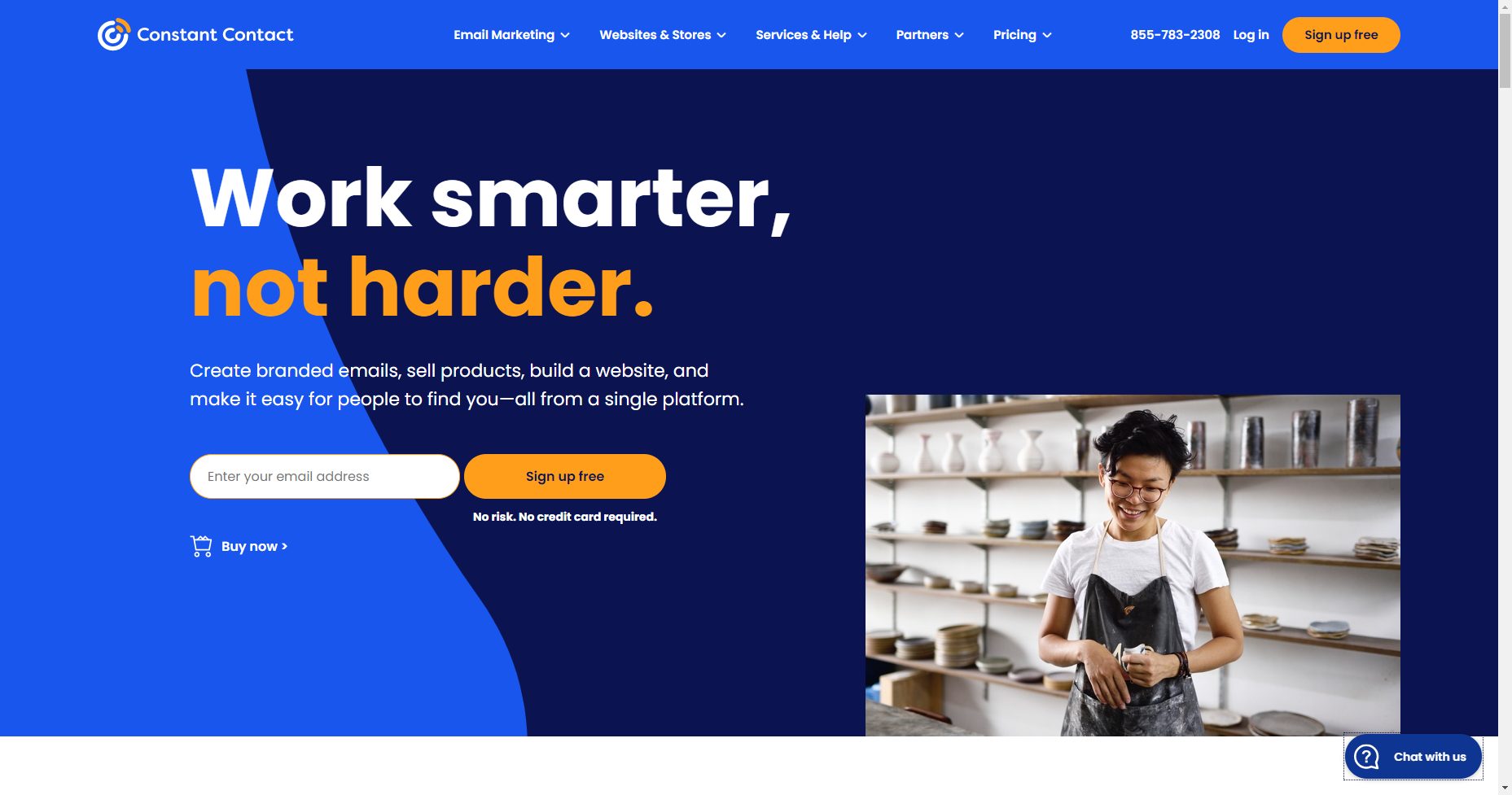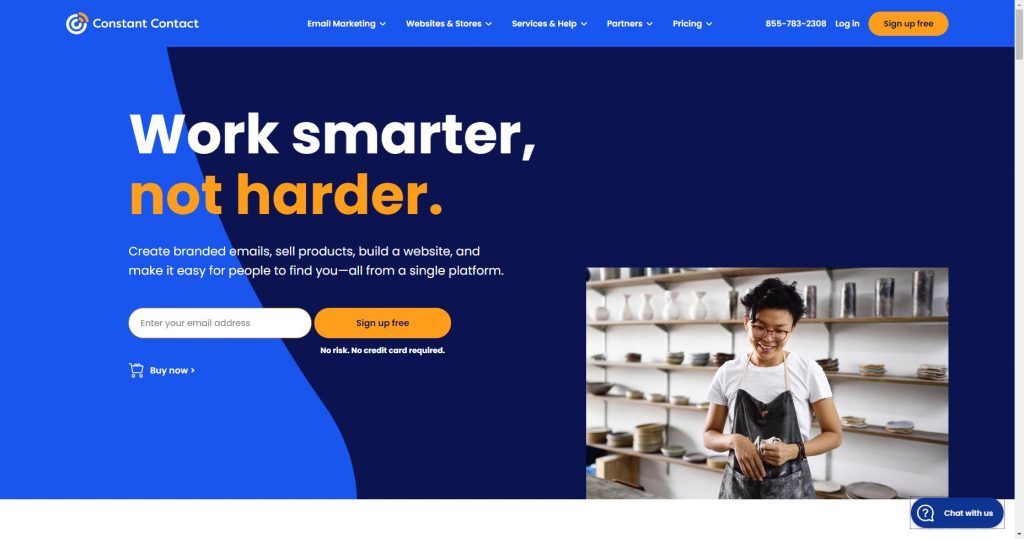 Price: Plans start at $20/month.
Like Mailchimp, Constant Contact is another huge name in email marketing. Constant Contact has tons of email marketing templates as well as a drag-and-drop editor that makes creating email newsletters super easy. You can even provide your website URL and Constant Contact will scan your site for images and colors that are then added to the templates.
---
11. Campayn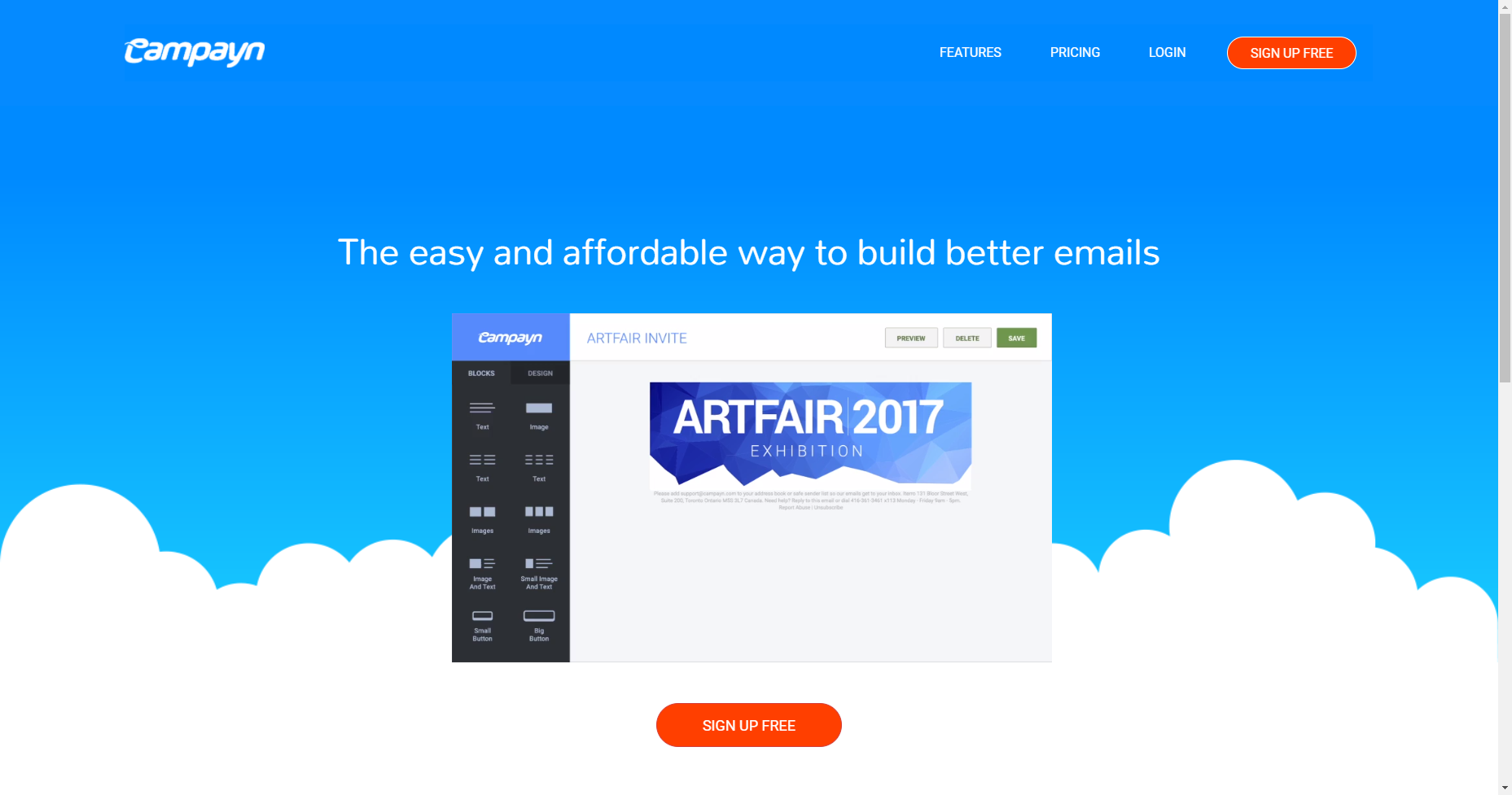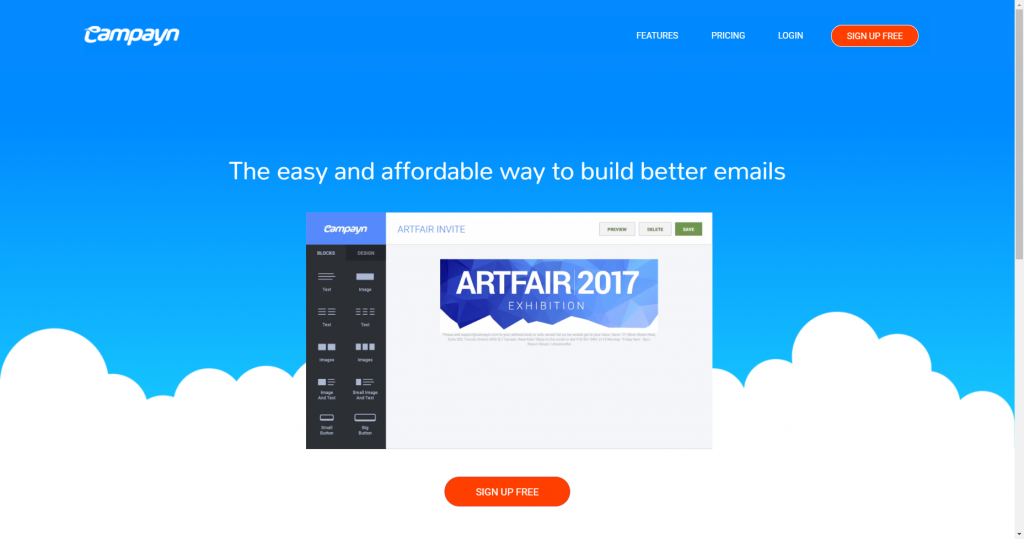 Price: Free for 500 contacts and up to 12,500 emails. Plans start at $17/month when billed annually.
Campayn is a basic email marketing tool that offers a drag-and-drop email editor, custom HTML upload, automation, reporting, and tools for adding Google Maps embeds, calendars, and PDFs to emails. Campayn also has a contact manager to help with segmentation and understanding which subscribers are interacting with your email content.
---
12. GetResponse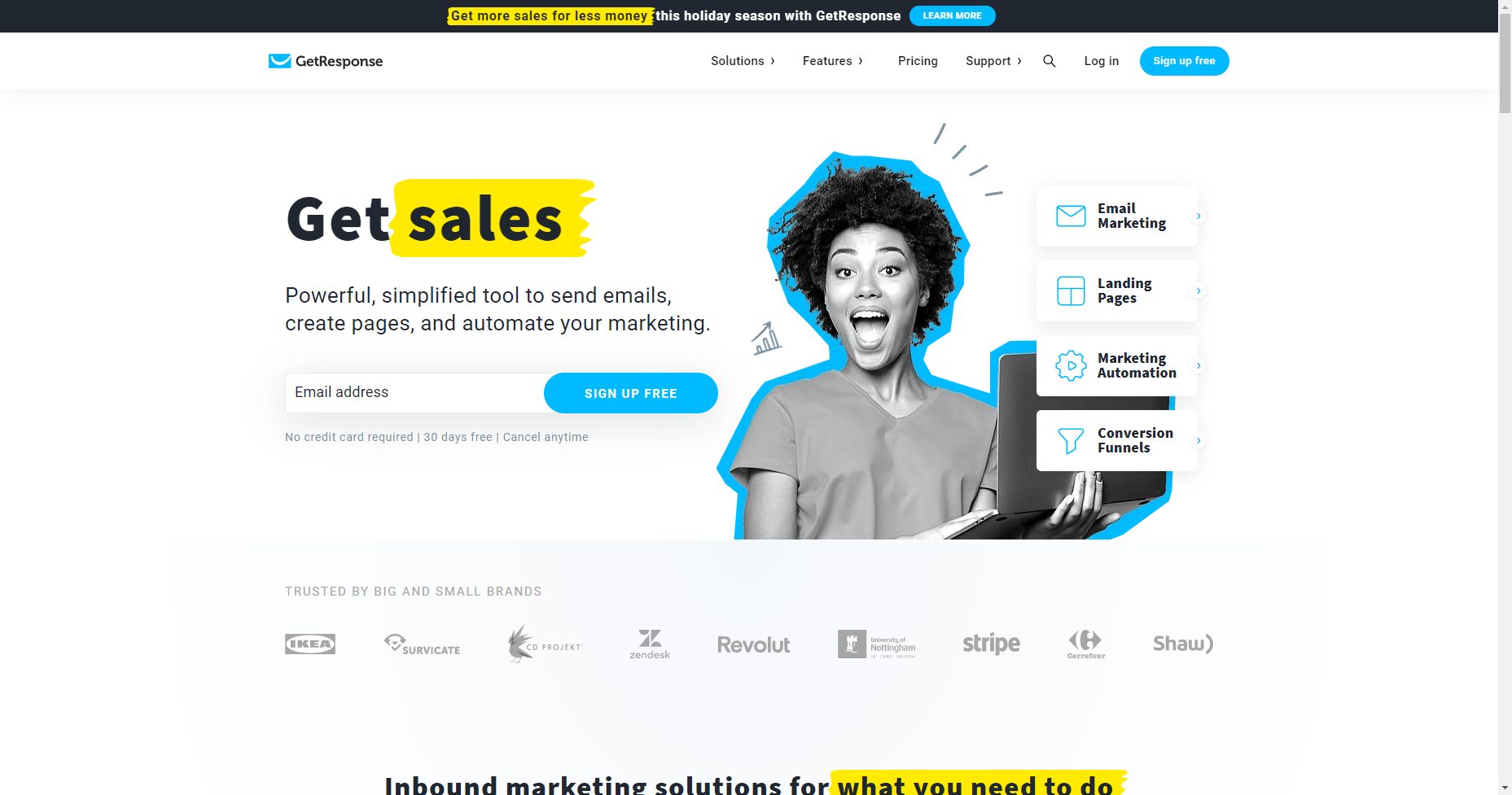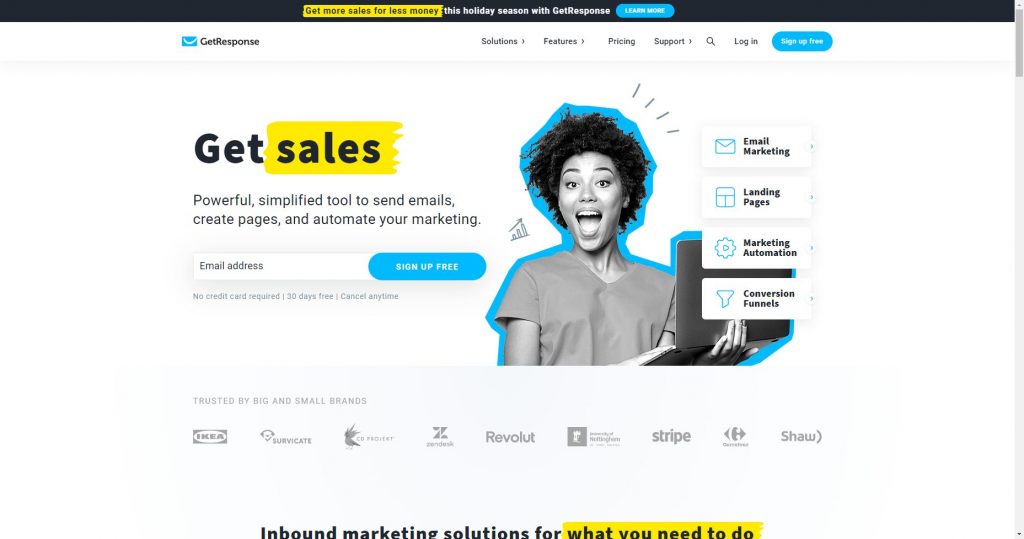 Price: Plans start at $12.30/month when billed annually.
GetResponse has been around for a while and includes all the fancy features you'd expect from an email marketing platform with its excellent reputation. This tool includes tools like landing pages, signup forms, funnels, Facebook ads, and more. For those sending email newsletters, GetResponse's pricing scales well.
---
13. Moosend
Price: Free up to 1,000 subscribers. Plans start at $8/month when billed annually.
Moosend is a great option for email newsletters. With its email editor, it's easy to create great-looking email newsletters that don't require any technical skill at all. You can even easily add interactive elements like images and videos with ease. Moosend includes a template library that makes it even easier to build an email newsletter that your subscribers will love. Moosend also includes landing pages and subscription forms so you can grow your email list.
---
14. ActiveCampaign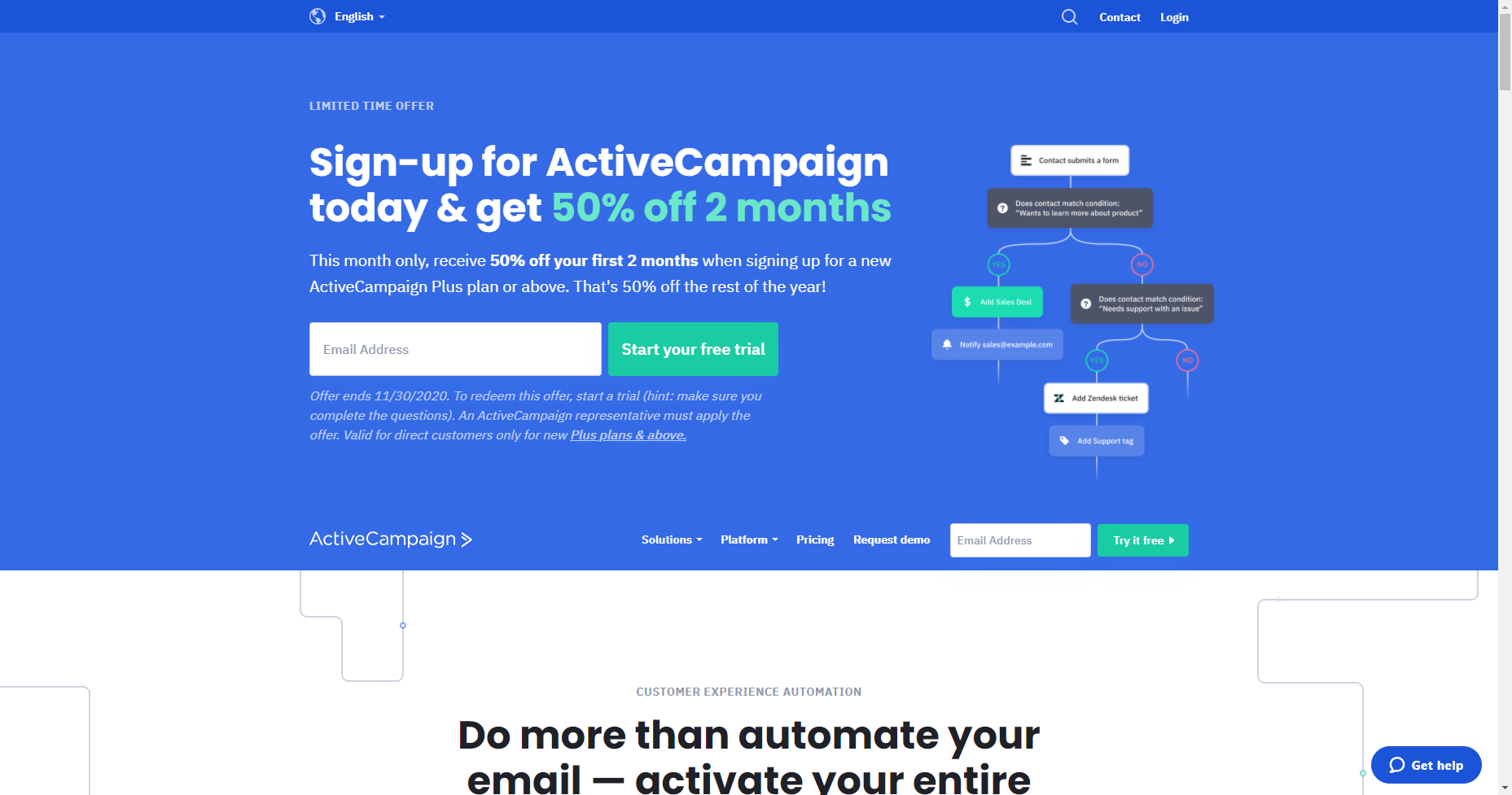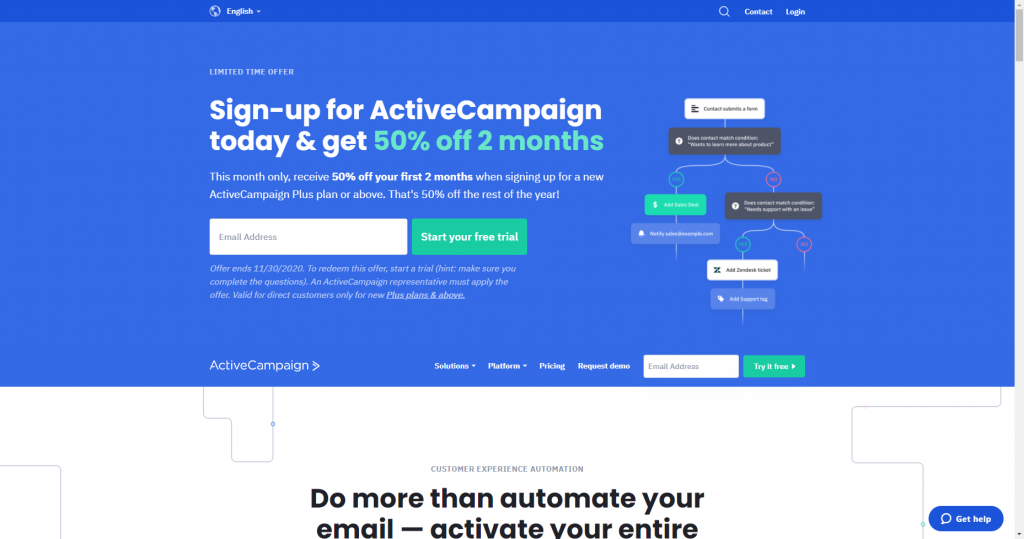 Price: Plans start at $9/month when billed annually.
ActiveCampaign is a powerful email marketing tool that gives brands complete control over their email marketing. This email software offers robust segmentation and dynamic content that makes it easy to send targeted emails to your subscribers. ActiveCampaign also uses visual automations that make creating marketing funnels a breeze.
---
15. Mailjet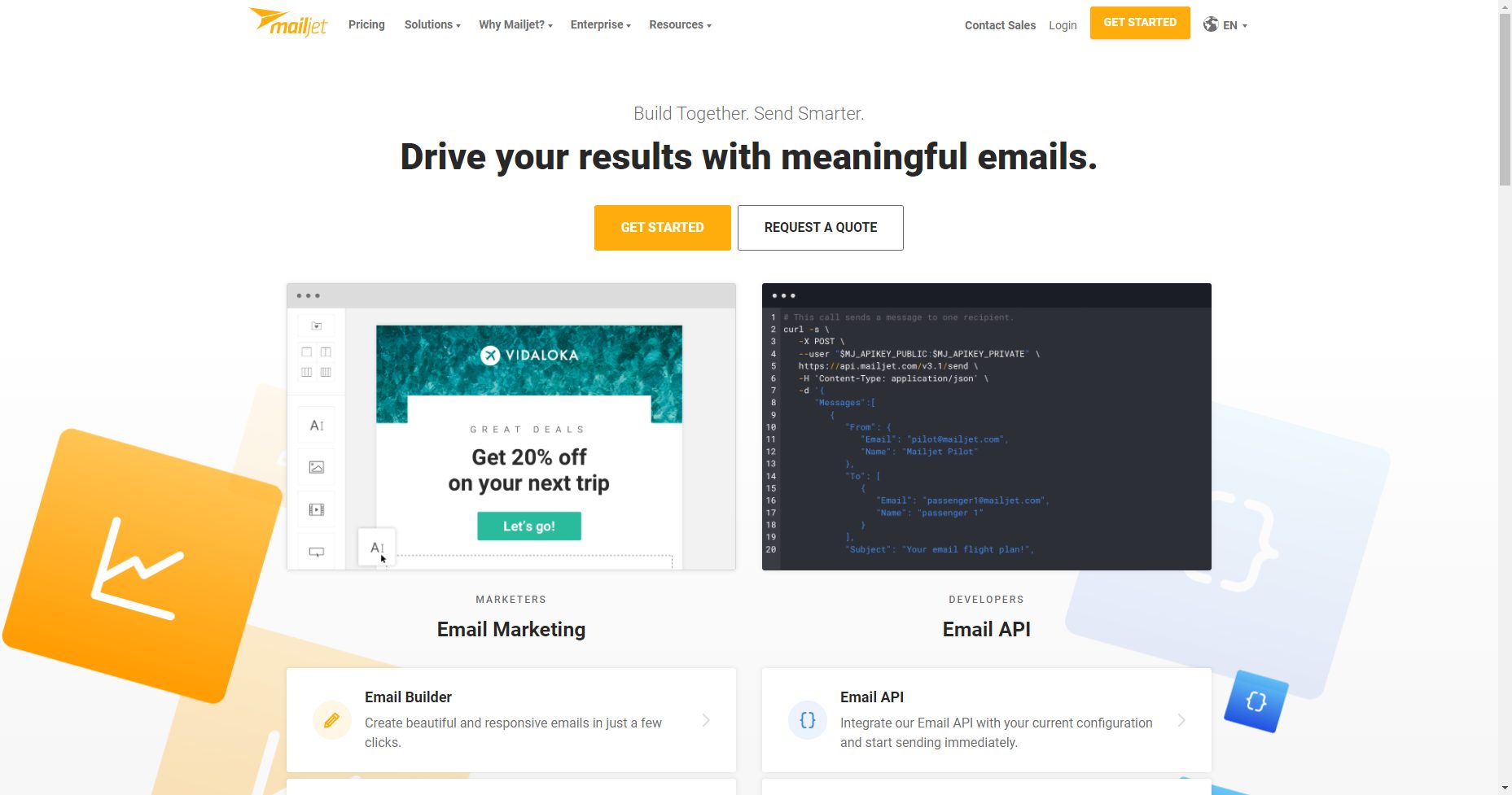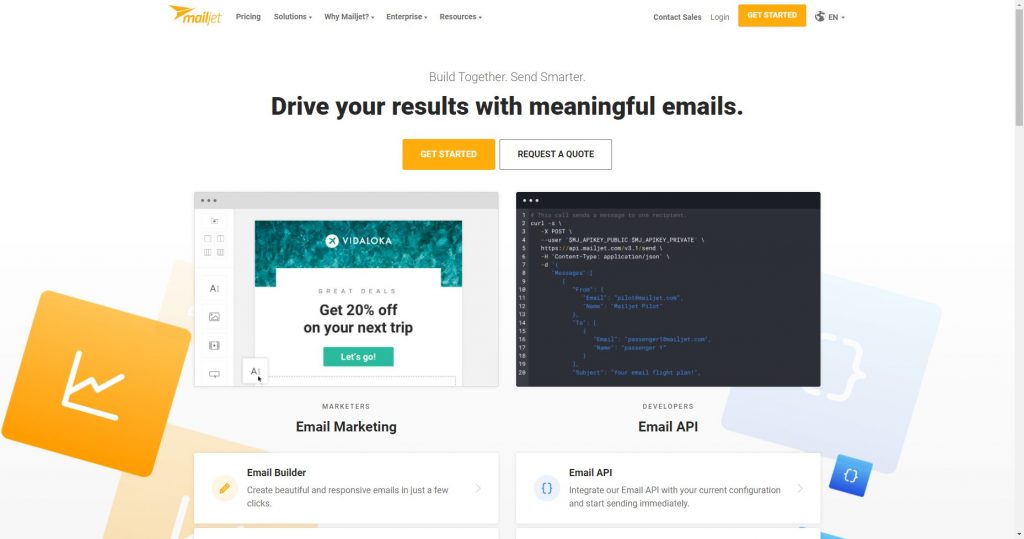 Price: Free for up to 6,000 emails per month. Plans start at $8.69/month when billed annually.
Mailjet is a great option for both influencers and large businesses thanks to its scaling options. It includes beautifully-designed templates that you can customize to fit your brand personality. You can easily upload your existing email list to Mailjet and then use their opt-in forms to grow your email list even more.
---
16. Campaign Monitor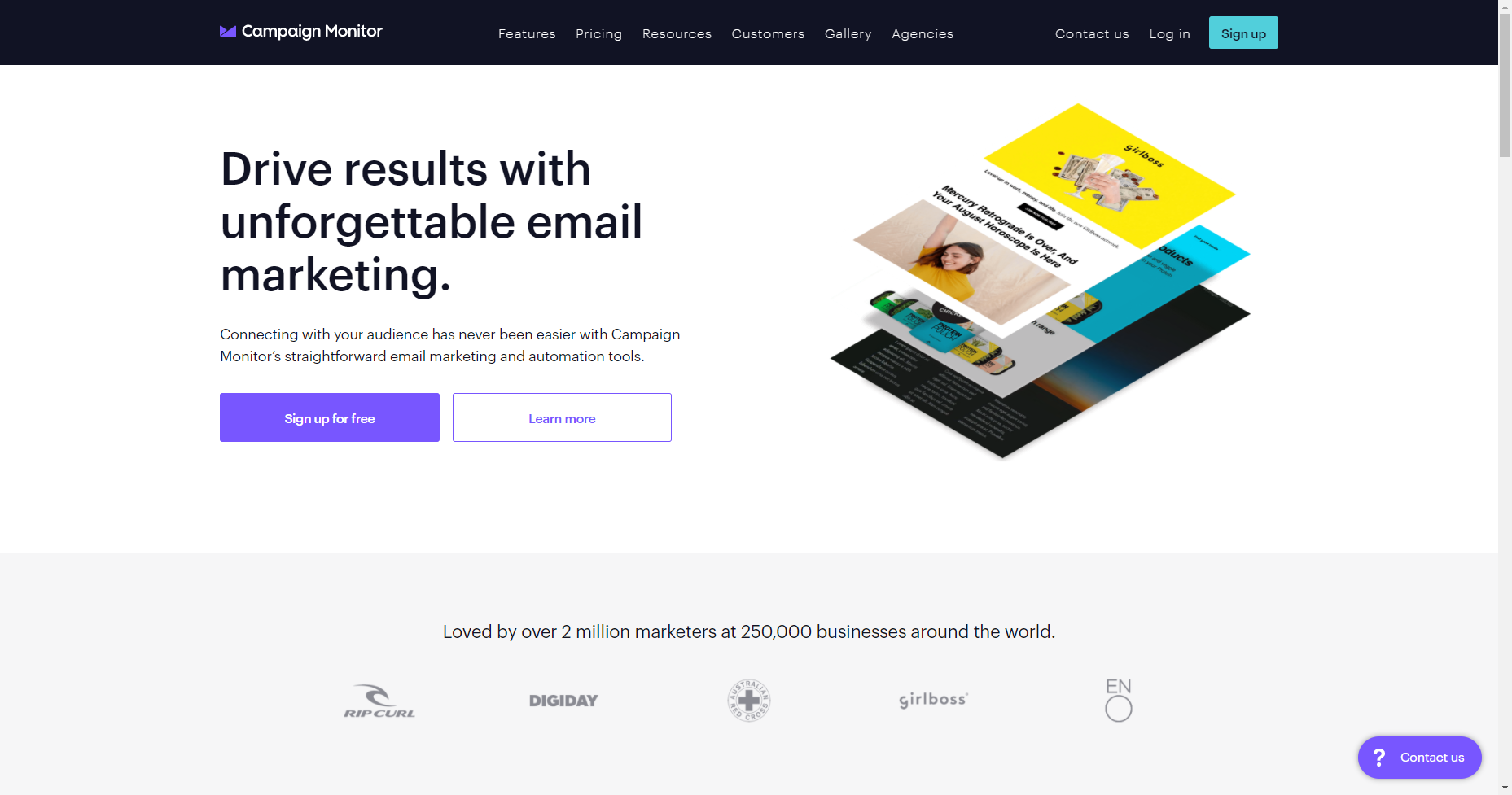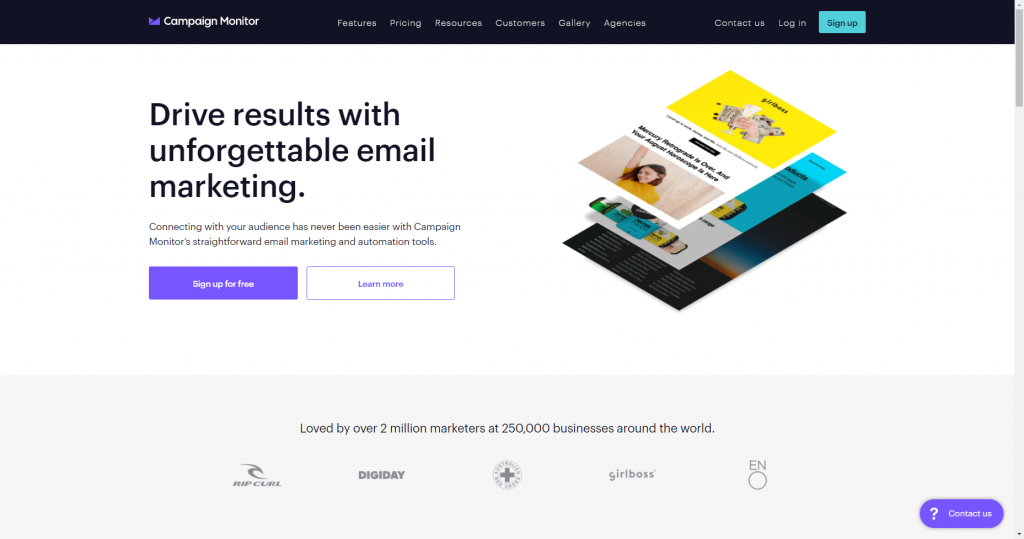 Price: Plans start at $9/month.
Campaign Monitor offers hundreds of professionally-designed templates and a drag-and-drop email editor so you can build the perfect email in moments. You can customize every visual aspect of your email for a branded email campaign and even drive urgency with a countdown timer. Campaign Monitor's visual journey design helps you create timely emails that keep your subscribers engaged so you can automatically drive revenue.
---
17. EmailOctopus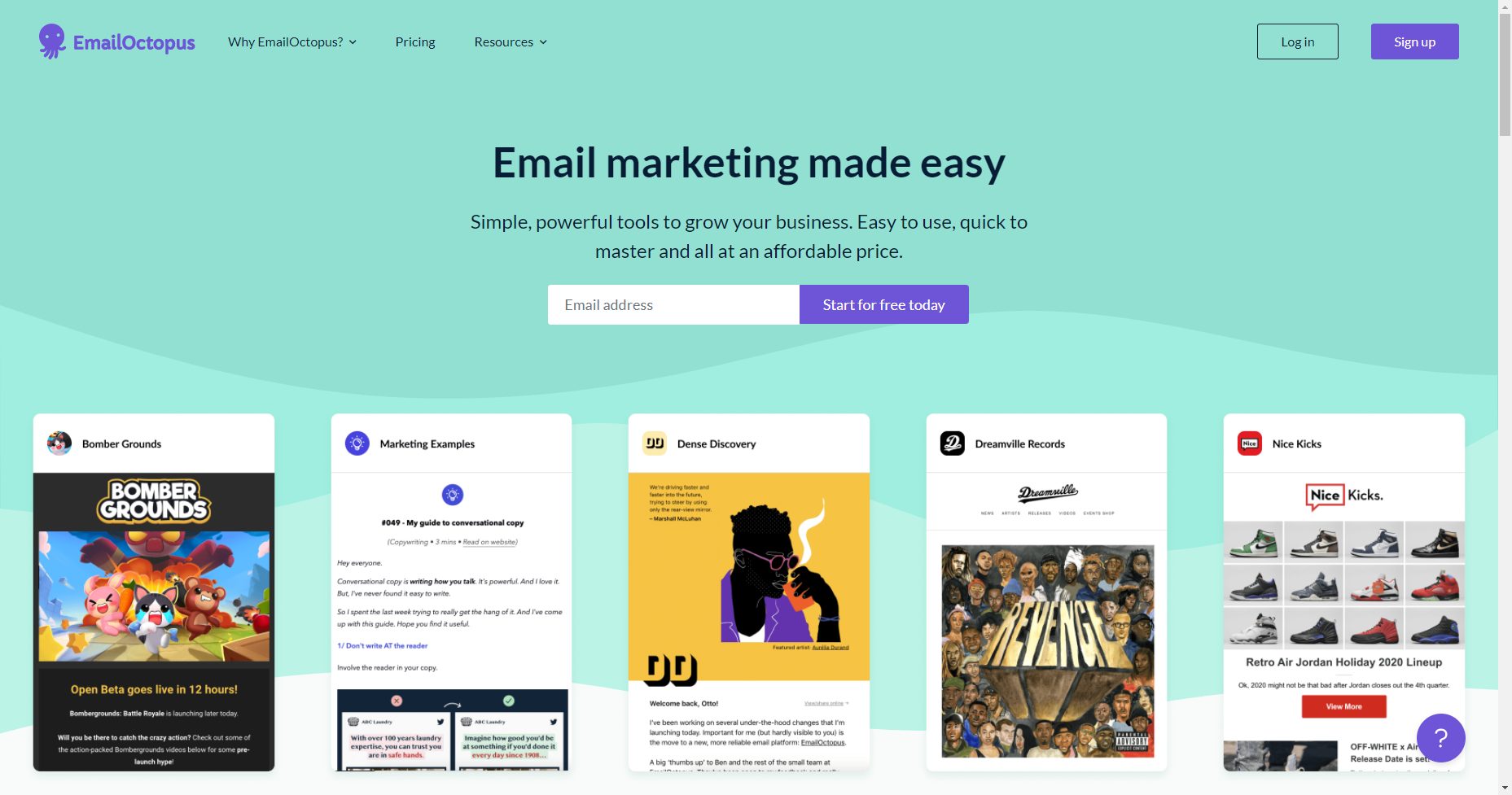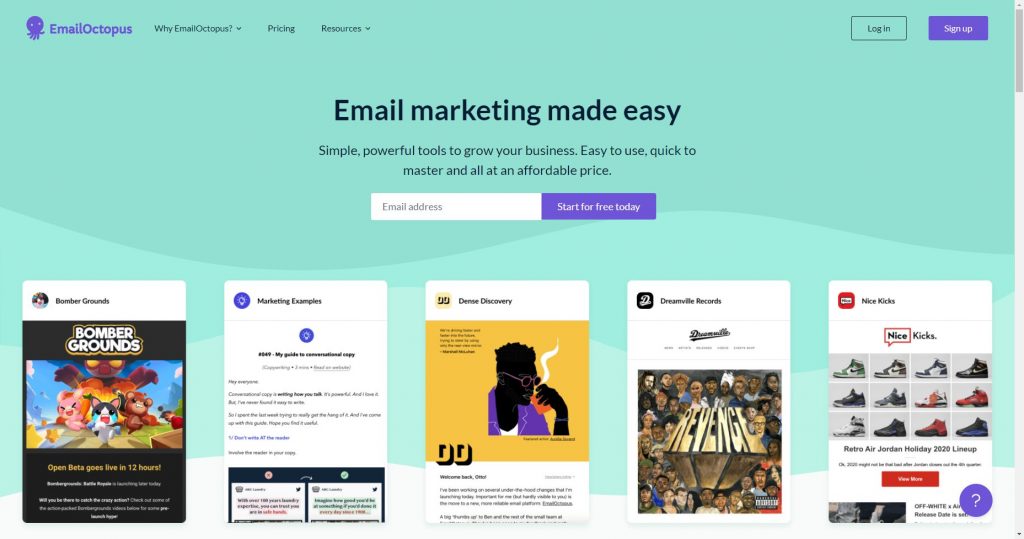 Price: Free for up to 2,500 subscribers and 10,000 emails per month. Plans start at $20/month.
If you're looking for an affordable, high-volume email newsletter tool, EmailOctopus is it. Emails are sent through Amazon's transactional service so you'll need to sign up for an Amazon SES account. You can import your current subscriber list and use EmailOctopus's customizable opt-in forms on your website. EmailOctopus also lets you create landing pages to capture new leads. EmailOctopus has pre-designed email templates that you can customize with their easy-to-use email editor. If you'd prefer, you can build your own designs or import your HTML email templates.
---
18. Sendinblue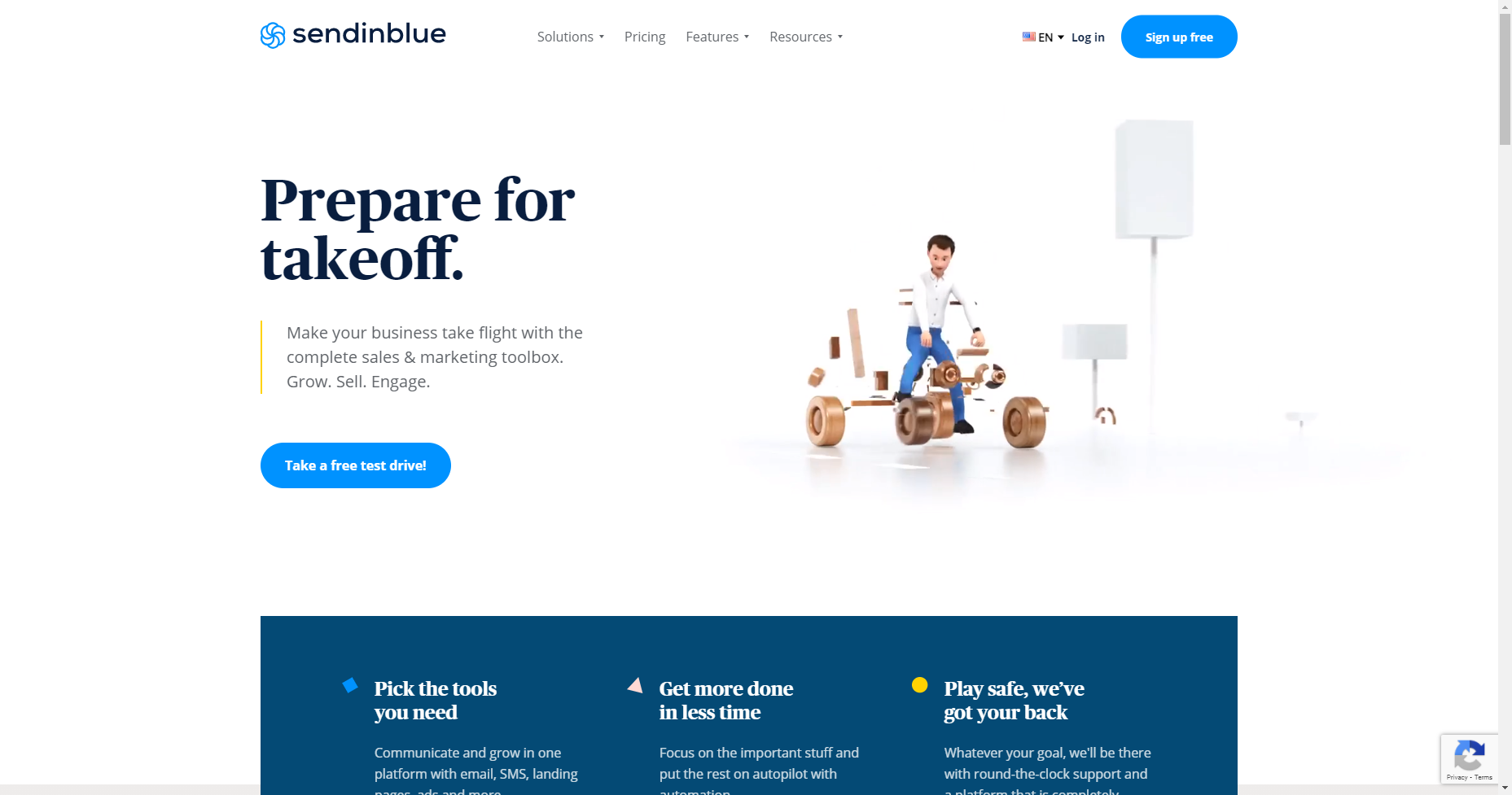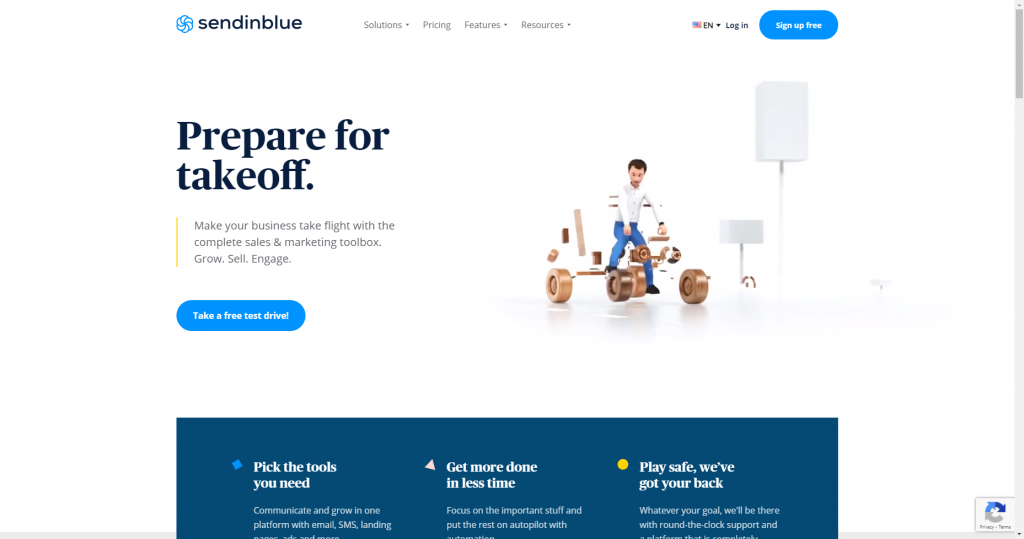 Price: Free for up to 300 emails per day. Plans start at $25/month.
Sendinblue is a tremendously powerful marketing tool. In addition to its email newsletter tools, Sendinblue includes tools like live chat, CRM, signup forms, Facebook ads, automation, and SMS marketing. If you just need a basic email newsletter tool, Sendinblue is probably going to be a bit more than you need, but if you're looking for a marketing tool that can handle your email newsletters and everything else, it's worth a look.
---
19. Stripo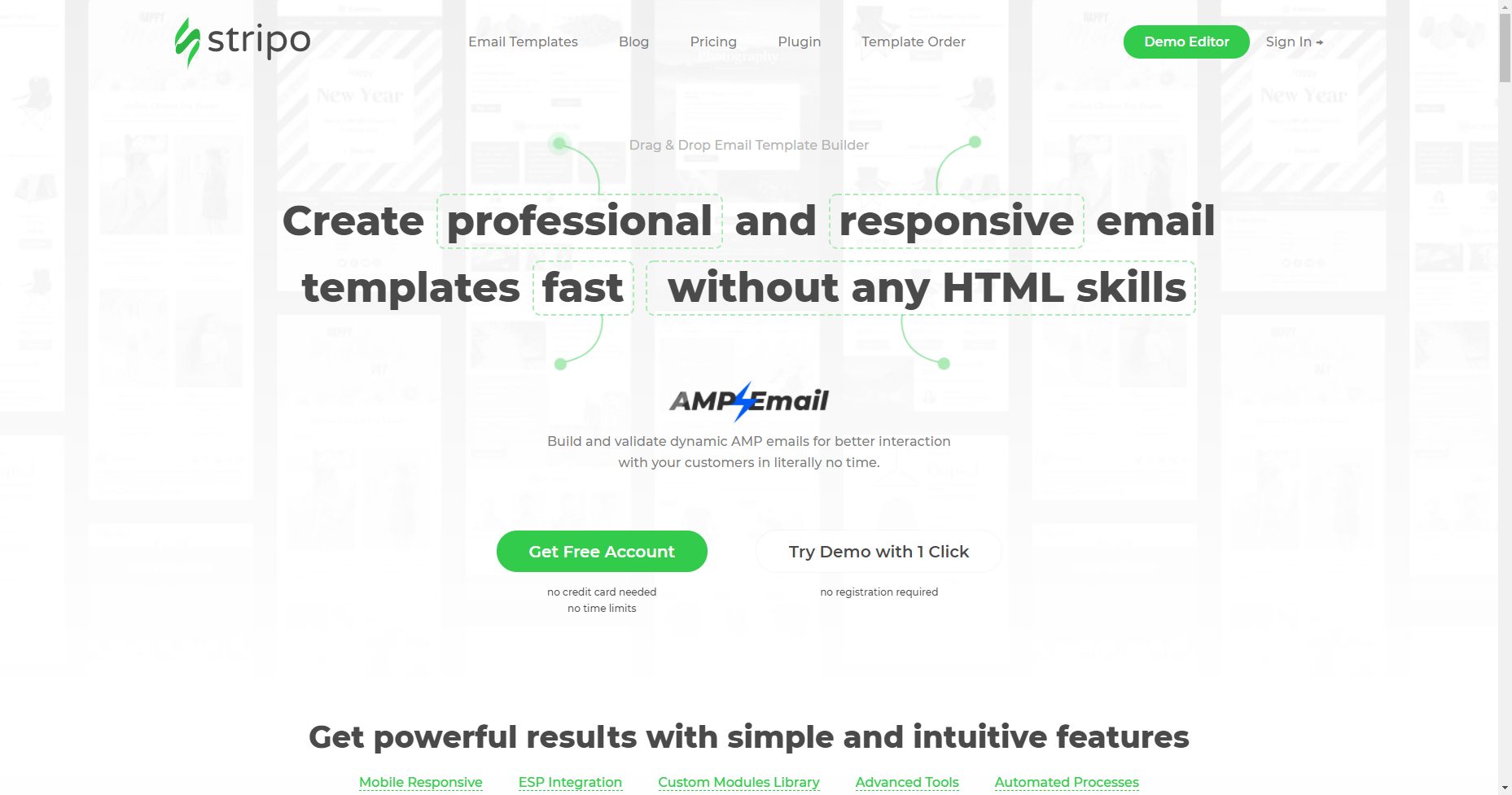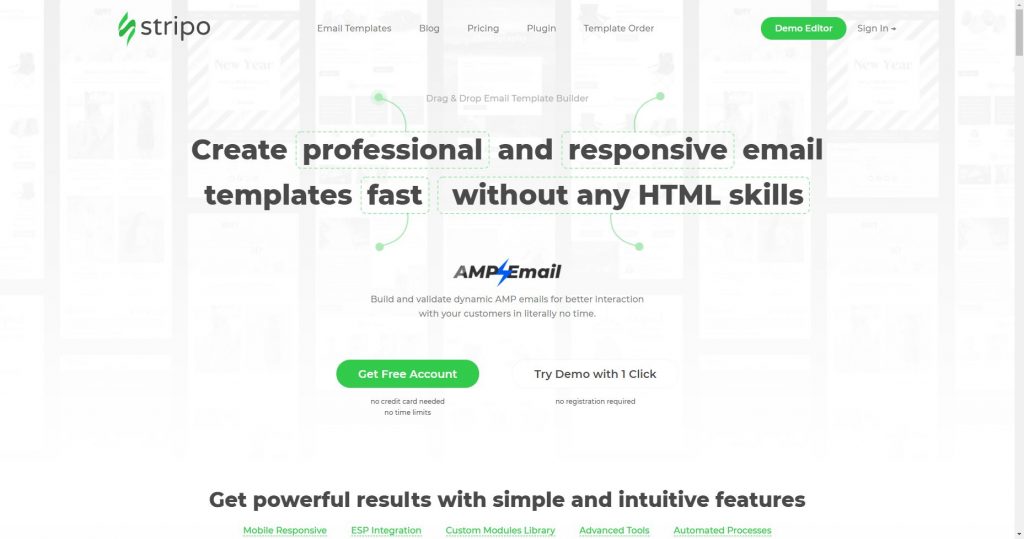 Price: Very limited free plan. Plans start at $125/year.
Stripo is an email template builder that you can use to design your own HTML email templates that you can then export to your email newsletter tool. If HTML isn't your thing, you can create templates using Stripo's drag-and-drop email editor. Stripo includes more than 350 pre-designed templates, 1,000 pre-built modules, and more than 100,000 free stock images you can use across your email marketing campaigns.
---
20. Substack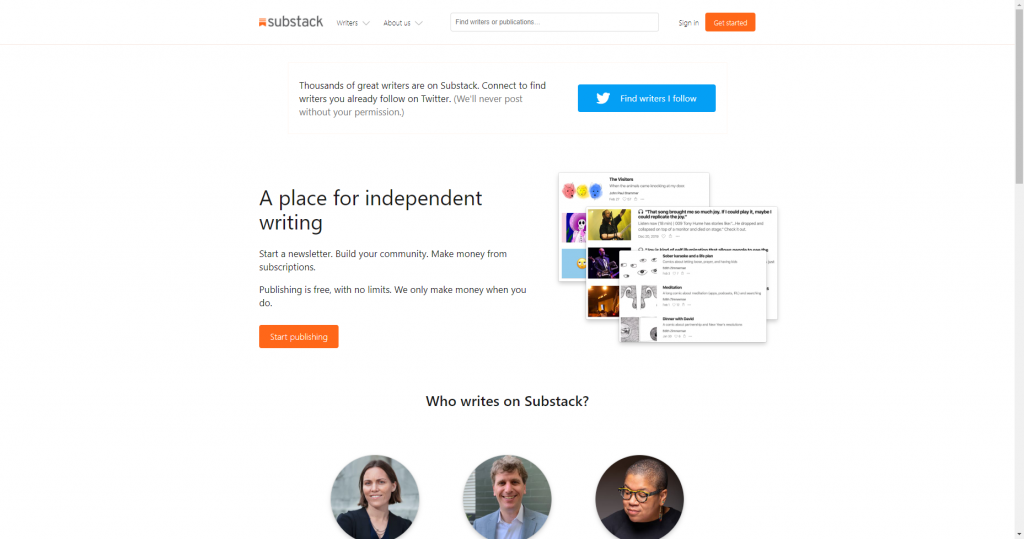 Price: Free to use. If you opt to create paid content, you'll be paying Substack 10% of what you earn.
Substack is a subscription-based newsletter tool kind of like Medium but for emails. It's a great option for writers or influencers who want to share exclusive content. It requires absolutely zero skill to get started. If you want to get paid for your efforts you just connect your bank account, set your price, and send. Substack also makes it easy to mix up free and premium content by putting certain content behind a paywall and making other content free. You can import your existing subscriber list and even import past blog posts through an RSS feed.
---
How to Choose the Right Email Newsletter Tool for Your Brand
There are three key things to look at when evaluating email newsletter tools to find the one that's right for your brand.
Software Requirements
What tools do you need for successful email marketing? Do you need tagging and segmentation? Automation? Something else? Think about what you want to do with your email marketing service and make sure it can handle it.
Growth
How do you see your business growing over time? While it might be tempting to start off with a smaller email newsletter tool that offers the bare minimum, you might get caught out when you have tons of subscribers down the road and need something more powerful. Choose a tool that can handle the growth you need without having a large cost to get started.
Budget
Your budget is an important consideration when getting started with an email marketing tool. Switching tools later can cost you money and might be time-consuming and difficult, so you'll want to choose an email newsletter tool that can scale with your brand.
---
Wrapping Up
There you have it! These are the 20 best email newsletter tools we recommend checking out. When it comes down to it, a good newsletter tool needs a user-friendly email editor, great deliverability, and pricing that works for you. Anything beyond that is the icing on the cake. Any of the email newsletter tools on this list is a great option so take a look at what they offer and make your decision based on which tool offers the features you need at a price that makes sense.