Advertising Disclosure
Advertising disclosure:
Our partners compensate us. This may influence which products or services we review (also where and how those products appear on the site), this in no way affects our recommendations or the advice we offer. Our reviews are based on years of experience and countless hours of research. Our partners cannot pay us to guarantee favorable reviews of their products or services.
The marketing mix – consisting of communication, price, product, and sales – has undergone a transformation in recent years. Leveraging this mix requires the expertise and insights that specialized marketing agencies can offer. London, as a global hub, is home to some of the finest marketing agencies that cater to a broad spectrum of industries.
These agencies bring with them a wealth of experience, data-driven approaches, and innovative solutions tailored to varied business needs. For business owners, this offers an unparalleled opportunity to work with professionals who understand the nuances of the market and can craft strategies to ensure maximum ROI.
Navigating the realm of marketing agencies can be challenging, but the rewards of finding the right partner are immeasurable. This listicle aims to present to business owners the top 8 Marketing Agencies in London for 2024, highlighting their unique propositions, service offerings, and successes. Let's dive deep into this finest selection and make an informed selection together!
---
Top Marketing Agencies in London
Top
london marketing agencies
2024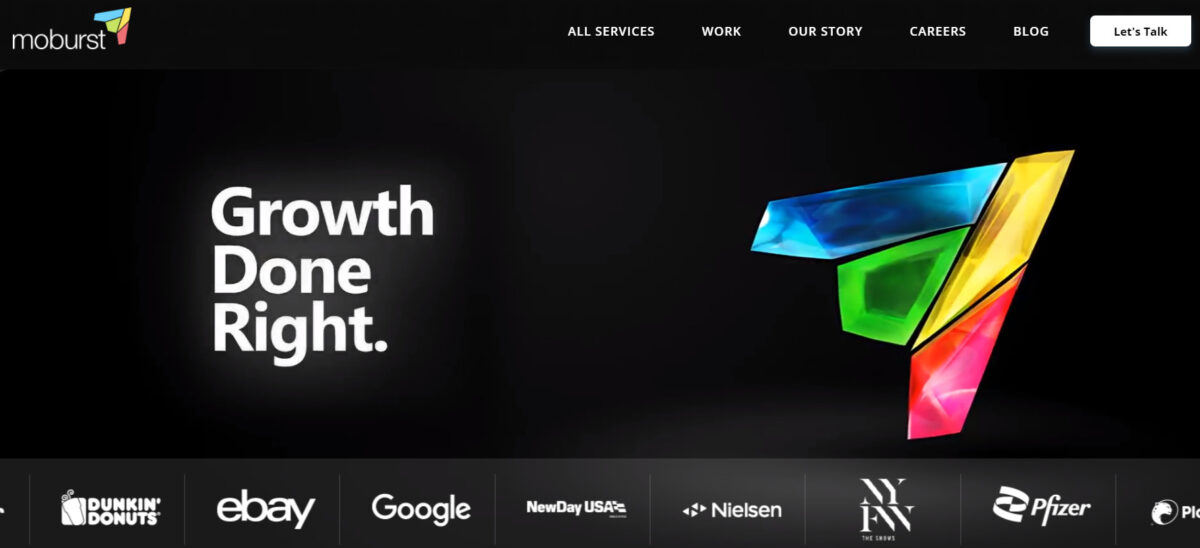 Moburst, a notable figure in the London marketing scene, is celebrated for its dedication to propelling businesses into "hypergrowth." Positioned as a mobile-first digital marketing agency, Moburst champions the ethos of innovation in creative solutions. Their primary aim is to bridge brands with targeted audiences, ensuring these connections evolve into loyal user bases.
Their services are expansive, spanning from app marketing to digital marketing. These offerings are grounded on three pillars: achieving Key Performance Indicators (KPIs) with zero compromises, leveraging real-time data for transparent, measurable results, and drawing upon vast experience from working with over 600 products.
Moburst's track record speaks volumes about its prowess in digital marketing. For instance, Moburst optimized Calm's app store components, resulting in a 36% surge in visibility in category rankings and search results. Another notable achievement is their collaboration with Samsung, where they bolstered the brand's app store presence, ultimately leading to a staggering 1400% growth in download to social conversion.
---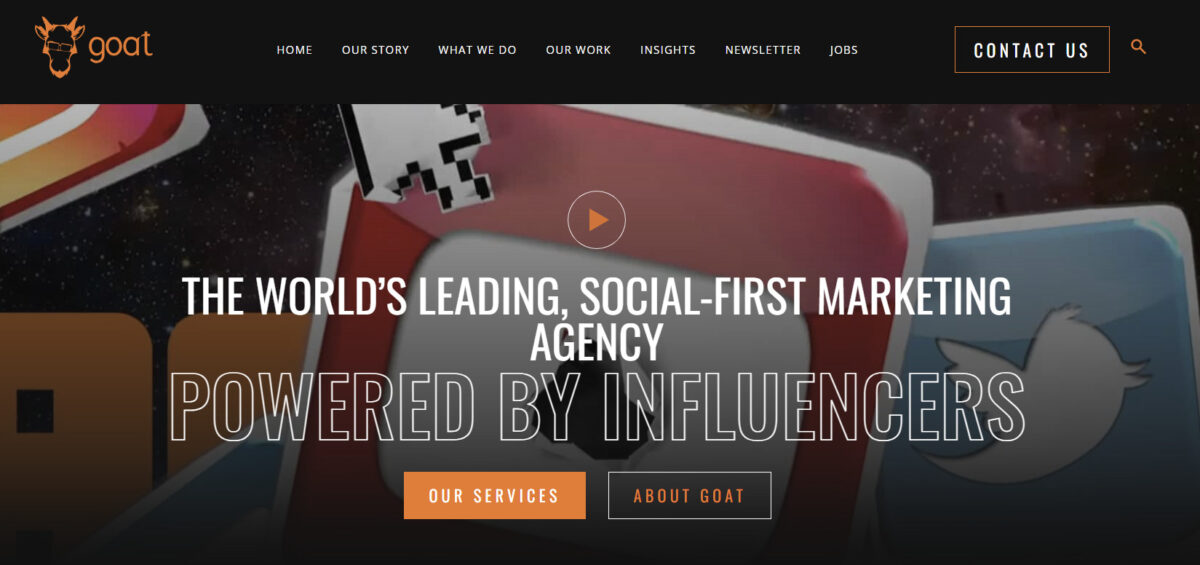 Since its inception in 2015, The Goat has rapidly carved its niche as a global forerunner in social media and influencer marketing. Having effectively partnered with world-class brands, The Goat boasts consistent results in brand engagement, awareness, and conversion. Notably, their expansive work with Dell resulted in a staggering 168 million impressions over a mere seven months, among other impressive metrics. Such track records prove The Goat's mastery in all fields of marketing for optimal brand exposure and engagement.
A deep dive into The Goat's methodologies reveals an end-to-end suite of services that set them apart. With an expertise particularly dominant on platforms like Instagram, TikTok, Twitch, and YouTube, they wield a vast database of 100k+ influencers. This data-driven approach, complemented by their unmatched understanding of social communities and online creators, ensures that brands connect meaningfully with their target audience.
Furthermore, The Goat's global footprint is truly unparalleled. Boasting three primary remote working hubs in the UK, USA, and Asia-Pacific, their reach spans 70+ countries and 38+ languages. This global influence, coupled with their in-depth industry versatility – from technology and apps to luxury and fashion – positions The Goat as the ideal marketing ally for brands seeking robust, scalable, and results-driven social and influencer marketing campaigns.
---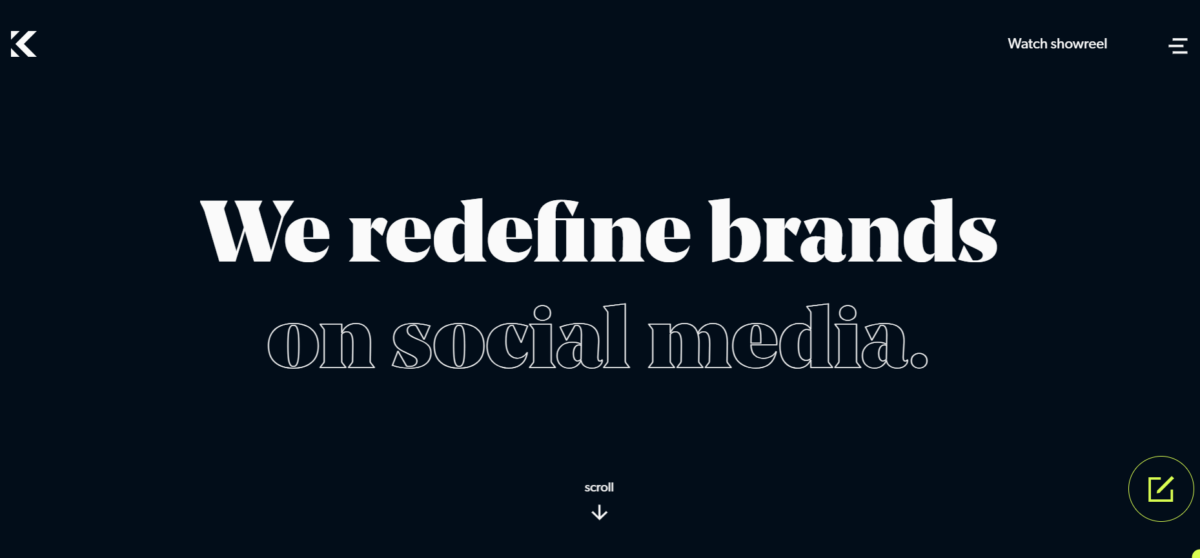 Kairos Media is a pioneering agency that has reshaped marketing for brands in the digital age. Born from the intricate tapestry of the creator economy and refined within the gaming arena, Kairos Media is more than just an agency – it's an intersection where science meets art. The agency's dynamic showreel, reflective of its forward-thinking approach, immediately indicates its ability to elevate brands to levels beyond convention.
Kairos Media's expertise is anchored in four pillars: Social Media Marketing, Influencer Marketing, Content Production, and Esports and games Marketing. Their commitment to delivering 'thumb-stopping' content on social media is unparalleled, and their roster boasts of over 45 exclusive talent management creators – making their influencer campaigns not just influential but transformative.
Take, for instance, their campaign for Rovio, celebrating the 10th anniversary of Angry Birds. Through an innovative blend of influencer engagement, real-world interaction, and in-game events, they achieved a staggering 124% increase in app downloads.
---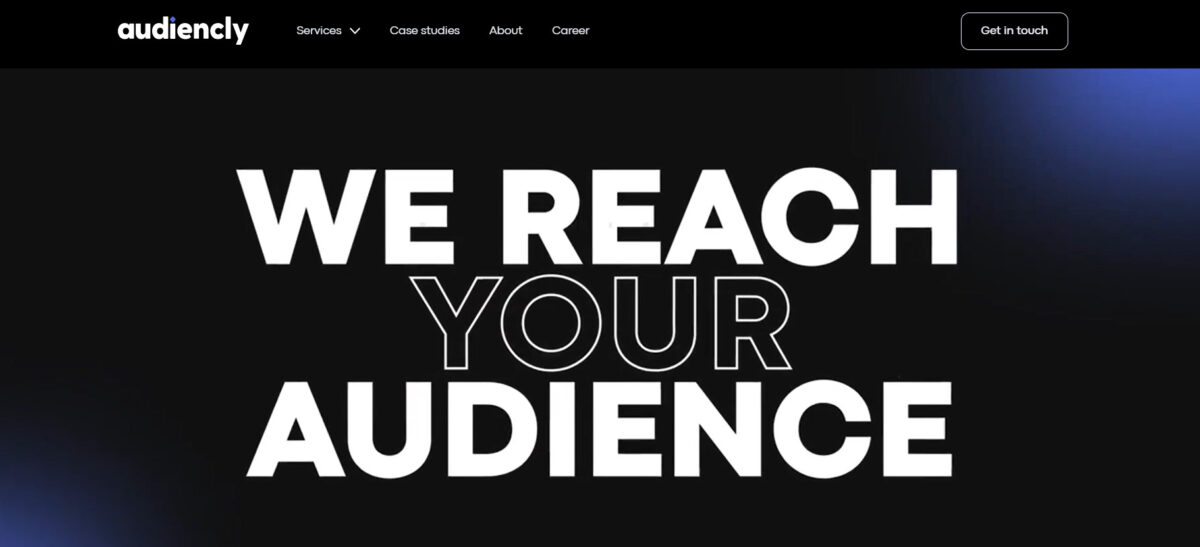 At the heart of Audiencly's approach lies the key to contemporary marketing success: authentic engagement. They expertly navigate the realm of product placements across platforms like YouTube, Instagram, and the ever-evolving TikTok, crafting campaigns that resonate deeply with audiences.
Further illustrating their proficiency, Audiencly's Creators Program grants brands unparalleled access to a curated selection of content creators, ensuring each campaign delivers both exposure and meaningful engagement. Recognizing the ever-changing pulse of the digital world, they pivot with agility, always striking the right chord between impactful messaging and artistic expression. This is evident in their myriad of services – from meticulous target group analysis and media planning to the development of exceptional creative concepts, key visuals, and even video scripting.
Statistically speaking, Audiencly's prowess is undeniable. With over 2,500 campaigns under their belt, they have forged partnerships with over 200 brands and boast a vast network of more than 10,000 influencers, resulting in a staggering 1.5 billion impressions. Their global footprint, spanning from Europe to Asia, coupled with endorsements from major publications like Yahoo and Fortune, further cements their esteemed position among the world's top influencer agencies.
---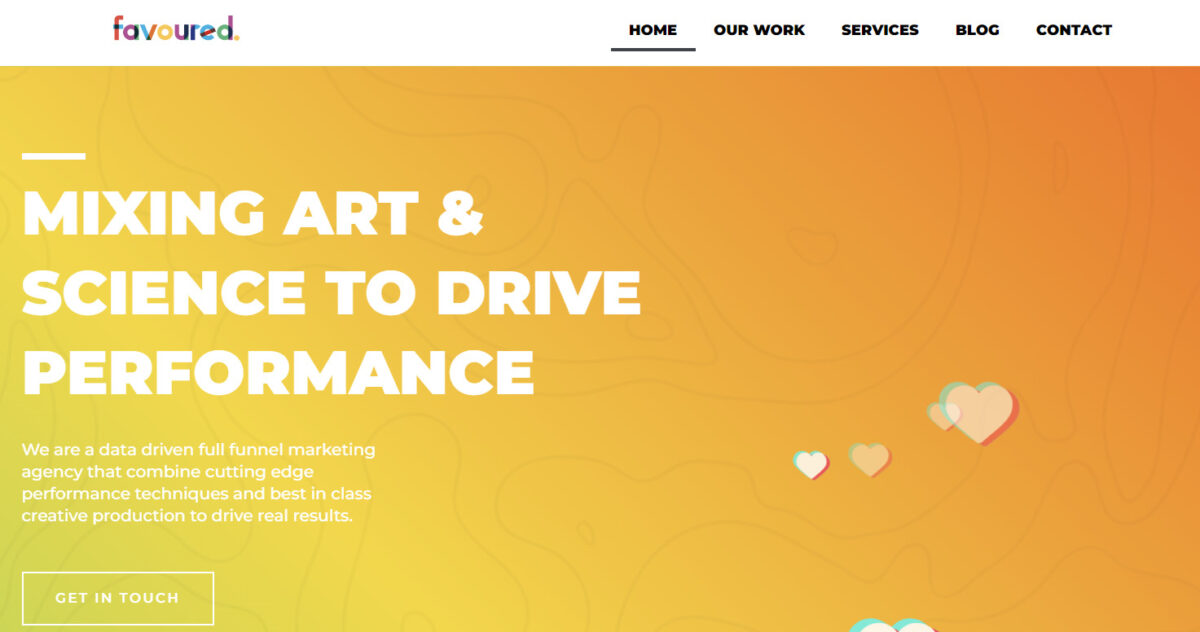 Situated in the heart of London, Favoured presents itself as a beacon of innovation and expertise in the modern marketing realm. Their motto of "mixing art and science to drive performance" accurately represents their holistic marketing approach, merging data-driven strategies with top-tier creative production. As a full-service marketing agency, they navigate the multifaceted digital world, ensuring brands receive tangible results anchored in analytics.
Favoured's service portfolio is both extensive and specialized. Key services include expertly designed multi-channel marketing campaigns to enhance a brand's online visibility. Their creative team works meticulously to capture the essence of a brand, translating it into functional and visually appealing content. Moreover, with the online world's increasing gravitation towards video, Favoured leverages this medium's power, understanding that audiences retain 95% of a message delivered through video.
What truly underscores Favoured's distinction among London-based agencies is their track record. Since 2018, they have elevated over 100 companies, reaching an astounding audience of over 500 million individuals. A glimpse at their case studies, such as the one with Elvie where they notably decreased CPA by 60% and achieved a 900% increase in sales, manifests their problem-solving aptitude.
---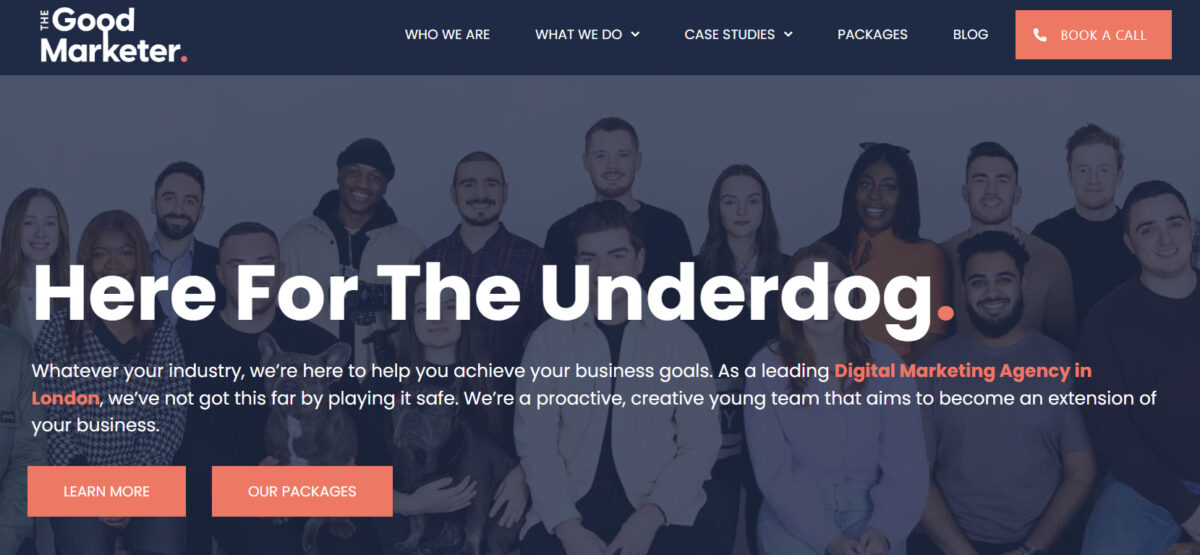 The Good Marketer stands out, not by targeting the vast corporations but by siding with the underdogs. This leading digital marketing agency for small businesses champions an approach founded on comprehensive understanding – delving deep into a business's core, comprehending audience needs, and delivering marketing solutions backed by data and expert insights.
A distinctive feature that sets The Good Marketer apart is its unwavering commitment to core values. Transparency ensures businesses are always in the loop, understanding where every penny is spent. Flexibility recognizes that adaptation is key in a constantly shifting digital landscape, and the agency prides itself on its ability to tailor strategies as a business evolves. Value-driven strategies ensure that businesses receive the maximum bang for their buck regardless of the budget. Lastly, a proactive approach signifies their dedication to foreseeing challenges and ensuring businesses sail smoothly through the volatile digital seas.
The Good Marketer's prowess is further evident in their wide spectrum of services tailored to various industries – from Social Media Management, PPC, and SEO to Content Marketing and Web Development. Their impressive portfolio boasts partnerships with diverse businesses from jewelry to online education, and the results speak volumes – soaring revenues, increased conversion rates, and remarkable ROIs.
---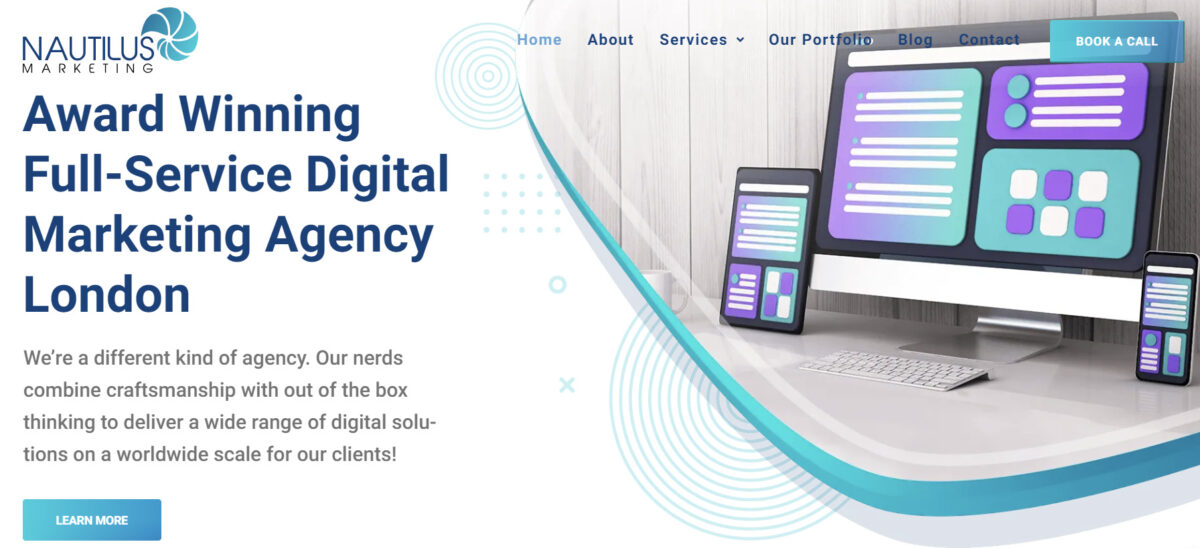 Nautilus Marketing is a full-service digital marketing agency. It amalgamates craftsmanship with innovative thinking, setting the benchmark in delivering a plethora of digital solutions on a global scale. Their service suite is comprehensive, encapsulating web development, SEO, graphic design, social media management, app development, and content creation. Particularly, their bespoke web design offering stands out, underscoring their reputation as a go-to web design agency in London.
What sets Nautilus apart is their team's undying passion. Each member is not only proficient in their respective field but is genuinely invested in the growth and success of their client's businesses. Nautilus prides itself on its proactive nature, constantly deploying innovative digital marketing tools to enhance outcomes and ensuring clients get a significant return on their investment.
Their experience is both deep and wide-ranging. Their portfolio is a testament to their prowess, having worked with varied industries, including hospitality, eCommerce, fashion, and technology, to name a few. From startups to global enterprises, their client base is diverse, and their digital solutions are tailor-made to cater to distinct business needs.
---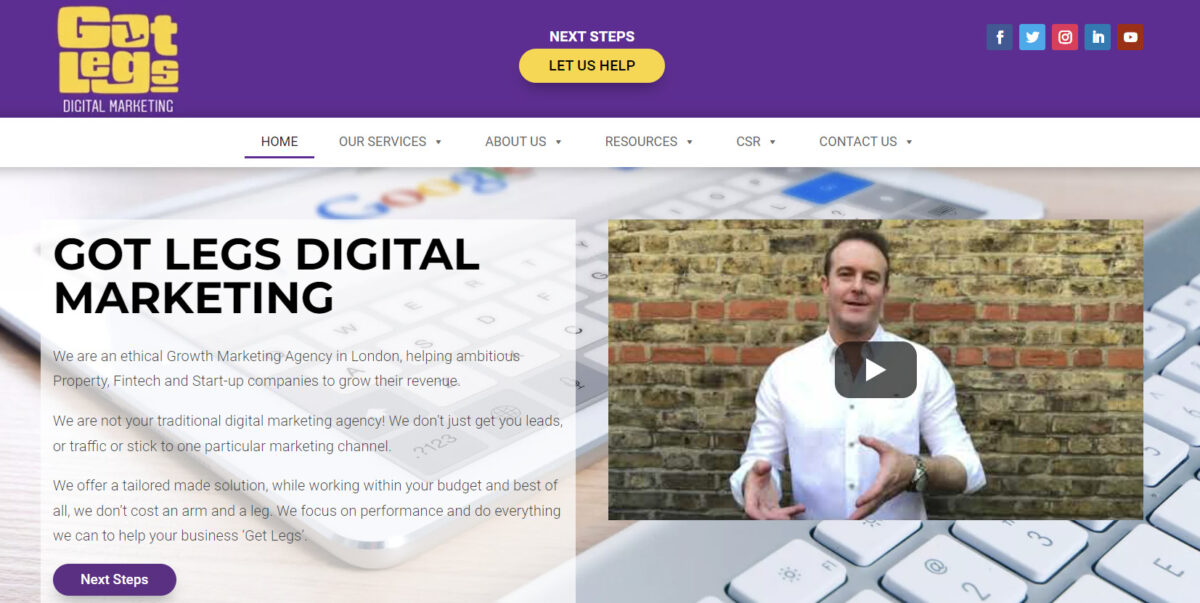 At the heart of London's bustling digital arena, Got Legs Digital Marketing firmly establishes itself as an ethical Growth Marketing Agency, leading the pack with its specialized focus on property, FinTech, and startups. Distancing itself from the one-size-fits-all mindset, Got Legs offers bespoke solutions tailored to individual business needs. They are pioneers in performance-driven strategies, ensuring clients aren't just receiving traffic or leads but are equipped with tools and strategies to truly make their businesses sprint ahead.
Their all-encompassing, client-centric approach is evident through their tiered service offerings: from guiding fledglings in the digital world ("Learning to Walk"), collaborating in mutual growth ("Jogging Together"), to hands-off complete management for seasoned businesses ("Sprint to the Finish"). Got Legs' emphasis on holistic growth is further highlighted by its commitment to omnichannel marketing, allowing businesses the flexibility and efficacy to attract customers through diverse avenues, all under the expert oversight of Got Legs.
The stellar lineup of their clientele, including corporate giants like American Express and MoneyGram, speaks volumes of their industry reputation and performance caliber.
---
Things to Consider When Selecting the Right Marketing Agency in London
When evaluating the myriad of marketing agencies in London, keep these pivotal factors in mind:
Industry Knowledge & Track Record
Does the agency have a proven track record in your sector? Can they present successful campaigns and strategies from their portfolio?
Comprehensive Marketing Offerings
A holistic approach to marketing often yields the best results. Can the agency provide a broad spectrum of services, spanning from digital strategies to public relations?
Modern Marketing Instruments & Platforms
In today's digital world, using advanced tools for data analytics, engagement tracking, and audience outreach is essential. Does the agency's technological suite meet modern demands?
Client Feedback & Success Stories
Firsthand feedback from past and current clients offers a lens into the agency's professionalism, efficacy, and working style.
Personalized Marketing Approaches
Every business is unique, necessitating bespoke marketing strategies. Does the agency have the capacity to tailor its approach to your specific needs?
Team Alignment & Open Dialogue
Effective collaboration hinges on aligned values and open communication. Is the agency's team a good cultural fit with your organization, and do they emphasize transparent dialogue?
Budgeting & Clear Pricing Structures
Budget considerations are vital. Is the agency upfront about its pricing, and does it provide clear breakdowns without hidden charges?
Industry Trends & Continuous Learning
Marketing is a dynamic field. Does the agency stay abreast of evolving trends and continuously upgrade its knowledge and skills?
Ethical Practices & Integrity
Beyond strategies, an agency's commitment to ethical marketing is critical. This encompasses truthful reporting, compliance with industry norms, and genuine audience interactions.
Community Involvement & Environmental Initiatives
Today, agencies are also evaluated for their societal impact. Does the agency engage in charitable activities or highlight sustainability in its practices? This can be a reflection of their broader values and mission.
---
Conclusion
The vibrant landscape of London's marketing scene is home to a plethora of talented agencies, but the 8 listed in this article truly stand out for their consistent success and innovative approaches. Businesses aiming to elevate their brand in today's competitive market should consider partnering with these industry-leading experts.
Their proven track records speak for themselves, highlighting the calibre of their work and the results they can achieve. As the digital age continues to evolve, having a robust marketing strategy is paramount, and these agencies are well-equipped to guide brands to success.
Frequently Asked Questions
Why is expertise and experience critical when choosing a marketing agency in London?
Expertise and experience signify the agency's understanding of various industries and their capability to craft successful campaigns. An agency with a track record in your sector will likely anticipate challenges and optimize strategies more efficiently.
How does an integrated approach to marketing benefit my business?
An integrated approach means the agency uses multiple channels and strategies that work harmoniously. This ensures consistency in your branding and messaging, leading to a more cohesive and impactful brand presence across platforms.
Are tools and technology really that important for a marketing agency?
Absolutely. Modern marketing requires data-driven decisions. The right tools help in gathering accurate data, analyzing trends, and fine-tuning strategies to ensure maximum ROI.
How can I ascertain the genuineness of client testimonials and case studies?
To ascertain the genuineness of clients and case studies, it's best to reach out to some of the agency's past or current clients directly. Having a candid conversation with them can offer genuine insights into their experience with the agency.
Why is adaptability in a marketing agency crucial?
The marketing realm is dynamic, with new trends and challenges surfacing frequently. An adaptable agency can pivot strategies when required, ensuring your brand remains relevant and engaging.