Advertising Disclosure
Advertising disclosure:
Our partners compensate us. This may influence which products or services we review (also where and how those products appear on the site), this in no way affects our recommendations or the advice we offer. Our reviews are based on years of experience and countless hours of research. Our partners cannot pay us to guarantee favorable reviews of their products or services.
As the digital environment progresses at a rapid pace, growth marketing agencies are becoming essential allies for businesses looking to grow and thrive. But what exactly is a growth marketing agency, and why should you consider hiring one for your business?
A growth marketing agency is a specialized team of experts that focuses on implementing data-driven strategies to help businesses achieve sustainable growth. These agencies go beyond traditional marketing approaches by concentrating on the entire customer journey, from acquisition to retention, and optimizing every aspect of it to drive growth. By leveraging their expertise in data analysis, technology, and creative content, growth marketing agencies identify opportunities for expansion and help businesses unlock their full potential.
Hiring a growth marketing agency for your business can be a game-changer. As the digital ecosystem becomes increasingly complex, navigating the multitude of marketing channels, tools, and tactics can be overwhelming. Growth marketing agencies bring their knowledge and experience to the table, ensuring your marketing efforts are aligned with your business goals and executed effectively. They provide a fresh perspective on your marketing strategy and help you uncover new growth opportunities that might have gone unnoticed.
---
Top Growth Marketing Agencies
In the following sections, we'll introduce you to the best growth marketing agencies in the industry. These agencies have demonstrated their ability to deliver results and drive growth for their clients, and by examining their services and success stories, you'll gain valuable insights into choosing the right growth marketing partner for your business. So, let's dive in and discover the top growth marketing agencies that can propel your business to new heights.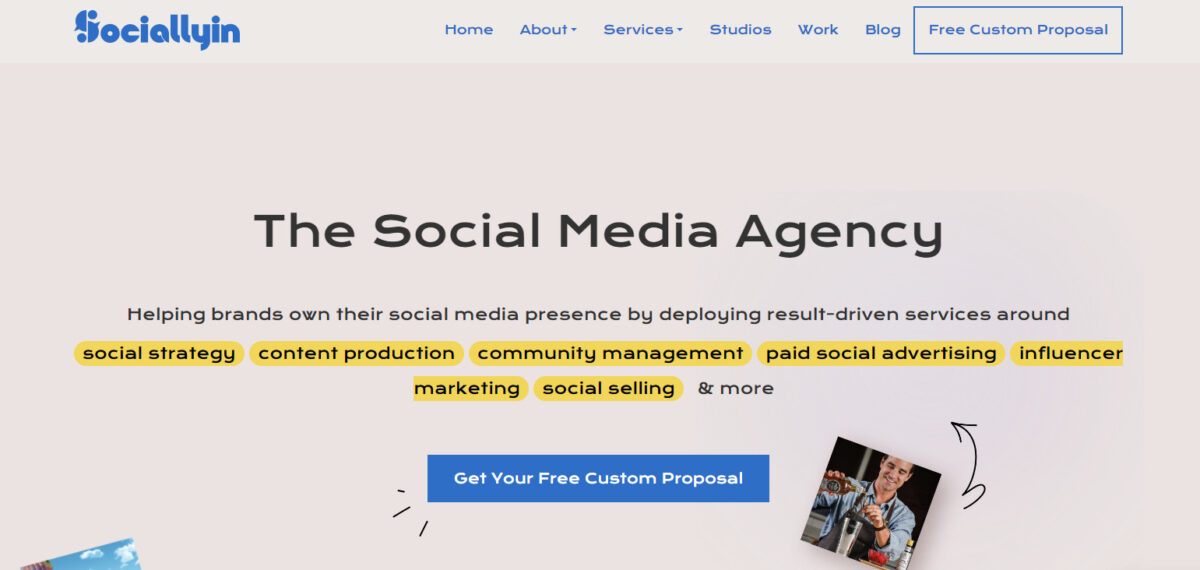 Harnessing a profound grasp of digital audience dynamics, Sociallyin is a top social media agency serving a mix of clients across multiple industries. Their ambition is deeply rooted in developing lasting relationships by engaging audiences on a personal online level. They have strategically positioned themselves as leaders in the domain, providing an array of services encompassing custom business growth and social media strategies, bespoke content creation, influencer marketing, and ROI-centric community management.
Sociallyin employs meticulous analytics to identify and connect with prime customer segments. Their prowess in cutting-edge social media technologies empowers them to captivate even the hardest-to-reach audiences, delivering compelling content that propels users through their digital journey. Transparency is a hallmark of their client relationships. By consistently optimizing media allocation, they ensure maximum return on investment. Their adept team perpetually evaluates campaign dynamics, fine-tuning tactics to secure optimal outcomes.
---
---
---
---
---
---
---
---
---
---
---
---
---
---
---
---
Traditional Marketing vs. Growth Marketing: A Comprehensive Comparison
Traditional marketing and growth marketing differ in their strategies, methodologies, and objectives. Traditional marketing focuses on creating brand awareness and reaching a broad audience through mass media channels, such as television, radio, print, and billboards. It relies on the principle of reaching as many potential customers as possible, often using a generic message.
For example, a traditional marketing campaign might involve a print ad in a widely read magazine, promoting a company's product to a large and diverse audience. The message is typically consistent across all mediums, and it might be challenging to measure the direct impact on sales or engagement.
On the other hand, growth marketing is an innovative approach that emphasizes the entire customer journey, from acquisition to retention, using targeted, data-driven strategies. Growth marketing often involves experimentation, continual analysis, and optimization to refine tactics and scale successful campaigns. This approach allows marketers to create personalized, relevant content that speaks directly to their target audience.
For instance, a growth marketing campaign could involve A/B testing various email subject lines to determine which one generates the highest open rate for a specific segment of customers. By analyzing the data and identifying trends, growth marketers can optimize their efforts to maximize engagement and conversion.
Another key difference between traditional and growth marketing lies in the level of personalization. Traditional marketing frequently employs a one-size-fits-all approach, which may not resonate with all potential customers. Growth marketing, on the other hand, leverages data to create tailored content that speaks directly to the target audience. This not only improves the customer experience but also helps businesses uncover new growth opportunities.
To illustrate, a traditional marketing campaign might involve distributing the same promotional brochure to all customers, regardless of their individual preferences or needs. In contrast, a growth marketing campaign could involve creating personalized product recommendations for each customer based on their browsing history and purchase behavior, resulting in a more relevant and engaging experience.
Growth marketing prioritizes transparency and communication, ensuring that clients have access to clear, concise reporting on crucial metrics. This level of collaboration and insight is often lacking in traditional marketing efforts, which may struggle to accurately measure the effectiveness of their campaigns.
A traditional marketing campaign might report on the number of billboards displayed and the estimated number of impressions, but it would be challenging to determine the exact impact on sales or customer engagement. On the other hand, a growth marketing campaign could provide granular data on website traffic, conversion rates, and customer retention, allowing marketers to make informed decisions and optimize their efforts.
To sum it up, while traditional marketing methods still hold value, growth marketing offers a more comprehensive, targeted, and data-driven approach that caters to the needs of an experienced marketer. By focusing on the entire customer journey and leveraging data to create personalized, relevant content, growth marketing allows businesses to optimize their efforts, uncover new growth opportunities, and achieve sustainable success.
---
Average cost of hiring a growth marketing agency:
The cost of hiring a growth marketing agency can fluctuate significantly based on several factors including the size of your business, the scope of the project, the agency's reputation, and the region in which you are located. It's vital to note that the cost dynamics vary from region to region due to the difference in operational costs, market demand, and the level of expertise available.
For instance, a comparison of different regions in the United States reveals varying average minimum campaign sizes and hourly rates. According to our agencies database the cost of growth marketing agencies in the United States:
---
Measuring ROI from Growth Marketing Campaigns:
The process of measuring ROI from growth marketing campaigns is a nuanced and multi-dimensional endeavor that extends beyond merely calculating the initial returns. It involves a comprehensive analysis of various metrics and data points to assess not only the financial gains but also the strategic advantages accrued from the campaign. Here are some pivotal aspects to consider:
Holistic Metrics Overview:

Customer Acquisition Cost (CAC): This metric delineates the cost incurred to acquire each customer. It's pivotal for understanding the efficiency of your marketing efforts.
Lifetime Value (LTV): Assessing the lifetime value of a customer gives insight into the long-term value brought in by each customer, helping in understanding the sustainability and the long-term ROI of the campaigns.
Conversion Rates: From leads to customers, understanding conversion rates at different funnel stages is crucial for evaluating the effectiveness of the campaigns.
Engagement Rates: This entails analyzing the interaction levels of users with your content and platforms, which is indicative of the relevance and effectiveness of your marketing campaigns.

Advanced Attribution Modeling: Understanding the customer journey through multi-touch attribution models helps in allocating the credit to different touchpoints in the conversion path. This will enable a more nuanced understanding of how different elements in your growth marketing campaigns contribute to ROI.
Customer Segmentation and Personalization Effectiveness: Assessing how well your campaigns have managed to segment the audience and provide personalized experiences can also be an indicator of ROI, as better segmentation often leads to higher conversion rates.
A/B Testing and Optimization Insights: Continuous testing and optimization are hallmarks of growth marketing. Evaluating the A/B testing strategies, the insights gained, and how these insights are leveraged for optimization should be part of measuring ROI.
Tech Stack Utilization:

Analytics Platforms: Utilizing platforms like Google Analytics, Mixpanel, or bespoke analytics solutions provided by the agency to drill down into the data is essential.
Data Management Platforms (DMPs): These can help in unifying data from various sources for better analysis and insights.

Long-term Growth Trajectories: Analyzing long-term growth trends as a result of the campaigns, rather than just short-term gains, will provide a more accurate picture of the ROI.
---
Key Metrics to Consider When Evaluating a Growth Marketing Agency:
When probing the competency and suitability of a growth marketing agency, going beyond superficial metrics and delving into more indicative markers of success is vital. Here's a more detailed look:
Client Retention Rate: A high client retention rate often suggests satisfaction and positive ROI. It's a testament to the agency's ability to deliver consistent value over time.
Historical Growth Achievements: Analyzing the growth achieved for other clients, and the scale of growth, can provide tangible proof of the agency's expertise and effectiveness.
Team Expertise and Qualifications: Delve into the qualifications, experience, and certifications of the team. A well-rounded team with a mix of skills is often better poised to deliver holistic growth marketing solutions.
Case Studies and Client Reviews: A thorough examination of case studies and client reviews can reveal the agency's approach, culture, and ability to deliver results in various scenarios.
Technical Proficiency: Evaluate the agency's proficiency with advanced AI marketing technologies, data analytics platforms, and other tools crucial for executing and measuring growth marketing campaigns.
Innovative Approach: In a rapidly evolving digital landscape, an innovative approach to problem-solving and staying ahead of marketing trends is essential. Explore how the agency has demonstrated innovation in past campaigns.
Communication and Reporting: Assess the agency's commitment to transparency, regular communication, and comprehensive reporting. Being able to have a clear insight into campaign performance and actionable insights is crucial for continual optimization and achieving a positive ROI.
---
Frequently Asked Questions
What should I expect when working with a growth marketing agency?
When working with a growth marketing agency, you can expect regular communication, data-driven recommendations, and ongoing performance monitoring. They will collaborate with you to develop a comprehensive growth strategy, execute marketing campaigns, and optimize your customer journey.
How does a growth marketing agency develop a customized strategy for my business?
A growth marketing agency will typically start by conducting an in-depth analysis of your business, including your target audience, competitors, and existing marketing efforts. They will then identify growth opportunities and develop a customized strategy to achieve your business objectives, focusing on tactics that will deliver the best ROI.
Do growth marketing agencies specialize in specific industries or niches?
Some growth marketing agencies specialize in specific industries or niches, while others have experience working across various sectors. It's crucial to select an agency with experience in your industry or a similar niche, as they will better understand your target audience and unique challenges.
Can a growth marketing agency help with content creation and creative assets?
Yes, many growth marketing agencies offer content creation and creative asset development as part of their services. This can include copywriting, graphic design, video production, and more. By providing these services, they ensure that your marketing campaigns are cohesive, engaging, and optimized for performance.
How do growth marketing agencies stay up-to-date with industry trends and best practices?
Growth marketing agencies stay up-to-date with industry trends and best practices by investing in ongoing education, attending industry conferences, networking with other professionals, and staying informed on the latest research and case studies. This allows them to provide their clients with cutting-edge strategies and tactics that drive results.
Can a growth marketing agency help with marketing automation and CRM integration?
Yes, growth marketing agencies often have expertise in marketing automation and CRM integration. They can help you select the right tools for your business, set up and configure these systems, and optimize your workflows to improve efficiency and customer engagement. By streamlining your marketing processes, you can save time and resources while driving better results.