Learning something new is always exciting–whether it's a new hobby, a new language, or even a new professional skill. So if you're looking to invest in your career by building new skills, taking online digital marketing courses is an excellent idea.
You can find plenty of digital marketing courses to help you develop the knowledge needed to become a digital marketer or market your own business. Many digital marketing courses focus on a specific area of digital marketing such as content marketing, advertising, SEO, social media marketing, email marketing, etc. This allows you to get an in-depth guide on the focus area, enabling you to build expertise and a fulfilling career in digital marketing.
However, with so many digital marketing courses available out there, it may be difficult to decide on the best one for you. To help make your search easier, we've narrowed down some of the best digital marketing courses based on factors like reputation and cost-effectiveness. Let's take a look.
The components of digital marketing include:
Social Media Marketing:

It's no news that the more significant percentage of internet users is in two or more social media platforms. For some, it has become a 24/7 habit. Starting from Facebook, Twitter, Instagram, WhatsApp, YouTube, to Pinterest, your ideal audience can be found and connected with. After taking some of the top online digital marketing courses, you'll be amazed at what social media can do for your brand.

Email Marketing:

Today, one of the oldest technologies used by entrepreneurs and companies is the Email service. Statistics show that 85% of adults use emails to reach out and build formal relationships with each other. It is yet the most used platform in online courses to educate a large number of people. With the online digital marketing courses we've provided you with, you'll find out that emails are very effective ways to advertise and promote your services and product.

Content Marketing:

Content marketing is a highly effective form of marketing where consistent, relevant, and exciting content is created, published, and shared with a broad target audience. It helps entrepreneurs and companies to reduce the traditional marketing cost, increase sales, and attract a particular targeted audience.

Search Engine Marketing:

Search engine marketing helps increase your business site visibility and drive traffic towards your site by either paid or organic methods. The paid search results displayed in the SERPs (Search Engine Results Pages) are all paid ads. It is also known as Per Per Click (PPC). The courses we've enlisted will also show you the importance of search engine marketing and how to utilize it.

Affiliate Marketing: Affiliate marketing is known as a process of promoting the products or services of other businesses and earns a commission on each sale made through a link you shared on your platform. It includes referring to a service or product by sharing links on various sites and social media platforms. As a marketer, you can make decent profits from making affiliate sales.
Website:

Having a company site is vital for a business to succeed in digital marketing. An excellent website mirrors your brand image, products and provides quality content to visitors and passersby. In the online digital marketing courses, you'll learn key ways to market your business using websites and the vital things to avoid.

Paid Advertising:

This is the traditional form of advertising, only it's being done online. It includes paying to promote a company's products and services. Paid ads are a little expensive but effective in digital marketing strategies as they expose your brand to a broader audience.
When you use the search engine to search for 'Online Digital Marketing Courses,' you'll discover that saying there are several online digital marketing courses is an understatement. For instance, you'll find courses only focused on social media marketing or SEO still that don't begin to cut half the available online courses for digital marketing. However, this article provides you with courses that are complete and covers a wide variety of online digital marketing and not just a specific area.
In this article, you'll get eight of the most popular online digital marketing courses that'll make you a pro in marketing. Our list includes both paid and free courses offered by highly regarded organizations.
---
16 Digital Marketing Courses to Help You Be the Best Marketer:
---
Price – Free
Includes Certificate – Yes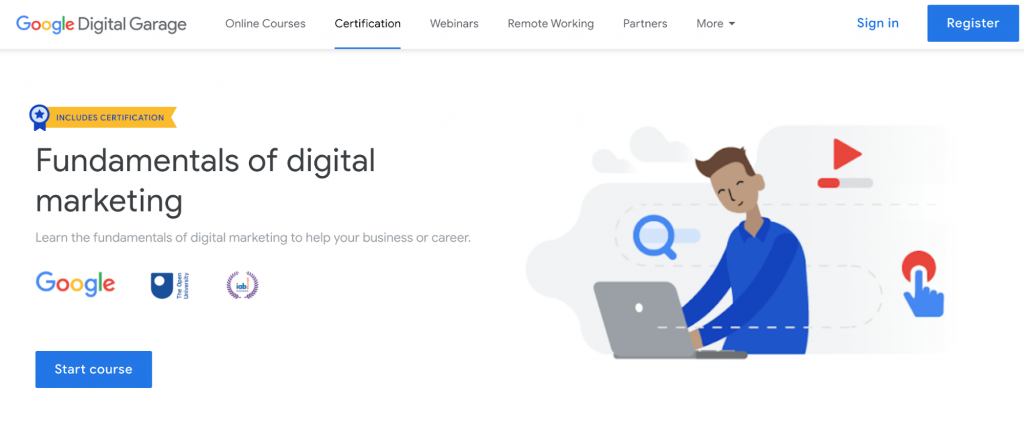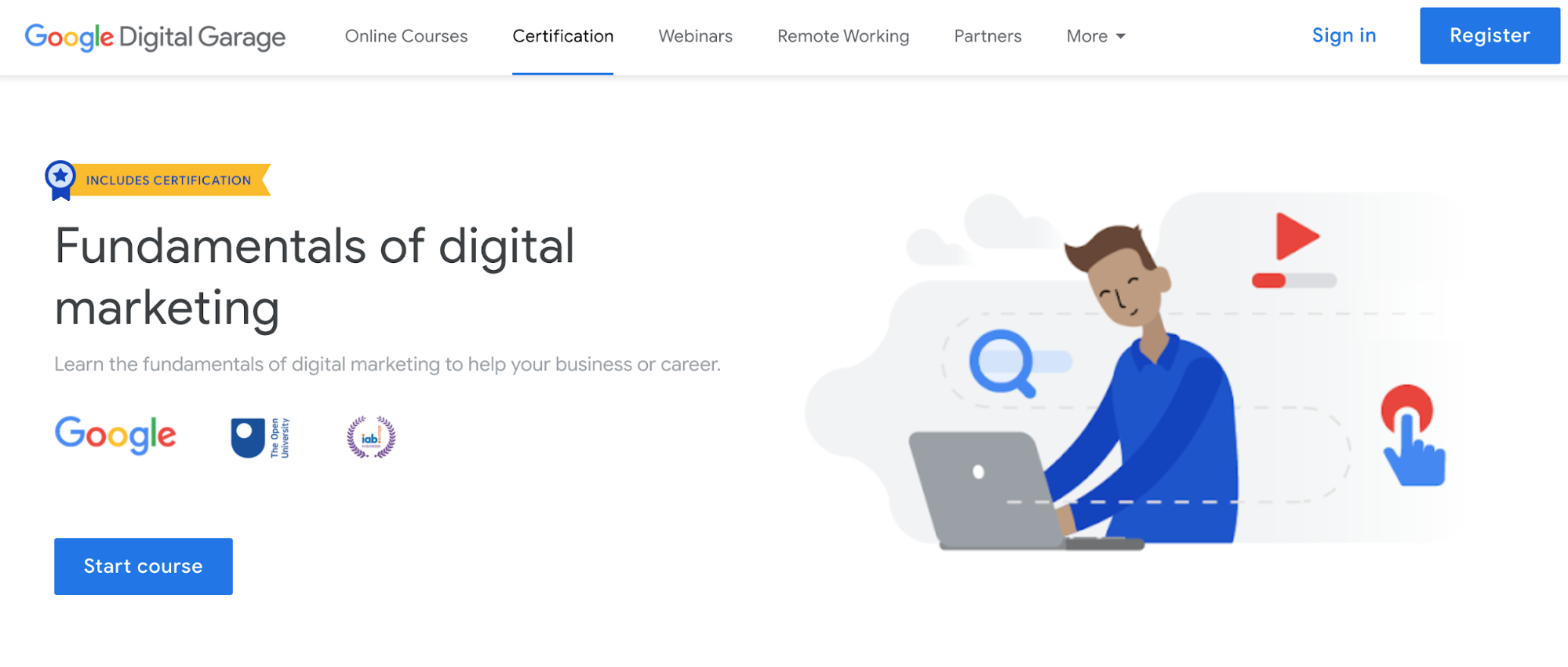 The best way to get started is by learning the fundamentals of digital marketing. That's why this course from Google is an excellent option as it provides you with the foundational knowledge necessary to build your career. The course is highly comprehensive as it introduces you to essential digital marketing skills related to:
Business strategy

Content marketing

Display advertising

Ecommerce

Email marketing

Local marketing

Search engine marketing

Mobile marketing

Search engine optimization

Social media marketing

Video marketing

Web optimization

Analytics and data insights
Intended for beginners, this self-paced learning course is free to access and lasts for a total of 40 hours. It features 26 modules that you can access through on-demand video tutorials. Google even provides you with a certificate once you successfully complete the course. With the course being accredited by The Open University and Interactive Advertising Bureau Europe, the certificate holds weight in front of potential clients and employers.
---
Price – Free
Includes Certificate – Yes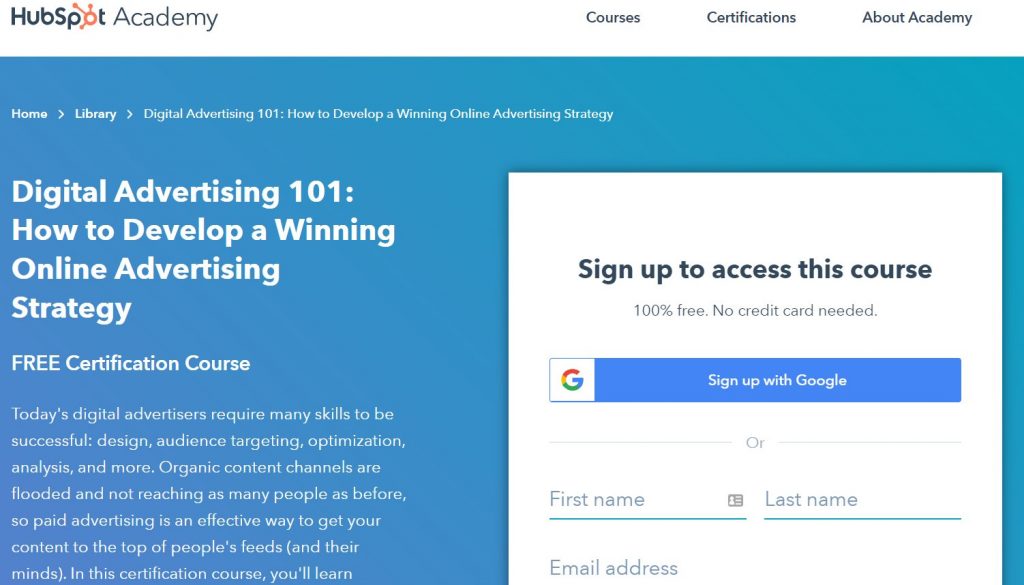 When it comes to digital marketing, content continues to be the essence of impactful campaigns. HubSpot Academy's Content Marketing Certification Course will help you develop the knowledge and skills necessary to effectively market your brand and products using content. This course teaches you all about developing powerful content marketing campaigns that deliver results.
You'll learn how to build content creation frameworks for consistently producing effective content as well as how to create and repurpose content for both humans and search engines. The course features 12 lessons consisting of 54 videos and lasts for a total of 6:12 hours. It's free to access and is available in English, German, and French. HubSpot Academy will even provide you with a globally-recognized certificate that will impress prospective clients and employers alike.
---
3. Moz SEO Training Course—Udemy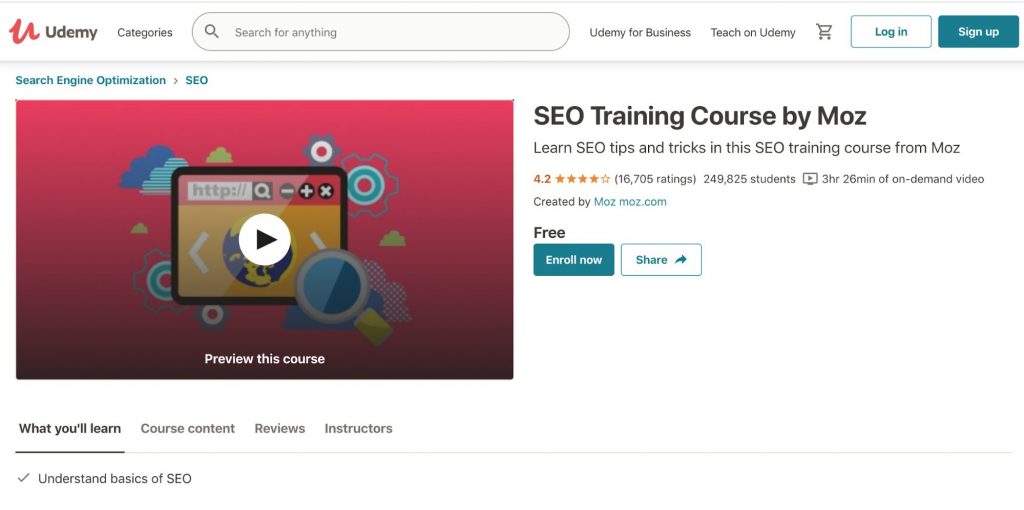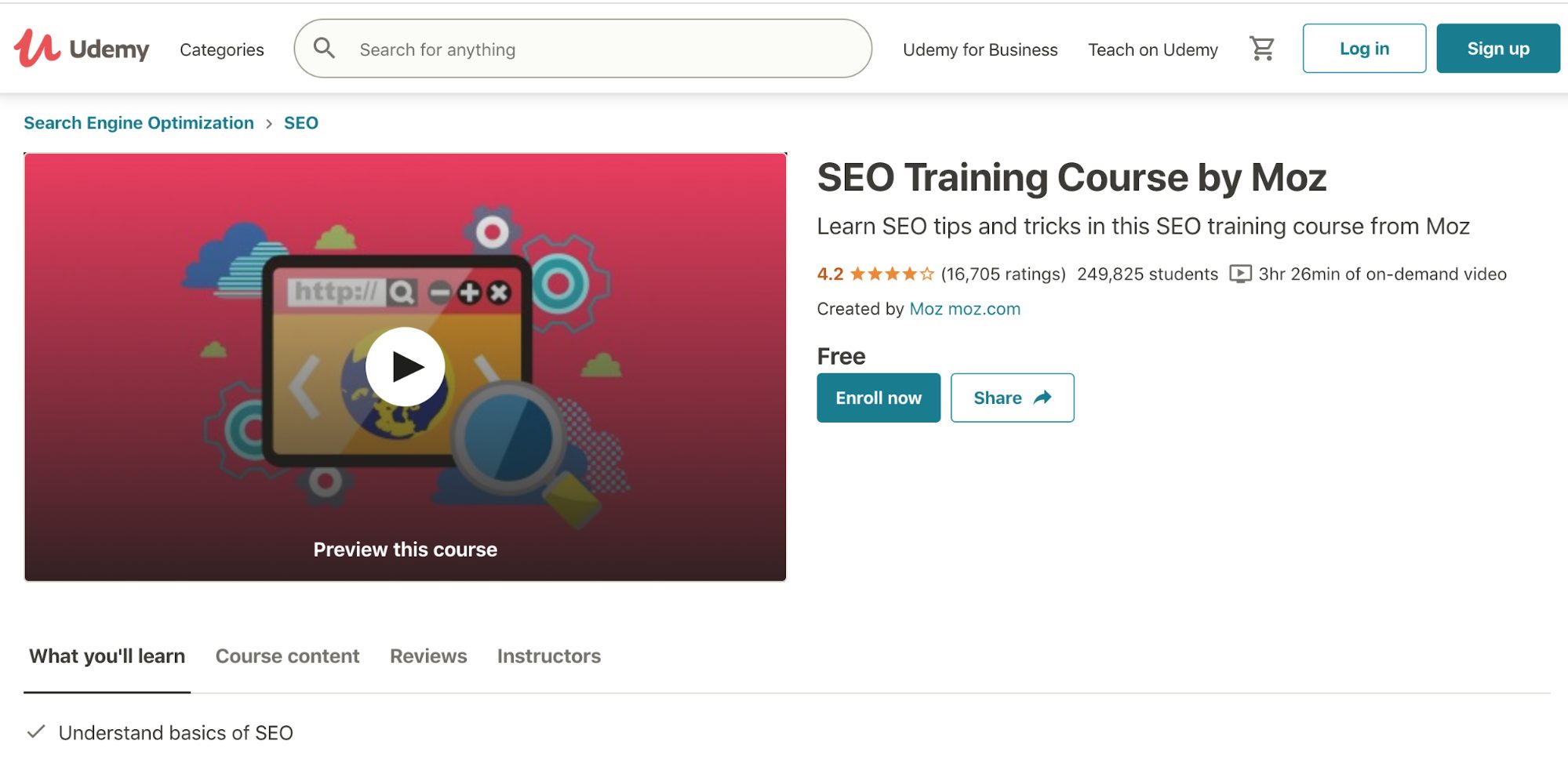 This is another free online digital marketing course on Udemy offered by Moz Founder, Rand Fishkin. It has a 4.3 rating and just got updated recently. The course is a compilation of the Whiteboard Friday videos, a platform a Fishkin is popular for. It includes a 3 ½ hour video tutorial taken by about 150,000 students upon which a certificate is issued after completion.
Based on the reviews on the course from users, it is more theoretical than practical, so you should take this particular course first before the Content Marketing Certification course if you're new to SEO.
Learn SEO tips and tricks in this SEO training course from Moz by clicking here.
---
Price – Free
Includes Certificate – No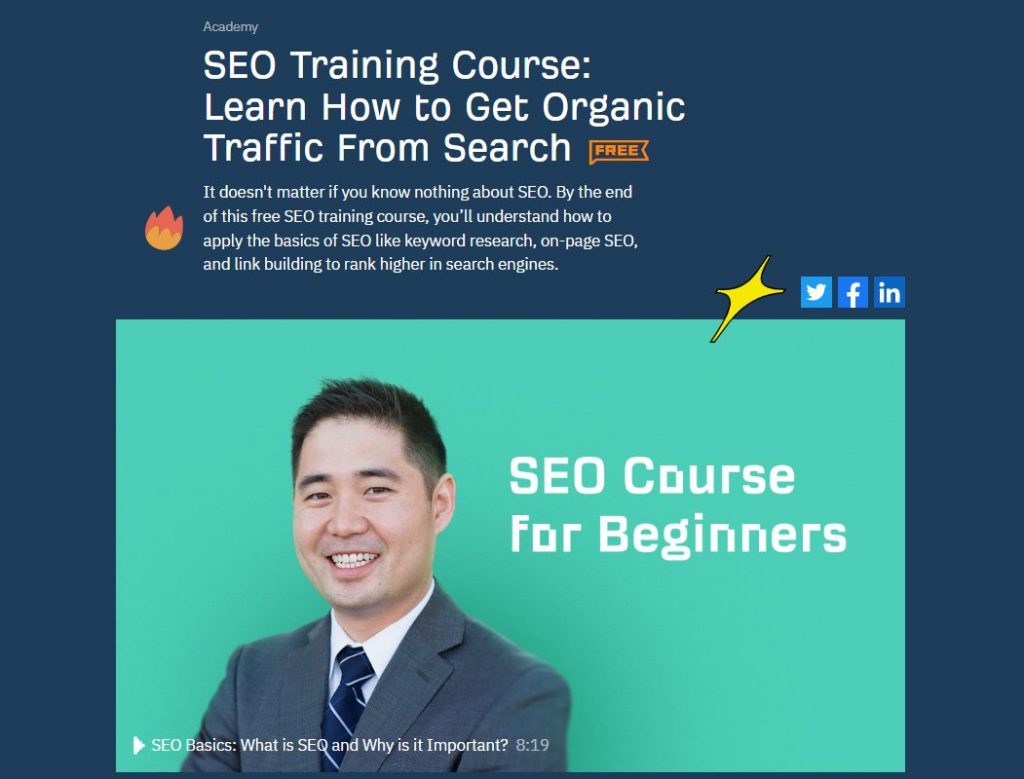 With search engine optimization being a fundamental part of digital marketing, this SEO Training Course from Ahrefs is an excellent way to build your SEO knowledge and skills. This course will teach you the fundamentals of SEO and help you build your skills in key focus areas including keyword research, on-page SEO, link building, and technical SEO.
Intended for beginners, the course is divided into 4 modules consisting of 14 lessons and lasts for a total of 2 hours. It's available for free in five languages–English, German, Spanish, Italian, and Russian. By the end of the course, you'll learn how to conduct keyword research, optimize web pages to rank in search, and get quality backlinks to your site.
---
5. Pay Per Click (PPC) University—WordStream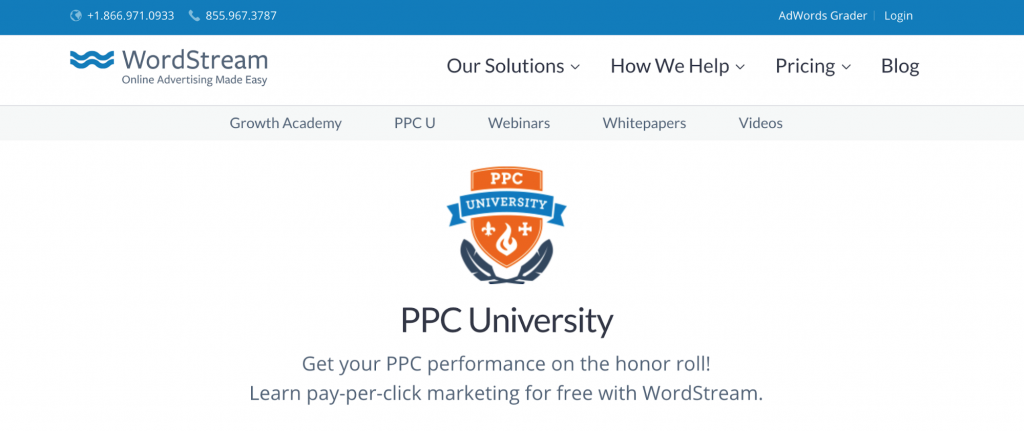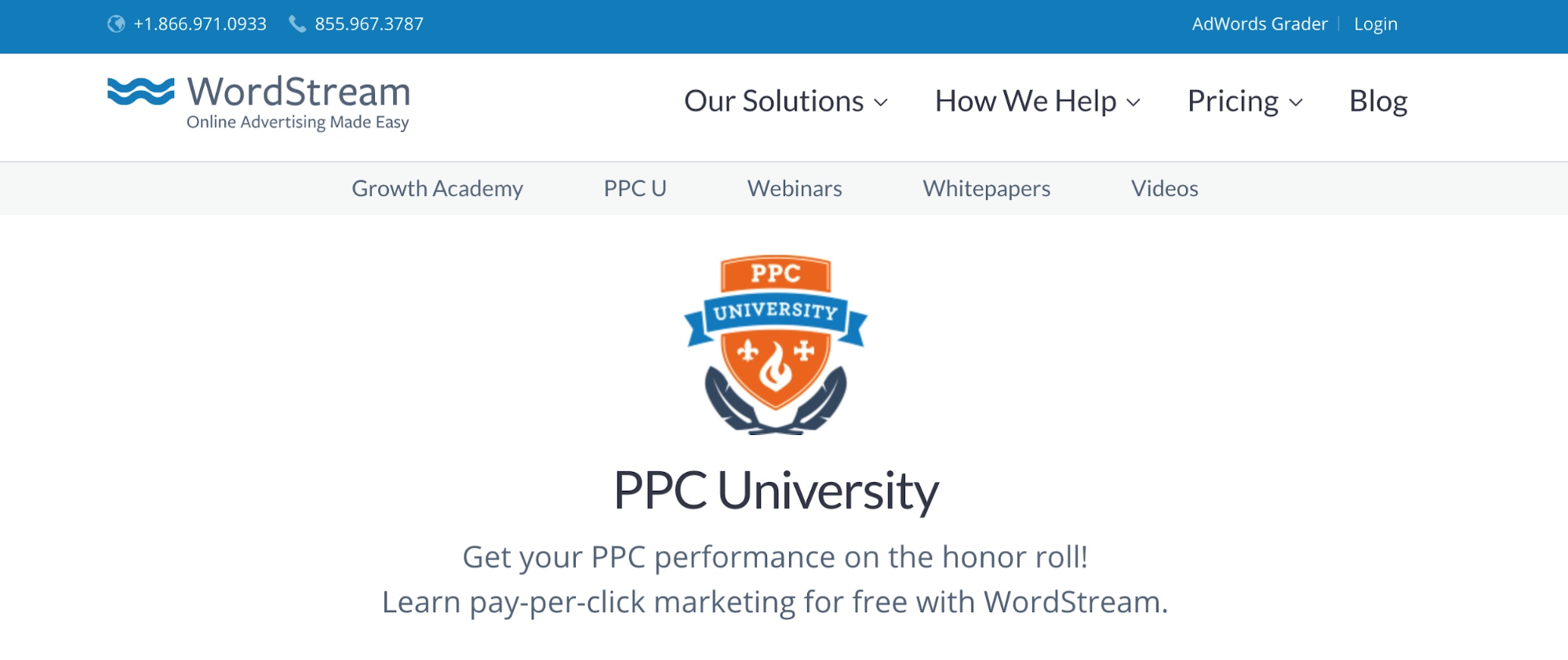 This is a free online digital marketing course provided by WordStream to help marketers and aspirants build their PPC skills and overall digital marketing skills. You'll learn all the fundamental skills of digital marketing from this free course.
Thousands of dollars have been spent on ads, and it has been discovered that small scale enterprises struggle to perform excellently. Therefore, it is essential to create a free online digital marketing course from the prerequisite to advanced levels, including extra modules for social media advertising. Additionally, the course is mobile-friendly and is straightforward to learn. You wouldn't want to miss this particular free course.
Get your PPC performance on the honor roll here!
---
6. Inbound Digital Marketing Course—HubSpot Academy
Price – Free
Includes Certificate – Yes
Inbound marketing holds the key to attracting relevant long-term customers, which makes it a vital marketing tactic to learn for aspiring digital marketers. The free Inbound Marketing Course from HubSpot Academy is one of the most comprehensive online training courses on the subject. This will teach you the core tactics of inbound marketing so you can create educational and valuable content that will attract and nurture leads.
Intended for marketers and inbound professionals, the course will also show you how to leverage automation and AI tools to optimize your existing marketing processes and deliver optimal results. It consists of 7 lessons spread out through 24 videos and lasts for a total of 3:25 hours. You'll have to complete 7 quizzes to test your knowledge, after which you'll get a globally-recognized certificate to add to your resume.
---
7. Growth Academy—WordStream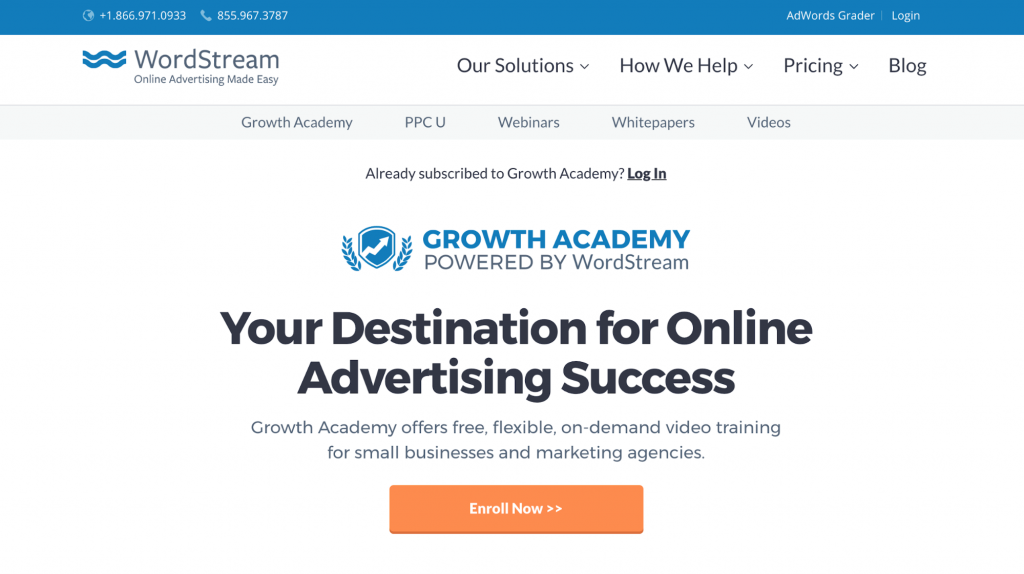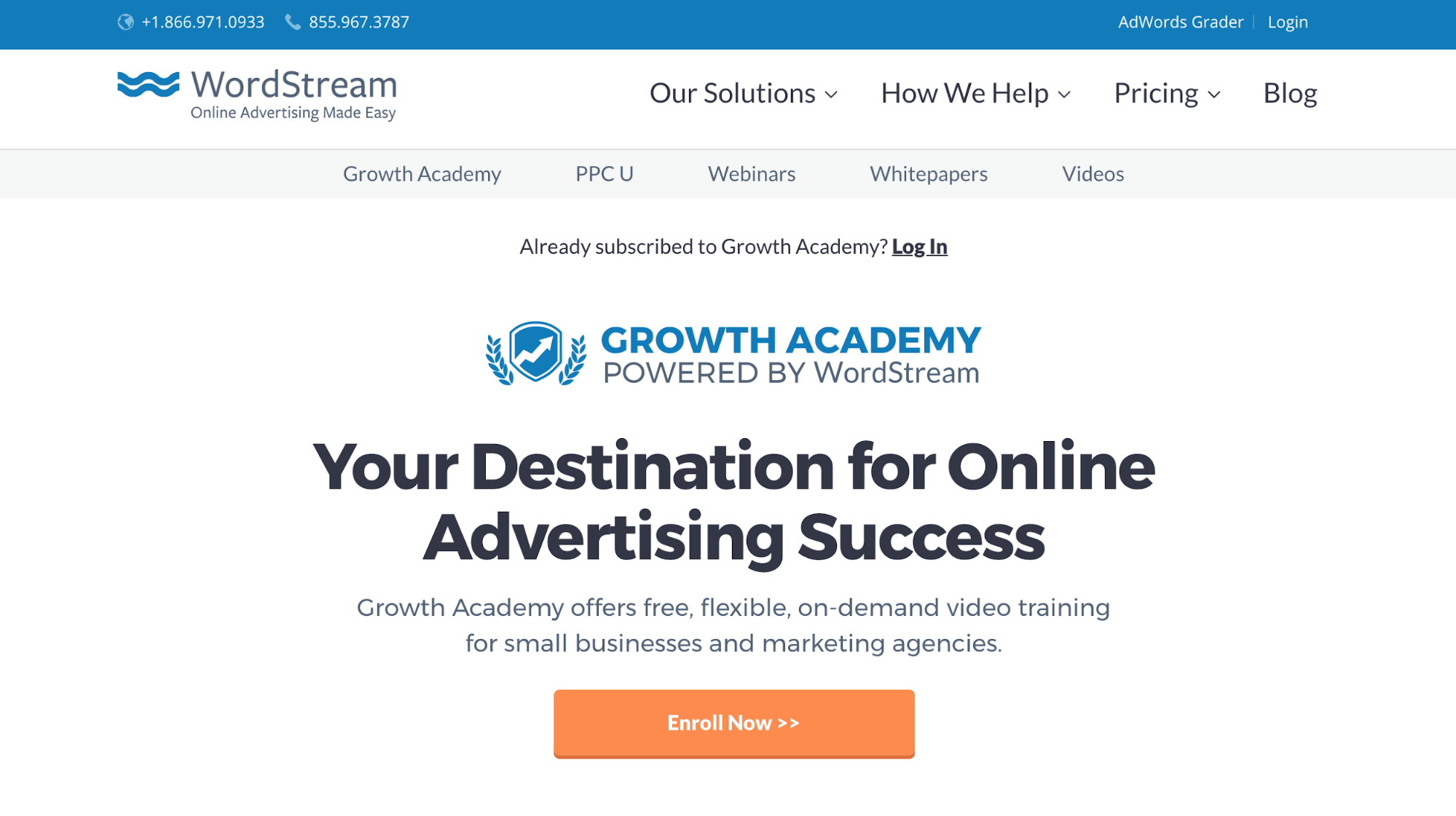 The Growth Academy provides you with an interactive roadmap to help you build your digital marketing skills. It consists of online tutorials such as the generation of leads, advertising, etc. The academy's goal is to offer businesses and marketers the opportunity to learn and succeed in these excellent skills for free. It is also supervised by some of the best experts and will give you an incredible learning experience.
Ready to enhance your online advertising skills? Enroll today!
---
Price – Free
Includes Certificate – Yes

Email continues to be one of the most impactful marketing channels, which is why this Email Marketing Course should an essential part of your digital marketing training. Provided by Brevo Academy, the course comes from leaders in email marketing and helps you build your email marketing knowledge from the ground up. In addition to the fundamentals of email marketing, it'll teach you how to:
Manage and segment contacts

Ensure data protection

Grow your subscriber list

Create campaigns

Improve your marketing email performance

Conduct A/B tests.
With this course, you'll be able to build winning email marketing strategies to nurture customer relationships, drive sales, and scale your business. Designed for novices and seasoned marketers alike, the course is available for free and lasts for a total of 4 hours. It consists of 63 videos and 8 quizzes, after which you'll be awarded a certificate to add credibility to your resume or LinkedIn profile.
---
Price – Free
Includes Certificate – Yes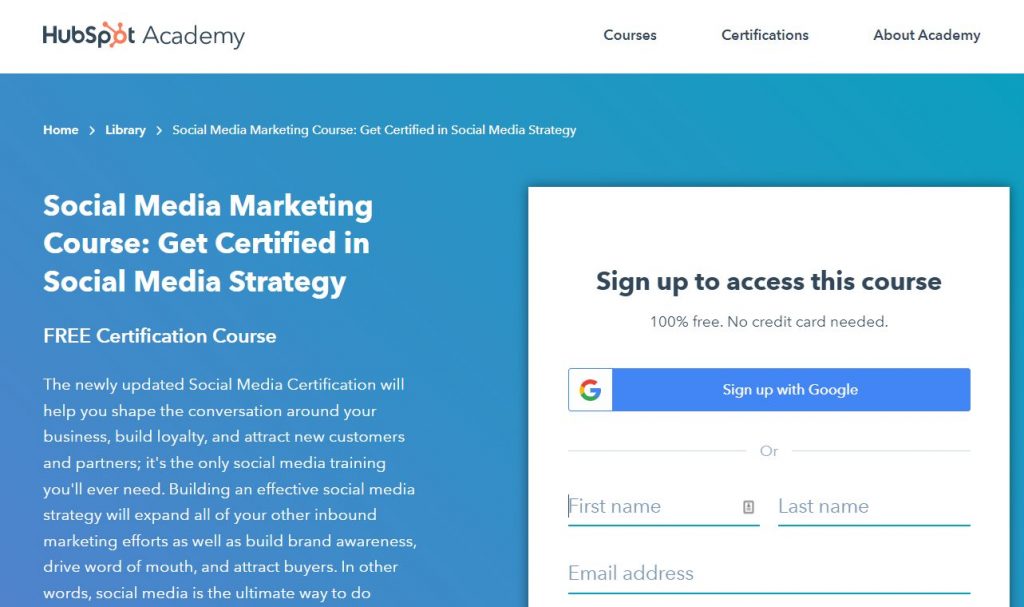 Another essential course from HubSpot Academy, this Social Media Marketing Course equips you with the skills and knowledge needed to leverage social media for business growth. It teaches you how to build an effective social media strategy, conduct social listening and monitoring, and extend your reach. You'll also learn how to build a social media content strategy, use the channel to nurture your relationship with customers, and run a social media advertising campaign.
Additionally, you'll also learn how to measure the impact of your social media marketing efforts and maintain continued success. Designed for all levels of marketers, this course is available for free and is divided into 8 lessons consisting of 38 videos that last for a total of 4:05 hours. Throughout the course of your training, you'll have to complete 29 quizzes to test your knowledge, after which you can become a HubSpot Academy certified professional.
---
Price – $97
Includes Certificate – No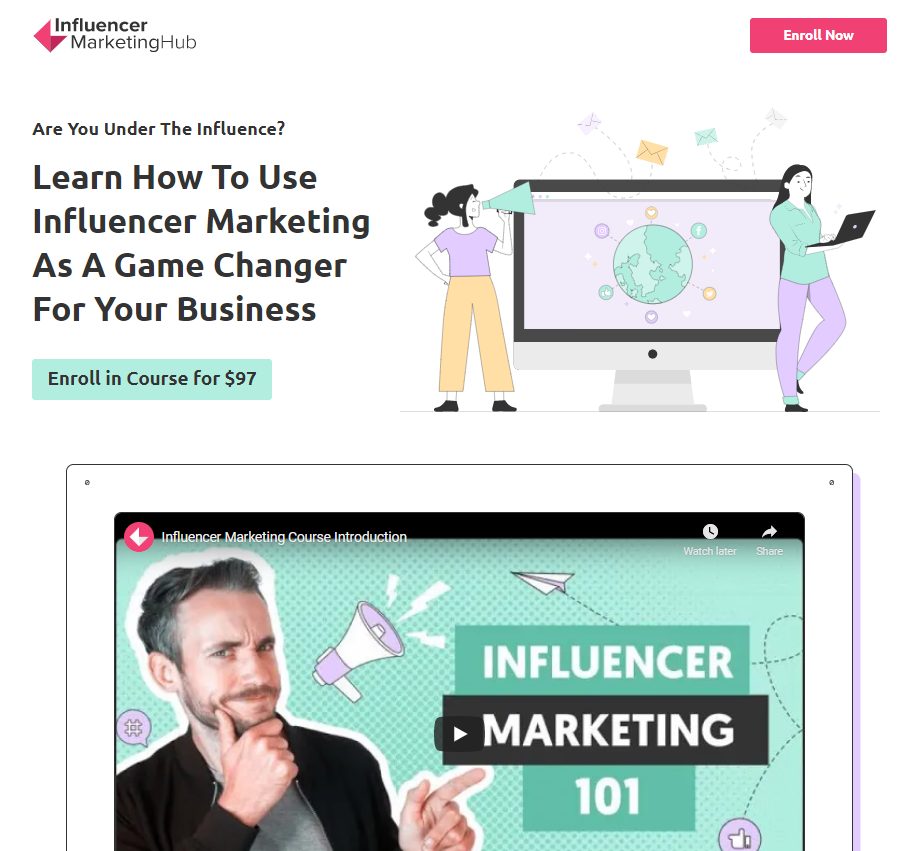 Influencer marketing is one of the most powerful marketing tactics available to brands and marketers. This makes it crucial to enroll in an influencer marketing course that will equip you with in-depth knowledge on the topic. One of the more comprehensive influencer marketing training courses available is the Influencer Marketing 101 Course from Influencer Marketing Hub.
This course covers everything from the basics to the most advanced aspects of influencer marketing, which makes it suitable for novices and marketing professionals alike. You'll learn how to identify influencers, develop influencer marketing campaigns, manage your campaigns, measure campaign impact, and amplify your reach using paid ads.
Available for a nominal fee of $97, the course consists of 10 essential modules and 2 bonus modules that dive deep into the topic. Each module ends with a quiz to test your knowledge. The course also comes with exclusive bonuses such as thought leader videos, worksheets, and ebooks that will further strengthen your knowledge and skills in influencer marketing.
---
Price – Free
Includes Certificate – No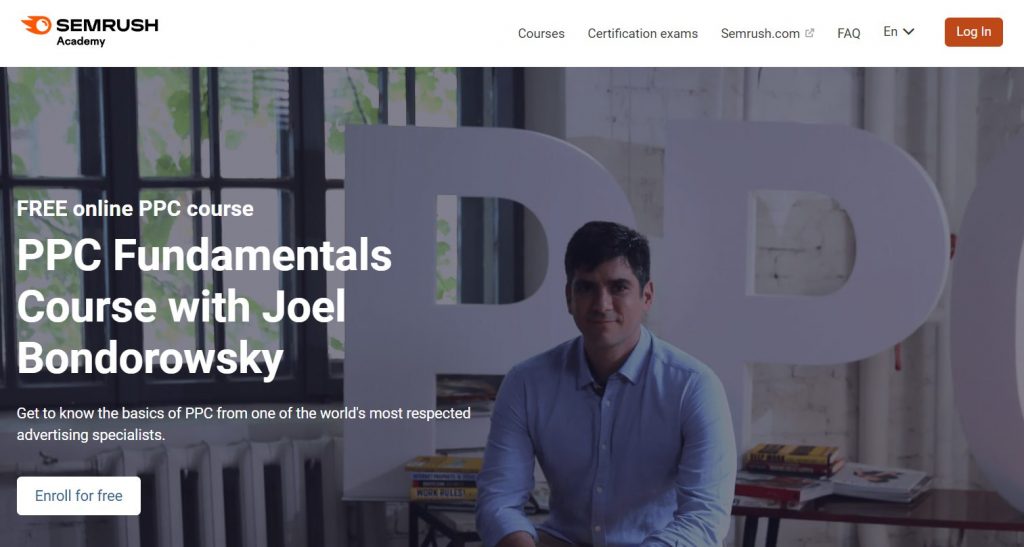 Pay-per-click advertising campaigns require expertise to minimize cost while maximizing impact. You can learn all about how to effectively execute such campaigns by enrolling in Semrush Academy's PPC Fundamentals Course. As the name suggests, this course will teach you about the fundamentals of developing pay-per-click ad campaigns that are effective and profitable. It'll teach you how to avoid losing money on your Google Ad campaign by fine-tuning your targeting.
The course is available completely for free and consists of 36 lessons that last for a total of 5 hours. It features easy-to-follow video lessons and quizzes to test your knowledge. You'll also have access to useful resources to gain a deeper understanding of the topic. While the course doesn't come with a certification, it prepares you for the PPC Fundamentals Exam so you can earn your certification.
---
Price – $299
Includes Certificate – Yes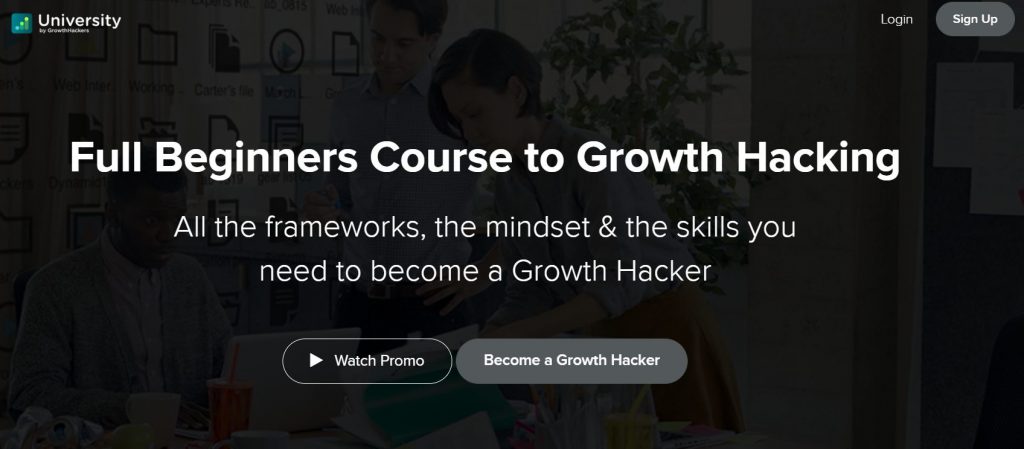 Growth hacking is a powerful technique to accelerate sales and customer acquisition, helping businesses scale their operations exponentially. With the Full Beginners Course to Growth Hacking training from GrowthHackers University, you'll discover the tools and skills necessary to become a highly effective growth hacker. This is a highly intensive course led by Ward van Gasteren, who is one of Europe's first certified growth hackers.
The course starts with an introduction to growth hacking and explores the myths, mindsets, and tactics associated with this technique. It'll teach you how to build a growth hacking mindset along with 15 unique skills that you'll need in your growth hacking career. The course consists of over 40 lessons totaling 300+ hours of learning. After successfully completing this course, you'll receive a certificate to add credibility to your resume and impress potential clients or employers.
---
Price – Free
Includes Certificate – No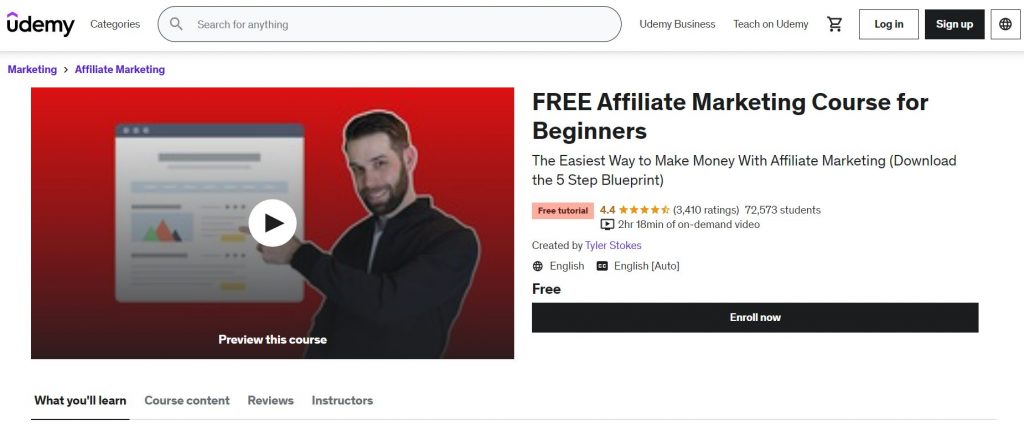 Affiliate marketing offers an easy way to passively make money, although it takes expertise to turn it into a profitable source of income. If you want to get started, this Affiliate Marketing Course for Beginners from Udemy is the perfect way to learn how to succeed as an affiliate marketer. The course will teach you how to choose the right niche, set up your site for success, attract relevant visitors, and start earning commissions.
This affiliate marketing course features 7 lectures through on-demand videos lasting for a total of 2:18 hours. It also includes a free 5-step blueprint to help you get started. While this course is accessible for free, you can also sign up for the paid course to get a certificate of completion and Q&A and direct message access with your instructor.
---
Price – Free
Includes Certificate – No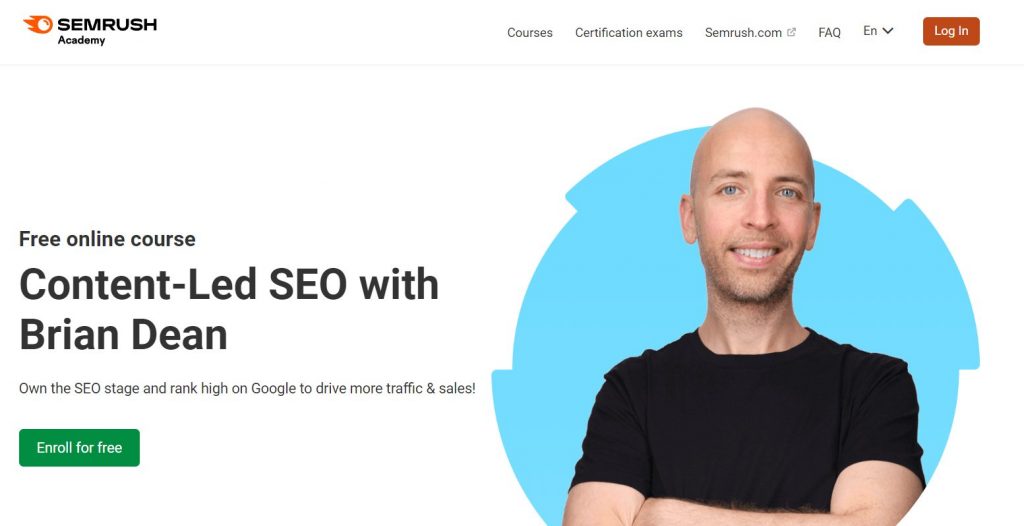 Content is central to an effective SEO strategy, which is why this Content-led SEO Course from Semrush Academy is essential for enhancing your digital marketing skills. Led by Brian Dean, this course will teach you how to create content that will rank #1 on relevant Google search results pages. It will equip you with the skills necessary to own your SEO strategy and drive more traffic and sales for your business.
The course features 28 in-depth video tutorials lasting for a total of 4 hours. It also includes valuable resources and quizzes to test your learning. The course is 100% free to access but it doesn't come with a certification. However, it prepares you for the Content-led SEO exam, which will help you get certified.
---
15. Wishpond Email Marketing Master Class for Beginners
Emails are recognized as one of the highly effective media to reach a well-defined audience. Therefore, it is crucial to study email marketing thoroughly to have an excellent knowledge of it. With this course, you have the perfect opportunity to master the art and
creativity of email marketing.
This course offers you an opportunity to learn online email marketing for free. If you're completely new to email marketing, or you're looking for something to bring you up to speed, this course is an excellent place to start. This email marketing course covers; how to meet your email marketing goals, types of emails to use, how to create an email marketing strategy customized to grow your business and your career.
In under an hour or at your own pace, learn the basic in's and outs of email marketing: from personalization and segmentation to ways to measure your email marketing strategies success. Not to mention free workbooks and an exclusive Wishpond students mastermind group.
At the end of this course, you'll be able to apply what you've learned with ease. If you choose to further your education, you'll be starting with a solid email knowledge base.
Learn everything about email marketing here.
---
16. Udacity's Intro to HTML and CSS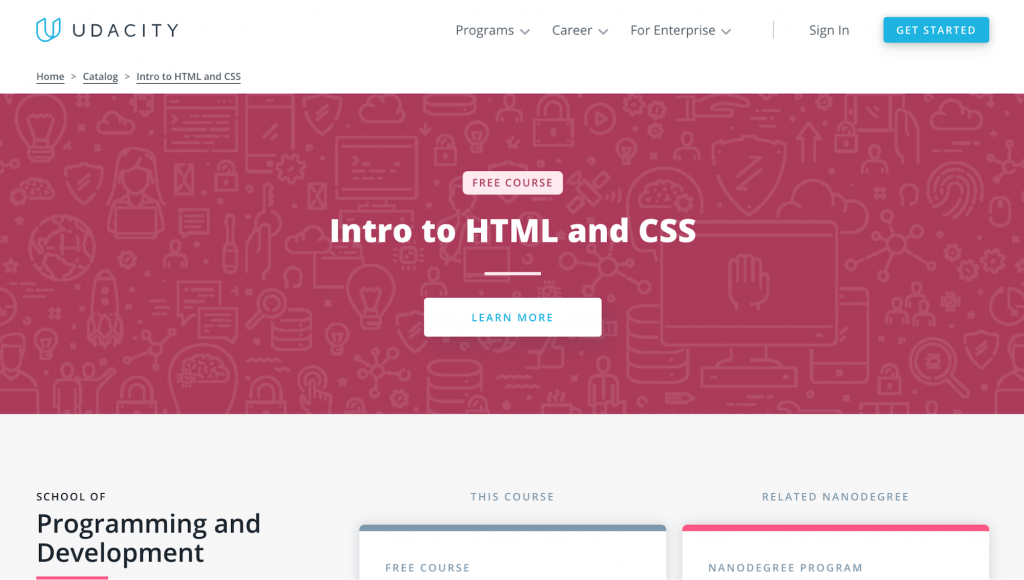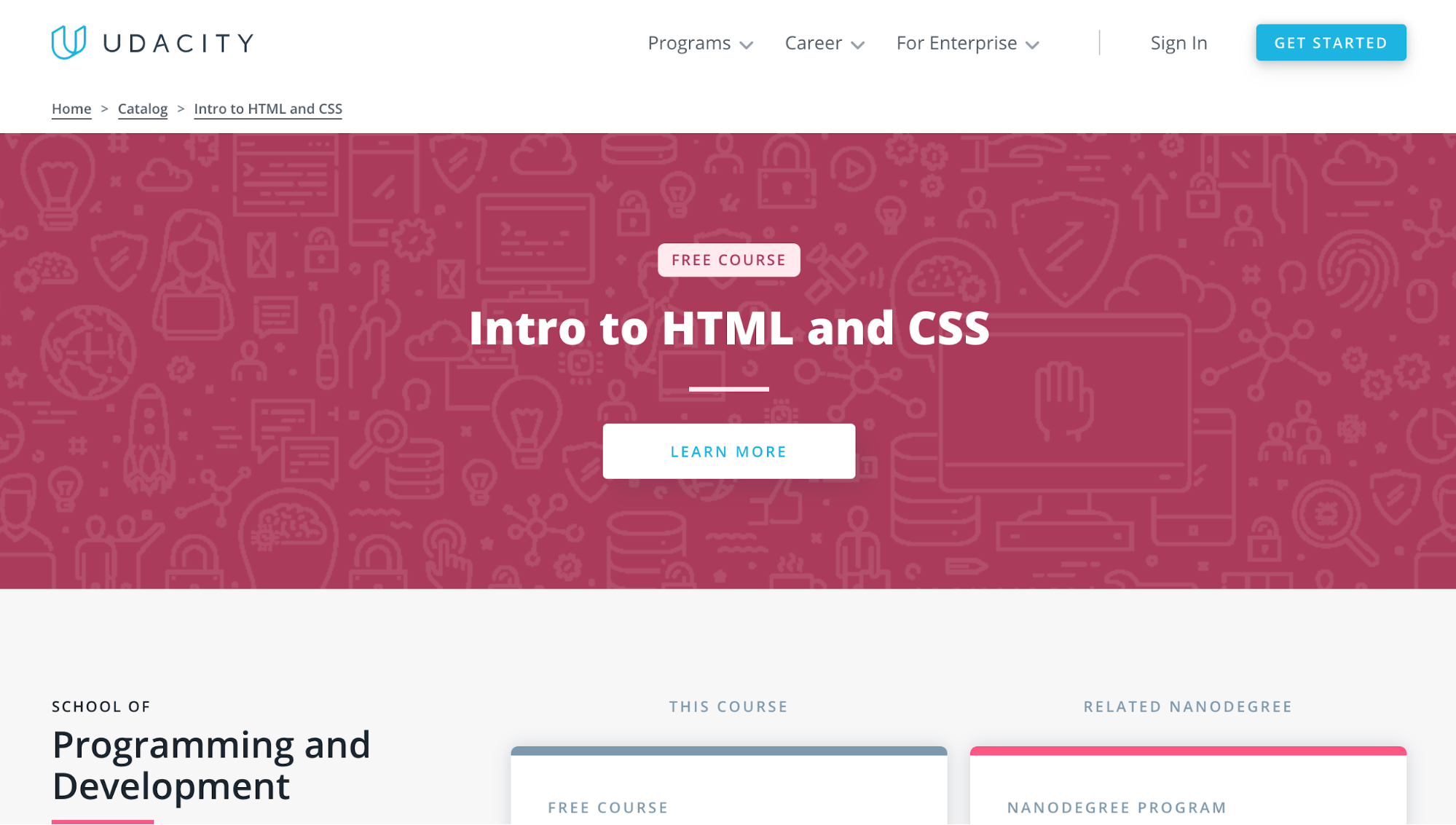 As a digital marketer, you don't need to be able to build a web page from scratch. It does help, though, to have a basic understanding of the fundamentals that make up the pixels and interactions you see on every screen. This free online class will teach you how to think like a designer and a developer, which can give you deeper context around your marketing initiatives.
While touching on the basics of HTML/CSS the majority of the course is focused on design principles such as responsive grid designs and techniques such as media queries, google fonts and frameworks. The course is best suited for those looking to move forward from an understanding of HTML/CSS Tags & Syntax into the basics of front-end web design.
Get started here.
---
In Conclusion
If you can follow some of these courses, you will discover numerous insights into digital marketing complexities. You'll find yourself able to relate everything online, which is essentially the route to being a high-paid digital marketer for your business or your office job.
If you're looking to become a digital marketer or you want to learn some digital marketing skills for your own business, the above 12 courses will help you get a strong start. Consider enrolling in every course on the list to grow your digital marketing expertise.